Please note: I may earn commissions from qualifying purchases if you shop through links on this page. More info.
Paint Your Front Door the Right Way (My Pretty Purple Door)
Want to learn how to paint your front door? I finally got around to painting the front door purple. I know, pretty ridiculous since I named this entire blog after this concept. Here we are 2 months later, and I've finally found a couple hours to finish it off. After writing this I actually have to give it a light sanding and another coat, but for all intents and purposes, it's done.
I explained in a previous post why I chose purple for my door. The actual color is Clark & Kensington's "Purple Energy" — a new color you can find at Ace Hardware.
Materials
tinted Zinsser oil primer
Floetrol (latex paint conditioner)
about 1 Quart of Exterior Latex Paint (why not try purple?)
good quality paint brush
fine grit sandpaper
How to Paint Your Front Door
About a week and a half ago, I primed the door with tinted Zinsser oil primer. Before I started with purple energy, I gave the door a light sanding using a fine grit sandpaper. This gets rid of any rough spots and gives the paint a good surface to stick to.
I also mixed my purple paint with some Floetrol. This is a latex paint conditioner that is supposed to reduce the amount of streak marks in the paint and give you a more professional finish. If I were to be perfectly honest, I don't see much of a difference/improvement between using it vs. not using it, but I did a lot of research before I started and read some extremely good reviews. It's actually pretty cheap at $4 per container, so maybe it's worth a try for you, too. I don't think it made the streaking worse by any means. After I give it another light sanding an a second coat today, it may look a lot better! Time will tell!
The most difficult part about painting the front door has to be the little detail blocks that are glued onto the door. Because of the detail, it's hard to get paint into all the little nooks and crannies. Trying to keep long even strokes while filling in these areas is definitely a challenge. I've found that using a "stipple" technique gave me pretty good results. What I did was get some paint on the tip of my brush, then carefully dab it into the little indentations. Be careful you aren't splattering your dog and cat while working 🙂
Also be careful to catch any drips quickly. Most likely you will have extra paint on the brush that drips down. Stay on top of it. Work from the inside, out. Smooth out the drips and use that excess paint for different parts of the door. The full door only took about 1/4 of a quart of paint. Not very much paint at all!
Overall I'm pretty happy with the front door color. I really really love it from close up, it makes a real impact and everyone that has stopped by has definitely noticed it and commented. I think it will look great with my Mona Lisa Door Mat 🙂

The only disappointing thing is the view of this door color from the street. It looks a little gray, because I have a glass door over it. Maybe after I check it out in different lighting it will make more of an impact, but on an overcast day it doesn't look like anything special.
As I always say, paint is an easy and cheap way to make a huge impact. It can always be changed. I think I will keep the Purple Energy for awhile and see how I feel about it. Sometimes it takes a few days/weeks to really get comfortable with the color you choose, so give it time to soak in.
What do you think of the purple door??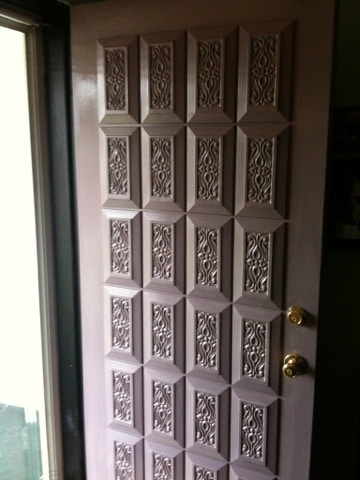 Here it is on a sunnier day 🙂
What Blooms with What?
Never know what to plant together? Find out with this FREE Plant Pairing Guide and become a pro at combining plants for the best garden design possible!