Please note: I may earn commissions from qualifying purchases if you shop through links on this page. More info.
5-6 Foot Evergreen Shrubs For Your Landscape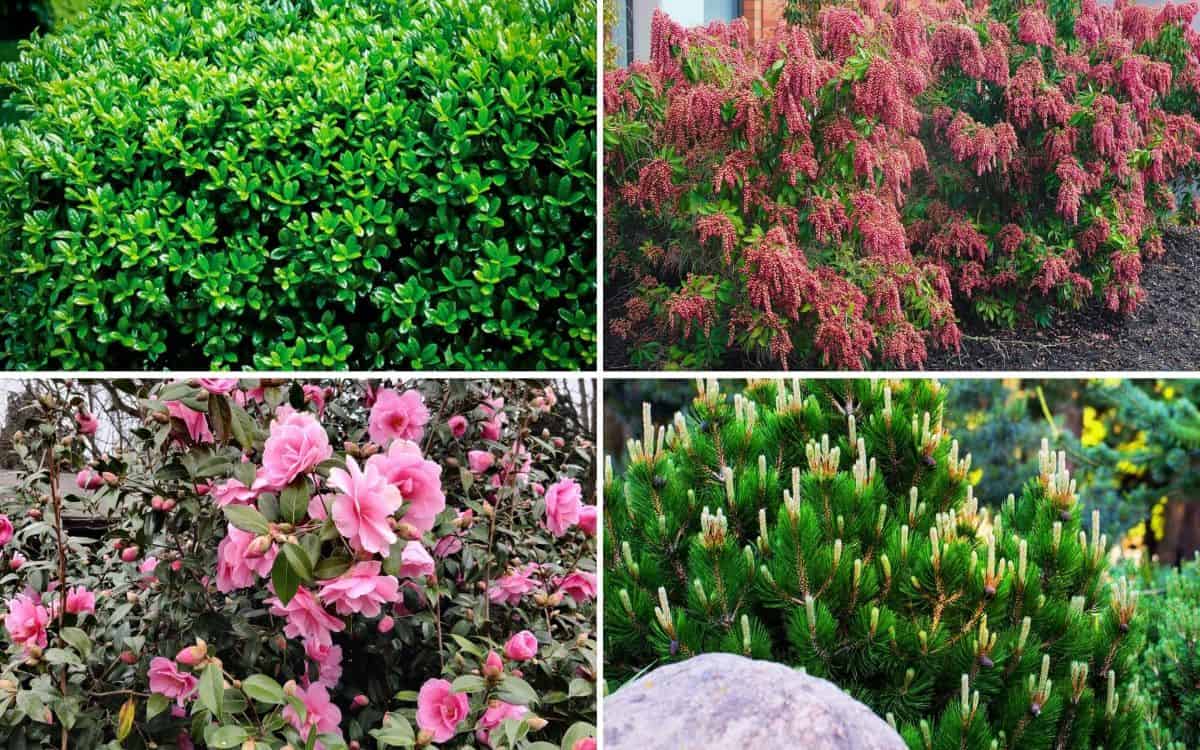 I've always found it pretty easy to find evergreens on the smaller size. And, it's even easier to find extra large ones that will never fit in the space that I have. But, there seems to be this weird gap between the evergreen bushes that are too small to make an impact and the ones that are way too big to fit.
5-6 foot size is the "sweet spot" for evergreen shrubs in the home landscape. They're tall enough to be a substantial backbone planting, but not too large that they dwarf your house and block all the natural light from your windows.
Let's talk about some perfectly medium sized (5-6′) evergreen shrubs for your home landscape. There's a lot more available in this size than you may think!
Camellia shrubs blend beautiful blooms with tough evergreen leaves. October Magic Ruby Camellia sasanqua (Camellia sasanqua 'Green 02-003') flowers heavily in fall opening small, Christmas-red, fully double blossoms. A short and stout variety, October Magic Ruby grows a bit wider than it does high.
Full Sun-Part Sun | Zones 7-9 | 3-4'H x 4-5'W | Purchase Camellia
Bonanza Camellia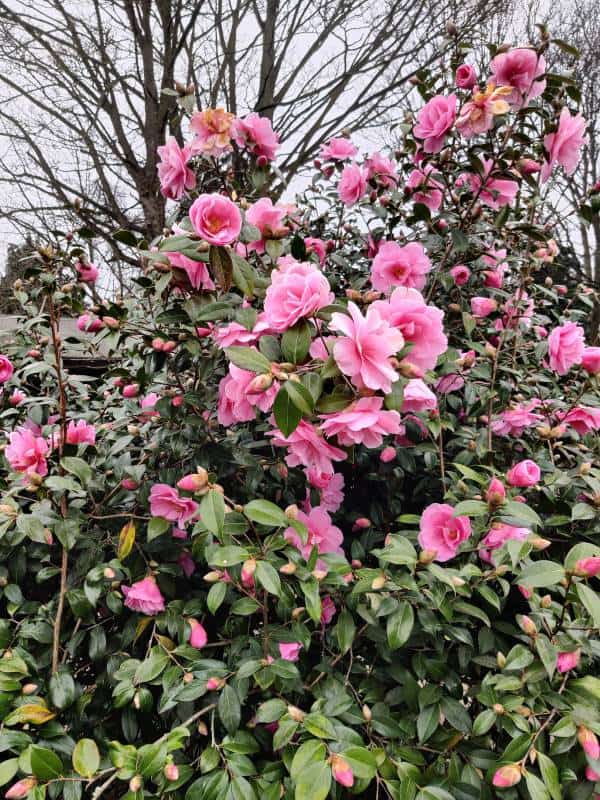 Deep reddish pink 3″ blossoms adorn this the beautiful Bonanza Camellia (Camellia hiemalis 'Bonanza') evergreen shrub in mid-late fall. The fallen petals create a beautiful blanket beneath the dark green glossy evergreen foliage on this perfectly medium-sized bush. An easily grown and hardy shrub with deep dark green glossy foliage with a spreading to upright habit that lends itself to shearing and shaping.
Full Sun-Part Sun (Dappled Shade) | Zones 7-9 | 5-6'H x 5-6'W | Purchase Camellia
Quick Tip: If you're looking for narrow evergreen trees t o create privacy in a tight space, head over to this post for even more suggestions.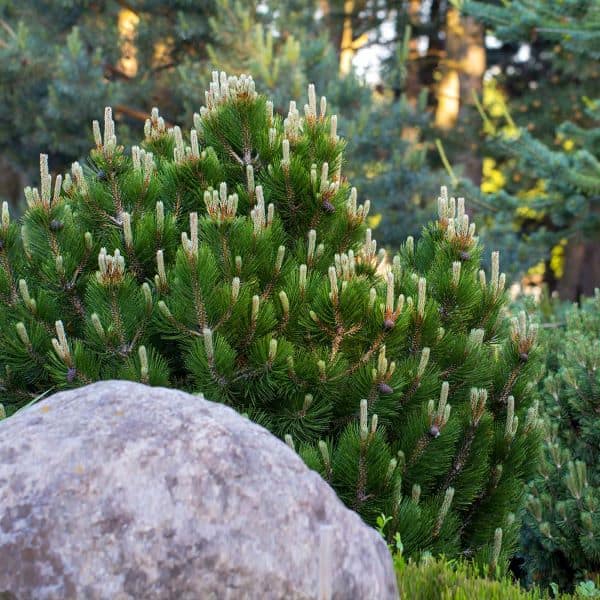 Dwarf Mountain Pine (Pinus mugo var. pumilio) is a popular conifer choice for home landscapes, fitting easily into rock gardens, foundation plantings and mixed borders. With emerald green needle-like foliage, these pines grow slowly, reaching 3-5 feet tall and 6-10 feet wide in a decade.
Although a bit taller than some of the other evergreen shrub options, Mountain Pine (aka Mugo Pine) is still compact enough to fit in a home landscape while adding some height and interest to your mixed border.
Full Sun | Zones 2-8 | 3-5'H x 6-10'W | Purchase Here
What Blooms with What?
Never know what to plant together? Find out with this FREE Plant Pairing Guide and become a pro at combining plants for the best garden design possible!
Sweet Tea Gardenia
A reblooming gardenia keeps the fragrant flowers coming through spring and summer. First Editions Sweet Tea Gardenia (Gardenia jasminoides 'PIIGA-II') unfurls tennis ball size double blooms on a medium-sized evergreen shrub! This gardenia makes a nice hedge or specimen shrub. Place it near outdoor seating areas so you can enjoy the fragrance.
Full Sun-Part Sun | Zones 7-8 | 3-5'H x 3-5'W | Purchase Gardenia
August Beauty Gardenia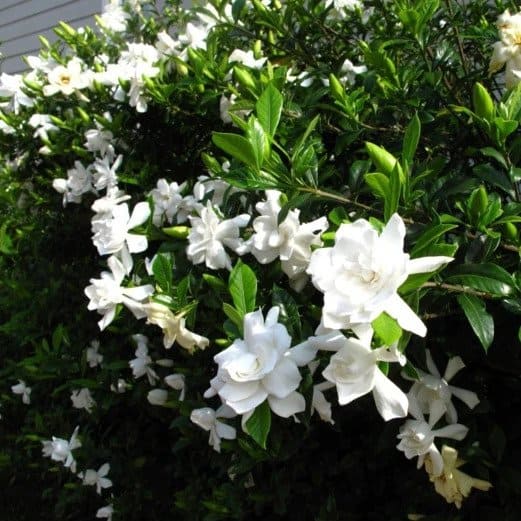 2-3″ double white, wonderfully fragrant flowers are borne over an exceptionally long period on August Beauty Gardenia (Gardenia jasminoides). This hardy evergreen shrub has rich, deep green foliage on a dense upright to rounded plant. One of the favorites among the larger growing Gardenia varieties in southern regions due to its long flowering season and hardiness.
Full Sun-Part Sun | Zones 8-10 | 6'H x 4'W | Purchase Gardenia

'Valley Valentine' Pieris (Lily of the Valley)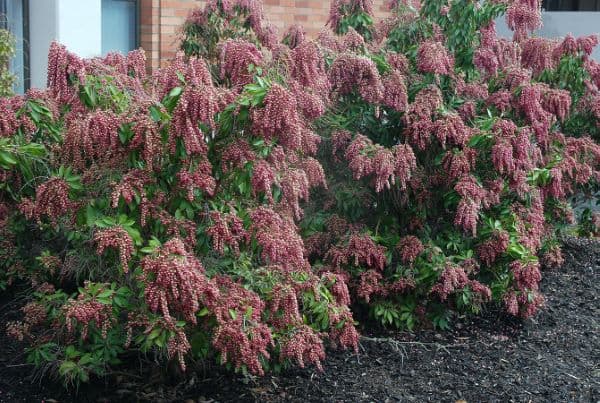 Bring part shade areas of your yard to glowing life with the bright pink flowers of 'Valley Valentine' Pieris (P. japonica). Dangling flowers open from deep red buds in late winter and early spring. Also known as lily-of-the-valley shrub, pieris is a slow grower, eventually reaching a mature size of 5-7 feet high and wide. This perfectly medium sized evergreen looks great in foundation plantings or as a hedge.
Part Sun | Zones 6-8 | 5-7'H x 5-7'W | Purchase Pieris
Sunkist Arborvitae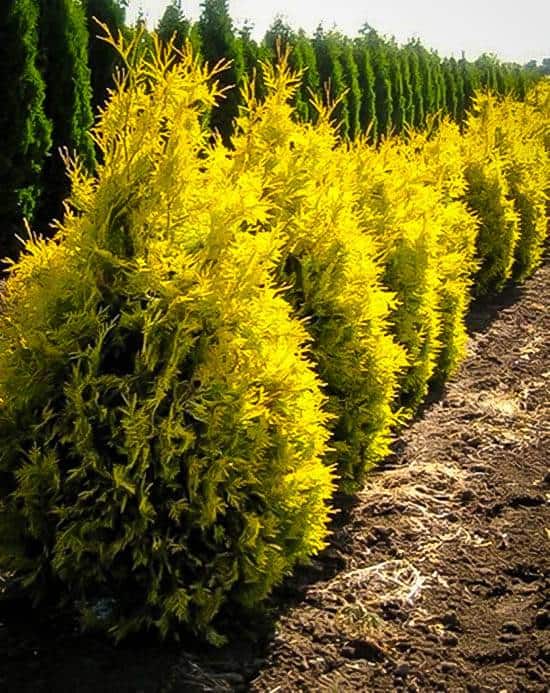 Golden leaf tips of the pyramidal shaped 'Sunkist' Arborvitae (Thuja occidentalis 'Sunkist') absolutely glows in the landscape. Full sun coaxes the best growth and leaf color from 'Sunkist'. Combine it with other evergreens to create a living tapestry of year-round color. Or use it as a cheery focal point in a mixed border.
If you like Sunkist Arborvitae, you'll also want to read my post about narrow evergreens for year round privacy.
Full Sun-Part Sun | Zones 4-8 | 10-15'H x 4-5'W | Purchase Arborvitae
Quick Tip: If you want to plant Sunkist Arborvitae, check out my article on how to plant privacy trees properly.
Maney Juniper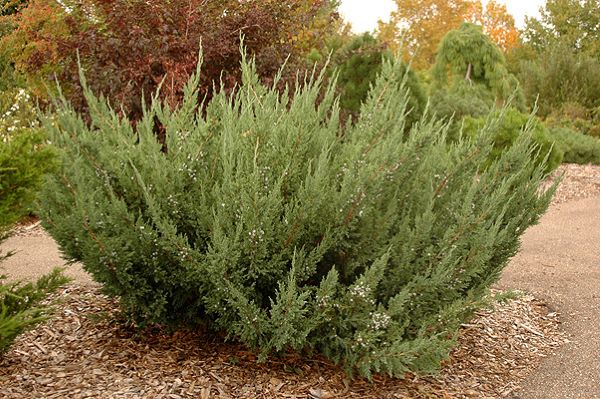 Rugged good looks earn Maney juniper (Juniperus chinensis 'Maneyi') a place in any landscape. This tough evergreen tolerates salt, cold winters and even drought (once established). Maney has a naturally spreading growth habit that makes it a foundation planting in a water-wise garden or mixed border.
Full Sun-Part Sun | Zones 3-8 | 4-5'H x 5-6'W | Purchase Juniper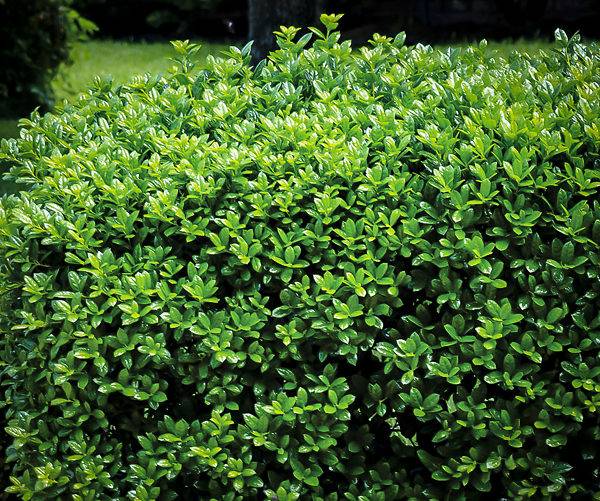 Dwarf Burford Holly (Ilex cornuta 'Burfordii Nana') grows to a perfect 4-6′ high and wide in full or part sun. Rich-green glossy leaves are decorated with bright red berries in fall and winter, and it needs no male plant to produce a full crop that brings color to the holiday season. This variety can be shaped into a perfect hedge. Untrimmed t's also an attractive and looks great growing beneath large trees. Wherever you need a rich green accent in a neat, easy to grow bush, this is a great choice. 'Burford' can be grown in full sun or partial shade and all hollies like well-drained soil with an acidic pH.
Full Sun-Part Sun | Zones 7-9 | 4-6'H x 4-6'W | Purchase Dwarf Burford Holly
Little Goblin® Red Winterberry Holly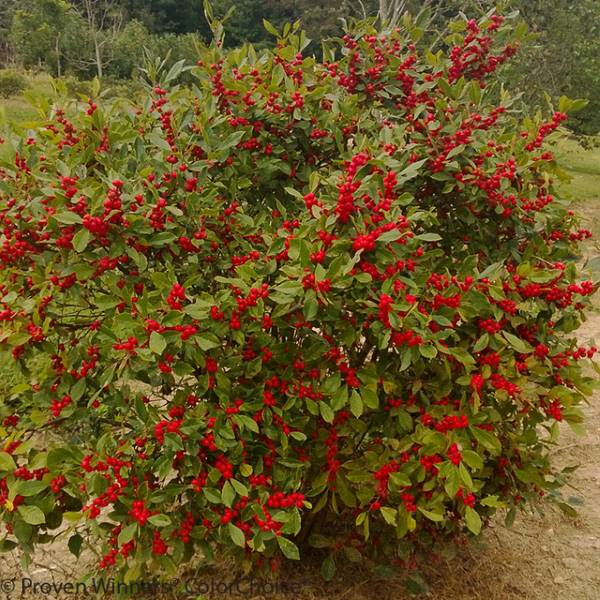 'Little Goblin Red' Winterberry Holly (Ilex verticillata) is another great example of a medium-sized shrub for winter interest. Note that this is a deciduous shrub, meaning it will lose it's leaves in the winter. So it's not a true evergreen like the other shrubs in this post. But, Little Goblin will provide a lot of winter interest in your landscape and fits into that 5-6′ range nicely.
Little Red's dense growth and compact nature make it useful for privacy screens in areas where taller hedges would not work. This deciduous shrub produces attractive red berries and has a moderate growth rate. 'Little Red' can be grown in full sun or partial shade and hollies typically like well-drained soil with a slightly acidic pH.
Full Sun-Part Sun | Zones 6-9 | 3-5'H x 3-5'W | Purchase Here
Taunton's Yew
Taunton's Yew (Taxus media 'Tautonii') bears needles that are dark green in color and grows a bit wider than it does tall. This is a very tough evergreen shrub, with good resistance to winter burn, a tolerance to summer heat and ability to adapt to a wide array of soil types. Yews are often used as foundation plantings, clipped hedges or privacy screening. Keep small children away from yew bushes as all parts of the plant are poisonous.
Full Sun-Part Sun | Zones 4-8 | 3-4'H x 5-6'W | Purchase Yew
Still haven't found what you're looking for? Check out these other beautiful evergreens for your landscape.
Wrapping Up
I hope I've uncovered some really great options for the illusive medium-sized 5-6 foot evergreen shrubs that you can use in your landscape. What's your favorite? If it's not on the list I'd love to hear about it.
You may also be interested in checking out more of my favorite evergreen shrubs, great privacy picks for narrow evergreen trees or even more deciduous shrubs with a medium stature.
---
Shop my Amazon storefront for my essential gardening books & tool recommendations!
More Gardening Posts You'll Love
Shop my Amazon storefront for my essential gardening books & tool recommendations!