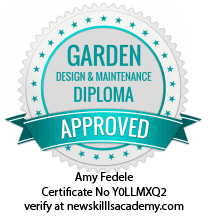 Hi There 👋. My name is Amy Fedele and I'm the owner of Pretty Purple Door. I've been helping home gardeners design landscapes that are "uniquely you" since 2014. I have a diploma in Garden Design and Maintenance and I personally garden is in Northeast Pennsylvania, USDA Gardening Zone 6B.
I've been an animal lover and a painter my whole life, a professional graphic designer since 2005 and (obviously) I love to garden and design landscapes.
It didn't take long for me to realize that all the tricks I use in my design work could also be used in my garden! So, I've created a unique garden design framework that combines gardening with design and makes it easy for home owners to actually understand. It's so much more fun than just plopping random plants in the ground and hoping for the best.
I've written many articles about gardening… and my writing has been featured by big names like The Family Handyman, Buzzfeed and even Country Living Magazine! In addition, I teach online garden design courses that are geared specifically towards home owners. I've also published full eBooks and worksheets to help you design your dream garden.
If that's not enough, be sure to check out my YouTube channel and my Facebook Page for even more content! Or, sign up below for my free gardening training and I'll show you how I do what I do! Just put in your email you can watch it right away!
My gardening story (I used to suck at gardening…)
This is my gardening story… beginning with how I used to suck at gardening and how I eventually started to teach others about garden design and 4-season gardening. Watch the video to hear it straight from the horse's mouth 😂.
Or, scroll down the page a bit to read about how I started blogging in 2012, while spending a full year hardcore DIYing my house with my dad!
To keep watching… sign up for my 3 gardening secrets training. It's free!
Interviews
Featured By

More Features
Amy Fedele, a gardener whose blog, Pretty Purple Door, has been featured in Country Living magazine and other publications, suggests grouping a specific type or color of plant together in clusters of three, five, or seven. This creates a "drift" of plants that adds flow to your landscape and a stronger impact than just scattering them; it also moves the eye pleasantly along the landscape instead of a visitor feeling like your flower beds play "connect the dots," she writes.

From Adding Value Through Landscaping: The Homeowner's Green Thumb Guide by Valerie Kalfin on Homelight
Testimonials
Here's what other gardeners are saying about Pretty Purple Door
"I love your site…I'm a (or pretending to be a) Professional Self employed Gardener. I quit my cushy Union job to pursue my passion… Busy ever since!!! Now…I whistle while I work…I'm finally Happy!! I didn't buy books..I didn't go to school..I'm a closet artist…focused on manipulated beauty! You're site..You..opened a door that I probably wouldn't have found in a book….Thanks for that!! I look forward to putting you're ideas into the ground…my clients are already Pleased with my work…I now have another card in my hand..Thanks Amy…Really!!"

-Ron A. (I actually talk about Ron in the video above!)
"Amy, Thank you for your email! I enjoyed reading it! It's amazing because you could have been writing about ME! I felt the same way you did and asked for help from my neighbor. Now, I take great pride in my garden and look forward to each spring when I see my perennials coming up through the dark, desolate dirt to create a colorful array of "art". Amy, your website inspired me!! Your ideas inspired me! …I am going straight to your design plans to brighten up the front of my house. Thanks for your inspiring ideas, Amy!

-Michele J. (I talk about Michelle in the video above, too!)
"Hi Amy!! I can't thank you enough for your help, your hints, your hard work and research!! You have hit on every single thing I've always questioned but could find no clear answers. You break it down to basics which a newbie to landscaping needs!! I should know more but was busy raising [my] children and working …It's now time to make it beautiful year round with manageable maintenance. I just want to thank you!!"

–Kaye C.
"I am enjoying your site and posts SO MUCH! It's like 'finally'! Someone that speaks my language. The first thing I could relate to was the picture of your hands. No professional gardener has a perfect manicure! Your hands look like mine, so instant comradery. LOL …I just want to thank you for your guides, and guidance, I'm avidly following."

-Janine H.
"Omigoodness! Where to start! First of all thank you so incredibly much for that amazingly helpful video! I am renewed with inspiration on your ideas, and everyone LOVES your fire pit idea! What fantastic ideas, I love all your thoughts on breaking [the yard] into sections – brilliant! Cannot thank you enough for taking time to make that video it was seriously so helpful!!"

-Nicole C.
A few testimonials about my online gardening courses
"Amy's "chill" personality and teaching style and tools (clear and user-friendly) are excellent. The money you save by having thriving, healthy plants (instead of casualties) will more than compensate for the cost of tools and/or courses you purchase from Amy. Just remember, a goal without a plan is just a wish!"

-Miyoko, Garden Planning 101 Course Student (Washington, Zone 8)
"This course has given me confidence that I can create a beautiful space in my yard for any season of the year. I would definitely recommend this course to others, particularly those like me who might be struggling with the actual planning aspect of gardening. "

-Jaime T., 4-Season Garden Design Course Student (South Carolina, Zone 8)
"We moved into our house 3 years ago and I've been struggling to get the landscaping to match the vision in my head. One problem is that I've been trying to make it work around things that were already there, but I don't love a lot of them, so I think I'm ready to let them go and start from an almost blank slate. I've only gotten through the first few sections of the course, but I already feel like I have a more clear direction, so I'm really excited!"

–April S., 4-Season Garden Design Course Student (North Carolina, Zone 8)
When I bought my home in January 2012, I loved everything about it.
Ok, so you got me. My home was (and still is) adorable– but its certainly not perfect. But, I achieved my dream of being a homeowner before the age of 30. And I was single. And a girl. And it was a big, huge deal for me.
I was so freaking proud of my musty, cobweb-ridden investment that literally had insulation jammed into a hole in the wall where a window should have been. I didn't care. It was mine.
And to be honest when I look back at pictures I don't really remember it looking like that. I think that in my eyes, my home always looked the way I dreamed it would look… not how it actually looked.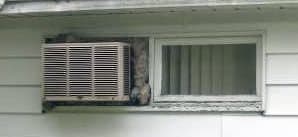 My dad was proud, too. In fact, my dad is the reason that this whole blog started. For nearly a full year, he (and my mom, family and countless friends) helped me to fix my place up!
But, my dad was right there with me through it all that first year. And I'm not talking like… "oh he helped me paint the hallway and it was a great day." No. I'm talking weekdays, weekends, up at 5 AM parging the foundation, climbing onto the roof to paint/clean out the chimney, renovating the kitchen-type stuff.
I love to take pictures and while we worked on my house I was secretly taking pictures of dad. And that night I would sit down and write a blog post about what we did that day.
He had no idea… and for nearly a year I documented our journey in a personal blog I called "Pretty Purple Door" — because he thought it was so silly that I wanted to paint my door purple. (Little did he know, this was the tip of the iceberg and I'd soon have him helping me make a floor using REAL pennies!! 🙂).
And… on Christmas in 2012 after nearly a year of DIYing, I sat my dad down at the computer and showed him his gift. He started at the beginning and read every single post. And then he read them backwards. And from beginning to end… again… lol.
So, the "thank you" gift to my amazing dad was complete. And, my first year of home ownership (2012) came to an end.
While most of these posts don't exist anymore, that is the story of how Pretty Purple Door was created.
Although I had no intentions of continuing to write, I found myself referencing my blog to recall dates and materials more often than I care to reveal. One day, I opened an email from someone who was reading my blog and telling me how helpful its been to them.
To be honest, it was a bit curious/strange to me at first that someone was reading my dad's "gift-blog". But emails kept coming in from other home owners who were finding a lot of value in my documented journey. These emails really meant a lot to me… I actually still have some emails from the early days hanging on my refrigerator!
To know that I was helping some other people navigate this home ownership and landscaping stuff was enough reason for me to continue writing.
Today, Pretty Purple Door has evolved into such a unique and special community that I had no freaking idea was ever possible. It's also my full time career!
So, thank you for checking out my blog… and learning a little bit more about me. I'm really excited to hear about you, too! So if you'd like, you can email me directly at [email protected] and say hi 👋!
Best,
Amy