Please note: I may earn commissions from qualifying purchases if you shop through links on this page. More info.
How to Arrange Plants in Containers – 7 Design Tips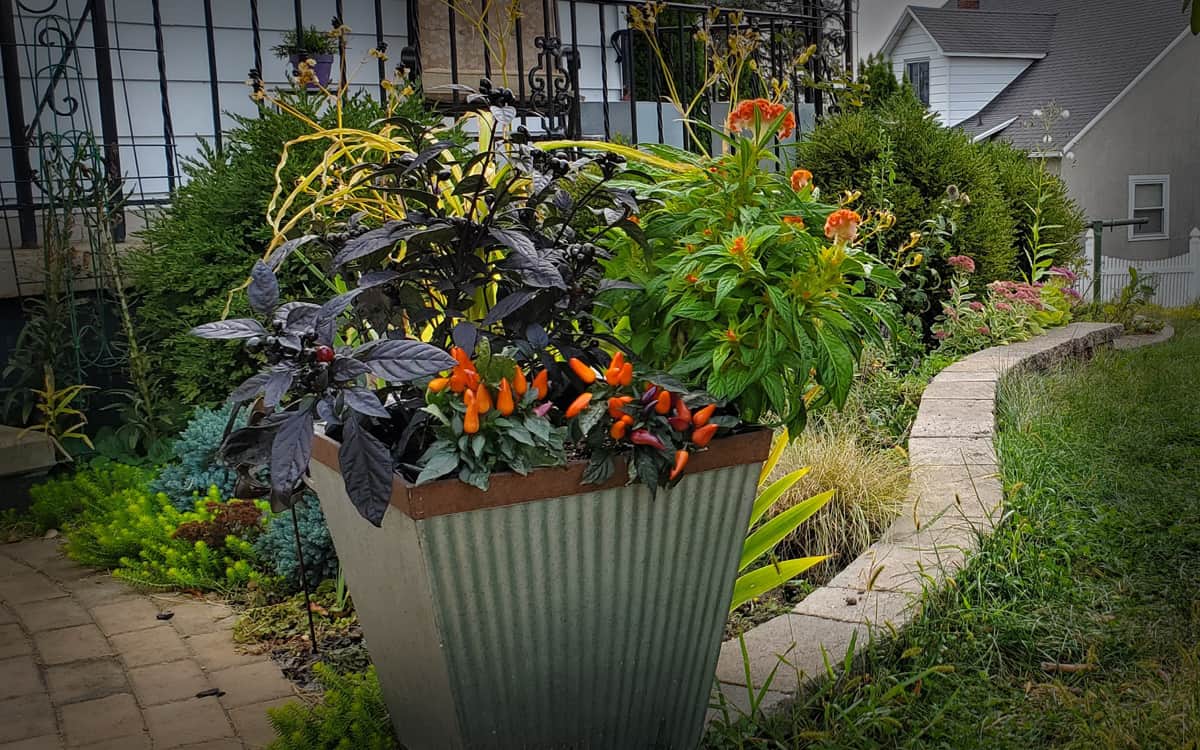 It's fun to go to the garden center looking for gorgeous plants for your planters and containers. But, that fun can really quickly turn to overwhelm and dread when you start to see how many plants and flowers there are to choose from.
In a moment of panic, you turn around and spot that pre-made container near the checkout for $75. And, it feels like someone threw a lifeline to you as you breathe a sigh of relieft.
Believe me, I know how incredibly tempting it is to buy that premade arrangement and move on with your life.
But, did you know that once you learn some simple tricks to arranging plants in containers, you'll save SO much money? Not only that, your containers will be unique and creative, too.
So, if you've been struggling with arranging plants, I've put together this post — and a video — to show you:
how I choose plants for my containers
how I combine different plants together
how I arrange the plants in my containers
Subscribe to my YouTube channel for more gardening videos!
Tips to make the perfect container arrangement
You can watch the video above to get all of my tips and a bit more of a "visual" look at why I'm choosing each plant. Or, below you can read each tip and laugh at me trying to explain what I'm talking about in the video 🙂
1 Choose an "inspiration" plant
My first tip is to make a loop around the garden center and find a plant that inspires you. Maybe it's something you've never seen before? Maybe it's a color you love? Maybe it's a plant you're familiar with, but have never seen it in THAT color before? Maybe it's a vegetable, like cabbage, kale of peppers? Or even an ornamental grass?
Whatever it is, find that plant that you just MUST have. The one that speaks to you. This will be the starting/jumping off point for arranging your container.
For me, the jumping off point was the moment that I saw this beautiful and unusual plant at the garden center. It's a dark purple, almost black, ornamental pepper called Black Pearl (Capsicum annuum black pearl).
Those round, shiny nubs are actually hot peppers and it blooms with purple flowers. And I had to have it.
2 Tie your container in with your existing landscape
Ok, so black pearl pepper is in my cart and I have already decided that I must need it. At this point, I HAVE to give myself a good old gut check. I call this the "gut check" test.
So, I ask myself how this plant actually ties into my existing landscape. And, I know that it may be a strange question because this is a container arrangement… right? But, the fact remains that your landscape does not go away just because you decided to change out your container. So, there has to be some connection between your planter and your landscape.
For me… there is because I use a lot of purple blooms in my landscape. So, even though the foliage of this pepper plant is WAY darker than anything in my landscape, it still has the purple blooms that tie in with my purple asters at catmint this time of year.
What Blooms with What?
Never know what to plant together? Find out with this FREE Plant Pairing Guide and become a pro at combining plants for the best garden design possible!
3 Find plants to compliment your inspiration plant
So, we have our inspirational plant. Around this time, I'm staring at it in my cart and grinning like an idiot as I bump into displays around the nursery… because I am in love with it and I've passed my "gut check" test.
So, the next thing on my agenda is to find plants to go with this particular plant. And, in most cases I think about color. So I'm usually looking for something else that's purple like the pepper… or something orange or yellow that contrasts with the purple.
Quick Tip: Learning just a little bit about the color wheel and creating color schemes will up your gardening game.
For me, it was another pepper plant. And yes, apparently I'm obsessed with peppers this year. But, this plant had so much going for it and I thought it was the perfect companion to my black pearl pepper. It's called Mambo ornamental pepper bush (Capsicum annuum Mambo).
Mambo ties in beautifully with Black Pearl because it has similarities, but it also has differences.
It has shiny peppers on it, but the peppers are a different shape and some are the same (purple) but some are different (orange)
Also, the foliage of this pepper bush is the same shape and has the same shine as Black Pearl. The leaves are dark, but not quite as dark as Black Pearl.
4 Use contrast in color and texture to make an interesting arrangement
So at this stage we have Black Pearl Ornamental Pepper paired with Mambo Ornamental Pepper bush. And, Mambo gives a bit of contrast but not enough to really amp up my container. So my next mission is to find something that will really contrast with my inspiration plant.
So, I took cues from the orange peppers in Mambo and set out to find another orange blooming plant. But not another pepper. I need something with a different texture than the shiny bulbs I already have. And that's when I stumbled upon Celosia 'Twisted Orange' Cockscomb (Celosia argentea var. cristata 'Twisted Orange').
How unique and exciting are these blooms? This is just what I was looking for as far as contrast.
The blooms are a fuzzy, twisty orange mass which is much, much different than the shiny bulbs of the peppers I had.
It also has lighter green foliage that are a bit bigger than the leaves of the peppers (although they are basically the same shape).
5 Choose plants of different heights
When I get to this point, I'm usually thinking about what I'm missing from my container. In most cases, it's variation in height, but it certainly could be other things.
You want to make sure you include something tall, something bushy and something low to cover the dirt (or even "spill over" the container). So, in my arrangement, I have my Mambo peppers that will grow low and possibly spill over the edge of the planter. My celosia and Black Pearl pepper will fill in the middle height. But I am really missing that "thriller" part.
And, by the way, I really don't like using the word thriller… you know how they say thriller, spiller, filler. It's all well and fine to use this to remember to vary the heights of your plants, but I find that in a majority of my planters that the thriller isn't really all that thrilling. It's usually just a tall grass or something to give the planter height. In this case I feel like I've already found my thriller in the Black Pearl Pepper. So… anything after that is just… not so thrilling.
So, to summarize this, varying plant heights in a container IS super important. But the tallest plant doesn't need to be the most "thrilling" part of your container. Make sense?
I chose Jade Princess Millet (Pennisetum glaucum 'Jade Princess') for my tallest plant in my container.
Millet doesn't bloom… but it solves several problems with my container; height, leaf shape and brightness.
6 Review your plant choices to see if anything is missing
So, what are these problems exactly? Well, take a look at your plant choices as a group and you may start to realize that something is "off" or "wrong". In many cases, it has to do with the heights of the plants like I said above.
But in some other cases it will be something not as easy to pinpoint. But, here are some common issues that you may have and what you can do to fix them.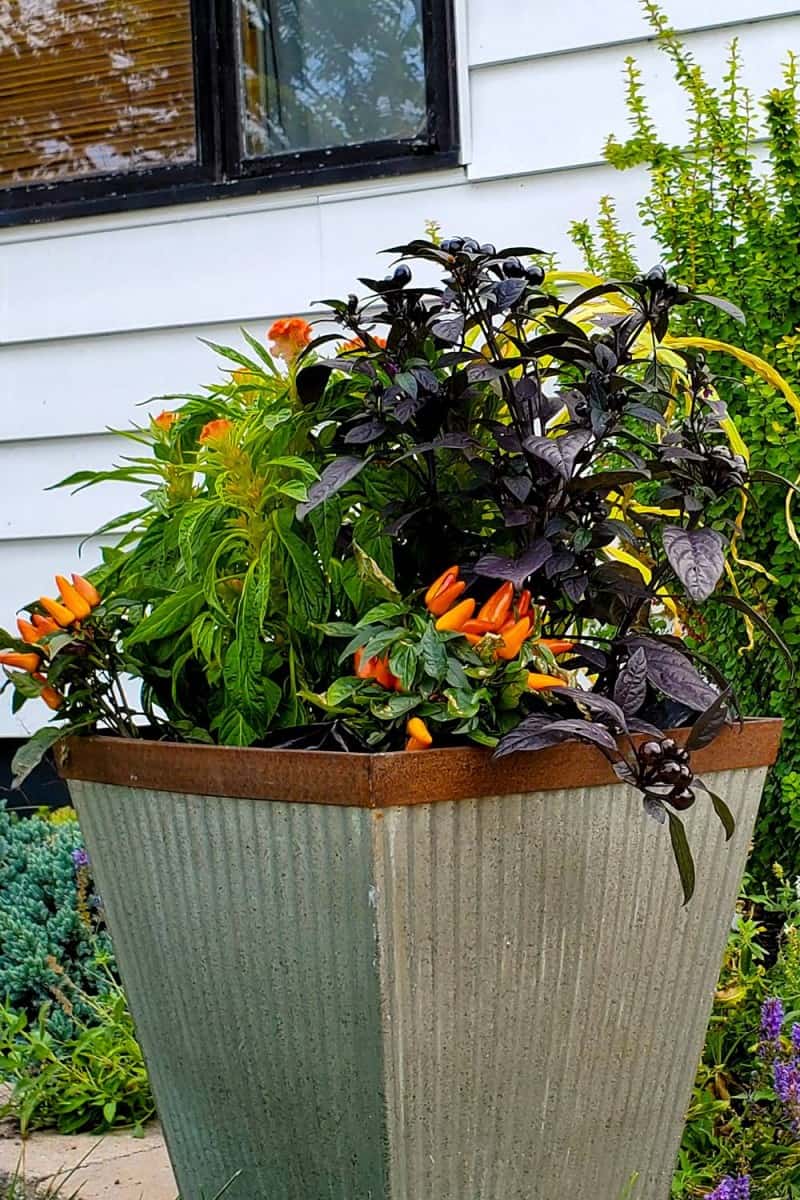 Do you have plants that are different heights?
Think… tall, bushy, low. Make sure that there's a variation of heights for your plants and that you really can't see the soil. Or, once the plants grow in you won't be able to see the soil. Adding some different height plants adds a lot of interest to your container.
If you don't want this "style" of container, that's ok too. There are lots of different things you can do. So, just move to the next point.
Is there enough contrast?
You want to make sure that your arrangement is cohesive. But it should also have enough contrast to create some interest. So think about color contrast… but also contrast in shapes and textures too.
In my planter, part of the problem was with contrast in the leaf shape. This was resolved by the strappy foliage of the millet. The majority of a plant is foliage so I tend NOT to rely on the color of the blooms to carry my designs.
If all the color was removed, are the plants able to stand out from each other? Or, does everything just blend together? If it blends, you may need to find a tiny leafed plant, a large leafed plant, or just something different to add to your container arrangement.
What feeling does it evoke?
What's the first word that comes to mind for you? When I looked at my arrangement I thought of "spooky." Which… is kind of ok… since it's almost Halloween. BUT, it wasn't completely ok with me.
I don't my planters to feel too dark and scary. So, I needed to choose something to brighten it up. Which is where my choice for the Jade Princess Millet came in.
So, think about the first word that comes to mind (dull, boring, girly, cheerful, dark). Is it a positive word or a negative one? How can you change the feeling?
Does it remind you of anything?
I associate color with a lot of different things… so often when I look at an arrangement I immediately think of common items or even popular brands that use those colors. This can be good or bad so let's go over a few examples.
I really can't stand the combination of red and yellow flowers together. I immediately see ketchup and mustard and think of McDonalds. Nothing wrong with McDonalds… I just don't like the food enough to create a plant arrangement in Ronald's honor.
But, I really do love ice cream. One time I made a planter arrangement with lots of different pastel colors and the first thing I thought of when I looked at it was rainbow sherbet. So, that was a wonderful association… except for my diet!
So… if your arrangement is sparking some weird associations, that's totally normal. If it's a positive association (like rainbow sherbet ice cream), go for it. If it's something you don't particularly like (Ronald)… maybe you need to adjust it.
7 Divide plants to fill multiple containers for less money
Did you know that just because you purchase one plant in a pot… it doesn't mean that it's only one plant? My mind was blown when I first realized this. And now I will never go back to purchasing premade arrangements.
Take a look inside of the plant that you're about to buy. Do you see multiple stems coming out of the soil? If so, it's likely that the plant can be divided into at least two different plants.
Actually, the ornamental pepper bush in the video above was actually 5 separate plants. So, I purchased one pot for $7.99 and was able to divide that into 5 different plants for my containers! Not a bad deal, right?
If you want to learn more about how to split plants in containers, just watch this video and I'll show you how to do it.
Quick Tip: If you're looking for more gorgeous fall container ideas, head over to this post, 10 Fall Flower Containers with a Unique Twist
BONUS- Use a self-watering planter
If you're getting into container gardening, self-watering planters are a great option. Not only do they save you time having to water each day, but overall will lead to healthier and happier plants that are consistently getting the moisture they need to survive.
You can purchase these planters at nurseries and home improvement stores. But, you can also fairly easily turn a container you love into a self-watering planter.
What did I plant?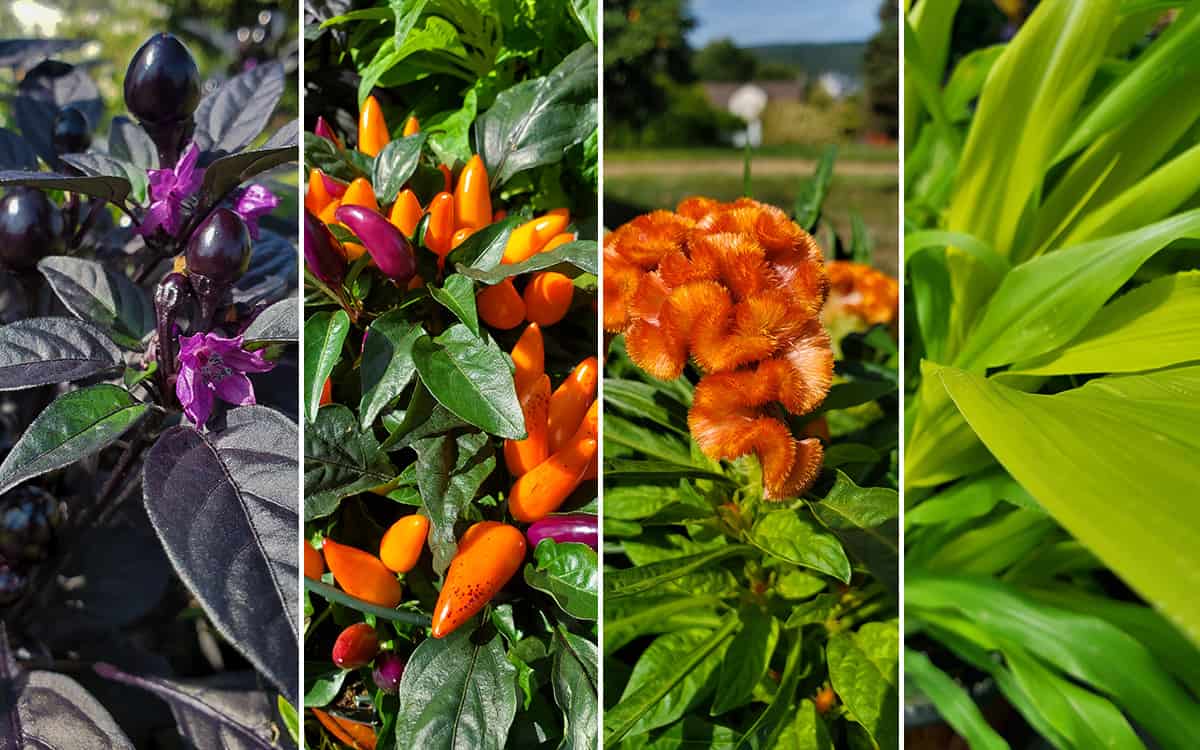 From left to right, here are my fall container arrangement plant choices:
Black pearl ornamental pepper Capsicum annuum black pearl
Mambo ornamental pepper bush Capsicum annuum Mambo
Celosia twisted Orange Cockscomb Celosia argentea var. cristata 'Twisted Orange'
Jade princess Millet Pennisetum glaucum 'Jade Princess'
Wrapping Up
When creating your own container arrangement, start with one plant as inspiration and go form there. Then, find a plant to compliment your inspiration plant. Then, another plant that contrasts it in either color, leaf shape, texture or size…. or all of the above. Next, you want to make sure you include something tall, something bushy and something low to cover the dirt (or even "spill over" the container). Lastly, have fun and enjoy the process of choosing your plants and arranging them in your containers. If you liked this post about container arrangements, you'll definitely want to check out my top tips for arranging plants in your landscape.
More Gardening Posts You'll Love
7 tips for choosing the RIGHT plants
This FREE guide has 7 key questions to help you pick the perfect plants for your landscape. Pop in your email below for instant access.
Amy is the founder of Pretty Purple Door and has been a garden designer since 2014 and graphic designer since 2005. She helps home gardeners design their own beautiful landscapes that are colorful in all four seasons, show off your personality and suit your lifestyle. Amy's work has been featured in publications like The Spruce, Family Handyman, Buzzfeed, Country Living Magazine and more. Read full bio.