Arranging plants in your garden… It's one of those things that many beginner gardeners really, really struggle with. But today I'm going to show you three simple ways that you can arrange plants in your landscape for that beautiful layered look that you want. Use these steps to create a more professional and organic looking garden at home.
1- Arrange plants in drifts (groups)
One of the easiest ways to arrange plants in your garden is by grouping your plants. This is also known as planting in drifts. Drifts are groups of plants that are arranged in an organic way in your landscape. Usually when planting and drifts, it's recommended that you do so in odd numbers like 3, 5, or 7.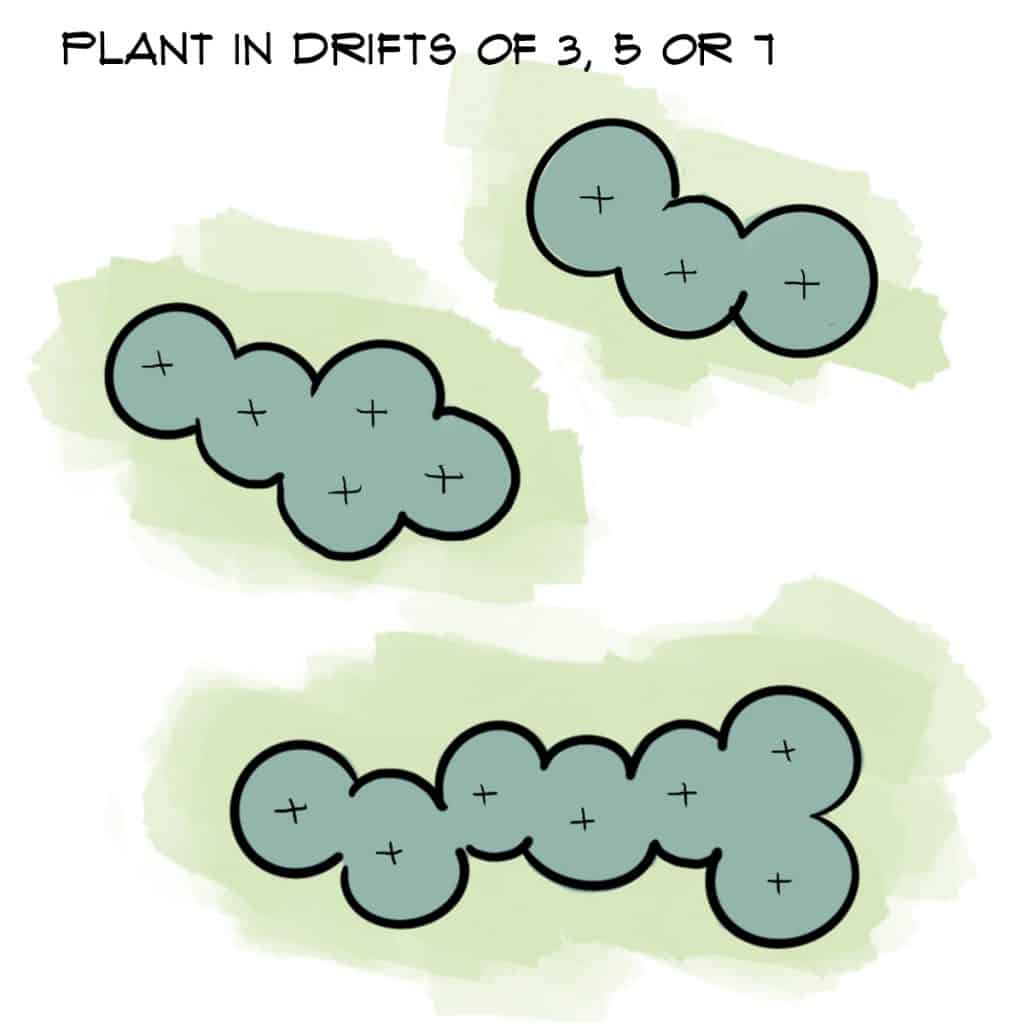 When you arrange plants in drifts it gives a bigger impact to your landscape. No more buying just one plant. You should buy several of the same type of plant so that you can make a grouping of them. This will give you a better overall look to your garden.
Quick Tip: If you like the idea of creating drifts of plants, you'll also really enjoy my article all about landscape layering.
2- Create a focal point in your garden bed
Another way that you can arrange plants in your landscape is by creating a focal point. Pick a superstar plant that you love or even position a sculpture or other object as the focus of your garden bed. Then arrange plants around the focal point to bring it all together.
Quick Tip: If you like the idea of creating focal points, this article will show you how to place focal points properly in your garden!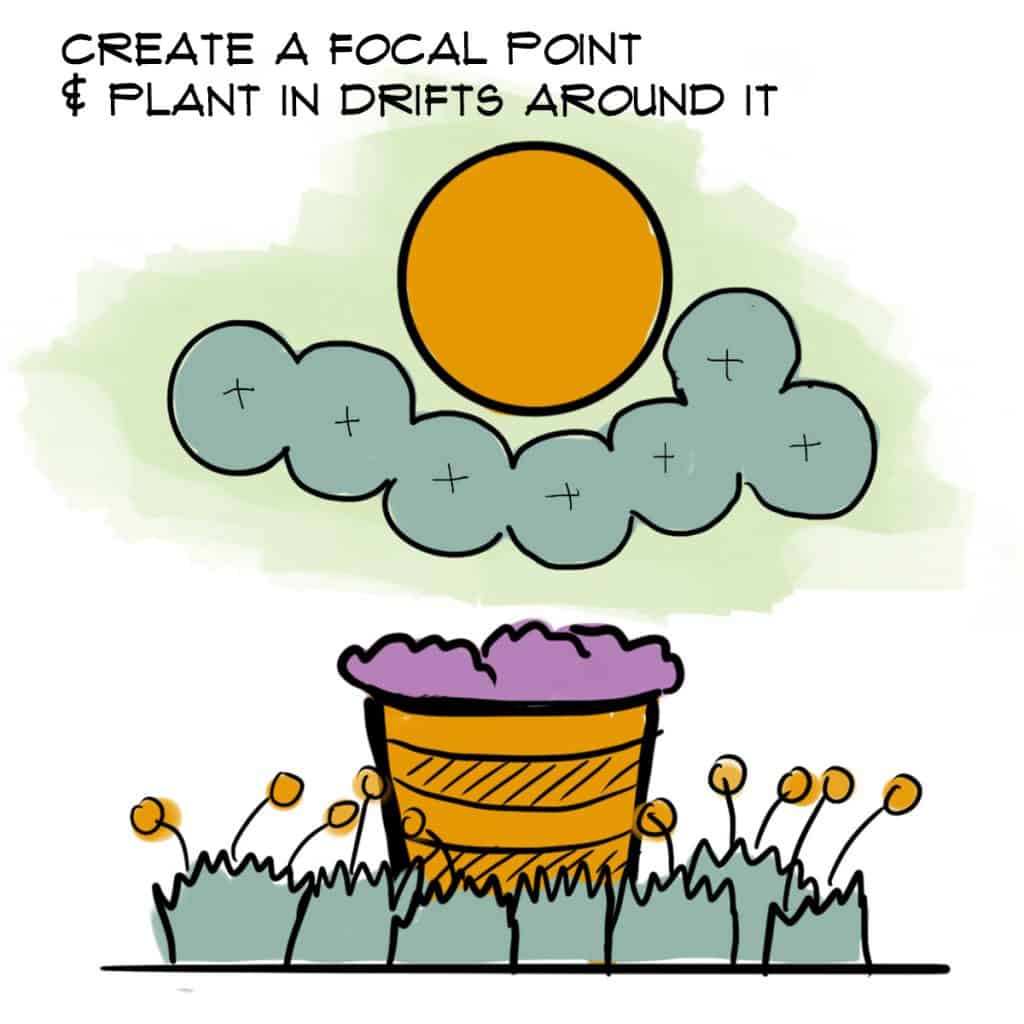 Quick Tip: Another great way to create a focal point is by using a contrasting color in the garden. Check out this article on garden color schemes to learn how to use color in your garden.
3- Arrange your plants in rows
Creating rows in the garden is another simple way to arrange plants when you aren't sure what to do. Arrange the tallest plants in the back, the medium-sized plants in the center and the lowest growing plants in the front to create a foreground, middle-ground and a background in your garden.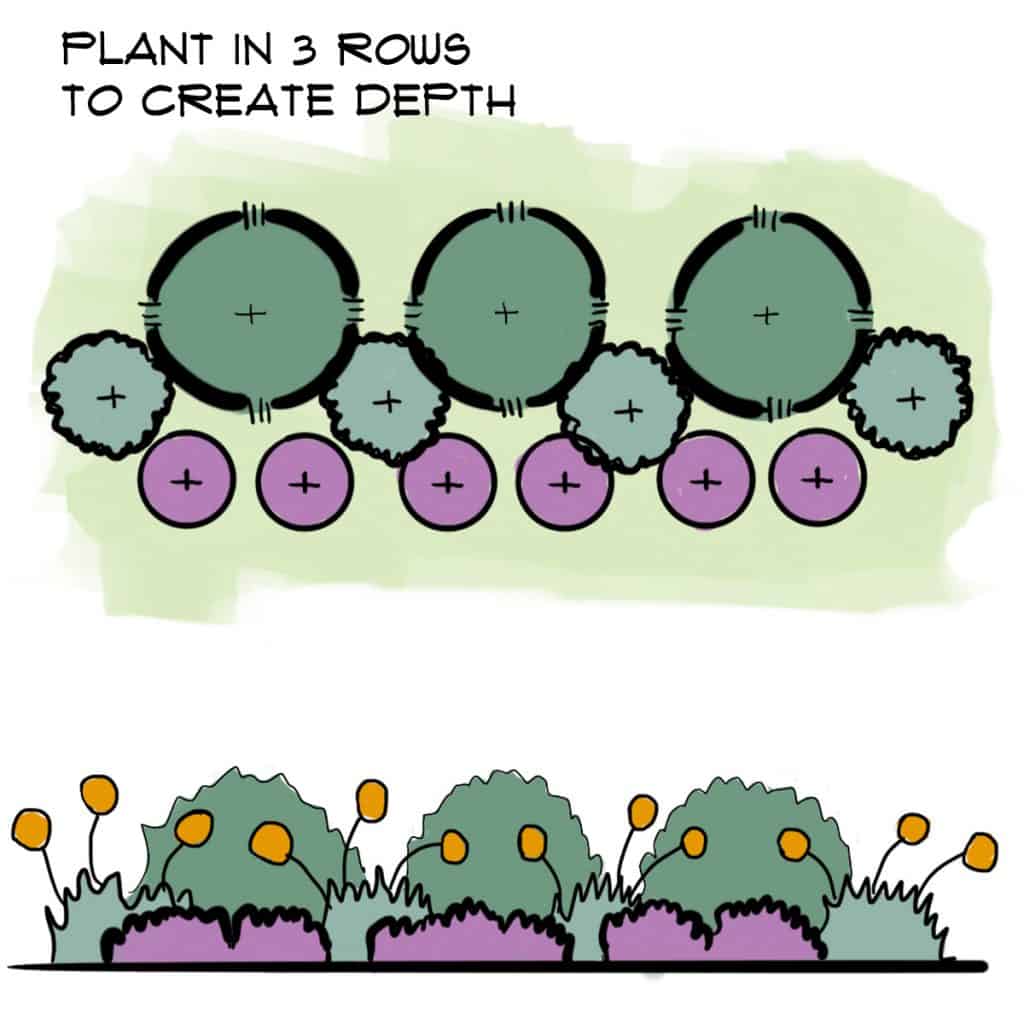 By arranging in straight rows you'll be creating more of a traditional or formal look for your garden. This is a really nice and clean layout that lots of gardeners enjoy using.
Quick Tip: Not sure if your style is formal or informal? Learn more about different garden styles and the characteristics of each in this article.
Bonus tip: Weave plants in and out of the rows
Here's an extra tip that will help you when planting in rows. If you're looking for a more informal look to your garden and you don't want to just create three straight rows. Instead, try mixing the rows of plants together for a more cohesive look.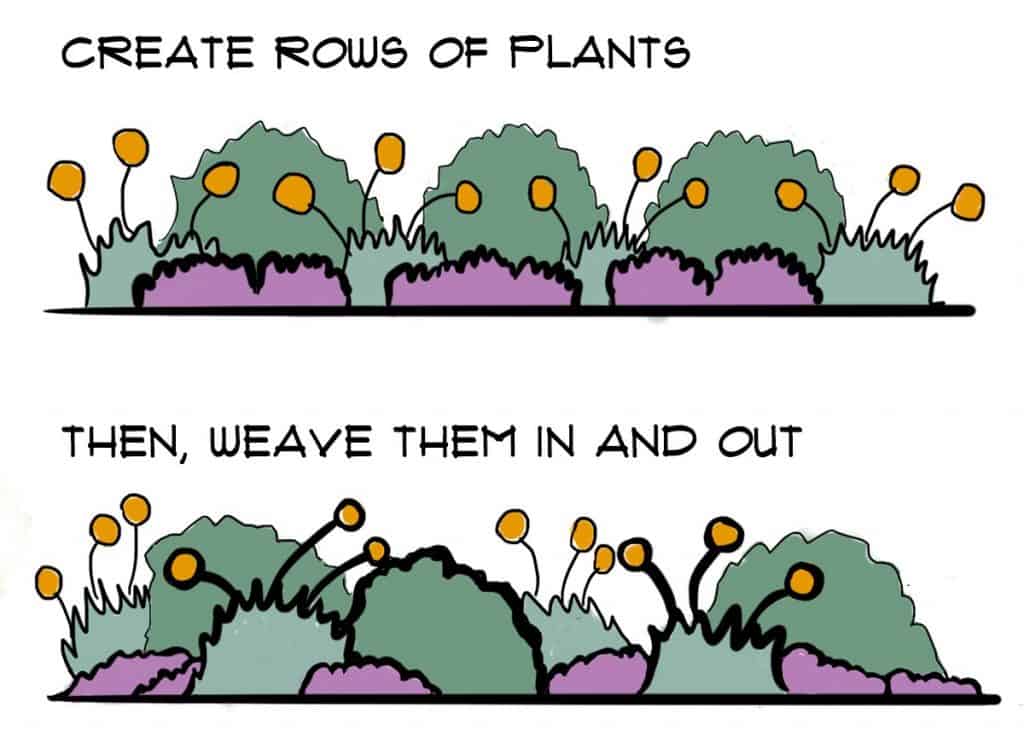 Create a foreground, middle-ground and background with your plants, then weave the plants in and out of each row. That medium-sized plants can be pulled forward to the front row and smaller plants can be pulled back into the middle row.
You can also experiment with bringing larger plants from the back row to the middle row and putting middle row plants in the background. Think about this kind of like you would braid your hair. We are mixing the 3 different rows together to tie the garden together.
This will give you a more informal and casual look for your layered garden bed.
Quick Tip: If you need some more help with weaving plants in and out of the garden, check out this article for 5 ways to create unity and flow in your landscape.
Wrapping Up
Using these three simple steps will give you a more cohesive and put together garden layout. To arrange your plants in your landscape, first think about planting in drifts of 3, 5, or 7 plants. No more stopping at the garden center to pick up one single plant! We are now going to plant for impact!
Second, create a focal point in your garden using a standout plant, shrub or even a statue or other structure. Then surround your focal point with a drift of other plants that complement it.
Finally, try arranging your plants into 3 rows; a foreground, middle-ground and background row. This will give you a more traditional and formal look to your garden.
In our bonus tip we discussed weaving plants from the foreground to the middle ground, from the middle ground to the foreground and from the background and the middle ground. By weaving the plants in each row together, you'll introduce a more informal look to your garden bed.
Finally, if you loved this post and you're looking for more great information about flower gardening, I'd recommend that you check out my free gardening video training, where I cover the 3 secrets to success with your garden!
Secret 1: Avoid the two biggest mistakes that will prevent you from creating your 4-season dream garden.
Secret 2: Discover why creativity has NOTHING to do with designing your dream garden (and what does).
Secret 3: Learn the key to unlocking your garden's potential even if you have less than idea conditions.
Sign up for the training right now! You'll also get a relay emailed right to your inbox in case you can't watch it right this minute 🙂
Arrange plants in the garden Infographic
Everyone loves visuals – here's an infographic that summarizes all of the plant arrangement information in this post. You're welcome to share this with your friends and/or save it to Pinterest.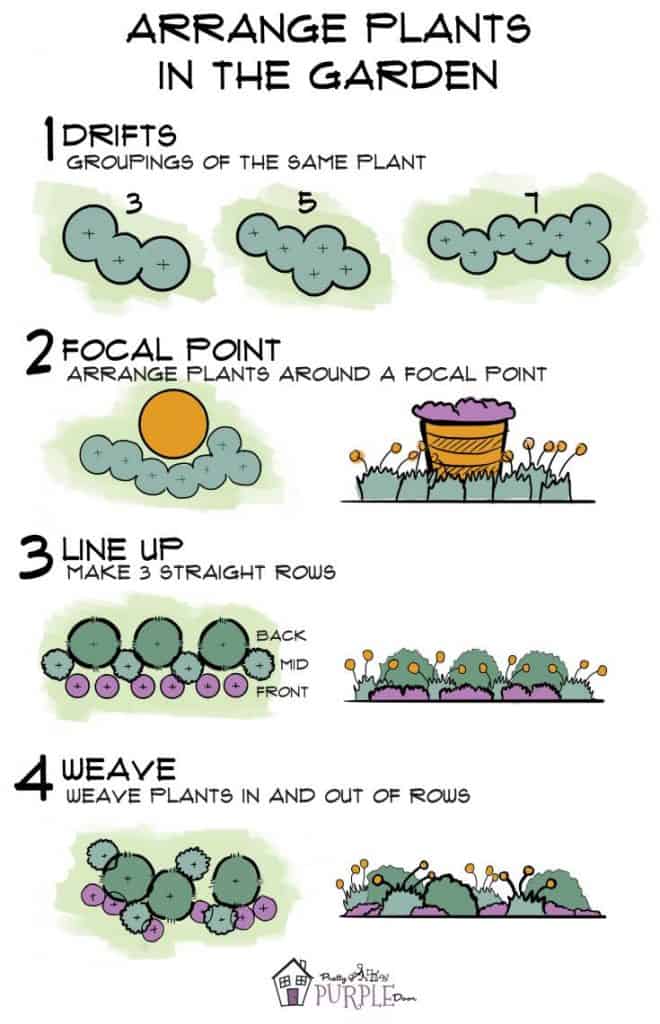 Quick Tip: If you enjoyed the tips and tricks in this post, you may want to check out my article about landscaping from scratch in 7 simple steps.
More Gardening Posts You'll Love
What Blooms with What?
Never know what to plant together? Find out with this FREE Plant Pairing Guide and become a pro at combining plants for the best garden design possible!