Please note: I may earn commissions from qualifying purchases if you shop through links on this page. More info.
Design Your Backyard Landscape in 6 Simple Steps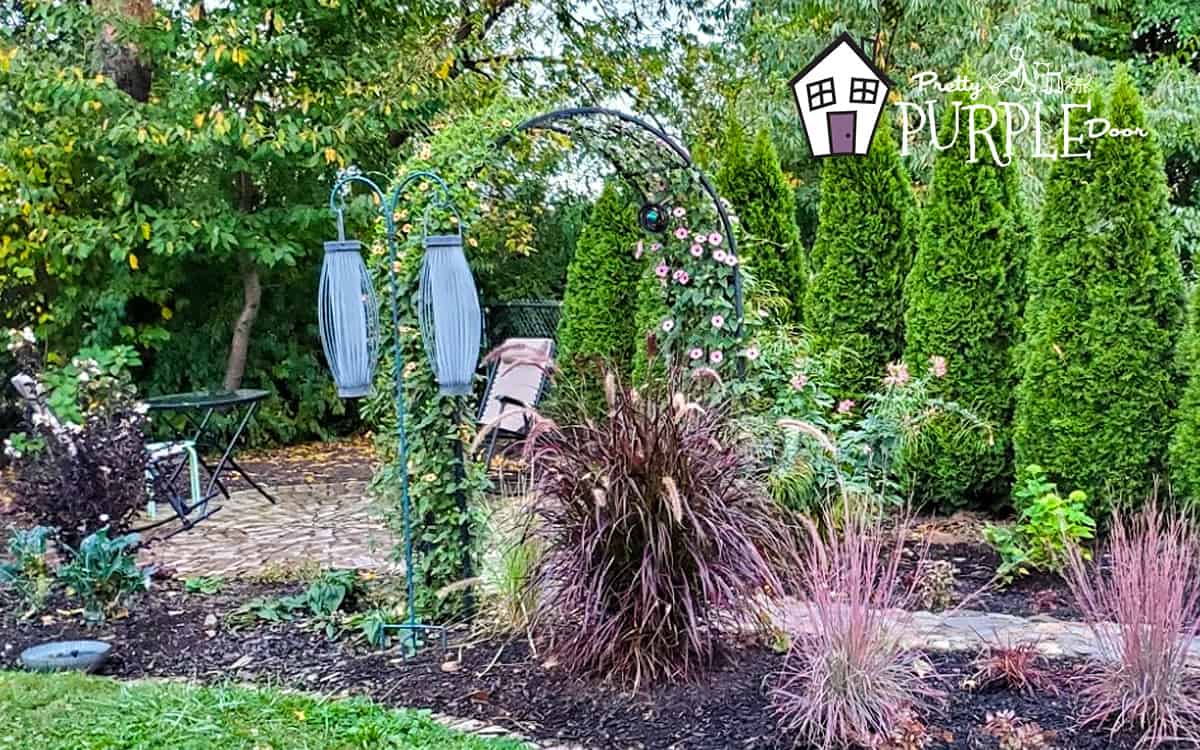 Designing a backyard landscape can be a daunting task. Not only do you need to create separate areas and zones from a large space, you also need to consider hardscaping, plant, furniture and focal point choices to make. But, don't worry. I've got you covered. In this article, you'll learn a step-by-step process that will help you turn your barren backyard into a beautiful, functional space begging for you to step outside and enjoy.
Although some of these steps require some thought and effort, it really is a simple process that anyone can do at home. Whether you plan to DIY your backyard landscape or hire a professional, it's useful to go through these steps to ensure that you get exactly what you want from your backyard landscape design project!
Steps To Design Your Backyard
Here are the 6 simple steps to the backyard landscaping design process:
Create a Wishlist
Divide Your Space Into Rooms
Connect Areas With Pathways
Draw a Master Plan
Add Focal Points and Personality
Choose Plants & Features To Match Maintenance Priorities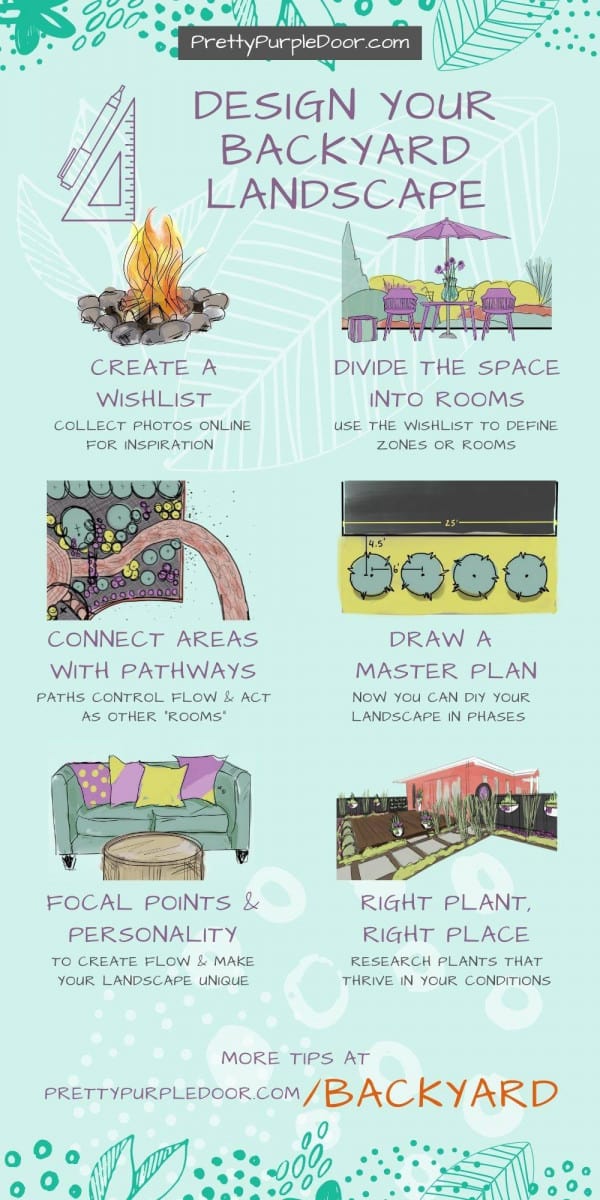 Create a Wishlist
Creating a wishlist is probably a no-brainer, but I'm constantly surprised by the number of homeowners who skip this step. Whether you plan to design and implement your backyard landscape or hire a professional to do it for you, creating a wishlist is incredibly important. You are the only one that can determine what you and your family's needs are, so taking the time to jot down your ideas is going to bring clarity to what you want and need.
Collect Inspiration Photos
You can always find inspiration online to get your ideas flowing. I love sites like Pinterest.com and Houzz.com for this very reason. Start by saving boards or folders images that speak to you and try to pinpoint why you're attracted to each photo. Is it the level of privacy and seclusion? The colors? The mood? The features? The style of furniture or décor? There may be several reasons why you like a particular photo. Write them all down!
Brainstorm Ideas without Judgement
When brainstorming a wishlist of ideas, dream big and bold. Put down ANY idea that comes to mind and don't censor yourself. Try not to think about how much space or money you have. Just write down anything that comes to mind. After all, if you don't write it down, you'll NEVER get it. So, why not throw it on the list! You may be surprised by how many of your wishlist items you'll actually be able to incorporate into your final design.
Wishlist Item Examples
Design ideas can be large or small; specific or general. I know it may be confusing what types of things to put on your wishlist so here are a few items that could be on your wishlist:
Cooking Area
Dining Space
Relaxing Hangout Space (click here for ideas)
Modern Vibes (click her for ideas)
Purple Plants (click here for ideas)
Sunflowers
Vegetable Garden – with Eggplant!
Lilacs / plants with scent
Herbs for Cooking
Catio
Hottub or Pool
Hammock or Swing Chair
Water Feature (click here for ideas)
Sound Barrier for Noise
Fireplace / Firepit
Privacy from Nosey Neighbors (click here for ideas)
Covered Bar with TV
Kids Play Area
Lawn for Kids & Pets to Play
Fence for Kids & Pets to Play Safely
Lots of Privacy (click here for ideas)
Garbage / Recycling Center
Shed / Storage for Lawn Mower and Gardening Tools
Music / Speakers
Area To Entertain Guests
Compost / Utility Area
Wildlife Friendly Space
Place to Workout / Exercise
Work From Home Outdoor Office
Shade or Protection from the Sun/Rain
The possibilities really are endless. So, take some time to brainstorm all of the great ideas you may decide to incorporate. Remember – this isn't the time for judgment!
What Blooms with What?
Never know what to plant together? Find out with this FREE Plant Pairing Guide and become a pro at combining plants for the best garden design possible!
Divide Your Backyard Landscape Into Rooms
Once you create a wishlist, you'll have to start making decisions as to what's really important to you. Depending on the size of your backyard and your budget, you may be able to incorporate just a few of these wishlist items. Or, you may be able to incorporate all of them! Building all of the pieces of your wishlist into your design right in the beginning of the process will ensure that you create a landscape that's unique to you and your family.
Renovating Existing Rooms
If you're not designing your backyard from scratch, you may realize that you already have a few different rooms or zones in your backyard already. Now is the time to think about renovating these rooms. Are existing rooms serving their intended purpose? Are they too small? Too large? How can you change the existing spaces in your
Wishlist Must-Haves & Maybes
A great way of narrowing down and sorting your wishlist is to mark different items from on your list as "must-haves" or "maybes." Once you've narrowed down your wishlist to your must-have list, you can begin to divide your backyard into separate zones, or garden rooms as I like to call them.
Choosing the Hub of Your Backyard Design
When dividing your space into main areas, first think about creating a hub for your landscape. Which idea from your wishlist would you choose to be the centerpiece of your design? Perhaps it's a large cooking and eating area… or a large firepit area to relax with a glass of wine. Or, maybe you want to be the place where all your friends come to watch Sunday football on the outdoor big screen? Choose one of your ideas to be the main hub.
Once you choose your hub, select a few more ideas from your wishlist that you can fit into your design. These can be other rooms or spaces in your design.
In this article, you can learn all about garden rooms, so be sure to head over there for more info.
Connect Areas With Pathways
Pathways are a really underutilized design element, especially for multi-functional spaces like backyards. Pathways don't have to be large and grand (although they can be). Just suggesting a path to take with a few stepping stones is often more than enough to direct the traffic flow throughout your landscape.
The biggest tip I can give you as a designer is that when you can control the flow of traffic in and around spaces, you are able to immerse others in your design and help them to experience it the way it's intended. This control is an incredibly powerful tool and pathways can help you get there.
Link Garden Rooms Together Using Paths
In order to unify your landscape and make it feel connected, you'll need to consider how you will travel from one garden area to another. The easiest way to do this is to incorporate pathways into your design. These pathways will link the different garden rooms together, creating a clear and distinct route that a person can follow.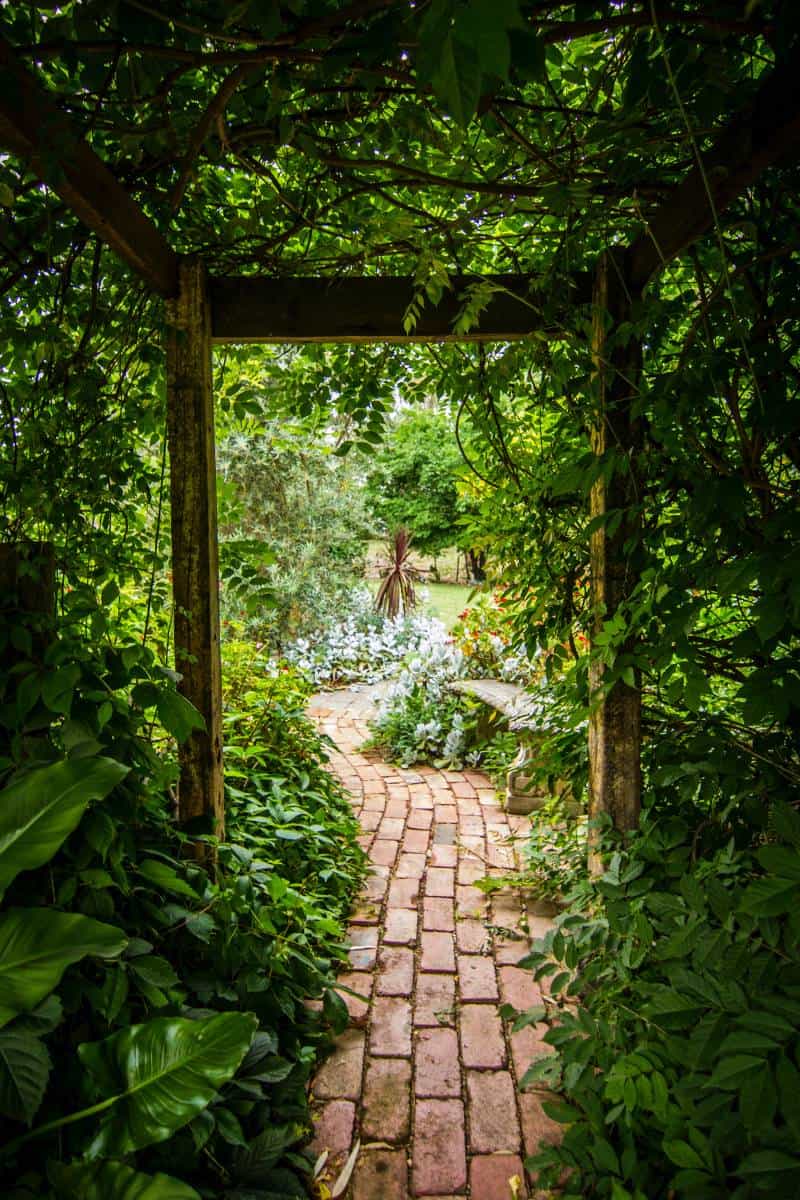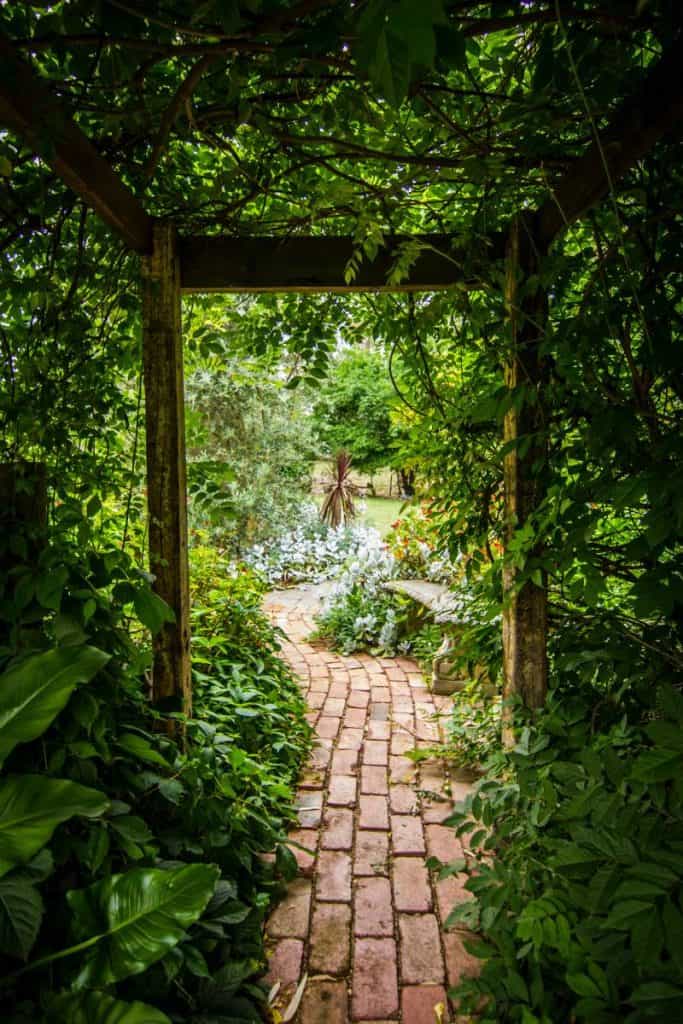 Pathways Can Serve as Transitional Rooms
The great thing is that pathways can serve as transition areas from one space to the next. Pathways can incorporate other elements from your wishlist, like a water feature, wildlife garden or a seating area for reading & reflection. Even though you'll just be "passing through" these pathways, it doesn't mean that they can't function as additional rooms in your garden.
Hub and Spoke vs. Circuit Pathway Designs
The best pathway design will connect all of your spaces to each other. The two simplest pathway design tactics are what I call the hub and spoke pathway design and the circuit pathway design.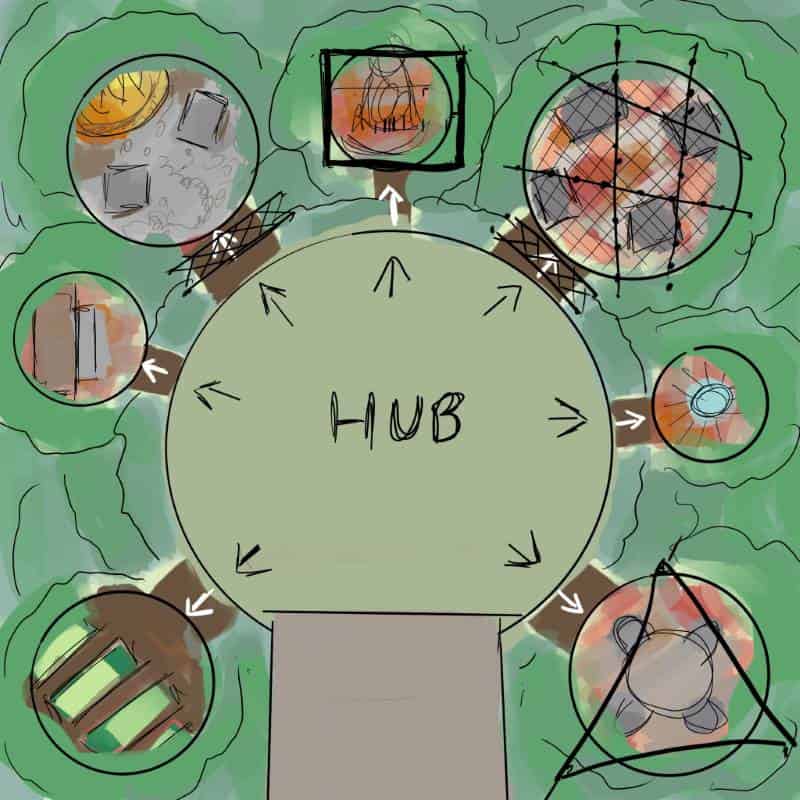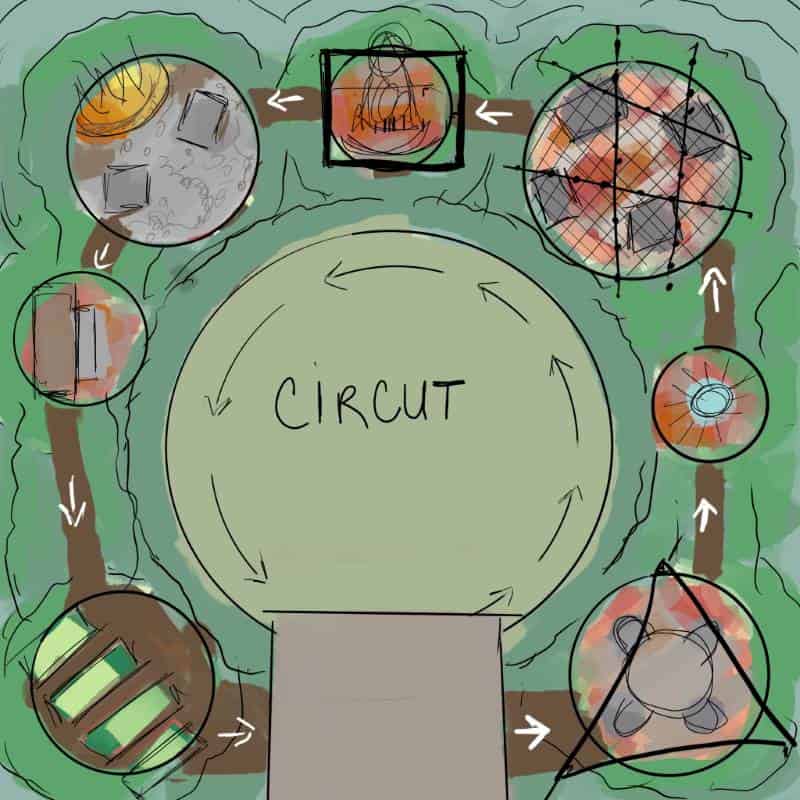 Hub and Spoke Pathway
In a hub and spoke pathway design, think about your landscape with the hub as the center, and pathways that connect the hub to the different rooms. This can be like a bicycle with spokes jutting out from different directions.
Circuit Pathway
In a circuit pathway, one single path will travel around the landscape connecting one room to the next and the next until it ends back at the beginning. If you like this type of pathway, start by choosing an exit point from the main hub room. Then, draw in pathways between each room that eventually circle around to connect each room in your backyard until it comes all the way back to the hub.
Other Pathways
There are many other options for pathways so don't be afraid to explore other options as they come to you. These are just two to start with to make the process either. The pathway design you choose will really depend on:
your personal style and
how you want people to interact with your landscape
Draw a Master Plan
The great thing about this step is that you've already started to create your master plan. In the last two steps of this process you:
decided on the main rooms of your backyard design and
connected the rooms together with pathways
So, you've already got a great head start.
In my opinion, master plans are very helpful whether you plan to DIY your project or work with a landscape designer or contractor. Here's why.
Master Plans for DIY Backyard Landscape Design
Creating a rough drawing of what you're envisioning is important because it will get your ideas out of your head and into your landscape. Drawing a master plan of your backyard gives you the freedom to DIY your landscape in different phases as time and money allows.
Your master plan will also help you to express your ideas to others who may help you choose materials and/or implement parts of your design.
Master Plans for Hiring Professionals
If you plan to hire out your backyard landscape design, creating a master plan is also an excellent way to express your desires to a landscape designer or contractor who will implement your ideas.
I've been a designer for nearly two decades and I realize how uncomfortable many people are at the idea of hiring a designer. Many assume that a designer will be able to perform some kind of magic with very little input from the client. But I can assure you that designers, contrary to popular belief, are not mind readers. So, the more information you can communicate to them, the better the outcome will be. With a master plan of your ideas, a designer will be able to use their skills and experience to make the space perfect for you and your family.
Measure Your Backyard Landscape Space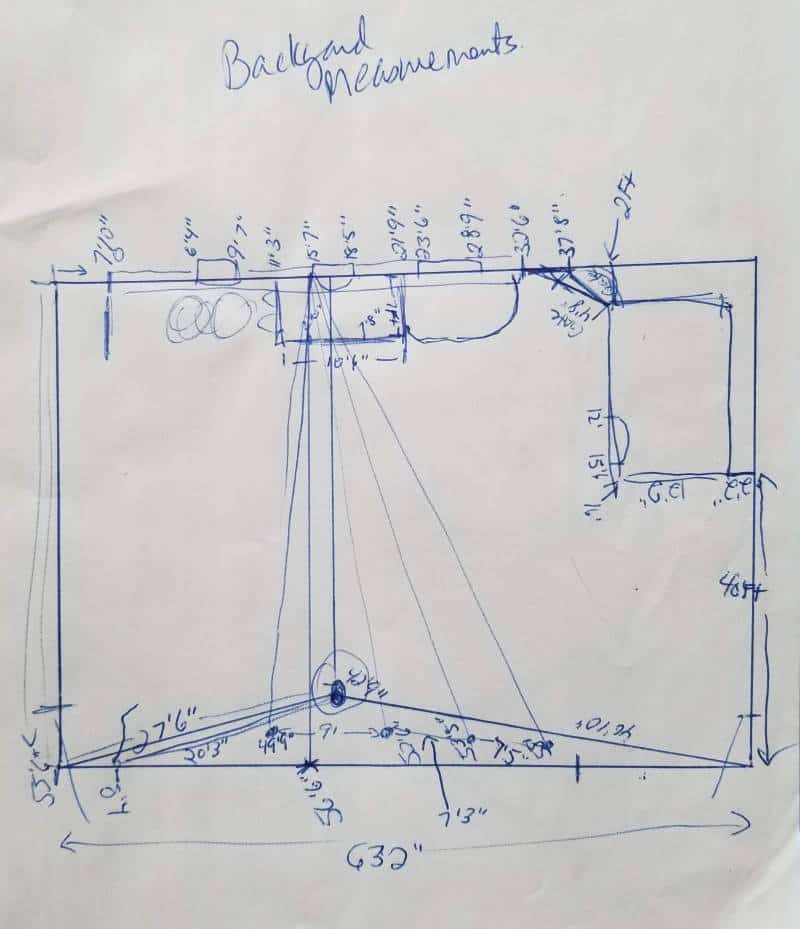 When creating your master plan, it's incredibly useful to measure out your backyard space so that you can determine how much space you have to work with and how big your rooms can actually be. What you may think is a square lot, may be a bit skewed. It's rare that a property is a perfect square or rectangle. I won't go into a lot of detail here, but if you want to learn more about measuring your space, be sure to read this article for more info: Landscaping from Scratch – 7 Steps to Designing a Garden Plan.
Use Grid Paper & Tracing Paper to Explore Ideas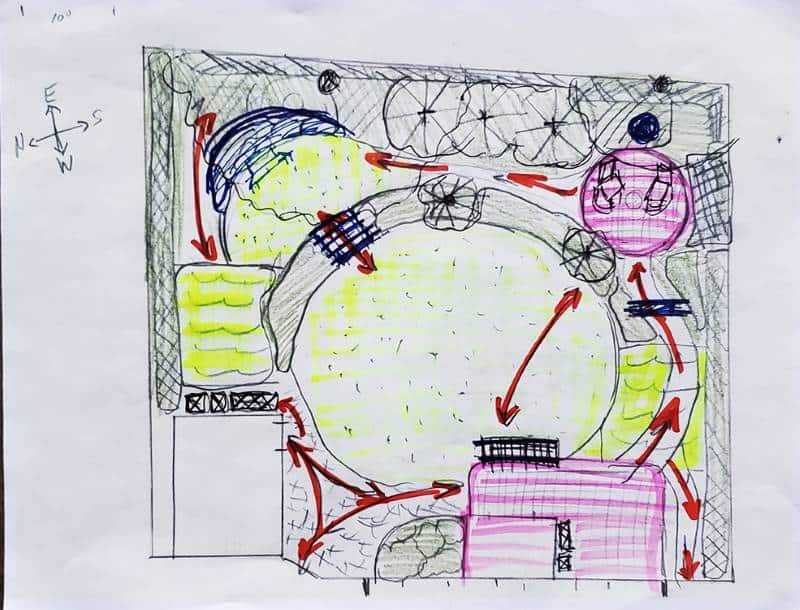 Next, use grid paper to start plotting out the different rooms and pathways of your space. You don't need to be a professional artist to do this. A simple bubble drawing with circles, squares and other shapes will do the trick. During this process I like to use tracing paper over the main paper where the perimeter of the backyard is plotted. This allows me to draw quickly and explore many different ideas without having to erase. Sometimes, I'll draw upwards of 20 ideas on tracing paper. Then, I'll look at all of my ideas and narrow it down to one or two that I like best.
You can learn more about this process in this article about Designing a Garden Layout.
Draw Quickly & Without Judgement for Great Results
If you're not a creative person, please don't be discouraged by this process. Creativity comes to all of us when we're given the freedom to explore ideas without judgement. So just draw and draw and draw. Explore all of the ideas you have quickly and without judgement. You'll be surprised what you're capable of.
Consider Detailed Plans For Some Areas
Master plans are not just for rough ideas of your whole landscape. I often explore plans for the entire space as well as separate areas of the landscape that I can zoom in on. So, I may have a drawing or layout for all of the garden rooms. Then, another drawing that explores design ideas for the main hub of the design; like the layout of the grill, countertops, tables and traffic patterns of a dining area.
Plans can even be drawn for individual garden beds within your landscape. My Design Your 4 Season Garden course is all about creating a planting plan for a garden bed with 4 season interest.
Add Focal Points and Personality
Once you create a master plan and connect your garden rooms together, it's now time to explore focal points and personality elements that will make your backyard landscape unique to you.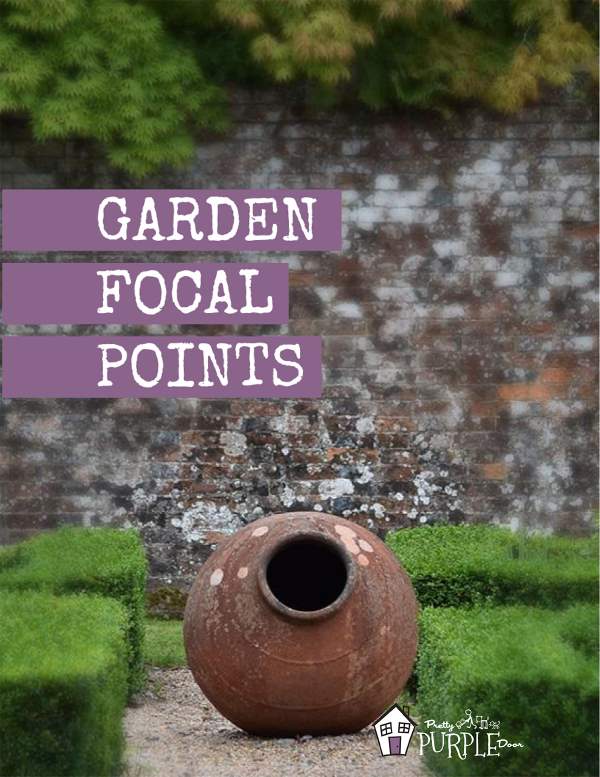 Types of Focal Points
Focal points can be anything really. You can use a stand-out plant or a plant grouping as a focal point. You can also place a planter or a container as your focal point. Some other ideas are a statue, a trellis, a piece of artwork, a fountain, a pond or even a bench or seating area. Even a piece of furniture can be a beautiful focal point.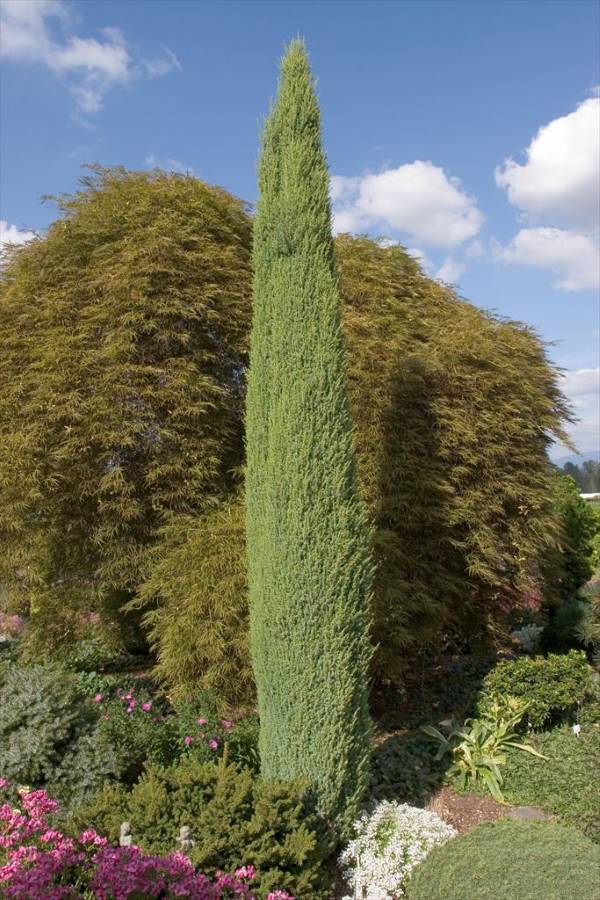 Focal Points with Personality
When designing your backyard landscape, incorporating focal points can create flow and infuse a bit of your own personality. The choice of focal points, along with the colors and materials they are made from, can be what separates your own landscape from all of your neighbors. Focal points can also really emphasize a particular theme in your landscape. So, don't forget to add your own personal touches to your backyard just as you would into the interior rooms of your home.
Focal Points that Emphasize Your Garden Style
If your home is a particular style or you want to pull off a cottage, traditional, modern or contemporary design, focal points can also help you to emphasize your garden style. Not sure what style is right for you? In my article about garden styles, I cover the 4 main garden styles and what types of materials and items you can use to really show off your style. So, be sure to check that article out, too.
Focal Points to Unite Your Backyard Landscape Design
When choosing focal points, try to use similar materials or colors so that you can tie your design together. You can create unity and flow your design through the use of repetition in color, material or even theme.
Color Examples: groupings of yellow plants or teal blue furniture/accents placed throughout garden rooms
Material Examples: rusty metal sculptures and found items, warm-toned wood elements or reclaimed brick.
Theme Examples: Alice in Wonderland décor, colors/objects/shapes to represent your favorite baseball theme, tropical focal point plants and features to remind you of your favorite vacation destination.
Choose Plants & Features To Match Maintenance Priorities
Now it's time to review your priorities and make sure that your choices thus far match the level of maintenance you're able to commit to.
Maintaining Backyard Features
Sure, a large koi pond filled with fish sounds wonderful… but do you truly have the time or desire to maintain it? If your answer is no… perhaps you can swap out the koi pond for a smaller bubbler fountain (more water feature ideas) that will provide the relaxation and sound you're looking for with less maintenance.
If you were considering an inground pool but are just realizing you don't have your very own pool boy, maybe a stock tank pool or a fun splash pad is a good compromise/alternative to consider?
Some material choices for your landscape can also be higher maintenance than others. For example, wood decks will need to be sealed or re-stained every year or so. Painted furniture will chip and need touching up. Flagstone paths are beautiful but often get weeds in their cracks that need to tending.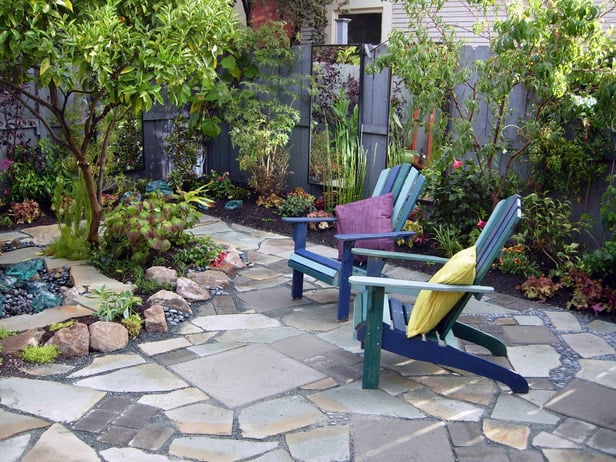 Low Maintenance vs. High Maintenance Plants
Choosing plants is typically where most homeowners start in their backyard landscaping journey. But as you can see, there's plenty to do first!
Plants are wonderful and gardening is good for the soul. There's many different types of plants that you can choose from trees to shrubs, perennials, annuals, bulbs, grasses, vines and so on.
But it's important to realize that there's no such thing as a zero-maintenance garden. Just like cutting grass, garden beds require care and tending.
If you are cringing at the thought of weeding and watering all your new plants, you may want to choose hardy plants that have lower maintenance than others. If you love to garden, this may be where your backyard landscape design really shines and shows off your personality. My article on landscape layering will guide you through the process of choosing plants for your new landscape design.
Now is the time to make real practical decisions about your wishlist choices. If you're already short on time, choosing low maintenance plants, landscape features and hardscape materials is really important. Check out my tips for a low maintenance landscape.
If you plan ahead with "low maintenance" in mind… Instead of constantly working on your backyard, you'll have more time to enjoy it. So decide what's important to you and tweak your plan as needed.
Wrapping Up
When designing your backyard landscape, start by brainstorming a wishlist of ideas for how you and your family will use the space. Choose your favorite ideas and incorporate them into your design as separate garden rooms within your backyard. Be sure to connect the rooms together using pathways that can serve as additional, transitional rooms between different areas of your landscape.
You can draw a simple master plan to show your ideas to others; whether they are helping you to DIY the design or you're hiring your project out. Be sure to incorporate focal points that add personality and emphasize your garden style. Remember that repetition is key in creating unity & flow in your landscape.
Finally, take one last look at your plan and assess it for maintenance nightmares. The last thing you want is to create lots more work for yourself. If you're short on time, choose low maintenance plants and features that will give you more time to relax and enjoy your brand new backyard landscape.
---
Shop my Amazon storefront for my essential gardening books & tool recommendations!
More Garden Design Posts You'll Love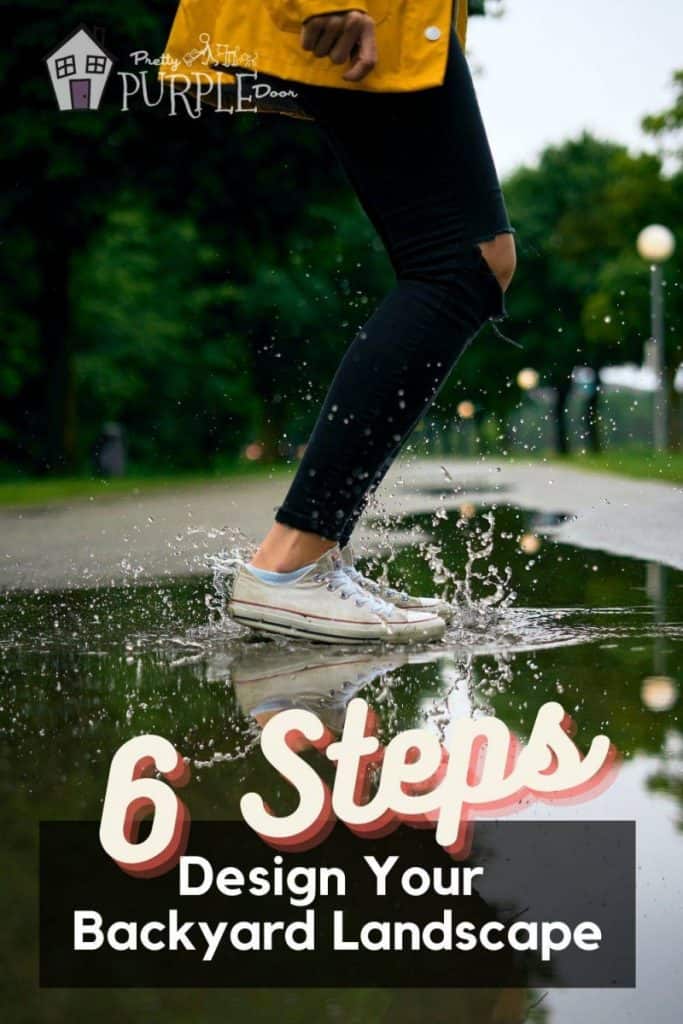 What Blooms with What?
Never know what to plant together? Find out with this FREE Plant Pairing Guide and become a pro at combining plants for the best garden design possible!