Please note: I may earn commissions from qualifying purchases if you shop through links on this page. More info.
These 4 Home Owners Tiled Their Bathroom Floors With Pennies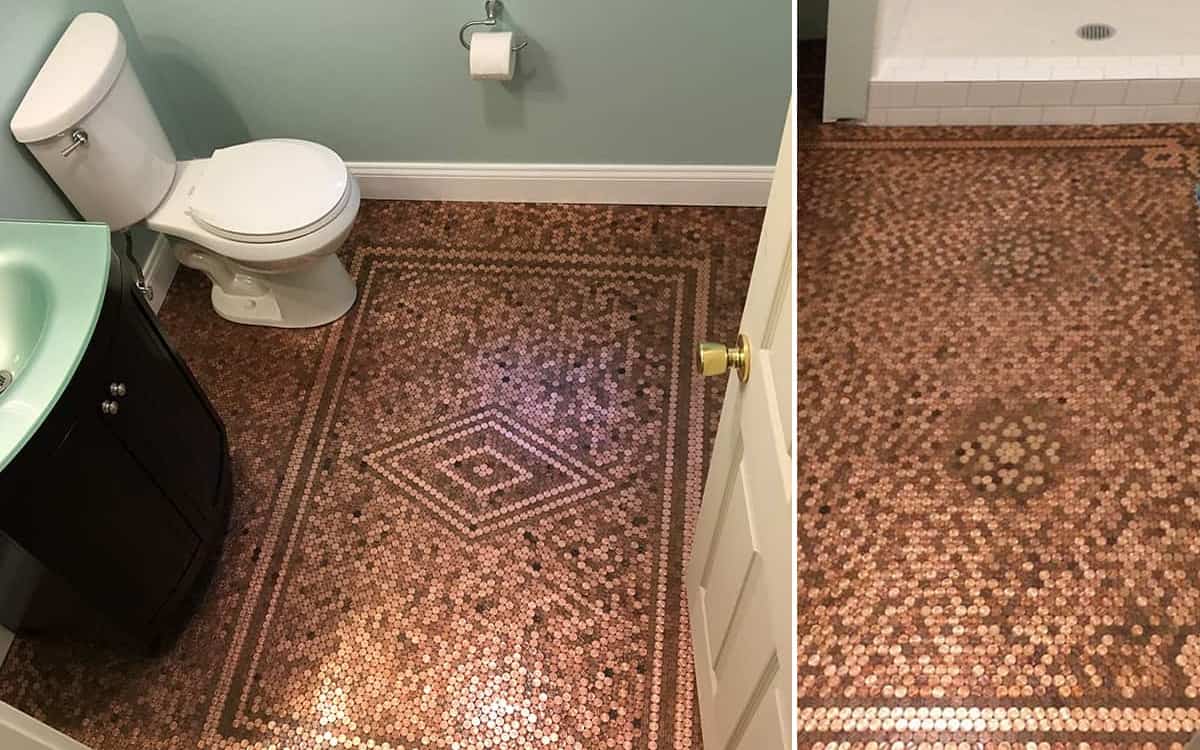 I created a penny floor in my foyer back in 2013 and one of the most frequently asked questions about this project is, "Can I install a penny floor in the bathroom?"
Yes, you actually can install pennies as flooring in your bathroom. In this post you'll find several examples of home owners who have installed penny tiled bathroom and shower floors.
However… there is a big "BUT" that comes with this post. I cannot vouch for how well these penny bathroom floor projects have held up. If I'm being honest, I would not recommend installing pennies in the bathroom, especially if you are new to DIYing and don't have much tiling experience. If you are putting pennies in an area that's going to get wet all the time, it can be a big risk. The pennies can also get a little slippery when they're wet.
Let's take a look at some of the bathroom penny floor projects submitted by my readers.
Brandon's Penny Bathroom Floor
This is Brandon's penny bathroom floor! Many of you ask if it's possible to do a penny floor in your bathroom where there's a lot of moisture. Well, Brandon is your guy to ask since he's done it.
When asked about the process of creating a penny floor, Brandon says,
"It can be done. If you're here researching whether you should do it or not, you can and should!"

-Brandon
Johanna's Bathroom Project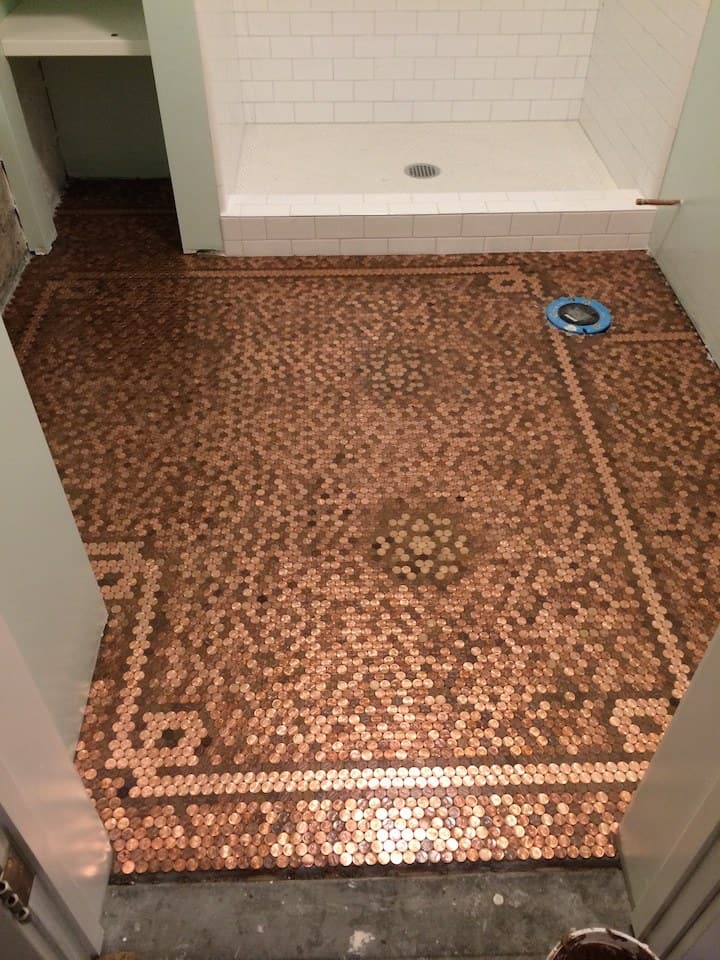 Johanna just finished her bathroom project. She's getting ready to seal it and has decided to use polyurethane.  She thanked me for the blog and said she spent "countless hours reading about your efforts…" — how sweet! Thank you Johanna. Your floor is incredible!
Carl's Penny Bathroom with Nickel Foyer
Take a look at Carl's super high-gloss epoxied penny bathroom floor with a double-border of nickels.
Carl used a high-gloss epoxy finish. He didn't leave much detail with his photos and unfortunately I don't know the sealer he used. If I were to try a penny floor in my bathroom, epoxy would likely be the option I'd go with to seal the floor.
I am LOVING the nickel border. The silver lining around the copper looks so great. Nice job, Carl.
Linda's Dressed Up Penny Bathroom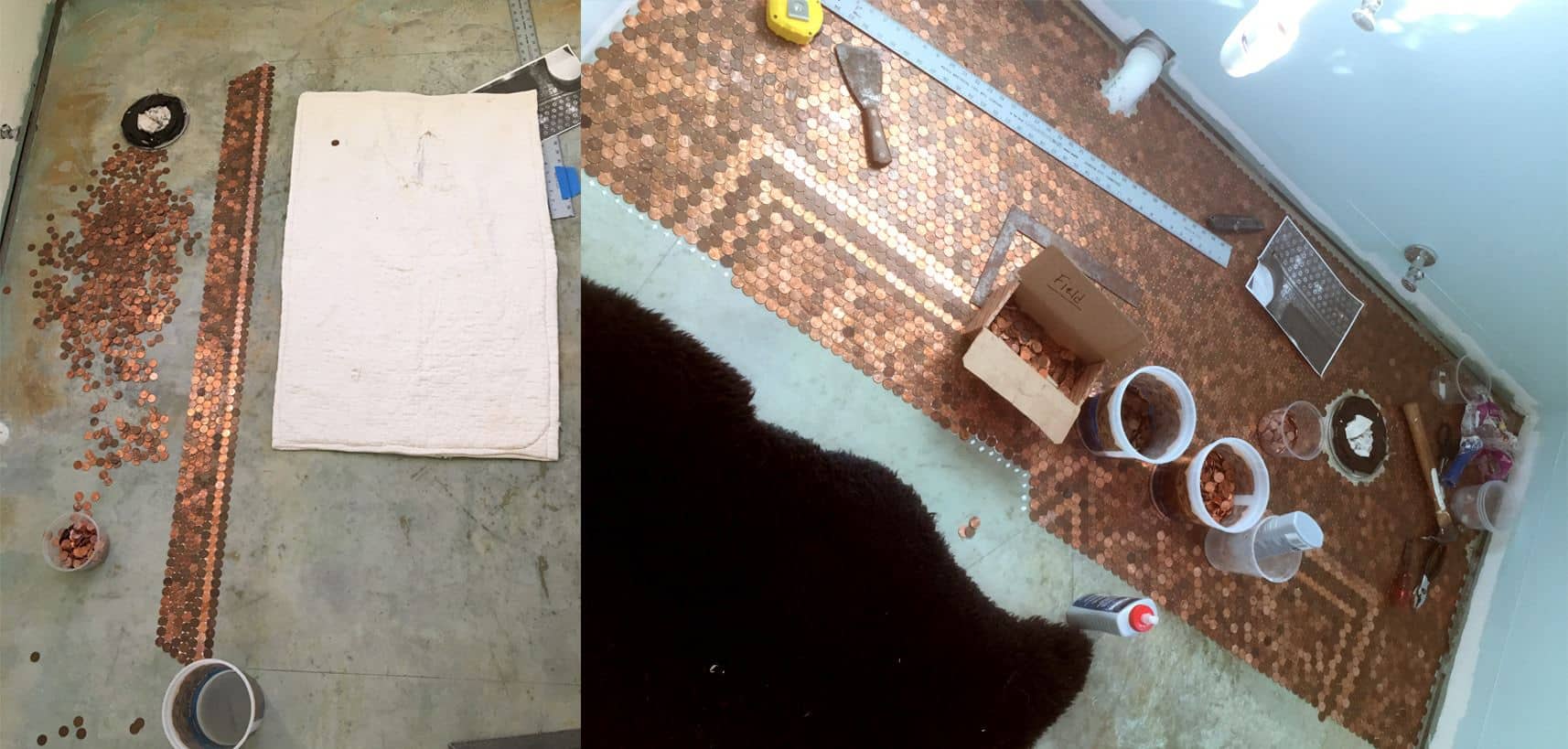 Linda's penny floor project came from converting their basement into a studio and house concert space. She needed to dress up the bathroom… and what better way than with a shiny copper penny floor? Her project began with a concrete floor, and she glued down each penny, followed by black epoxy grout and then three coats of water-based floor poly to preserve it.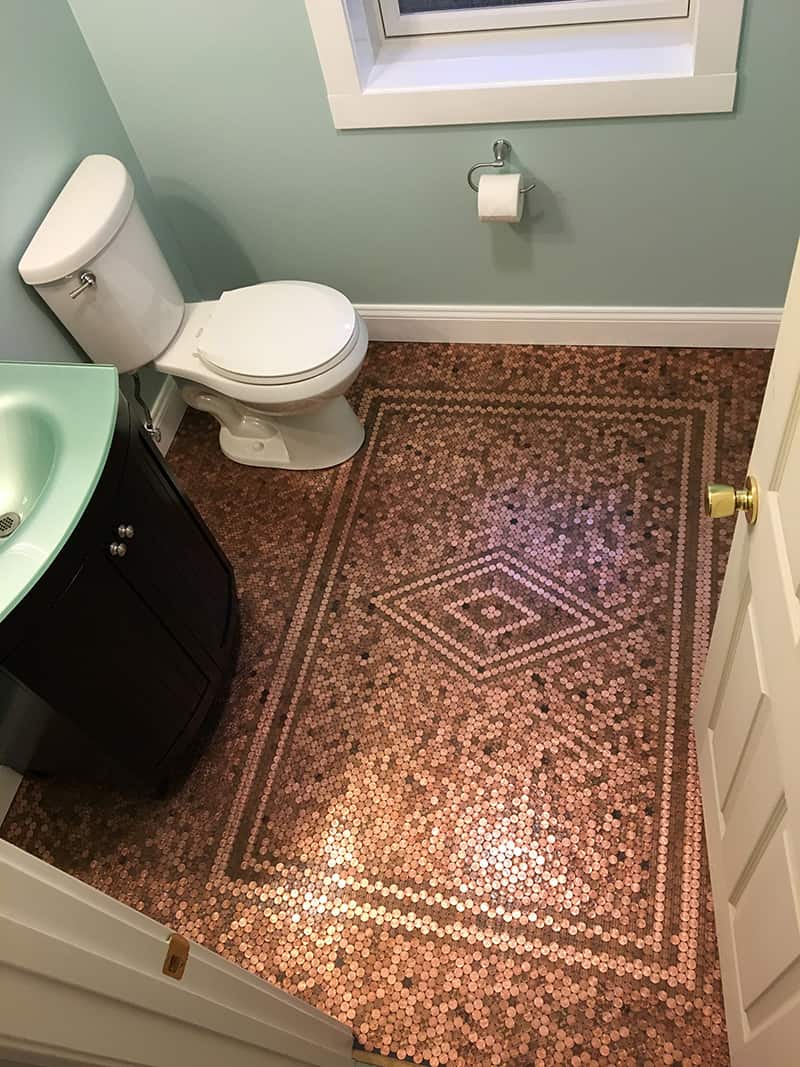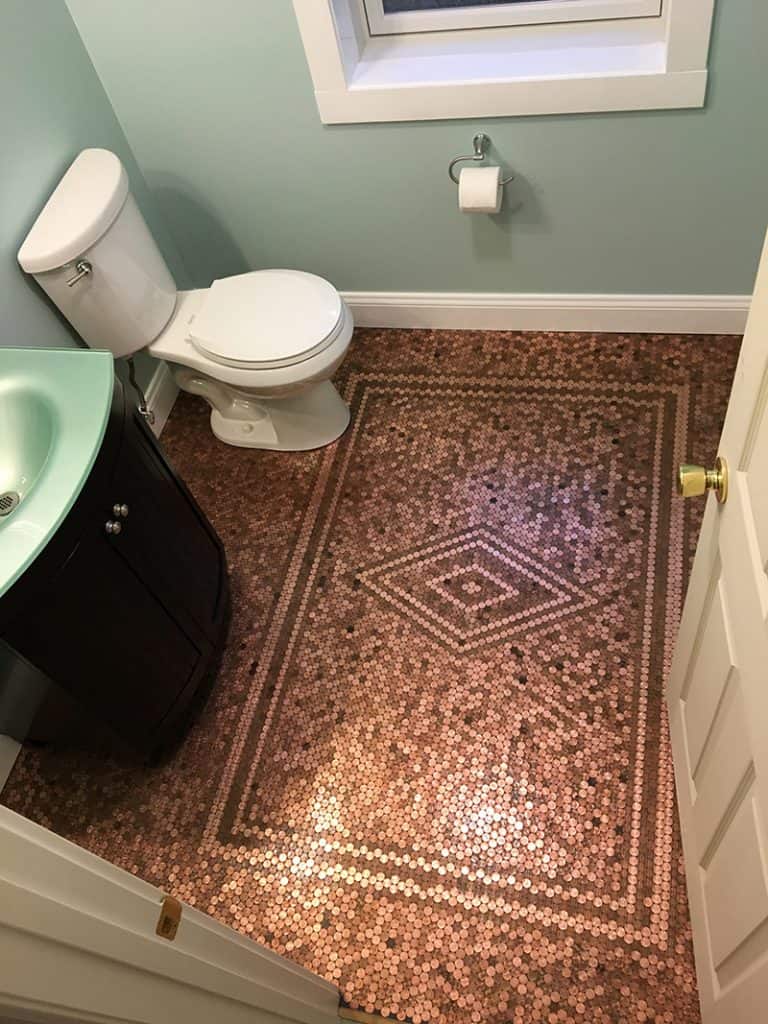 Wrapping Up
As you can see, it's definitely possible to install pennies as a flooring option in your bathroom or any other room of your house. However, I'd recommend doing a lot of research and making sure that you're comfortable with tiling and maintaining a moisture barrier before you tackle this penny project.
If you have a penny floor in your bathroom and can give me any insight as to how it's held up over the years, I'd love to hear from you! Contact Amy here.
What Blooms with What?
Never know what to plant together? Find out with this FREE Plant Pairing Guide and become a pro at combining plants for the best garden design possible!
Amy is the founder of Pretty Purple Door and has been a garden designer since 2014 and graphic designer since 2005. She helps home gardeners design their own beautiful landscapes that are colorful in all four seasons, show off your personality and suit your lifestyle. Amy's work has been featured in publications like The Spruce, Family Handyman, Buzzfeed, Country Living Magazine and more. Read full bio.