Please note: I may earn commissions from qualifying purchases if you shop through links on this page. More info.
10 Before and After Curb Appeal Photos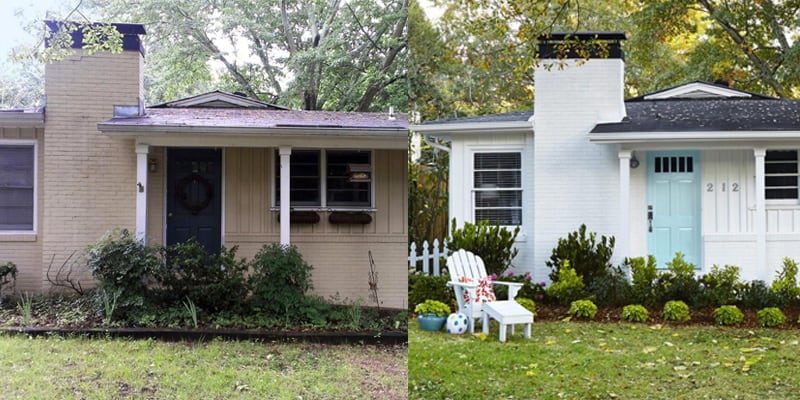 I am a sucker for before and after curb appeal photos, and strangely enough… it are really hard to find compilations of them on the internet. So I took it upon myself to create a post of some inspirational before and after curb appeal photos for you to enjoy!
A broken down bungalow gets beautified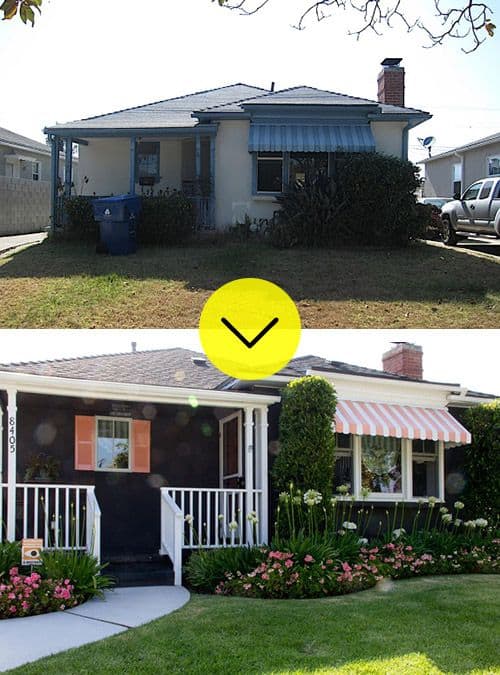 Painted Ranch Before and After Curb Appeal Photos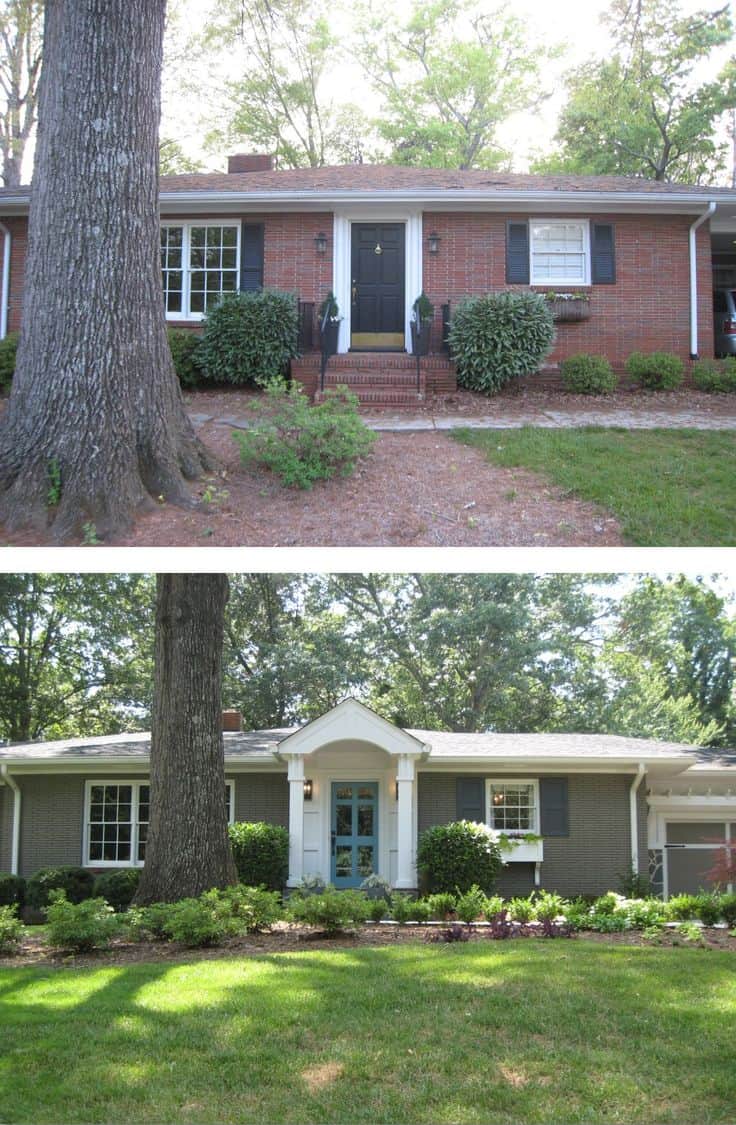 Colors: Brick, Sherwin Williams Backdrop 7025; Trim, Sherwin Williams Extra White 7006; Shutters, Sherwin Williams Black Fox 7020; Front Door, Aqua (Custom Mix).
---
Crafty Revival
A renovation that boasts strong Arts and Crafts design elements gives this home plenty of personality. A new pitched-roof portico echoes the roofline of the main gable and two striking pairs of square columns support the portico's pleasing arch. A custom mahogany door and leaded-glass sidelights draw the eye in.
---
Adding Shutters and Portico: "Shake it Up" Makeover
Combining Concrete and Grass Brightens a Historic Property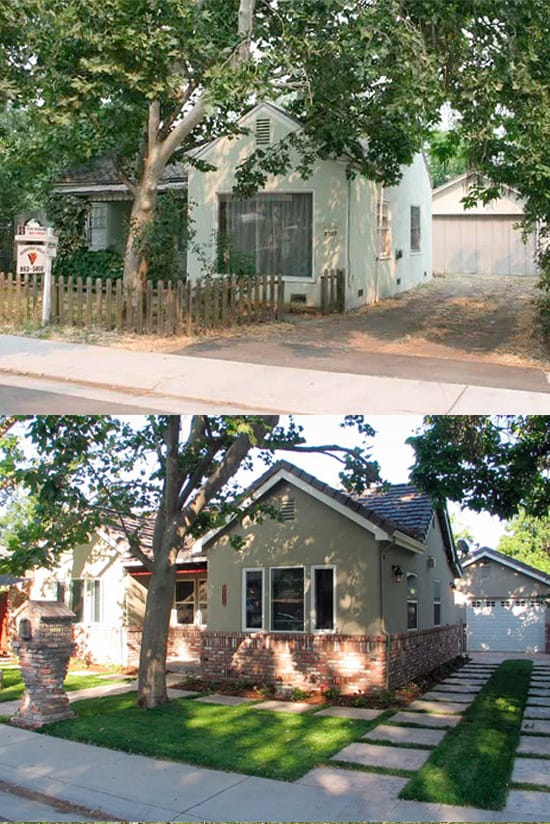 The stamped design gives the concrete interesting texture, and the grass growing between pads "breaks up the monotony" and gives everything more curb appeal. I like the brick mailbox that resembles a birdhouse and matches the brick that lines the bottom half of the house.
HGTV's Curb Appeal Makeovers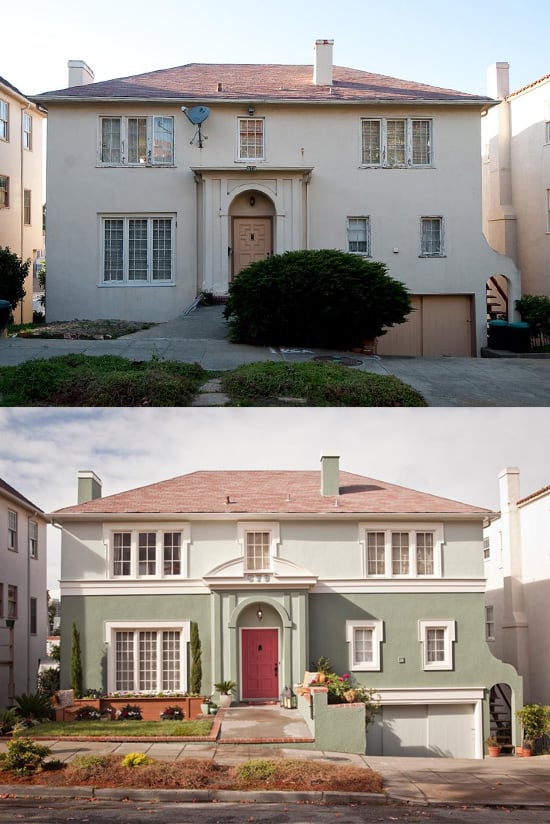 I used to love this show. It's since been discontinued but this was one of my favorite before and after curb appeal photos. Granted these makeovers cost $10,000+, they are still really inspiring to see. If you are looking for more, here is the gallery for some ofJohn Gidding's best work.
Small Curb Appeal Updates Make a Big Impact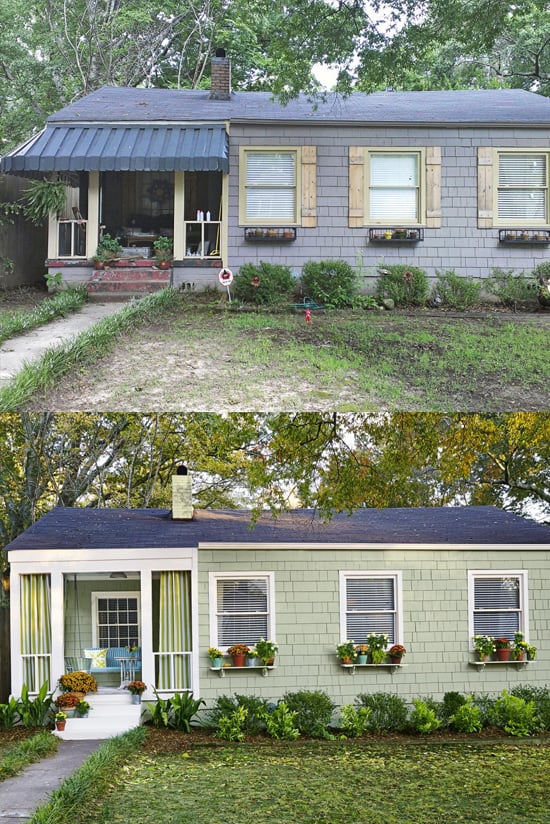 On the show Curb Appeal, they would also do "neighbor makeovers" which they would use a small budget (under $1,000) to transform one of the neighbors houses near their large project. Here are a couple before and after curb appeal photos that prove that small changes can yield big results when it comes to updating your home. Most of these makeovers are done in less than a day!
Paint, Plants, and lots of TLC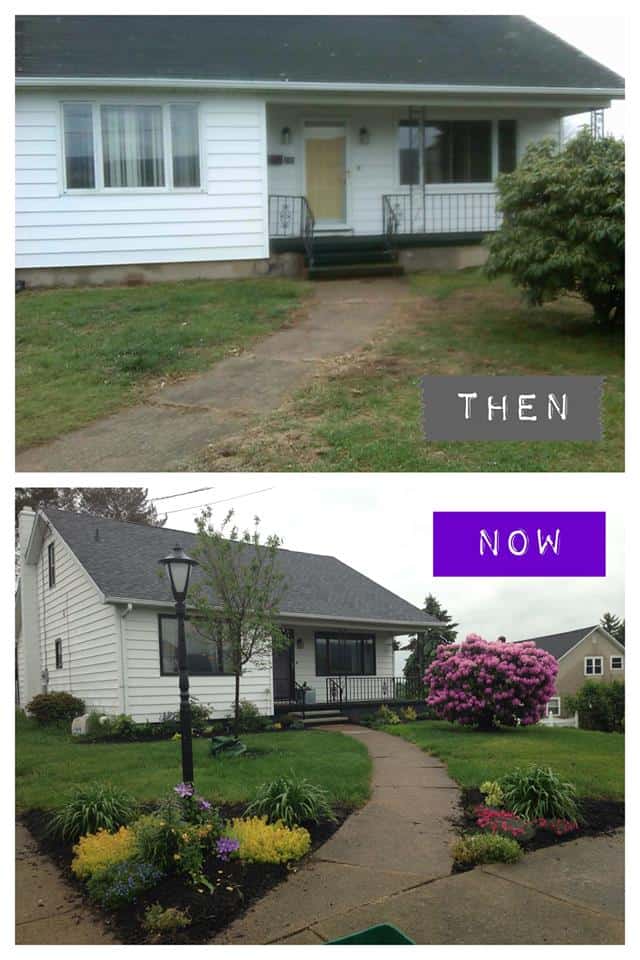 This is my house. I did do a lot of work to it overall, but other than replacing the roof what you are seeing here is not all that much. My landscaping budget was about $350 for the plants and the black mulch, and the tree I planted cost about $200 (it's an Autumn Brilliance Serviceberry). I put some planters on the porch as well.
I added black trim to the windows and foundation, and painted my door purple. I also painted the railings, repaired the steps and railing, and removed the carpet from the porch.
The blooming rhododendron bush and the fertilizer for the grass certainly helps brighten the scene as well.
Have you done an amazing curb appeal makeover that you'd like to share? Head over to the comments to tell us about it!
What Blooms with What?
Never know what to plant together? Find out with this FREE Plant Pairing Guide and become a pro at combining plants for the best garden design possible!
Amy is the founder of Pretty Purple Door and has been a garden designer since 2014 and graphic designer since 2005. She helps home gardeners design their own beautiful landscapes that are colorful in all four seasons, show off your personality and suit your lifestyle. Amy's work has been featured in publications like The Spruce, Family Handyman, Buzzfeed, Country Living Magazine and more. Read full bio.