Here's a quick tutorial for making beautiful solar mason jar lights out of the cheap ($1) plastic solar path lights.
The solar mason jar light project is really simple:
Purchase cheap $1 plastic solar path lights. I found mine at Walmart (Westinghouse brand)
Drill a hole in the mason jar lid
Take the solar path lights apart (we will just use the solar cell, cap and bulb)
Customize the jar, lid and cap pieces
Assemble the pieces of the solar path light into the mason jar
Materials for Solar Mason Jar Light Project
This is one of the easiest projects ever for such a great impact! Let's get to it!
1: Drill a Hole in the Center of the Mason Jar Lid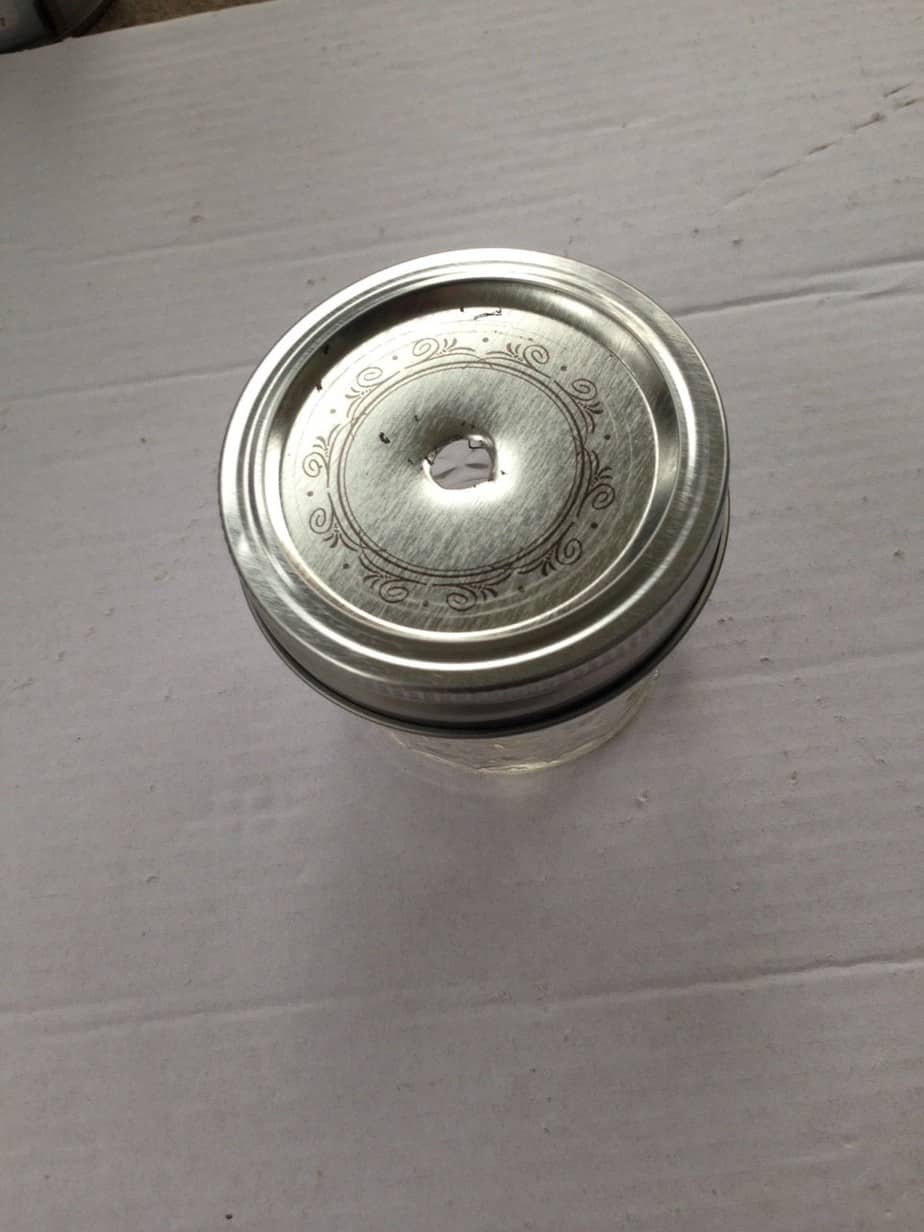 I used a 5/16″ drill bit for the Westinghouse brand solar lights. The opening needs to be large enough to fit the solar light into the jar lid without the whole solar cell falling through the top.
Take your time and be careful not to push too hard and break the glass. If you purchase the Westinghouse solar path lights, the 5/16″ bit will give you the perfect size to fit the LED light inside the jar. If you think you want the hole a little bit bigger or smaller, here is a handy chart for drill bit hole diameters.
2:  Disassemble the Solar Path Light
The next step is to take the solar path light apart.  Just pull the top off the plastic. We only need the top black plastic piece (circled in red above) to make our solar mason jar lights. Make sure you pull the tab next to the LED light to activate your solar light.
3: Insert the light into the mason jar lid
You'll want to now carefully insert the light into your mason jar lid. If your drilled hole is not perfect, now is the time to add a dab of glue along the mason jar lid. Be sure not to get any onto the light or near the actual hole.
4: Twist the light until it's all the way onto the mason jar lid
It may be a tight fit, so slowly and carefully twist the black plastic until it is snugly up against the lid of the mason jar.
5: Customize Your Solar Mason Jar Lights
Here you can see the solar mason jar light at night. In the background you can see one of the dollar path lights. Look at how much brighter my solar mason jar light is. And the quilted mason jar really gives off some cool patterns. You can enjoy these as-is and you're totally done.
You can also continue to customize your solar mason jar path lights. I stained the mason jars to add color. Then I painted the jar lids to match the plastic solar cell and added a wire and hang the mason jars so I can hang them from an outdoor "chandelier".
More DIY Projects You'll Love