Please note: I may earn commissions from qualifying purchases if you shop through links on this page. More info.
I Painted My Refrigerator With Chalkboard Paint (+ update 8 years later)
Being the only white appliance, my refrigerator was really becoming an eyesore in my kitchen. Since it still worked beautifully and I didn't have the budget to replace, I thought there must be a way to camouflage it somehow. After doing a little online digging, I decided to turn it into a chalkboard refrigerator using magnetic primer and chalkboard paint.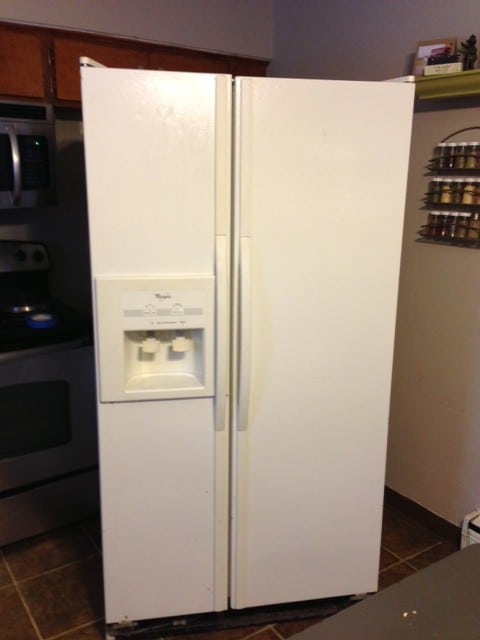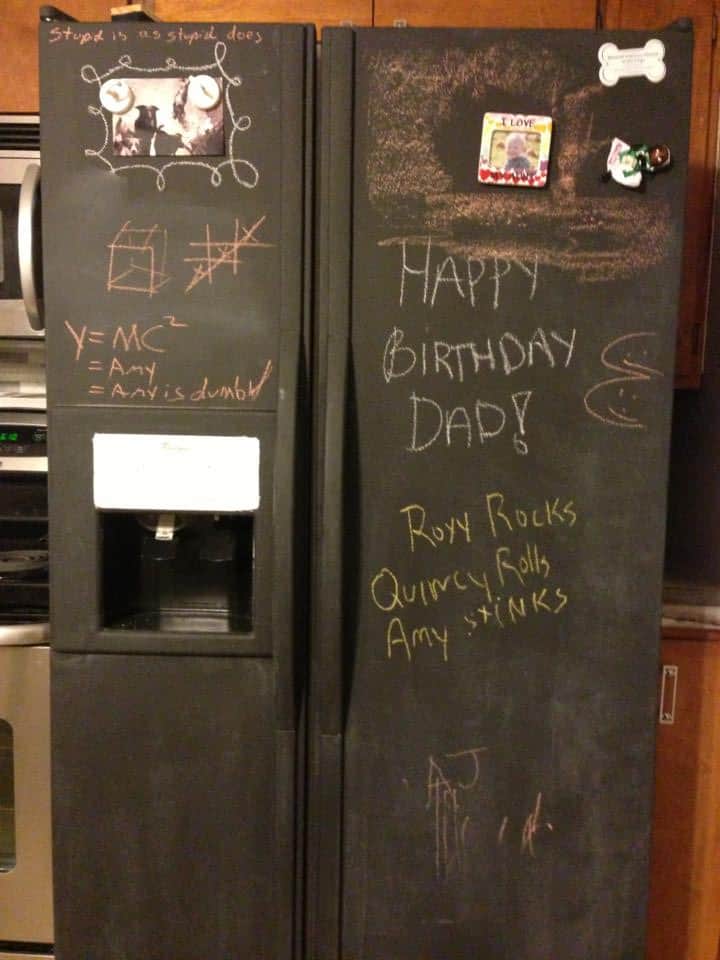 To paint a refrigerator with chalkboard paint, you'll need to clean the fridge well, lightly sand it, then give it at least 2 coats of primer (regular or magnetic). Once dry, paint the surface with 2-3 coats of chalkboard paint. Don't forget to paint the handles, panel edges, icemaker panel and the grille. Before using as a chalkboard, prime the surface by rubbing the side of a piece chalk across the front panels, then erase.
Chalkboard Refrigerator Materials
These are the materials you'll need to paint your chalkboard refrigerator:
a small roller brush (I used 4″ foam rollers that are labeled for cabinet painting)
a paintbrush (to get in all the nooks and crannies)
painter's tape
painting tray
drop-cloth
magnetic primer (I used Rust-oleum's Magnetic Latex Primer, which was about $20 for a quart)
chalkboard paint (I used Rust-oleum's Chalkboard Paint in black, which was about $10 for a quart. They also make a tintable chalkboard paint for a little bit more money, if you don't want a black chalkboard)
saran wrap (to cover the ice maker holes so no paint got in there)
Spray paint for plastic — to paint the ice maker insert & grille (I used 2 different colors of Krylon Fusion Spray Paint for Plastic in Satin Black and Ivy Leaf, it was about $4 for a can). I used the spray paint for the grille and the icemaker. If your icemaker and grille are already the desired color, you won't them.
Prepping the Fridge
The first thing I did was pull the refrigerator out and give it a good cleaning.
Once it was dry, I taped off all the areas of the fridge that I didn't want to paint. It's really important to tape off the rubber parts, because getting paint into those will cause the fridge not to close correctly (or at all).
I also taped around the ice maker and the panel with the buttons that control the ice maker.
After laying down my drop-cloth and covering any cabinets/appliances/furniture that might get splashed, I was ready to go!
Paint with Magnetic Primer
I didn't sand the fridge, and found that the magnetic primer was thick enough to really seal up a lot of the texture that was on the surface. I'm assuming if you want a really, really smooth finish that sanding is not a bad idea… I just didn't find it necessary in my situation.
I think the biggest key to using the magnetic primer is to make sure to shake it really well. The tutorial on The Handmade Home suggests shaking the paint for a very long time. Instead of spending my time (and manual labor), I took the paint to the counter at Home Depot when I purchased it, and asked them to shake it very well for me in their paint mixer machine. When I got home, it was still mixed very well, so I gave it a quick 30-60 second shake and poured it into the paint try.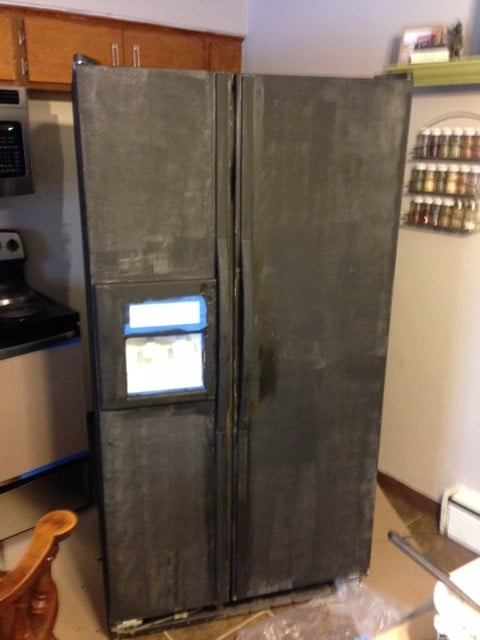 I ended up doing 2 coats of the primer on the entire fridge.
I then went back and did a 3rd coat of primer on the front panels, because this is where most of the magnets and chalkboard usage would be. I wanted to make sure that it had a solid coat of the magnetic primer so that I could still use magnets on the fridge, even after the chalkboard coats.
I found that by the time I was done with the entire fridge I was able to start right back at the beginning with the next coat without having to wait for it to dry in between. By going in the same order, it ensured every panel had a decent amount of time to dry. I'd say that each coat took about 30 minutes.  
Once I was done with the final coat of primer, I took a break and gave it about 2 hours to dry completely. It's kind of stinky, so open the windows, turn on the fan and go outside for some fresh air!
I took my Roxy Ann out for a long walk while it was drying.
Painting the Fridge with Chalkboard Paint
Once I came back from my walk and the primer was completely dry, I began the chalkboard paint coats. While I was at Home Depot, I also had them shake this can in their machine for me. So I gave it another quick shake, and poured it into a fresh paint tray.
With a new roller, I continued the same exact process that I did with the magnetic primer.  Nice, thin, even coats work best for the paint and primer. I also worked hard to make my strokes long and even so that it has a smooth finish.
I don't think this is the type of paint you can touch-up — it will probably leave a blotch in the spot you fixed so if you need to touch it up at any point you should repaint the entire panel for an even finish (I had this experience with an accent wall I painted with textured sand paint).
Just a note, I've had this chalkboard fridge for 8 years now and have never had to "touch up" the front panels.
After 2 coats of paint, the refrigerator looked perfect. I waited for everything to dry, and then gave the front panels a 3rd coat since this is the area that will get the most use.
Then, I let the chalkboard paint try thoroughly.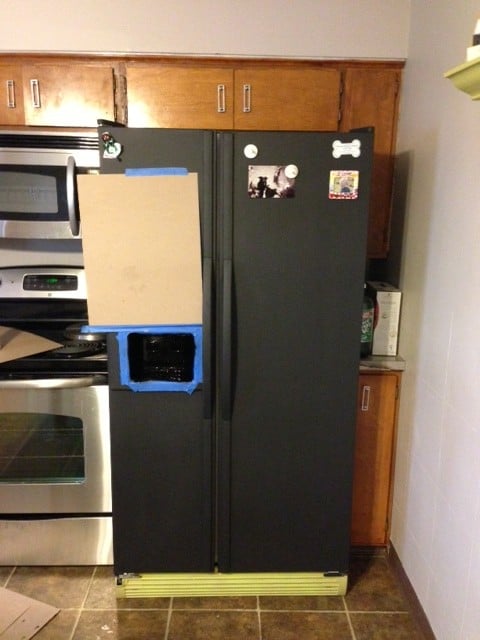 Disguising the White Ice Maker Panel
I know a lot of people will not like the white ice maker panel with the black paint, but that's a reality you really can't change if you have a white fridge . For me, it was a good decision to paint it because I feel that with the white chalk, it really will look ok. To me, the idea of a fridge with a small amount of white on it vs. an entirely white sore thumb definitely won out.
I think if you are nervous about such a contrast, another option for painting your fridge would be using the Rust-oleum Tintable Chalkboard Paint. They offer 12 colors to choose from! Perhaps a medium grey (Moonstone) or the green (Schoolhouse Green) chalkboard would make for less contrast and give your fridge an even more unique look?
Painting Fridge Ice Maker
My original plan was to leave the ice maker white.  But, I didn't like the way it looked. There's nothing I can do about the smaller white panel with the functional buttons, but after some thought I decided that it was possible to paint the actual dispenser area.  The first step was to tape off the freshly painted chalkboard panels so I didn't get any overspray on them. I used painters tape and I also taped some cardboard to the panels to eliminate the chance that anything would get messed up.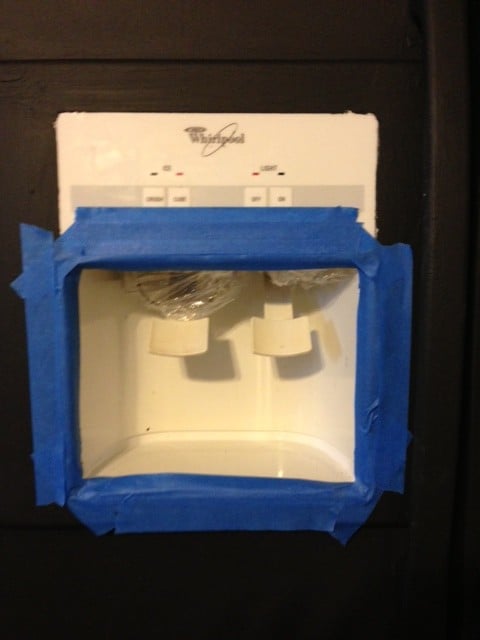 After shaking up the spray paint, I slowly and carefully sprayed the area. It's tricky doing such a small area without getting any drips, but using a pulse motion on the trigger with short squirts seemed to work pretty well for me.
Just cover it the best you can. I would wait a couple days before using the ice maker to make sure the paint has enough time to cure and become completely hard and durable for everyday use.
Painting the Base Grille of the Refrigerator
While I was painting, I decided to clean up the base grille at the bottom of the fridge. I thought it might be fun to paint this with a pop of color — I use green accents in my kitchen and had leftover spray paint from other projects so I just went with it.
You could also use the same color that you purchased for the ice maker area to make it blend in. I think it's a fun and subtle way to create a cohesive color scheme.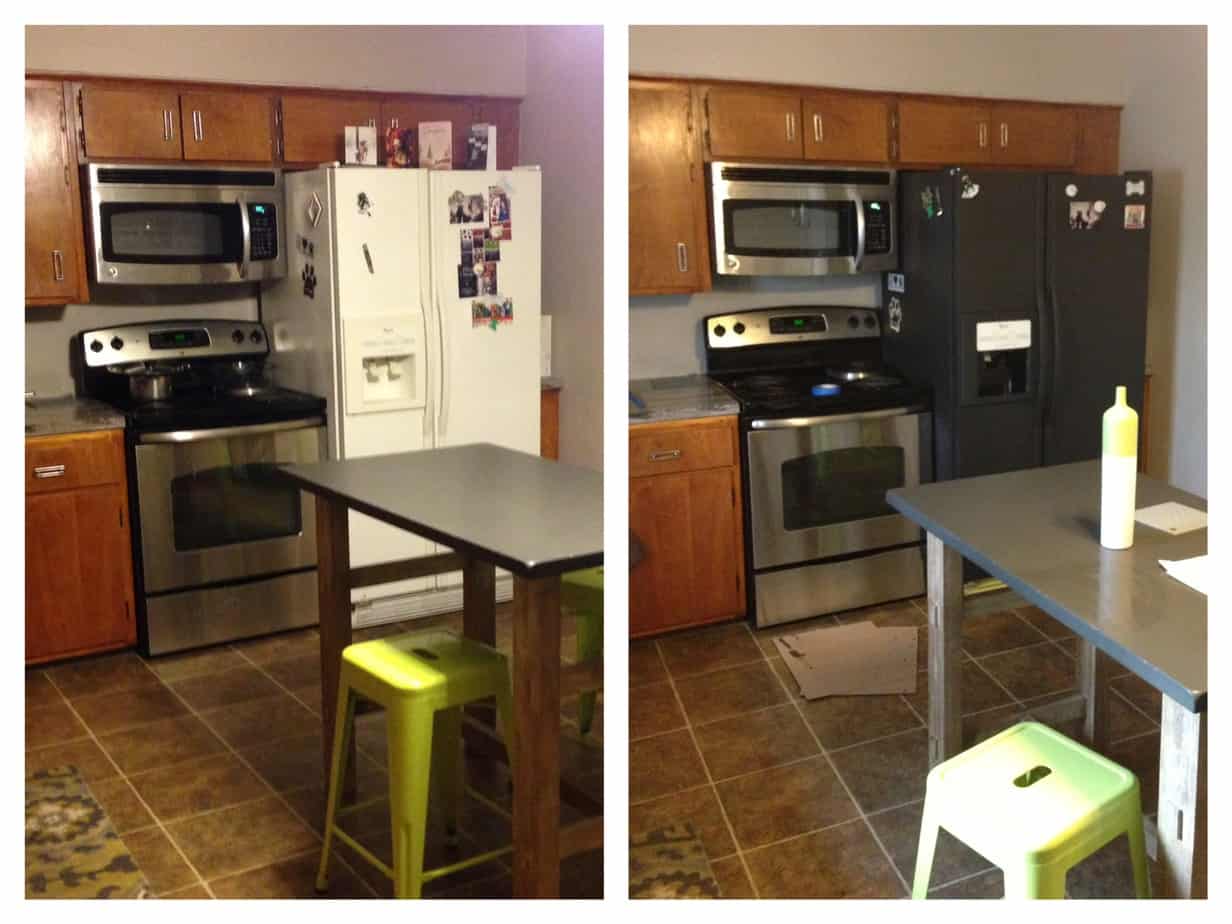 Prime the Chalkboard
Once the paint has cured and you're ready to use your new chalkboard fridge, Rust-oleum recommends to "prime" the surface of the paint by running chalk on it's side over the entire surface area, then erasing. That should get your board ready for use.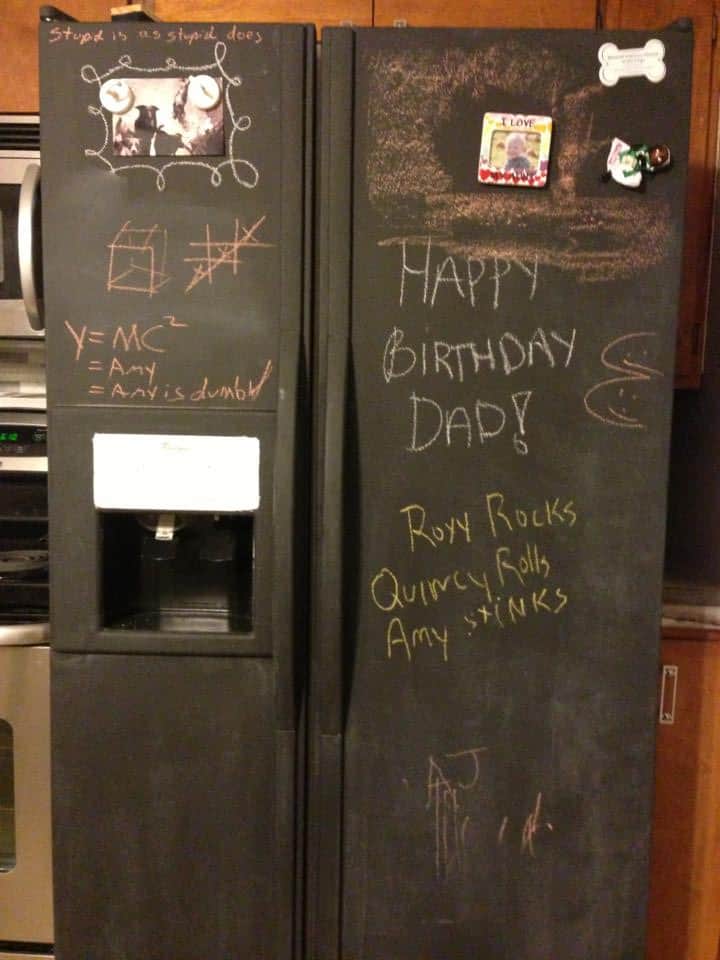 Chalkboard Refrigerator, Fun for the whole family, haha
How Long Did The Chalkboard Refrigerator Project Take?
The chalkboard refrigerator was actually a really, really easy project. I was anticipating it to be really time consuming. I also anticipated to be disappointed with the results. I have to say that it really only took half a day from start to finish and I'm totally in love with it. I think the finish looks great.
The chalkboard paint box suggests waiting 3 days before actually using chalk on the finish.  
How To Clean a Chalkboard Refrigerator
Everything cleans off nicely with a wet sponge. I've also used lysol wipes to clean the surface and the handles.
On the left side panel that's closest to my stove I have gotten a bit of grease stains. I clean these up with dawn, then lysol wipes. They have always come off.
I don't have any water stains on the fridge. That's a question that's come up and over 8 years I have never seen a water stain.
After you give it a good cleaning you should re-prime the surface with chalk.
Pros and Cons of a Chalkboard Refrigerator
While this is a fun and unique project, it's probably not for everyone. Here are some of the pros and cons to consider before giving it a try.
As far as pros, this was a really quick and easy project that only took a day and a half. It was a cost effective way to get my refrigerator to blend in with the other appliances without having to spend a couple grand on a new fridge when this one worked perfectly fine. It's also a conversation starter and everyone that comes into my home notices it, kind of like my foyer floor that's tiled with REAL pennies.
The cons are that it's a chalkboard… which can get messy, especially in the kitchen. I don't have kids and I don't "change up" the writing on the fridge all that much, so the dust hasn't been a real issue for me. I'd imagine if you are a neat freak that the chalk dust may bother you quite a bit. It could also create more cleaning for you. Perhaps "chalkboard" paint isn't the best solution in this case. You could always use the chalkboard paint or another homemade chalk paint and just don't write on it with the chalk. Enamel paint is also a great option to update the color of your fridge without actually turning it into a chalkboard.
Since I've created this, they've also come out with new types of paints. I would imagine a dry erase board would be a pretty similar project to tackle and you could use dry erase markers instead. They sell dry erase board paint in both colored and clear options (Amazon link).
Chalkboard Refrigerator Frequently Asked Questions
My fridge is textured… will this work?
Yes it will. My fridge has the regular old white fridge texture on it too. The multiple coats of primer and paint will fill in some of that texture leaving the surface smoother. However, it's not completely smooth.
How can I get a smooth chalkboard finish with a textured fridge?
I'm not sure. Mine is still slightly textured. I would think that sanding the surface of the fridge until it's smooth would work, but I have not tried it.
Won't the fridge get dusty and dirty? Chalk floating around in the kitchen sounds really messy.
Well, yes. If you have any experience with chalk you know what that will be like. But chalk doesn't randomly fly around the room while I'm cooking. As I said, I really don't write on it often or erase it often. With minimal use, that's not a problem. If you have children that will be writing on it and erasing it and running around in the kitchen while you are cooking… yes it will be dusty and make a mess.
Does it make the kitchen look messy?
Yes, having random writing and lots of magnets definitely looks a bit more cluttered. So, if you like a blank fridge look with no magnets and no papers or notes hanging on your fridge, you will hate this. If you commonly have magnets and papers hanging off your fridge it's business as usual.
Does it require a lot of retouching / upkeep?
I have had my chalkboard refrigerator for 8 years now (as of updating this post in 2021) and it's required very little maintenance. The entire surface has held up and I still write on it and stick magnets on it. It works beautifully. The only place where I've had to touch it up once or twice is on the fridge handles. Particularly, the inside area of the handles. The icemaker area still looks great.
Can you paint a stainless fridge like a chalkboard?
Sure, I don't see why not. It would be a smoother surface in the end but the process would be the same. You may need to sand the fridge first so that the primer has something to stick to. In the end as long as you prep and prime before painting I think it would work the same.
How much paint will I need?
I used 1 quart of magnetic primer on the front and side panels and 1 quart of chalkboard paint to do the front panels, side panels and top of the fridge.
I'm worried about the rubber door seals/gaskets/lining? Wont it crack after some time?
I did not paint the seals/gaskets/lining. I didn't want to affect the fridge's ability to seal closed. I do not see any white as the gaskets are underneath the front panels (you can take a look at the finished pictures to see for yourself).
You just see the rubber lining when you open up the fridge. But the entire inside of the fridge is white so it looks fine.
Did you paint the handles with chalkboard paint or something else?
Yes I used the magnetic primer and chalkboard paint. Over time, this has needed retouching (especially on the underside of the handles). In the 8 years I have had the fridge painted, I have retouched only the handles… 2 times. I don't see why you couldn't use a different paint for the handles if you wanted more durability.
I don't need my fridge to be magnetic. Do you think a primer is necessary?
Absolutely, yes. Please prime it. It doesn't have to be a magnetic primer but you should prime. At the very least use a paint and primer in one. I don't think there is chalkboard paint that also has primer in it, though. But, then again, I always prime… especially surfaces that will get a lot of use.
Shouldn't the fridge still be magnetic even if I use regular primer instead of magnetic primer?
You don't need to use magnetic primer but I would recommend it. My fridge, even with magnetic primer, does not hold magnets as well as it did before painting. After 3 coats of [thick] paint, the fridge will definitely lose some ability to hold up magnets.
Someone else who has done this said she used latex primer and 3 coats of chalkboard paint and reported that her fridge has retained it's "magnetbility."
My chalkboard paint is scratching off an hour after painting. I did not sand or prime the fridge… what do I do?
I'm sorry that you are having problems with the paint. I would say that if you didn't sand the fridge and didn't prime the fridge, that's probably the reason the paint is scratching off. You don't necessarily need to use "magnetic" primer, but the slippery surface of a refrigerator needs to be primed with something in order to get the chalkboard paint to stick properly.
My chalkboard paint is scratching off an hour after painting. I sanded but did not prime the fridge… what do I do?
Same answer as above… you need to prime it.
More DIY Posts You'll Love
What Blooms with What?
Never know what to plant together? Find out with this FREE Plant Pairing Guide and become a pro at combining plants for the best garden design possible!
Amy is the founder of Pretty Purple Door and has been a garden designer since 2014 and graphic designer since 2005. She helps home gardeners design their own beautiful landscapes that are colorful in all four seasons, show off your personality and suit your lifestyle. Amy's work has been featured in publications like The Spruce, Family Handyman, Buzzfeed, Country Living Magazine and more. Read full bio.