Please note: I may earn commissions from qualifying purchases if you shop through links on this page. More info.
Charming brick paver walkway project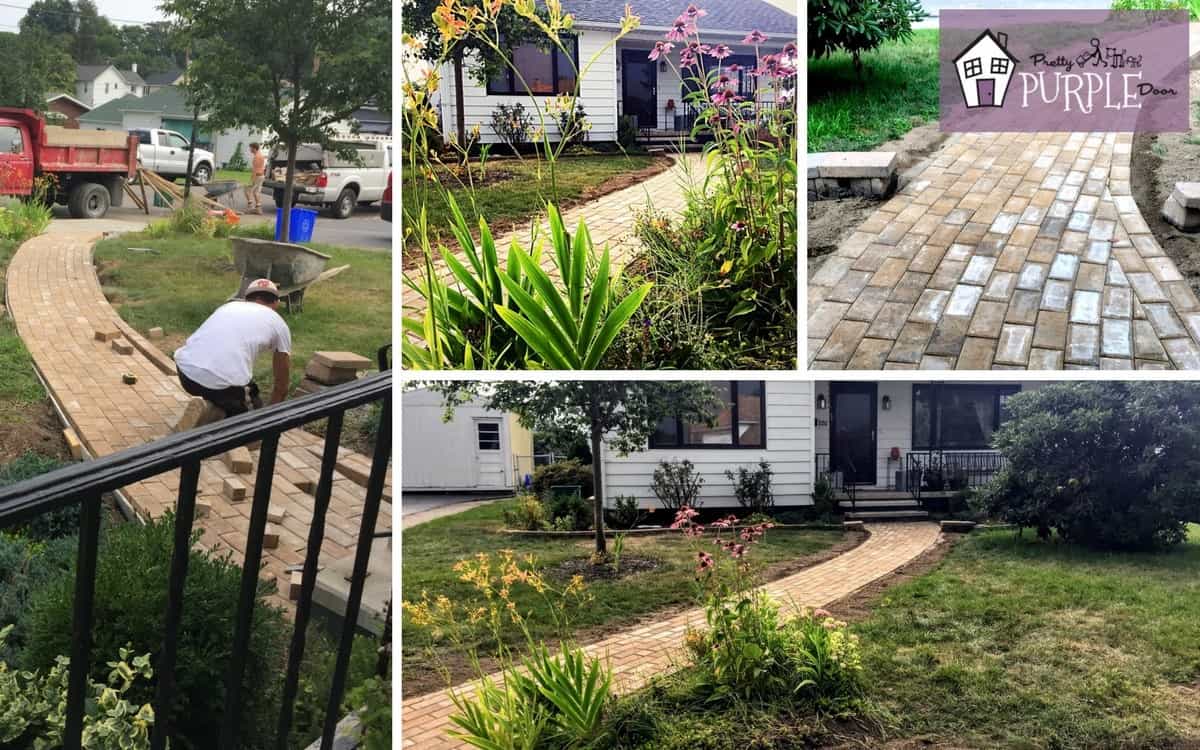 Forking over the cash for new sidewalks is not my idea of a fun project. Nor is it a DIY project. So… since I had to do it, I figured I'd splurge by adding an extra charming brick paver walkway to my house! I think the results speak for themselves on this one!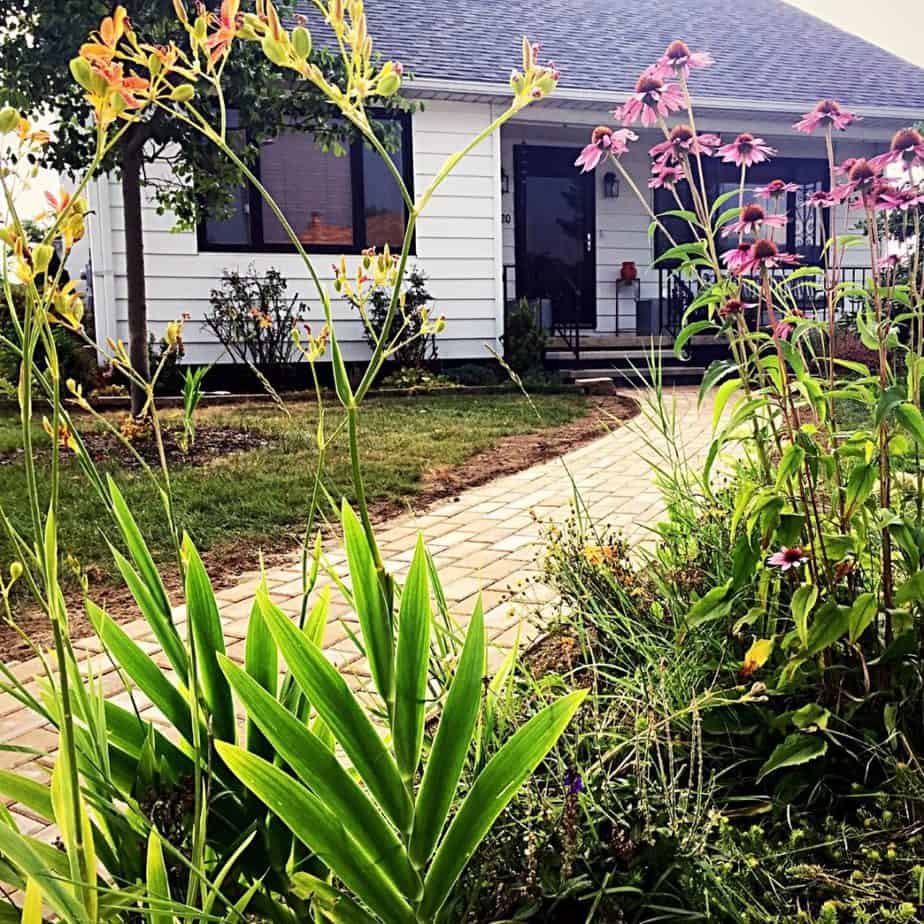 Pouring new concrete sidewalks
I've been putting off getting new sidewalks poured since I've moved in. Now, it's been 5 years and I decided it's finally time. But… boy… it's so expensive and just seems like such a crappy way to throw money. I know it will make a difference and adds curb appeal, but there's nothing exciting or interesting about pouring concrete sidewalks.
So, I decided to seize the opportunity and while I had the contractor there, I talked to him about some ideas to create a really charming brick walkway to my house.
The concrete pour was really straight forward. I called 3 contractors to get quotes (see below for my tips about working with contractors). I talked to the contractors about how they would pour the concrete. Here's what we covered:
pouring as a separate sidewalk and curb or pouring together — they poured them together
adding rebar to reenforce the concrete
mixing fiberglass into the concrete for extra strength (he said lots of people opt out of this because you can see the little fiber glass flecks in the concrete. I decided to do it anyway and I'm happy I did — the durability and strength outweighed the cons for me)
expansion joints and score lines
addressing the walkway — I wanted to add pavers, but would these be a separate project, laid onto the ground with sand, or laid overtop of a thin concrete layer. I decided to go with the thin layer of concrete so that laying the walkway would be easier, level and (hopefully) last longer through our harsh Northeast PA winters.
sealing the concrete afterwards
Charming brick paver walkway project
The brick paver walkway was the most exciting part of this project for me. I went online and found some photos of what I liked, and was able to show these to the contractor. He picked out the brick and sent me photos of the options. And, since I was home during the install, I was able to give some extra input about the design and how I wanted the bricks to lay out. Just a note, my contractor was super friendly and accommodating — not all are as nice as this and would probably be annoyed if you were hovering over them as they work.
Cottage-Style Walkway Inspiration Photos
I wanted small bricks or something "cottagy" for the walkway. So I went on Pinterest and found a bunch of photos I liked so I could give the contractor an idea of what I was looking for. Here are the example photos I pulled from the internet.
This was my favorite option, although I didn't want red. We were able to create a curved look like this, but found brick pavers that were closer to the colors in my walled garden beds.

Here's a second example of the curved brick walkway style I liked. This one stuck me as more of the shape of my walkway so I thought it was a good option to show the contractor.

I also showed him this option… I really liked how charming and cottagy this stone was, and I thought it would be a good fit for the style of my home. Ultimately, he said it was a "pain" to do this… and I liked the brick as well, so we went with that.
After I got the pricing, I picked the best contractor fit for me. And— was immediately put on a waiting list. The 3 week wait-list quickly turned into 7 weeks. But, once they were ready to work it went really quickly. The project was started on a Friday, they worked on Saturday and Tuesday, and finished up on Wednesday. All in all, the entire project was about 20 hours of labor.
Sometimes working with contractors feels really difficult. But if you follow my tips below, you'll have a much better experience and feel more prepared when it's time to hire!
Before & After Concrete & Walkway Photos
Here are some before and after photos of the entire project! What a difference the new concrete sidewalk an the brick paver walkway makes. I'm all smiles when I drive up to the house!
Before
Here are some before photos… as you can see I really did need some help with my concrete sidewalks!
During
All of the old concrete was removed and disposed of. Then, new concrete was laid on both the sidewalk and the walkway. The brick pavers were placed a few days later when the concrete dried. They are layed directly onto a layer of concrete.
After
I'm sure you can see what an incredible difference this project made to my home's curb appeal. I love the way it came out.
Wrapping Up
Overall, spending a ton of money on something like concrete can really suck the life out of you. Where I live, our borough does not care for the sidewalks in front of your home, although if it gets very bad, they can actually mandate you to get them repoured. Check your local township/city/borough website for details on pouring sidewalks… you may luck out and they will take care of them for you.
If you are in the same boat as me and have to pour them yourself, you may want to consider adding something special to the project. This always helps me to feel a little better about spending the money.
I needed basement windows, so while the contractor was there I had him enlarge a window in my office.
I needed sidewalks poured, so while the contractor was there I had him install a cute brick paver walkway to add a little more charm.
Doing this helps you to appreciate the project more, and not feel like you are wasting your money on items that don't bring you joy. You deserve a little joy, and while you have a contractor already coming to do something else, you may as well inquire about those little touches you wouldn't otherwise do!
As with any project, gather sample photos and make sure that you have a clear idea of what you expect from the contractor. Follow all of the contractor tips in this post to make sure you are picking one that's a good fit for you and the project you are working on. Most of all, enjoy the process, have fun, and use these types of projects to add a special touch to your home!
More Posts Like This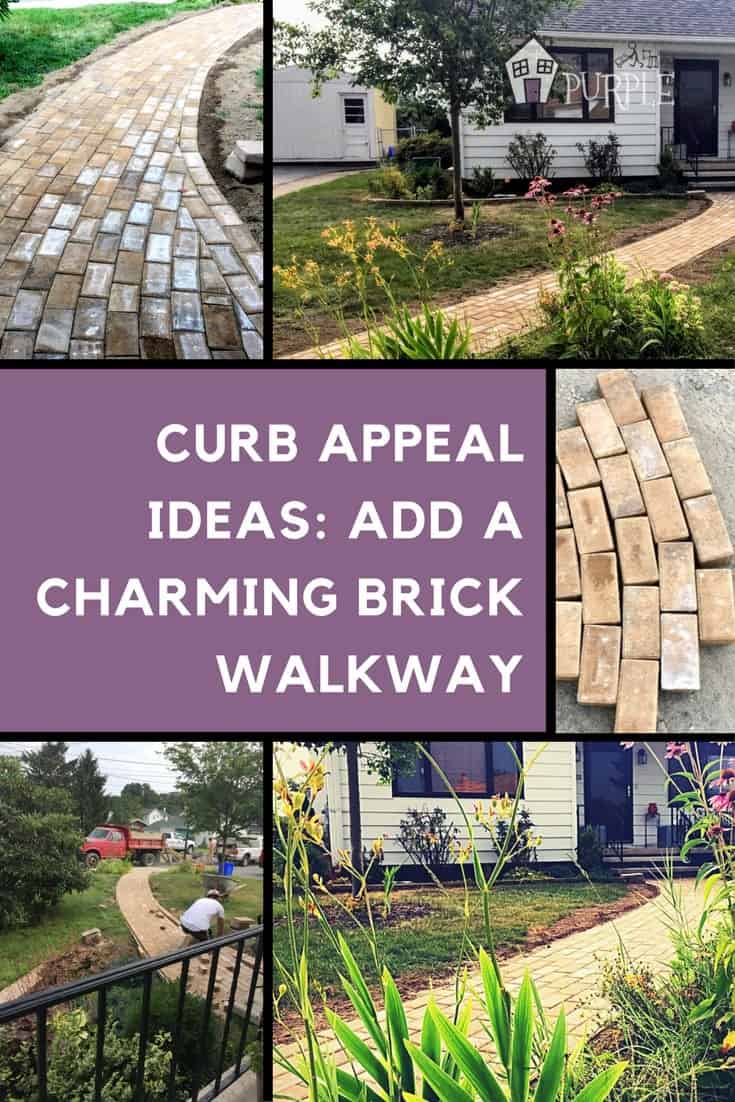 What Blooms with What?
Never know what to plant together? Find out with this FREE Plant Pairing Guide and become a pro at combining plants for the best garden design possible!