Finding the perfect front yard tree can be an overwhelming and difficult process. With so many options and so many factors to think about, how can you be sure you're making the right choice? Choosing a front yard tree is a process that will impact both your curb appeal and your property value. After going through the process when choosing my own front yard tree, I've put together some tips that may help you find the best tree option for your own front yard.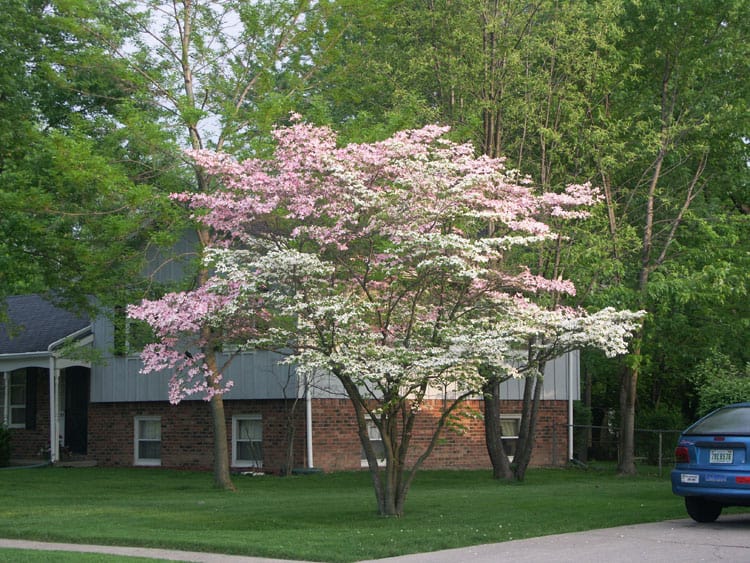 What is the purpose of your tree?
This is the biggest question to ask when choosing a front yard tree. And the answer may be two or three-fold. Some "purposes" to consider:
Trees for Shade
If you want a shady spot to sit under, you'll need to choose a tree with higher limbing. If you choose something that starts branching 14″ from the ground, you'll never be able to sit under it.>
Trees for Privacy
Are you trying to block your bedroom window from the neighbors view, or hide an ugly view FROM your window? You'll need to choose a very full tree whose limb height will be sure to match up with the height of your window.
Trees that Attract Wildlife
Do you want your tree to attract birds, butterflies or other animals?
Trees that Look Great
Obviously everyone wants a pretty tree… so this may be the biggest consideration when choosing your new tree.
Tree features to consider
Here are a few tree features that you can consider:
Flowers – if so, what color? Make sure you find out how the tree smells… I know that's weird, but some trees (such as a Pear tree) will have a really unpleasant odor. Some are too fragrant for my taste. And some flowers attract pesky insects or bees so you'll want to consider that if you'll be walking by it each day.
Leaf Color – do you like leaves that will change color in the fall, or leaves that remain green? Do you want something that will keep it's color, even through the winter? If so, you'll have to choose an evergreen.
Bark – some trees, like the birch, have amazingly showy bark that peels and looks really neat. Other trees have sort of a craggy looking trunk… which a lot of people like, but others really don't. Do some research to see what you like.
Trunk – some trees have a single stem branching structure, while others have multiple stems (or some trees have both options). A lot of times the multi-stem options look more like a shrub, while the single trunk options look more like a tree. Multi-stem options sometimes are created due to grafting the branches onto the trunk near the base, and this can result in some really neat hybrid trees (such as the dogwood to the right that has both white and pink flowers mixed together!)
Shape – There are many different types of tree habits, such as weeping, conical, shrubby, bushy, pyramidal. What looks prettiest to you? Check out the chart for some illustrations of the different tree habits.
Shapes of Trees
There are several terms used to describe the shape, or habit, of a tree. This particularly describes the direction that the branches of the tree will grow.
Spreading: horizontal sprawling branches, usually wider than high.
Compact: tending to grow tightly and close together within itself.
Upright/Erect: distinct upward growth, vertical configuration.
Weeping: long, narrow branches which tend to droop downward.
When you buy a tree at the nursery, it may not look exactly like it will when it matures, so it's important to find out how big the tree will get and how the branches will spread.
Finding the RIGHT front yard tree
When choosing a tree you need to think about whether or not the tree will work in your space. Is there enough room, enough light, the right type of soil, etc. Here are some things to consider once you have a few tree options in mind. Compare your options to see which tree is the best fit for you.
Size when full grown
The most important thing to consider is how much space you have for your tree. Sure it looks cute now, but how big will it get in 30 years? Do you have the appropriate space for that type of growth?
Root system
How close is it to your house? If it's close, make sure you choose something with a non-evasive root system.
Light Requirements
Will it get full sun, or be in a very shady spot?
Maintenance
How much maintenance does it require? Some trees require special fertilizers, pruning, or protection from frost. Is that something you're willing to keep up with or would you rather something with less maintenance?
Native
Is it hardy in your zone? If you get a tree hardy in zone 7 and you live in zone 5, there's a potential that the cold weather in the winter will kill it. Trees that are native to the region where you live tend to be the healthiest and will attract local wildlife like bees, birds and butterflies. So, do your research if you'd like to plant a native, healthy tree in your front yard.
Soil Conditions
Does it match up with the conditions of your soil? Well drained, clay, etc. Make sure you find a non-fussy tree or something that will thrive in your soil type…. or adjust the soil to your new trees needs before you plant.
Health / Disease
What kind of disease is the tree prone to? Some trees are very prone to disease and some are very resistant.
Often times, hybrids of trees are created to give you the best of both worlds: the beauty of the one tree with the disease resistant characteristics of the other.
Hybrids kind of reminds me of a mom and dad tree having a baby tree. Don't we all hope our kids will get the best of both parents, and grow up to be their own unique person with distinctive traits of their own?
One example is the Cornus Florida. These beautiful trees were under serious attack from insects and diseases in the 1970's and the future of dogwoods used by landscapers was in jeopardy.
To address concerns for use of dogwoods in landscapes, a plan was developed by Rutgers to cross-breed the native American dogwood (Cornus Florida) tree with the hardier Asian species, Kousa Dogwood (Cornus Kousa).
The result? A a new and unique hybrid tree, the Stellar Pink Dogwood.
Another example is the Autumn Brilliance Serviceberry tree (Amelanchier x grandiflora 'Autumn Brilliance') which is a hybrid cross between two native serviceberries, namely:
Downy Serviceberry (A. arborea), and
Allegheny Serviceberry (A. laevis)
Seasons of Interest
If you have a small yard like I do, you'll want maximum impact. I would advise finding a tree that will flourish over several seasons, like my Autumn Brilliance Serviceberry.
Quick Tip: You may want to read my post about landscape layering to better understand this concept.
But, interest in every single season may not be your main priority. Maybe you'd prefer something that blooms in late summer, because that's the time of year that your garden needs a punch. Or maybe you are looking for something that will bloom in conjunction with other plants in your garden? Maybe you just want something that will provide a backdrop for other plantings? It's really up to you, and your individual needs.
Finding tree inspiration
The internet: The internet is a great source to get started. Go on an arboretum website, or just google "small tree for zone 5" or something along those lines. You'll be well on your way to finding suggestions and forums where you can ask question. As I always recommend, create a Pinterest board of your favorites so you can go back to it.
Books: I recently purchased a book called The Four-Season Landscape: Easy-Care Plants and Plans for Year-Round Color and just dove right in. I get tons of ideas from my new book, which I tend to carry around with me like a bible. It has a lot of suggestions for trees with 4 season interest (among many other landscaping suggestions). I highly recommend it.
Family and Friends: Ask for advice. If they live locally, they may have had good/bad experience with particular trees. Or they may have mature trees in their yards already that you can go take a look at and see if you like them. My biggest help was in speaking to an arborist friend of mine who maintains a national arboretum nearby. He was able to give me really good suggestions for our particular zone (Zone 5), and help me choose a tree that would grow easily, give lots of interest, and actually "fit" in the small space I have. Thanks Mark!
Go for a walk: I have a doggy, so we walk every day anyway. But take a stroll through your streets and see what others in your neighborhood are planting. I started my search in the winter so I was able to determine which I didn't like once they lost their leaves. The spring is so beautiful! Every time I take a walk there are new trees blooming and other ones changing. It's quite magical.
What Blooms with What?
Never know what to plant together? Find out with this FREE Plant Pairing Guide and become a pro at combining plants for the best garden design possible!
The Best Front Yard Trees (IMHO)
Here are some small tree options that I would suggest if you have a small front yard. You can find your hardiness zone here.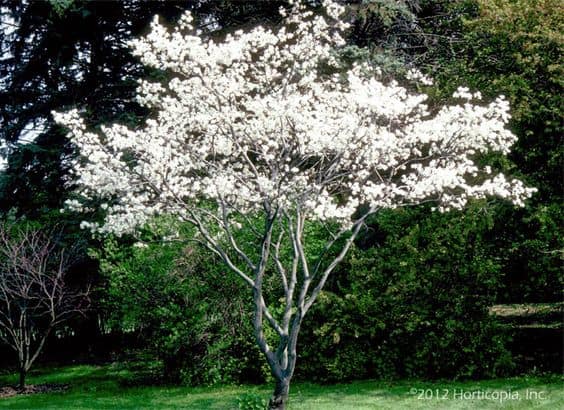 A hybrid cross between native serviceberries, the 'Autumn Brilliance' Serviceberry is an ornamental tree that grows in full sun to about 20′ tall and wide. It can be purchased as a single-stem or multi-stem variety and is adaptable to most soil types. It's also fairly drought tolerant once established.
Autumn Brilliance blooms VERY early with showy white flowers in late April before the foliage appears. Edible berries (juneberries) taste great and attract birds and wildlife in June. Great autumn color of fiery orange-red will light up your fall landscape. An attractive branching habit and silvery-grey bark truly make this a tree for all seasons.
Full-Part Sun | 20-25′ H x 15-20′ W | Zones 3-8

Buy it here or check out my full post for more info on this awesome 4-season front yard tree.
---
The Yoshino cherry is considered both a flowering tree and an ornamental tree because it's typically planted for both its visual interest and profusion of white to pale pink spring flowers. An early spring bloomer, the blossoms arrive before the foliage of the tree even fills in. In the summer, this tree will remain a highlight in the yard because of its oriental branching pattern, glossy bark and dark green leaves.
Washington DC actually has an entire festival dedicated to this beautiful tree… also referred to as the Japanese Cherry Blossom Tree.
Buy it here or check out my detailed post all about this beautiful flowering front-yard tree.
Full Sun | 40-50′ H x 25-40′ W| Zones 5-8
---
The Snowdrift Crabapple's is a beautiful, hardy ornamental tree with visual impact during all four seasons. The Snowdrift variety grows to about 15-20′ high and wide and can be purchased as a single stem or a multi-stem variety. It prefers a sunny location and can tolerate a lot of different soil and moisture conditions.
A tree that brings color and interest in all four seasons, Snowdrift has a dense, rounded foliage habit that adds to its standout appearance year round. It can also be purchased as a multi-stemmed or single trunk tree.
In April-May, its pink buds form into snowy white blossoms. Glossy, deep green summer leaves change to yellow in the fall. 3/8″ -1/2″ round, orange-red crab apples will have birds flocking to your yard from late spring through the winter.
Full Sun | 15-20′ H x 15-20′ W | Zones 4-8
---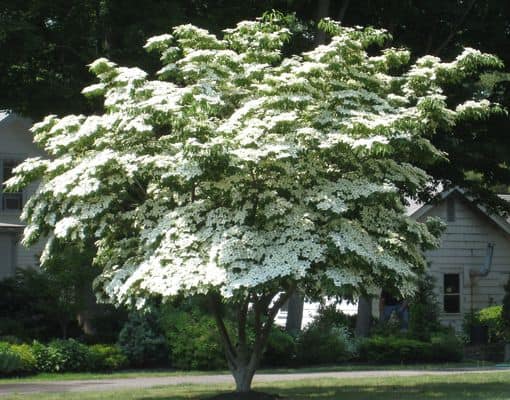 The Kousa Dogwood is a beautiful and hardy ornamental tree grows 15-25′ H and a horizontal branching habit that will extend this tree to about 25′ wide. The Kousa Dogwood can be grown in full sun, part sun or even shade which makes it a great choice for any home owner.
In spring, Kousa Dogwood bursts into action with showy white blooms that last from May to June. In late summer, Kousa produces an abundance of edible berries that can be used to make wine. The 1-2″ round pinkish-red berries have a nubby texture that also add interest. Purple to scarlet foliage adds intense interest to your fall landscape. And lets not forget its beautiful exfoliating bark and interesting branching habit that will stand out in any winter scene.
Full Sun – Shade | 15-25′ H x 25′ W | Zones 5-8
---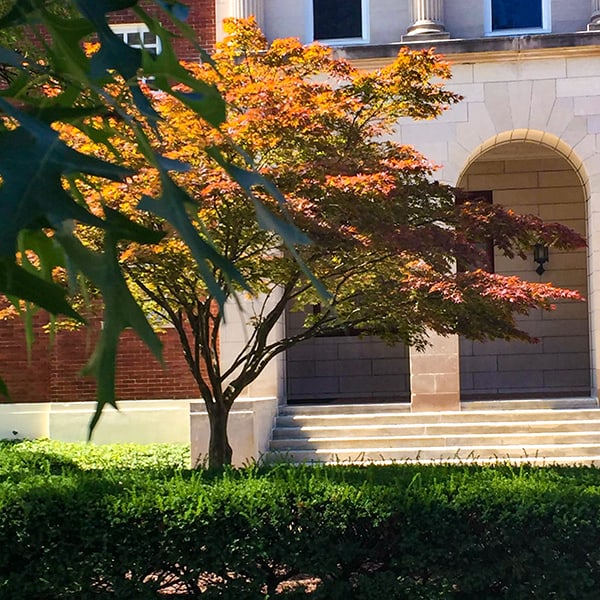 The Bloodgood Japanese Maple is a features attractive foliage with burgundy red coloring turns brilliant scarlet in fall. The interesting red-black bark provides striking interest in winter. This slender, airy tree is well-suited for use as a small lawn tree or for patios and entryways. One of the hardiest of Japanese maples, with good sun tolerance. Deciduous.
Native to Japan, China and Korea Bloodgood Japanese Maple is a small ornamental tree that grows slowly to about 25 feet tall and wide. It's a slender, airy tree making it a great option for a front yard tree that adds year round interest to any home landscape.
Bloodgood can be grown in full to part sun and prefers moist, well-drained lightly acidic soil. 'Bloodgood' is a very common form of Japanese Maple with excellent burgundy colored foliage year round. This tree shines in fall when its foliage turns bright red.
Full – Part Sun | 20-25′ W x 20-25′ H | Zones 5-9
---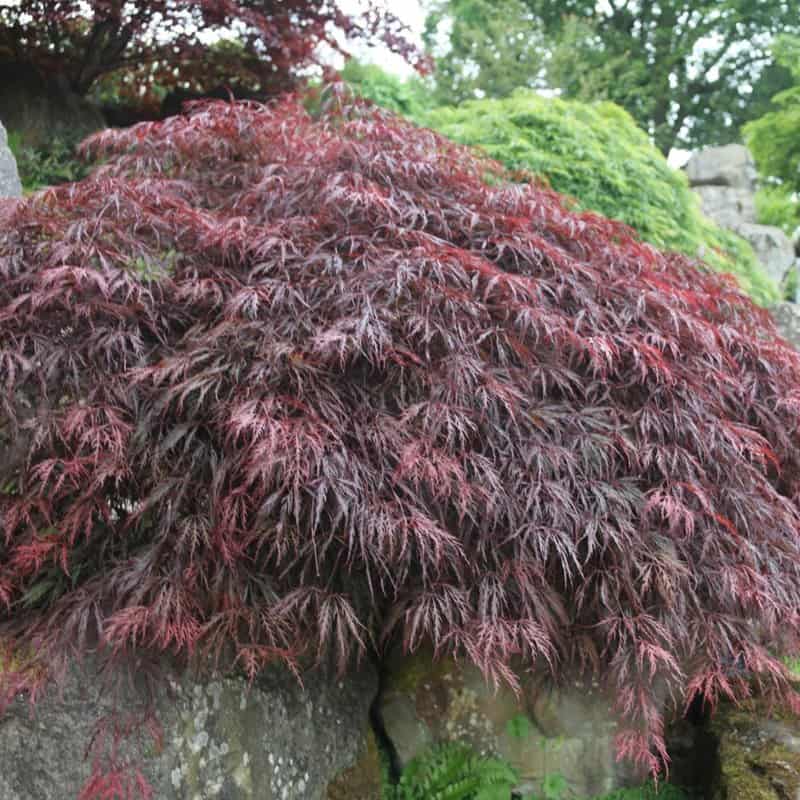 The gorgeous 'Inaba Shidare' Japanese Maple is a small weeping tree that has a shrub-like appearance. In spring, the leaves are a deep reddish burgundy and only get more brilliant through the year. In fall, the leaves turn a bright fiery red.
Full-Part Sun | 10-15′ H x 8-15′ H | Zones 5-9
---
Native to East Asia, the Japanese Lilac is a beautiful tree that grows to about 25-30′ tall and 20′ wide. It can be purchased as a single trunk or multi-stemmed tree (pictured above). It grows in part sun, but produces more blooms when provided with a full sun location.
At its best in early summer, the Japanese Lilac blooms for about 2 weeks with huge (10″), fragrant creamy white clusters that are similar to lilac bush blooms but much larger. After the flowers fade, attractive seedpods will attract songbirds to your garden.
It's attractive form, disease-resistance and non-invasive root system make this a great tree near a patio or porch where you can watch the songbirds and enjoy the fragrance up close and personal.
Full-Part Sun | 25-30′ H x 20′ H | Zones 3-7
Wrapping Up
Deciding on the perfect tree for your front yard means you have to know what the main purpose of your tree. Consider things like shade, privacy and aesthetics. What makes a tree "look" pretty in your eyes? Is it a tree that blooms or bears fruit, the leaf color or texture, interesting bark or trunk structure, or maybe even the overall shape of the tree?
When choosing a tree for your front yard you need to analyze whether the tree will not only survive but thrive in that location. Is it native to your area and can it tolerate the sun and soil of your front yard? Do you have enough space for it to grow to its full size?
There are also many resources to find some excellent trees for your own yard. Try searching the internet, reading books and magazines, asking family and friends, or simply taking a walk to see what you like in your own neighborhood. Once you consider all of these important factors you should have no trouble deciding on the perfect tree.
I'd love to hear what tree is in your front yard… please comment below and let me know!
More Gardening Posts You'll Love
What Blooms with What?
Never know what to plant together? Find out with this FREE Plant Pairing Guide and become a pro at combining plants for the best garden design possible!