Please note: I may earn commissions from qualifying purchases if you shop through links on this page. More info.
Cooper-Young Garden Walk – Lessons from Touring 80 Memphis Home Gardens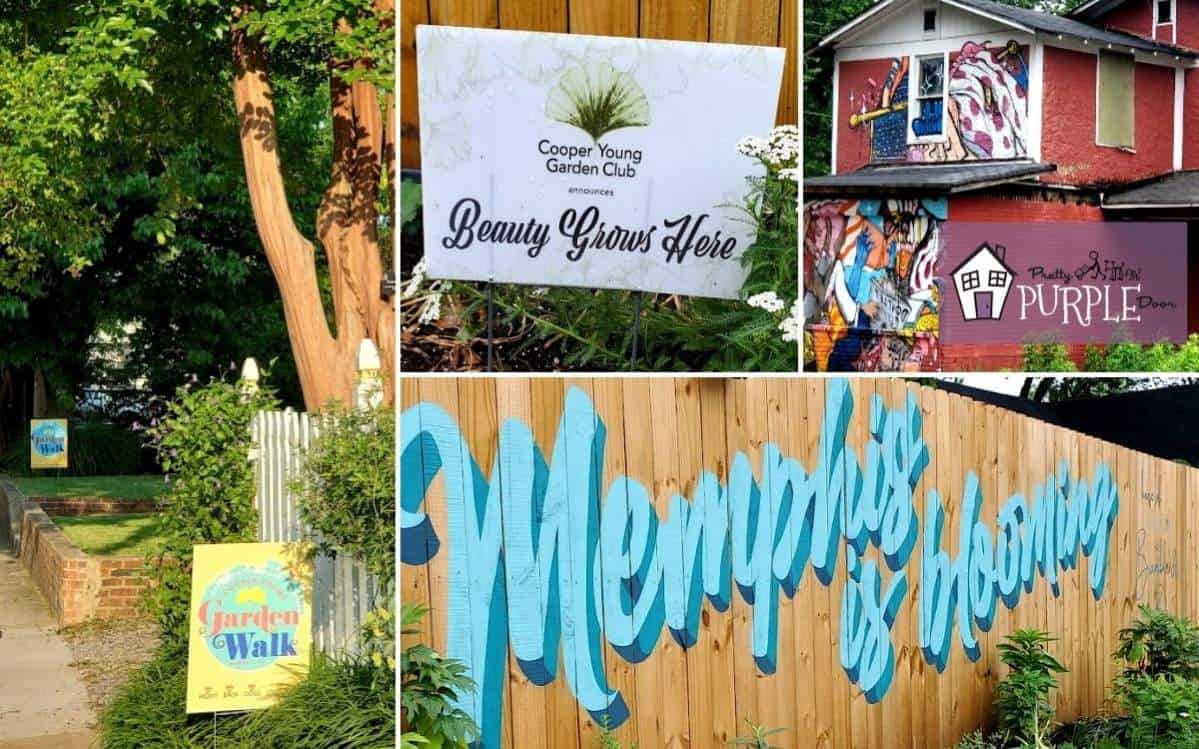 I had the BEST experience in Memphis at the Cooper-Young Garden Walk, which is known as the largest garden walk in the south!
The event is essentially a walking tour of 80+ green businesses and urban gardens throughout the Cooper-Young (Midtown area) of Memphis.
All members of the community are invited to participate. So, you're able to see gardens large and small created by people of various skills levels; from novices to experienced gardeners to professional landscapers. All in one single weekend!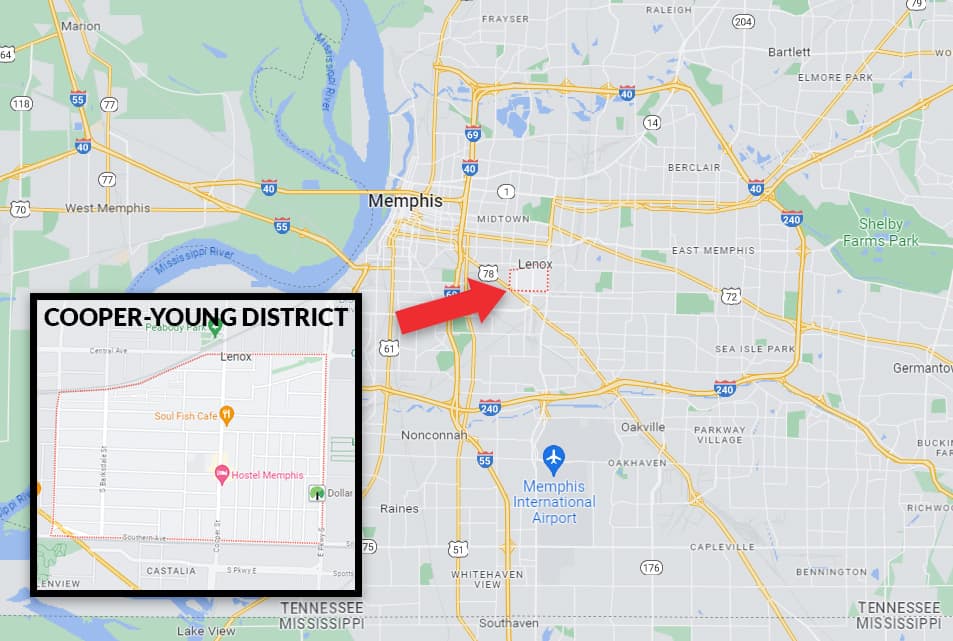 Wondering if it's worth the trip? I flew from Pennsylvania to Tennessee (1,000+ miles) to tour these amazing home gardens.
And… YES. It was definitely worth the trip!
I left Memphis OVERLOADED with inspiration. I have so many beautiful (and quirky) ideas to try in my own garden! And that's my favorite part about garden walks like this!
Lessons from the Cooper-Young Garden Walk
Here are some of my biggest takeaways from the Cooper-Young Garden Walk:
We Are All Creative & Unique
Experiment & Express Yourself – your garden should reflect YOU
Reclaimed is Beautiful
Cram Personality Into Every Nook & Cranny (create fun vignette)
Have Fun & Just Go For It
Let's dive into each of these lessons learned so I can share all of my beautiful garden photos with you!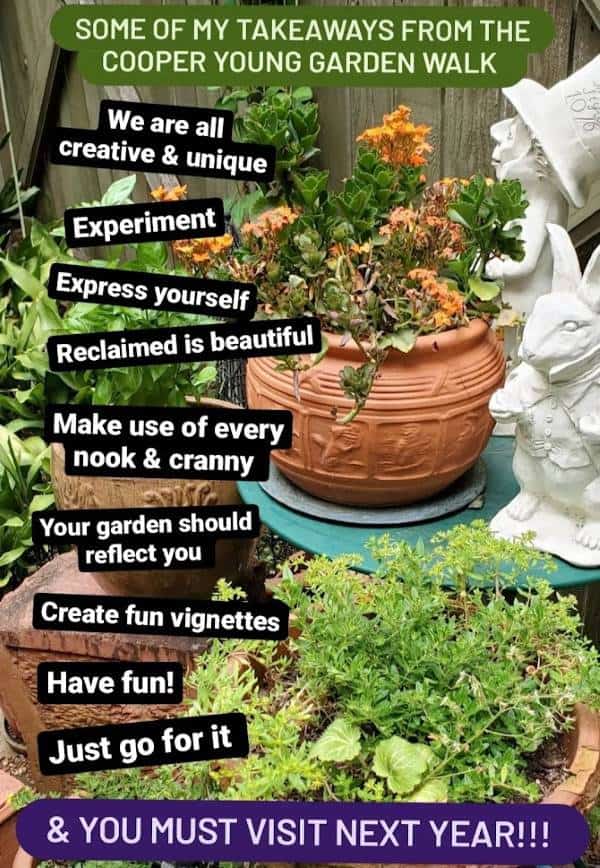 We Are All Creative & Unique
During my visit to the Cooper-Young Garden Walk, one observation really resonated with me: We all have a choice to be creative and expressive. It's up to us!
Each home garden seemed to tell a distinctive story of the individual who lived there. The plant choices and repurposed décor reflected the personality of its creator. Some gardens were exuberant and wild, while others were meticulously manicured. Just by being in the space, you got a true sense of who cultivated it.
In seeing this, it became evident that no two gardens were alike, just as no two individuals are. This reminded me that a garden is a testament to the ways that we can channel our creativity, making the world a more colorful and inspiring place.
Experiment & Express Yourself
Gardens are an expression of yourself and are a space for you to experiment with your creativity. Your garden should reflect YOU.
Certainly, your garden is more than just a collection of plants. It's a canvas for your own self-expression. As I continued my exploration at the Cooper-Young Garden Walk, the gardens I encountered reinforced this idea. It's true that outdoor spaces are a beautiful way to experiment and express yourself.
I loved how the Memphis gardeners pushed boundaries, combining unexpected elements to create stunning visual narratives. These gardens are NOT just products of laborious work. They are loved and cherished... they are alive with spirit.
This freedom to experiment is empowering. It encourages us to view gardening as a limitless art form. Each garden whispered a reminder: endless possibilities are waiting to be explored. It inspired me to rethink my own space and consider how I could further infuse my personality into every leaf, petal, nook and cranny.
In my Garden Style Mood Board workshop, I take gardeners and landscape designers through a process to discover their own personal style and their garden purpose. A garden is just a bunch of plants UNTIL you infuse your own personality into it. And while that's fun to think about, it's hard to achieve. My workshop provides a concrete process for bringing this idea to life.
One of the workshop participants said,
"I think working through the Garden Statement was so enlightening! Especially defining a purpose for a garden – that was an eye-opener for me."

"Creating the mood board helped me to "see" the potential for the garden to be more than just a wildlife habitat. What it was missing was me! How did I (and my family and friends) fit into this new garden space."

Deb Winther
I think many home gardeners overlook their own personality when developing their garden… they just plant lots of plants. But this garden walk is proof that our gardens can have true purpose and character.
Once you include pieces of YOUR UNIQUE SELF in the space, your yard will come to life. Definitely check out my Garden Style Mood Board Workshop if you want to infuse some more personality into your garden. I share many more examples from this walk in the workshop.
Reclaimed is Beautiful
As I walked the streets of the Cooper-Young district, there existed a reoccurring theme that breathed life into each garden – Reclaimed is Beautiful.
Most spaces incorporated reclaimed items, transforming what some might consider trash into captivating works of art. Weathered, rusty metal and forgotten relics find a new purpose amidst the foliage. Reclaimed items add personal touches, serving as unique ornaments that tell stories of the past with nods to the future.
Old wooden crates and even toilets became planters.
Discarded window frames were repurposed as trellises.
Old metal truck and car parts became whimsical garden art.
These reclaimed treasures served as a powerful reminder… That there's beauty in embracing sustainability and uncovering the unique potential of discarded items.
If you're conscious of environmental impact, these Memphis gardens are an inspiration. In the hands of innovative minds, even the forgotten can flourish and be truly beautiful.
If you're looking for more reclaimed or DIY ways to infuse your personality into your garden, check out these articles:
Cram Personality Into Every Nook & Cranny
I think the biggest takeaway I had was not to let a single area of your garden go to waste. I rarely saw an unused corner or an "empty" spot in a border.
Personality was crammed into every single inch of space. Whether through adding a little seat, a piece of garden art or a fun vignettes, no space was wasted in these gardens!
I rarely found an unused spot or an 'empty' area. Instead, I discovered ingenious solutions:
Hanging art on walls and fences creates visual interest, height and depth
Tucking small, quirky planters here and there into plant borders creates fun surprises
Using bricks and rocks propped up pretty potted plants makes them easier to see and enjoy
Adding textiles, décor and even chandeliers to porches creates a welcoming place to sit and chat
There are endless opportunities in decorating any and ALL flat surfaces in your space
It reminded me that gardens, no matter how small, don't have to be your own "secret" spaces… they can be spaces to share with family, friends and neighbors.
Fun Garden Vignettes
The vignettes were a celebration of resourcefulness and inventiveness. Gardeners transformed even the tiniest patch of land into a canvas for garden art.
In touring these gardens, I learned that we can personalize our spaces far beyond comfortable levels… while still making it look beautiful. These gardens stood as living proof that no matter how small your space, there are opportunities to infuse it with your unique spirit.
It was a beautiful reminder that creativity and a willingness to experiment has power. It can transform the ordinary into the extraordinary.
Have Fun & Just Go For It
In the spirit of embracing creativity to its fullest, the gardens of the Cooper-Young Garden Walk taught a valuable lesson: have fun and go for it!
Among the foliage, quirky and unexpected elements turned each and every garden into a whimsical wonderland. These passionate gardeners were experts in eliciting smiles and laughter from visitors.
A discarded toilet now transformed into an amusing flower pot, a cue to the home owner's humor and imagination.
Little peep holes for dogs to peeked through fences adding a playful touch.
Mannequins and statues stood as silent spectators, adding mystery and sometimes even fright!
Funny garden signage dotted the pathways, reminding us not to take life too seriously.
The whole weekend was a celebration of the unconventional. It was a reminder that gardening, at its core, is about joy and self-expression. These gardens encouraged everyone to let go of inhibitions. To experiment with the unexpected. To embrace the playful side of life.
I attended this weekend event with a landscape designer friend of mine, Tammy Sheffer-Bracha. She practices in Austin, Texas. It's safe to say she enjoyed it as much as I did.
Wrapping Up
My final takeaway from the Cooper-Young Garden Walk is that you should definitely visit Memphis and attend. I got so much from the experience. And I think you will, too.
Much thanks to the organizers for putting on such an AMAZING and welcoming event. You can learn more about this even at cooperyounggardenclub.org and @cooperyounggardenwalkmemphis.
And to every gardener who was shocked that I flew 1,000 miles to see your yard… you really don't know how special your home is! You should be so proud of what you've created. You're an inspiration to gardeners all over the world!
More Inspirational Gardening Posts