Please note: I may earn commissions from qualifying purchases if you shop through links on this page. More info.
Get the Country Cottage Garden Style Look at Home – A Complete Guide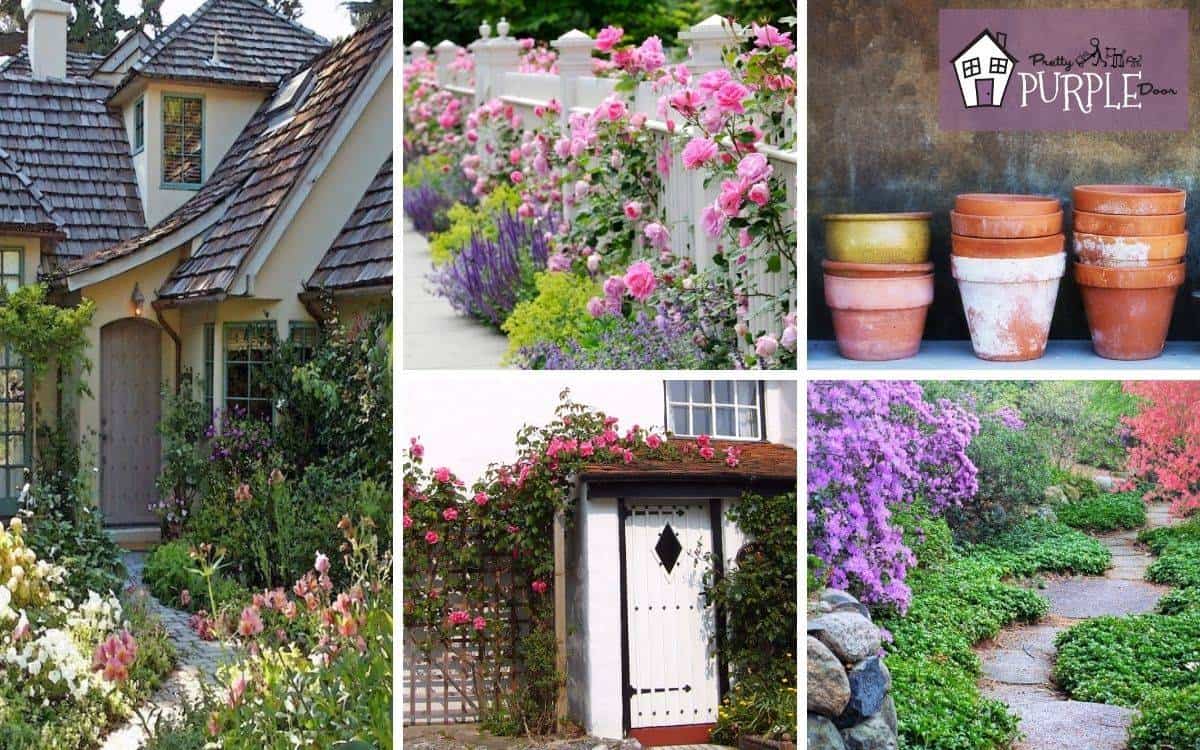 Country cottage garden style is the relaxed and sometimes unruly offspring of the formal/traditional garden style. In cottage gardens, there's much less emphasis placed on the symmetry or positioning of plants. Throughout this guide, you'll learn lots of tips and tricks to get your home gardening feeling cottage-like and cozy.
The cottage garden design style incorporates dense informal masses of edibles, herbs, medicinals and ornamental plantings using traditional-style hardscape materials. The earliest cottage gardens in England were grown for very practical purposes. Over time, a colorful mixture of blooming flowers has become the centerpiece rather than the afterthought of the cottage garden style.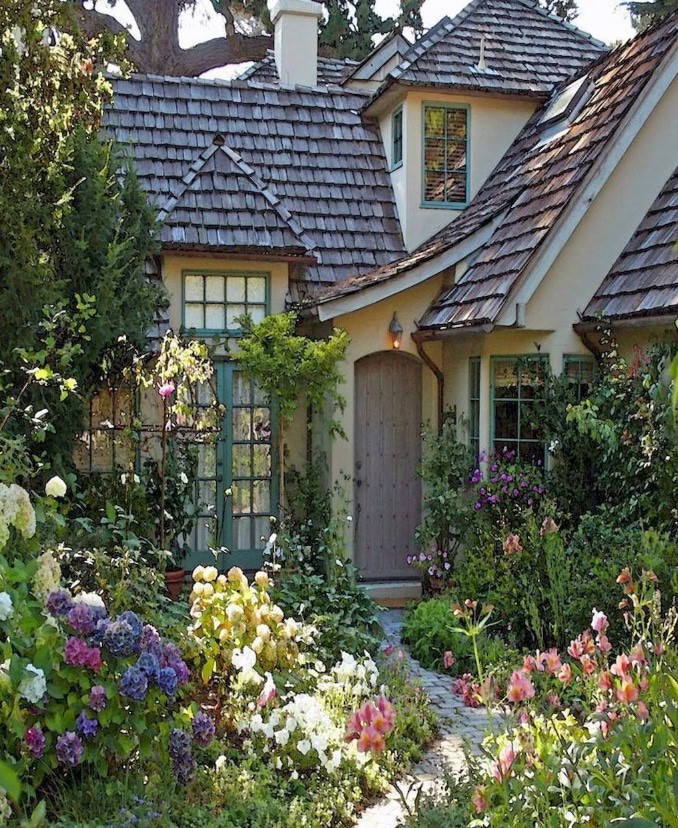 The freeform style of cottage gardens is absolutely beautiful– and happens to be my personal favorite of the garden styles. But, because there are very little rules in the country cottage garden style, it can be challenging to get it right.
Country Cottage Garden Style Design & Layout
I'll be sharing lots of tips to help you out, but above all, your garden must appeal to you personally. Fill it up with the plants, flowers, edibles, herbs, scents and colors you love. Cottage gardens are gardens "of the heart, of the hearth and of the home." Here are some elements that make up a cottage garden:
Informal plantings that appear "randomly placed" with very little open space.
Walls and fences covered with climbing plants and vines
Natural materials like brick, gravel, decomposed stone and mulch used for pathways.
Plants that spill onto paths and over fences to "soften" the edges.
Ornamental plants mixed together with medicinal and edible plants.
What to Plant in a Cottage Garden
Plants in country cottage gardens are colorful and diverse, with a tendency to spill over into lawns and paths. Fill your cottage garden with collections of your favorite flowers and plants that are both beautiful and practical. The cottage garden features colorful ornamentals, edible vegetables and fruits, herbs and medicinals all mixed together as one. Plantings utilize every available space, creating a feeling of charm and "organized mess."
Cottage garden plants are not rare and exotic. Most flowering perennials and flowering shrubs fit well in this look. Among them are American natives and ordinary species. Many old-fashioned flowering shrubs such as hydrangeas, roses, lilacs and trees, such as magnolias will suit the cottage garden style. Most of all, pick plants that you love.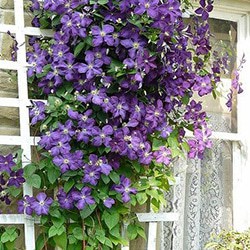 Clematis (Zones 3-9), known as the "Queen of Climbers," is a beautiful, flowering vine that comes in a variety of colors with a variety of bloom times. Clematis is a great choice for growing over walls, trees and even over other plants in your cottage garden.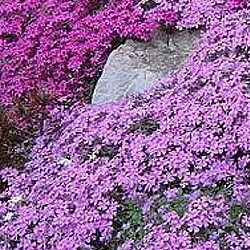 Creeping Phlox (Zone 3-9) is a colorful groundcover that will attract butterflies and bees while carpeting your landscape with fragrant blue, white and pink flowers.
Here are some more classic vines and groundcovers you can try.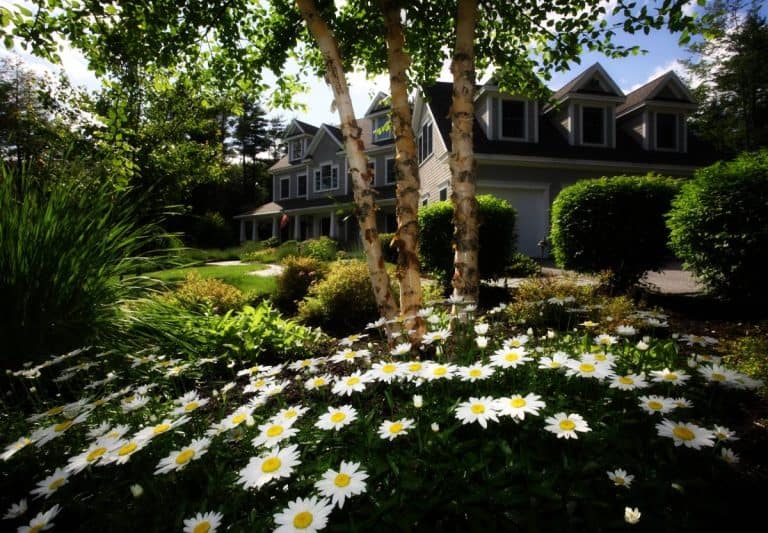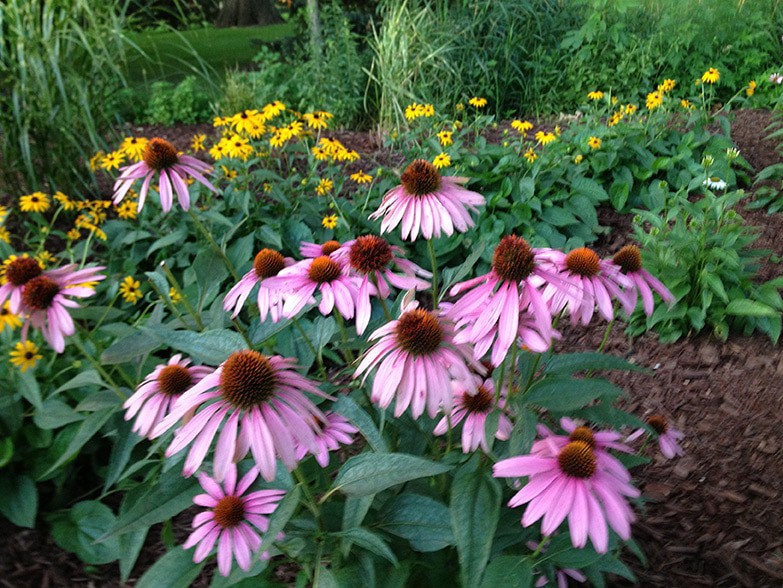 Shasta daisies (Zones 3-8) and coneflowers (Zone 4-8) look great in cottage gardens. And, let's be honest… how can you look at either of these flowers and NOT smile!
Also try incorporating edibles and herbs into your cottage garden. Mix in rosemary, sweet bay, sage, lavender, blueberry, figs, grapes and pomegranates with your ornamentals for a cottage garden that will look, smell and taste amazing.
Quick Tip: My Cottage Garden Design Styles Pinterest board is another great resource for planting inspiration.
What Blooms with What?
Never know what to plant together? Find out with this FREE Plant Pairing Guide and become a pro at combining plants for the best garden design possible!
Ideas to Incorporate into a Country Cottage Garden
The arbor gate: Before automobiles, visitors tied their carriage horses at the front gate to the dooryard. The vine or rose shrouded arbor made it more comfortable for the animals to wait in the shade or protected from the rain. I love this arbor gate by Montebello. It would look fabulous engulfed with climbing vines.
White lattice: An elegant way to screen a view or offer privacy without sacrificing air movement. For outdoor living, or in the era before air conditioning, this was a common and welcome building material and, today, provides a backdrop for many cottage gardens. Check out this beautiful white lattice trellis.
Clay flower pots: Inexpensive clay flower pots are common in cottage gardens because the original modest cottage gardeners couldn't afford luxury items. Here's some terracotta pots to get you started. You can age and color these to make them fit your style.
Wood window boxes: Homemade window boxes were a popular decoration for simple, functional homes at minimal cost. You might like this gorgeous rustic planter box in 15 sizes.
Flea market finds: Antique wheelbarrows, rustic wagon wheels and even old dresser drawers used as planters. Any quirky, whimsical finds that are weathered with age will enhance the cottage garden style.
Too impatient for flea markets? Here are a couple of my favorite, weathered cottage garden items:
Cottage Garden Fencing Ideas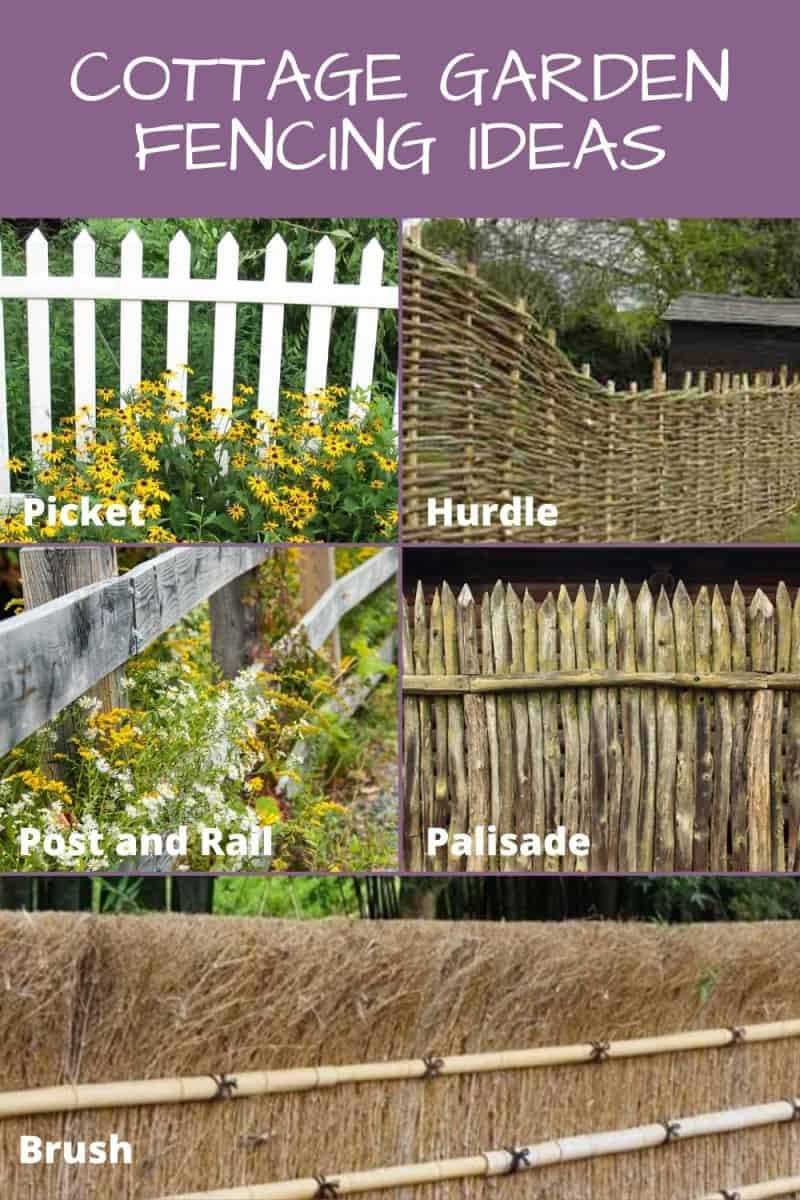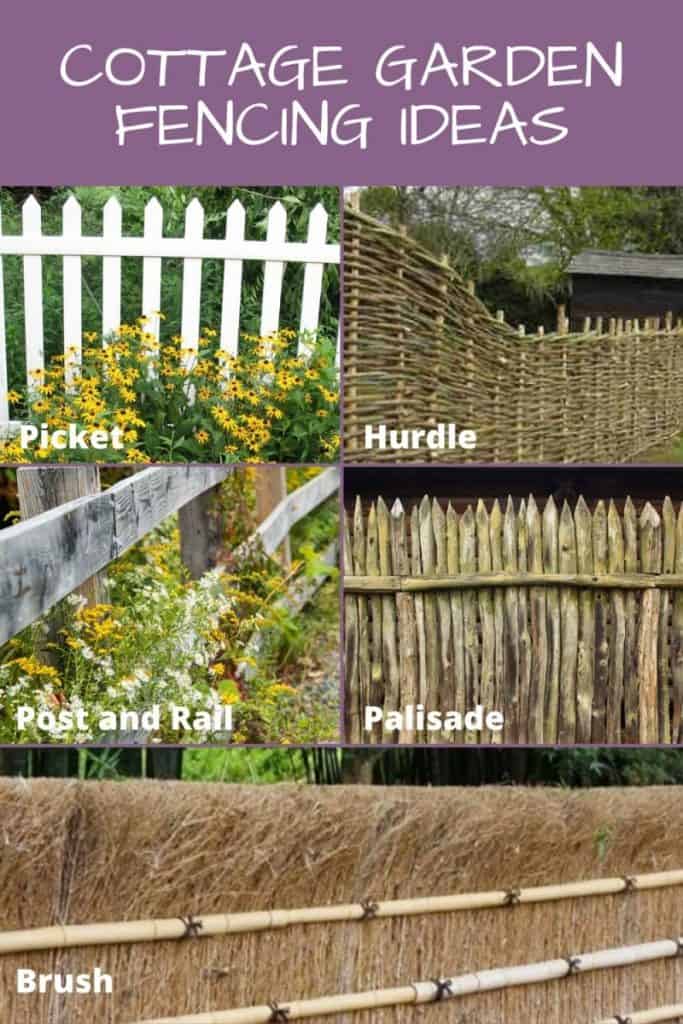 There are many brilliant types of fences that you can try to give your garden that country cottage style. Here are a few of my favorites:
Picket fences are the staple of the cottage garden. A beautiful white picket fence just screams cottage garden. Add a rambling rose along the top and you're set.
Palisade fences (sometimes called a stake wall, paling or stockade fence) are typically made from iron or wooden stakes or tree trunks lined up vertically.
Post and rail fences are certainly at home in a cottage garden or at a farmhouse. These are the types of fences you typically see to corral farm animals like cows and pigs. Although post and rail fencing won't provide much privacy, it will definitely add charm.
Hazel or willow hurdle panels are panels weaved from the branches of trees and make a really rustic and charming panel. Multiple hurdle panels together could make a lovely fence option for a cottage garden. Wondering which to choose? Hazel hurdles are typically much more substantial (and heavier) than those made of willow.
Brushwood fences is very eco-friendly and natural fence option for your cottage garden that is made from Melaleuca (AKA broombrush). The brush is cut then hand-packed into the frame of the fence. They're great for privacy and noise suppression, are resistant to termites and are practically maintenance free. Surprisingly, brushwood fences can last 25-40 years, outlasting many natural, steel or wooden fence options.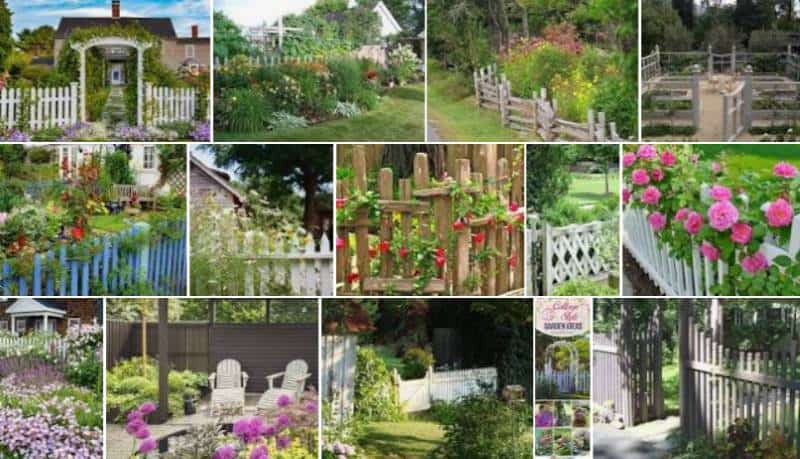 Cottage Garden Blogs To Follow
If you're looking to learn more about country cottage garden styles, here are some cottage gardening blogs that you can check out:
On Instagram, check out @_thesuburbancottagegarden_, @shiplapandshells and the hashtag #cottagegardenstyle.
Wrapping Up
Although the lack of rules and structure can make the country cottage garden style a little tricky to accomplish, the one thing you need to remember is that cottage gardens are gardens "of the heart, of the hearth and of the home." Elements may look mashed together or randomly placed, but they are actually thoughtfully selected plants, materials and features that have meaning and love for the person who tends the garden.
If you enjoyed this post about country cottage gardens, you'll really love my comprehensive article about figuring out what garden style is right for you!
More Garden Style Articles You'll Love
---
Shop my Amazon storefront for my essential gardening books & tool recommendations!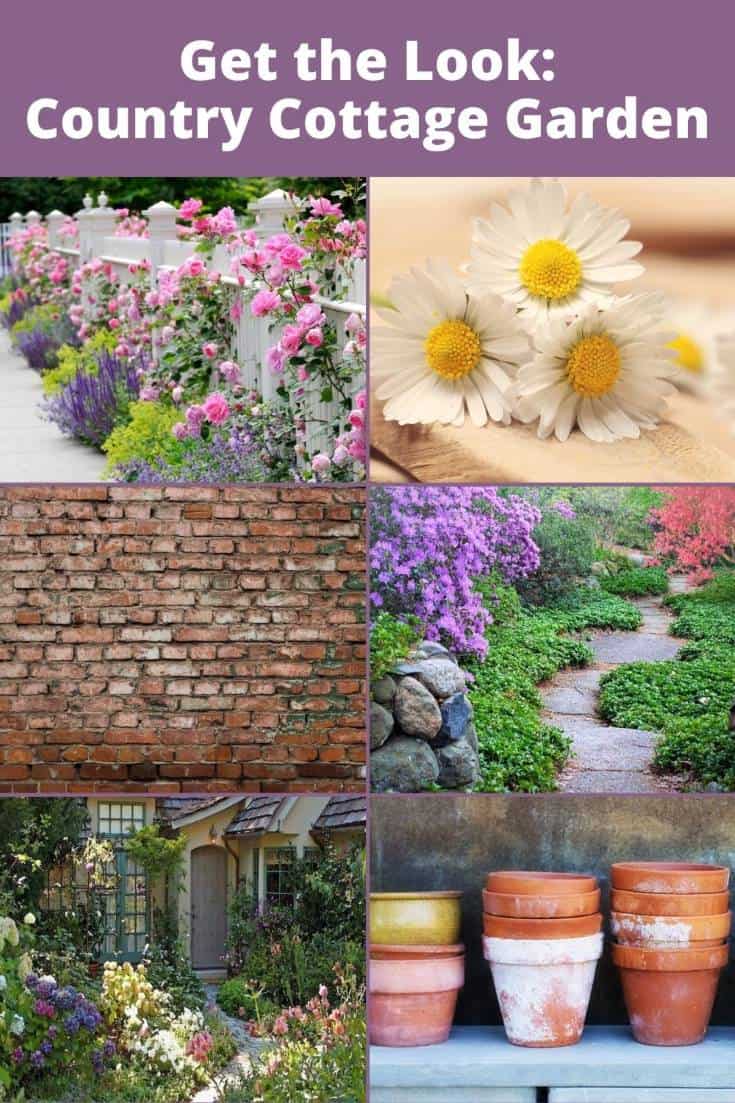 What Blooms with What?
Never know what to plant together? Find out with this FREE Plant Pairing Guide and become a pro at combining plants for the best garden design possible!