Please note: I may earn commissions from qualifying purchases if you shop through links on this page. More info.
Cottage Garden Style: Create Your Dream Cottage Oasis at Home (Complete Guide)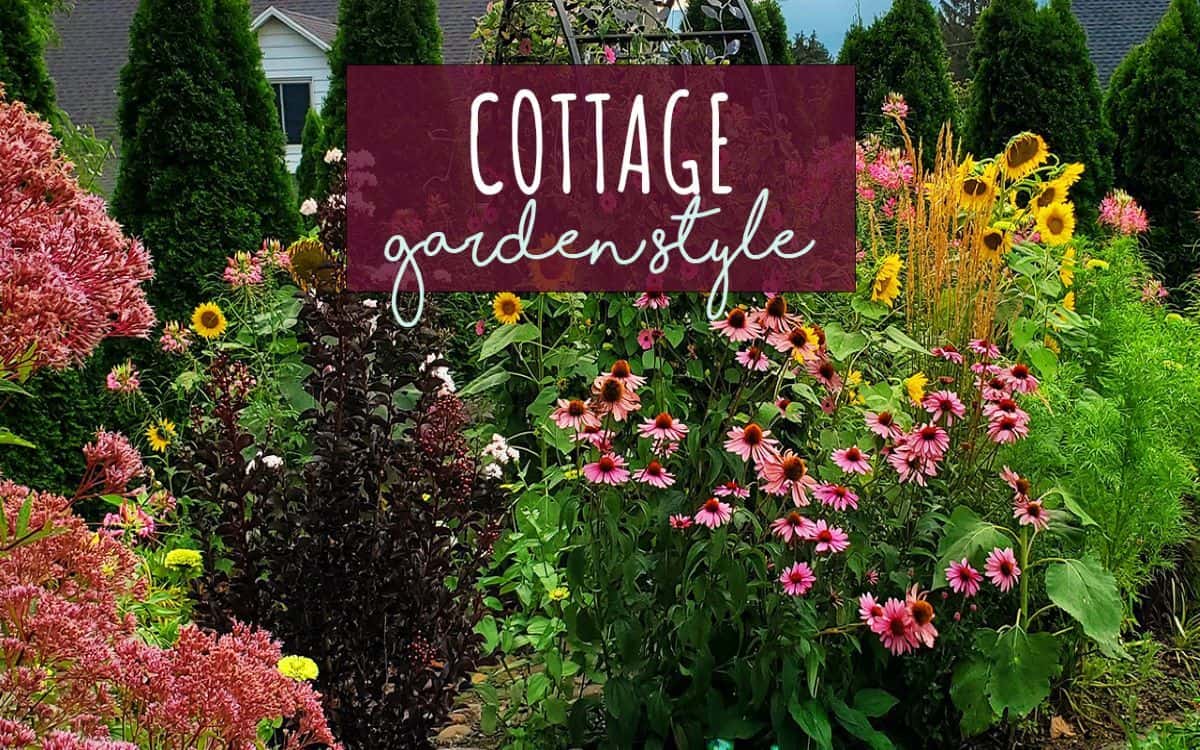 Country cottage garden style is the relaxed (and sometimes wild) offspring of the formal/traditional garden style.
The cottage garden design style incorporates dense informal masses of edibles, herbs, medicinals and ornamental plantings using traditional-style hardscape materials. The earliest cottage gardens in England were grown for very practical purposes. Over time, a colorful mixture of blooming flowers has become the centerpiece rather than the afterthought of the cottage garden style.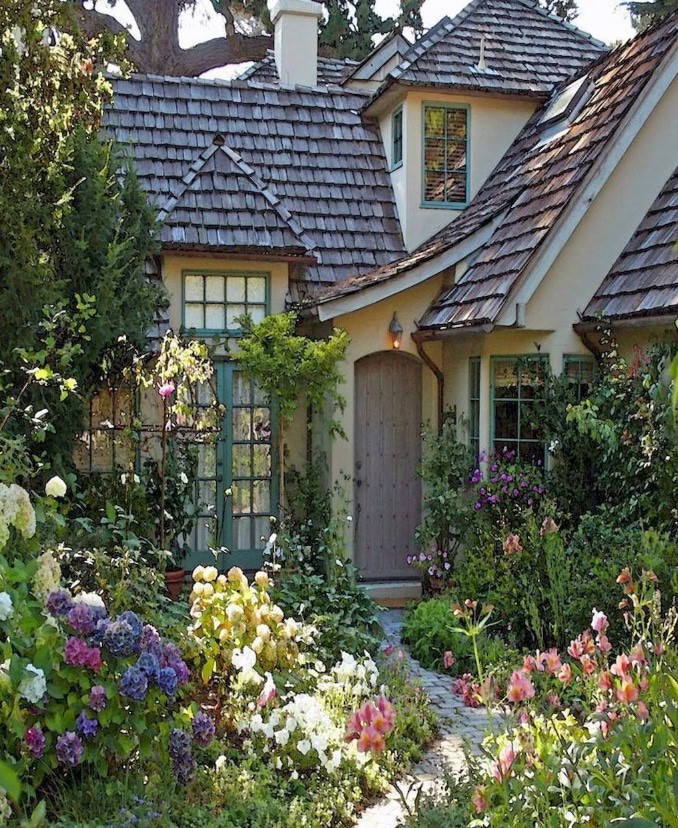 The freeform style of cottage gardens is delightful. It happens to be my personal favorite of all the garden styles. But, because there are very little rules, it can be challenging to get this style right.
Throughout this guide, you'll learn lots of tips and tricks to get your home garden feeling cottage-like and cozy.
Country Cottage Garden Style
History of Country Cottage Gardens
The history of cottage gardens can be traced back as early as the 1340's. When the Black Death (bubonic plague) swept through Europe, there was a decline in traditional, formal style gardens. But, the rural poor were less affected by the Black Death. As more land became available, they began planting gardens using whatever seeds and plants they could find and afford.
In the 1500's, the cottage garden style began to officially take shape as an actual garden style. Cottage gardens of this time were informal and colorful, including a mix of flowers, fruits and vegetables all grown together in the same garden beds.
In the 1600's, the popularity of cottage garden styles was evident in England. Instead of being popular among just the rural poor, the upper classes began to embrace the beauty and practicality of the cottage garden. To keep a tidier appearance, the upper class began introducing hedgerows and fences to tame their wildness.
By the 1700's, cottage gardens grew in popularity, spreading to other parts of Europe. As new gardeners discovered this style, it continued to evolve.
In the 1800's, gardeners in North America (United States and Canada) began to embrace the wild and colorful, yet practical, cottage garden planting style.
In more modern times (1900's), the cottage garden style saw a resurgence in popularity in England and the UK.
This informal style has transformed and changed over centuries of time. Today, the cottage garden is more popular than ever! In the 21st century, cottage gardens are wildly popular and being used in various ways in all different parts of the world!
Present-day gardeners use cottage style plantings in small balcony gardens, large-scale commercial projects and everywhere in between.
These beautiful gardens are still packed with mess of flowers mixed with edibles like vegetables, herbs, fruit trees and even medicinal plants.
The use of flowers and flowering shrubs are now the staple of cottage gardens, rather than an afterthought.
Maintenance Needs of Cottage Gardens
Many people think that cottage gardens are either (1) zero maintenance or (2) extremely high maintenance. The truth is that this garden style falls somewhere in between.
Cottage gardens are medium-high maintenance to take care of. They require:
Less Maintenance Than Traditional, Formal Gardens:
Cottage gardens don't require as much pruning and shaping as you would with a formal style garden. The casual style lets you "get away" with much less maintenance without anyone noticing. If things get a little wild, it adds to the charm of the cottage garden.
More Maintenance Due To Flowering Plants & Vegetables:
Lots of flowers and plants means lots of deadheading, watering, fertilizing and cutting back. Vegetables and herbs also require a higher level of maintenance like regular watering and pest prevention.
Less Weeding:
Because plants are closely planted and packed together, less bare soil will receive sunlight. This results in less weed pressure (and less weeding) in your garden. Yay!
More Digging & Dividing Plants:
Cottage gardens feature lots of flowering perennials planted tightly together, which means your plants may outgrow the space every few years. So, you'll need to spend a bit more time cutting them back, digging them up and/or dividing them as they grow. Although it's more work, having extra plants to share with your friends can also be a positive.
Conditions Needed For Cottage Gardens
Because cottage gardens are medium-high maintenance, the best scenario is to start with rich, organic soil where plants will thrive. Good quality soil will hold moisture and feed your plants, which means you'll need to do less watering and fertilizing.
not only is rich, organic soil great for plants, it also reduces maintenance. Here are some other ways to create a low maintenance landscape.
There are some plants that are quite fussy and require certain conditions to grow. For example, hydrangeas are lovely, but most varieties need shade and also a lot of water. So, you may not be able to grow every single plant you'd like in your cottage style garden. You'll need to first determine if you can provide the right conditions for that plant.
My best recommendation for this style (and all garden styles) is to figure out your conditions first, then choose your plants according to what you have.
Plants that are healthy and thriving will ALWAYS look better than struggling ones. This is particularly important in cottage garden style, where you want your garden beds to feel full, lush and abundant.
Many people contact me online asking about growing a cottage garden when they live in a very sparse or drought-tolerant environment.
While it's true that you may have to make sacrifices if you can't grow certain plants, no matter where you live there are always beautiful native plants that will not only survive, but thrive in your conditions. The key is to find those plants and to use them to your advantage.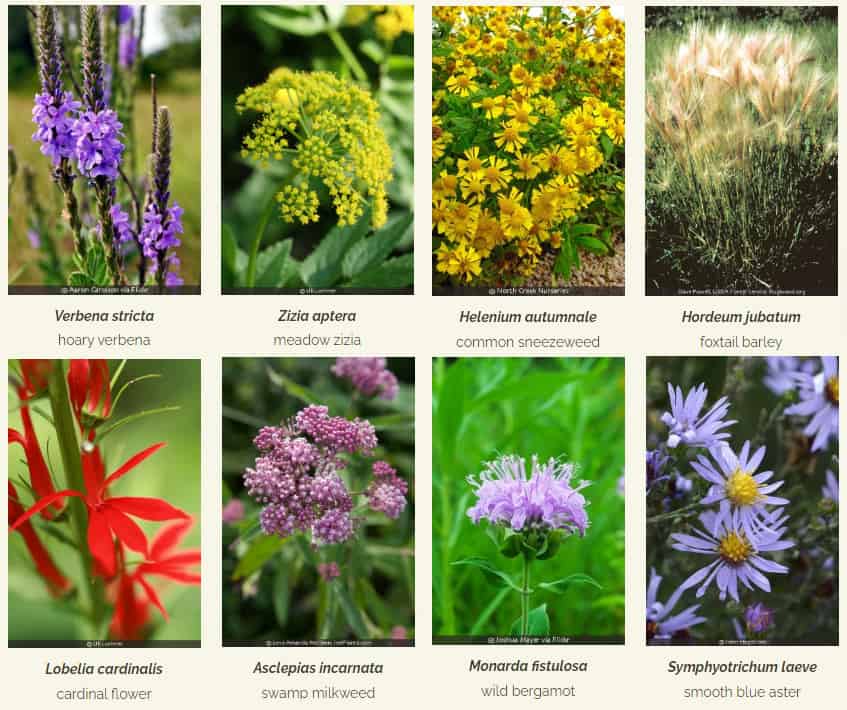 Examples of Cottage Style Gardens
I can do all of the writing in the world, but nothing will compare to having some real-life images of cottage gardens in the wild. So here are some examples of what a country cottage garden may look like.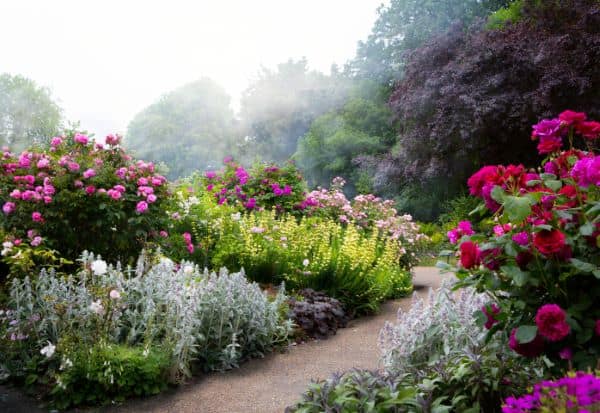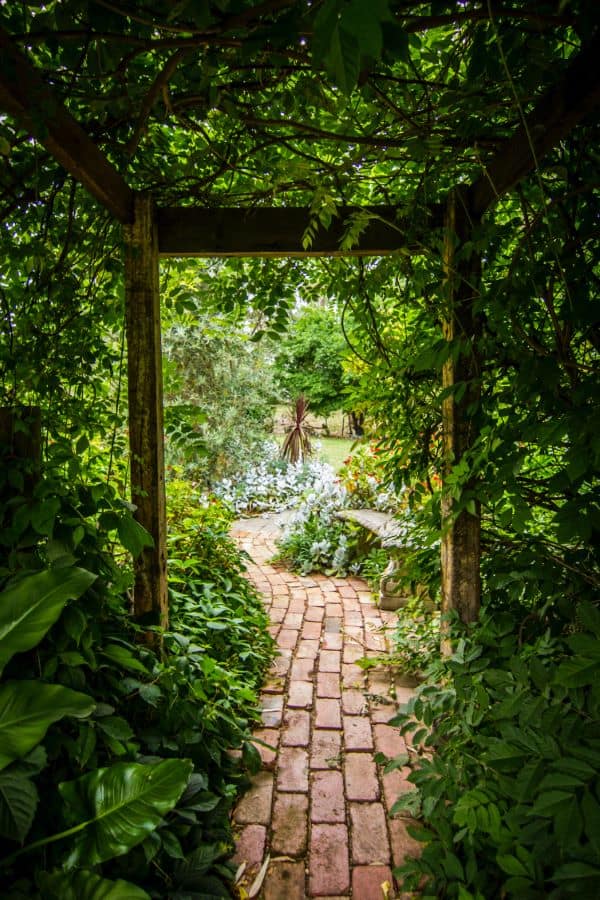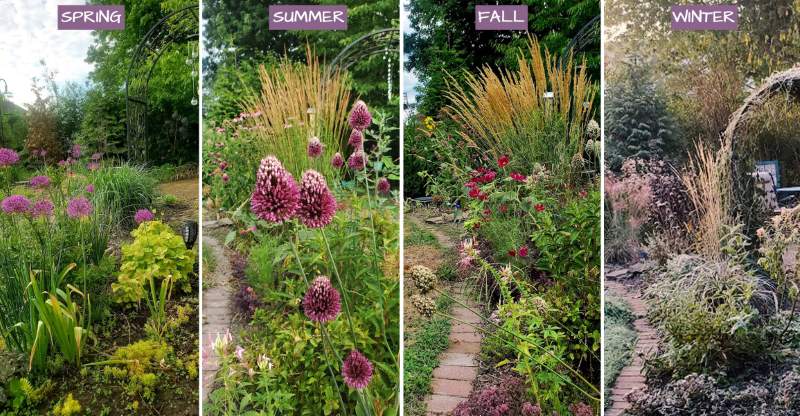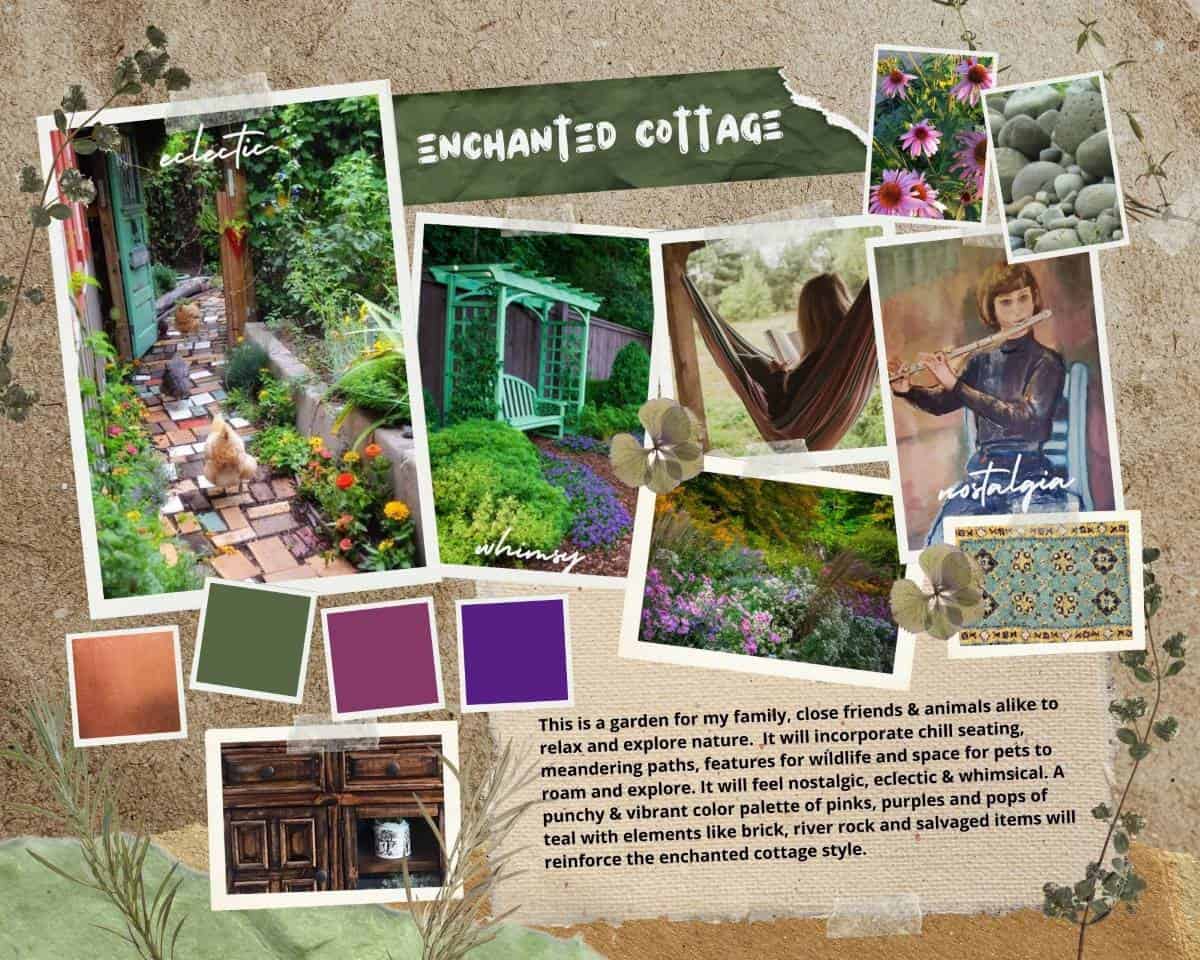 An Overview of the Country Cottage Garden Style
I'll be sharing lots of tips to help you out with your country cottage style, but above all, this type of garden must personally appeal to YOU. Fill it up with the plants, flowers, edibles, herbs, scents and colors you love. Cottage gardens are gardens "of the heart, of the hearth and of the home."
Here are some elements that make up a cottage garden:
Informal plantings that appear "randomly placed" with very little open space.
Walls and fences covered with climbing plants and vines
Natural materials like brick, gravel, decomposed stone and mulch used for pathways.
Plants that spill onto paths and over fences to "soften" the edges.
Ornamental plants mixed together with medicinal and edible plants.
Color Palettes for Country Cottage Gardens
When it comes to garden styles, I tend to classify each on a sliding scale rather than individual buckets that you need to fit into. On this sliding scale, I look at the amount of color used and the type of hardscaping used.

You can see by this graphic that cottage styles tend to have a lot of color… more than traditional or modern style gardens. But the color palette is still a bit more refined than a naturalistic garden would be.
When selecting colors for a cottage garden, I would be a bit more selective than just allowing every single color and every single type of plant. This can be a bit overwhelming and make your cottage garden look like a bit of a mess. If you're more selective in your color palette, it will be easier to pull off this type of garden.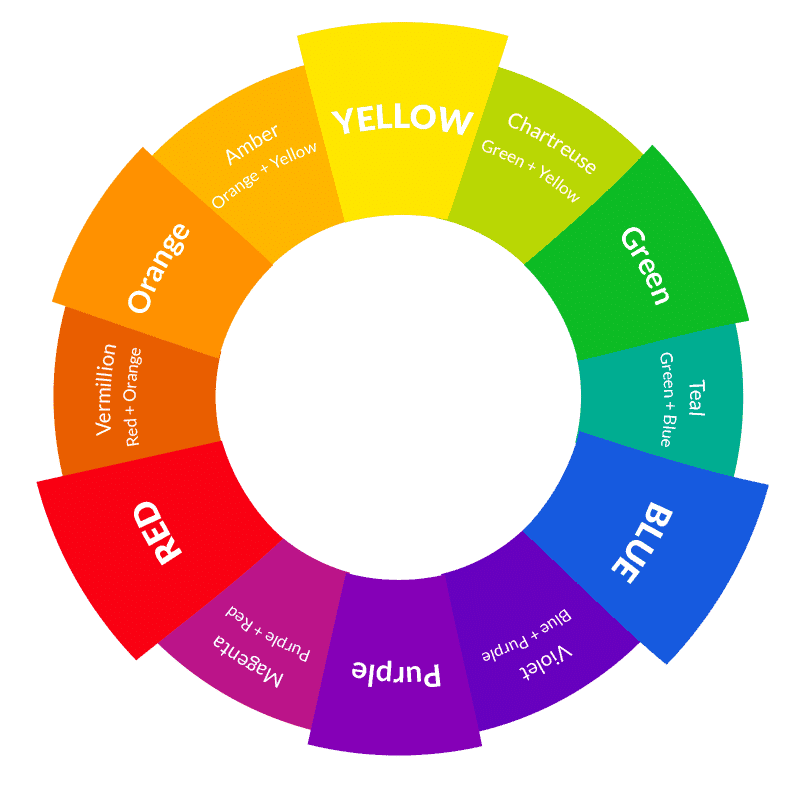 I'd recommend choosing 3 colors next to one other on the color wheel, then selecting an opposite color to add some energy and interest.
Some example color palettes would be:
Blue, Violet and Purple with pops of Amber.
Yellow, Chartreuse and Green with pops of Magenta.
Red, Vermillion and Orange with pops of Teal.
What to Plant in a Cottage Garden
Now it's time for the fun part! Deciding on which plants you'll select for your cottage garden.
It's important to note that BEFORE you choose your plants, you should have a good grasp on the conditions of your garden. For example:
What's your gardening zone?
How much sun (# of hours/day) does your garden bed get?
Does your soil drain well or not so great?
Do you have clay soil or sandy soil? Somewhere in between?
If you don't know the answers to these questions yet, head over to this article to learn more.
Overall, plants in country cottage gardens are colorful and diverse, with a tendency to spill over into lawns and paths. Fill your cottage garden with collections of your favorite flowers and plants that are both beautiful and practical.
The cottage garden features colorful ornamentals, edible vegetables and fruits, herbs and medicinals all mixed together as one. Plantings utilize every inch of available space, creating a feeling of charm and "organized mess."
Cottage garden plants are not rare and exotic. Most flowering perennials and flowering shrubs fit well in this look. Among them are American natives and ordinary species. Many old-fashioned flowering shrubs such as hydrangeas, roses, lilacs and trees, such as magnolias will suit the cottage garden style. Most of all, pick plants that you love.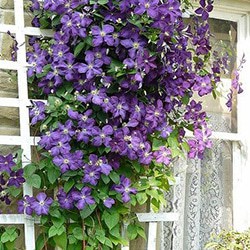 Clematis (Zones 3-9), known as the "Queen of Climbers," is a beautiful, flowering vine that comes in a variety of colors with a variety of bloom times. Clematis is a great choice for growing over walls, trees and even over other plants in your cottage garden.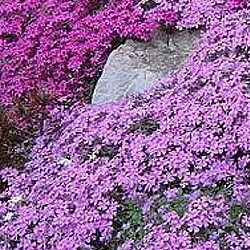 Creeping Phlox (Zone 3-9) is a colorful groundcover that will attract butterflies and bees while carpeting your landscape with fragrant blue, white and pink flowers.
Here are some more classic vines and groundcovers you can try.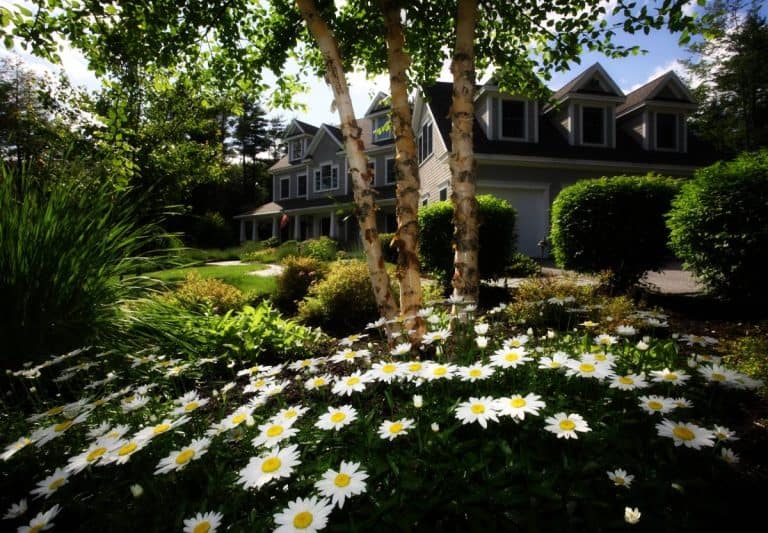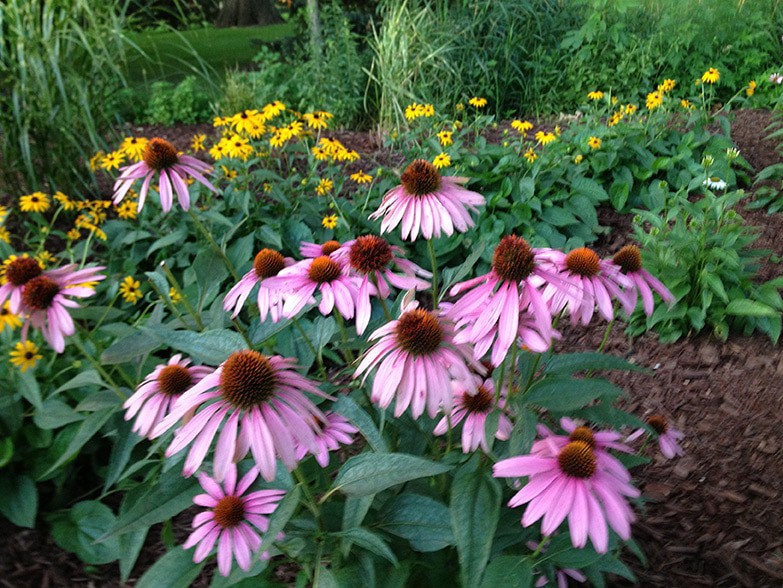 Shasta daisies (Zones 3-8) and coneflowers (Zone 4-8) look great in cottage gardens. And, let's be honest… how can you look at either of these flowers and NOT smile!
Also try incorporating edibles and herbs into your cottage garden. Mix in rosemary, sweet bay, sage, lavender, blueberry, figs, grapes and pomegranates with your ornamentals for a cottage garden that will look, smell and taste amazing.
Quick Tip: My Cottage Garden Design Styles Pinterest board is another great resource for planting inspiration.
What Blooms with What?
Never know what to plant together? Find out with this FREE Plant Pairing Guide and become a pro at combining plants for the best garden design possible!
Hardscaping for the Cottage Garden Style
Another thing that sets each garden style apart from the next, is the type of hardscaping materials you choose. Hardscaping is all of the structural elements you use… not just the pathways and the patios, but the fences and walls and arbors and gates, etc.
When choosing hardscape materials, keep in mine the style you want for your garden. More rustic, distressed and bumpy materials make a natural or cottage style, whereas more refined materials will learn toward traditional and modern.
You can see that the cottage style hardscaping is lumpy and bumpy… but not quite as rustic as that of a naturalistic style garden. This doesn't mean that you have to choose reclaimed brick for your cottage garden, but it is a great option.
The possibilities are nearly endless, but here are some great options for hardscaping in a cottage garden:
Reclaimed brick
Flagstone
Natural stone laid out in randomized patterns
Gravel or decomposed stone with a defined edging (like brick)
Stepping stones
Salvaged items (think old windows, doors, old tiles, pieces of metal, etc.)
Picket fences
Tree trunks, branches, brushwood, logs, wood rounds
Cottage Garden Fencing Ideas
There are also many brilliant types of fences that you can try to give your garden that country cottage style.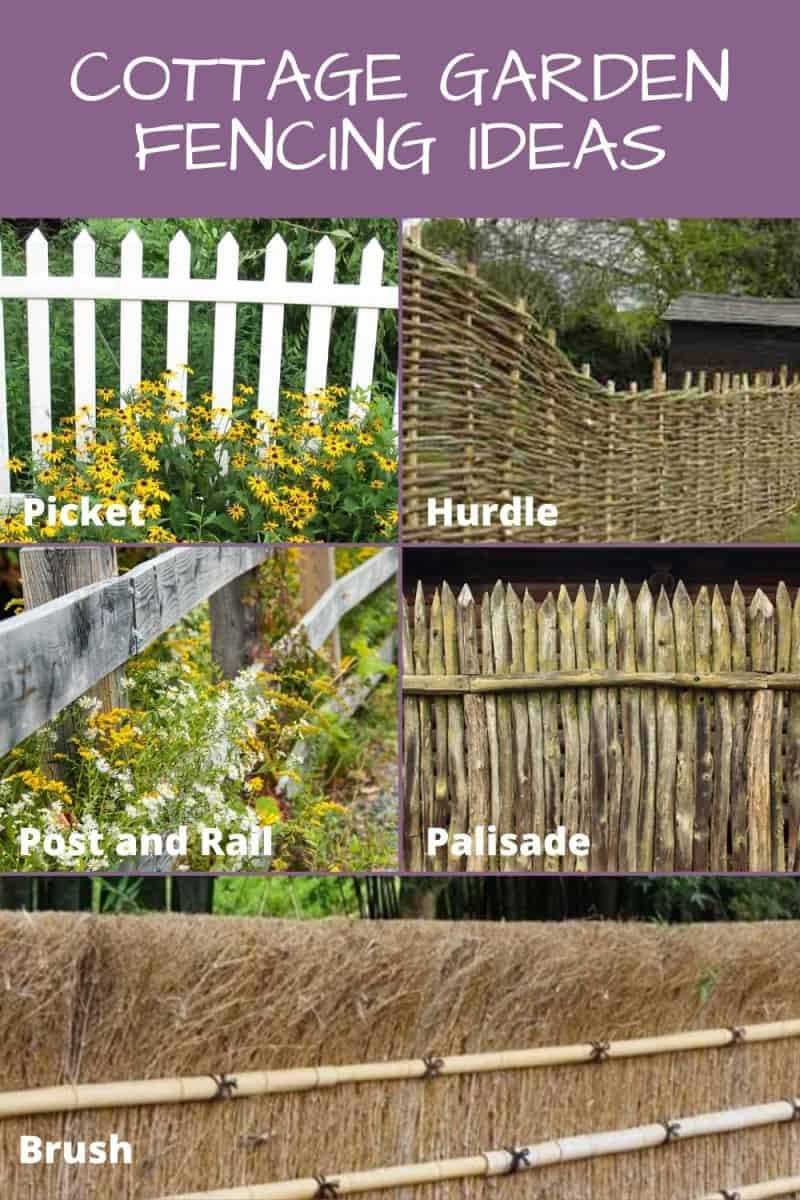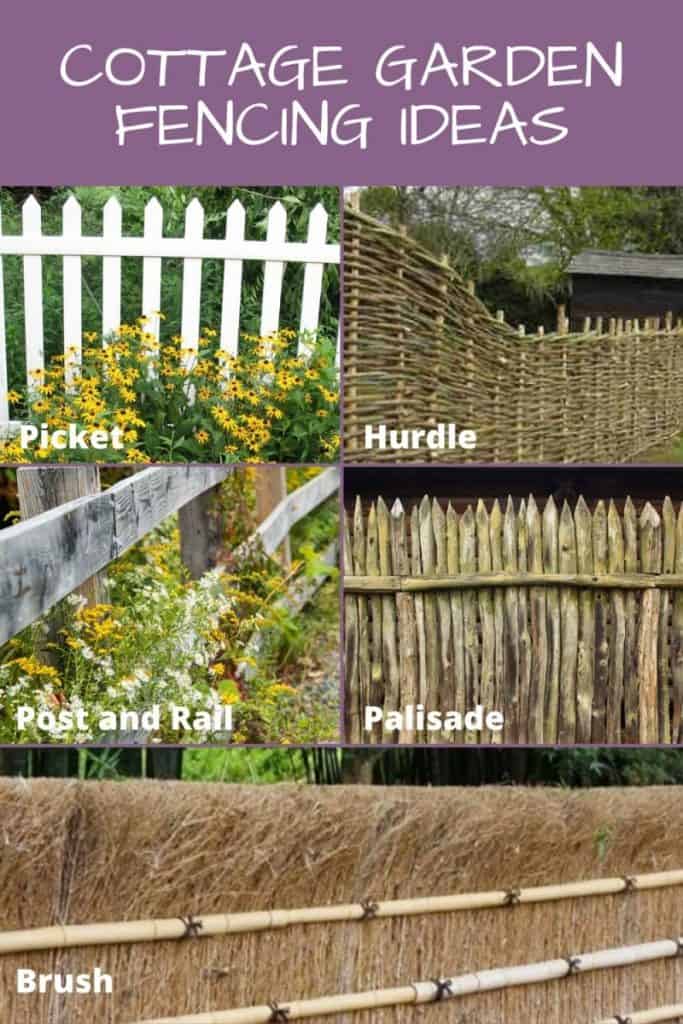 Here are a few of my favorites:
Picket fences are the staple of the cottage garden. A beautiful white picket fence just screams cottage garden. Add a rambling rose along the top and you're set.
Palisade fences (sometimes called a stake wall, paling or stockade fence) are typically made from iron or wooden stakes or tree trunks lined up vertically.
Post and rail fences are certainly at home in a cottage garden or at a farmhouse. These are the types of fences you typically see to corral farm animals like cows and pigs. Although post and rail fencing won't provide much privacy, it will definitely add charm.
Hazel or willow hurdle panels are panels weaved from the branches of trees and make a really rustic and charming panel. Multiple hurdle panels together could make a lovely fence option for a cottage garden. Wondering which to choose? Hazel hurdles are typically much more substantial (and heavier) than those made of willow.
Brushwood fences is very eco-friendly and natural fence option for your cottage garden that is made from Melaleuca (AKA broombrush). The brush is cut then hand-packed into the frame of the fence. They're great for privacy and noise suppression, are resistant to termites and are practically maintenance free. Surprisingly, brushwood fences can last 25-40 years, outlasting many natural, steel or wooden fence options.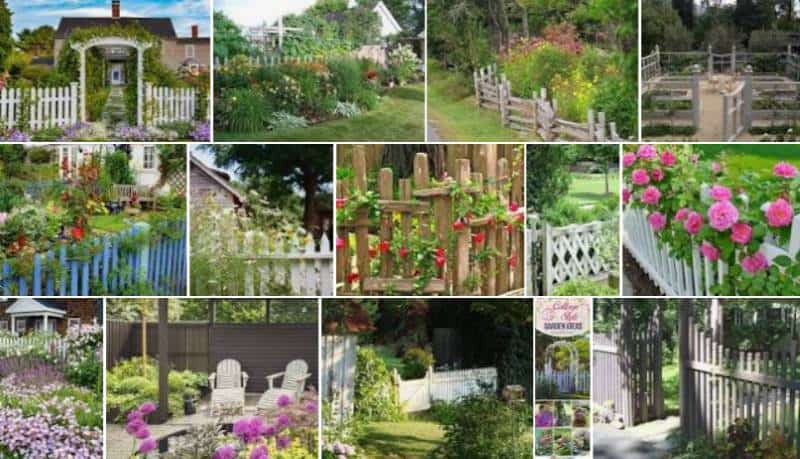 Furniture & Décor for Country Cottage Gardens
Here are some awesome furniture pieces and décor items that will turn your backyard into a charming country cottage in no time.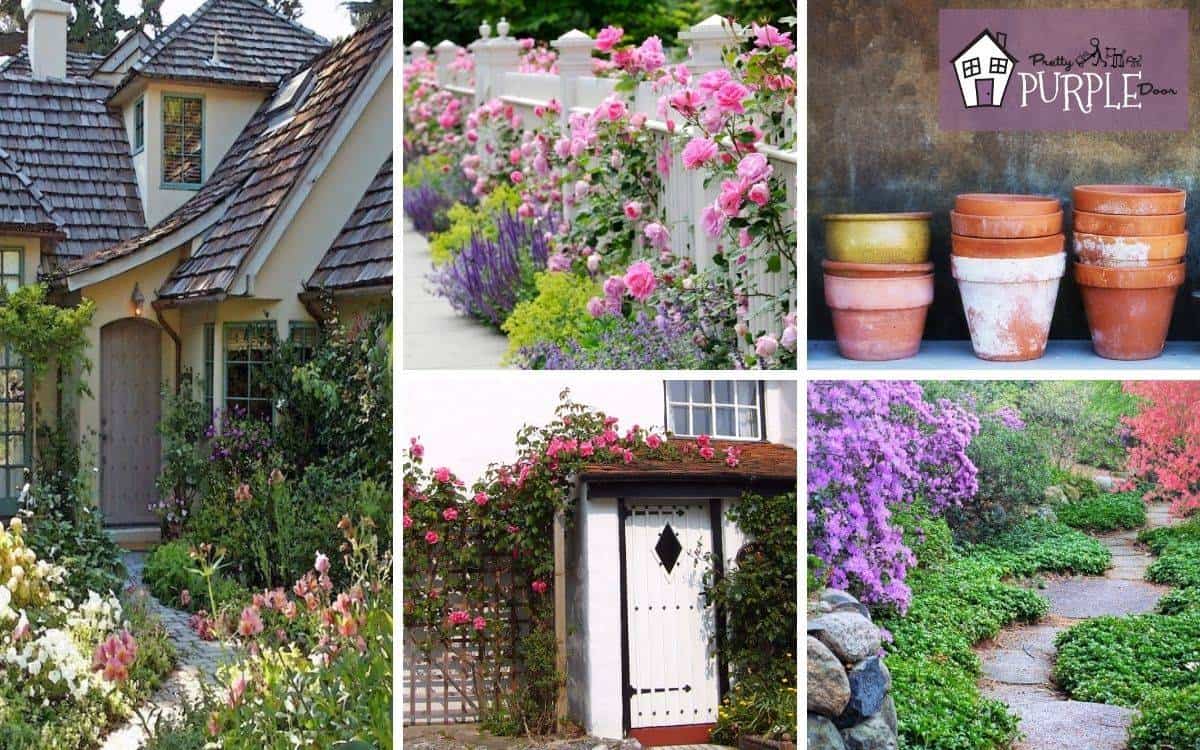 The arbor gate: Before automobiles, visitors tied their carriage horses at the front gate to the dooryard. The vine or rose shrouded arbor made it more comfortable for the animals to wait in the shade or protected from the rain. I love this arbor gate by Montebello. It would look fabulous engulfed with climbing vines.
White lattice: An elegant way to screen a view or offer privacy without sacrificing air movement. For outdoor living, or in the era before air conditioning, this was a common and welcome building material and, today, provides a backdrop for many cottage gardens. Check out this beautiful white lattice trellis.
Clay flower pots: Inexpensive clay flower pots are common in cottage gardens because the original modest cottage gardeners couldn't afford luxury items. Here's some terracotta pots to get you started. You can age and color these to make them fit your style.
Wood window boxes: Homemade window boxes were a popular decoration for simple, functional homes at minimal cost. You might like this gorgeous rustic planter box in 15 sizes.
Flea market finds: Antique wheelbarrows, rustic wagon wheels and even old dresser drawers used as planters. Any quirky, whimsical finds that are weathered with age will enhance the cottage garden style.
Too impatient for flea markets? Here are a couple of my favorite, weathered cottage garden items:
Tips for Getting the Country Cottage Garden Style at Home
Here's a quick list of ideas to get you started in incorporating this style into your own garden:
Mix edibles and herbs into your flower garden beds.
Incorporate vintage and antique items, such as salvaged windows or doors.
Use fragrant plants and flowers like lilacs, roses and hummingbird mint in a cottage garden design to add a more sensory experience.
Add climbing vines and wall plants to creating walls for your cottage garden rooms to make it feel more intimate, romantic and special.
Use lumpy, bumpy materials like reclaimed brick and rustic barnwood.
Combining Cottage Gardens with Other Garden Styles
One thing to remember is that there's no need to be constrained by a particular design style. Your garden and tastes are unique. So, feel free to create whatever your imagination inspires!
Here's an example of how you can mix cottage and natural garden style elements (from Fine Gardening magazine).
The key to creating a style that works is don't mix too many different materials. When in doubt, keep it simple. You can always add to it later.
Learn More About Cottage Garden Style (Blogs To Follow)
If you're looking to learn more about country cottage garden styles, here are some cottage gardening blogs that you can check out:
On Instagram, check out @_thesuburbancottagegarden_, @shiplapandshells and the hashtag #cottagegardenstyle.
Wrapping Up
Although the lack of rules and structure can make the country cottage garden style a little tricky to accomplish, the one thing you need to remember is that cottage gardens are gardens "of the heart, of the hearth and of the home."
Elements of cottage gardens may look mashed together or randomly placed, but they are actually thoughtfully selected. Choose plants, materials and features that have meaning for the person who tends the garden.
If you enjoyed this post about the country cottage garden style, you'll love my Garden Style Mood Board Workshop. Not only will you learn more about garden styles, but I'll take you through the simple process I use for creating gorgeous outdoor spaces that are absolutely infused with your own personal style. You're going to love it!
More Garden Style Articles You'll Love
Shop my Amazon storefront for my essential gardening books & tool recommendations!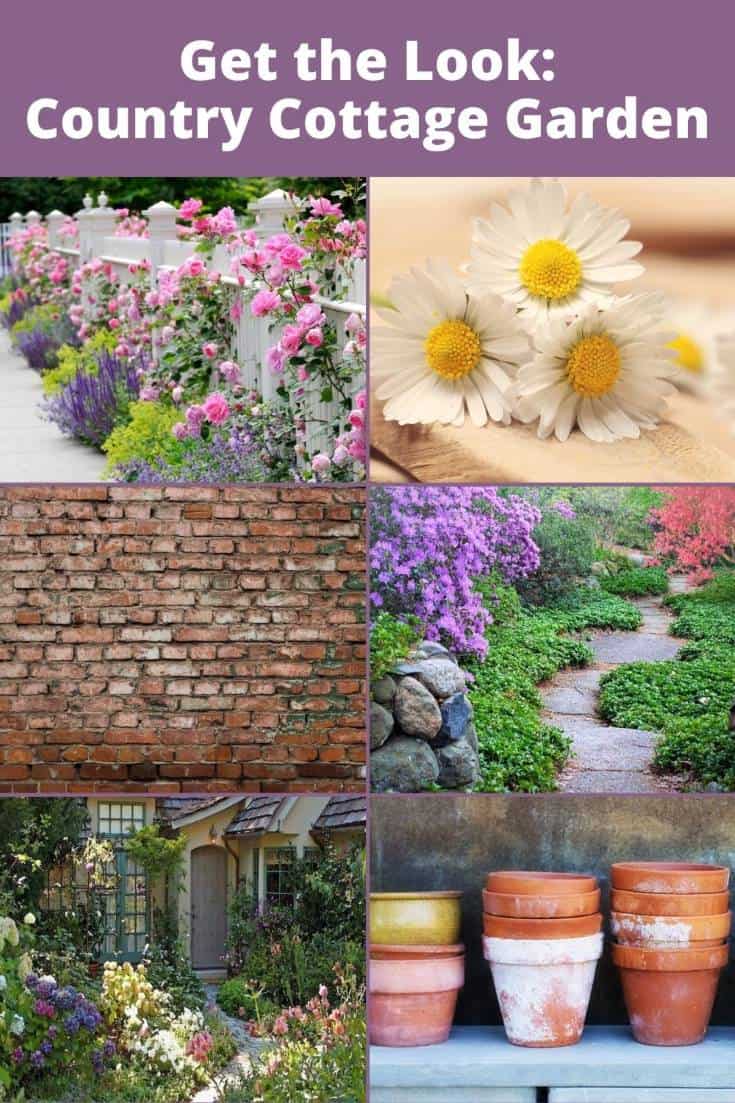 Amy is the founder of Pretty Purple Door and has been a garden designer since 2014 and graphic designer since 2005. She helps home gardeners design their own beautiful landscapes that are colorful in all four seasons, show off your personality and suit your lifestyle. Amy's work has been featured in publications like The Spruce, Family Handyman, Buzzfeed, Country Living Magazine and more. Read full bio.