Please note: I may earn commissions from qualifying purchases if you shop through links on this page. More info.
Creative Garden Ideas That Look Way Too Good To Be DIYs
I don't know about you, but I'm always on the hunt for my next DIY garden project.
And while I like to make a lot of pieces of my own garden, I don't necessarily want everything to look like an amateur DIY project. I just want it to look creative and unique.
So, I went on the hunt for some I hope these will inspire you to design a garden that's uniquely you.
**All images and projects in this post are shared with explicit permission given to Pretty Purple Door by their respective creators. Learn more about each project in the credits section at the bottom of this post.
This Wine Bottle Gazebo Stands Up To Harsh Canadian Winters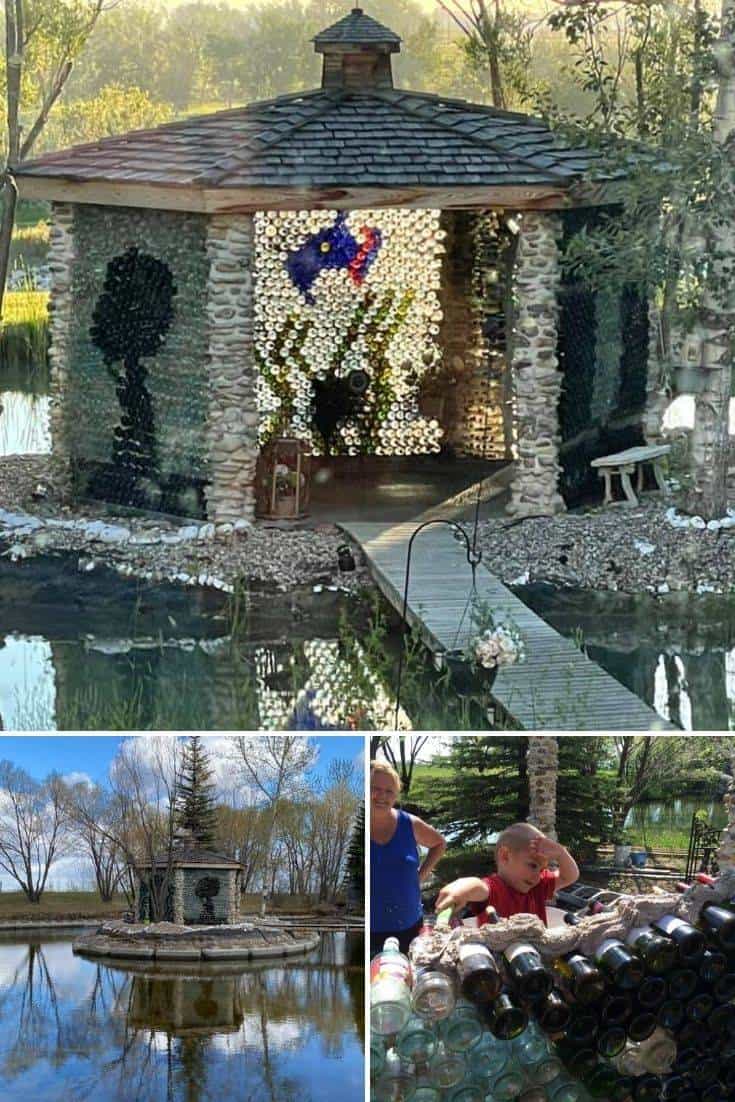 Well, this is just the most creative and unique gazebo I've ever seen! It's made entirely from glass wine bottles. So, if you love the vino maybe you can consider saving your bottles to create a magical glass gazebo like Jean!
In this ever-evolving yard in Alberta, Canada, short summers mean less plants and more features built to withstand heat and cold. She said that her husband bought her a cement mixer a few years ago, so she had to put it to good use. Each year, Jean adds another fun feature to the garden.
Curious if the wine bottle gazebo is able to withstand Canadian winters? Jean says,
A Greenhouse So Charming You'd Never Want to Leave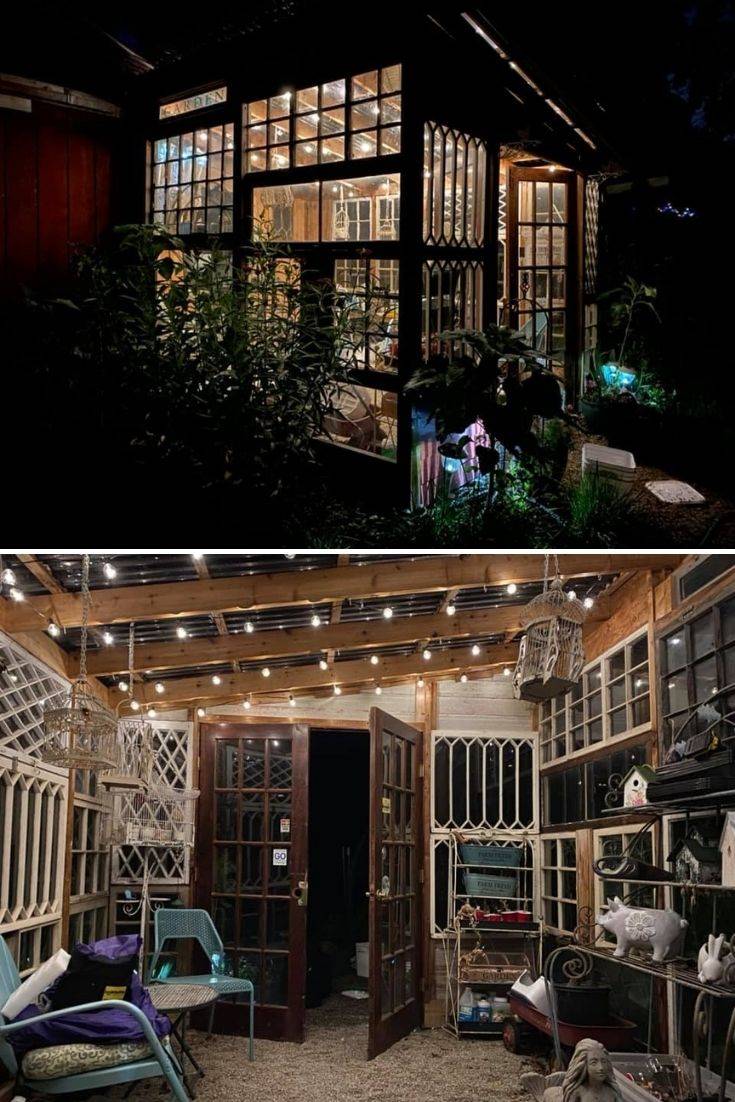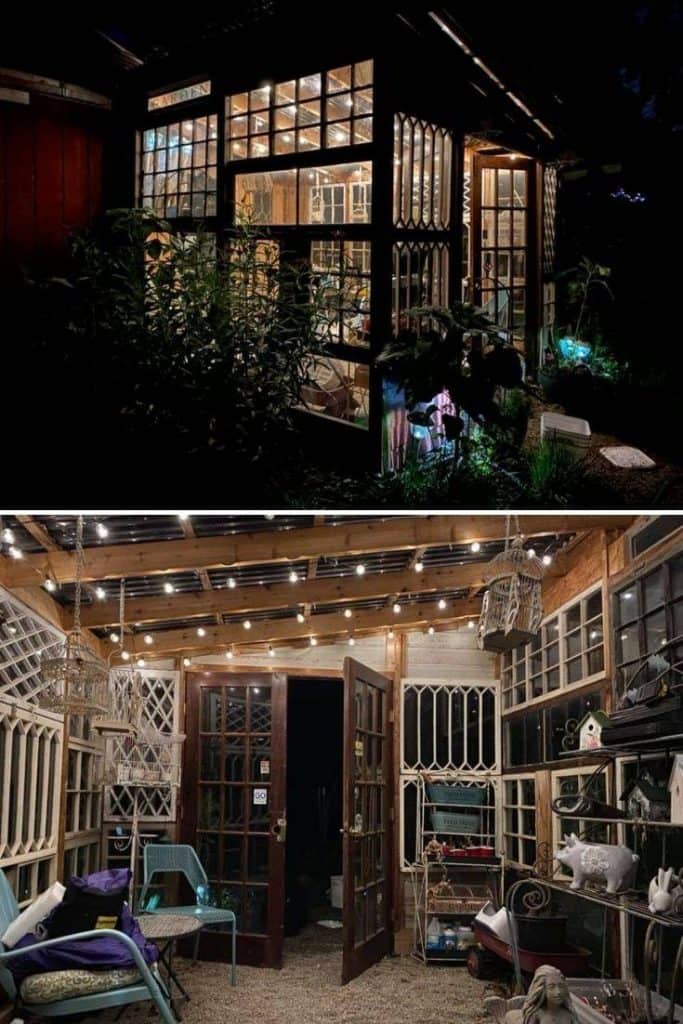 Well, talk about a unique and inspiring DIY project. I love this type of creativity, because not only did Veronica have to source all of these old windows… but putting this greenhouse together had to be like building the world's largest jigsaw puzzle.
Veronica says this took her several years to find all the right windows to complete her greenhouse.
I really love the way that this beautiful greenhouse glows in the evening. And, the solar hanging lights and fun, eclectic style just make you want to spend your entire day inside; potting, planting and dreaming up new gardening projects into the wee hours of the morning.
Carved Wood Door Becomes a Garden Gate, 25 Years Later
A little lesson that some beautiful things are just worth saving. John had a lumberyard for fifteen years. One day, a guy came in with an old door that had very unusual carvings. He saved them for 25 years, waiting for the perfect project.
Now the carved door is the centerpiece of this gorgeous garden gate.
I think you nailed it, John. The green frame is such a lovely, creative touch.
She Waited Two Years For This Cowboy Tub Coffee Table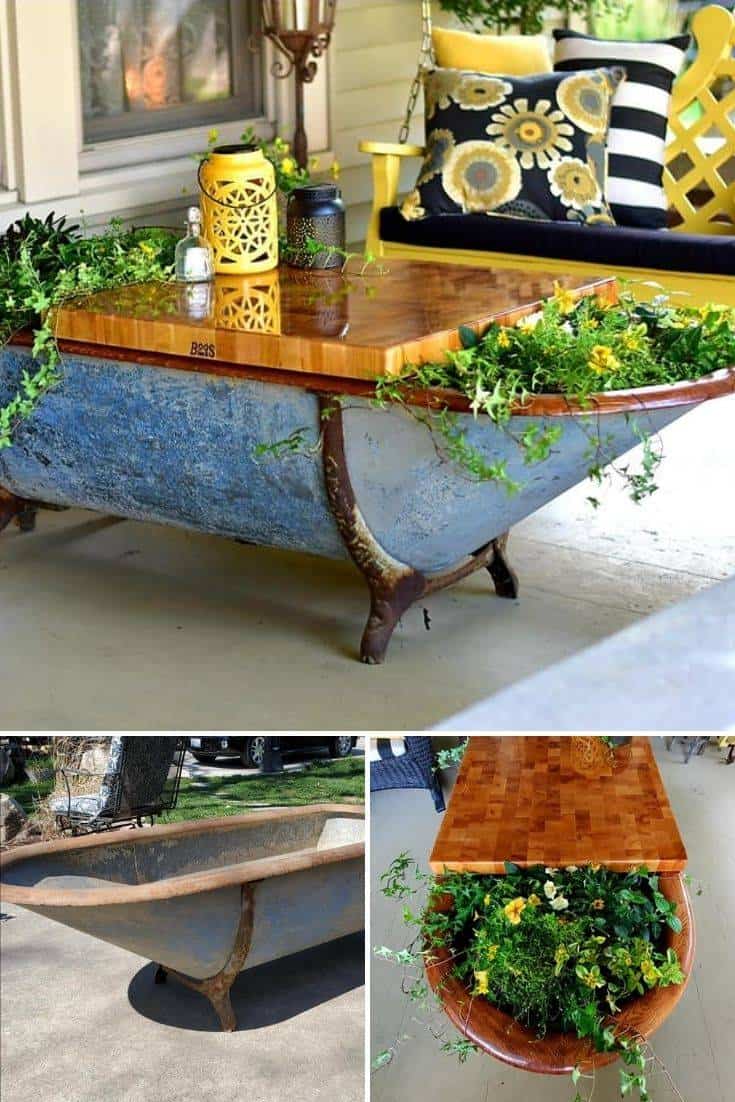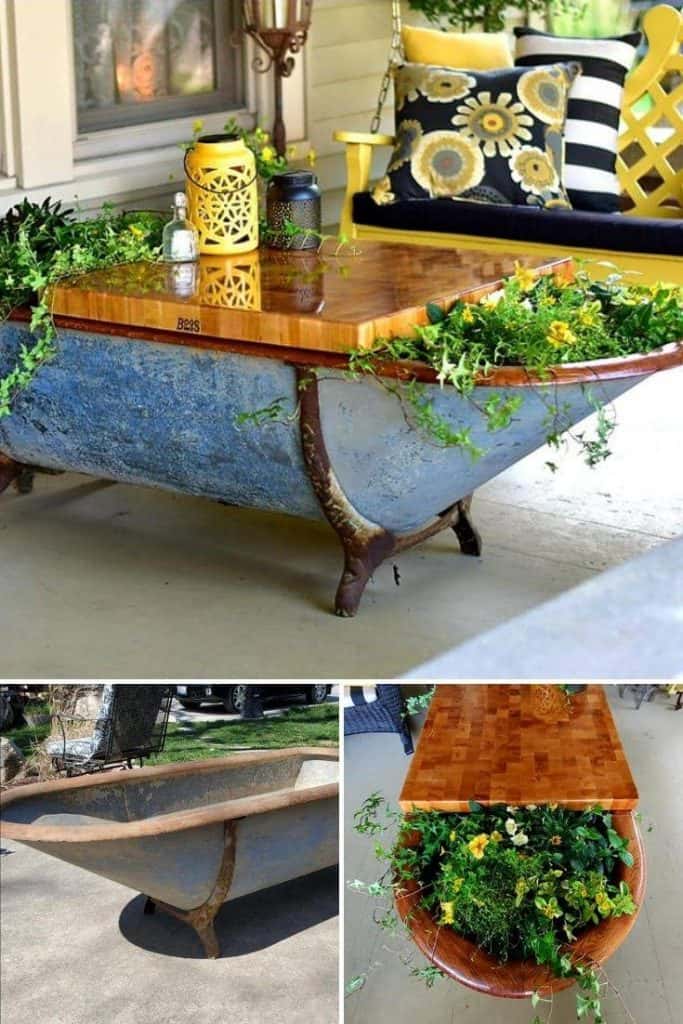 Daniele searched for two years to find this absolutely perfect cowboy tub. Perfect for her 150 year old farmhouse, this tub now serves as the base for a gorgeous and unique coffee table for her front porch swing.
I love that the tub isn't completely covered by the wooden top, so that it can serve as a beautiful planter, too.
Repurposed Doors Create the Perfect Zinnia Garden Fence
What to do when you need a fence and all you have are doors?
Hmmm…. now we know!
Loving the creativity and rustic appeal that Claire's fence of doors creates. It also serves a second purpose: to surround her signature zinnia garden!
This Magical Play Garden is Fun for Children & Adults Alike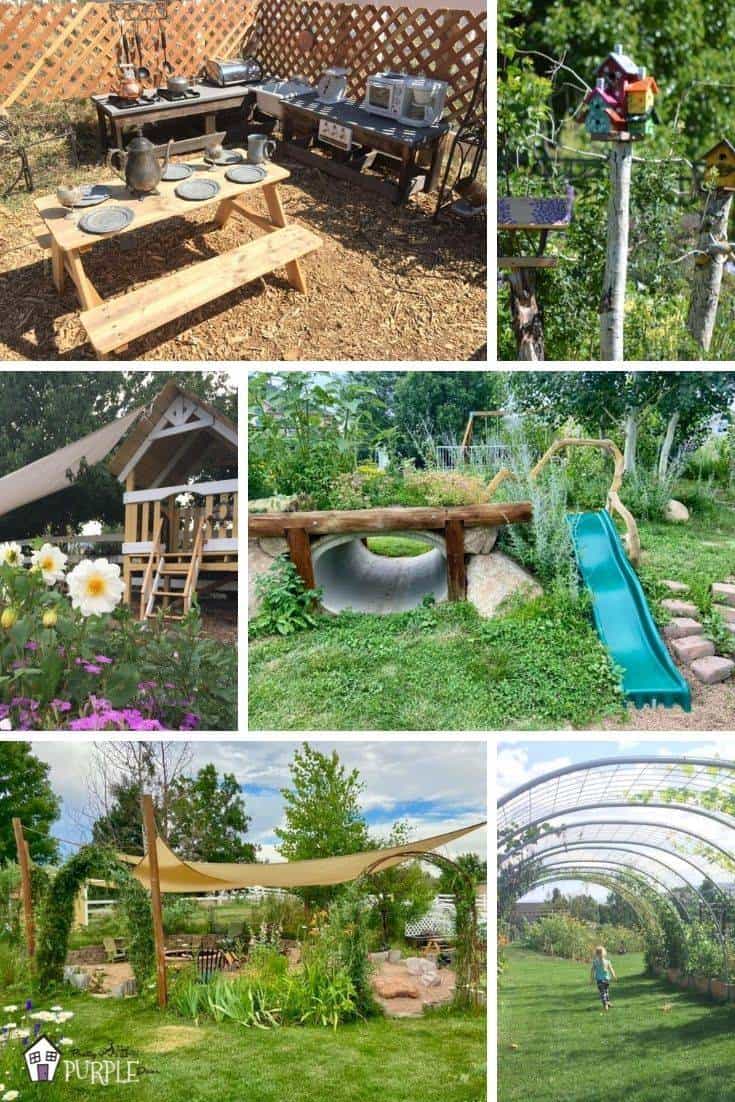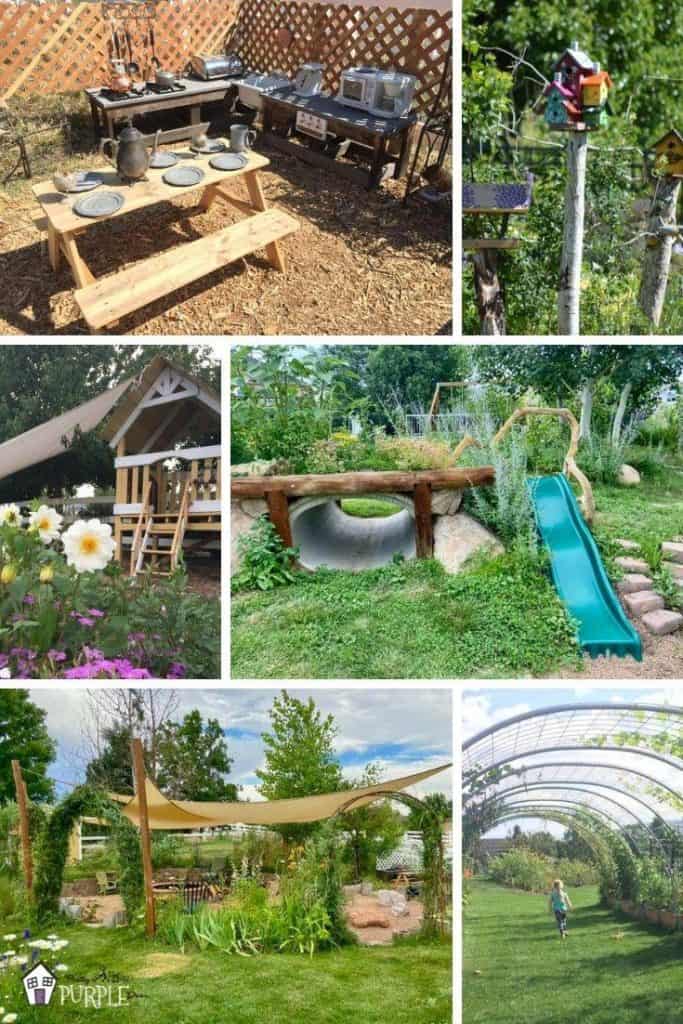 There are so many ideas to glean from Faith's magical Play Garden located in Denver, Colorado. Faith has spent the last five years creating this beautiful space for kids and grown-ups to enjoy together!
Some of the features include:
Sliding boards, tunnels and bridges to explore
A mud kitchen
Whimsical bird houses
Living archways, including an entire vegetable garden you can walk through!
Sand pit with shade sail
Bright, colorful flowers that change with the seasons
Lots of places to sit & relax, too.
I would definitely be trying out that slide!
Faith also offers outdoor parent-child classes during the summer and fall for families to share her garden. So, if you're in the Denver area, be sure to get in touch with her!
Chair Planters So Pretty You Wouldn't Dare Sit On Them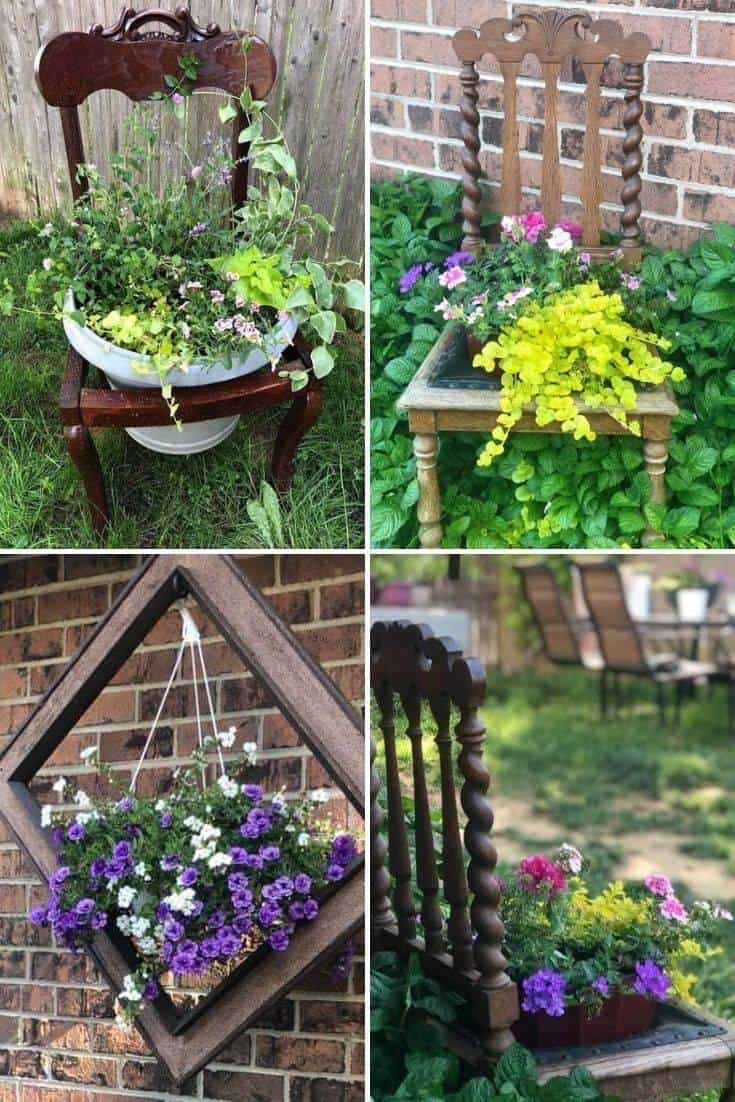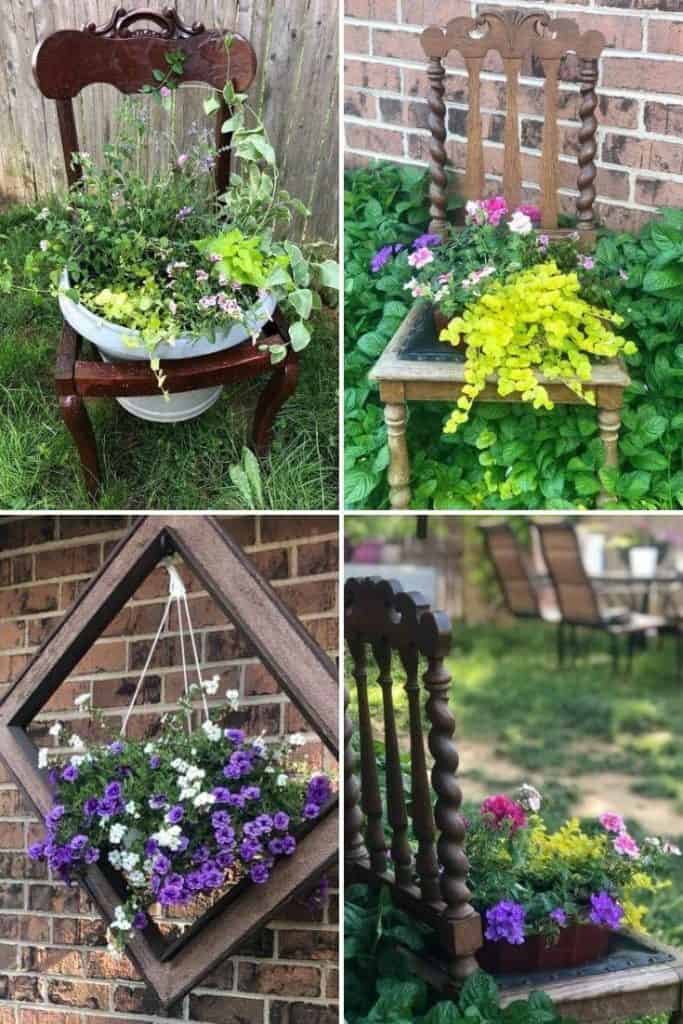 I love the variety of them sprinkled throughout Nataliya's whimsical garden filled with chairs that you wouldn't dare sit on!.
I think this is such an easy and creative garden art project that anyone can do. Who can't get their hands on an old or slightly broken kitchen chair?
I am definitely a fan of chair planters. If you want to make one yourself, check out my step-by-step video tutorial below.
I made my chair planter out of a folding chair that I painted purple. It looks great and is easy to stow away at the end of the gardening season.
Paint Pour a Bowling Pin for a Stunning Focal Points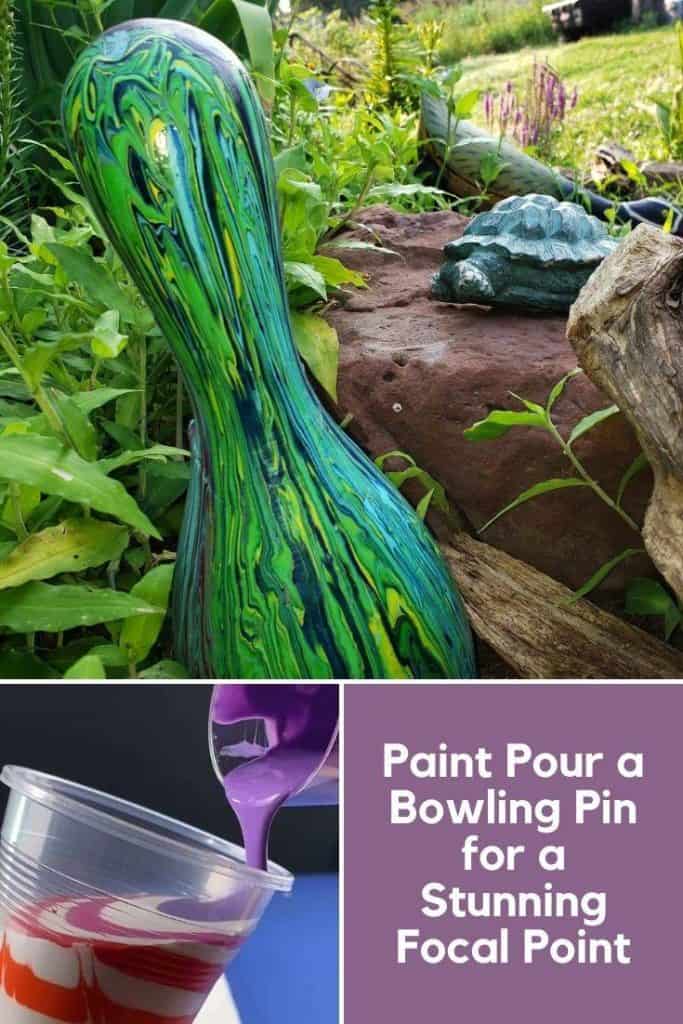 Well this is something I've never actually thought of. And… I'm not sure I'd envision it coming out as beautiful as it did. Amanda used a paint pouring technique using acrylic paint to turn an old bowling pin into a stunning work of art.
Amanda stressed that this project isn't as difficult as it looks. All you have to do is layer your desired paint colors in a disposable cup as shown. Then, slowly pour paint over your project and let gravity do the rest.
Yes, it's really that simple.
Amanda suggests getting creative with different types of paints like glow in the dark , gloss, neon, pastel, metallic etc. She also adds,
Now, I'm just wondering where Amanda scored these awesome bowling pins… I know what I'll be looking for on our next flea market trip.
Broken China Mosaics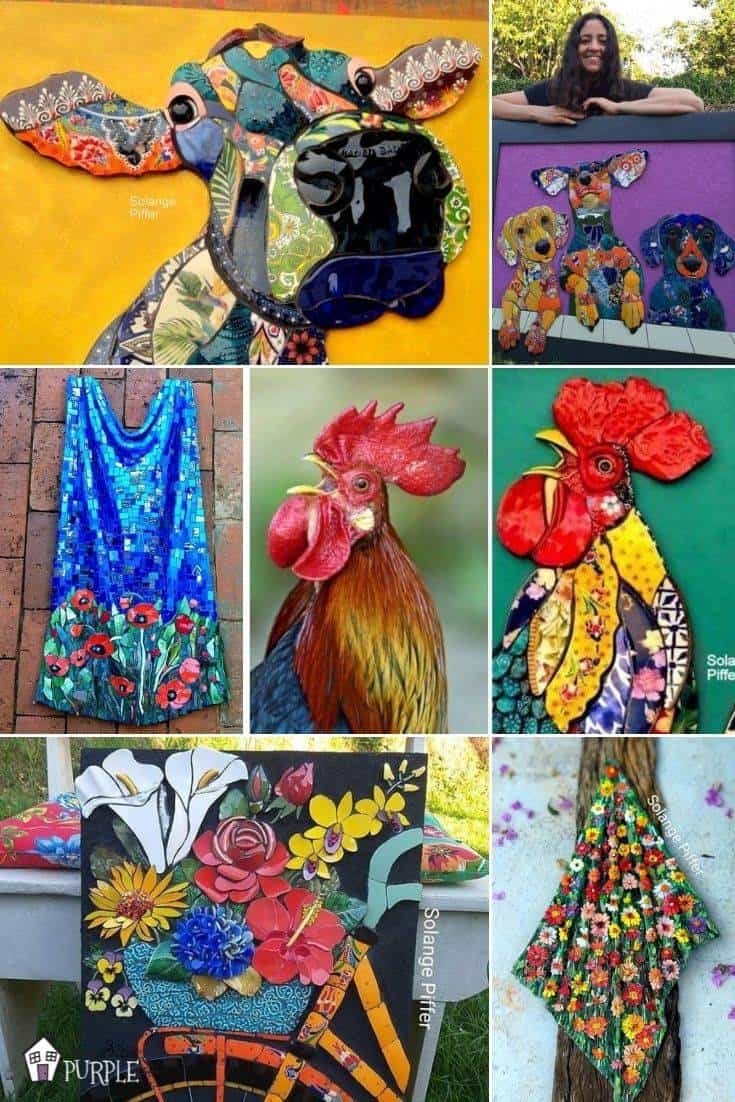 These broken china mosaics will take your breath away. I must admit, I've also dabbled in creating broken china mosaics and picture frames, but Solange's pieces are truly works of art. I'm in love with these beautiful art pieces and how she's able to capture the personality of all of her animal portraits.
Definitely check Solange out over on Instagram & Facebook to see more of her work.
---
Project/Photo Credits
If you want to learn more about these creative garden projects, here is where you can find the creators.
---
Wrapping Up
It's so lovely to see so many creative and unique garden projects that take things to the next level. Although some of these are fun to look at, they may be out of your comfort zone for creation. If that's the case, I definitely recommend you check out my garden art projects for grown ups blog post where you can get some more amazing DIY garden ideas.
---
Shop my Amazon storefront for my essential gardening books & tool recommendations!
More DIY Garden Projects You'll Love
What Blooms with What?
Never know what to plant together? Find out with this FREE Plant Pairing Guide and become a pro at combining plants for the best garden design possible!
Amy is the founder of Pretty Purple Door and has been a garden designer since 2014 and graphic designer since 2005. She helps home gardeners design their own beautiful landscapes that are colorful in all four seasons, show off your personality and suit your lifestyle. Amy's work has been featured in publications like The Spruce, Family Handyman, Buzzfeed, Country Living Magazine and more. Read full bio.