Please note: I may earn commissions from qualifying purchases if you shop through links on this page. More info.
DIY Build a Fort Kit (+Printables To Make It Amazing)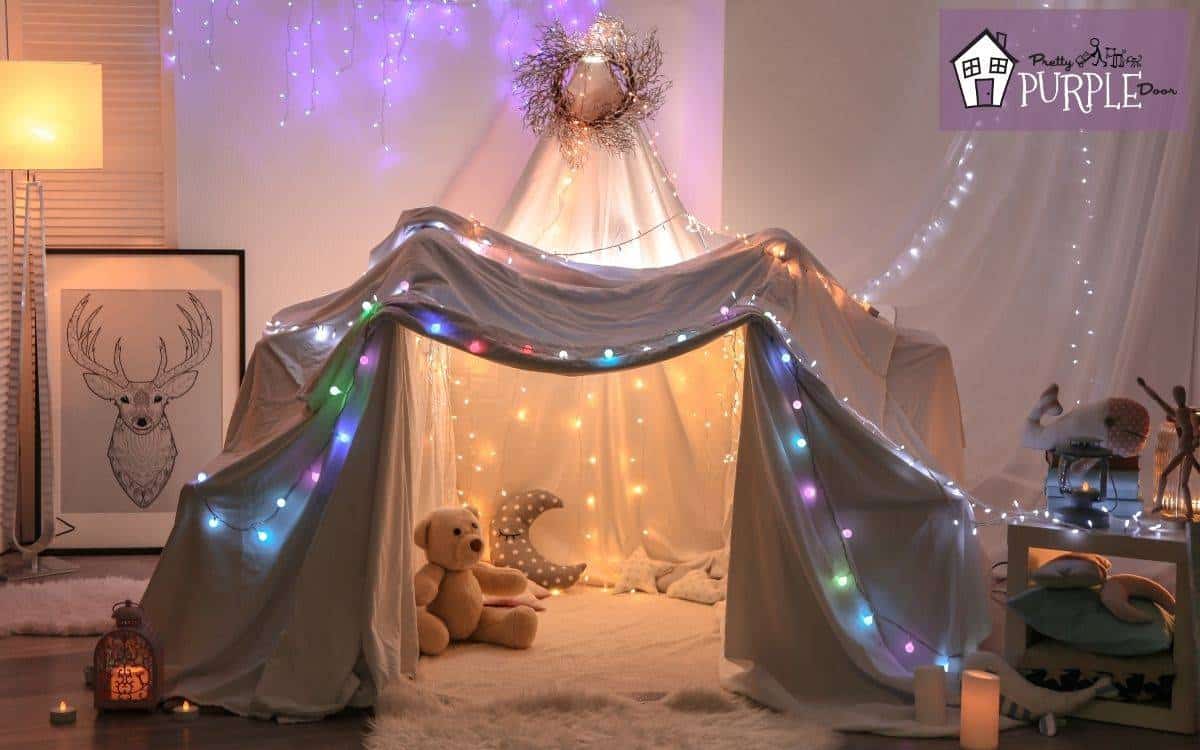 I must say that my nephew gets more and more difficult to shop for every birthday and Christmas that goes by. Every time I ask him what he wants… he says he doesn't know yet… or he already has everything he wants.
And yeah, he's totally spoiled by a family that loves him to pieces. But he's also a really unique and creative kiddo. He's fascinated by how things work. He loves to read. And, he spends hours in his own little world playing imaginary games about only he knows what. He's just the best. So, this year I was so exited to make him a unique gift that really embraces all of the wonderful things about him and encourages his creativity.
To make a build a fort kit, you need PVC pipes/connectors or wood and twine for the structure, a sheet to cover the fort and lighting for the inside.
It can really be as simple as that. But, when you're building your kit, feel free to get creative, too. All of these items can be swapped out to fit your kiddos currently likes and personality. Make it as extravagant or as simple as you'd like. Then, share your creation so we can be inspired by your ideas!
Build a Fort Kit: What You Need
A lot of these items I had on hand or got creative. It's not necessary to purchase everything brand new. I'm also including links to purchase these items online for your convenience. These are affiliate links and I will receive a small commission if you purchase through them at no additional cost to you.
Fort Structure

Fort Building Kit on Amazon (≈$50). I cheated a bit in buying this kit, then removed it from the original packaging.
PVC pipes of different lengths with different connectors.
Sticks gathered from the yard with some twine.

Flat Sheet (Camo) on Amazon (≈$20)
Clear Packing Bags on Amazon (≈$13)
Duffel Bag on Amazon (≈$10)
Miscellaneous like tape, clothespins, hooks, batteries, etc. (≈$10)
Printable Fort Kit Labels (≈$10)
Price: $60-110 (could be less if you use items you have on hand)
Optional Items
These are nice finishing touches that you can add to your fort kit, although they aren't required. I would also consider customizing some of the items to your child's tastes and interests.
Keep reading for even more customization ideas you can incorporate in your build a fort kit.
Assembly of your Build a Fort Kit
Assembling the build a fort kit is really easy. You can do anything you want, really!
I'd recommend reading through this entire post before you get started. I'll try to include as many creative ideas as I can to get your ideas flowing.
Create different bags of fort equipment
I used clear packing bags with cool labels to compartmentalize all of the different items within the fort kit. You can purchase a set of cosmetics bags on Amazon. I think that large ziplock bags or space bags would also be a great option.
Here's my super sleuth hack: save the clear bags that come with your sheet sets. They are usually rectangular and have a zipper on the top. These make great little packing cubes for the fort kit. The extra bonus is that you can pull out the carboard label for your sheets, and stick the fort kit label inside of there instead.
Whenever I get gifts for my nephew or niece, I try to find "multi-use" items that they may be able to incorporate into other creative play. That's why I like the clear plastic cubes so much. If my nephew wants to grab all of the fasteners from the fort kit and use them for another project or game, he can easily do that.
Here are the labels I made along with pictures of each bag. Don't feel like you need to create all of these categories. Use as many or as few as you'd like to.
Electrical (Lighting Gear)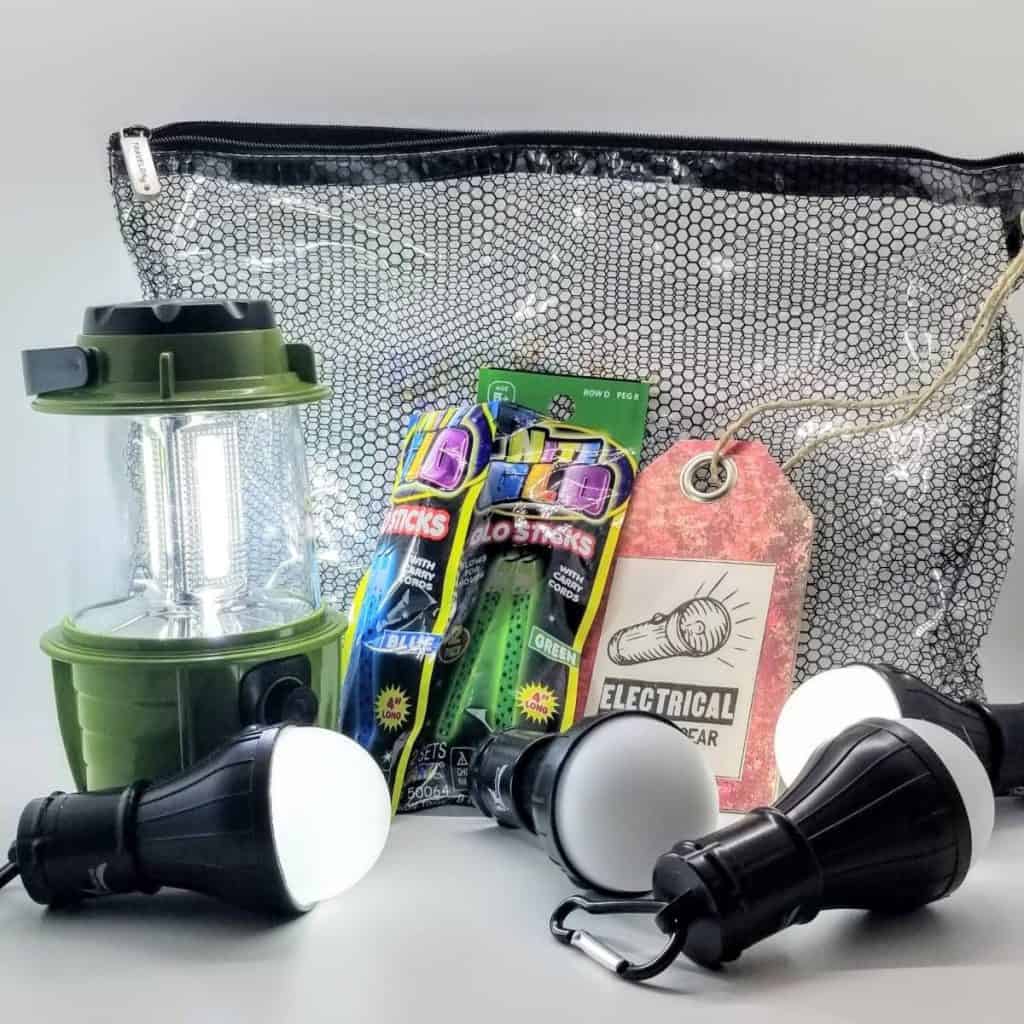 The first thing I thought about when building this fort kit was… how is he going to see inside of the fort? So, that prompted an entire bag of cool supplies he could use. He really liked the camping light bulbs with clip hook (Amazon) because he was able to attach them to the structure of the fort and be able to see everything. The LED lantern looks like a child's toy but it's actually not. Even though it's small, this tiny thing really throws a lot of light (Amazon).
And finally… what kid doesn't love glow sticks? So tossing in a few packs of those is always a hit!
Tactical (Equipment)
The tactical equipment bag was really a catch all for anything extra I wanted to include. Plus, the instruction manual for making the fort (that came with the fort kit I purchased online).
If you are using your own supplies for a structure, it may be a good idea to include some ideas or instructions so your kiddo can start building and have something to follow to put the fort together. Or, maybe you can do it together!
Fasteners (Reinforcements)
I found all kinds of neat fasteners to include. I had some clothespins, some small clamps and a few carabiner clips that he would be able to use to attach things together and keep the "roof" on the fort.
In this fasteners bag I also included the round pegs that came with the fort kit online. That fort kit on Amazon is actually pretty cool — it is kind of like a giant set of lincoln logs.
Navigation (Maps & Signage)
This is one label that I ended up not using. If I had more time I probably would have created some cool treasure maps for him to follow. I also had intentions of creating some signs for him, like "no girls allowed." But, as I said, I kind of ran out of time. I still think this could be a pretty fun addition to any fort kit.
Leisure (Recreational)
My nephew absolutely loves to read, so I purchased some fun stuff like a camping book, how to create shadow puppets manual, a battery powered book light and some glow sticks.
This could be totally customized to anything your child likes. If I was a little kid, I would have loved to have a baseball or a soccer ball to play with. I also loved to draw so a nice sketch pad and some pens would also be a great idea. I'm sure you'll be able to find something unique for this section of the fort kit!
Rations (Food & Drink)
I actually ended up not using this category because I had so much other stuff already. But, I think this would be a great, low-cost category that any kid would love. You can add granola bars, candy, their favorite juice, crackers or other snacks.
I also considered buying some astronaut food for my nephew to try. He's really into that sort of thing! I love that they sell astronaut ice-cream sandwiches on Amazon now. So neat.
Assemble the Labels and Tags
I had so much fun making these labels. I really went all out. So, if you purchase them, you can make them exactly how I did or really put your own spin on them. Here's what you get when you purchase the fort kit printables.
First, you can print out the actual graphics separate from the label tags. I used a nice resume paper that I had at home. Even with regular printer paper these would be nice.
Next, print out the label tags on a nice cardstock. Or just print one out and use that to trace the shape onto any paper or even fabric that you'd like.
Once I had the tags cut out, I used a glue stick to attach the labels onto them. Mod Podge or regular school glue also works great for this.
Attach the labels to the bags
Once you create the labels, you'll need to attach them to the clear bags. You could easily just punch a hole into the top of the tag, tie a string and be done with it.
I experimented with a grommet tool (buy on Amazon) that I had for another project. This was actually a really fun and satisfying way to attach the tags to the bags. Basically, you create a small hole in the label, then put one part of the grommet on the front and one on the back. Using the little hand tool, you just hit the top of the tool to bend the metal on the grommet and it hooks the two pieces together. If you've ever used a snap tool, it works the same way. I think that the grommets look really rugged. Plus, they should hold up a lot better than just a simple hole punch.
I ran a looped piece of twine through the grommet and through the zipper of the bag to attach. I then tucked the tag into the bag with the label facing outward. Because the fort kit bags are clear, it's easy to see what's in the bag.
Use the duffel bag to pack the kit
I decided to package the entire kit into a duffle bag. I used one I already had available to me, but there are plenty of options available on Amazon, including some cute ones with different colors and patterns. All of the pieces of the kit fit nicely into the duffle bag.
If you don't want to use a duffel bag, you can use just about anything. I considered using a tackle or tool box. Or even just a cardboard shipping box to pack everything.
Roll up the sheet and attach it to the duffel
Then, I rolled up the flat sheet and connected it to the duffel bag. It looked pretty cool and rugged. If you have room in your duffel, you can also put the sheet inside to make it a neat little package. I ran out of room, though!
Wrapping Up
Well, that's pretty much how I created a DIY build a fort kit for my nephew. And, as a bonus, here's a picture of him and my niece playing with it the very next morning.
It seemed to be a real hit. I hope this article has inspired your to create a cute and customized fort kit for your little one, too. I'd love to see pictures so please send them my way.
More DIY Projects You'll Love
What Blooms with What?
Never know what to plant together? Find out with this FREE Plant Pairing Guide and become a pro at combining plants for the best garden design possible!