Please note: I may earn commissions from qualifying purchases if you shop through links on this page. More info.
DIY Floating Glass Frame (make from ANY picture frame)
I love the look of a floating glass frame and I'm always on the hunt for them. But, for my latest piece of art, I couldn't find a square one in the size I was looking for. While searching for an alternative solution, it occurred to me how ridiculously easy it would be to make a floating glass frame out of a regular picture frame. It literally only takes ONE simple supply to turn almost ANY picture frame into a beautiful floating glass frame.
So… this short & sweet tutorial will show you how to make a floating frame from almost ANY picture frame!
Materials to make a floating frame from a regular picture frame
This is a pretty simple process. Here's what you need:
A non-floating picture frame that's larger than the artwork or photo you would like to frame.
An additional piece of glass or acrylic plexiglass that's the same size as the glass in the picture frame you'll be using. You can use either glass or acrylic for this project, it doesn't make a difference in the way you build it.
Double-sided tape (or scotch tape that you just fold over to make double-sided.
Glass cleaner and some paper towels.
P.S. You might also need something to hold the glass into the frame. Most picture frames will already have a mechanism to secure your frame to the back. If it doesn't you could use push pin glazier points or picture turn buttons
P.P.S. If this is something you plan to do often, I'd recommend getting a Point Driver tool (I have the Logan Dual Point Driver Elite). You'll also need flex points for the point driver. Flex points are those little bendable pieces on the back of the frame that you pull upward to remove the photo, and the point driver lets you install these yourself on any project.
Floating glass frame vs. pressed glass frame – what's the difference?
Typically, people will call this type of frame a "floating glass" frame when they are putting a photograph or paper into the frame and want it to look like it's floating. When putting a dried flower or some other flattened item into the frame, people will call this a "pressed glass" frame. Honestly, these are teh same exact thing and you can put either a photo, paper or even a pressed flower into your frame.
How to make any frame into a floating glass frame
OK– so we have our materials and we're ready to get started. I can't believe how simple this is and I'm kicking myself for buying expensive floating frames when I could have been doing this all along.
If you can't find a second piece of glass, sometimes its easier to buy a cheap picture frame and just take the glass out of that. This record frame was $3.
Disassemble your picture frame removing the backing and any artwork that's inside of it. Make sure you clean both pieces of your glass really, really well!
Take the "second" piece of glass that you've purchased, and use double-sided tape to position your artwork in the center of the glass. So, the artwork will be taped on TOP of your second piece of glass. You can see in the photo that the tape will be hidden from view if you do it this way.
Put the glass with the artwork into the frame right on top of the other piece of glass. Ultimately you are "sandwiching" your artwork between the two pieces of glass. Here's a view from the back… it will be your original piece of glass, then your artwork, then the second piece of glass. You can see the tape marks from the back only.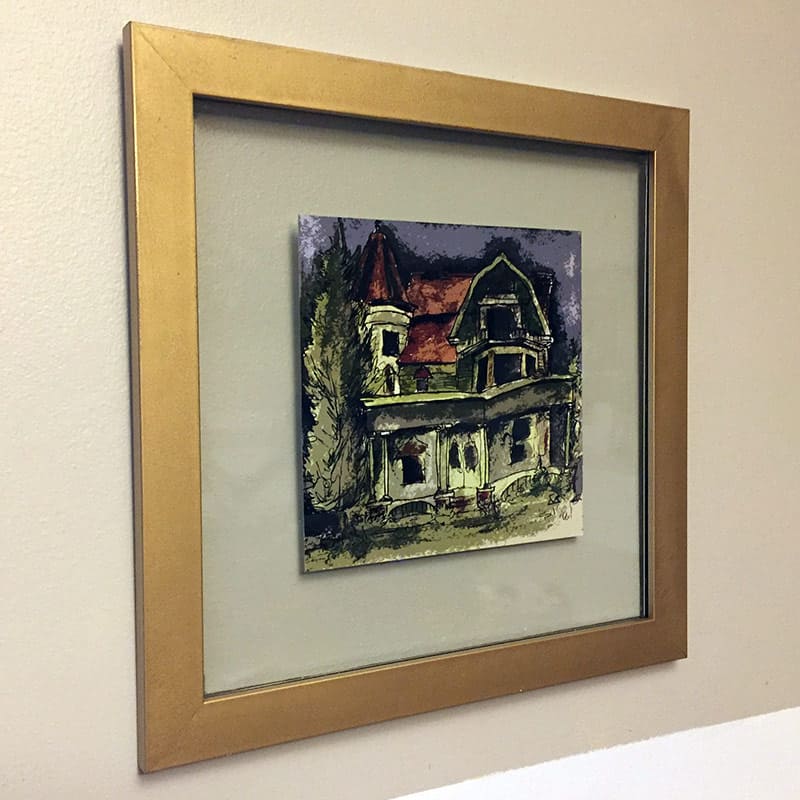 Reassemble the frame and hang it up! This is what mine looks like.
Creating a floating glass frame that hangs by a chain
If you want a unique way to hang your frame you can add a chain to the edges of the picture frame and hang it from a hook. However, it may be difficult to attach the chain to the frame. My recommendation for floating frames with chains would be to use a solid wood picture frame to start. This will make it much easier to install the hardware that holds the chain.
Attaching the hardware to the top of floating frame: If you want to attach the chain to the top of the frame, I'd recommend using screw eye hooks to secure the chain to the frame.
What chain should you use? Well that depends on your personal preferences. Just make sure that the chain is able to hold the weight of your picture frame with double-pane glass. You can purchase lengths of chain at the hardware store in all different link configurations and even different colors. You can also purchase a plant hanger chain like this one – it should hold about 20lbs of weight. Just make sure that you pick up some hardware in order to clip the chain to the screw eye hooks.
Wrapping Up
I told you it was super easy to make a floating glass frame. All you need is a second piece of glass. Tape your artwork onto the glass and then sandwich the artwork in between the two. Reassemble your frame and hang it up! It's super simple, effective and much less expensive than buying a fancy floating frame.
More Posts Like This
What Blooms with What?
Never know what to plant together? Find out with this FREE Plant Pairing Guide and become a pro at combining plants for the best garden design possible!
Amy is the founder of Pretty Purple Door and has been a garden designer since 2014 and graphic designer since 2005. She helps home gardeners design their own beautiful landscapes that are colorful in all four seasons, show off your personality and suit your lifestyle. Amy's work has been featured in publications like The Spruce, Family Handyman, Buzzfeed, Country Living Magazine and more. Read full bio.