Please note: I may earn commissions from qualifying purchases if you shop through links on this page. More info.
DIY Hanging Address Plaque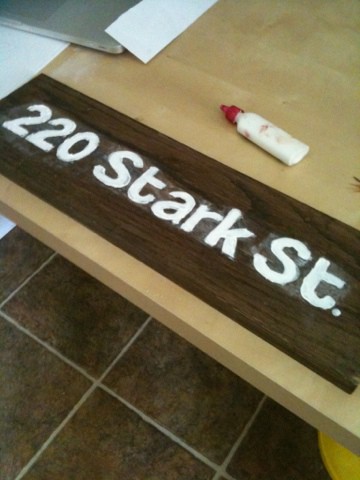 After hours and hours of painstakingly scouring the internet for the "perfect" hanging address plaque, I decided to make my own. Don't get me wrong, there are MANY great options. Here are some I considered:
| | | |
| --- | --- | --- |
| | cute, simple "house" plaque. Too bad it doesn't have a hanging option. | I actually LOVE this one, but the letters are 4″ high… way too big for my taste. |
While there are many great options available, I thought making my own would be kind of fun. Since I'm a graphic designer, I have a very picky sense of style when it comes to fonts 🙂
 What you will need:
a piece of wood that you want to use for the plaque. Get creative — you can buy something pre-cut like I did, or find an old piece of barnwood or driftwood that you love, and go from there.
drill
wood stain
polyurethane (clear sealer)
pencil & paper
white chalk
white paint (this can be leftover paint from a can, or an Acrylic paint — whatever you have handy)
black sharpie
Step 1: Buy & Prep Wood
My first step was purchasing wood, staining it, and drilling holes.  At the big box stores, there is usually an aisle with some pre-cut boards in all different types of wood. These are perfect for this project (especially if you don't have a saw). Just browse until you find something the approximate size and width you want, and go for it. I got a piece of oak that was 18″ x 6″.
Once I got home, I went out to the address post and marked on the wood where the little hanger eyelets matched up. This gave me an idea of where to drill the holes in the wood so I'll be able to hang it later. Because these will connect using chains, you will have a little wiggle room and don't have to be exact. With my marks in place, I drilled two holes through the wood where I will later hang the plaque from.
After a quick sanding, I stained the entire board in a walnut stain I had leftover from a previous project.  Let it dry overnight.
Step 2: Make your template
There are a few tricks to making the template for your new sign. The first thing you need to do is find your font, and lay out what you want your plaque to say. Pay close attention to the width & height of the letters to make sure it will fit on your sign. I used the font "Coolvetica" which is a free downloadable font. You can use any font on your computer, or I could definitely recommend checking out Creative Market. They have so many unqiue, high-quality fonts to choose from. Just open Microsoft Word, type out what you want, and change the font to something you love.
My printer happens to be out of ink (how fitting), so instead of printing out my template, I actually traced the letters onto paper right  from my computer screen. If you are computer savvy enough, reverse the letters so they are backwards (like you are looking at them through a mirror).
After tracing or printing your letters, you will turn the paper over and trace the outline in pencil. If you were able to reverse the type on your computer, simply trace that side. It should look like this:
Step 3: Make Impression
The next part is really fun! Take a piece of chalk, and color in the paper. Make sure you cover the letters.
The reasoning behind this is that the lead in the pencil will reject the chalk. When you flip this over and apply it to the wood, there will be a slight outline of the numbers for you to follow. Once you are done you can easily wipe away the chalk.
Step 4: Paint
Now that you have the impression in the wood, you can begin painting the letters in. If you are a sloppy painter, they sell metallic markers and things of that nature that will show up on dark surfaces. Pick one of these up at the local drug store and start by tracing the outline. I have a pretty steady hand, so I used paint for the whole project.
Step 5: Finish it Up
Apply as many coats as necessary to satisfy yourself 🙂
Once you are finished painting (and the paint is dry), take a wet cloth and wipe off all the chalk residue. I then added some shadowing around the letters with a black marker to make them "pop" a little bit. This isn't a necessary step, but I like the way it came out.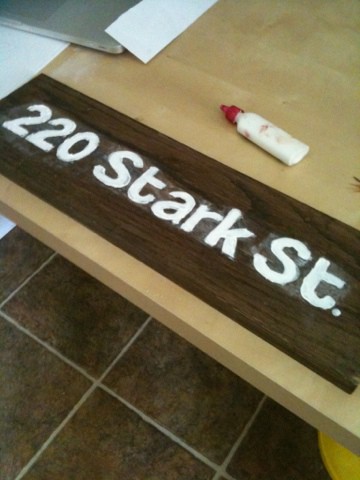 I then applied a coat of poly, and let that dry. The kind that comes in the aerosol spray can worked great for this!
Step 6: Hang it in front of your house and enjoy!
There are multiple ways you can hang the plaque, so be creative! Maybe use a piece of chain, keyrings, ribbon, twine, or even wire-ties.
What Blooms with What?
Never know what to plant together? Find out with this FREE Plant Pairing Guide and become a pro at combining plants for the best garden design possible!