Please note: I may earn commissions from qualifying purchases if you shop through links on this page. More info.
DIY Penny Project Ideas to Make Your Home Shine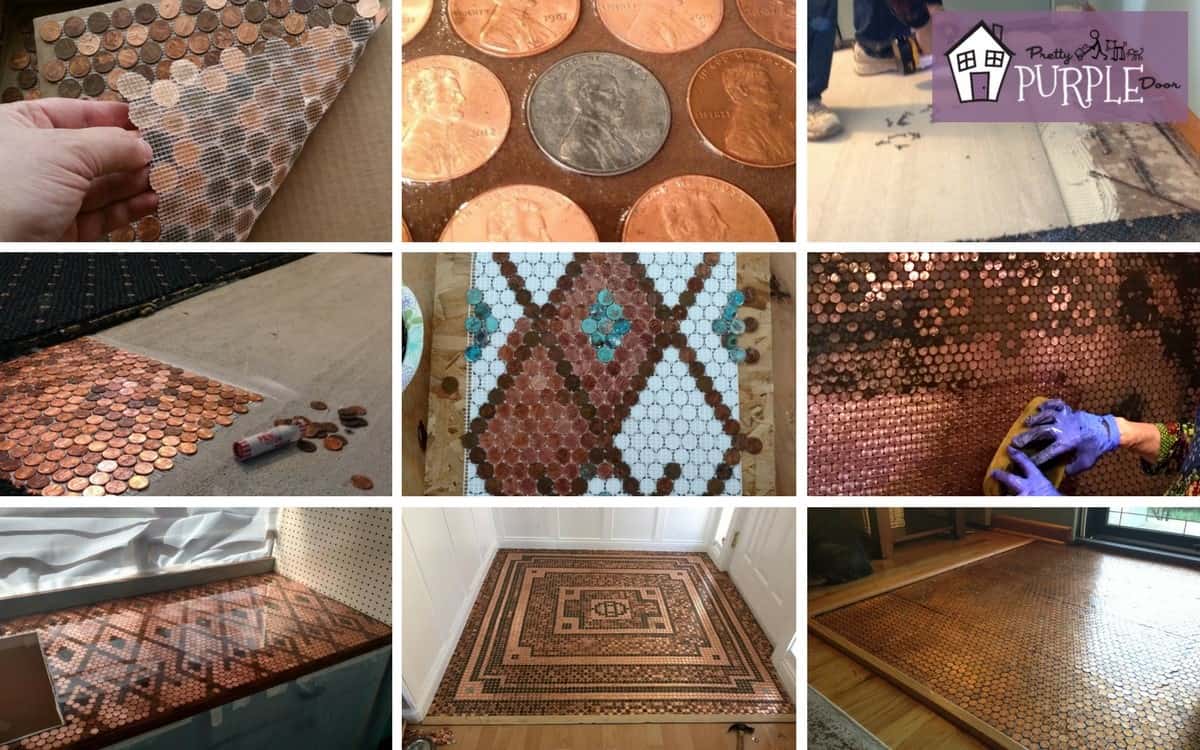 Pennies are a fun and unique way to shine up your home, without breaking the bank. Back in 2013, I created my own penny floor as a foyer and I've been collecting all kinds of penny projects from my readers ever since. Here are some of my favorite DIY penny project ideas submitted by creative home owners like you.
Penny Backsplash
I love that this penny backsplash is unique AND has a personal touch. Patti sent in the sweetest note with her penny project submission. She said that her mom left them with thousand of pennies, so she decided to do the backsplash of their tiny "park model" in Phoenix, AZ. She further explains,
"As a tribute to her I spelled MOM above the new stove."

-Patti
I really love the idea of a penny backsplash, especially if you're considering a penny floor but the thought of walking all over the pennies every day makes you nervous. A backsplash will definitely hold up a lot longer because it's not going to have as much wear and tear as a floor would.
Another example is Carolyn's creative penny backsplash. She trolled the web for penny floor and backsplash designs for several years before finally getting started.
While she originally thought she would used dark aged pennies for the bulk of her project and bright shiny pennies for the design / contrast, she was caught off-guard when her husband came home from the bank with her first $25 box. They were all brand new uncirculated shiny coppery pennies!!
To her surprise, she fell in love with the new pennies… even though they turned her years of planning the perfect design completely upside down. She ended up with a totally organic design instead.  It reminds me of henna designs; fun and balanced side to side with a few twists.
Carolyn's penny floor has coins from her family birthdate years and quite a few Indian head, Canadian, wheat, and even a 1943 zinc penny. After much research, she used a product called Musselbound Adhesive Tile Mat, grouted over this, and sealed with 3 coats of poly. The final touch was installing the glass range hood. Looking at Carolyn's backsplash always makes me smile.
Penny Counter Top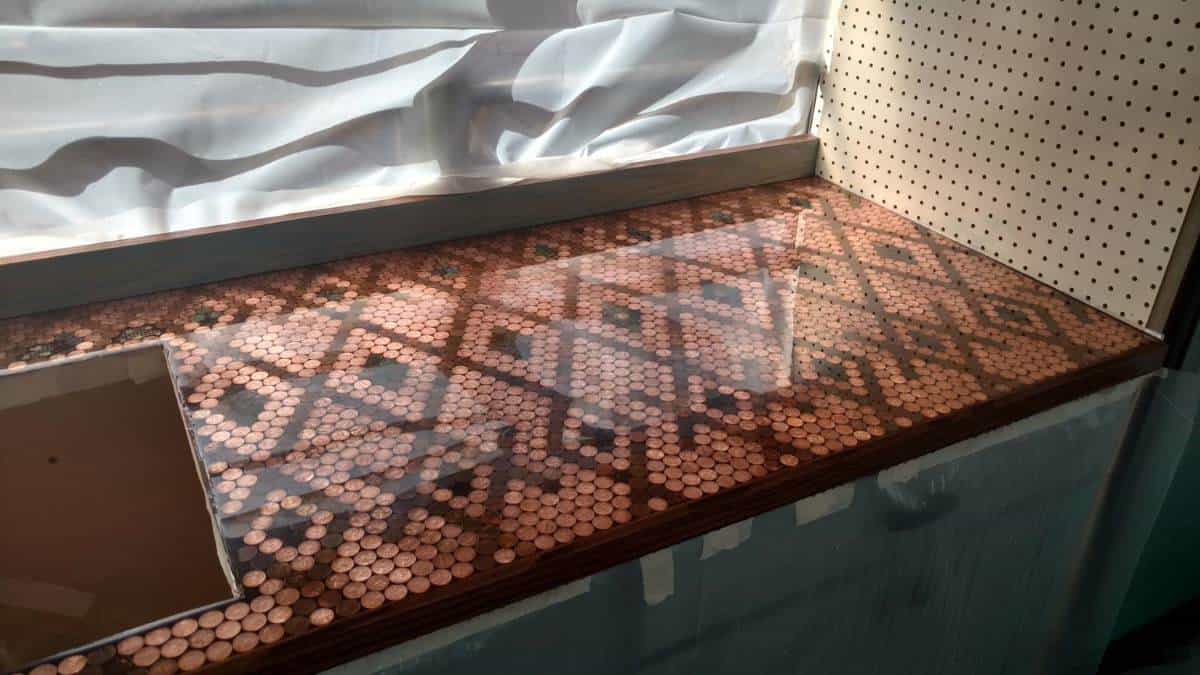 How about pennies as a unique kitchen countertop project idea? Have a look at Heather's southwestern penny countertop in her school bus home.
Yes, you heard me right… Heather lives in a school bus.
She sent me some photos when writing to me to say thanks for the downloadable penny template and tutorial.
Penny Kitchen Island
Pennies are also a great conversation starter for a kitchen island or bar top.
Sherry used pennies to top her kitchen island and made a pattern with new and old pennies to display an "F" monogram, using super glue to attach each one individually.
Penny Table
Christina's patterned table is quite a unique penny project idea! It features a beautiful diamond shape pattern through the center. The pennies outside of the diamond shape are just free-handed.
She glued down the pennies with E-6000 (just a drop each), letting the glue dry well. After that, she cleaned the entire table with alcohol and sealed it with Rust-Oleum Parks Super Glaze (Purchase on Amazon).
I've never use this particular product, but I think it looks great on Christina's table.
Penny Feature Wall
Lisa's super sleek penny bar features an entire feature wall of pennies with lit glass shelving to add surprisingly modern touch. What a great twist on the traditional penny floor or kitchen backsplash. It really adds a shiny statement to the bar area.
Penny Fireplace Surround
I really try not to play favorites, but Cody's fireplace surround really is one of my favorite penny project ideas.
Cody has a lovely house in southern Georgia with 4 original coal fireplaces. Unfortunately, the tile on the dining room fireplace was old and badly damaged so after some Google inspiration and pricing new tiles, he went with pennies!! Check out their penny fireplace surround. Did you notice the custom "R" monogram on the floor?
Cody told me that every other penny is flipped head to bottom with some treasure hunts along the way. The fireplace surround contains about 5,400 pennies, reused base molding, Bondera used for the penny adhesive, brown grout and 2 coats of polyurethane.
Head over to Hometalk to get all the details about his project.
Penny Abe Lincoln Portrait
Maury created a penny project kit so you can create an 18×24″ portrait of Abe Lincoln out of your own pennies.  It's the perfect accessory to any penny floor or other penny project from this page. 
You purchase the kit on Amazon, too!
Penny Flooring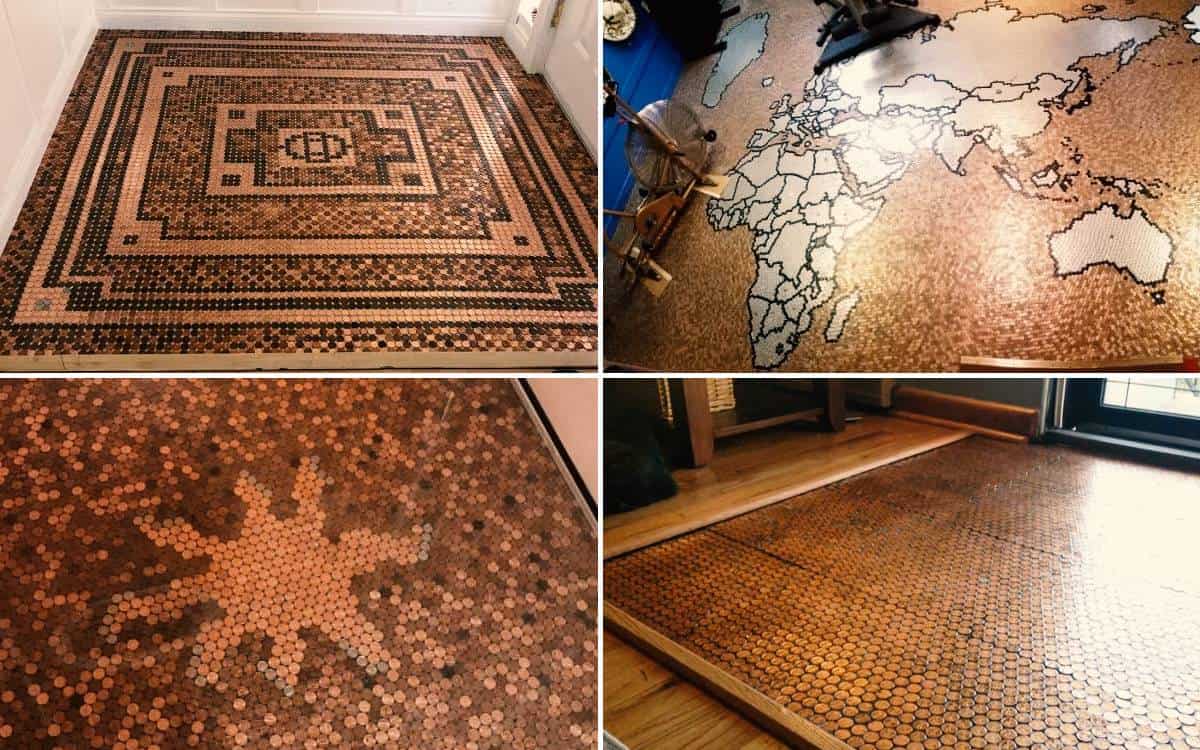 I installed my own penny foyer back in 2013 and I still get lots of compliments on it… so I'd definitely still recommend penny flooring as a unique and creative way to shine up your home. Lots of my readers have designed their own penny flooring in their foyers, kitchens, bathrooms and even more.
Head over to this post to see lots of inspirational penny flooring projects.
Wrapping Up
I hope you've gotten lots of inspiration from these penny home decor projects. Here are a few other penny projects on HomeTalk that I'd love to try, too:
What Blooms with What?
Never know what to plant together? Find out with this FREE Plant Pairing Guide and become a pro at combining plants for the best garden design possible!
Amy is the founder of Pretty Purple Door and has been a garden designer since 2014 and graphic designer since 2005. She helps home gardeners design their own beautiful landscapes that are colorful in all four seasons, show off your personality and suit your lifestyle. Amy's work has been featured in publications like The Spruce, Family Handyman, Buzzfeed, Country Living Magazine and more. Read full bio.