Please note: I may earn commissions from qualifying purchases if you shop through links on this page. More info.
5 unique wood slice Christmas ornaments to DIY this weekend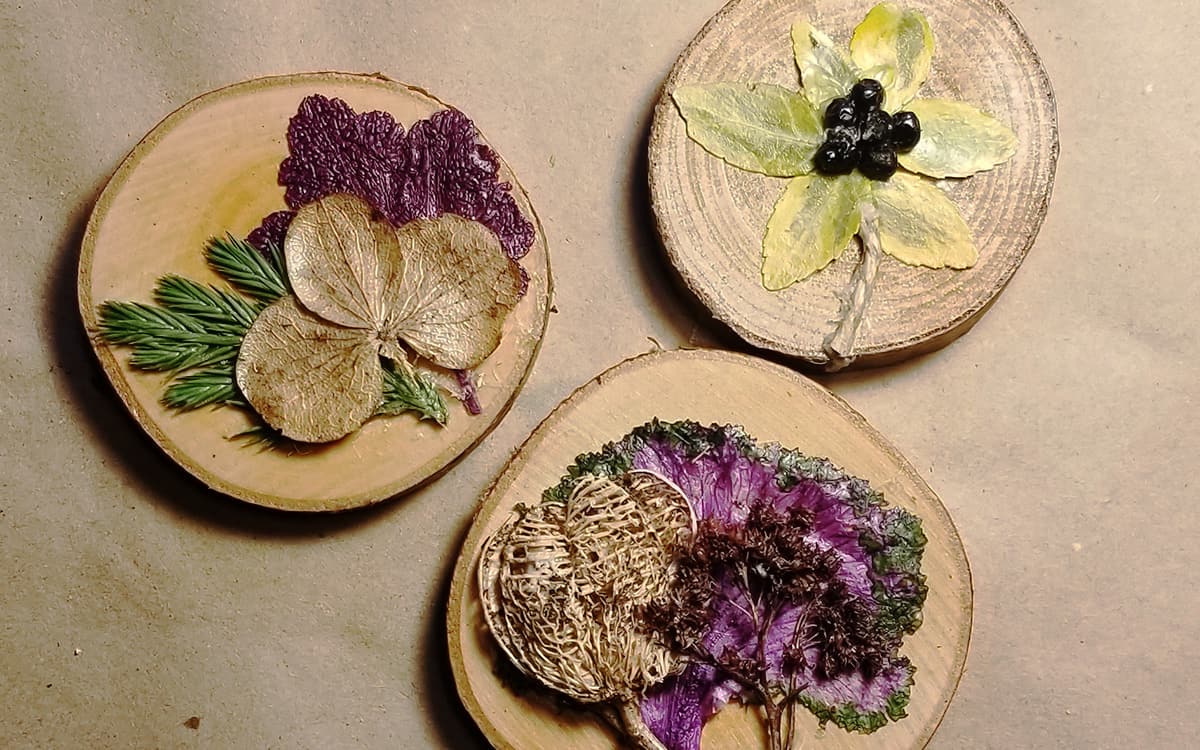 Making handmade gifts for Christmas is just the absolute best. And, Christmas ornaments make some of the best Christmas gifts. So, in this article I'm combining the two! I've created step-by-step tutorials for creating 5 unique wood slice Christmas ornaments that you can gift this holiday.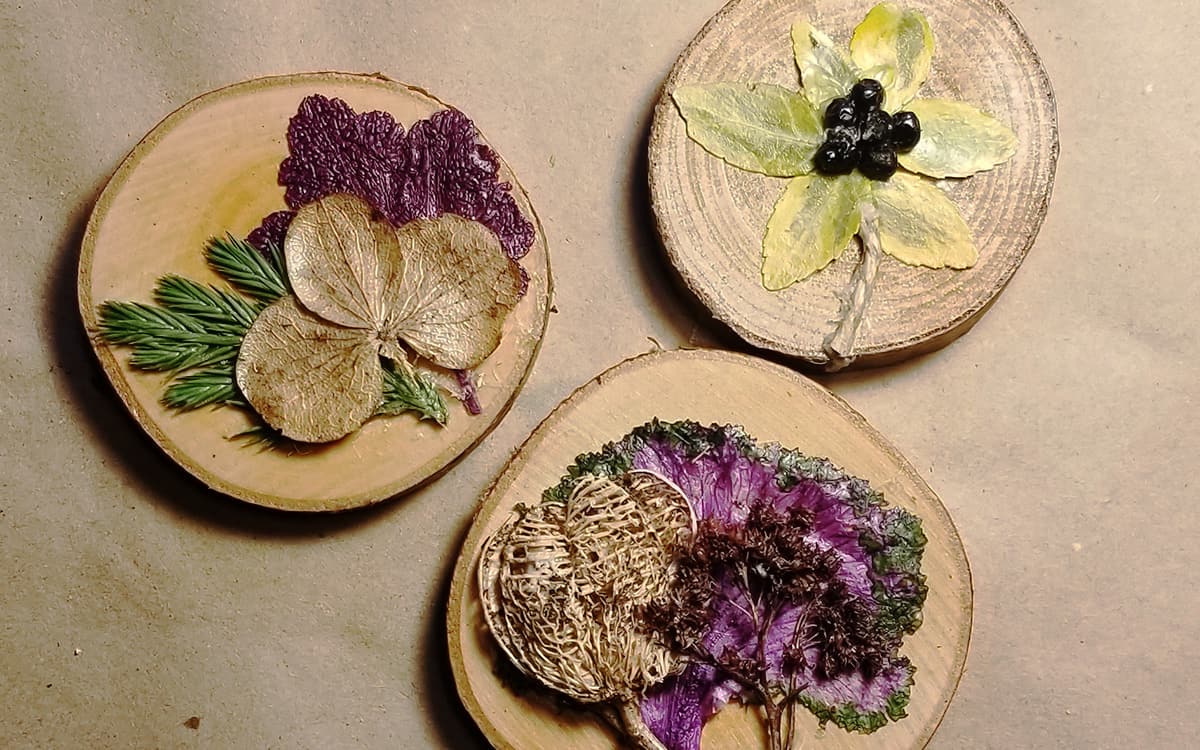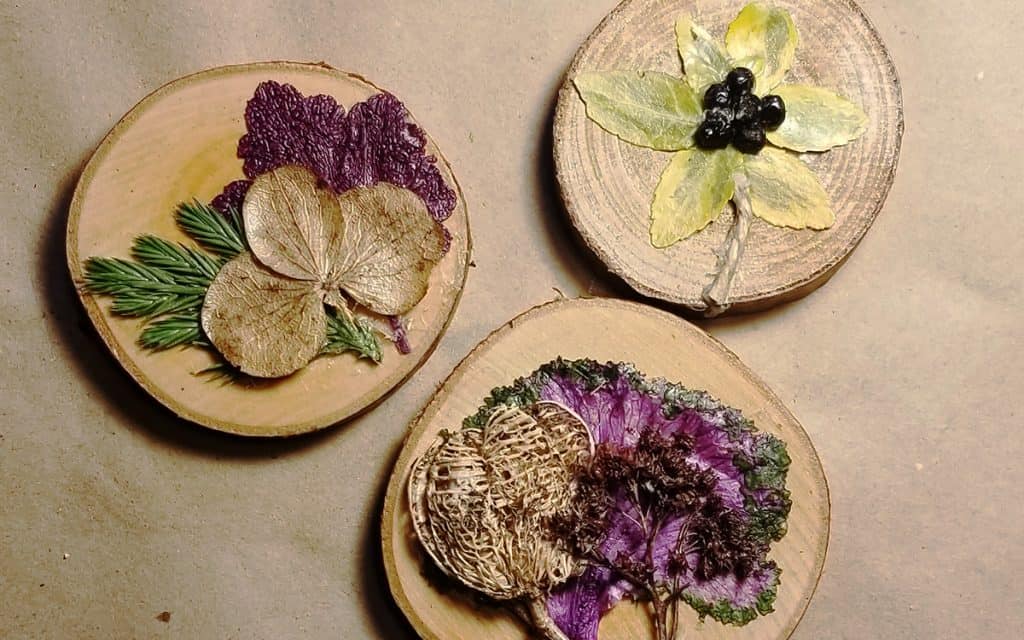 All of the ornament tutorials in this article are using the same basic supplies. And, many of the other supplies you'll need you'll either have laying around your house (or your backyard)!
I've given all of these designs as gifts in the past. And I've even had great success selling these wood slice Christmas ornaments in craft shows in my area.
So whether you're looking to bright up someone's holiday or padding your Christmas club account, I'm sure you'll find a great option to try in this list of DIY wood slice ornament tutorials.
Each tutorial is listed individually below, but here's a playlist if you'd prefer to watch them all in a row!
Dried flowers wood slice ornament
In this tutorial, I'm making a wood slice ornament from dried flowers. Press flowers from your garden to create a beautiful Christmas ornament.
Pressed flowers/foliage I used
Heuchera (coral bells) leaves
Ornamental cabbage leaves
Hydrangea flower
Arborvitae leaves
Sedum Autumn Joy stems
Hello yellow blackberry lily seed pods
Euonymous leaves
Supplies
Pressed flowers from your garden
Painted Christmas tree wood slice ornaments
Learn how to paint wood slice ornaments with snowy Christmas trees with colorful backgrounds. These birch wood slice paintings make great ornaments, gift tags and more.
I like to add the date or some personalization to the ornament to make it even more unique. I've tried every pen out there and the Sakura gelly roll pens in white are the absolute BEST option for writing clearly onto a darker surface.
Supplies
Rustic copper wrapped Christmas tree on a wood slice
In this tutorial, I'll show you how to make your own DIY rustic Christmas ornament with tree branches / twigs wrapped in copper and hot-glued to a real birch wood slice!
I really love this project. It's easy to do while you're watching tv and relaxing. I've had pretty great success selling these at craft shows, too!
Supplies
Simple copper tree wood slice ornament
In this rustic birch wood slice ornament tutorial, I'll show you how to make a Christmas tree from tree branches. I filled the center with copper roof flashing, but you can use patterned paper or anything else you can imagine.
These make great ornaments, gift tags and more.
Supplies
Wood burning on wood slice
Learn how to transfer a design onto your wood slice and use the proper tips for wood burning a simple ornament. Wood slice ornaments make great gifts and you can also use the wood burner to create custom name tags for Christmas or birthday gifts.
I am using a professional level wood burner in this video but you don't need an expensive setup to make some fun ornaments. If you are interested in my setup, though, you can find the details here: Razertip SS-D10 wood burner
Supplies
Which Wood Burner To Use?
This is one of the lowest price options you'll on the market. At less than $15, this would make a great stocking stuffer. This is a very basic pen with 4 common tips that you can change in and out. There is no temperature control; the unit just turns on and off.
I think it's a great option to grab just to see if you or your loved one will actually use the wood burner. If you decide you like making this kind of art, you can upgrade to one of the more versatile options below.
At about $30, this is a great wood burning kit option for beginners. It comes with the burner and multiple interchangeable tips and accessories that you can try out. What I really like about this particular wood burner is that it has a temperature control. Most of the beginner level wood burners don't include this option.
Having the ability to control the temperature is very important, especially if you'll be dealing with different types of wood (pine vs. birch, etc). Some surfaces are softer and burn more quickly or less evenly. So, if you don't have any control over the heat you're applying, you can create marks in the wood. The worst is when you get a big "dot" where you start a new line. With a temperature gauge you won't run into this problem.
This temperature control setting is what separates the very low priced wood burner options from the little bit more expensive ones. In my opinion, getting one with temperature control is definitely worth the small investment.
I'd say this Walnut Hollow is a slight upgrade to the Powza wood burner above. While there aren't as many tools that come with this wood burner, the quality is a little bit higher. And, it's still under $50.
So, if you're looking to get into wood burning as a side hustle or way to make money, this may be a great option for you starting out.
I'm probably very biased because this is the wood burner that I personally use. However, we did a LOT of research on wood burners before settling on the SS-D10 by Razertip. This is the most comfortable wood burner to hold. The actual burning pen is much skinnier than a lot of the lower-priced options. And, there's comfortable padding so your hands don't cramp up. I like the dual temperature controls on this burner, so that I can be using one pen/tip and have the other one ready and waiting. It heats up quickly and gives you a lot of control over your work.
We used a very basic wood burner for about a year before purchasing this. After selling a lot of our wood burned artwork on Etsy, it was really easy to justify this upgrade. So, if you're considering going "pro" with your wood burning, the Razertip is a great option!
How to turn a wood slice into a Christmas ornament (hanger)
I really don't care for drilling straight through the wood slice, so I use a screw eye hook instead! These screw eyes maximize your artwork 'surface area' on the wood slice so you have tons of room to create your masterpiece!
I use a straight pick to poke a hole into the edge of the slice and get my screw eye started. Then, I cover up the metal with a nice hemp or twine hanger.
Watch the tutorial to learn how to turn your wood slice artwork into a rustic Christmas ornament.
Supplies
Wrapping Up
I think that wood burners are an AMAZING stocking stuffer. In fact, that's how we got our very first one.
Whether you're just looking to gift some handmade ornaments or you want to make some extra money for your holiday shopping, creating wood slice Christmas ornaments is an excellent way to spread holiday cheer.
More DIY Projects You'll Love
What Blooms with What?
Never know what to plant together? Find out with this FREE Plant Pairing Guide and become a pro at combining plants for the best garden design possible!
Amy is the founder of Pretty Purple Door and has been a garden designer since 2014 and graphic designer since 2005. She helps home gardeners design their own beautiful landscapes that are colorful in all four seasons, show off your personality and suit your lifestyle. Amy's work has been featured in publications like The Spruce, Family Handyman, Buzzfeed, Country Living Magazine and more. Read full bio.