Please note: I may earn commissions from qualifying purchases if you shop through links on this page. More info.
From old drawer to whimsical planter in an afternoon!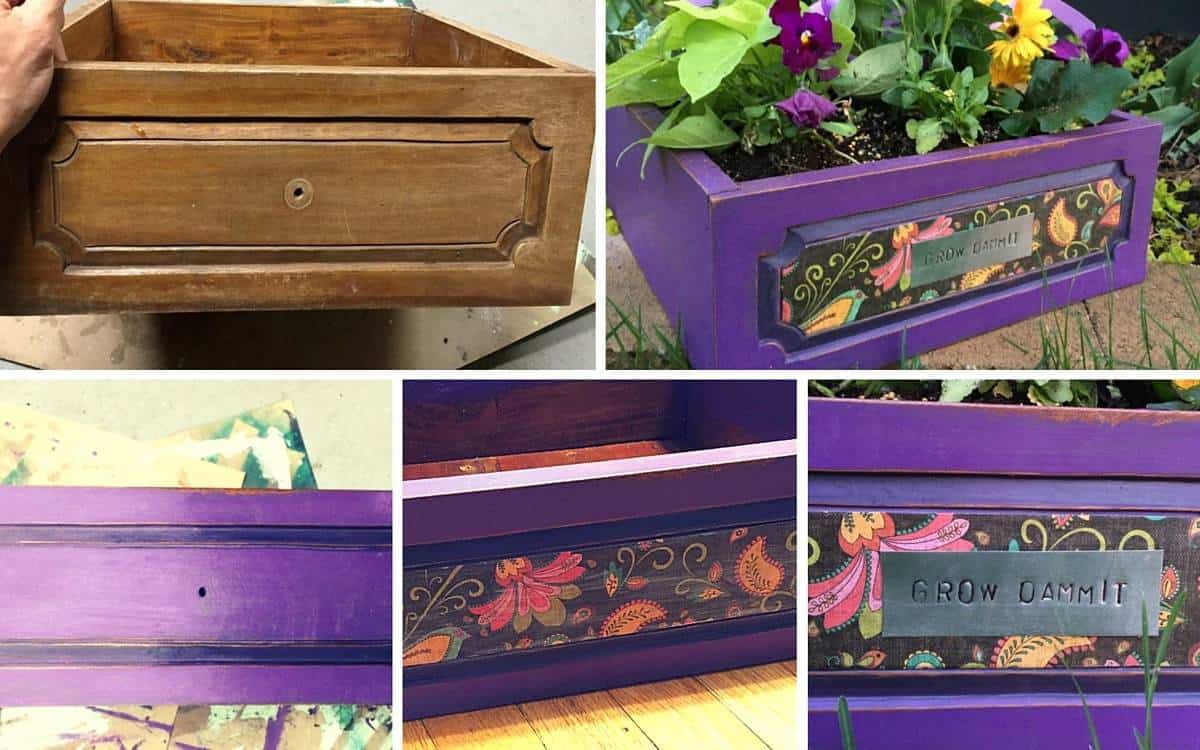 When my friend saw this cheery purple planter I recently upcycled from an old drawer, he titled it the "Purple Haze Magic Garden Box."
I must say, this is one of my favorite upcycled garden projects because (1) you can make in an after and (2) it will absolutely transform your curb appeal.
Let's go dumpster diving! Follow along to transform an old drawer from a discarded dresser into this amazing purple planter.
Materials
An old drawer (use one you have laying around, or go dumpster diving like I did!)
A pretty paint color — sample jars are only 3 bucks or so. The color I used is Home Decorators "Virtual Violet" HDC-MD-25 — Home Depot carries it.
Homemade chalk paint — Check out my recipe here.
1 sheet of scrapbook paper (or newspaper, or a different color paint, etc.)
Sandpaper
Drill
Polyurethane Sealer. I used a Matte finish in a spray can.
Waterproof Sealer. There are several options in the sealing section.
Mod Podge Outdoor. This is to attach your paper design to the drawer.
Aluminum roof flashing or just an aluminum soda cut into a strip (optional)
Metal stamping kit (optional)
Sharpie marker (optional)
Dirt
Plants
1- Paint your old drawer with chalk paint
The first step to make this old drawer planter is to paint it. I went to the local hardware store and picked up a sample of this beautiful purple color ( Home Decorators "Virtual Violet" HDC-MD-25) for about 3 bucks. You can also make homemade chalk paint from whatever paint you have one hand.
Then, I came home and made my homemade chalk paint recipe. To make chalk paint, get an old mason jar or container. Fill 1/4 of your container with warm water, and add 1/4 plaster of paris. Mix this up really good so there's no lumps. Then, fill the remaining 1/2 of the jar with your paint color. Stir it up and you have your very own chalk paint. And… you basically have DOUBLE the amount of paint that you bought (you're welcome).
You may be wondering why you should use chalk paint? Well, you don't have to, that's just what I did. I love to use chalk paint because it covers over your original surface without sanding. That's right, you don't have to even sand the drawer! Just slap your paint right over it. Cool DIY projects are the best, aren't they?
2- Add detail & distress the drawer
After your chalk paint dries (it dries SUPER fast — added bonus), you'll want to add some detail to it. Again, optional step, but I took some darker grey/black paint and went around the grooves of my drawer to bring out the neat little details.
After this was dry, I used sandpaper to distress the drawer and bring back some of the wood finish. Chalk paint is really awesome for distressing. It comes right off. Sand around the edges and grooves to get a really cool distressed look.
3- Mod Podge your drawer planter with scrapbook paper
I took a cool piece of flowered scrapbook paper and cut it out to fit into the center of my drawer front. Once it was cut out, I covered the surface of the drawer with a layer of Mod Podge. I then put the paper down, and covered it with another layer of Mod Podge.
Once it was dry, the Mod Podge became clear and it's basically wallpapered onto the front. If you don't have scrapbook paper, you can try something else — like newspaper, burlap, tile, or even a different paint color. Get creative and use what you have on hand.
To glue the paper down, I used Mod Podge Outdoor (Amazon Link). The outdoor Mod Podge protects your project from rain and also sun/UV rays.
Quick Tip: If you like this project, check out my video on turning an old folding chair into a planter!!
4- Add drainage holes to the bottom of the drawer planter
To protect this cool DIY project, you'll have to add some drainage holes and seal the planter. In the bottom of the drawer, I made some holes using my cordless drill. They are decent sized holes and I put a lot of them… maybe 15… all over the bottom. Soggy plants are no good!
5- Seal your drawer planter
After drilling the draining holes, you need to seal the drawer inside and out to protect it from the elements. If the drawer is made of wood or something cheap it will rot out pretty easily… so this is an important step. Who wants to spend all these time making cool DIY projects only to have them rot in the rain? Not me!
Seal the inside of the drawer planter
I used Flex seal (Amazon Link) to waterproof the inside of my drawer. I tried my best to get the seal into the holes I drilled, but it was difficult. So, I took some polyurethane sealer and a Q-Tip and rubbed the poly all around on the insides of the drainage holes to protect them. This is especially important because when drilling you'll expose the inner wood that doesn't have any sort of varnish or veneer on it.
Seal the outside of the drawer planter
I used a spray polyurethane in a clear Matte finish to seal the outside of my drawer planter. Matte finish means that the poly will dry without being shiny — which is awesome. Satin is a good option too for a minimal amount of sheen. Or after you spray a semigloss or gloss poly, a light sanding will take away some of the shine.
The other option is to use the Mod Podge outdoor (Amazon Link) that you used to glue the scrapbook paper onto the drawer. This will work too but will be pretty shiny.
Sealing Options
Lucky you! While trying to figure this out, I made a list of some sealing options:
Polyurethane (be sure to use outdoor/exterior poly)
A plastic bin that fits inside of your drawer (to avoid all hassle)
12-inch adhesive tile squares. Linoleum floor tiles are great because you can stick them down to the bottom of the drawer, and at the end of the year you can just tear it out. You can also get some adhesive mosaic backsplash tiles. If you get some nice looking ones you can use them for the front of your drawer too instead of the scrapbook paper!
6- Make a label for your drawer planter
I made my label out of some aluminum roof flashing I had laying around. I know what you're thinking. WHO has roof flashing "laying around"…. yep. Me. That's who! Anyway rolls of flashing are cheap if you want to pick some up, but you can also cut up an aluminum soda can and flatten that out to get the same effect. Or just use a strip of wood or steal some scrabble letters from your kid. Just kidding! Don't steal them — you can buy Scrabble Tiles and they are awesome to have around!
Now that you have your roof flashing or other surface, it's time to make your label. To get the same effect, you'll need a metal stamping kit. You take the letter or number stamp, put it onto the aluminum, and whack it with a hammer. It's really fun, you should try it. Don't have a stamping kit? That's ok. You can just use a sharpie to write your message. Or some stencils. Whatever you have laying around. I have lots of things laying around, obviously.
Gardening Slogan Ideas
I put the label "Grow Dammit" on my label for a "touch of whimsy" as they say. I thought it was funny, and it seemed appropriate because I say it over and over again as I water any of my plants. A few other gardening slogans for your planter label are:
Grow Dammit
Let it Grow
Water Me
Free Weeds
Weeds for Sale (Dirt Cheap)
Good Thymes
Once Upon a Thyme
Mom's Flowers, Dad's Weeds
Everybirdy Welcome
What Goes Down Must Come Up
I tried. It died.
Can you dig it?
Sow. Weed. Water. Wait.
So, after I used my metal stamping kit, I went into the grooves with a sharpie and darkened the letters. I wiped the sharpie ink off right away with a cloth to make it more a little more weathered looking. This is turning out to be one of my favorite cool DIY projects ever.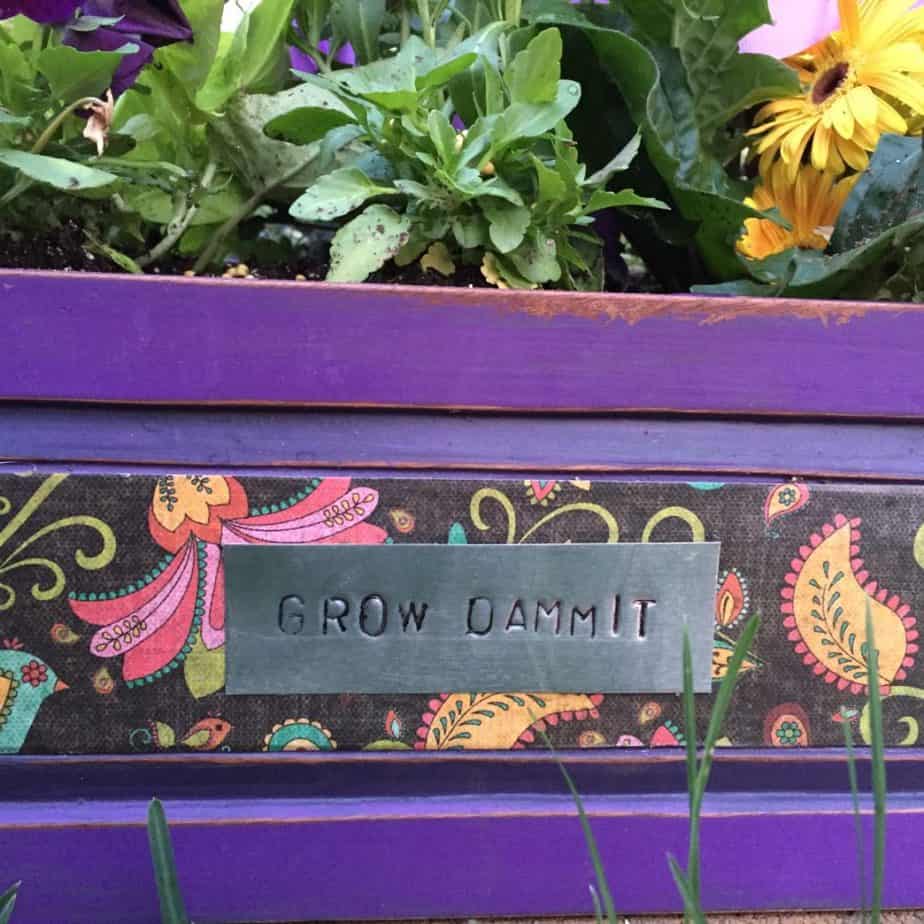 7- Plant your new drawer planter!
You are on your way to finishing one of the best, cool DIY projects ever! All you have to do now is fill your new planter (I won't call it a drawer anymore) with some beautiful plants! Give them some water and some lovin' and you'll have a beautiful new addition to your porch or garden that will make you happy every time you see it. I know I am!
Here are some ideas for plants to use:
lime ipomoea
sweet potato vine
ivy
pansies
coleus
citronella (for mosquitos)
autumn joy sedum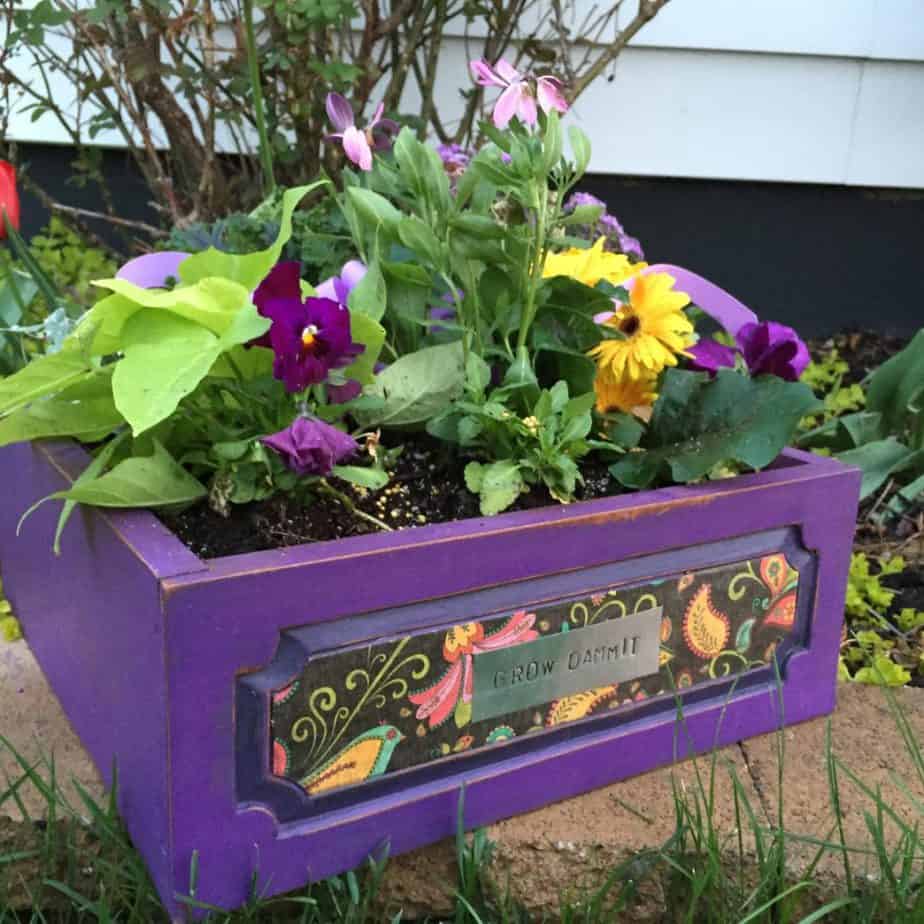 Wrapping Up
This is a fun and easy project that you can finish in a few hours! It's a great one for the kids, too. My best advice is to use what you have on hand for this one. Find an old drawer, and paint it using homemade chalk paint. Add a bit of detail by sanding/distressing the paint, then Mod Podge some scrapbook paper onto the front. Drill some drainage holes into the bottom. Seal the inside and outside of the drawer (don't forget the drainage holes)! Once it's dry, create an awesome aluminum label with a funny saying. Add dirt. Add plants. Smile — you're all done.
What do you think about this project? I had so much fun making it and I would love to see what you've done too! Comment below and let's see what you did with my quick tutorial.
More Cool DIY Garden Projects
Here are some more cool DIY projects for your garden! Enjoy!
What Blooms with What?
Never know what to plant together? Find out with this FREE Plant Pairing Guide and become a pro at combining plants for the best garden design possible!