Please note: I may earn commissions from qualifying purchases if you shop through links on this page. More info.
The cheapest way to enlarge your windows
Did you know that enlarging a window isn't as expensive as you think? To save money enlarge your window vertically, which is called a cut-down. Making a window wider involves permits, new headers, and a lot more work… which means a lot more money.
Larger windows = more light
A larger window can completely transform your room. As a home owner, there's so many things that "need" to be done. I've learned that a lot of money is spent on invisible upgrades.
I've been in my home since 2012 now. And I'm SO thankful that I'm at a point where I'm not just doing work that needs to be done. Rather, I'm able to tailor my projects around the WAY I use the house, and what would make that easier or better.
After enlarging my window in the office, I can honestly say that adding more natural light is a fantastic way to spend your money.
It will make you smile. You will use the space more often.
You will be in a better mood.
It's one of those renovations that you will enjoy EVERY SINGLE DAY.
That's why I wanted to share with you some tips for getting larger windows without blowing your entire life savings. Because, if you don't know what you really want before talking to a contractor, you jaw will DROP at the price of some of the window options available.
If you plan a lot of DIY projects around the house, you may be interested in my project planning worksheets. Print new ones whenever you need – they will keep you super organized as you're working and also serve as a great way to archive your projects when they're done!
Types of Window Enlargements
There are three basic ways that you can get bigger windows… a cut-down, an enlargement or a cut-up.
Window Cut-Down Option
A cut-down involves expanding the window opening downward. If you qualify for the "cut-down" option, this is the key to keeping the price down! Why? Well because a cut-down doesn't affect the header above the window or the studs around it.
Because the structural integrity of the walls surrounding the windows is not challenged, cut-downs usually don't require a municipal building permit.
A cut down also requires less work than enlarging the width of your window and, as a result, costs less money than other options.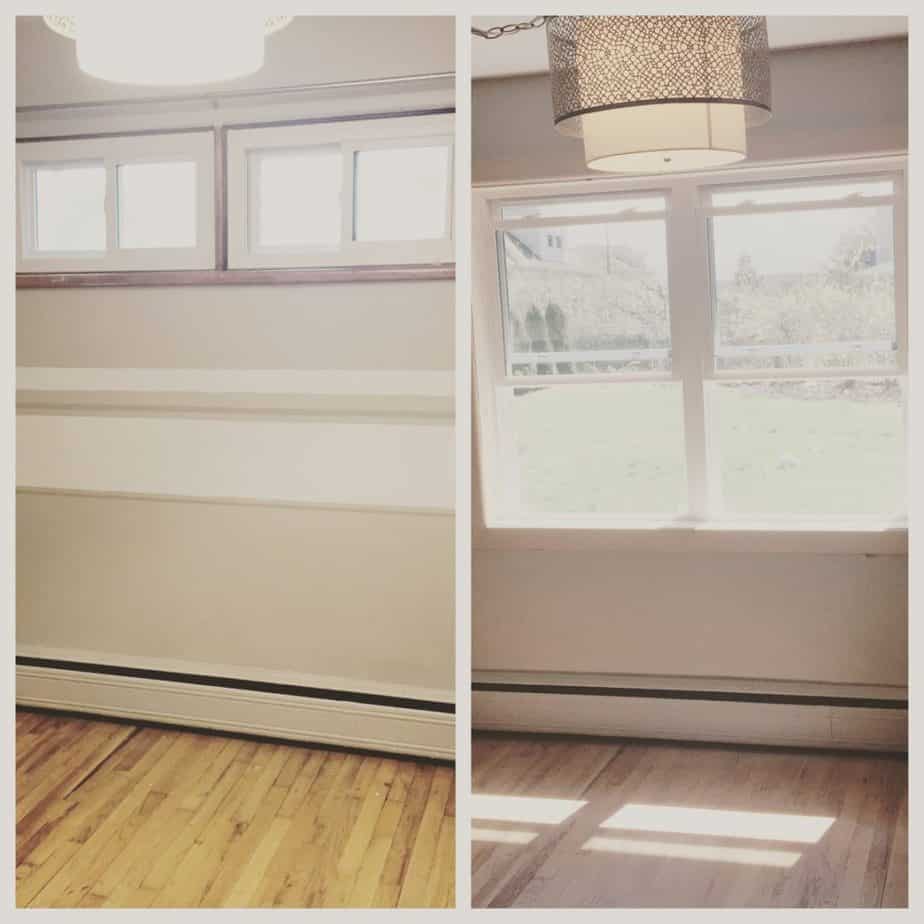 Here's a before and after of my office window. It's the same width (about 60″) but enlarged downward from 14″ to 50″ in height! If you are lucky enough to have crappy windows that are placed high on the wall and are very wide, you are the perfect candidate for what's called a "cut-down."
Now you can save some money!
Window Enlargement Option
The enlargement option is the most expensive. An enlargement of your window means that you are either extending the window left of right (the width).
If you want to enlarge your window width, your project will require a permit from your city/borough.
Window Cut-Up Option
There's also the "cut-up", which means the window is small and you want to increase the height of the window upward. This may be combined with the cut-down to increse your window height in both directions.
Performing a "cut up" on a window also requires a permit.
This option is always more expensive than a cut-down because you are affecting the studs (enlargement option) and/or the header above the window (cut-up) option. In fact, I'd estimate this would run around the same cost as an enlargement.
Cost of Enlarging your Windows
I did some research before I had these windows installed and I found on Houzz that the cost for a cut-down would be about $500 in addition to the cost of the window. I was really excited. Until I got some actual quotes.
In my experience the estimate on Houzz is absolute BS. I'm sorry if I mislead you by saying that this is a cheap project. It's really not.
The cost to cut-down my window was around $1,000. This is in addition to the cost of the actual side-by-side double-hung window which ran around $500. You're looking at about double the cost of what Houzz estimates.
You should also keep in mind that my town is typically on the lower end of cost when it comes to construction/renovation. You'll have to get some quotes to find out what this would cost where you live.
Just for reference, the contractors I spoke with said to enlarge the window would be at least double the cost of a cut-down. So, let's call it $2,000 for an enlargement.
Enlarged window before/after photos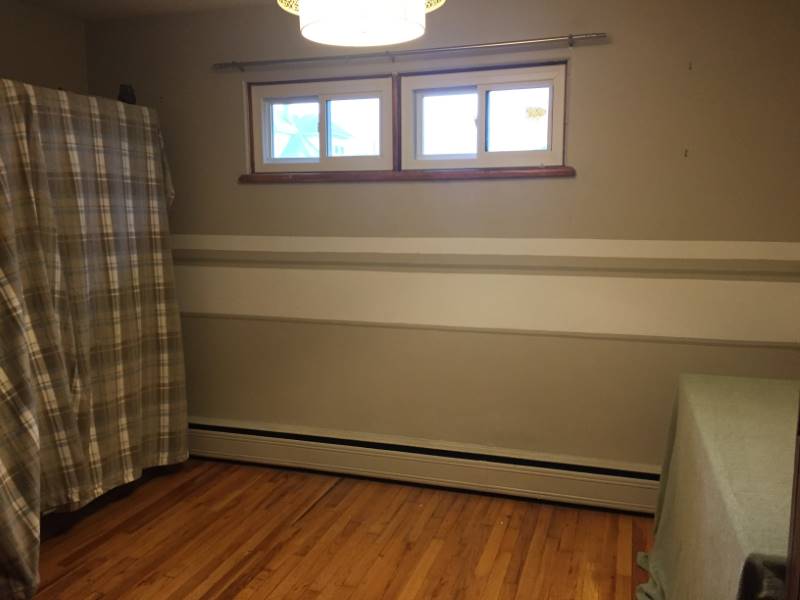 Tips for working with contractors
Since this project will likely entail hiring a window contractor, I thought this would be a good place to add some tips about working with contractors.
As a home owner, I've found dealing with contractor BS to be one of the least enjoyable parts of renovating my home. Many contractors will try to screw you by overcharging. Others will not call you back. Even worse, some will show up, give you a quote, then vanish into thin air.
Thankfully, this isn't true for every single contractor you'll come into contact with. But one or two bad apples will really have you hesitating to start your next home reno project. So, follow these tips to protect yourself and set your project up for success!
Ask around
The best place to find a really good contractor is through word of mouth. So, ask your family, friends and neighbors for advice. Heck, even ask on Facebook. I've found some of the best contractors through other connections and it really makes the decision process a lot easier.
Get 3 quotes
This is always my advice: get 3 quotes on the project. You can get more if you want, but you need at LEAST 3 quotes. I can't tell you how many times I've gotten a project quoted to find that the prices were ALL OVER THE MAP. You need to get 3 so that you have some comparison. When I got the first quote, I was baffled by the cost because of the fake crap I read online about this being really cheap. Second quote, baffled again… but I suppose this was a reality check. The third time I was ready for it, although I was hoping that they were going to fall into that $500 range I saw online. Unfortunately, not… on this project all three quotes worked out to be within $100 of each other.
Ask for a line-item estimate
On a side note, I also had four basement windows replaced during this project. When I asked the contractors to line-item the estimate (you should always do this), the pricing was different… some were charging more or less for the basement windows, or more or less for the office cut-down project. If I wanted to be a complete scrooge I could have hired one company for the basement and another for the cut down. But… it's likely that the contractor would raise the price if I did this, or even not want to take the job because it was too small and not worth their time.
Get a contract
It's important to get some sort of written contract or invoice from the contractor. Make sure that you cover everything. In a window project, you'll want to make sure that the quote covers:
Repairing / replacing any exterior material like your siding or brick.
Interior trim — I recommend showing them another window in your home that you want the trim to look like so that they can give you an appropriate price. Some trim work is more labor-intensive than others and this can affect the price.
Payment terms — when do they need payment? I'd recommend giving them half down, and holding the other half until you are completely satisfied with the project. For example, if they are ready to leave, but didn't finish the trim work, or did some damage to your drywall / plaster when they cut, you'll want to make sure you address this before handing over the final payment. This is fair to the contractor as well– they won't be called back to the jobsite after the fact to fix something that was just overlooked.
Warranty information — usually there's different warranty times / coverage for the labor and the actual window. So, if your wall starts leaking or the seal breaks, you'll need to refer to the labor warranty. If the window cracks or gets condensation inside, this is likely to be a defect in the window itself, which can be under a different warranty.
Don't decide just on the bid price
It's easy to think that getting three quotes means that you will automatically pick the cheapest one. But… you really shouldn't. I always judge contractors by the free estimate meetings I have with them.
Does the contractor seem like they are interested in your project?
Was the contractor able to confidently answer all of your questions?
Did the contractor offer you multiple options (cheaper vs. more expensive ways to get the job done)?
Are you comfortable with the contractor being in your home? What about when you aren't there to supervise?
Honestly, I go with my gut when the prices are close. If I liked one contractor's personality over another, I will 9 times out of 10 choose that contractor.
So… if there are any contractors reading this… be respectful, personable, friendly, and helpful during the estimate. I am always grateful for that and am always surprised at how many contractors are rude to me…
…because I'm a woman.
…because they are tired or overwhelmed with work.
…because I don't know specifics about their specialty that they somehow "expect" me to know.
Customer service is really important to me, and it should be to you as well.
Don't forget to grab my super handy project planner worksheets for all of your DIY project needs! Check out the video to see how I use them.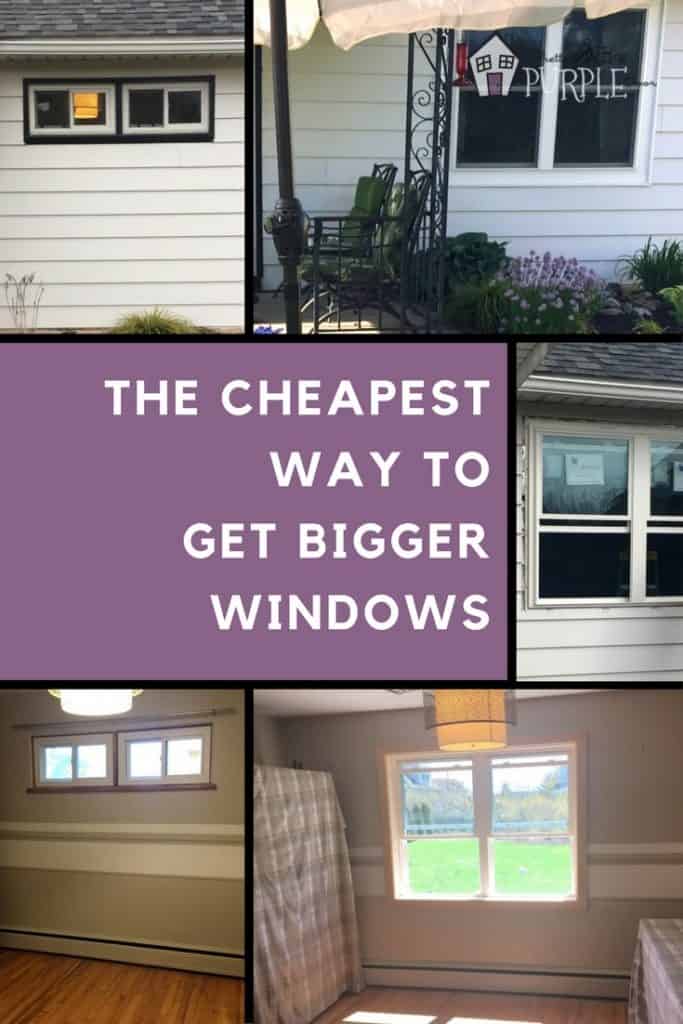 Wrapping Up
So, today we've learned that the cheapest way to get your windows enlarged is the cut-down option, which means enlarging the window downward vertically on the wall.
We also learned that this can be about $1000, plus the cost of window so it's actually not THAT cheap. But, it's about half the price the alternative. Enlarging or cutting-up a window involves getting a permit and adjusting the header and studs, which affect the structural integrity of your home.
I also included a few tips for working with contractors on your window project. Ask around to get some referrals. Sometimes the best option is to choose someone based on the recommendation of a trusted family member, friend or neighbor.
Even if you are really happy with a referral, you should still get three quotes with line-item estimates. It's just good practice to do so to make sure that you are paying the appropriate price. Paying too little can be just as bad (if not worse) than paying too much. You don't want to regret your decision when the damage is already done.
In addition, make sure you ask about extra things like repairing/replacing exterior brick or siding, finishing off the trim (inside and outside) and ensuring that the window selection and finish work will match the other windows in your home.
Don't forget to discuss payment terms and warranty information, too!
Lastly, trust your gut. Don't always go for the cheapest bid. Consider other factors like… Was the contractor friendly? Did he/she make you feel comfortable?
Developing relationships with contractors is an important part of being a home owner… you never know when you may need their services again so take the time to find a good one!
I'm interested in knowing if anyone else has had a cut-down window enlargement project done. Comment below if you would like to share the price of your project so that we can see what it would cost in different areas other than the Northeast Pennsylvania region. Thanks for reading and as always let me know if you have any questions.
-Amy
More Posts You'll Love
7 tips for choosing the RIGHT plants
This FREE guide has 7 key questions to help you pick the perfect plants for your landscape. Pop in your email below for instant access.