Please note: I may earn commissions from qualifying purchases if you shop through links on this page. More info.
Facebook Gardening Groups – the Good, the Bad & the Ugly
Facebook gardening groups are a great way to learn more about gardening, share your ideas and get some advice on your latest landscape project. But, these groups are not the be all end all of gardening advice.
So how can you get the most of these groups? And, how do you avoid the inevitable overwhelm that will happen if you aren't quite ready to crowd source for ideas.
If you'd prefer, you can just watch the video below to hear me talk about this instead!
Subscribe to my YouTube channel for more gardening videos!
Facebook gardening groups sharing and crowd-sourcing gardening ideas… it's all the rage right now.
This is a topic that I'm surprisingly passionate about. I'm in a lot of these public Facebook groups and I just wanted to talk a little bit about why these groups are probably not a good idea for beginner gardeners.
At PrettyPurpleDoor.com I help beginner gardeners create landscapes that are uniquely you. I have diploma in garden design and maintenance and I'm also a professional graphic designer and I teach garden design online through my four season garden design course.
Why gardening forums can be bad
I actually really love public gardening groups on Facebook, reddit and other forums because I get to see other people's gardens, chat about ideas and talk all things gardening. But, what I see far too often are beginners posting their "blank slate" landscapes and crowd sourcing for generic advice about their yard.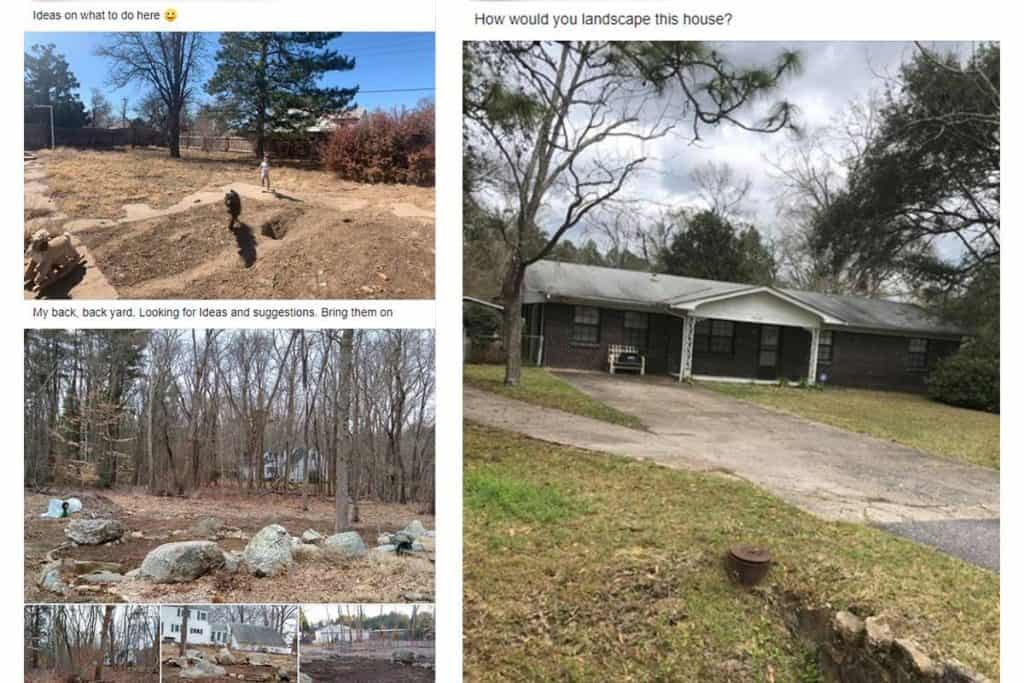 This drives me insane!
There's a common thread among the screenshots above: there's basically ZERO information.
It's just a picture of the person's landscape. You have no idea where this person lives. You don't know what their style is, you don't know what their goals are for their garden.
This is really common in gardening groups I am in. What's equally as common is people giving incorrect information in the comments. To keep yourself out of trouble you should understand:
not every person leaving a comment is an expert… in fact… 99% of them aren't.
many people will give you advice even if they don't know what they're talking about.
getting 100 ideas on what to do when you're already feeling overwhelmed is just going to make your situation worse.
Maybe some of the ideas and the comments you get are really good. I'm not saying that there aren't valuable comments in these groups. But more often than not there are better ways you can go about landscaping from scratch that doesn't involve crowd-sourcing a bunch of strangers with no credentials. So let's get into what can do instead because I really don't want to see anybody get bad advice and then spend a lot of money and a lot of time on these avoidable mistakes.
Good questions to ask in Facebook gardening groups
I thought I'd send you off with some really great questions you can ask in gardening groups. Or, how to get the best advice from the people in the group so that you can gain clarity about your project rather than being overwhelmed by a bunch of contradicting responses.
Here are some really great questions you can ask. They all have a common theme: specificity. Being specific in your post is the most important thing you can do. When you are specific… you will be more likely to gain the attention of a professional that knows what their talking about. I won't answer questions in groups if there's not enough information for me to provide any expertise… and I know I'm not alone in that.
You know who WILL answer? Roy…
Roy loves to sit on Facebook and tell other people how much he loves his hostas and post a million pictures of his hostas. It doesn't matter what you ask, Roy will always be recommending hostas as a solution… even if your yard is full sun and you live in the deep south where hostas won't grow.
So… be careful for the "Roys" out there.
Ask a specific question. Only ask ONE question at a time. Provide a photo and also give the group information about the conditions, your location and the outcome you desire. This is the only way you'll get me to answer you :).
Here are some great posts I've seen recently in gardening groups so you have a few ideas.
The best Facebook groups to join if you love to garden
Now that you know the right types of questions to ask, I wanted to share some of my favorite public Facebook groups. If you are beyond that initial "starting from scratch" stage of your landscaping project, check out one (or many) of these great Facebook communities filled with passionate and friendly gardeners:
| | | | |
| --- | --- | --- | --- |
| Group Name | Description | Members* | Posts/Day* |
| Gardening, landscaping, decor and design tips | The title of the group pretty much says it all here. Learn how to garden, how to landscape, how to care for your houseplants, get helpful hints, tips and ideas. Most of the posts in this group are photos of other members' gardens along with many questions from gardeners who are stuck on a particular project or trying to identify the right plant or the right decor for their space. | 60K | |
| Show Me Your Plants Garden And Yard | This group is filled with photos of members' gardens and also a lot of humorous gardening posts. Anyone in the group is welcome to share their plants, garden pics or flower pics. | 35K | |
| DIY Garden and Landsape | A social group encompassing all things DIY gardening and landscape. Contribute cool finds, finished projects, planting tips, ideas and support. | 3K | |
| DIY gardening ideas | This is a nice group where members can post any DIY gardening ideas and talk with other gardeners. | 20K | 35 |
| The frugal weekend gardener | Creative ideas for the garden that don't cost a lot of money or take a lot of time. Everyone in the group is welcome to share their "frugal" gardening ideas. | 2K | low |
| Garden Answer Groupies | Filled with amaetuer gardens who love the Garden Answer website/YouTube channel. This is a nice place to share your garden projects, ask for help, IDs and have plain old fun with like-minded gardening friends! | 80K | 600 |
| Gardening for Beginners | The group owner is a complete newbie to the world of gardening and started this group so other beginners could share what their learning and all progress together. | 130K | 500 |
| Creative Gardening | A fun gardening group where members share creative tips, suggestions and ideas for your home garden. | 100K | 8,000 |
| Square Foot Gardening | If you're interested in vegetable gardening in small spaces, this is the gardening group for you! | 50K | 150 |
| PPD – 4 Season Gardeners | I'd be doing you a disservice if I didn't mention my very own Facebook group! But– my group is a private members only group for those who have taken my 4-season garden design course. So, if you're interested in becoming a member of this great community, you'll have to take my course first! Or, you can head over to the Pretty Purple Door Facebook page to enjoy some of my funny gardening memes and entertaining gardening posts. It's not a group but it's still pretty fun! | small and private | N/A |
*Total members and posts/day change all the time. These are estimates taken at the time of writing this post.
Wrapping Up
If you're just starting your landscape from scratch and you're expecting to find a landscape designer to give you advice and draw you free plans in a public Facebook group, you're going to be disappointed. I don't know why someone would expect that from a free group.
In my opinion, there are two paths you can take to get your dream garden… and neither of these paths involve crowdsourcing on Facebook. You either need to
hire a professional and pay them for their work, or,
take a DIY approach to landscaping your yard from scratch.
Choosing #2 means you'll have to take the time to understand all the pieces that go into your landscape and how to make it unique, creative and show off your personality.
But don't worry! I really believe that any home gardener CAN do this yourself and have a lot of success with creating your own garden from scratch by yourself with your own ideas.
If this sounds like something you'd be interested in, I invite you to take my free video masterclass training that covers the 3 biggest mistakes that home gardeners make that prevent them from getting their dream garden. It's completely free and will really energize you to start this process off on the right foot!
We also talked about how public Facebook groups can be a really great source of ideas, inspiration and community for any home gardener. But, you have to ask the RIGHT questions to get any value from them. So, before you post, make sure that you're including really specific information and that you're only asking one question in your posts. This will attract the best group members to reply to your question.
What is your experience with Facebook gardening groups? Love them? Hate them? Never even tried them? I'd love to hear what you think!
More gardening posts you'll love