Please note: I may earn commissions from qualifying purchases if you shop through links on this page. More info.
10 Fall Flower Containers With a Unique Twist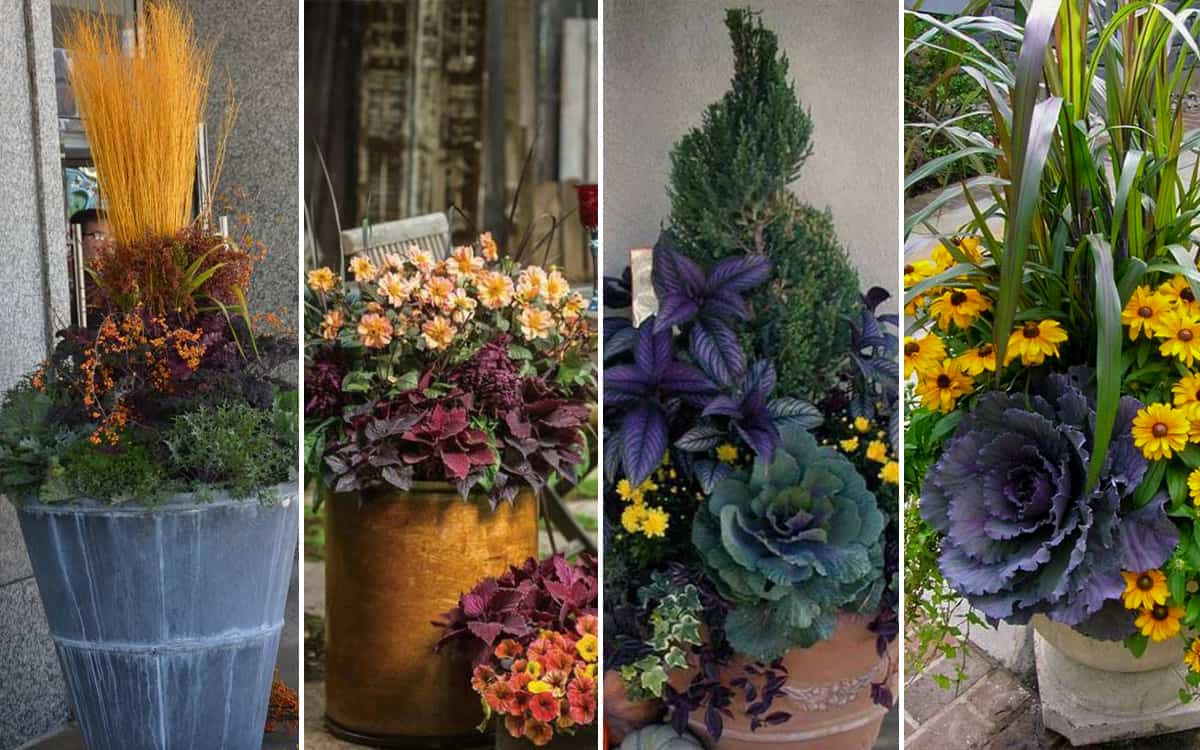 Nothing beats an autumn garden. And one of my most favorite things about this season is creating fall flower containers filled with rich colors, tons of texture and, of course, a unique twist.
In my opinion, fall containers are a chance to go wild in your garden. And because of the season there are so many other options you can use than JUST flowers. So, it's a great opportunity to try your hand at creating your own container rather than buying a pre-arranged fall flower container from the nursery.
Step out of the ordinary with these unique and creative fall flower containers. Get your wheels spinning and your mind racing with unique plant combination ideas for container gardens.
Plant Combination Ideas for Container Gardens
Below are some of my favorite containers this year. These all really inspired me to create my own container arrangement this year.
This year, I'm particularly inspired by the contrast of deep, dark foliage with bright, intense blooms. I'm also loving anything "edible" added to my containers… like ornamental peppers, cabbage, kale and anything else. And last, I really like the use of urns or older, upcycled planting containers. I saw many examples where the color of the container was echoed in the color of the plants used within the container, which I think is a really great tip.
Quick Tip: Learn how to arrange plants in containers in this article, complete with a step by step video.
For the record, I made up all of the titles for these containers based on what I was seeing.
Spicy Dark Purple & Orange Fall Container with Ornamental Peppers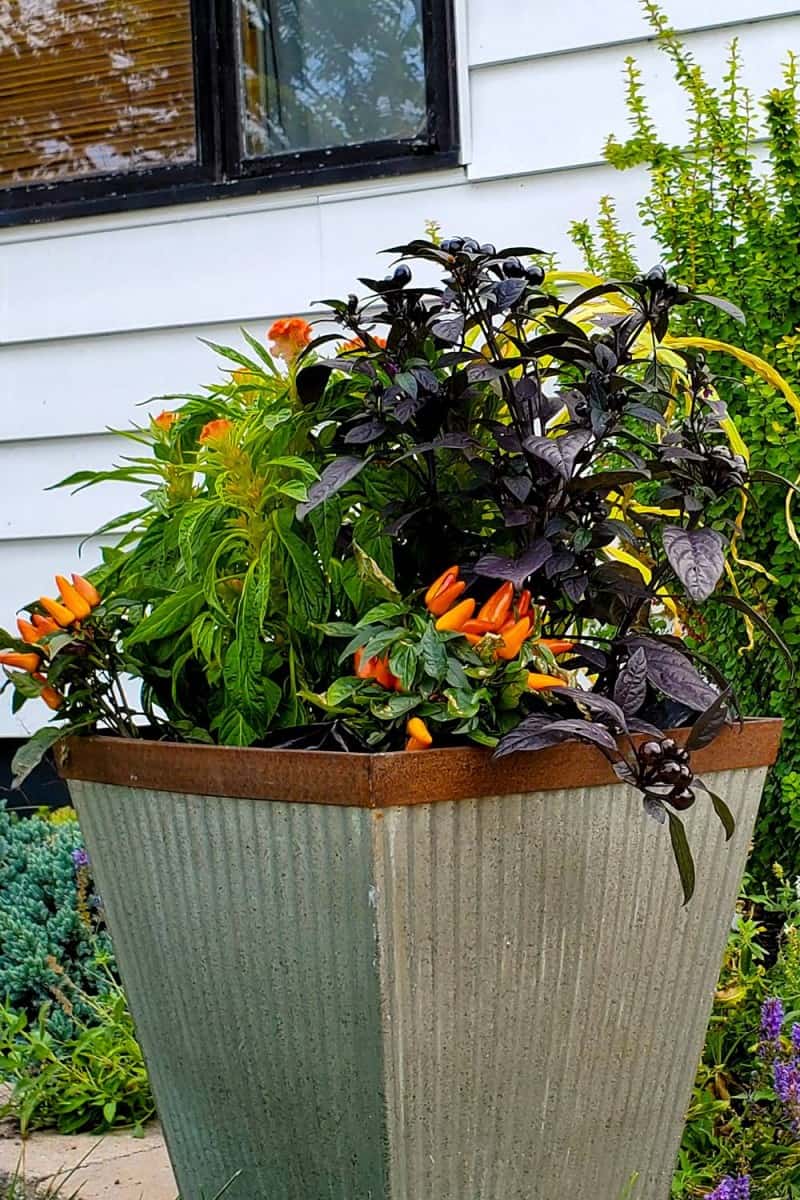 This is my container arrangement for this autumn. I was really inspired by the dark purple, almost black foliage and round bulb-like peppers on this black pearl ornamental pepper bush and the whole design just revealed itself from there. If you really like this container, check out my YouTube video where I plant this up and explain why I chose these particular plants in my fall flower container.
Black pearl ornamental pepper Capsicum annuum black pearl
Celosia twisted Orange Cockscomb Celosia argentea var. cristata 'Twisted Orange'
Mambo ornamental pepper bush Capsicum annuum Mambo
Millet Jade princess Pennisetum glaucum 'Jade Princess'
Rich & Rusty Fall Container Design
This container arrangement is just… so… rich. I love the short and tall galvanized metal containers and how they play off the orange flowers. What a perfectly saturated and beautiful design perfect for fall.
I don't have the actual flower names for this arrangement but here are my best guesses/options that you can try to get this look.
Endless orange evening primrose Oenothera versicolor 'Endless Orange'
Orange Zest Garden Mum Chrysanthemum grandiflorum
Main Street 'Beale Street' Coleus
Dark Star Coleus
Purple Fountain Grass Pennisetum setaceum 'Rubrum'
Grape Expectations Coral Bells Heuchera 'Grape Expectations'
Sunshine with an edible twist
I love the unique twist of this planter filled with bright and sunny brown-eyed susans (or maybe Heliopsis, 'Tuscan Sun'?) offset by the texture of the deep purple ornamental cabbage.
Although this is a simple arrangement, this design still includes a little filler and spiller to give it height and personality.
Purple and Lavender Curly Cue Container
This is just a gorgeous monochromatic and easy to emulate fall container design using deep purple cabbages and lavender eucalyptus. You can get the look of the white "curly cues" (as I like to call them) using dyed birch branches.
I love the advice given by garden designer Deborah Silver, about using ornamental cabbage in fall planters. She says, "Ornamental cabbages and kales can be had of considerable size; I like my fall pots stuffed to overflowing.   Buy big. Stuff as many plants as you can manage into your pots. The fall is fleeting-do not be late to the concert."
What Blooms with What?
Never know what to plant together? Find out with this FREE Plant Pairing Guide and become a pro at combining plants for the best garden design possible!
Hairs on Fire Fall Container
Really love so many of Deborah Silver's container arrangements, so here's another one.
The dried and dyed yellow twigs provide lots of color at a time of year when color is at a premium. Preserved eucalyptus is another great source of color. The plum eucalyptus in this arrangement is subtle, but it picks up the dark carmine pink of the cabbage and kale. "I like fall represented as a celebration," she says.
I love how the vibrant orange-yellow twigs play off the orange of the bittersweet. This is just accentuated by the dark folate of the eucalyptus, cabbage and kale.
Bittersweet is a beautiful plant for container arrangements, although due to its highly invasive nature, I would definitely not plant bittersweet free in the garden.
Layered Peach Cobbler Fall Container Design
I love the purple fountain grass in this fall flower container paired with orange and yellow plants. This is a great container to try for the transition from late summer into fall because it gives that "hint" of autumn without being too overbearing about it (if you know what I mean).
Plus, the purple fountain grass will last all the way through November and looks great when grouped with pumpkins and gourds too. To get this look, try:
ColorBlaze® Sedona Sunset® Coleus Solenostemon scutellarioides
Purple Fountain Grass Pennisetum setaceum 'Rubrum'
Superbells® 'Peach' Calibrachoa hybrid
Carve out a Mumkin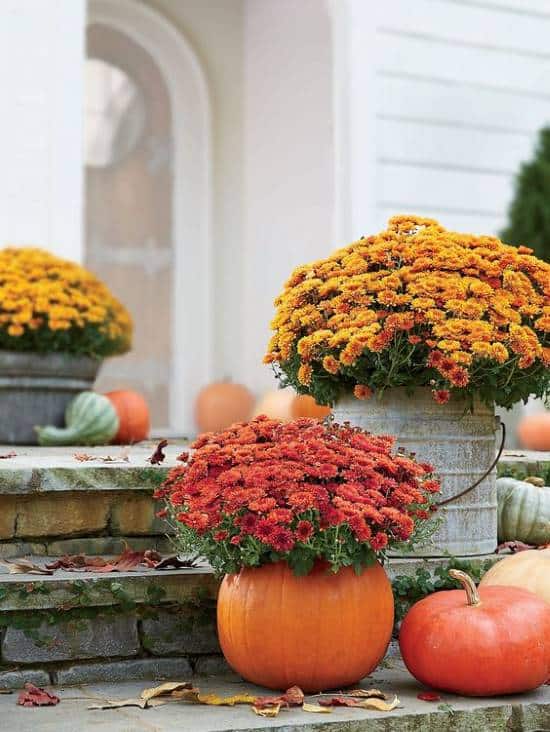 What do you get when you combine the fun of a pumpkin with the beauty of a mum? A "mumkin," of course! You can also fill up your smaller gourds with containers of pansies to add to the ensemble..
This mumkin wins a place on my list because of it's simplicity and unique twist. Just carve out a pumpkin and fill it with your mums (leave them in the container). So cute and creative. I especially love the "salsa" colors in this particular silhouette.
Monochromatic Minimal Fall Urn
This is an interesting fall container design. It feels so light and fresh but it would work great for the fall season. Cabbage, gourds and greenery all in neutral tones offer zero blooms but I can't seem to look away from its beauty.
Crunchy Cabbage Urn
Wow! Look at the texture in this crunchy head of cabbage in this gorgeous weathered urn. I just want to quietly tear a tiny little piece off and taste this fresh cabbage. Do you think anyone would notice?
This is a really great container design for fall. It's so cheap and simple to do and uses an old urn as a planter. I love the deep dark hunter green the on the edges combined with the bright, fresh summer green center. Another great "transition" container from summer to fall. Add some gourds, like the one on the table, for yet another texture. Done and done.
Sunshine Peeking Fall Container Design
Last but not least is this really interesting combination for your fall container. I just LOVE the yellow blooms peeking out from underneath the deep dark purple foliage, don't you? A twisted topiary evergreen anchors this container that elegantly combines Persian shield (Strobilanthes dyerianus), yellow mums, cabbage and ivy into a masterpiece of form, texture and color.
Wrapping Up
Fall is a great time to experiment with your containers and really flex your creative muscles. I hope that these fall container designs gave you some inspiration to think outside the box this year. Since the fall container season is short, be brave and try something new and different!
Be sure to follow Pretty Purple Door on Facebook so you can share your container arrangements and ask questions, too. Can't wait to see you over there!
-Amy
More Gardening Posts You'll Love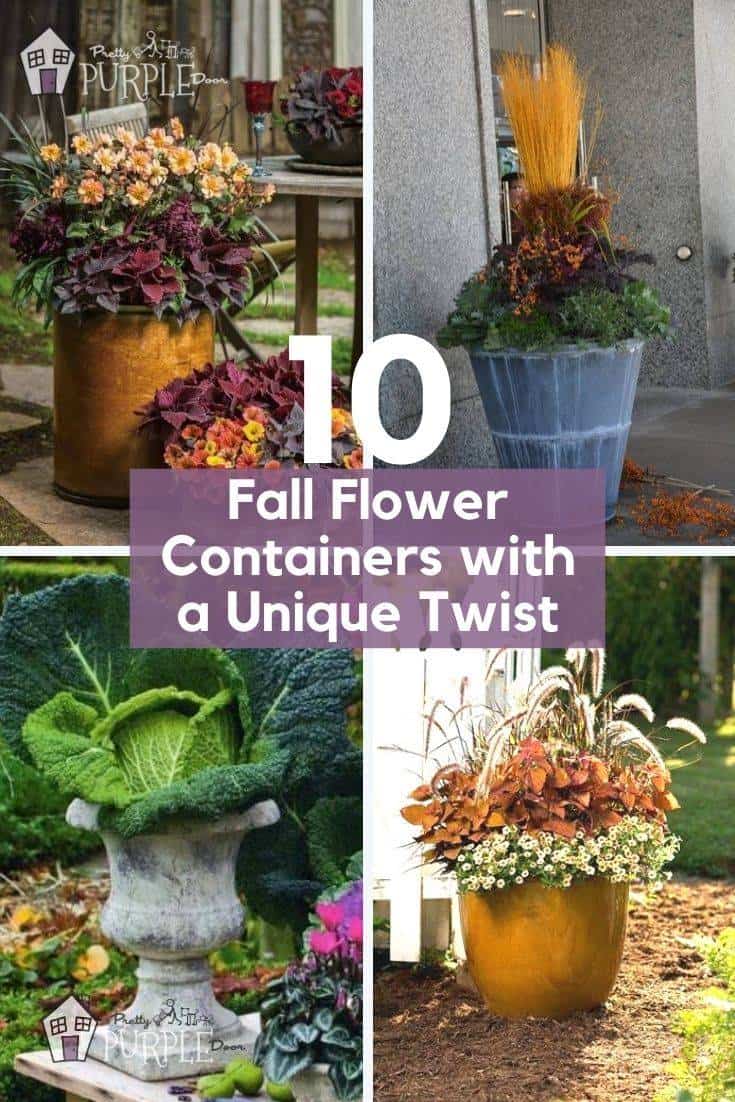 What Blooms with What?
Never know what to plant together? Find out with this FREE Plant Pairing Guide and become a pro at combining plants for the best garden design possible!
Amy is the founder of Pretty Purple Door and has been a garden designer since 2014 and graphic designer since 2005. She helps home gardeners design their own beautiful landscapes that are colorful in all four seasons, show off your personality and suit your lifestyle. Amy's work has been featured in publications like The Spruce, Family Handyman, Buzzfeed, Country Living Magazine and more. Read full bio.