Please note: I may earn commissions from qualifying purchases if you shop through links on this page. More info.
Non-Cheesy Faux Aged Brick – How To Make New Bricks Look Old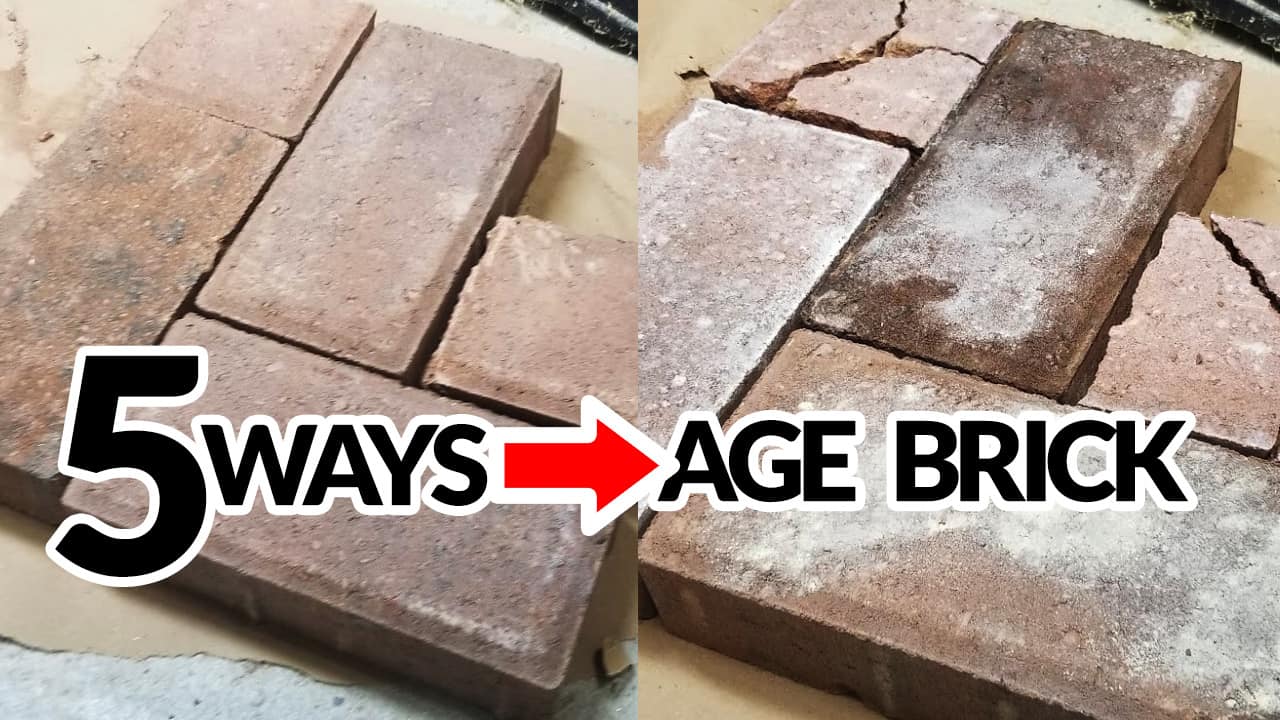 In this post, we'll explore different techniques to quickly make new bricks look old/reclaimed/antiqued for the most realistic faux aged brick look.
Over the summer I took on a new landscaping project to create a circular brick patio in my backyard. I wanted the patio to not only have a cool, mosaic look to it, but I also wanted to it look old… as if it has always been there.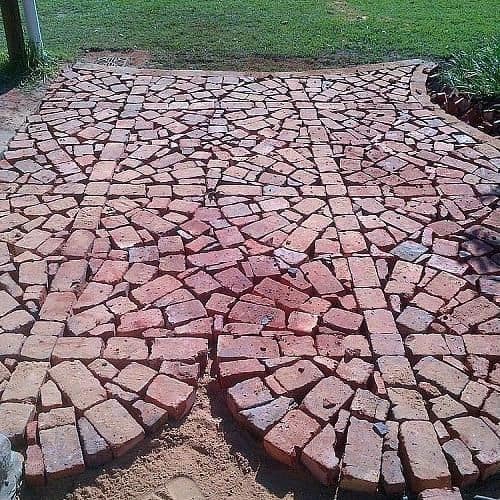 Problems with using reclaimed bricks
While you could source reclaimed brick on Craigslist, what I don't particularly like about old brick is the structural integrity. A lot of times these older, aged bricks are crumbling and may not hold up to the elements as well as a new brick. Reclaimed brick can also be a lot more expensive. If you're doing a large area, the cost per brick can add up quickly.
Problems with faux aging new bricks to make them look old
But, new brick kind of stinks too. You could find some unique new bricks but it's typically special order and costs a lot of money. So I decided to buy the cheapest new bricks I could find and experiment with some faux aged brick techniques. By staining and whitewashing the new brick, I could have that antique brick look for my circular patio while starting with a structurally sound foundation.
Achieving a non-cheesy faux aged brick look
The trick to this project is to make new bricks look old without looking cheesy or cheap. And while I hate the word "faux" making something look like something its not is pretty much what I'm doing here. Except… it looks very realistic!
In this video I'll show you five different ways you can achieve a realistic faux brick look quickly, without spending a ton of money or sacrificing the structural integrity of your patio, walkway or wall!
Materials you need for faux aging your brick
Paint brushes – I use sponge brushes and chip brushes but you can use whatever you have handy
Acrylic paint – I used one part white acrylic paint mixed with 4 parts water to get a whitewashed effect
Wood Stain – Some colors I like to use are
Paper towels, water, gloves
New bricks – mine were 25 cents each (on sale) and I had them delivered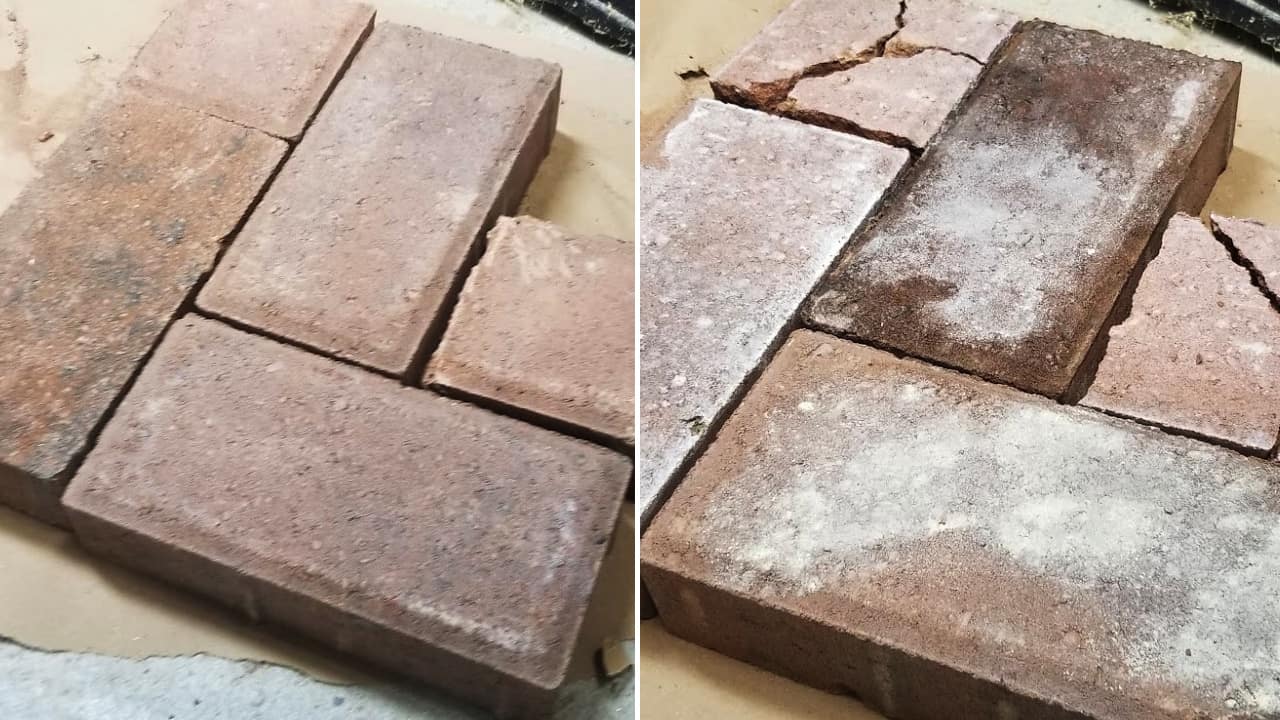 How to make new bricks look old (step by step)
Once you gather your materials and have your new bricks, you'll want to practice before you start. If you don't have much extra brick, you can flip the bricks over and experiment on the underside of the bricks.
Use your paintbrush and lightly dip into the stain or paint. Using different types of paintbrushes, like sponge brushes or chip brushes will give you different effects. Experiment with different brush strokes and techniques to get the look you're going for.
You can pat the stain or paint dry in between coats. I like to reapply the color several times to get the intensity I'm going for. I also like to layer one color on top of the other.
This is much easier to understand when you watch the video!
If you are having trouble getting this to look and feel natural, I'd highly recommend finding an inspiration photo that you can use to guide you. Look at the photo and try to copy the effects you see in the actual aged brick.
Quick Tip: There are lots of ideas in my Garden Paths and Walkways Pinterest Board that you can use for your own inspiration.
What Blooms with What?
Never know what to plant together? Find out with this FREE Plant Pairing Guide and become a pro at combining plants for the best garden design possible!
Top tips for creating faux aged brick
Here are some tips that you can use to make sure that you're bricks look realistic!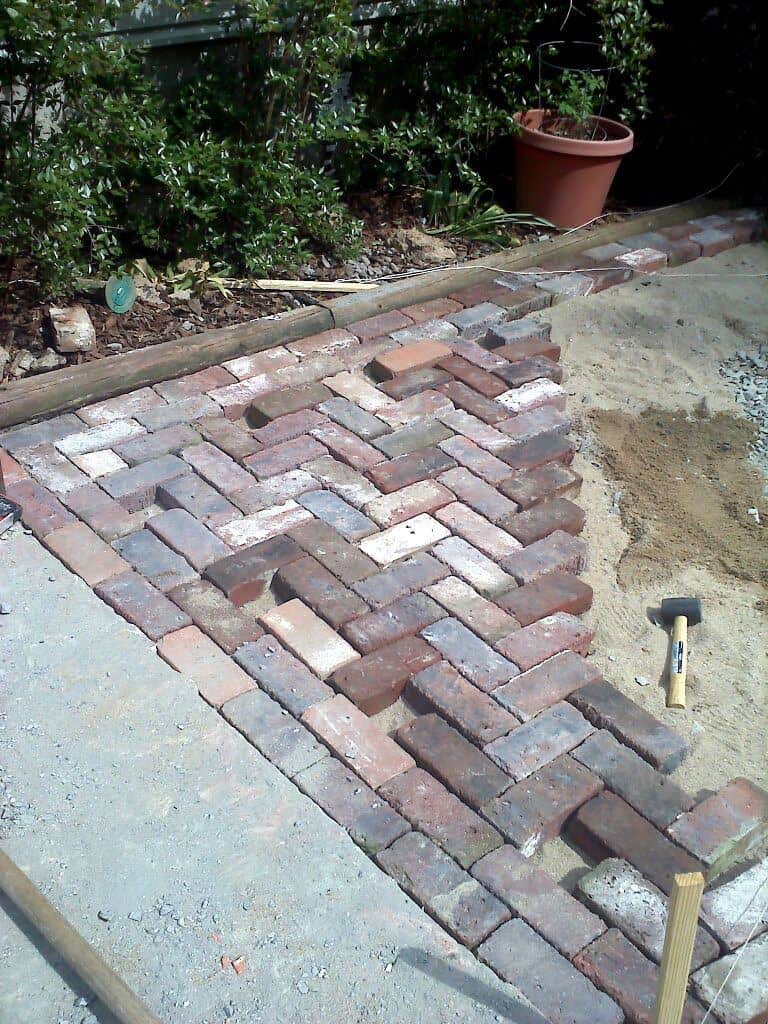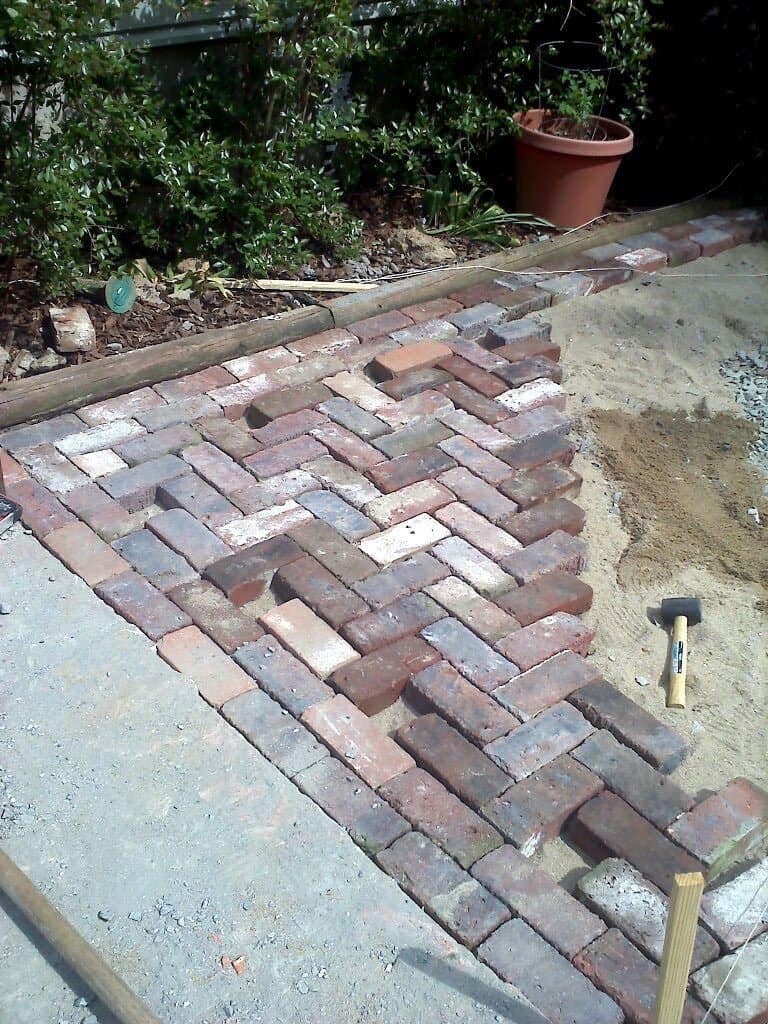 Find an aged brick inspiration photo
Go online and research different reclaimed brick or aged brick photos to find something you like. There are tons of different options — from color variation to pattern to size of the brick. Finding that "dream" photo will help you to determine how much "aging" you should do on the brick.
Remember to check out my Garden Paths and Walkways Pinterest Board for some inspiration photos.
Buy extra bricks to experiment with
With any kind of tile or brick project I always recommend getting at least 10% more than you need. For this faux aged brick project, you may want to exceed that 10% extra. That way you'll have a bunch of extra bricks that you can practice on.
Practice your aging techniques on the bottoms of the bricks
If you don't have the budget to get extra bricks, you can always flip the bricks over and practice on the bottoms of the bricks. When you are satisfied with your work, just flip the bricks over and apply the technique to the tops of the bricks.
Apply the stain/paint lightly
I like to do multiple coats of the stain or paint in order to get the desired antique look. Don't use a heavy hand because it's much easier to add more and build up your layers than to put on too much paint or stain and try to take it off.
In the video (5:30) I'll show you how difficult it is to remove unwanted color from the brick and how you can (kind of) fix it if this happens to you.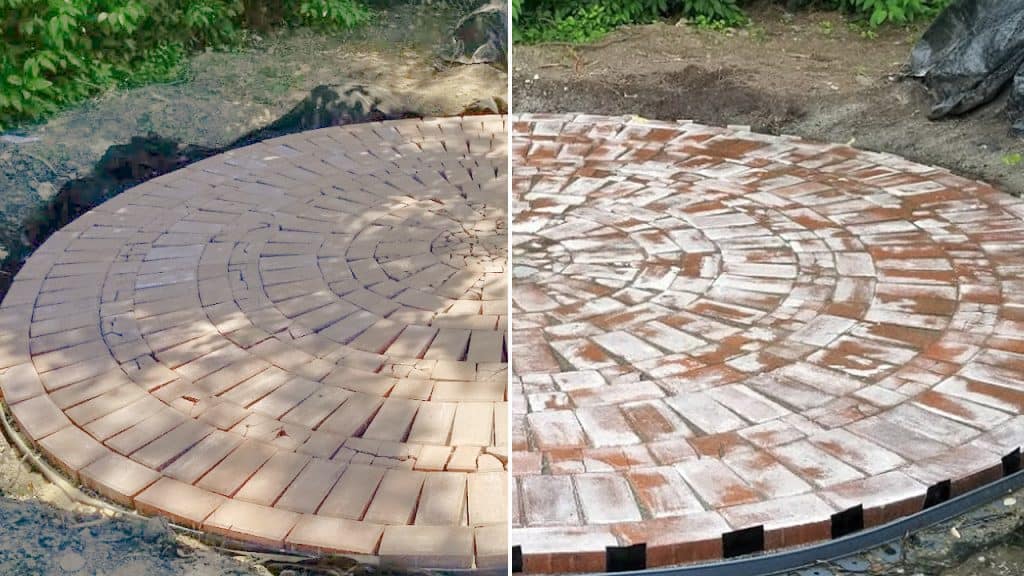 Install the brick first, then age the brick
This is a big one. If you age all of your bricks using the techniques from the video, then you install the brick walkway, patio, wall, etc., it's going to be difficult and may not look that natural.
I would recommend installing the brick first. Once it's in place, use your inspiration photo to age your bricks in place. It will look more natural this way.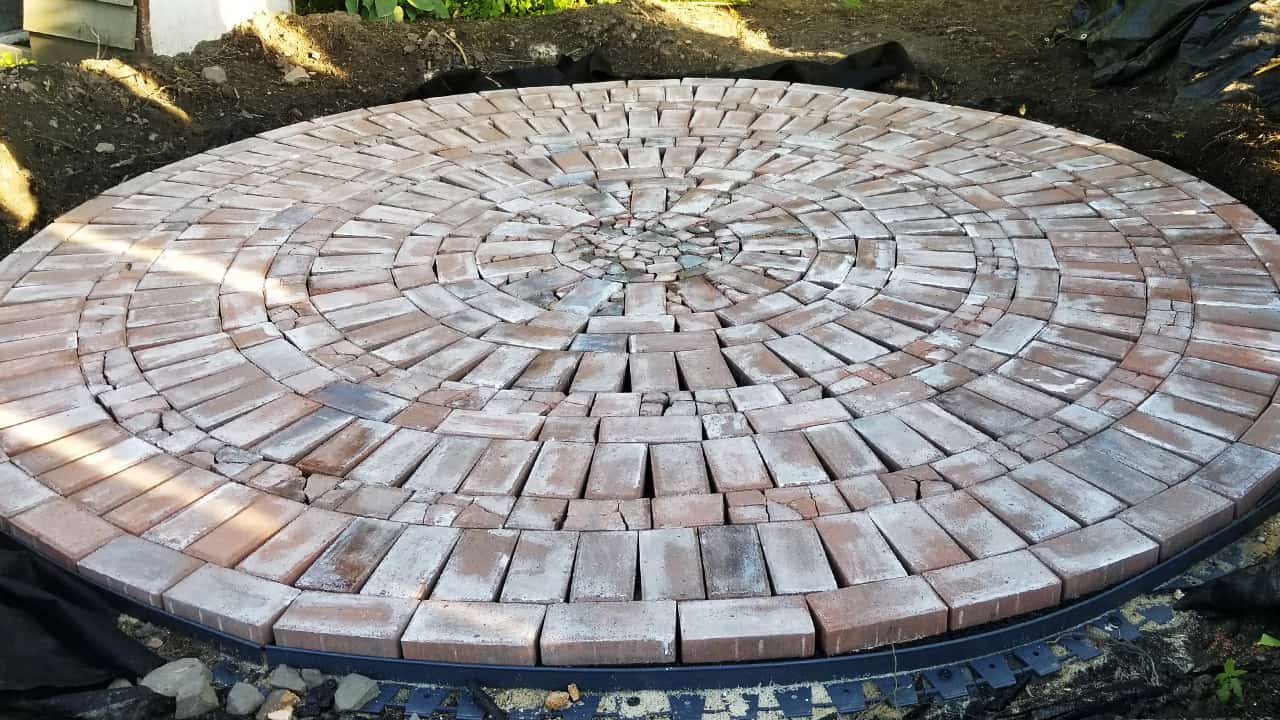 Make your own stains
If you don't want to go out and buy new stains, you can also try using 1 part acrylic paint mixed with 4 parts water. This will give you a stain-like appearance on the brick. Valspar Clear Mixing Glaze mixed with acrylic paint is also a great way to make custom stains.
Quick Tip: If you want to learn more about creating your own stains, check out my post, Staining Wood Any Paint Color You Want.
Wrapping Up
There you have it; 5 different techniques that you can try to age your bricks. My favorite technique is using Whitewash pickling stain by Mixwax. You can also try grays, browns and tans to achieve the effect you're looking for. If you have some acrylic paint handy, you can also try mixing 1 part paint with 4 parts water to create your own custom stains.
Search online for an inspiration photo of a reclaimed brick installation that you like. Use this as your guide as you work on the aging techniques. Remember to practice first. You can buy extra brick or experiment on the back of the bricks. And, I would highly recommend installing the brick FIRST. If you age the brick in place using your inspiration photo as a guide, you'll get a more natural look.
What Blooms with What?
Never know what to plant together? Find out with this FREE Plant Pairing Guide and become a pro at combining plants for the best garden design possible!
Amy is the founder of Pretty Purple Door and has been a garden designer since 2014 and graphic designer since 2005. She helps home gardeners design their own beautiful landscapes that are colorful in all four seasons, show off your personality and suit your lifestyle. Amy's work has been featured in publications like The Spruce, Family Handyman, Buzzfeed, Country Living Magazine and more. Read full bio.