Please note: I may earn commissions from qualifying purchases if you shop through links on this page. More info.
Filing Cabinet Makeover – From Rusty Hunk to Floral Masterpiece
Filing cabinets are a dime a dozen at flea markets. I found this yellow and orange military cabinet for less than $40 and I just couldn't pass it up. There's loads of storage and I thought it would be perfect for storing all of my gardening tools in my shed. In this filing cabinet makeover, learn how you can turn your rusty hunk of junk into a gorgeous floral garden storage masterpiece, DIY style.
Supplies
Sandpaper: I used 80 grit because that's what I had on hand.
Primer: I used 6 cans of Rustoleum Rust Reformer Spray Paint.
Paint: I used various colors of Chalk Paint for this project, including:
Sealer: Polyurethane or Mod Podge should do the trick, here. I like Minwax Polycrylic in Clear Matte and Mod Podge Matte. You can also use colored furniture wax, although it's not recommended if you'll be applying transfers.
Transfers: I really like all of the Iron Orchid Designs (IOD) transfers; some of them are available on Amazon, like these birds and butterflies. The two transfer styles I used for this filing cabinet makeover were IOD Wander and IOD Woodland Christmas. You can find a list of stores that sell them on the IOD website.
Scissors: to cut the transfers.
Cleaning Supplies: Rags, paper towels, cleaner (I used dish soap to cut the grease), etc.
1. Prep the Filing Cabinet
Clean
The first step is to clean up the filing cabinet. I used some dish soap and water to get most of the dirt and greasy grime off. Any cleaner you have on hand is probably fine for this step. Just get all of the crust and sticky junk off 😂.
Sand
After the filing cabinet was clean and dry, I used some 80 grit sandpaper to "rough up" the surface of the metal. This will help you remove any rough patches and burrs that may be on the metal. It will also give your primer and paint a surface to grip to so that your cabinet will last for years to come. Be sure to go over the rusty areas if you have any on your piece.
My filing cabinet was in pretty rough shape, to be honest. I did some hand-sanding and I also took out my orbit sander to make the work a bit quicker. It's not necessary to do this, but I did. If you're interested, I'd recommend the Dewalt Variable Speed Random Orbit Sander (for the people who always ask what tool I'm using). I really like it.
Remove and Number the Drawers
Once your cabinet is sanded, it's a good idea to number your drawers before you remove them. Since the cabinet is pretty old, it will likely be much easier putting the drawers back in the place they came from. And, if you don't label them now it's going to mess with the beautiful "gradient" effect.
Ok, now go ahead and remove the drawers and number each drawer as you go. I just wrote numbers onto pieces of painters tape. I stuck the tape onto the bottom of the drawers. I also stuck the corresponding number to the inside back of the cabinet (where the drawer will go). I knew a few weeks later that I'd forget if 1 was the top drawer or the bottom drawer and how I numbered the whole thing… this saved me the headache later.
Remove or "Tape Off" the Hardware (optional)
You can remove the drawer hardware if you'd like to. Or, you can tape off the hardware with painters tape so that it doesn't get covered with paint.
I've also seen others paint right over the hardware with chalk paint so it blends in… so that's definitely an option, too. Just make sure the hardware is cleaned and primed before you paint over it, just like the rest of the piece.
Clean Hardware (kind of optional)
I really liked the brass hardware so I ended up removing the handles and cleaning them up. I soaked my hardware overnight in a mixture of 1/4 cup vinegar and 1 teaspoon of salt (a tip I found here). In the morning, I rinsed off the hardware and rubbed it with an old rag. Lots of black junk showed up on the rag, which made me feel very accomplished like I got some real good cleaning done… try it! A metal polish like Brasso will also work.
What Blooms with What?
Never know what to plant together? Find out with this FREE Plant Pairing Guide and become a pro at combining plants for the best garden design possible!
2. Prime the Filing Cabinet
Because my cabinet was full of rust, I chose to prime the entire piece with Rustoleum Rust Reformer (Amazon link). This product acts as a primer and also converts any rust to a protected, paintable surface! Pretty neat stuff. If your filing cabinet is not rusty, you may not need this particular product. Just grab any primer that will work for metal surfaces (like this one).
Spray the entire piece just like you would any other spray paint. I paid careful attention to the rusty areas and gave those parts multiple coats of primer to be sure the rust was completely covered.
I used about 6 cans of Rust Reformer for this large filing cabinet… which was more than I had planned for (I thought it would take about 4). So, keep that in mind when you're purchasing.
3. Paint the Filing Cabinet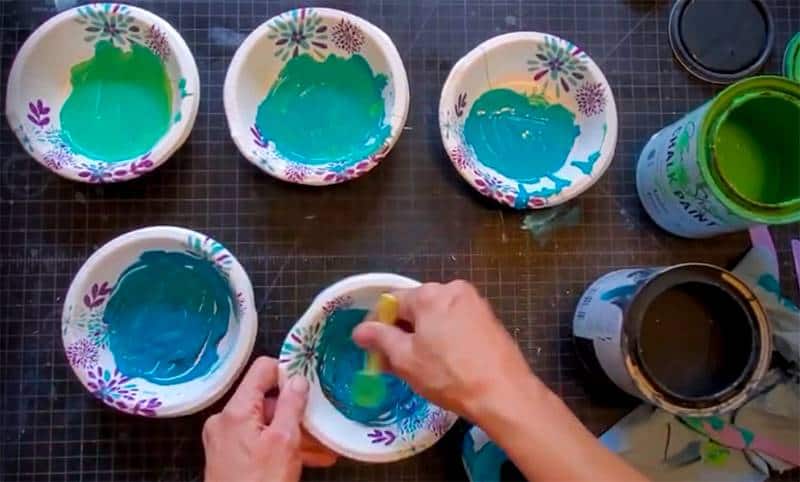 Next is the fun part; painting the filing cabinet. I just love chalk paint of any kind because it leaves a beautiful matte surface and it covers soooo well. I used a few different colors of chalk paint to make a "gradient" effect on my filing cabinet. Each drawer got a slightly different color of paint by mixing 3 different colors together:
These were colors I already had available from other projects around the house. You can really use any colors you like. Or just one single color will do, too. If you don't have any on hand, you can also make your own chalk paint out of regular latex paint! You just need a few ingredients… and it's a great way to use up old house paint you may have laying around!
I poured my paints into different bowls and mixed various shades of colors together so that they went from a green to a darker blue-green at the bottom. Then, I painted each drawer using a different color.
When I painted the frame of the filing cabinet, I used the same technique for a gradient but started one shade darker to add a little more contrast. The sides of the cabinet were all painted with whatever colors were left. I just overlapped the colors to create neat patterns.
If you're new to chalk paint, depending on the brand the paint will cover differently. Most chalk paints have very good coverage and may only need one coat. Most will need 2 coats. The great thing is that it dries very quickly and I was able to apply the second coat by the time I was finished with the first coat.
Did you know that you can also make your own chalk paint from leftover house paint? Check out my chalk paint recipe here!
To add more dimension, you can use furniture wax to antique the piece (see next step for details). Another thing you can try is mixing up a darker or lighter of chalk paint and applying it with a sponge or chip brush. This worked very well on my piece because there were dings and bumps all over the filing cabinet. Lightly brushing over those areas with a different color gave the paint a layered look that I really like. So, just experiment and see what works for you!
4. Seal the Filing Cabinet
After using the chalk paint and BEFORE applying your transfers, you'll need to seal the filing cabinet. The transfers work best when they are applied to a sealed surface, then sealed again afterwards. It sounds strange but if you read the IOD instructions this is how they say to do it.
If you want an "antique" look to your filing cabinet, you can use different colored furniture wax to get a distressed look. I like to use black (or any dark) furniture wax mixed with clear furniture wax to give my painted pieces a distressed look.
Furniture wax will also seal the piece for you after you wait a few days for them to harden. If you are planning to add a transfer to your project, the IOD website does not recommend using wax as a sealer. However, I have seen several people have success with this method so if you'd like to, give it a try.
I like Minwax Polycrylic in Clear Matte and Mod Podge Matte. There are so many different Mod Podge options, including ones for outdoor use and ones specifically for furniture. I'm still partial to the matte finish.
If you don't plan on applying any transfers, you're pretty much done at this point. Just reassemble and enjoy!
5. Apply the Transfers
Once your sealer is dry and has cured according to the instructions, you're ready to apply your transfers. Depending on the type of transfers you use, just follow the instructions on the packaging.
I really like all of the Iron Orchid Designs (IOD) transfers. Some of them are available on Amazon, like these birds and butterflies. The two transfer styles I specifically used for this filing cabinet makeover were IOD Wander and IOD Woodland Christmas. You can find a list of stores that sell them on the IOD website.
I created a video to show the steps for applying the IOD transfers — watch it below!
Choose your transfer design. Usually transfers will come in a book with several different designs on each page. The transfer is printed onto a clear paper with a sticky back and most transfers have a wax paper along the back (sticky side)
Cut out the design you want to use. This can be the whole sheet or just a small piece or a single flower. I just use scissors to cut the transfers.
Peel off the wax paper backing to expose the sticky side of the clear film. Immediately place the transfer where you want it to be on your filing cabinet.
Burnish (rub) the design onto the surface to adhere it. IOD transfers come with a little plastic stick that you use to rub the transfers on. An old credit card works just as well. This can be tricky to get the hang of at first. Burnish the entire design first. Then, as you begin to peel up the clear paper, continue to burnish the area of the design right where you are lifting of the paper. Usually this will "pop" the design off the paper and help it to stick to the surface.
If the design doesn't transfer perfectly, or a piece of your flower sticks to the paper, no worries. You can just set the clear paper back down. Line up your design and reburnish the paper to stick it on. You'll barely be able to tell if the design you choose is similar to the one I used.
You can layer transfers on top of each other to create your own design. Get creative! It's really fun once you get the hang of it. The end result is a beautiful and unique piece that only YOU will have!
6. Seal the Filing Cabinet (yes, again)
Once you have happily applied your transfers, your filing cabinet makeover is NEARLY complete. The very last step is to seal your filing cabinet again. This will ensure that your transfers stay put.
Use the same sealer that you used in the first sealing step. So, if you used Mod Podge, use that again. Don't mix your sealers here. I gave my filing cabinet 5 coats of Mod Podge on top of the transfers. That's probably overkill, to be honest. But I know that this piece will get heavy use in my shed with all of my dirty gardening supplies. So, I wanted it to last.
Once your piece is sealed up, you're good to go! Just add the hardware back in and put your drawers back in place. Then, fill it with all of your junk!
Wrapping Up
So, that's how you makeover an old filing cabinet. Turning this rusty filing cabinet into the beautiful floral masterpiece you see now did take some time and effort… but it was actually a really easy, fun and super creative project. I am in love with this piece and I'm so happy with the way it turned out. I'd love to see your version if you decide to do this project, too!
More DIY Posts You'll Love
What Blooms with What?
Never know what to plant together? Find out with this FREE Plant Pairing Guide and become a pro at combining plants for the best garden design possible!