Please note: I may earn commissions from qualifying purchases if you shop through links on this page. More info.
My house has LIPSTICK! Learn how easy it is to paint your foundation!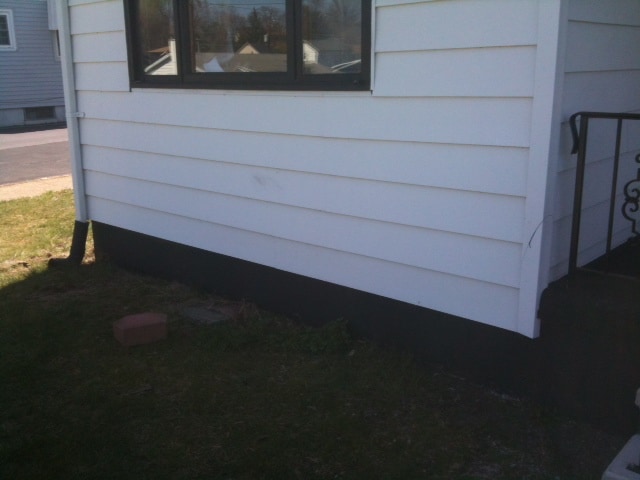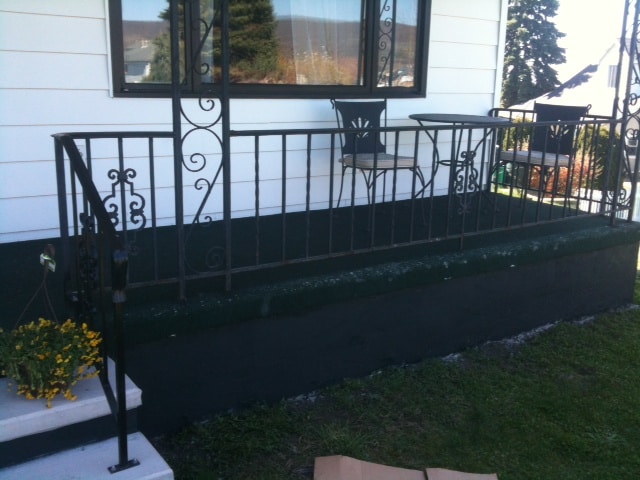 This weekend I was finally able to paint the foundation… or as I like to say "apply lipstick" to my house. If you read my post about painting the window trim and my house wearing "eyeliner" you will get where I'm going with this! My house has black lipstick, so I guess she's in her goth stage…
In the aforementioned post, I went over the steps that we took to parge the foundation. The concrete was chipping off, and making the surface uneven, so parging it with concrete smoothed the surface. It took about a week and a half to cure… I knew it was ready when the concrete lightened up and all turned the same color.
Painting the foundation is just like painting anything else inside or outside of your house. The only difference is in a few of the materials you use:
Use exterior masonry paint. I picked mine up at Ace Hardware and they even tinted it to the color that I wanted, black  ("189-A India Ink" was the color on the swatch).
Apply the paint using a roller with a thick nap (at least 3/4″). This allowed me to get the paint into all the nooks and crannies. Ok, maybe my house is an English Muffin, rather than a girl wearing lipstick??
The thickness, pile or nap length of the roller cover is determined by the texture of the surface to be painted.
1/8 — 1/4 inch, including mohair paint roller naps, are for ultra smooth surfaces. Use with enamels, varnish, oil and water base paints.
3/8 — 1/2 inch, are for semi- smooth and medium textured surfaces. These can be used with all paints.
3/4 inch is a multi purpose roller nap length that is useful for semi-rough surfaces. This size of roller nap is a good choice for most interior and exterior surfaces; such as siding, walls and smooth concrete block.
1 — 1-1/2 inch thick piles are for the roughest of surfaces, such as rough stucco and split face concrete block.
After I rolled as much as I could onto the foundation, I used a regular 3″ paintbrush to get the edges near the porch and near the ground. I also decided to paint my new concrete steps, to make them feel more cohesive with the rest of the house. I didn't paint the actual "step", only the vertical parts that look like part of the foundation. It was nice to have them look "brand new" for awhile, but I think it's much better to have them fit in with the rest of the house.
I did this myself, and doing the front and both sides of the house only took me about 2 hours, total. So it wasn't even a whole day project, just a morning. Before I tackled it, I walked my dog Roxy around the neighborhood to get ideas, and noticed that most people actually don't paint their foundation. Why??? For 2 hours worth of work, look at the visual impact it gives the front of my house! It looks so much nicer, cared for and cohesive. It's also completely doable for the average person. Give it a try!
What Blooms with What?
Never know what to plant together? Find out with this FREE Plant Pairing Guide and become a pro at combining plants for the best garden design possible!
Amy is the founder of Pretty Purple Door and has been a garden designer since 2014 and graphic designer since 2005. She helps home gardeners design their own beautiful landscapes that are colorful in all four seasons, show off your personality and suit your lifestyle. Amy's work has been featured in publications like The Spruce, Family Handyman, Buzzfeed, Country Living Magazine and more. Read full bio.