Please note: I may earn commissions from qualifying purchases if you shop through links on this page. More info.
5 Things I Wish I Knew About Garden Design (These Would Have Saved Me $$$ Thousands)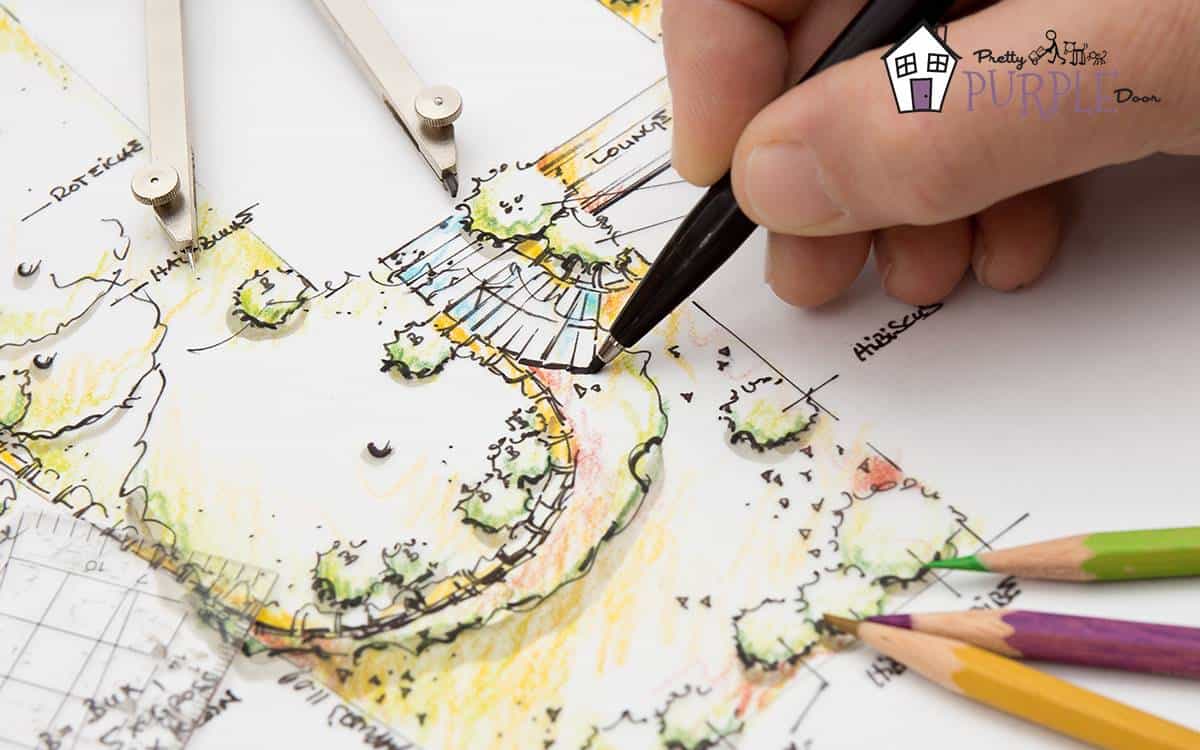 Ever wonder what no one is telling you about designing your home landscape?
The trouble is, you don't know what you don't know.
What I can tell you is that if I had known the things in this article BEFORE I planted my very first plant, I would have saved myself a lot of time and money.
I literally spent years making bad plant decisions, even though it came from a place of fierce love. I'd shimmy my plants around and swap them in and out like an (extremely unqualified) conductor of the Trans-Siberian Orchestra.
I moved my plants 👏 every 👏 single 👏 time I learned something new.
I always second guessed my decisions.
Sadly, I lost many plants and created even more headaches for myself in the process. Honestly, if I were to add up all of the money I've spent, it would have been WAY cheaper for me to hire a landscape designer to just create plans and install it for me.
And those plans are not cheap!
Yes, we're talking thousands. And this is just for the design PLAN; not the actual installation of your design.
But lucky for you, I've got your back. By learning these tips, you can:
Save money on a landscape designer (which means more 💲💲💲 to buy plants and garden features).
Get beautiful results faster (we're talking years sooner) than if you were to just wing it.
Experience the pride that comes with designing a landscape that is totally unique and custom to YOU.
Let's get into it!
Create a Mood Board
Limit Your Color Palette
Create Groups, or Drifts, of the Same Plant
Choose Plants That Bloom In Different Seasons
Use Evergreens To Create Winter Interest
1- Create a Mood Board To Define Your Garden Style
When I started choosing plants for my garden, it was very much like this: head to the garden center and pick out some things that looked nice.
No planning at all. I really didn't even consider what I wanted my garden to look like.
What was my style? Would my garden have a theme? What's vibes do I want my garden to give off?
The easiest way to achieve some clarity around this is to do some inspiration research. I really love the idea of creating a mood board.
There are a few ways you can do this:
Cut out magazine photos and paste them onto poster board (an old-school style collage project can be really fun & inspiring).
Curate photos on a Pinterest board. An alternative to Pinterest boards, Houzz also lets you curate designs into an "ideabook."
Download images from the web into a folder on your computer. You can use an app on your phone or even a program like Canva to create a digital mood board.
Check out my Garden Mood Board Workshop – it will take you through an awesome step by step process so you can get super clear on the vision for your garden!
These are just a few great ways to create a fun, inspirational mood board. It will really help you to clarify your vision. Because when you collage, you will definitely start to see patterns in your style, colors and even specific plants you like!
Give it a try!
Recommended Reading: Garden Styles: What Type is Right For You?
2- Limit Your Color Palette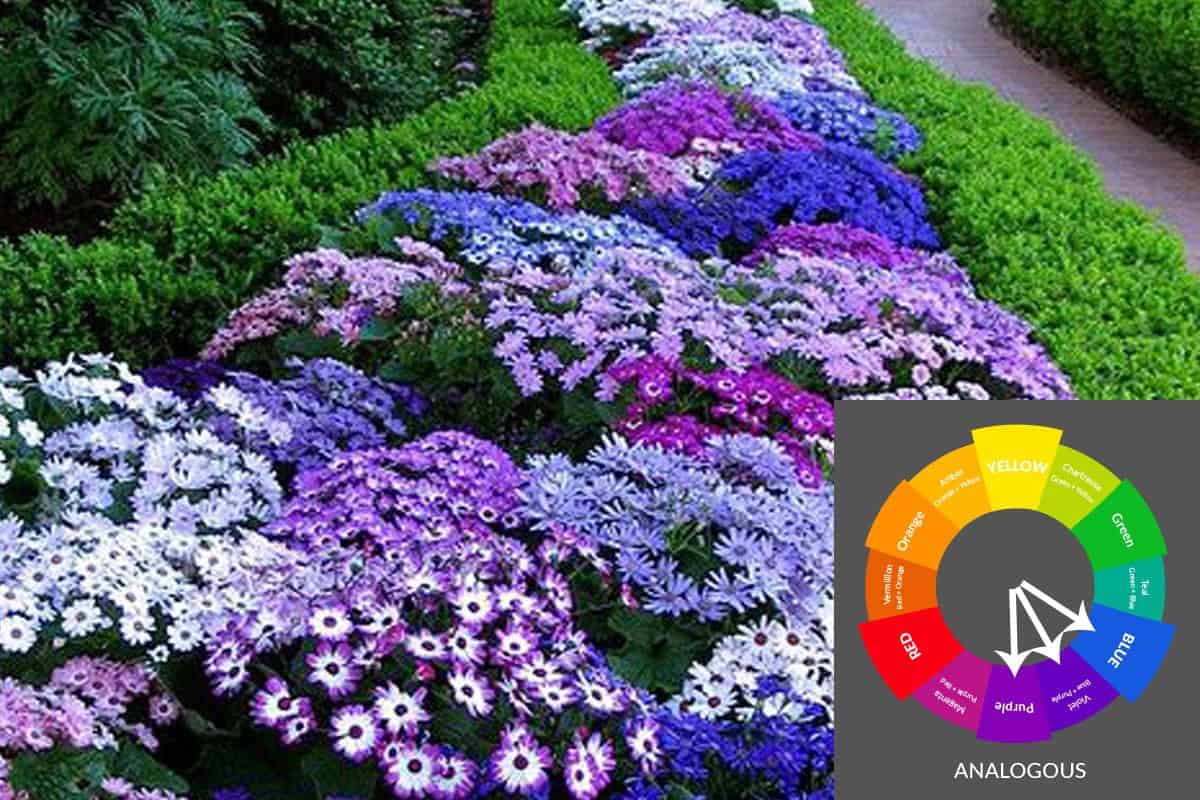 Many beginner gardeners don't think much about garden color schemes other than they want a lot of color — the more the better. This, my friend, is a common and detrimental mistake.
Choosing too many colors for your garden can result in a wild mess that you likely won't be happy with.
When you plan your home décor, you rely on color to tie your room together. When you get dressed in the morning, you pick your clothing based on color schemes. So, why would you combine colors in your garden that you'd never put in your home or on your body?
When deciding on a color palette for your garden, take cues from your clothes and your home décor. These are the colors that you're drawn to and will give you a sense of what you may like in your garden, too!
If you are still having trouble, I would recommend choosing one single color to get started. This is exactly how I teach garden design in my online course.
Recommended Reading: Simple Secrets for Creating Garden Color Schemes
3- Create Drifts of the Same Plant, Not "One of Each"
No more buying just one plant! I'm serious about this! If you decide on a plant for your landscape, you should purchase no less than 3 of that plant.
This will allow you to make a grouping, or a drift. You see, gardens are typically viewed from a distance. So, in order to get that "impact" that you are looking for, you need to create a mass so it can be seen from afar.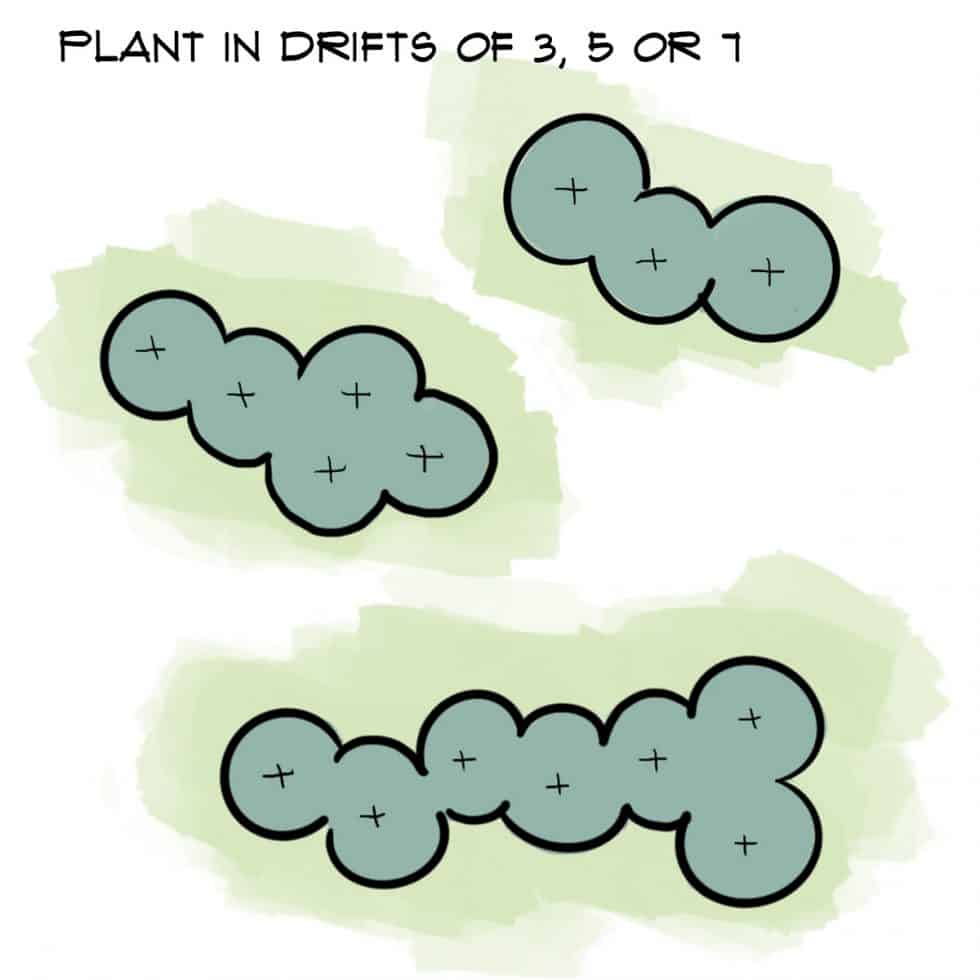 Trust me, if you like the look one little plant, you will LOVE the way that 3, 5, 7 (or MORE) of that plant looks in your garden design. When creating a drift of perennial plants, I start by purchasing at least 3 plants. Then after a year or two, I can divide each clump into at least 9 different plants.
Recommended Reading: Arrange Plants In Your Garden – 3 Simple Ways
4- Choose Plants that Bloom in Different Seasons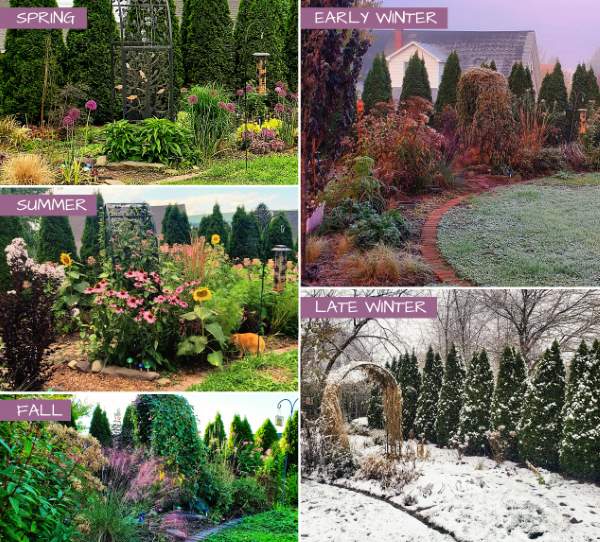 When I was a beginner gardener, I thought that "seasonal plants" were plants that bloomed all year round– in every season– all the time.
I now know that this was wishful thinking… at best.
The truth is that plants bloom at certain times of year. And, while some plants bloom for longer amounts of time than others, most perennials you will use in your design will have a "season" of blooming. Before and after their bloom period, they will either look (1) scraggly and messy or (2) a big blob of green, which can be kind of boring.
So, the trick to designing a beautiful garden is to account for these bloom periods and make sure that you select plants that can be the star of the show at different times of the year.
Yes… this takes research and planning.
Yes… your stomach is probably knotting up thinking about yet another thing you have to plan out.
I wont lie; this is a difficult concept to master. And impulse buying every dying plant on the clearance rack isn't going to magically work out 😩.
My best advice is to plant one or two groups of long-blooming plants you love. Then, observe your garden during the year. When it's looking dull or empty, head to the garden center and find a plant that is blooming to fill in the gap. This is the time when you can be a bit more impulsive.
Over the years, you will continue to notice gaps in bloom times. And, you'll need to tweak and adjust your plans as you go.
In my design your 4-season garden course, we discuss lots of ways to prevent these bloom gaps from happening. We also use my printable garden plannning worksheets to keep track of seasonal bloom times and colors.
Recommended Reading: Creating Seasonal Flower and Plant Groupings
5- Use Evergreens To Create Winter Interest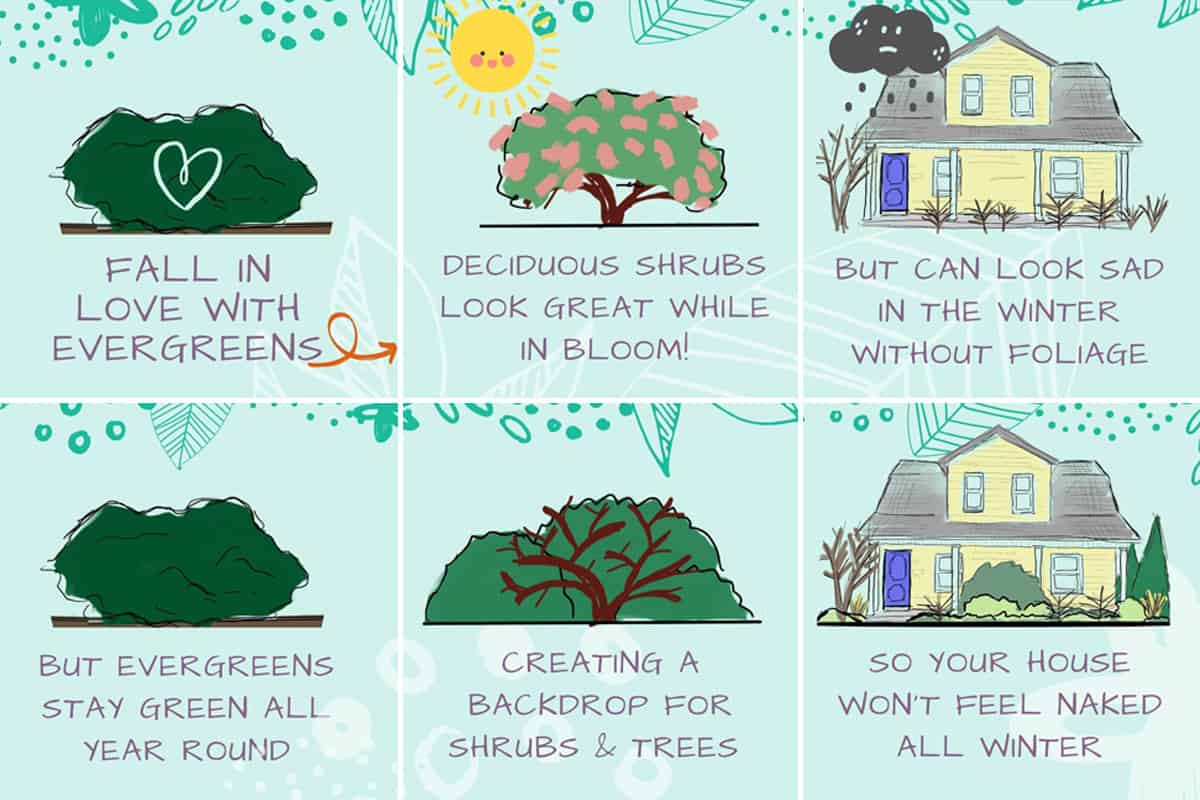 Evergreen shrubs create vital green islands in otherwise barren winter landscapes. I know they don't sound as sexy as a group of perennial plants, but they are by far the most important part of a landscape.
Why? Evergreens (along with fences, buildings, paths and other hardscaping) create the structure of your garden. They are the bones that hold it all together. Especially if you live in a colder climate where plants die back every winter.
So, before you rip out the evergreen shrub row along your newly purchased home's foundation (I SEE YOU!!) — please reconsider. All you need to do is increase the depth of your garden bed and plant the flowering shrubs and plants in FRONT of the evergreens.
You'll be happy because you'll have more color.
Your house will be happy because it won't feel naked all winter.
Seeing your non-naked house in winter will also make you happy (extra bonus!!). Trust me on this one!
Recommended Reading: Evergreen Shrubs – the Most Important Part of Your Mixed Border
Wrapping Up
Now that you're up to speed on the things I wish I knew about garden design, you're well on your way to creating your dream garden in less time with much less frustration. Not to mention all the 💵 you'll keep in your pocket 🤑 (at least until you stumble on the next plant sale). Lucky you!
If you loved this post, definitely check out my Design Your 4-Season Garden Online Course. It will take you through the exact step-by-step framework I use to design a beautiful garden bed with tons of interest and personality.
Plus you'll get the support of a community of other gardeners who are doing the exact same thing — along with feedback & guidance from yours truly. One of my students, Marte, said,
"You know what I love about your private course Facebook group? I would say you comment on every single post. It's like, once we make that investment into your class, you get so much with it! It's a continually ongoing process."

Marte, Design Your 4-Season Garden course participant
Happy Gardening!
-Amy
PS: If you're brand new to flower gardening in general, head over to this post: Flower Gardening For Beginners – the Secrets No One Tells You
---
Shop my Amazon storefront for my essential gardening books & tool recommendations!
More Garden Design Posts You'll Love