Please note: I may earn commissions from qualifying purchases if you shop through links on this page. More info.
5 Tips for Drawing a Killer Garden Plan, Even if You're Not a Designer
Most homeowners are on the hunt for the "best app" to use to design their garden, instead of hand-drawing their own plan.
The trouble is… you don't know what you don't know.
The truth is… apps are NOT the answer.
I know, I know. You're not Picasso. You're embarrassed by your own stick figures. You can't visualize a garden out of a blank page.
But luckily, you've got me to guide you.
It's time to ditch the "can't do" attitude and useless apps. They're holding you back from getting your dream garden.
By the end of this post, you'll be able to draw your own killer garden plan that's unique to YOUR garden and YOUR style.
Let's get started!
1- Get To Know Your Space
Before we hit the drawing board, we need to hit the garden! A garden plan drawing without a garden to put it in is… a drawing.
So, first, measure the area where your garden bed will be.
Make a note of:
The dimensions of your garden bed (length and depth).

What shape is your garden bed?
Is it symmetrical or asymmetrical?

Anything you shouldn't block with plants (like windows, doorways, utility access).

Measure the dimensions of each object.
Measure how high above your garden bed they are.
Once you have these details, you'll be able to see potential problem areas before you even start drawing.
Sometimes, if there's a low window or a utility area to deal with, it forces you to create an asymmetrical design. It's better to know these things before you get started. They're more difficult to correct after the fact.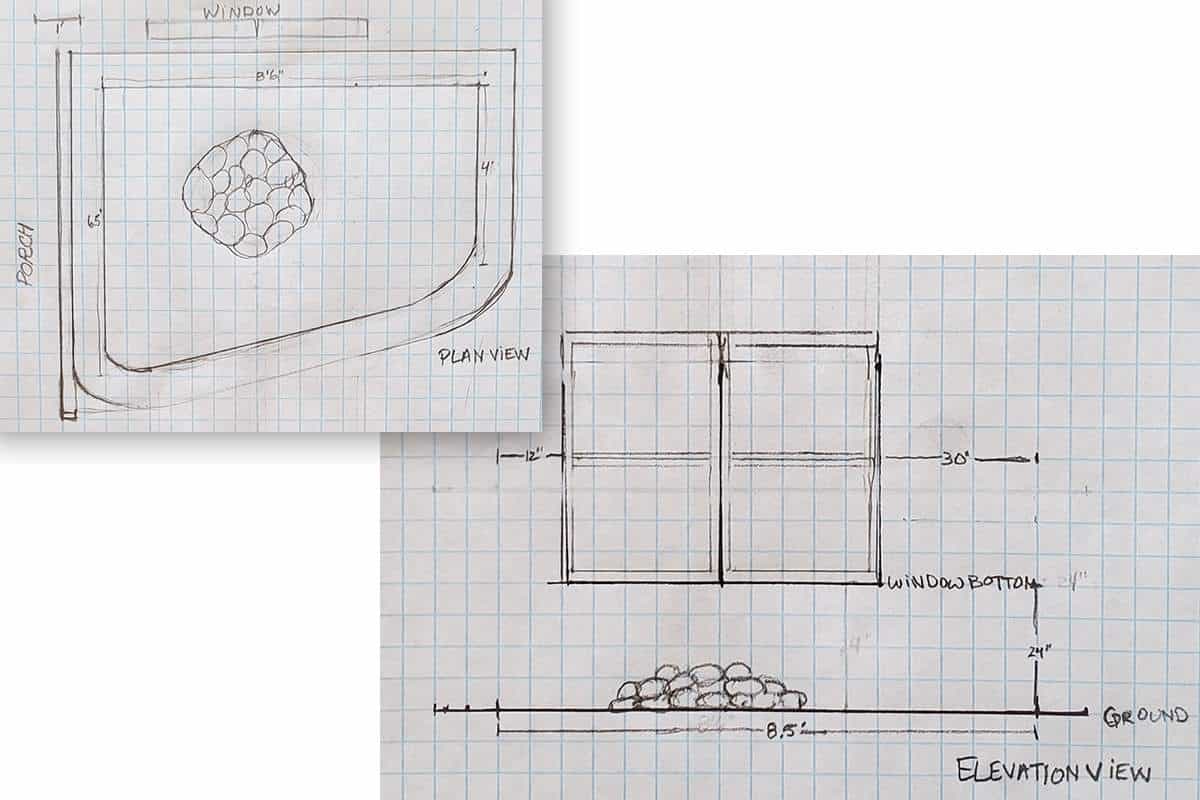 I know this measuring step feels kind of boring. But it's absolutely essential to create an accurate garden plan. You will never see a professional designer skip this step… no matter how dull it may feel.
Just remember that if the design you create on paper doesn't fit, blocks views or obstructs utilities, it fails.
Once you have your measurements, it will be very easy for you to plot out the garden space.
Bonus Tip: While you're measuring, snap some photos of the garden bed. Make sure you take pictures from different angles. And, definitely take one from straight on (standing right in front of your garden bed area). More on this in the next section.
2- Pick a View
Now that you have your measurements, you'll need to choose a view to draw from. There are a few different views to choose from. The key here is to choose the view that will make it easiest for you to visualize your garden space.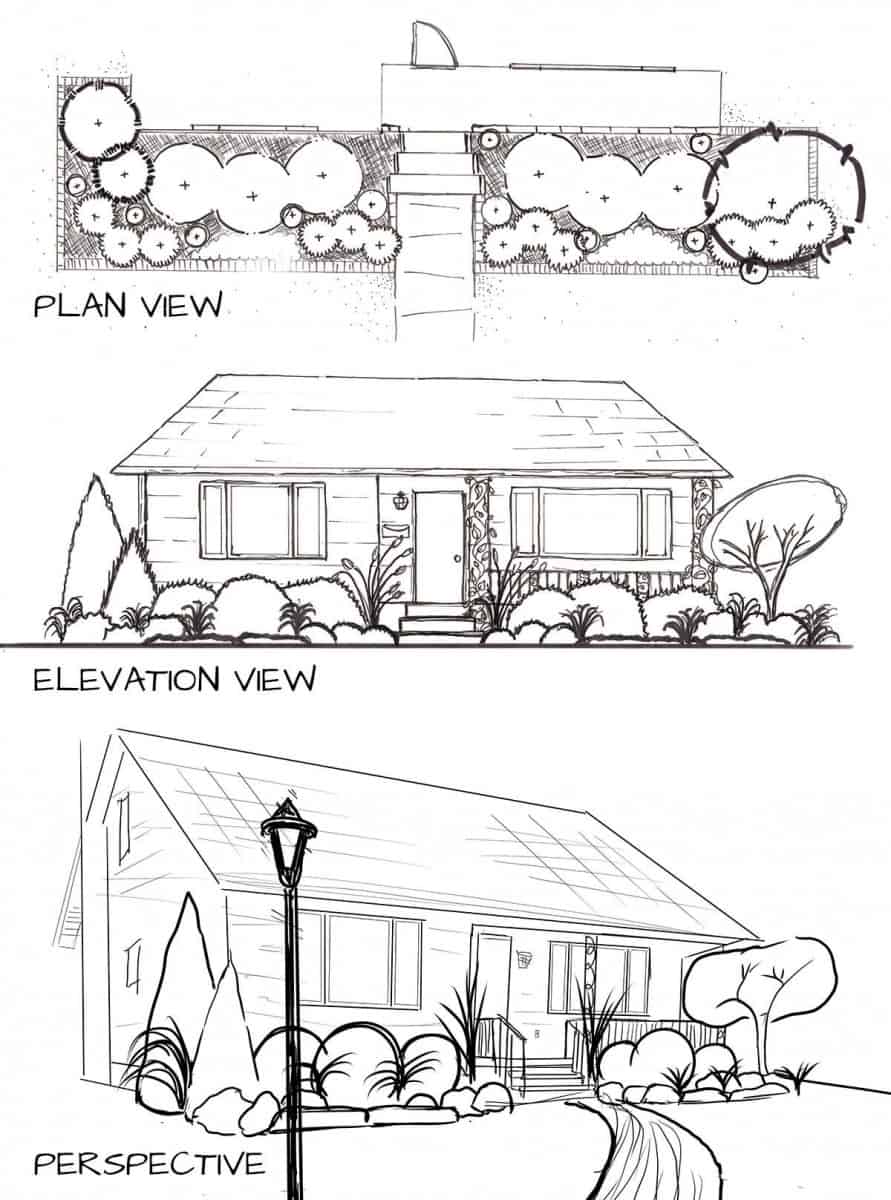 Is it easier to visualize your garden from above?
This is called plan view. In plan view, you'll view garden plants as a series of circles and other shapes. This is a view I typically use later in the process, when I'm choosing plants.
Is it easier to visualize your garden from directly in front of it?
This is called elevation view. This is a flat, 2-dimensional (2D) view sometimes referred to as 1-point perspective. It allows you to see what your garden would look like while standing right in front of it.
Is it easier to visualize your garden with depth in the space?
This is called perspective view. This is the most detailed view you can use as it's a 3-dimensional (3D) view. This is sometimes referred to as 2-point perspective. Drawing what your garden will "actually" look like in 3D can sometimes be very confusing, especially if you're a beginner.
For the purposes of this post, we're going to use elevation view for our garden plan drawings.
A 2D elevation drawing gives you the best of both worlds.
You're able to visualize what the garden will "actually" look like, without the added complexity of drawing in three dimensions.
3- Use the Right Tools
Before we get to drawing, let's make sure that you have the right tools available to you.
Ditch the Apps
First, ditch the idea that an app or a drawing program is going to help you to visualize your garden plan. It's way easier to do this by hand, especially if all you need is a simple drawing.
Here are some reasons that I generally don't recommend using landscape design apps.
Apps are very limited, especially free versions. You'll find yourself trying to design a space but won't have the right plant shapes or sizes to you.
Apps can give you a false sense of reality. When you're using an app, it's easy to squish and squeeze to make your plants fit together. This isn't what happens in real life. So, while you can squish an 8 foot rounded shrub into a 4 foot pyramidal shaped shrub in an app, this won't translate to reality.
Apps are a time suck. As if drawing a garden plan isn't challenging enough, you're also adding the extra complexity of having to learn a new computer program. This can be a total time suck. Hours can go by and you'll still be trying to find the "perfect plants" to place in your landscape. Which leads me to my next point…
The plants won't be suited for your conditions. Especially when using a free version, you'll have a very limited choice of plants. And, depending on where you live, the plants you're choosing may not even grow in your geographical area. To top it off, they may be suited for conditions that you don't have.
Apps only show a moment in time. Because of the nature of drawing a garden plan, any app that you use will only show your garden at one point in time. So, all of your shrubs will look like they are flowering in the photo. But, what do these plants look like in spring, summer, fall and winter? If you are choosing plants that bloom in different seasons (which you should be), you're going to get a false sense of what your garden will actually look like from any design in an app.
Now that you know why you shouldn't use an app, let's talk about what you should be using instead.
Tracing Paper Over a Photo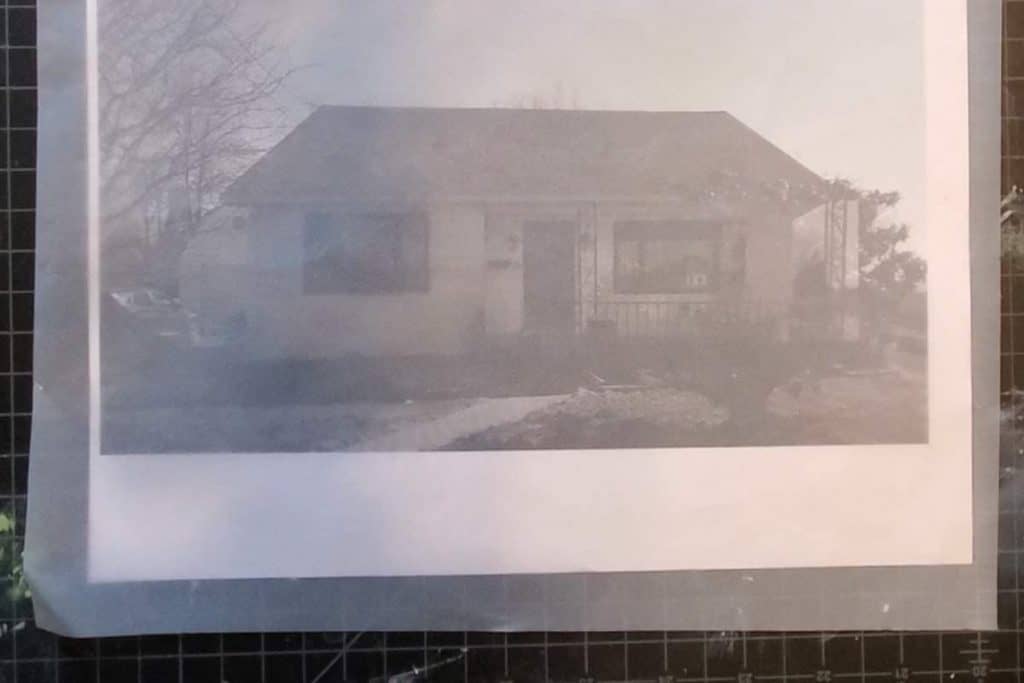 Using tracing paper over an actual photo of your space is a great way to get started drawing a killer garden plan. When drawing in elevation view, you'll want to choose the photo you took in step 1 that's a straight on view of your garden bed. This view will make it easiest to draw your plan.
So, print out the photo you snapped earlier. Then, use tracing paper over the photo to draw out different garden plans. I love using tracing paper because it gives you the freedom to explore many different ideas quickly.
Here are some tracing paper options you can try:
Strathmore Tracing paper pad 50-count (Buy on Amazon). This is a nice, convenient way to purchase your tracing paper. It comes in a pad with sheets you can tear out.
Canson Tracing paper roll 12"x50yds (Buy on Amazon). My instructors have always encouraged me to purchase rolls of tracing paper that can be torn off quickly. Sometimes, using a pad can make you more conservative when using the tracing paper and a roll of paper can be more freeing for the creative process.
Draw out your shapes on the tracing paper over your photo. Then grab another piece of paper and try again. I've always found that this iterative process works best for coming up with new ideas. Sometimes, my best drawings are 5 or even 10 versions in. So, always keep drawing and trying to think of new ideas.
Bonus Tip: If you're having trouble seeing your photo through the tracing paper, turning the photo into a "cartoon" or line drawing using a phone app can help. Or, print out your photo and darken the major lines of your photo with a sharpie so they are easier to see through the trace paper.
Tracing Paper Over Graph Paper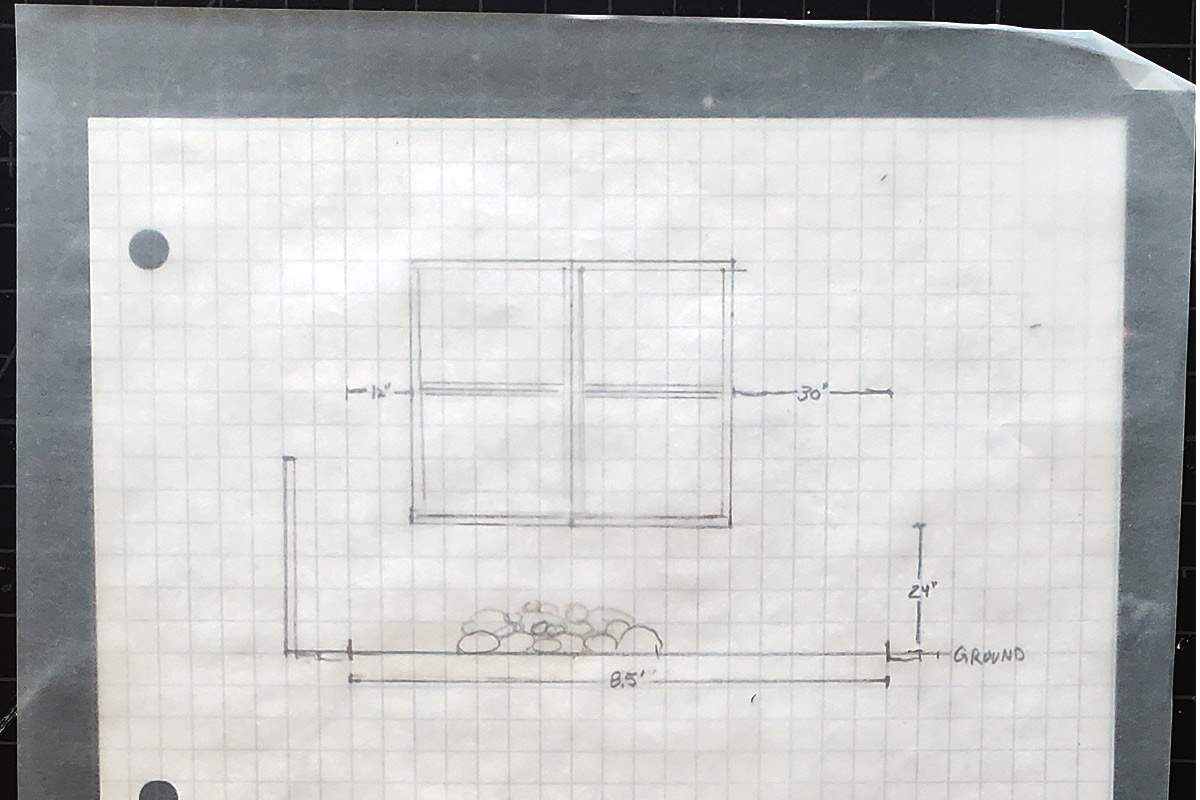 If you don't want to or can't work from an actual photo, you can also draw out your space on graph paper using the measurements you took in step 1. I like to use one block on the graph paper for 1 foot of garden space. Or, whatever ratio works best for you.
Once you're finished with your base sketch, it's a good idea to "ink in" your pencil lines with a pen. It will help you to see the drawing more clearly through the tracing paper. It can also make your drawing feel more official.
Make sure you don't draw on this "finalized" copy from now on. Make photocopy of your official base plan and draw your garden plan ideas directly onto the copies. Or, put tracing paper over the finalized base plan to iterate your ideas quickly.
Plant Form Cutouts
If you are totally not into drawing your garden plan by hand, don't worry, I have another solution for you. Grab my free printable plant form guide and you can use my drawings.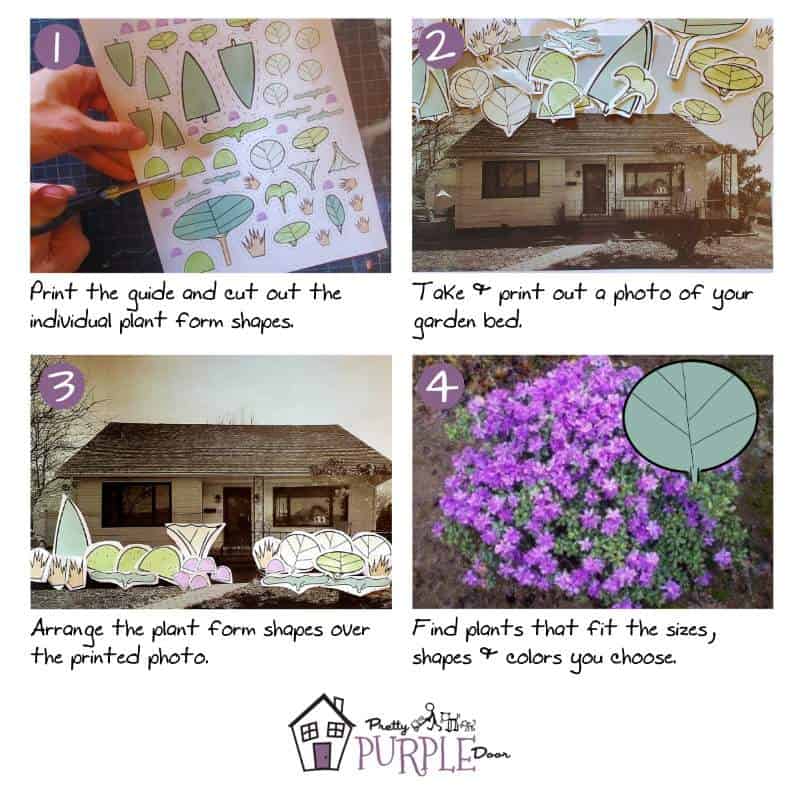 Just print out a photo of your garden bed, then cut out the plant form shapes and move them around on the page. It's a really fun way to experiment with different garden bed layouts.
Colored Pencils or Markers
Lastly, you'll want to have some colored pencils or markers available so you can add color to your drawing. Adding color to your drawings can really help you to visualize the space.
Many landscape designers use alcohol markers by Prismacolor or Copic to color in their drawings. Some designers even use watercolor paints to color in their drawings.
But, you don't need to get that fancy. A simple set of colored pencils, markers or even crayons will be fine. I'd recommend using what you have on hand. But, if you're looking to buy a new set or pencils or markers, here are some I'd recommend.
4- Draw Simple Shapes & Forms
We are finally at the drawing step! I hope you're as excited as I am to get started! The easiest way I've learned to draw plants is to keep it simple.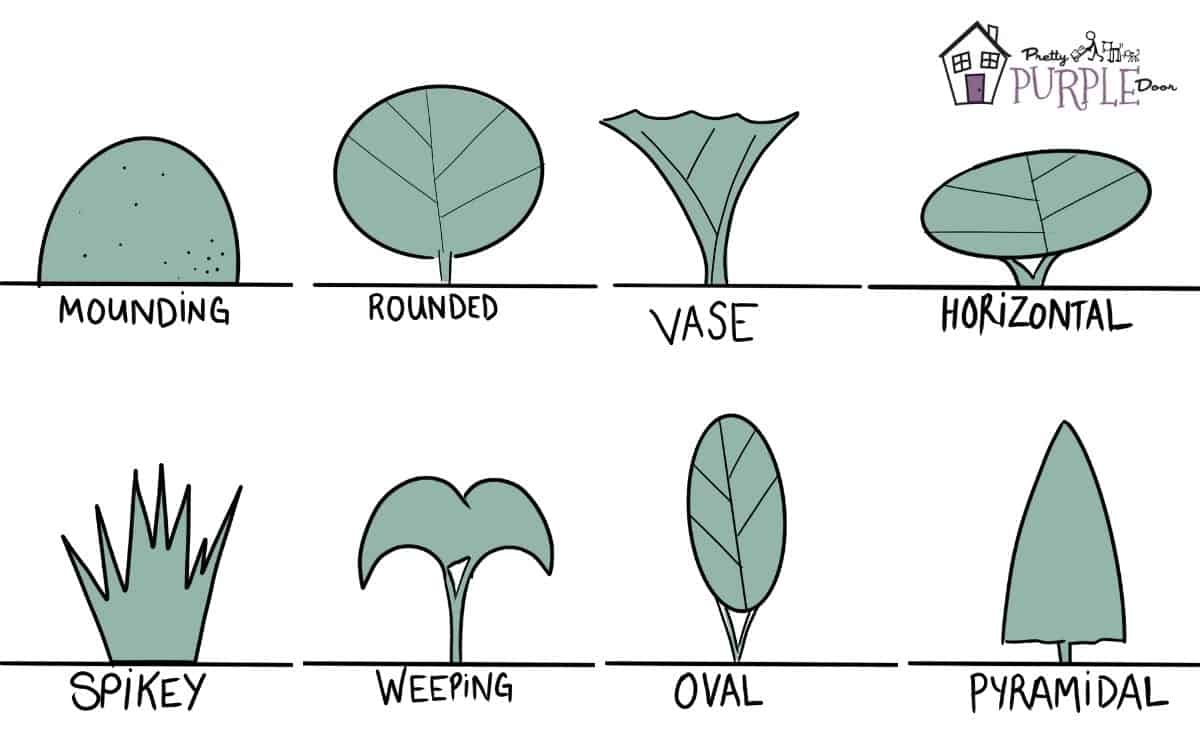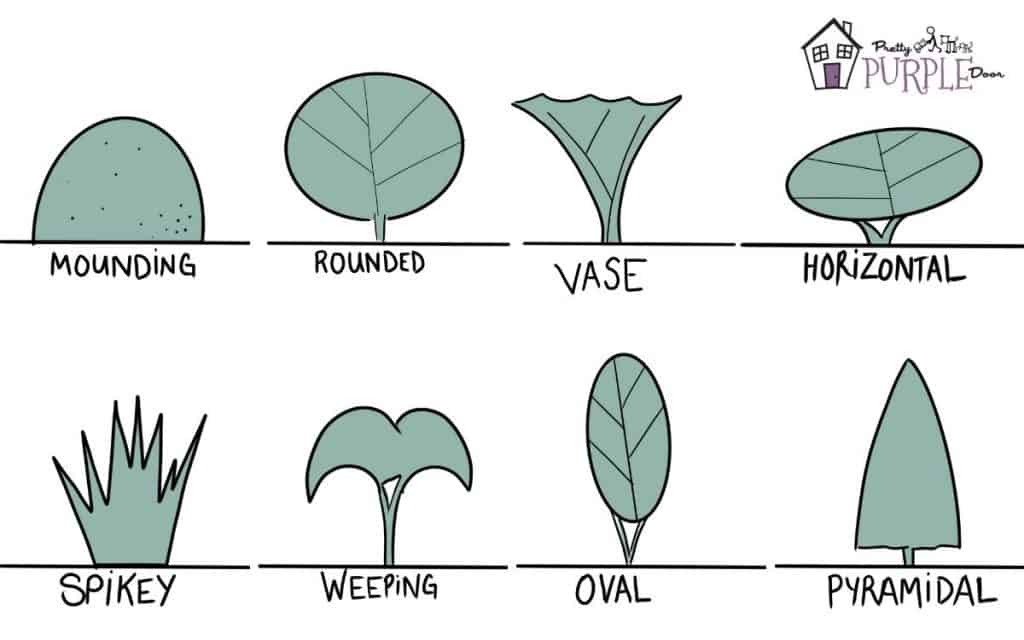 Every plant has a basic form or shape. Some common shapes and forms are:
Mounding
Rounded
Vase-Shaped
Horizontal or Spreading
Spikey
Weeping
Oval
Pyramidal (& more)
What's great about using simple forms is that you don't have to be a professional artist to draw them!
I like to draw very messy in the beginning. If I like the drawing, I'll use another piece of tracing paper to refine my basic plant forms even further. I continue to do this until I'm happy with the final drawing.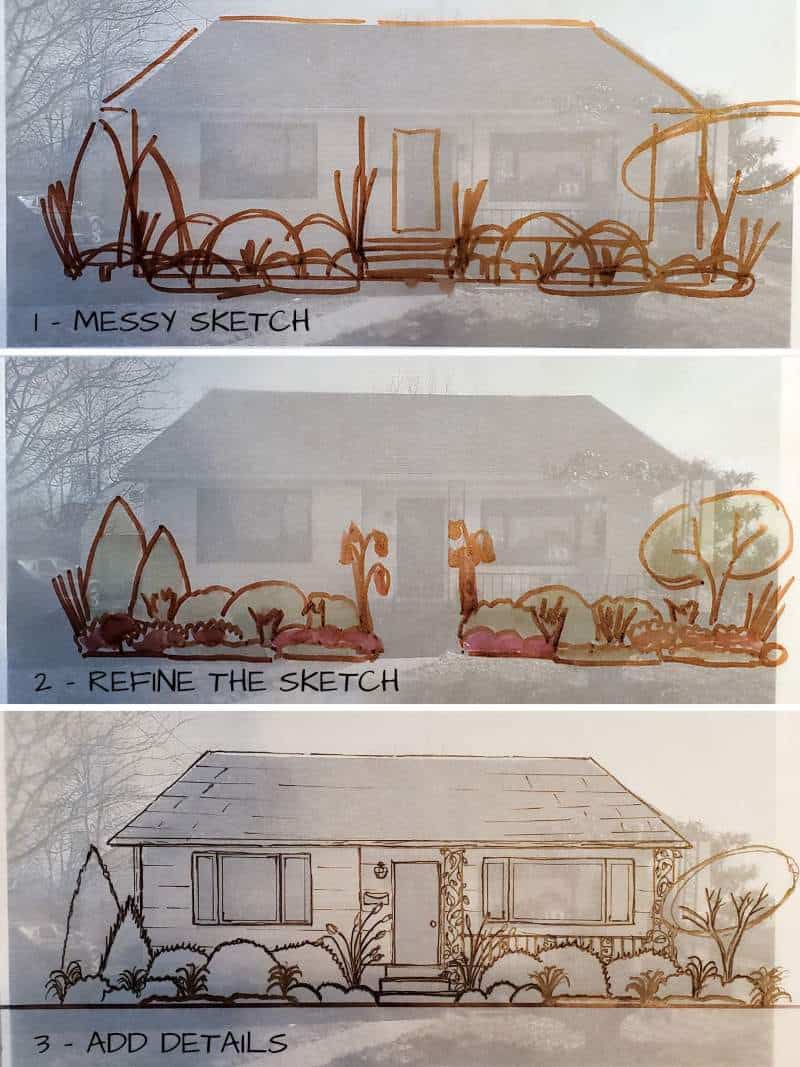 Remember that it doesn't matter how "fancy" your drawing looks. As long as it's clear and easy to understand, you are on the right track.
Just in case you're dreading this "sketching" part, I've put together a free printable plant form worksheet that you can use. I've drawn all the plant forms for you and provide you with a variety of different sizes to choose from. 
All you have to do is print out the plant forms and color them in to suit your needs. You can cut around each of the plant forms and rearrange them to see how they will look against the photo you took in step 1. How easy and fun is that?
Whether you're drawing out your simple forms by hand or using the free download, here are some tips to make sure that you're on the right track:
Even flowers can have a unique form and structure that adds interest to a design. Like alliums, for example.
Using a variety of plant forms creates interest.
Repeat the same plant forms to create unity in your design.
Focus on the basic forms that fit into your surroundings, rather than specific plants.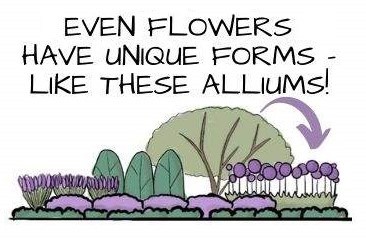 Still Stuck? Try using the Blocking Method. Below is a short video for how this method works.
5- Pick Your Plants Last
Have you noticed that throughout the entire process of drawing a killer garden plan, we haven't even thought much about plants?
So strange, isn't it?
But, choosing the right plants for your garden space, while it's important, it's usually one of the last steps. Design and planning always comes first.
Although I'm drawing simple shapes and forms in my plans, I often have some idea of what plants I want to use in a given design. But, I don't force plants into my designs, if that makes sense.
Even if you have no clue what plants to use, that's ok. Once you've created a garden plan with plant forms that you like, you can then research plants that are a similar size and shape to what you drew.
Websites like Garden.org allow you to research plants by all different characteristics that will suit your growing conditions and tastes.
Luckily, there are so many plant options available to us in every different shape and size. You'll have plenty of plants to choose from, so don't worry about choosing your plants until the end. Get the garden plan drawing worked out first!
Wrapping Up
Now that you're privy to my top 5 tips for drawing a killer garden plan, you can skip the stress of staring anxiously at a blank page and actually enjoy the incredibly fun and creative process of designing your dream garden!
First, take measurements and get to know the space where you plan to put your garden. Look at the area from different angles and snap some photos of different views.
Now, sit down with some printer/bond paper or graph paper and use tracing paper to come up with different ideas. I usually have some plants in mind during this process, but I don't try to force anything. Just draw simple shapes like rounded, oval, pyramidal and spreading. Try to contrast the sizes and shapes of your plants to make it interesting. If drawing feels too difficult for you, grab my printable plant form worksheet so you can just cut out the plant shapes and move them around the page.
Once you have the basic shapes mapped out, you can then choose your plants. Make sure to research all of the plants you plan. Use a website with lots of filters and advanced searching like garden.org. Choose plants that will thrive in the conditions that you have vs. what you wish you had. And, try to choose a variety of long-blooming perennials or plants that create interest at different times of the year.
If you're looking for more assistance in designing your dream garden, be sure to check out my Design Your 4-Season Garden Course, where I'll take you step-by-step through my own process for creating the 4-season garden plan of your dreams.
---
Shop my Amazon storefront for my essential gardening books & tool recommendations!
More Garden Design Posts You'll Love