Please note: I may earn commissions from qualifying purchases if you shop through links on this page. More info.
The Garden Pyramid for Planting Success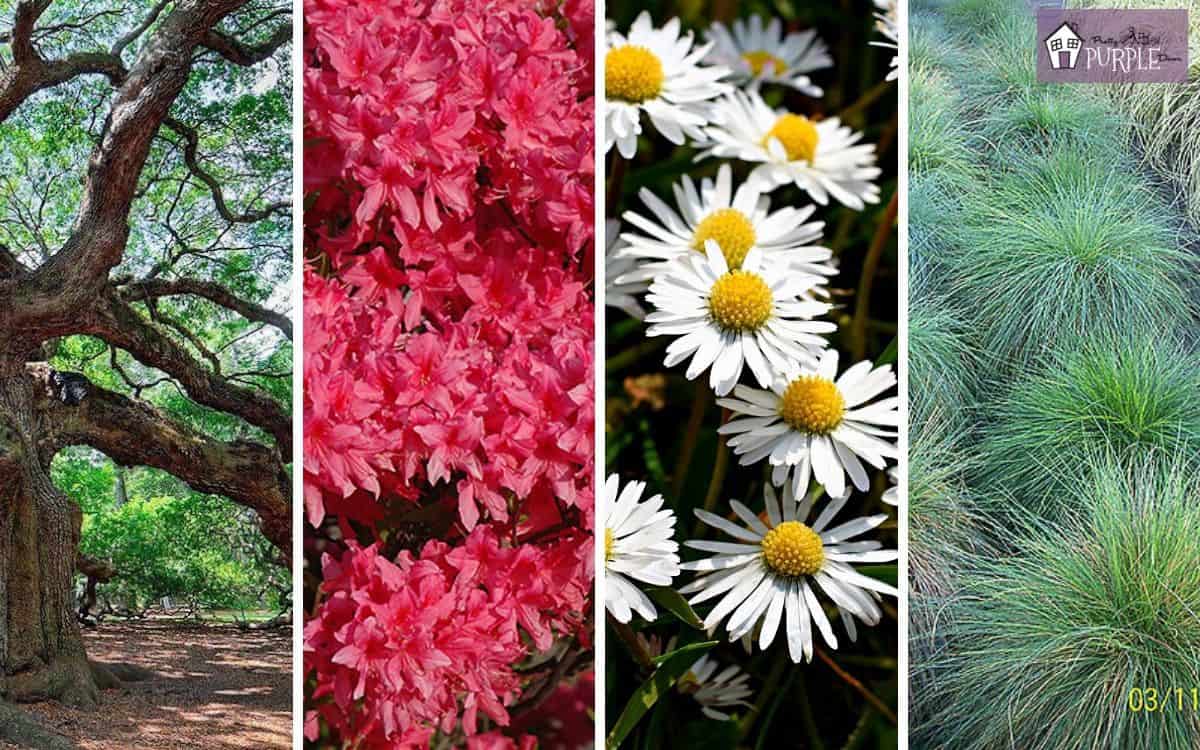 It's easy to understand landscape layering when you use this garden pyramid for planting success. Start at the top and work your way down. Add more of each type of plant as you move down the pyramid.
My Garden Pyramid Guide will help you to visualize how many of each plant type you should include in each garden. I can't even tell you the value for this one because you literally can't get it anywhere else.
As we move down the garden pyramid from the narrow top to the wide bottom the number of each type of plant increases. Because the lowest-level plants are the smallest you can have more of them and use a greater selection!
Using this pyramid we'll be able to create mixed borders in our favorite garden style. And, because the borders will be filled with a variety of plant types, your landscape will be brimming with interest all year round!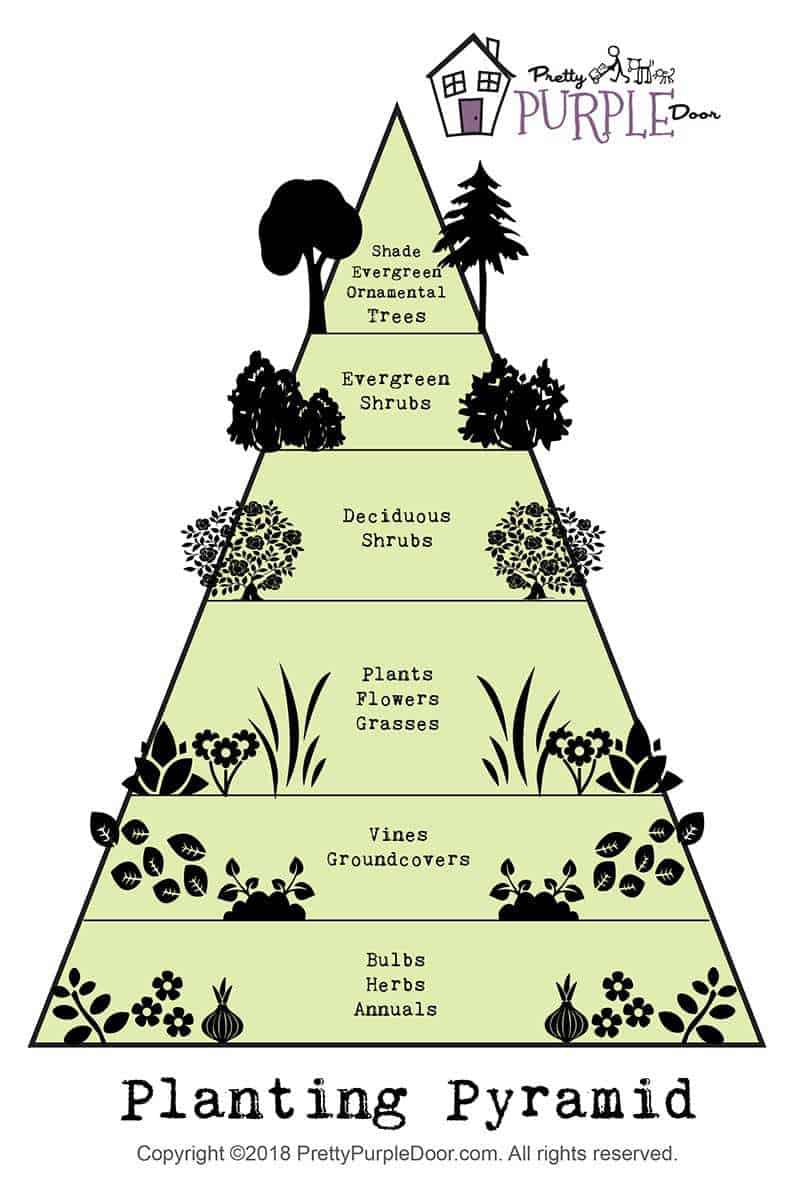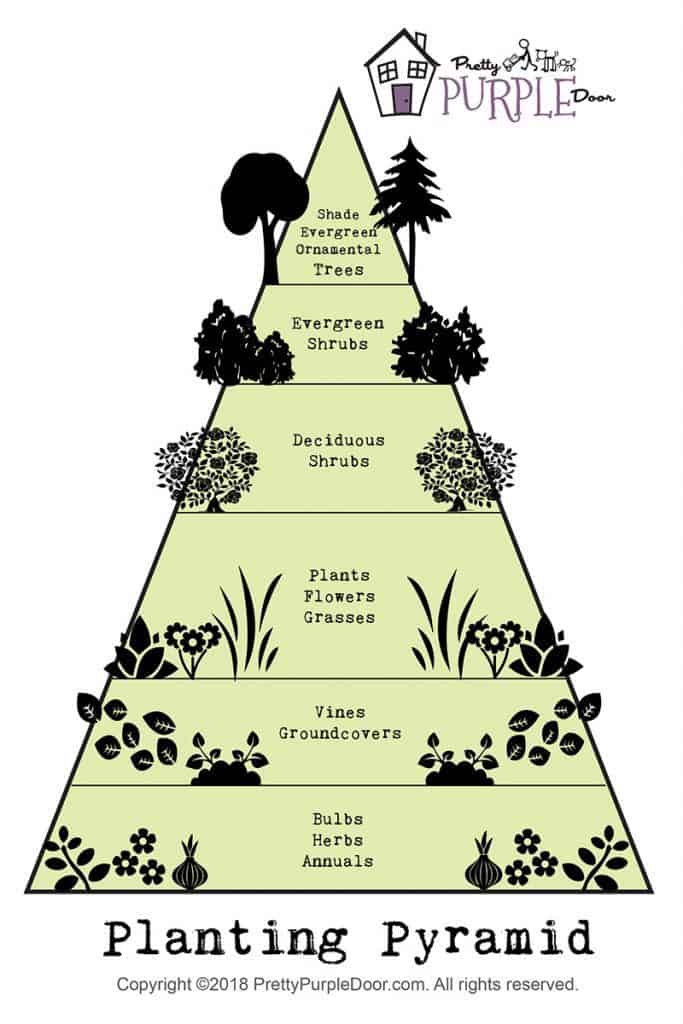 What Blooms with What?
Never know what to plant together? Find out with this FREE Plant Pairing Guide and become a pro at combining plants for the best garden design possible!
Garden Pyramid Checklist
Following this garden pyramid is the key to taking your garden from amateur to magazine-worthy. I'll go over some areas you should check when diagnosing your own garden.
Are you missing any layers of the garden pyramid?
First, take a look at the pyramid and make sure you aren't missing any of these categories. Take note of any categories you are not addressing. Then, you can start to plan your garden to incorporate these layers.
Do you have the right proportions of plants?
You also need to make sure your planting is balanced. You should have more plants in the categories near the bottom of the pyramid than those at the top. You don't have to be crazy accurate… this is just a guide. But you should have a lot more plants, flowers and grasses than you do shrubs. A lack of plant balance in the garden creates problems for many beginner gardeners.
As an example, lets say you have one tree and three evergreen shrubs. Well, that's a great start and you have the bones or structure of your garden in place! Now, how many deciduous shrubs would you need? Obviously more than 3, right?
As you work down the pyramid you should include more and more of each type of planting.
Quick Tip: This post will give you more information about creating balance in your garden design.
Are you mixing the layers together?
Now, you'll need to make sure you are mixing the layers of the garden pyramid together properly in your garden. This is how landscape layering works.
Your garden should have at least three layers: a foreground, a middle-ground and a background. Tall plants go in the back, medium in the middle and shorter ones near the front.
Once you have that down, you should try to "weave" plants in and out of the layers to create more depth. Move a couple shorter plants to the middle-ground. Some of the medium plants can move to the foreground… or even the background.
Mixing up the layers in your garden will give you that "magazine" garden look.
Quick Tip: To learn more about weaving your plants to create depth in your garden, read my post about landscape layering.
Can you create contrast and interest with plant texture?
This is another great way to add interest to your garden. As you are mixing up your plants, you can certainly plant multiples of the same together. Groups of 3, 5 or even 7 plants will create a lot of interest in the garden. But next to that drift, be sure to create some contrast with another plant.
You can create contrast by choosing plants of a different color. You can also look at the characteristics of the plant like the shape and form. Or the overall texture. Or the leaf size. Try mixing up these elements as much as you can to create an interesting layout.
Quick Tip: If you want to learn more about creating interest and contrast in your garden, check out my post about using plant texture.
Understanding Each Layer of the Garden Pyramid
I have complete posts on the blog about each layer of the garden pyramid. You can read, in detail, about each using these links:
Tips for Using the Garden Pyramid
First put in the evergreens.
Then plan the deciduous trees and shrubs
Place the walls and fences.
After that, the rest will fall into place.
Think about the following when you're creating your layered landscape:
What is the plant's overall form and how does it combine with other plants around it?
How will the plant's branching structure and growth rate/full size affect affect nearby plants?
Will the plant's foliage (leaves) contribute to the garden even when it's not in bloom?
When does the plant bloom and what color are the flowers?
How will the flowers look with the colors of nearby plants and hardscaping?
Will the tree/shrub bark add color and interest during winter?
How does the tree/shrub bark texture combine with the rest of the garden?
Struggling to find the right plants to create amazing 4-season interest in your garden? I've got you covered. Keep reading to see some of my favorite example trees, plants, shrubs, flowers, vines and groundcovers that you can use in your landscape.
Keep Reading…
In my perennial garden plan, I'll go over landscape layering and give you some suggestions for each of the 5 layers:
Layer 1: Ornamental Trees
Layer 2: Evergreen Shrubs
Layer 3: Perennial Deciduous Shrubs
Layer 4: Perennial plants and flowers
Layer 5: Groundcovers, Vines and Grasses
Wrapping Up
It's easy to understand landscape layering when you look at this planting pyramid. Start at the top of the planting pyramid and work your way down. Add more of each type as you go.
As a rule of thumb, start with your evergreen trees and shrubs, then add your deciduous trees, shrubs and hardscaping (like fences and walls). After this, the rest will fall into place.
Have fun with the bottom of the pyramid, as this is where you can add the most color, variation and interest in your garden to create a beautiful, unique 4-season landscape with lots of layers.
More Gardening Posts You'll Love
What Blooms with What?
Never know what to plant together? Find out with this FREE Plant Pairing Guide and become a pro at combining plants for the best garden design possible!