Please note: I may earn commissions from qualifying purchases if you shop through links on this page. More info.
How To Create Comfy, Cozy Outdoor Garden Rooms (Lots of Examples!)
Over the past year or so, I've noticed that "garden rooms" has become quite the buzzword in landscape design. I get countless emails about what they are and how to go about creating them. Even though lots of people are talking about them… I haven't found many explanations that define what garden rooms actually ARE.
So, let's talk about it!
Outdoor garden rooms are very much like indoor rooms of a home. Both indoor rooms and outdoor garden rooms have floors, walls, ceilings and (usually) furniture. We divide a home's footprint into different rooms for defined uses such as eating, sleeping and working. The same is true outdoors. You can divide your yard into rooms or spaces that serve different outdoor functions.
What is an Outdoor Garden Room?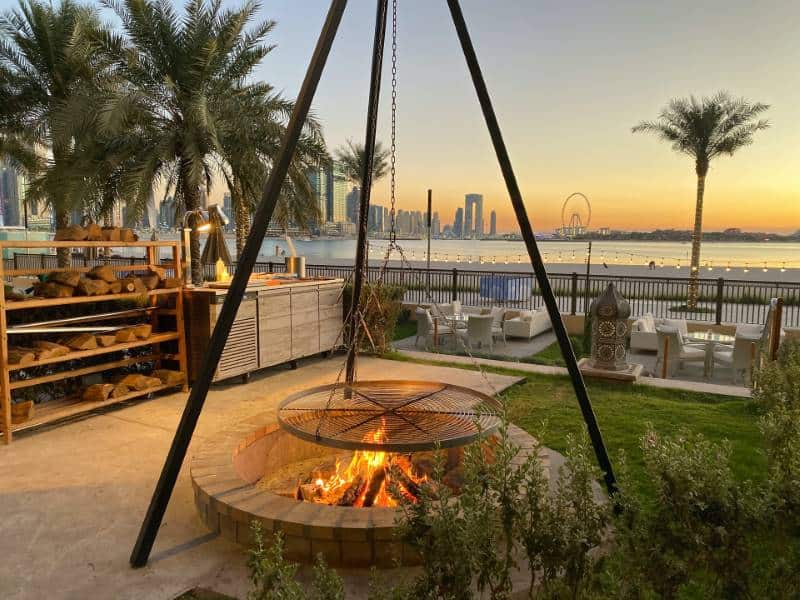 The truth is that the concept of garden rooms is not a new one to designers. We're always seeking ways to divide a landscapes into functional, enjoyable and beautiful spaces.
Garden rooms can be as unique as you are. But a few examples of defined spaces you may decide to turn into rooms are:
kitchen / cooking space
dining room
relaxing area
reading nook
entertaining room
kids play area
dog play area or catio
vegetable garden space
wildlife zone
sports/fitness space (like a putting green, basketball hoop or yoga room)
firepit area
outdoor movie theatre
If you're still in the process of figuring out your wish list and creating a space infused with your personality, check out my Garden Style Mood Board Workshop. This workshop will help you create blueprints to a clear, specific and implementable vision for your yard that you can DIY (or hand over to a professional).
Before designing a single outdoor garden room, first create a master design plan. This will ensure that you have a cohesive landscape that flows and makes the best use of your space. If you haven't done this yet, head over to this landscaping from scratch article to go through the process.
Components of Outdoor Garden Rooms
Outdoor garden rooms have a defined purpose. Just like your kitchen, living room, bedroom or office has a purpose! And, you can decorate and style them like you do your indoor spaces!
💡 Once I started to think about outdoor garden rooms the way I think about interior design, everything clicked.
This little garden room illustration I drew will help explain this idea further.
Let's take a look at the lounge area of this patio to understand the different components of garden rooms.
I positioned an outdoor area rug underneath the furniture to create the garden floor.
Mixed borders (bottom & left), a raised planter (top) and potted plants (right) surround the room to define garden walls.
The canopies of large trees will create a garden ceiling overhead.
Garden room furniture (couch, chairs, coffee table and ottoman) is arranged to encourage intimate conversation with friends or family.
In my opinion, the most important part of an outdoor garden room is the entrance. So, in each section, I'll also discuss how you can apply these components to the entry of your garden room. Focus the majority of your efforts on creating a welcoming entry into your garden room. This will create the biggest impact with the least amount of effort.
Garden Room Floors
Garden floors define the area of your garden room. The garden floor is what you see when you look down at the ground. Garden floors can be softscape material, like grass or mulch. They can also be hardscape material, like stone or brick. Outdoor area rugs are also commonly used to define an outdoor garden room floor.
When designing your entire outdoor space, be consistent in your use of hardscape materials and color. Most home owners use too many materials which makes the design feel disconnected.
When choosing the flooring of your garden room, there's a few things you need to keep in mind. Try to limit your hardscape choices to two or three for your entire design. Or, use the same flooring but change up the pattern, color or texture of the flooring material.
Your outdoor space will look unprofessional if you choose different flooring for every single garden room. Next time you're in a professionally designed space, look down. Count how many hardscape materials you see. Are they truly different materials? Or are they different patterns, tones and textures of the same material?
While you shouldn't use 20 different hardscape materials, a change of flooring can "welcome" someone into a garden room. It indicates that they've entered a new space.
You can change the hardscape material for your entire garden room. For example, a brick pathway leading to a concrete dining area.
Garden flooring changes can also be subtle. You can change the pattern of the flooring to indicate that a person is entering a new space. For example, change a running bond brick pattern to a herringbone pattern. Or, change the direction of the brick.
You can also use an area rug to define the floor of your outdoor garden room. Or line the edges of your garden room with a repeating plant to outline the space. Low growing grasses and sedges work well for this.
Outdoor Flooring Materials
There are so many material options that you can choose for garden flooring. Some of my favorite flooring materials are grass, mulch, pavers, flagstone, brick, concrete and crushed stone.
Your garden style will determine many of your hardscape material choices. If you're not sure what your style is, head over to this garden styles article to learn more about each one. There are so many different materials you can use to create the floor of a garden room . Garden floors are a place you can let your personality and style shine through.
You don't need to change the flooring in your garden room. You can also use garden walls and ceilings to define the space. So, let's discuss those next.
Garden Room Walls
Garden room walls are used to define the edges of your space or create a sense of intimacy and enclosure. Living garden walls, such as hedge rows and vines create natural walls. Fencing, stone, lattice or existing structures can also make great garden room walls.
Walls define the edges of your garden room and can be low or high, depending on your needs. Consider using plant borders and privacy hedges for living walls. High fences or low stacked stones also make excellent garden walls. There's no right or wrong choice!
Existing structures, like walls of a home, shed or garage, also make great garden room walls. Use these existing structures to your advantage. They can provide a beautiful backdrop for your garden room for little to no cost!
There's no hard and fast rule about the height of your garden room walls. They can be very low, which will connect your garden room with other spaces. Higher walls will create more privacy and intimacy. Higher garden walls can also help block out noise from nearby streets and neighbors.
But, if you're looking for a guide, the law of significant enclosure states that the walls should be 1/3 the length of the horizontal space in order to make the room feel cozy and enclosed.
So, if you have a patio that's 12′ in length, a wall or hedgerow of 4′ would be enough to create that sense of enclosure you're looking for in a garden room.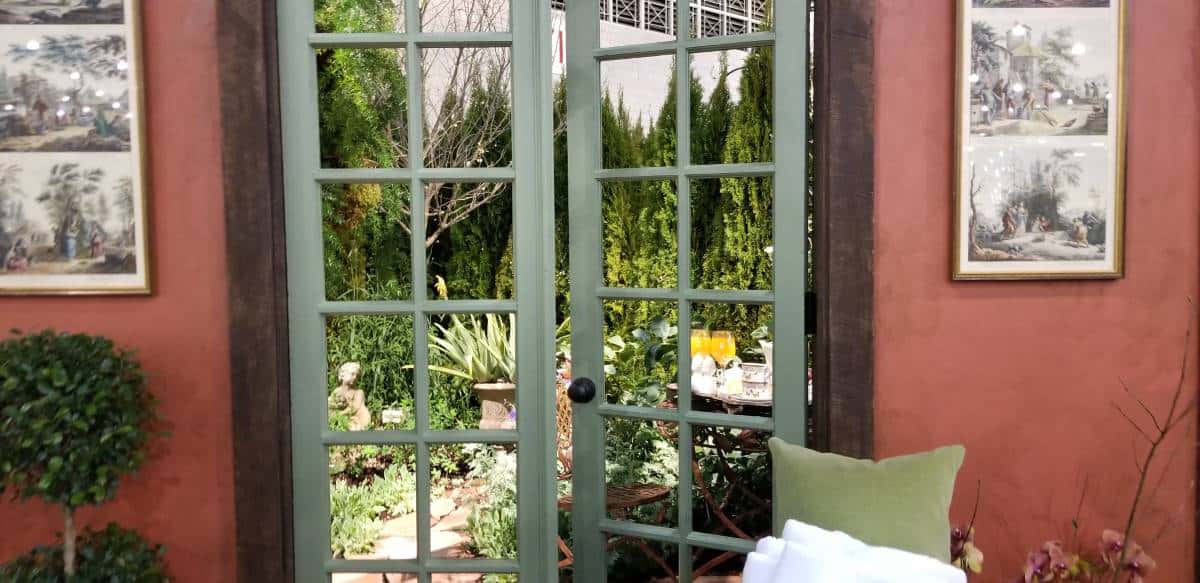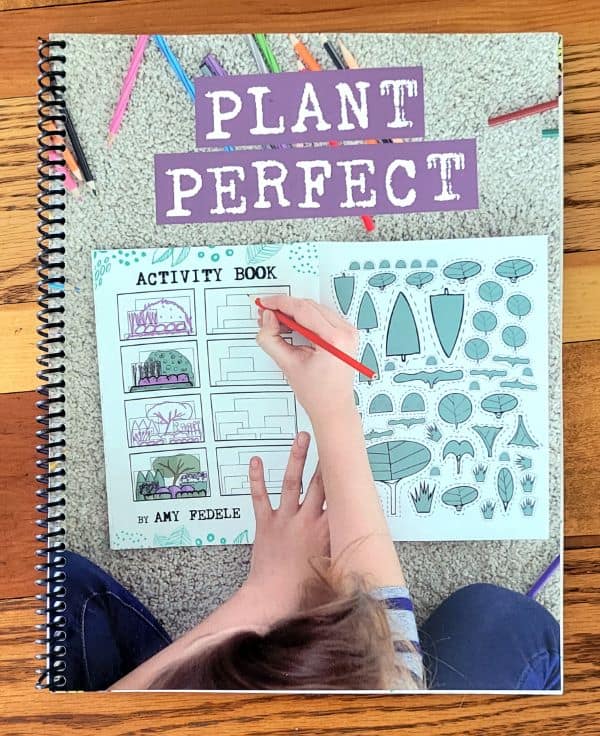 If you're in the process of planning out your landscape, you will love my Plant Perfect Activity Book. This activity book is a creative & fun way to get you thinking about your property in a whole new way… all while drawing, coloring and crafting your way through fun, hands-on garden design activities.
I'll show you how to reclaim your privacy, reduce noise, hide your neighbor's garbage heap… or just learn exactly where the most peaceful place to enjoy your morning tea or coffee is. It's really a great way to start planning out the garden of your dreams.
Garden Wall Materials
A few of my favorite materials to use for garden walls are fences, trellis/lattice with climbing vines or outdoor décor, mixed border plantings, trimmed hedges and stone walls.
Garden Room Ceilings
Garden ceilings create the canopy above your garden room. A garden ceiling can be open, semi-open, or completely covered. A ceiling adds extra depth to a garden room. It can also bring the scale of your garden room down, creating more intimacy and enclosure.
Ceilings are often overlooked when designing a garden room. But, that's ok, because they aren't required. You can have a lovely garden room with an open-air ceiling, too.
But, in my opinion, garden ceilings can be a very special addition to your space. A ceiling can enhance your garden room. A ceiling can also increase how often you can use your garden room. Ceilings can protect you from the elements, like harsh sun or rain. They can also provide a light source, so you can use your garden room later into the evening.
Garden ceilings can also be tricky, though. A ceiling can directly affect the perceived scale of your room. Ceilings can make a room more intimate, smaller, safer, cozier. A room with no ceiling, exposed to vast, open skies can have the opposite effect.
Garden ceilings can provide shade, privacy and protection from the elements. While the ceiling is a very functional part of a garden room, it can be just as beautiful as the floors and walls.
First, determine if you need solid protection or if your garden room can be partially open to the sky. You may want a covered ceiling so that you can dine outdoors even when it's raining. In a sunny yard, a large tree canopy, shade sail or pergola can provide protection from the sun.
Maybe you want to use your garden room late into the evening. A ceiling of string lights or paper lanterns would truly enhance your garden room; both in function and beauty.
Garden Ceiling Materials
A few of my favorite materials to use for garden ceilings are tree canopies, string lights, chandeliers, pergolas/gazebos with climbing vines, umbrellas and shade sails.
Garden Room Furniture & Accessories
It's no coincidence that furniture and accessories are the last piece of the garden room in this article. Defining the garden room structure is much more important, just like building the structure of a home.
Once construction is complete, use furniture and accessories to further define the style and mood of your garden room. Furniture choices can depend greatly on your garden style. Accessories can style your outdoor room, just like your indoor rooms. So, look for ways to bring your personal style in to the furniture and accessories you choose.
A great way to create cohesiveness between the interior and exterior rooms is to continue the same style. Take cues from your home and try to incorporate similar accessories and colors outside, too.
As an example, I love to use copper to decorate my home. All of my dining chairs and many of my décor pieces are copper. So, I purchased a copper wind spinner, an arbor with copper elements and copper-toned planters for my outdoor space. This ties my indoor and outdoor spaces together, while showing off my style.
Furniture Options
There are so many different options for outdoor garden furniture. You can choose from dining/lounge chairs, couches, benches, ottomans and dining/coffee/end tables in a huge variety of styles and colors. I also really like using egg chairs, hanging chairs, swings and other whimsical furniture in garden rooms to make them feel special.
Accessory Options
Containers are your best friend in accessorizing a garden room. But it doesn't have to stop there. Rooms can have art on the walls, hanging plants and window boxes, sculptures, bird houses, wind chimes/spinners, water features, fire features, throw pillows and blankets. Use accessories to tie your room together with pattern and color; just like you do inside of your home.
Designing An Outdoor Garden Room
Now that you know all of the components of a garden room, you should be ready to design your own. I know that this can still be a daunting task… putting all of the pieces together. So, here are some tips to get you started.
Creating the Structure of an Outdoor Garden Room
I like to think about designing a garden room in the same way you'd design an interior room of your house. The only difference between outdoor and indoor rooms is that you have to define/create the actual structure for an outdoor room. But that's a fun and exciting challenge — you get to pick the materials for your floors, walls and ceiling! That means it can be really unique and personalized!
Lisa Nunamaker, a garden design educator, writer, illustrator and speaker, introduced me to the concept of garden rooms many years ago. Check out her article for instructions and printable file you can use to create your own "Pop-Up Garden Room" just like the one I made in her Garden Graphics Toolkit course.
Decorating an Outdoor Room
Once you explore some ideas to create the structure of your garden room, it's finally time to arrange and decorate the inside. We all have experience arranging furniture, choosing paint colors and coordinating accessories. So, this should be a really familiar process!
Try using the same process you would for an indoor room using materials that are suitable for outdoor use. I like to define a color palette or theme throughout my room to make it feel put together.
Don't forget about lighting, area rugs wall art and even accessories like vases or throw pillows to finish off and unify your space.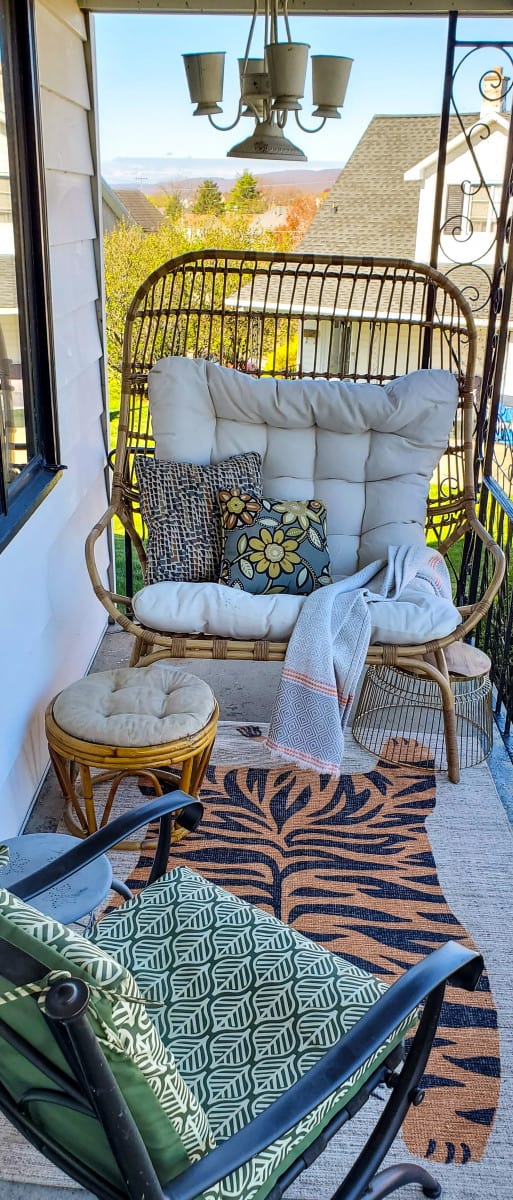 Wrapping Up
So, I hope this information helps you to understand what a garden room is and the process for designing your own. Both indoor and outdoor "rooms" are made up of floors, walls, ceilings and (usually) furniture and accessories. Remember that each outdoor garden room can serve it's own purpose; such as relaxing, dining, entertaining, growing food or playing games. Take inspiration from your indoor spaces when decorating your outdoor rooms.
Before you know it, you're entire yard will be filled with "uniquely you" garden rooms.
I can't wait to see what ideas you come up with! And don't forget to grab my Plant Perfect Activity Book to help you through the process of planning out your landscape and putting those garden rooms in the perfect location!
More Garden Design Posts You'll Love