With the amount of garden styles to choose from, choosing the "right" garden style gets overwhelming for beginner gardeners really quickly. There's cottage and woodland and meadow gardens. Japanese and Mediterranean and contemporary gardens. Formal and English and French gardens. The list goes on and on…. and literally on.
But, the truth is that although there are many styles to choose from, they can be grouped into three larger garden style categories. So, choosing which garden style is right for you becomes a lot less intimidating. Let's explore traditional, cottage and modern garden styles, plus recommendations for pulling off each garden style. Once you know the basics, you can mix, match and adjust elements from each garden style to create a design that's as unique as you are.

---
Cottage Garden Style
Plants in cottage gardens are colorful and diverse, with a tendency to spill over into lawns and paths. Fill your cottage garden with collections of your favorite flowers and plants that are both beautiful and practical. The cottage garden features colorful ornamentals, edibles, herbs and medicinals all mixed together as one. Plantings utilize every available space, creating a feeling of charm and "organized mess."
Cottage gardens are the relaxed and sometimes unruly offspring of the highly uptight formal garden. There's much less emphasis placed on the symmetry or positioning of plants in cottage garden styles.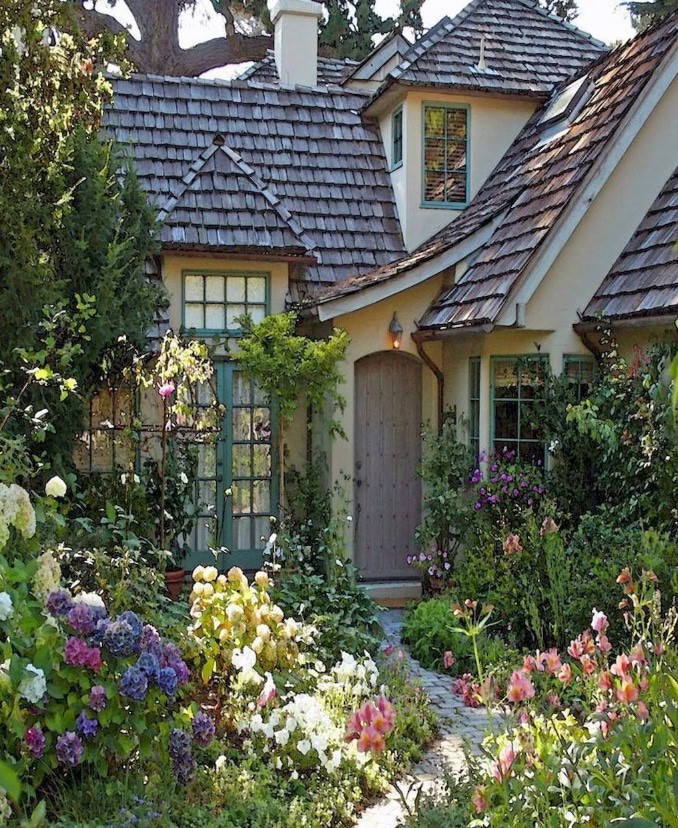 This freeform style is absolutely beautiful (my personal favorite). But, because there are very little rules, it can be challenging to get this style right. Above all, this garden must appeal to you personally, filled with the plants, flowers, scents, and colors you love. It is a garden of the heart, of the hearth and of the home.
Elements of cottage gardens
Informal plantings that appear "randomly placed" with very little open space.
Walls and fences covered with climbing plants and vines
Natural materials like brick, gravel, decomposed stone and mulch used for pathways.
Plants that spill onto paths and over fences to "soften" the edges.
Ornamental plants mixed together with medicinal and edible plants.
Some ideas to incorporate into your own cottage garden
The arbor gate: Before automobiles, visitors tied their carriage horses at the front gate to the dooryard. The vine or rose shrouded arbor made it more comfortable for the animals to wait in the shade or protected from the rain. I love this arbor gate by Montebello.
White lattice: An elegant way to screen a view or offer privacy without sacrificing air movement. For outdoor living, or in the era before air conditioning, this was a common and welcome building material and, today, provides a backdrop for many cottage gardens. Check out this beautiful white lattice trellis.
Clay flower pots: Inexpensive clay flower pots are common in cottage gardens because the original modest cottage gardeners couldn't afford luxury items. Here's some aged terracotta pots in a metal basket to get you started.
Wood window boxes: Homemade window boxes were a popular decoration for simple, functional homes at minimal cost. You might like this gorgeous rustic planter box in 15 sizes.
Flea market finds: Antique wheelbarrows, rustic wagon wheels and even old dresser drawers used as planters. Any quirky, whimsical finds that are weathered with age will enhance the cottage garden style. Too impatient for flea markets? Here are a couple of my favorite, weathered cottage garden items:
What Blooms with What?
Never know what to plant together? Find out with this FREE Plant Pairing Guide and become a pro at combining plants for the best garden design possible!
Plants for cottage garden styles
Cottage garden plants are not rare and exotic. Most flowering perennials and shrubs fit well in this look. Among them are American natives and ordinary species. Many old-fashioned flowering shrubs such as hydrangeas, roses, lilacs and trees, such as magnolias will suit the cottage garden style.
Known as the "Queen of Climbers," Clematis (Zones 3-9) is a beautiful, flowering vine that comes in a variety of colors with a variety of bloom times. Clematis is a great choice for growing over walls, trees and even over other plants in your cottage garden. Creeping Phlox (Zone 3-9) is a colorful groundcover that will attract butterflies and bees while carpeting your landscape with fragrant blue, white and pink flowers. Shasta daisies (Zones 3-8) and coneflowers (Zone 4-8) look great in cottage gardens. And, let's be honest… how can you look at either of these flowers and NOT smile!
Also try incorporating edibles and herbs into your cottage garden. Mix in rosemary, sweet bay, sage, lavender, blueberry, figs, grapes and pomegranates with your ornamentals for a cottage garden look, smell and taste amazing. Check out Nature Hills Nursery for $5 off orders over $50 when you use my link.

Inspiration for cottage garden styles
What Blooms with What?
Never know what to plant together? Find out with this FREE Plant Pairing Guide and become a pro at combining plants for the best garden design possible!
---
Traditional Garden Style
The perfect garden for colonial, Italian and French inspired architecture, traditional garden styles focus on symmetry and balance. When I think of a traditional garden, I picture a very formal garden with strong architectural features, wide expanses of perfectly trimmed lawn, rows of orderly clipped hedges, framed views of stone fountains and cleanly edged walkways.
Dominated by green lawn spaces that are balanced by green trees and green shrubs, traditional garden styles are usually not filled with color. Many times you'll see traditional gardens using only white as an accent color.
If you like the balance and symmetry offered by traditional gardens but don't want yours to be so "uptight," you can certainly borrow elements of the formal garden design to incorporate into your own garden. Traditional gardens don't have to be as strict as my explanation above. In fact, some garden designers will label cottage gardens in the traditional category of garden design. I think this can get a bit confusing so we'll cover cottage garden styles separately.
Elements of traditional gardens
Symmetry through the repetition of the same plantings on either side of the yard or walkway.
Straight lines, straight paths and bold geometric forms
Horizontal expanses of green manicured lawn.
Formal hedges pruned into repetitive shapes
Some ideas to incorporate into your own traditional garden
Topiaries: Use potted topiaries as portable sculptures that can be moved around the garden. If you don't want to deal with pruning, try this artificial 18″ English boxwood topiary.
Pedestal Urns: Pedestal urns, whether elegant or plain, are the perfect container for traditional garden styles. If you like traditional style you'll love this sculptural pedestal urn.
Columns: Use white or stone columns are classic and traditional to the core. Use them as freestanding art, to support arbors and pergolas or to flank gates. Try these lightweight, adjustable height columns.
Pea Gravel: surfacing walks, drives and terraces with inexpensive pea gravel will create a "crunch" when you cross it.
Stone Fountains: Classic fountains used at focal points in traditional gardens bring a little bit of movement to the rigid planting structure of traditional gardens. This classic Tuscan garden stone fountain deserves a place in your traditional garden.
Plants for traditional garden styles
Columnar trees such as 'Blue Arrow' Juniper (Zones 4-9) and 'Hix' Yew (Zones 4-7), and boxwood shrubs as hedging are all signatures of the traditional garden style.
Roses, peonies and tulips each represent a different aspect of this strong floral legacy. Some of my favorites are the rambling groundcover 'Apricot Drift' Rose (Zones 4-11), 'Coral Supreme' Peony (Zones 3-7) and hardy 'Orange Emperor' Tulips (Zones 3-8).

Inspiration for traditional garden styles
---
Modern Garden Style
Each generation tends to get a bit trendier. So while cottage gardens are still a popular garden style choice, modern/contemporary gardens have grown in popularity. For me, modern gardens still have one foot in the past. There are some traditional elements – planting is still abundant but less chaotic than the cottage garden, so it's easier to manage. But the underlying design of modern gardens are not formal like traditional gardens. In this garden style, the perfect symmetry of geometric shapes is replaced by asymmetrical, sometimes interlocking, lawn and patio shapes.
The modern garden style eventually morphed into the contemporary garden style. But, they are similar enough to clump into one category. The contemporary garden style is all about clean lines, smooth surfaces and minimalism. Plant choices are reduced to a few key varieties. Design is stripped back and the materials used for hard surfaces take centre stage over the planting. The focus is on leisure and entertaining with the 'outdoor room' being at the heart of contemporary gardens.
Elements of modern gardens
Geometric-shaped precast concrete stepping stones are common in modern and contemporary garden styles because they're highly versatile and inexpensive.
Architectural sculptures or planters made from concrete, resin or ceramic in gray or bold colors are a great choice to mimic and contrast the shapes in your modern garden.
Metal, whether it's metal grids, sheet metal or even galvanized steel can help to carry out the modern look of this garden style. Just make sure there's no patina or rust to the metal to maintain that clean, contemporary look.
Water features like ponds and fountains with clean lines and geometric shapes are a staple in modern garden styles.
What Blooms with What?
Never know what to plant together? Find out with this FREE Plant Pairing Guide and become a pro at combining plants for the best garden design possible!
Some ideas to incorporate into your own modern garden
Spheres: Whether created of concrete, ceramic, metal or even a recycled bowling ball, spheres become vital sculptural elements for these gardens. They stand out as bold art forms in a spare landscape. I love this mirrored gazing ball — it's so modern!
Containers: Using simple but architectural containers in the modern garden is a great way to create a focal point. Use bold plantings or even a single plant or tree to maintain the minimalist and tidy look of this garden style. This large, sleek garden planter is a must-have.
Reflection pools: Clear, still reflection ponds are found in sacred places throughout the world. Usually rectangular or round, reflection pools are easy to maintain because they don't contain fish, plants or flowing water but still bring a sense of peace and serenity to modern garden design. Here are some great reflecting pool ideas from Pinterest.
Plants for modern garden styles
Trees in a contemporary garden tend to have a more upright habit, so they become a structural element. Their canopies are not too large, and there may be several in a row to create a hedge effect. For example, a Japanese Maple (Acer palmatum) has an attractive shape that is a standout as a specimen tree in modern/contemporary garden styles.
Plants for modern/contemporary gardens are all about structure and form. Try 'Sapphire Skies Beaked Blue' Yucca (Zones 5-10) for it's blue globe-shaped spiked foliage with white flowers. Aeonium (Zones 4-9), a succulent known for its fleshy leaves and geometric shape is another great plant for the modern garden style. Ornamental grasses with bold stature are also great for this modern/contemporary gardens. Try Golden Japanese forest grass (Zones 4-9), a low-growing shade-tolerant mounding grass that can be used as a groundcover in your modern garden.

Inspiration for modern garden styles
What's the next step?
So you may be thinking… ok great… I figured out my garden style. Now what? Don't worry! I've got you covered!
Head over to this article to landscape your yard from scratch in 7 steps.
Or, check out this article to tie your new garden style into your existing landscape.
If you need a bit more of a hands-on approach, I also offer garden design online courses where I'll walk you through everything you need to know to create a landscape that's uniquely you.
Wrapping Up
In this post, you learned a ton about cottage, traditional and modern garden design styles. You CAN mix and match these garden styles to create your own unique garden style, but make sure you do this purposefully. It's my hope that understanding the underlying elements, features and common plants for each garden style will give you the inspiration to create a garden design that's as unique as you are!
More great gardening posts
What Blooms with What?
Never know what to plant together? Find out with this FREE Plant Pairing Guide and become a pro at combining plants for the best garden design possible!