Please note: I may earn commissions from qualifying purchases if you shop through links on this page. More info.
4 Best Gardening Magazines Compared (with Sample Content)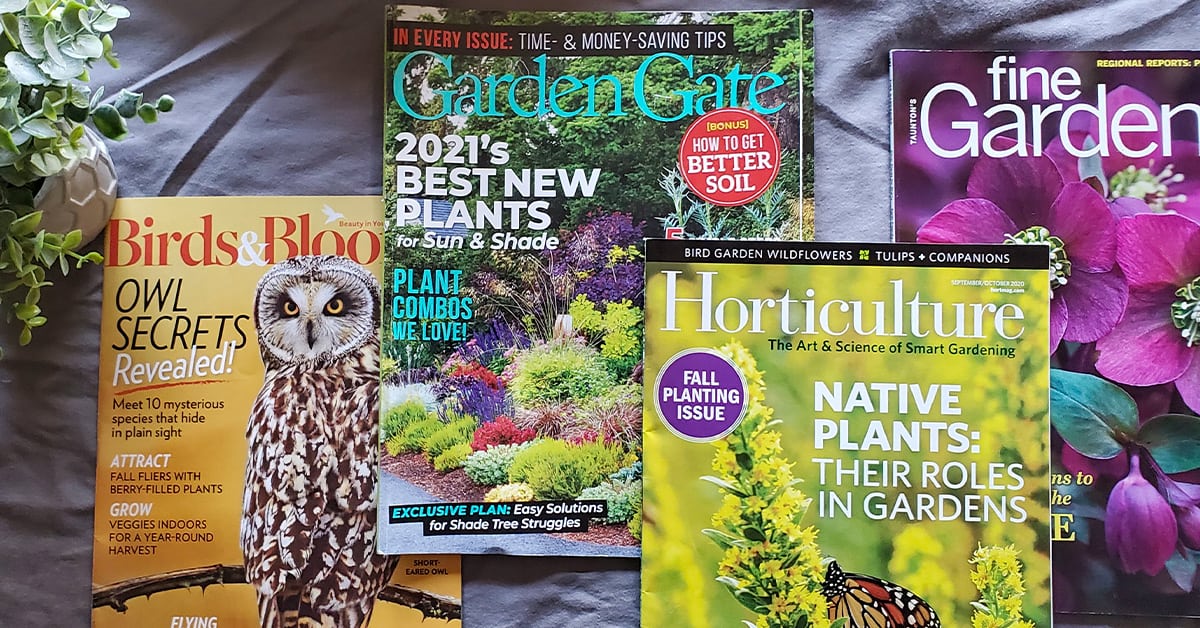 I don't know about you, but I really love the printed page. Whether it's browsing a big old pile of gardening magazines, shopping my (many) seed catalogs or scribbling in the margins of my favorite landscaping book, things just don't get much better for me. It's probably no surprise that I'm a (proud) magazine junky. I currently have subscriptions to four gardening magazines. We won't get into the others…
I'm guessing you're here because you're looking for the right gardening magazine subscription for you. Four of the best gardening magazines in publication right now are:
Fine Gardening
Garden Gate
Horticulture
Birds and Blooms
I'll provide all the basic details about each magazine, of course. But as a long-time subscriber of all four, you'll also get my honest review of each, along with who it's written for and what makes it unique so you can pick the one that's right for you.
Fine Gardening Magazine
Fine Gardening features articles about garden design, landscaping, in-depth looks at plants and lots and lots of photos, including closeups and wide shots of full landscapes. Out of all of the gardening magazines, this one provides the best "mix" of content. It's more focused on landscaping than vegetable gardening but always offers a little of both in each issue.
If you love to garden and want to learn about any and all aspects of gardening, Fine Gardening is a great choice. I am a long-time subscriber and literally schedule time to read it cover to cover when it comes in the mail and I'm always inspired by the gardens and projects within it.
Subscription Details
Frequency: every 2 months (6/year)
Guarantee: 100% satisfaction guarantee. If you (or your recipient) are not completely satisfied with the magazine, they will do "whatever it takes to make it right – even a 100% cash refund if you choose."
ALL ACCESS membership provides online access to the current magazine, past issues and exclusive members-only articles/video/newsletter content and regional-specific information for an additional fee.
What's Inside Fine Gardening?
The content within Fine Gardening is what you'd expect from a broad-range gardening magazine for all types of gardening. The content is suitable for all skill levels and Many of the articles are in-depth, written in the first-person featuring lots of photos. There's articles by professionals in field about a variety of gardening topics, detailed plant profiles, Q&A and tips from readers. Topics range from a lot of ornamental gardening to vegetable gardening to indoor gardening with houseplants.
Sample Content
A feature article titled Texture Never Quits features a ten page garden tour with large spreads of photos of textural plants within the landscape as you read along to the story of the garden's owners and how it came to be.
An article titled Spurge: Great Plant Bad Name gives background information about spurge plants, photos of what they look like, why to use them in your garden and specific cultivars that are suited for warm vs. cool climates.
An article titled Squeeze in Some Citrus provides tips for successfully growing your own citrus plants indoors using the light from your window, including how long it takes, how much space it takes and the pros and cons.
What's Unique?
The ALL ACCESS membership is great. In my opinion, the ALL ACCESS add-on benefits are well worth the price (about an extra $10/year). If you've ever been blocked from reading "member only" content on their site (so frustrating), ALL ACCESS is your key to their kingdom.
I really enjoy that most of the articles are written in the first person based on personal experience by gardening experts.
I enjoy their "Regional Picks" section which provides plant choices your specific region in the US.
I find a lot of value in the photos and anecdotes from the garden tours. Hearing stories of each garden from the owner adds another layer of understanding and connection. I appreciate the "wide angle" photos so you can see the whole landscape rather than just tight closeups of plants.
Great content mix – there's a little something for everyone.
Lately I've noticed they're giving a lot more native plant suggestions. For most plants, they now provide the native range right alongside the zonal range, mature size and sun/soil tolerances. I find it really helpful.
Garden Gate Magazine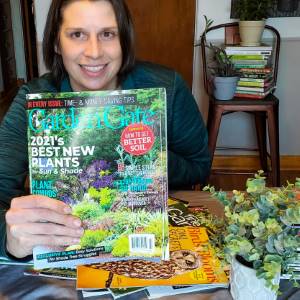 Garden Gate Magazine is a dream come true for ornamental gardeners. Get lots of information about plants and design that's broken down and easy to digest. The focus of Garden Gate is mainly on plants and aesthetics and they do it very well. But, don't expect to find too much information about vegetable gardening or houseplants in each issue.
Subscription Details
Frequency: every 2 months (6/year)
Guarantee: 100% "no questions asked" money back guarantee. If you aren't satisfied they will refund you for remaining issues in your subscription.
Free "preview" issue so you can try before you subscribe.
Free digital issues with your print subscription. Read the current and past issues (about a year back) in their online library. I really like that I can read the current issue online even before it arrives in the mail (clearly I'm impatient).
Ability to purchase full access to their entire online library of past issues for a one-time fee.
What's Inside Garden Gate?
Garden Gate magazine covers a wide-range of topics related to (mostly) ornamental gardening. Their featured articles are usually written in a list format with lots of actionable content. Most of the content surrounds tips, tricks and practice solutions to solve problems and save time in the garden. Every issue has a "Top Picks" section with recommended plants and/or tools from the experts. There are a lot of "before and after" makeovers and garden tours, both by professional and amateur gardeners that provide inspiration and ideas you can try at home. There's also some easy DIY projects for home gardeners, which is lacking from Fine Gardening's usual content. This is a great option for gardeners of any skill level that want to learn more about plants, shrubs and trees for their landscape.
Sample Content
A feature article titled Eight Garden Hacks for Outwitting Deer features tips and plant suggestions for deterring deer along with photos and helpful illustrations for each tip.
A Weekend Gardening article titled Repurposed Hose Edging gives step by step instructions (with photos) to upcycle old garden hoses into a garden bed edging solution, emphasizing the unique and eco-conscious benefits of completing the project.
A Top Picks article titled Native Prairie Plants for Any Size Garden provides photos and descriptions for prairie grasses, plants and flowers along with "micro prairie picks" for the cultivars you can try in your own, small home garden.
What's Unique?
Share a tip or ask a question through an online form. Some of the tips are published in the magazine.
I like the way the content within the articles is "chunked" into easily scanned and digestible pieces. I usually scan through it once to find the "good stuff" then go back and read the articles in full if they interest me.
Professionally illustrated design plans with drawings and plant lists in every issue.
Annual "Reader Garden Award" gives home gardeners a chance to have their garden professionally photographed and featured in the magazine.
While there are a few vegetable gardening or houseplant tips here and there, this magazine is heavily focused on garden design and landscape plants.
Horticulture Magazine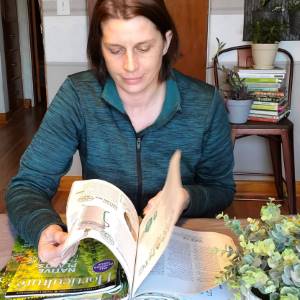 Horticulture Magazine features gardening articles about growing perennials, trees, shrubs, vegetables and more. This magazine focuses on both the art and science of gardening.
Subscription Details
Frequency: every 2 months (6/year)
Guarantee: 100% "no questions asked" money back guarantee. If you aren't satisfied they will refund you for remaining issues in your subscription.
Offers a print+digital subscription that comes with an app for Apple, Google Play, Amazon and Zinio. No digital issues for the print-only subscription (i.e. it costs extra).
What's Inside Horticulture?
Horticulture magazine features professionally written articles that explain both the art and science of gardening. The information covers both ornamental and edible gardening as well as plant suggestion articles geared towards solving gardening problems like dry shade or poor drainage. Horticulture also features tours of public and private gardens and interesting restoration projects. The magazine content is definitely for intermediate to advanced gardeners; a beginner may find some of the content overwhelming. Much of the content is geared towards the DIY home gardener that enjoys getting their hands dirty and solving their own problems.
Sample Content
A feature article titled An Easy Trade advocates for gardening with native plants, explaining why it's ecologically beneficial (science) and providing actionable design tips (art) for bringing it all together.
An article titled Sheer Beauties provides photos and descriptions of deciduous trees with interesting fruit, bark and branching form to add winter interest to your home landscape.
An article titled A Supportive Nature highlights the Villa Fairmont Rehabilitation Center's Horticulture Therapy Program in San Francisco uses the lessons and opportunities of gardening to aid in mental health and acute illness recovery.
What's Unique?
Lots of scientific information that explains "why" you should do X. I enjoy that their content is backed by science without feeling too heavy to understand.
Horticulture does the best job at advocating for natives and gives sound advice for gardening with nature in mind. If you're the least bit curious about how you can be a more eco-conscious and educated gardener, you'll definitely love this magazine.
In my opinion, this magazine is geared towards intermediate-advanced level gardeners. It may be too heavy of a read for you if you're still learning the basics.
Birds and Blooms Magazine
The photography in Birds and Blooms is amazing and each issue offers lots of ideas and tips on everything backyard birding AND landscaping. This magazine celebrates the "beauty in your own backyard" with a mix of expert advice and personal stories from readers. Birds and Blooms EXTRA is a second magazine subscription providing even more pages of birding/gardening content with fewer ads.
Subscription Details
Frequency: every 2 months (6/year). Also offer "Birds and Blooms EXTRA" magazine which increases total issues to 12/year. You can subscribe to one or both.
Guarantee: 100% "no questions asked" money back guarantee. They will promptly refund your entire payment—every penny. No questions asked.
No digital subscription or ability to read back issues online.
Very reasonable price (less than $2/issue).
What's Inside Birds and Blooms?
Articles in Birds and Blooms go very in-depth into a particular topic. I enjoy learning more about specific plant varieties and species of birds that I see (or want to see) in my garden. Articles about birds cover everything from nesting, food sources, predators and ways to attract them into your landscape. There's also a heavy focus on personal, reader-submitted photos and articles which are really enjoyable to read. The "Ask the Experts" section allows readers to interact with professionals, submit questions and get featured in print. There's definitely something for every skill level; from a complete beginner to bird enthusiasts and expert gardeners.
Sample Content
A feature article titled Berried Treasures provides tips and tricks for creating a bird-friendly backyard along with suggestions of berry-producing trees and shrubs to feed the songbirds.
A Top 10 article titled Precious Metals features 10 plants with interesting gold, silver and copper hued foliage that will brighten your garden beds and containers.
An article titled Migration Secrets explores how birds navigate their way along with photos of migratory birds, where they migrate to, and the average distance they travel.
In Across the Fence, readers submit answers to specific questions. As an example, 6 readers provide tips and trips for deterring aggressive birds while attracting more songbirds to their gardens. Another question is asked at the end and readers can submit their answer to be featured in the next issue.
What's Unique?
What stands out for me is the photography. There's so many beautiful photos of birds, flowers and more. It's a joy to just flip through the pages.
There's so much information about birds, which is rare for a gardening magazine. Instead of learning about birds "every so often," I'd estimate that at least 50% of the magazine is about backyard birding. If you're passionate about birds and gardening this is the perfect fit for you.
If you like to have online access to your magazines or enjoy browsing through back issues, you'll have to get a digital subscription through DiscountMags as it's not offered on the main website. They do post a lot of the magazine articles on their website, though.
If you're on a budget, this is the most reasonably-priced magazine.
Wrapping Up
This is really only the tip of the iceberg when it comes to gardening magazines. But these are all magazines that I am subscribed to, know and also love. You really can't go wrong with any of these options. So, choose the one you like best — or subscribe to all of them like I do!
More Gardening Posts You'll Love
What Blooms with What?
Never know what to plant together? Find out with this FREE Plant Pairing Guide and become a pro at combining plants for the best garden design possible!