Please note: I may earn commissions from qualifying purchases if you shop through links on this page. More info.
10 Cute & Comfy Gardening Shoes for Women
Every gardener needs a good, reliable pair of gardening shoes. But, finding women's gardening shoes that are comfortable & cute can feel like a pipe-dream. If you're a woman, I'm sure you're already pretty used to sacrificing style for function with your gardening gear. This rings especially true when it comes to shoes, boots or clogs that have to keep your feet dry. 
But listen… just because you like to play in the dirt does NOT mean that you can't look good doing it.
Who made the decision that gardening shoes have to be ugly?
So, I went on the hunt to find some cute gardening shoes for women! I've broken these down into all different kinds of categories so you can find the best and cutest option(s) for you.
Here are the categories:
Best Overall Gardening Shoe (plus 3 runner up options)
Highest Quality Gardening Shoes
Best Budget-Friendly
Best for Wide Feet / Muscular Calves
Most Versatile Gardening Boots
Cutest Clogs
Most Unique Gardening Shoes
Note: This post may contain affiliate links to products I'm writing about. There is no cost to you for using these links and they may provide me with a small commission. Please visit my site policies for more information.
⭐️1: Best Overall Gardening Shoes Winner
When I ask other gardeners about their favorite waterproof shoes… sloggers ALWAYS, ALWAYS comes up. So it's probably no surprise to you that sloggers made this list as the best overall gardening shoe.
Sloggers Ankle High Waterproof Garden Shoe
Sloggers offer adorably cute women's waterproof rain and garden shoes in a HUGE amount of patterns. Sloggers also have high quality insoles for maximum comfort with heavy duty lug tread to keep you from slip-sliding away. Sloggers win best overall gardening shoes because
they come highly recommended by many avid gardener friends of mine
they come in many adorable patterns and colors
they are VERY reasonably priced
By the way, if you are not digging this style, Sloggers makes everything from slip on clogs to knee-height boots in a wide range of colors and patterns. Check them all out here on Amazon. You're bound to find a super cute pair!
Price: $30-$40
1st Runner Up: BOGS Women's Classic Casual Lace Leather Gardening Boot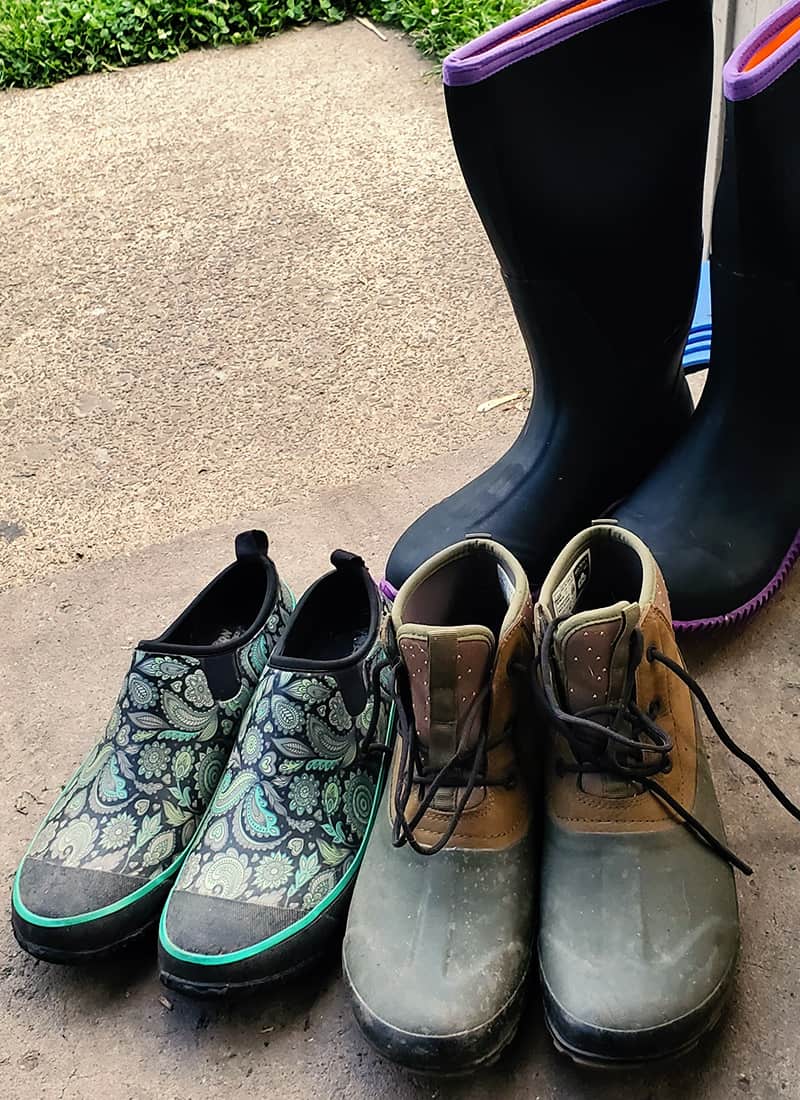 BOGS Women's Classic Casual Lace Leather Gardening Boot (right, front) are my favorite all-around gardening boot for women. I wear these for all of the heavier jobs in the garden; like planting, digging and all kinds of landscaping work. They're super comfortable and I love that they lace up so I can control how tightly they fit me. I also love the subtle polka-dot pattern for a more feminine touch.
While they aren't the cheapest option on this list, they will last a long time and keep you comfortable, too.
Price: $70-100
2nd Runner Up: Joules Women's Molly Welly Rain Boot
Another outstanding competitor for very high-quality gardening boots comes from Joules. Joules offers a mid-calf (buy here) and a knee high (buy here) wellie boot style that will stand the test of time. One of my readers told me that she's been using these boots for 3 years and they are still going strong.
"I bought a mid calf pair of Joules and they're still going strong in year 3. So far they have not leaked."

-Stacy L.
There are a lot of really cute patterns, too — like fun stripes, dragonflies, bees and even doggies.
Price: $50-$60
Honorable Mention: Western Chief Women's Neoprene Step in Rain Shoe
I wanted to include this particular gardening shoe in the mix because I actually own this pair, the Western Chief Women's Neoprene Step in Rain Gardening Shoe. Although they aren't a well-known brand, I really like them and they hit that sweet-spot for me between good price and high style.
This is a really cute option for an ankle high gardening shoe that won't sweat you out in the heat. They're also perfect for light gardening tasks where you may get wet (like watering). I wear these almost every day — they're the perfect slip on for morning strolls around your garden while the grass is still wet and dewy.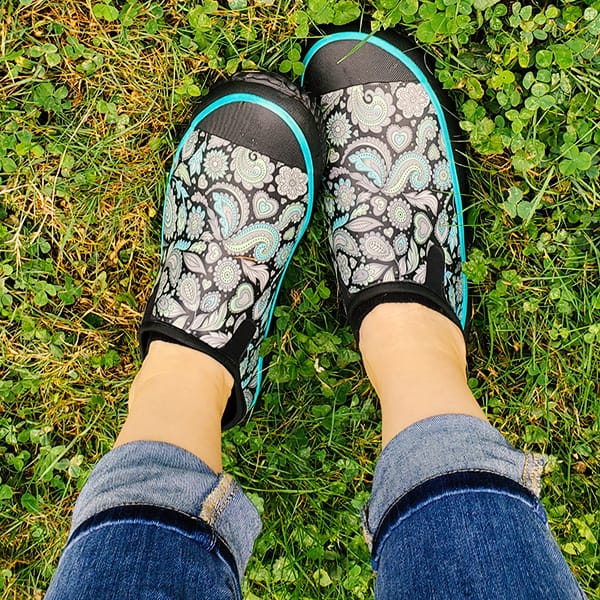 I just love this paisley pattern and the coverage that this Western Chief Step in Rain waterproof garden shoe gives me. The treads on the bottom are not so deep that you get hunks of dirt stuck to your feet. And the insole has elastic in it so that it's right against your ankle, keeping your feet dry.
These, in my opinion, run about 1/2 size small so be sure to order a size up.
Price: $30-$40
7 tips for choosing the RIGHT plants
This FREE guide has 7 key questions to help you pick the perfect plants for your landscape. Pop in your email below for instant access.
⭐️ 2: Highest Quality Women's Gardening Shoes
Muck Boots Muckster Ll Women's Rubber Garden Shoes
I honestly don't find Mucks to be the cutest gardening shoes… but they need to be on the list because they are oh-so-popular and one of the best high-end brands around. These shoes are 100% waterproof and breathable with a shock-absorbing insole. And, if you get the women's shoes they are specifically designed to support the female foot which is pretty darn cool. The two-toned color options are also feminine so you don't have to look like an old man while you garden.
If you're looking for a high-quality and comfortable gardening shoe that is built to last, Mucks may be the choice for you.
Price: $65-$140
⭐️ 3: Most Budget-Friendly Garden Shoe
If you're like a lot of gardeners, you aren't willing to spend a fortune on style because you know you'll be pretty hard on whatever shoes/boots you choose. So, I thought it would be fun to include a really budget-friendly and cute gardening shoe that will make your feet and your wallet happy. And if you are rough on these babies and need to throw them out at the end of the season, you won't feel so bad!
VIFUUR Quick-Dry Aqua Yoga Socks Slip-on
These are actually aqua socks / water shoes but they can easily double for garden shoes… especially if you love the barefoot feeling but don't want to get any worms or slugs between your toes 😂. There are nearly 50 different pattern options available for this shoe as well. Some of them are really cute. To top all of that off… they are REALLY CHEAP… like… the cheapest I've found. So why not grab a pair? Even as a backup these would be a great addition to any gardener's closet!
Price: $10-15
⭐️4: Gardening Shoes for Women with Wide Feet / Muscular Calves
Ugh… the struggles for those of you with wide feet or big calves. I have a friend that can't wear any of those knee high dress boots because her calves are just too muscular to get them to zip up. If you can relate, I have just the option for you. You shouldn't have to go clunking around in men's boots when there are stylish options that will accommodate both wide feet AND muscular calves.
Jileon Ankle Height Wide Calf Rain Boots
These super cute ankle-height boots are specifically designed for ladies with wide feet AND calves. Can't go wrong here if you have trouble finding a great 100% waterproof boot that will also be comfortable.
Price: around $60
⭐️5: Most Versatile Boot for Women Gardeners
It's great to have ankle high clogs… especially in the summer months when the weather is scorching. But… sometimes a girl just needs a good boot to do those particularly messy gardening chores.
However, the winner of this category got me really excited. Not only is it a knee high boot… it's also a mid-calf boot… all in one. Such versatility landed this baby a spot on my list!
Hisea Women's Garden Boots Waterproof Gardening Boots
My pick for the best gardening boots are these babies. They are basically a tall and mid-height boot all in one. And, when you fold them over there's an adorable pattern on the inside! So cute and versatile.
Price: around $50
Personally, I find most rubber boots to be too slippery and loose for my liking… so I usually lean towards the ankle high options.
However, these boots are an exception.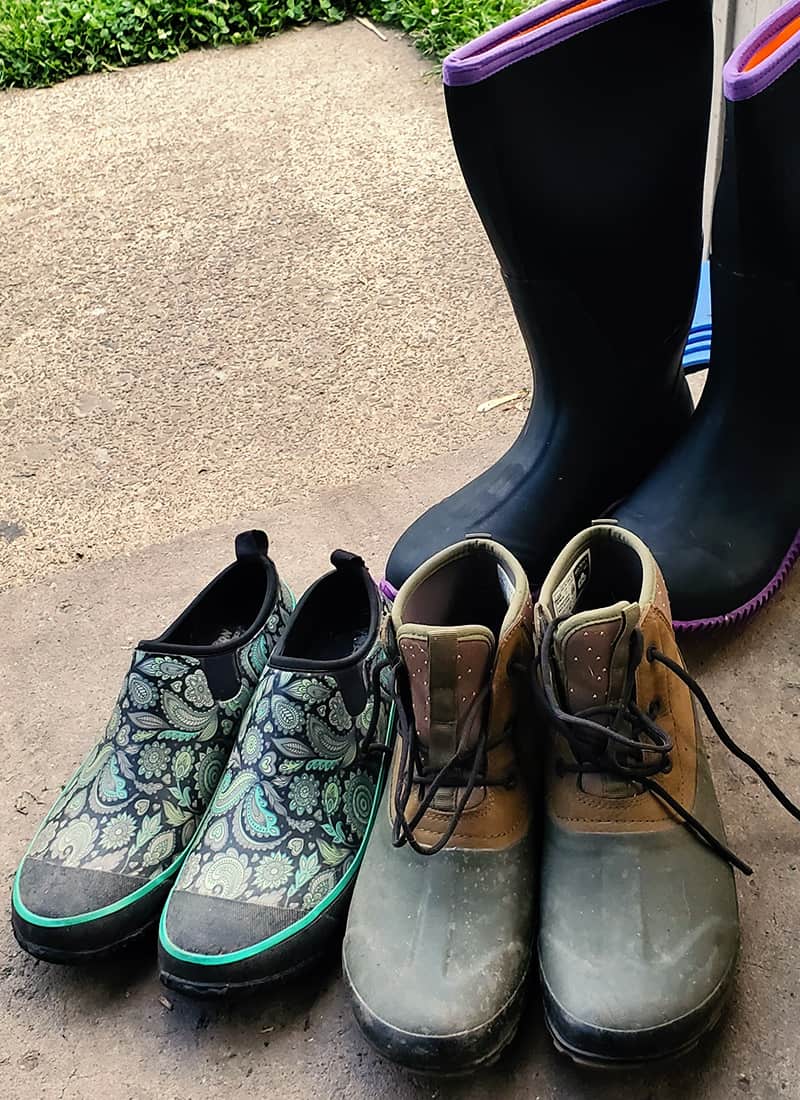 I do own the HISEA Women's Rubber Rain Boots in a mid-calf height. I really love them for super messy/wet jobs in the garden. They are more of a tight fit, so I wouldn't recommend them if you have very muscular calves.
I personally love the tighter fit because they feel more secure and stable to me. I know they aren't going to slip off my foot if I step into a sticky, oozy mud puddle of clay soil… you know the kind I mean!
And, even though I don't wear them every day, they're a very comfortable, durable and reasonably-priced option for those super wet days in the garden.
If you prefer a looser style rain boot, the "best overall" winner, Sloggers, also makes a rubber boot that you can to check out.
⭐️6: Cutest Clogs for Gardening (not waterproof)
Sometimes… you just can't beat a clog for a gardening shoe. Although they're not waterproof you can slip them on really quickly and you don't even need to wear socks. I'm sure that the fact I chose Crocs for this category doesn't surprise you.
But what MIGHT surprise you are all of the color and pattern options they have available now. I was really surprised at how cute some of these slip-on clogs are!
Crocs Classic Clog
Ok these are definitely not waterproof, but many gardeners recommend Crocs as a great shoe/clog to have. They are super comfortable, lightweight, don't get slippery when wet and come in lots of colorful and cute patterns.
Price: around $45
⭐️7: Most Unique Gardening Shoes for Women
There's just something about a unique twist on a classic style that really gets me excited. And I've always loved the duck style shoes/boots for their versatility and function. But this particular option really got my attention because of the ankle high cut and the really classy patterns and color options. Such a fun and unique twist on a style we all know (and probably love).
JBU by Jambu Women's Gwen Garden Ready Rain Shoe
OMG I just love these "duck" style boots. The ankle high low-tops in grey and pale blue are fabulous. Almost too cute to wear in the garden, if you ask me! There are several colors available including the classic duck style with navy and brown leather. This pair features vegan rubber and a memory foam insole to make them extra comfy.
However, these are "Weather Ready" rather than "Waterproof." So… if you're ok with not having 100% watertight gardening shoes, these are adorable and definitely worth a gander!
Price: $20-$50
Wrapping Up
Well as you can see… just because you love to garden and need a durable, hard-working, waterproof shoe… doesn't mean that you need to sacrifice style. With the options on this list, you should be able to find a really cute and comfortable option for all of your gardening adventures.
Do you have special shoes or boots you use for gardening? Or do you just slip on a pair of sneakers and get out there? No matter what you wear on your feet, the most important thing is that you're getting out there and enjoying your garden!
More Gardening Posts You'll Love
What Blooms with What?
Never know what to plant together? Find out with this FREE Plant Pairing Guide and become a pro at combining plants for the best garden design possible!