Please note: I may earn commissions from qualifying purchases if you shop through links on this page. More info.
How to Mix-and-Match Your Furniture & Couches
I don't know about you, but I'm not really the type of person to go to the furniture store and just buy the exact set that they have on the floor exactly as-is. If you want to get a little creative with your furniture selection, but still have a cohesive look, I've got some great ninja tips for how to mix and match furniture like a pro.
I know most of you believe that you aren't creative enough to choose pieces that "go" together, but trust me! Finding exactly what pieces of furniture you want is not as difficult as it seems. Just follow my Mix & Match Furniture System to get great results every time.
When mixing and matching furniture, the seat height and depth should be equal. Match the furniture shape, style, color, fabric and/or back height for a cohesive look.
This system works whether you are purchasing brand new furniture or if you have a really special piece that you love and need to build out the rest of your room around that one item.
The Mix & Match Your Furniture System (with Infographic)
My mix and match your furniture system is really simple and will give you a checklist to use in order to determine whether two pieces will actually go together. Whether it's two couches, two chairs, or a mix of couches and chairs, you will be able to use this system to combine pieces of furniture together in a cohesive way.
Use this infographic to determine if the furniture pieces you choose will actually work together.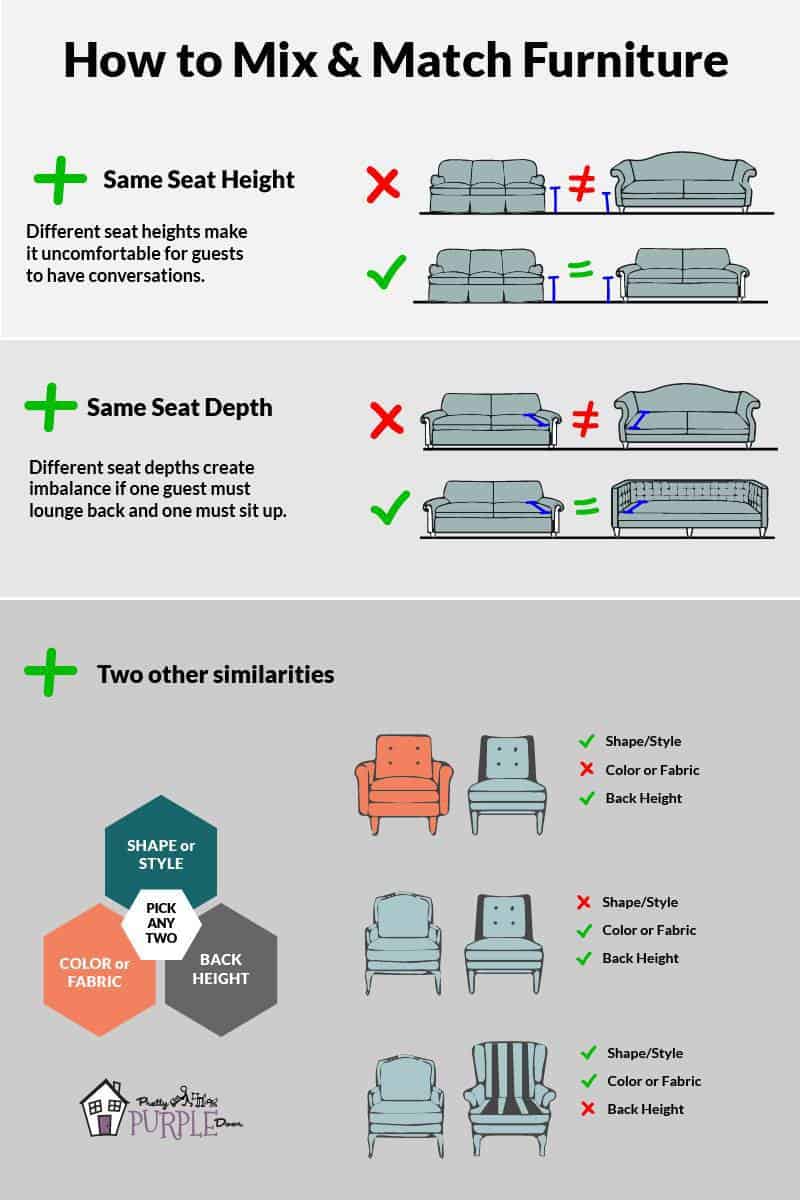 Step 1: Furniture pieces must have (roughly) equal seat heights and seat depths
The best way to combine furniture of different sets is to get items that are very similar in scale. Make sure the seat height and seat depth for each piece is roughly the same.
If you are planning on putting the pieces near each other or across from each other, will it be comfortable for two people to have a conversation?
Do the furniture pieces have equal seat height?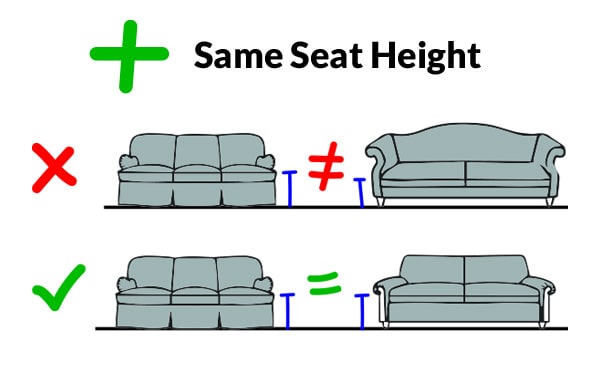 Will one person be sitting up high while the other person is sitting really low? Mismatched seat heights do not lend themselves to having a comfortable conversation.
Do the furniture pieces have equal seat depth?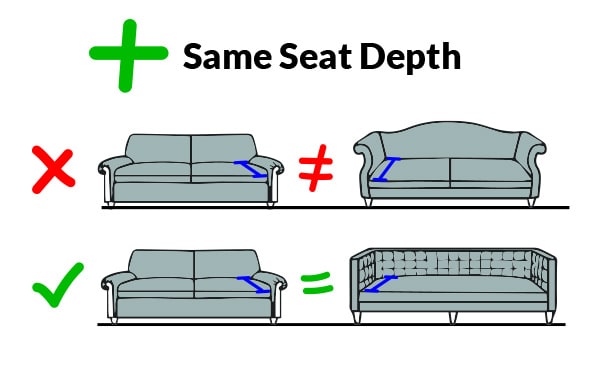 If one person be sitting with 50% of their thighs hanging off the edge of the chair while the person across from them has been gobbled up by a really deep chair, it will feel awkward. So, make sure you take the seat depth into account while mixing and matching chairs and couches.
Step 2: Find at least two other similarities in the furniture pieces
If both the seat height and the seat depth of the pieces of furniture you choose are roughly the same, you are more than halfway there. In order to make sure that they are a home run, make sure that the pieces share at least two of these three important qualities:
Shape or style
Color or fabric
Back height
Furniture with the same shape or style
SHAPE: Using clean lines in all pieces, or rounded backs, or even similar leg/foot shapes in furniture can tie them together.
STYLE: Choosing 2 mid-century modern pieces, or 2 traditional pieces will creative a more cohesive look.
Furniture with the same color or fabric

COLOR: Choosing pieces in the same color family is an easy way to unite them.
FABRIC: Choosing two corduroys pieces, even in different colors/patterns, will still work together.
Furniture with the same back height

BACK HEIGHT: The height of the back of the furniture piece is also important in achieving balance. A really low backed modern couch next to a really tall backed traditional couch may look strange paired together if there aren't several other common elements about them.
Ninja Tips for Mixing and Matching Furniture like a Pro
If you are still struggling with exactly how to mix and match your furniture pieces, here are some more ninja tips for mixing furniture like a pro.
1- Start with the most important piece and work from there
The number one tip when working with furniture selection is to start with the piece that you absolutely fall in love with, or absolutely positively need. For me, it was my couch.
So I shopped around for the perfect couch. I knew I wanted grey, but I wasn't sure if I wanted a chaise attached or not. I like clean lines, and while I like modern styles, comfort is definitely higher on my list. So, I typically lean toward a more "casual modern" look. I found a lot of really nice pieces along the way. Here's a few I had my eye on at Ashley Furniture (shop here):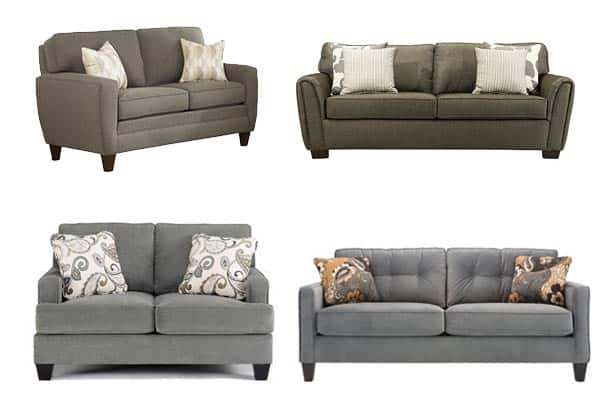 2- Shop online, but only at stores in your area
Most of the preliminary shopping I did was online… the search and filter features on most websites these days make it really quick and easy to do, and I'd highly recommend you start the search process with some online shopping.
If you do shop online, though, try to only visit websites of stores in your area. That way, once you find something you like, you can go to the store and try it out. I wouldn't recommend buying any furniture that you can't sit on first.
Quick Tip: The great news is that you can shop for a lot of furniture brands online using all of Amazon's awesome filtering features. Here's a link to all of the furniture available from Ashley on Amazon.
Measurements and descriptions online can be deceiving, and it's amazing how you can sit on 20 sofas, and just hate all of them. This seat is too low, that cushion is too hard, the back is not high enough for me to rest my head, I'm falling into the cracks between the cushions, etc. So, try before you buy.
3- Take measurements
Be sure to measure your room before you start shopping. Also take the measurements of all of the furniture pieces. But most importantly, trust your gut. If your room is small, buying 3 oversized pieces of furniture may not work. However, buying 1 oversized couch for a small room can possibly work if you follow the mix and match furniture system.
Quick Tip: Apartment Therapy has a good article about buying "big" furniture for a "small" room.
Virtual "Design a Room" applications can help you to layout the furniture. A simple drawing with the dimensions of the pieces from the store will also help you to determine if your furniture will work in the space.
4- Don't combine dainty chairs with big puffy couches
Using "apartment-sized" pieces or "oversized" pieces sometimes will work if you follow the system above, but it's rare. Mixing really small pieces of furniture with large, oversized pieces can create scale problems.
Rooms with wild variations in scale will just feel "off." This is why dainty chairs will seem out of place near a puffy couch.
5- Remove "staged" accessories
After visiting the furniture store and sitting on a beautiful steel grey sofa , I really, really liked it. But, I didn't love the pillows and accessories in the "staged" living room scene surrounding it.
Furniture stores are notorious for staging each furniture set with every matching piece under the sun!
The couch I liked had matching pillows, loveseat, club chair, a wooden chair with a pattern that matched a pillow, and a cushioned chair and ottoman that matched the other pillow. There was even a rug that matched one of the patterns on the pillow. Ugh… gag me. Too matchy-matchy.
Don't let this affect you! Take the pillows off the sofa if you have to, or push the ugly coffee table, lamp, vase, etc. away from it so you can see it for what it's worth. If I looked at this set as a "whole package", I would have missed out on the couch that I ended up really loving.
Quick Tip: Shop for awesome living room accessories on Amazon.
Don't forget to ask for help if you want to move stuff around the furniture store. Most of the sales associates will help you to gather the items you like so you can see them together. So, corral one of them to help you move the smaller piece next to the larger piece. Seriously… they will do it for you.
If you aren't as outspokenly obnoxious as me, an alternative would be to take a photo of the one item and walk over to the other item and hold up the picture next to it so you can see them. It's not as good as dragging furniture around the store, but it's better than nothing!
6- Shop for comfort, then match the furniture pieces up
So, I chose a beautiful neutral grey sofa. Now the world is my oyster! But the mistake that I see a lot of people make is to focus so hard on getting the pieces to "match" that they forget that they are actually purchasing furniture to umm… sit on.
So, make sure that you are purchasing comfortable furniture. Select a few options that you like, then take them through the mix and match test to see if they will actually work with your other furniture selection(s). Here are the four that I liked:
Now I needed to figure out of these pieces passed the mix and match test. And, in this case:
Seat height & seat depth: The seat heights and seat depths of all 4 chairs are roughly the same as the couch
Shape or style: The shape and style of the recliner and the celery green armchair are a bit too traditional for the style of my couch. But, the orange-red arm chair and the striped swivel chair have really similar lines.
Color or fabric: None of the chairs truly match the color of the steel grey sofa. However, the striped swivel chair does have some greys and taupes in the stripes that make it a match. As far as the fabric goes, only the celery green chair is the same.
Back height: All four chairs pass the back height test– Yay!
So, based on the test here, the brown recliner is not the best fit for my new sofa because it only has the seat height and depth and the back height in common with the couch. But the other three chairs are great options!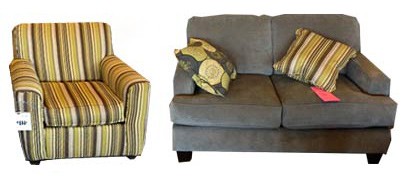 7- Mix and match your accessories
If you end up really liking a couch from one set, and a chair from another, like me, you may be able to swap out the accessories to make a Frankenstein set.
This is a GREAT way to get a cohesive look when combining furniture. By removing the blue and taupe flowered pillows and choosing the striped and flowered green & taupe pillows from the other set, it looks like it was meant to be together.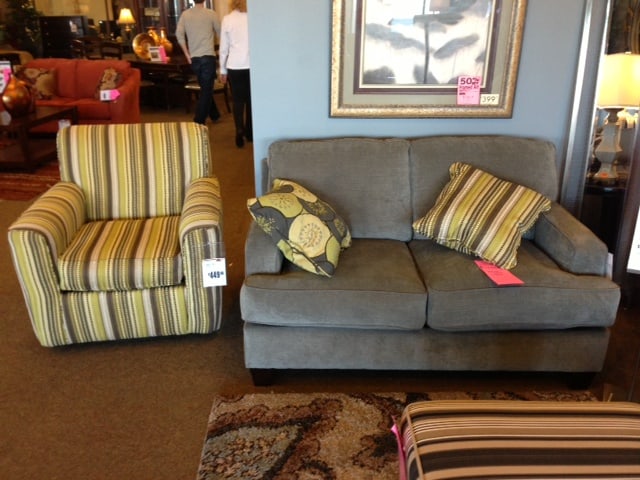 Another option would be to add an area rug with the colors of both pieces, or accent vases or lamps that go with the color of the chair.

All of these rugs would be great options to pull elements of the chair into the room. The stripes would mimic the pattern, while the green tones would mimic the color.
Use accessories such as benches, tables, lamps, and vases in the same color as the accent piece and scatter throughout the room. Varying the heights of objects (such as a low bench and a tall lamp) brings the color to different heights.
8- Look to the pros for inspiration
Well I know most of us are not made of money, so hiring an interior designer of your very own may be beyond your budget. However, there are some furniture stores that actually have interior designers on staff and offer free room planning services for you. Check with your local stores to see if they offer this service.
If they don't, you can still take cues from your favorite designers. Watch some HGTV, or go to their website and search the style of room you are looking to create.
Sarah Richardson is an interior designer who is absolutely known for combining different furniture pieces in every design she does. Her portfolio showcases a lot of great examples of this concept. Here are some of my favorites.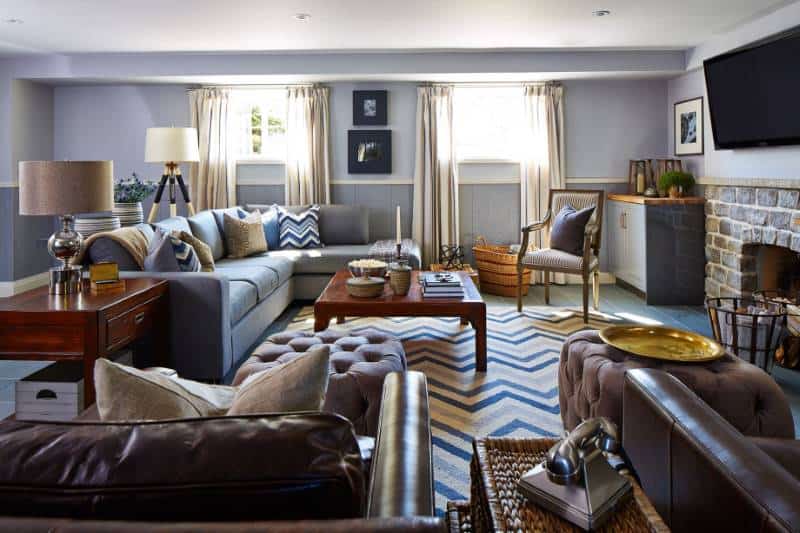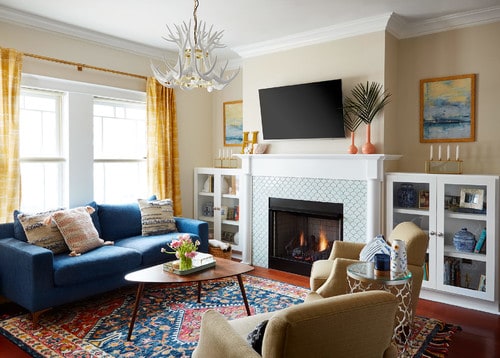 Mix and Match Furniture: Before & After
This is the result I came up with after working through the mix and match furniture technique. The greens and more modern patterns fit my personality and home style much better than the more traditional floral patterns and blues used in the living room set.
Wrapping Up
It's easy to mix and match furniture to come up with a completely unique style for your home. Remember to use my mix and match furniture system to determine if two pieces go together. Start with the most important piece first — like a neutral couch or a really unique flea market find that you want to focus your room design around.
When trying to match another piece of furniture to that piece, make sure that the seat height and seat depth are roughly the same. Then, check to see if the pieces have at least two of these three key elements in common; shape/style, color or fabric and/or back height.
We also discussed some really tips that can help you to pull your room together:
Start with the most important piece and work from there
Shop online, but only at stores in your area
Take measurements
Don't combine dainty chairs with big puffy couches
Remove "staged" accessories
Shop for comfort, then match the furniture pieces up
Mix and match your accessories
Look to the pros for inspiration
I'd like to mention that I find no fault or problem in selecting an entire "set" of furniture. This is what they are there for. My hope and intention in writing this post was to provide some inspiration and knowledge, so you can become comfortable selecting furniture pieces that will create a creative, unique look of your own and open up more possibilities than what comes out of the box.
What questions do you have about mixing and matching couches and chairs for a unique look? Have you had success with doing this yourself?
-Amy
Editor's note: This post was originally published in December 2012, and has been updated for accuracy and comprehensiveness.
What Blooms with What?
Never know what to plant together? Find out with this FREE Plant Pairing Guide and become a pro at combining plants for the best garden design possible!