Please note: I may earn commissions from qualifying purchases if you shop through links on this page. More info.
Ingenious Ways to Regain Privacy From Second Story Neighbors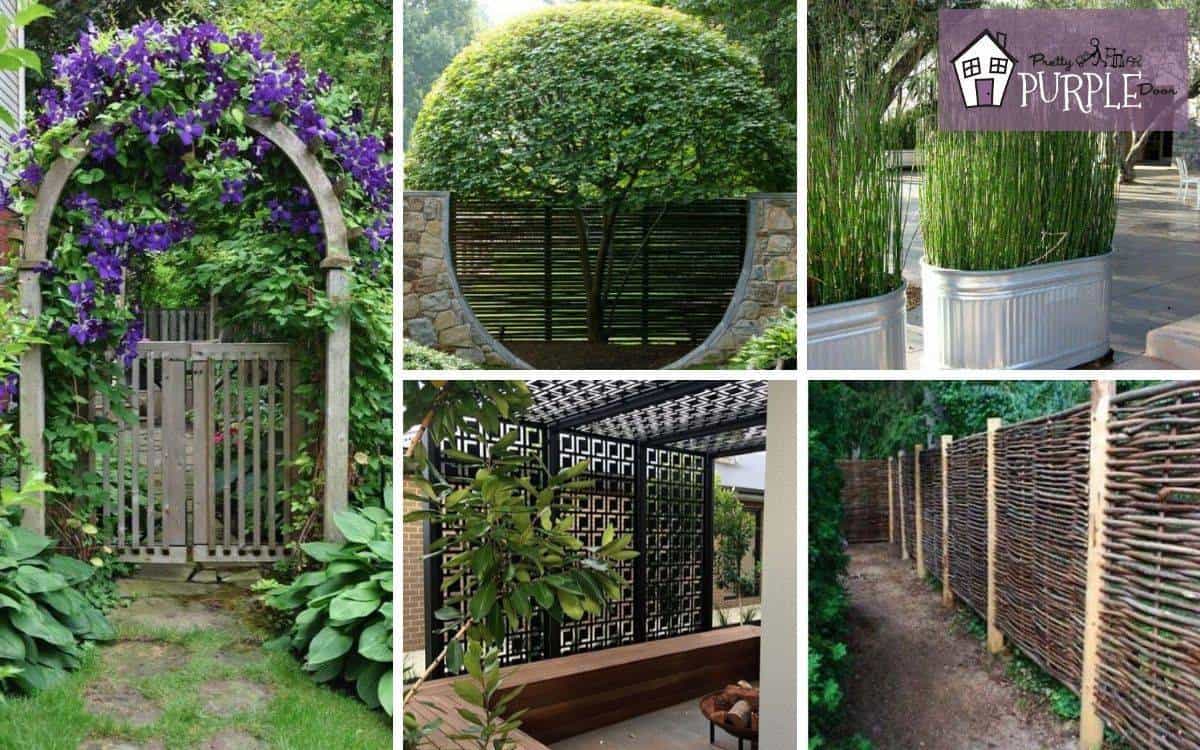 It's unfortunate that we can't control the spaces surrounding our properties. And while we may have enjoyed years of a beautiful backyard sanctuary, one remodel project from our next door neighbor can leave us feeling like our outdoor spaces are ruined.
If your neighbors have recently built an second story addition or are regularly enjoying a second story deck or balcony, you may be feeling like you're living in a fishbowl.
But, hope is not lost! There are lots of creative solutions to this common problem. Here are some ingenious ideas for reclaiming your privacy from second story neighbors.
3 Top Ways to Regain Privacy in Your Backyard
There are three main ways to recreate a private backyard when it's being viewed from an area above the first story: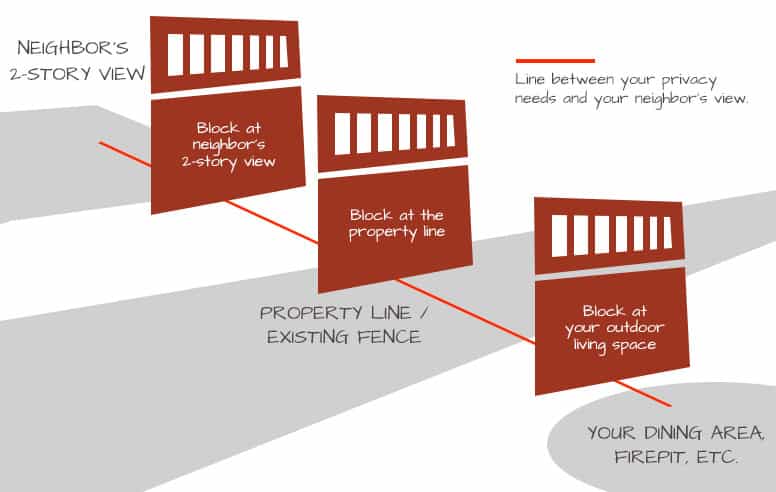 All three of these options have their pros and cons, so keep reading to see some examples of how you can use each concept.
1- Block a Neighbor's View from the Property/Fence Line
This is the most obvious solution to the problem, but also comes with its challenges. While it may seem simple, creating screening at a second story height means screening very high up… like… way up.
My biggest tip for doing this is do not increase your fence line across your entire property, unless you have to. This can lead to feeling like you're living inside of Fort Knox. Instead, stand or sit in the area of your backyard that you use often and make a note of the area of the fence line that will give you the best chance at blocking your neighbors on their second story deck.
There are many options for materials to use for your privacy screen. So, you'll have to do some research to decide which type of screening is right for you and gives you the look you want to achieve at the budget you have in mind. Here are some of my favorites:
Natural Elements as a Privacy Screen
Natural elements like trees or vines that will grow up a trellis and block the view are a great option to provide privacy in the places you need it most. In addition, many trees and shrubs have the secondary benefit of blocking noise! Here are some narrow evergreen trees that are great for privacy, especially in tight spaces. Narrow deciduous and flowering trees are also a great option if you don't need privacy in the winter months. You can also create a wonderful privacy hedge with evergreen shrubs. These 5-6′ evergreen shrubs are the perfect size for home landscapes.
The variety of tree depends on where you are located in the world, but in this situation I think anything goes. If you want the look above, try a smaller deciduous tree such as:
If you want to create year-round privacy, you should opt for evergreen trees or shrubs. Evergreens will keep their foliage all year long. Evergreens are especially important in colder climates where many plants die back to the ground. Using evergreens means you don't have to deal with a wide open (non-private) yard over the winter months.
Quick Tip: If you want to create privacy using trees, check out my post about planting privacy trees to get more ideas plus all the details about planting and spacing them out properly.
Training a vine to climb along a trellis, fence or arbor is another great natural option that you can try. Boston ivy is the go-to vine for situations like this, but I would plant this with extreme caution. There are many other options that will require less maintenance.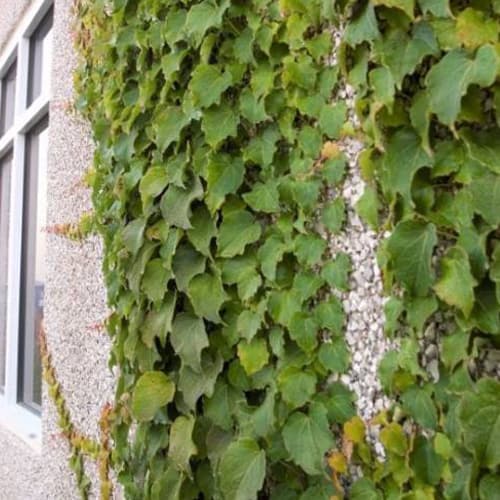 Boston ivy is a fast-growing, woody vine that sends out tendrils that can grip onto surfaces or even trail as a groundcover if you prefer. Very tiny white flowers appear on the ivy in the spring and develop into small black berries. In the fall, the glossy dark green leaves will turn a deep scarlet in preparation for the coming winter. If you'd like to incorporate this graceful plant into your garden or home, you'll need to practice regular pruning to keep it manageable. (Zones 4-8, Part Sun, 30-50'H x 5-10'W) Shop Here
Rocktrumpet (mandevilla) vines are attractive, blooming vines that will give your space a tropical feel. An excellent choice for home gardeners, rocktrumpet blooms abundantly for months with trumpet-shaped flowers in shades of red, pink or white. . It can be grown as a perennial that comes back each year in warmer regions. Or, if you're in a colder area like me you can purchase it as an annual (which I do every year!) (Zones 9-11, Full-Part Sun, 10-20'H x 2-3'W) Shop Here
Quick Tip: Check out my post about vines and groundcovers to get more ideas for what you can use to create this beautiful look.
Faux Plants to Create Privacy
Another option is to purchase faux plant privacy panels for instant privacy. This is a great option to get some privacy right now… while you work on a more permanent option.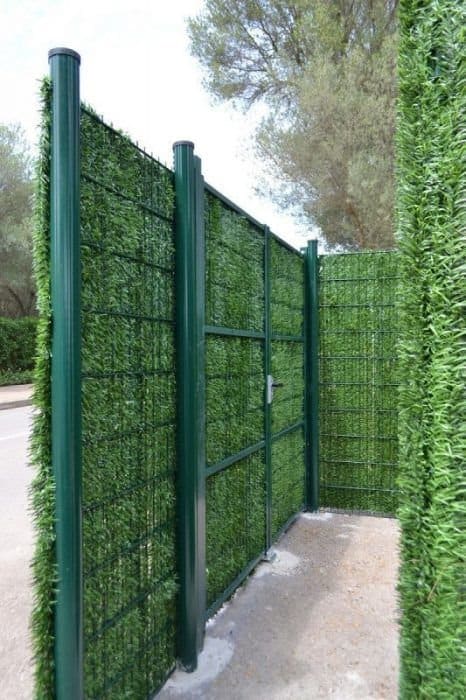 Purchase artificial greenery privacy screen panels like this in classic boxwood or greenery with white flowers for instant privacy from your neighbors. These come in squares of 20×20″ that snap together and can be purchased in sets. A set of 12 panels would cover an area of about 6-3/4′ high by 5′ wide for less than $150.
Fencing Solutions for Privacy Screening
There are also many fencing solutions available to screen out the view of your neighbors. Here are some ideas you may not have thought about, though.
What I've found is that just building a fence isn't always the best option. Consider building a tall arbor that has a "hat" or roof on the top. This will increase the privacy even that much more. That's because the roof will block a view looking down from above… which is the exact problem you're trying to resolve!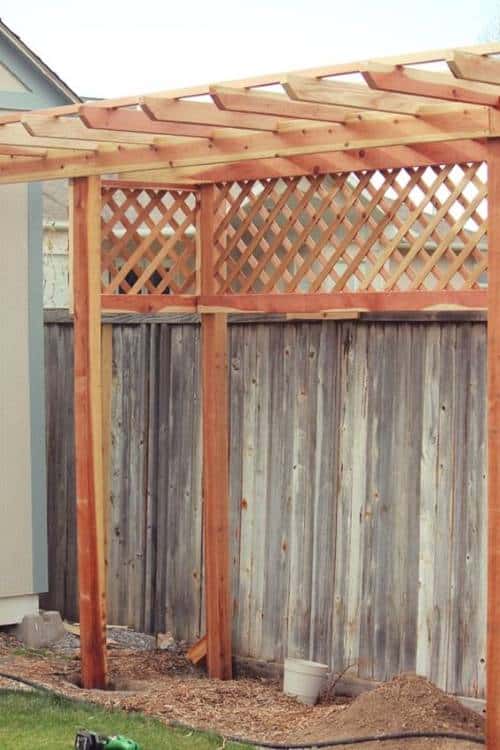 Plus, you can use this arbor to create your very own backyard grape vine! Step by step instructions to build this grape arbor are available here.
If you don't want to go outward with an arbor, you can always go upward by extending your fence above it's current height. I think that building a fence is the most obvious solution to the problem that you're having. But, I'd encourage you to try to think outside the box when choosing the materials for your fence extension.
I really like this option, where lattice is used above a stone fence. Using a different material that is semi-private is a great way to add privacy without making your yard feel too claustrophobic.
2- Create Privacy Around Your Own Outdoor Spaces
Most homeowners will look to the property line to create privacy and find themselves struggling with creating enough height to actually reclaim their backyard sanctuary. But, creating privacy near your outdoor living spaces can be an easier and more cost effective solution. Plus, it's an opportunity to really reimagine your own space and create focal points and intimacy within your own backyard.
So ask yourself… is it really necessary to screen the view of the neighbors from my entire backyard? Or, are there just some spaces in particular that I want to remain private?
If your answer is the latter, here are some options for creating your own little rooms within your own backyard instead of fortress-ing off your entire property.
Enclose your outdoor living space with decorative panels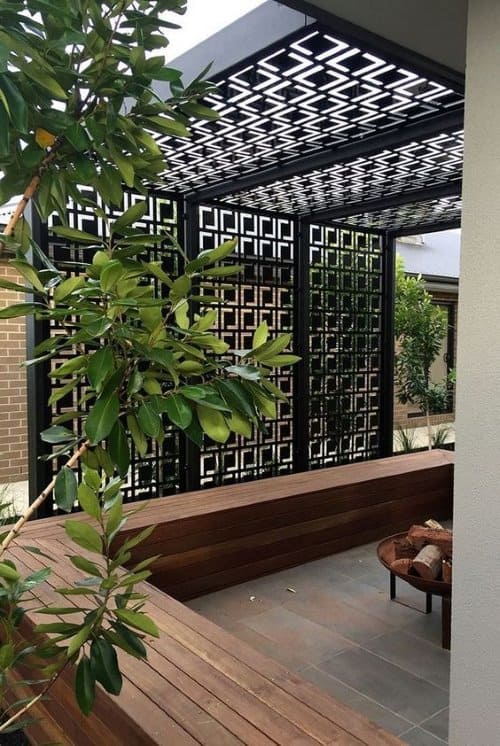 I love how the panels in this example are used both on the sides and on the ceiling. Adding privacy to the ceiling/roof of your outdoor area will definitely help with the privacy issues from above.
Here are some decorative metal panels I love:
Add a sheek curtain roof to your pergola or gazebo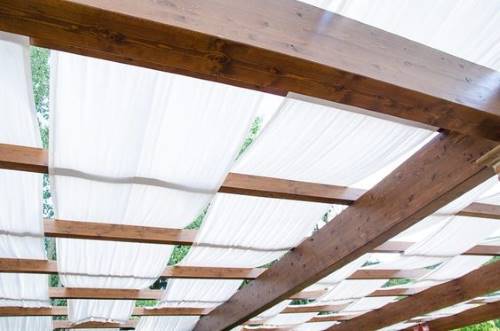 Or, for a different effect you can try some beautiful, billowy curtains as a roof instead of the metal panels. This is a great look and again will help with that much needed privacy from above!
Screen the view with a beautiful focal point
Not totally digging the roof? You can also use these panels singularly to screen the view.
By building posts and mounting a beautiful decorative metal frame inside of them, you can create privacy at the exact height you need it. Plus, it will create a beautiful focal point in your own garden.
Add privacy screens around your space
You can also strategically screen off your private spaces with a plethora of different materials. What I love about this is that you can use virtually ANY material to do this… and it can be a really cost effective AND creative way to block your neighbor's second-story view.
Here are some of my favorite ideas:
Using blinds or even curtains is a great way to create privacy… if you have a place where you can install them… like a covered porch, pergola or gazebo. Here are some options you can try:
You may be thinking… that's great but I don't have a covered porch or structure so this won't work for me. But, there are other ways you can use this same idea to create privacy!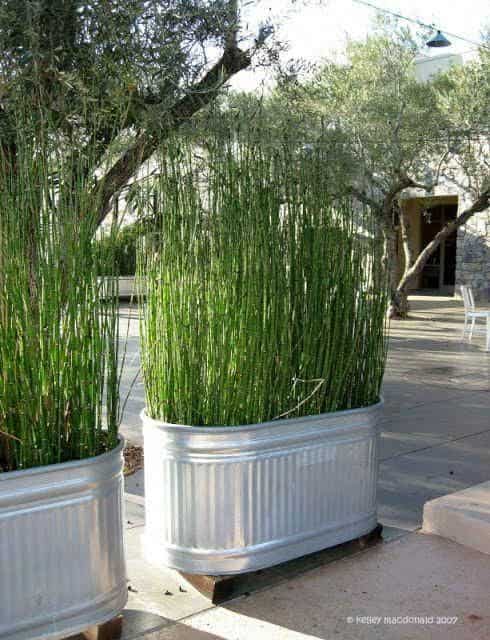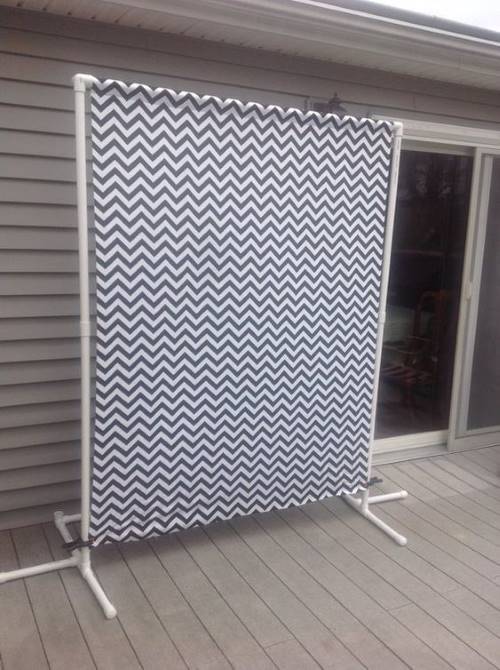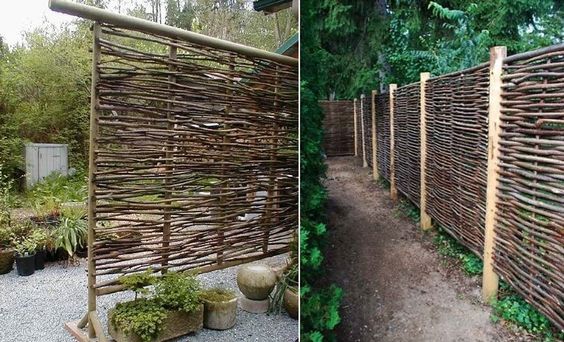 Wattle is a lightweight construction material made by weaving thin branches (either whole, or more usually split) or slats between upright stakes to form a woven lattice. It's a common fencing material in cottage-style gardens and is also used to make fences and hurdles for enclosing ground or handling livestock.
These types of fences are very popular in the UK but not so much in the US. I'm not sure why because they are just beautiful. You can make your own by weaving branches, such as willow or bamboo, in and out and tying them off to secure them in place. Or, you can even purchase premade willow fencing.
3- Convince Your Neighbor to Install Privacy Screening on their Second Story Deck
I know that convincing your neighbor to install screening isn't going to be a solution for everyone… especially if you don't have a great relationship with them.
But if you do get along with your neighbors, this is worth a try.
Your neighbors may not even realize that their large second story deck that cost them tens of thousands of dollars has actually made you unhappy. In fact, I almost guarantee that they haven't taken your feelings into consideration when embarking on the project.
So… why not tell them that you're unhappy with your lack of privacy?
This may or may not go well. But, don't worry! You'll be armed with some beautiful examples of ways they can screen off portions of their deck. In fact, it will add to the intimacy and privacy of their new living space as well!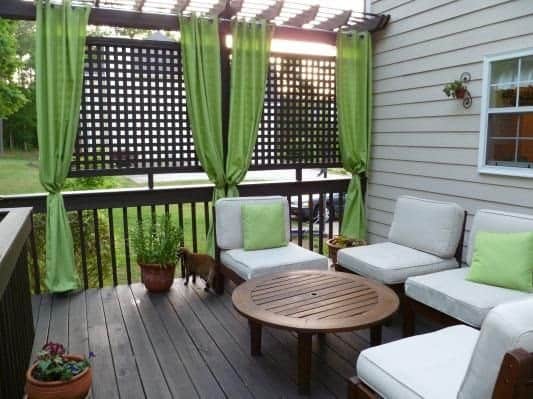 As I mentioned, a lattice wall is a great screening option for your own deck to provide a bit more privacy without feeling closed in. I love how the lattice looks flanked by these outdoor curtains in fresh citrus green (shop here). It's just beautiful!
But, what if you don't HAVE a deck?
Bring this photo over to your neighbor to show them some ideas for creating their own intimate dining and hang out space from their new renovation. Odds are, they'll be thanking you for giving them a great idea that they haven't thought of. And, you'll get your privacy back! So, it's a win-win.
Wrapping Up
So, I hope that your mind is spinning with new ideas for creating privacy in your backyard from a second story neighbor. I hope that you see that there are many options to choose from to resolve this issue. So, you don't have to be so upset. This can even be an opportunity for you to do something creative in your own yard that adds to the beauty and ambiance you want in your dream garden.
In this post we covered three main ways to recreate privacy in your backyard:
Block your neighbor's view from the property or fence line.
Create more privacy around your own outdoor spaces.
Convince your neighbor to install privacy screening on their second story deck.
I presented some out-of-the-box ideas to create screening using different materials. So… I'm wondering… what are your favorites? What do you think is the best solution to creating privacy from a second story neighbor?
---
Shop my Amazon storefront for my essential gardening books & tool recommendations!
More Landscaping Posts You'll Love
What Blooms with What?
Never know what to plant together? Find out with this FREE Plant Pairing Guide and become a pro at combining plants for the best garden design possible!