Please note: I may earn commissions from qualifying purchases if you shop through links on this page. More info.
13 Landscape Design Trends That Will Takeover Gardens This Year
Let's talk about landscape design TRENDS!
I've got the inside scoop for you on what's developing this year in the world of gardening.
I'll be honest, a lot of these landscape design trends really surprised me! But if you're an avid gardener and you like keeping up with the times, look no further.
Here are my top predictions for landscape design trends this year!
Subscribe to my YouTube channel for more gardening videos!
Landscape Design Trend #1: Mid Century Mod Vibes
One of the first trends I'm noticing in current garden designs is this nostalgic throwback of 80s retro vibes.
This is parallel to trends I'm seeing in all types of design – from gardening to fashion to home interior – and it's referred to as down aging.
There seems to be something comforting in familiar things, and I'm sure you've noticed it too. Bell bottoms with crop tops are making a big comeback. Millennials and Gen-Xers are buying turntables and collecting vinyl. Instead of new movies, there's a huge market right now for remakes of the classics. In general, the trends of decades past are coming back!
Don't you wish you didn't donate all those clothes now?!
In total contrast to the modern gardening style, the mid-century mod/retro vibe is finding its way into gardens all over. Gardening centers might start carrying furniture and plants to reflect this. Retro metal chairs, pagoda umbrellas and more tropical, big-leaved plants are some of the things you might start seeing while out shopping.
Landscape Design Trend #2: Cutting Garden
A cutting garden is basically a garden grown specifically for harvesting. This garden will feature flowers and plants that would look beautiful in bouquets and arrangements.
I especially love this type of garden because anyone can participate! You don't need a lot of space or even a garden bed to have a cutting garden. Pots and containers on a patio or porch work perfectly!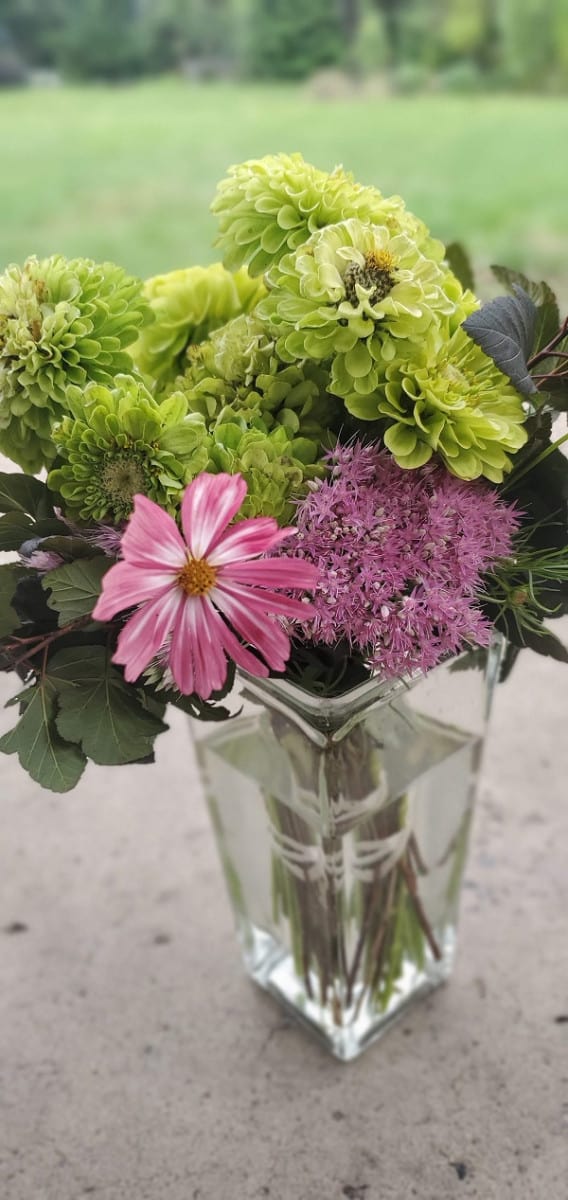 For more info on cut flower gardening, check out this video from Northlawn Flower Farm. She knows her stuff!
Landscape Design Trend #3: Moon Gardens
Moon gardens are gardens designed to be enjoyed in the evening. They usually feature fragrant white flowers that seem to glow in the moonlight. Some flowers even bloom specifically at nighttime!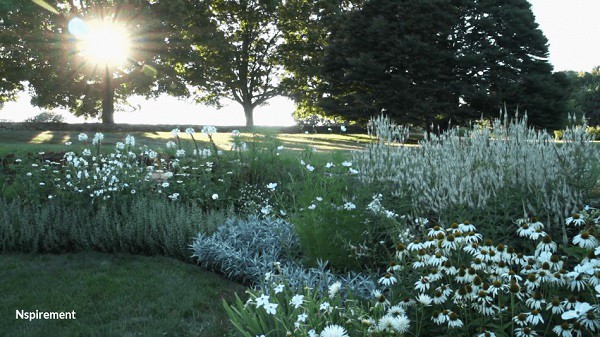 It might sound difficult or boring to create a beautiful garden with only one color, but it's definitely possible. I should know… I've done it! Check out my video from when I designed an entirely purple garden. The concepts can be applied to the white color scheme of the moon garden style!
Landscape Design Trend #4: Garden of Eden
This is one of my favorites of all the landscape design trends I'm seeing this year. The "garden of Eden" trend reminds me a lot of a mix between the cottage garden style and the naturalistic/new perennial garden style
Cottage gardens combine ornamental/flowering plants and edible/medicinal plants. This creates a garden that is not only beautiful but also functional. Out of all the garden styles, this one's my favorite!
Naturalistic gardens have a huge focus on being beneficial to the environment. They do this by featuring plants that are native to the surrounding region and designing the garden to look and feel naturally occurring.
The philosophy of the garden of Eden trend is similar: an informal and environmentally conscious garden that is both beautiful and functional. No pesticides – the garden of Eden philosophy means as natural as possible. It's almost as if you're "reintroducing" nature back into your space.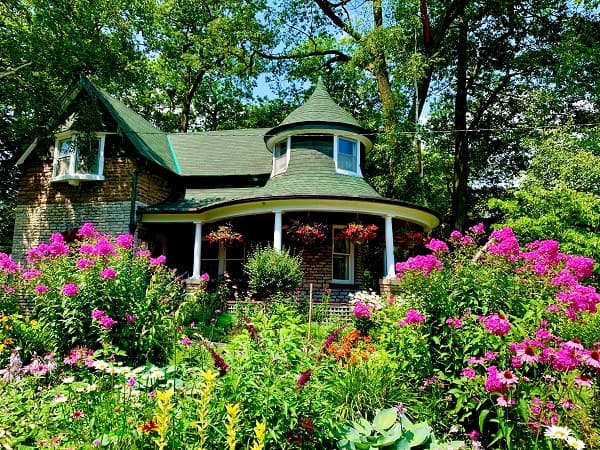 Pollinator-and bird-friendly plants are a must in the garden of Eden trend! Something with seeds and berries that our feathered friends will appreciate, especially in winter when food is scarce.
Quick Tip: My Design Your 4-Season Garden course is a great place to start if you're thinking about creating a garden that is beautiful and beneficial year-round!!! Spring and summer are NOT the only 2 seasons that you can enjoy your garden!
Landscape Design Trend # 5: Dip Pools
Also known as "plunge pools," dip pools are just pools that are smaller than normal – think, the size of a hot tub. They also basically have the same purpose as a hot tub: a pool of water to lounge, relax, enjoy the outdoors and just let your body unwind in the water!
There are lots of pros to having a dip pool rather than a full-sized pool. For one, they're easier and less expensive to maintain. Anyone who's ever had a pool knows maintaining it is basically a full-time job. Also, if you'd want to add a heating element, dip pools are much easier and less expensive to heat than a full-sized pool.
Dip pools are also great for people who have a smaller yard space but still want a pool of some kind to enjoy!
Landscape Design Trend #6: Pavilions Over Pergolas
Pavilions and pergolas are very similar: large outdoor structures made for shaded pathways or seating. The big difference is the roof of the structure: pergolas have an open-lattice type of roofing while pavilions are fully covered.
Pavilions can really make it possible to enjoy your garden during times you otherwise couldn't. Imagine cozying up with a good book in the middle of your garden during a thunderstorm! A pavilion would totally make this possible. It also can provide a shaded space to rest from the sun on a hot summer day.
Landscape Design Trend #7: The "In" Colors
Every year, the big color companies like Pantone, Sherman Williams and Benjamin Moore release their predictions for "color of the year." This year, pretty much all of them are showing a variation of this sunbaked terracotta tone.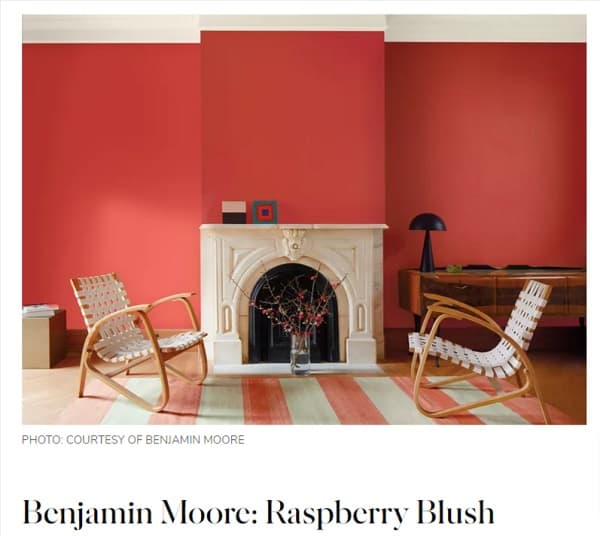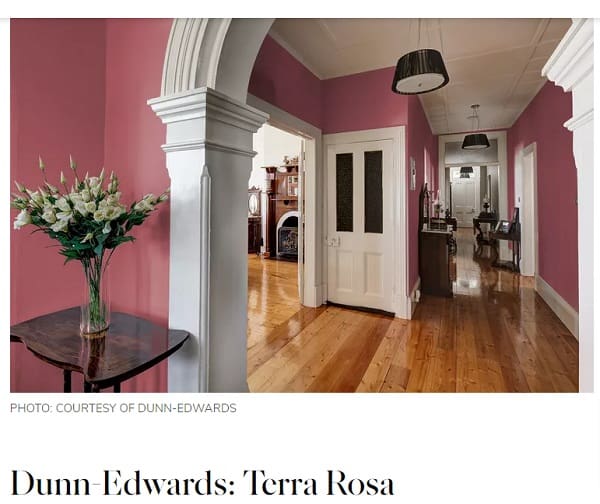 So definitely expect this color to show up in a big way in ALL types of design. In your garden, you can introduce this color through planting pots, décor and even flowers!
The other color trend I'm seeing is… BLACK!
This one really surprised me! It can be hard to incorporate black to any design without weighing the whole design down. Black is a heavy color!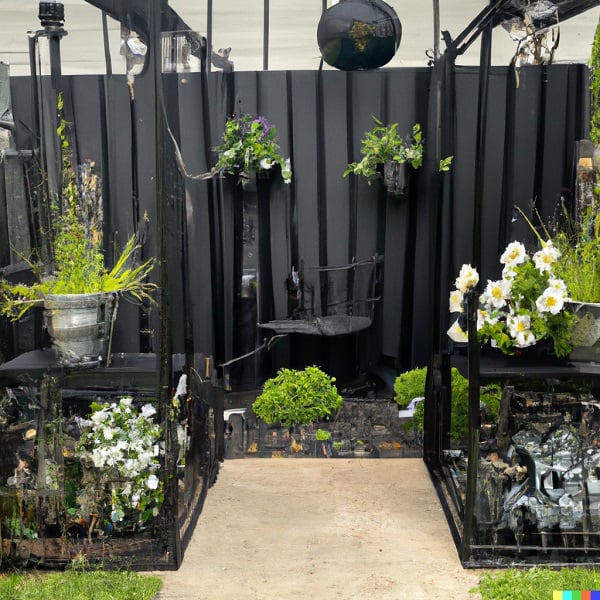 The way I'm seeing it done in gardens makes total sense though – it's usually either an accent or a backdrop to the plants and flowers in front of it. This means painting a fence black or having a black wall in the garden. The color of the plants in front of it will totally pop off the black backdrop. It is such a sleek and modern look and I'm loving it!
Landscape Design Trend #8: Climate-Resilient Gardens
This trend is along the same lines as the garden of Eden philosophy. In a climate resilient garden, you're swapping lawns for meadows and incorporating native plants.
There's also a focus on "future-proofing" your garden… basically, creating a garden that will grow with you and continue to sustain its own micro-habitat without much effort on your part after the initial designing and planting.
In general, it's very in-style right now to be environmentally conscious!
Landscape Design Trend #9: Indoor-Outdoor Merge
This trend involves a seamless joining of an indoor and outdoor living space.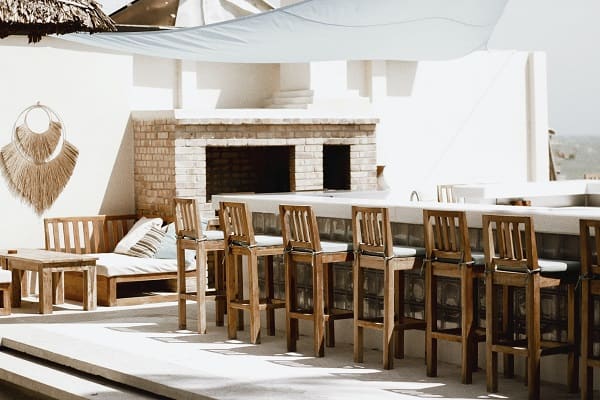 These spaces feature luxurious outdoor furniture that feel more like indoor pieces. I think that the pavilion trend will come into play a lot here since they can provide a completely covered roof, so higher end materials can be used without much worry of them getting ruined in the weather.
Landscape Design Trend #10: Plants for Privacy
Home gardeners are really looking for a space where they can relax in private and are using plants and trees to that advantage. It can be difficult to really relax when you feel like a fish in a bowl to your neighbors!
Here's a whole list of more narrow evergreen trees that would provide year-round privacy!
Do you have second-story neighbors, or houses nearby with windows that can see into your yard? I still got you covered! Check out my awesome article on how to regain your privacy even from above!
Landscape Design Trend #11: Upscale Relaxation
This is the idea of taking your space and creating an ultimate getaway, vacation type of vibe. This involves really indulging – spending the money to design a space that looks like something you'd see on the vacation of your dreams.
Whether your dream getaway is unwinding on a set of lounge chairs in a tropical paradise, or dining on a veranda in Italy – this trend is all about creating that atmosphere in your own home space. You can do this by carefully choosing luxurious plants, furniture and decor.
Landscape Design Trend #12: Container Gardening
Gardening in containers rather than in the ground is becoming really popular!
Gardeners are loving the fun and flexibility of moving around their pots of plants whenever and wherever they want!
The practice of container gardening is also helpful for plant-lovers who just can't have a full garden. It could be because they don't have a yard or because they're renting and aren't allowed to make changes to the landscaping of their home. In any case, container gardening gives them a chance to use their green thumb!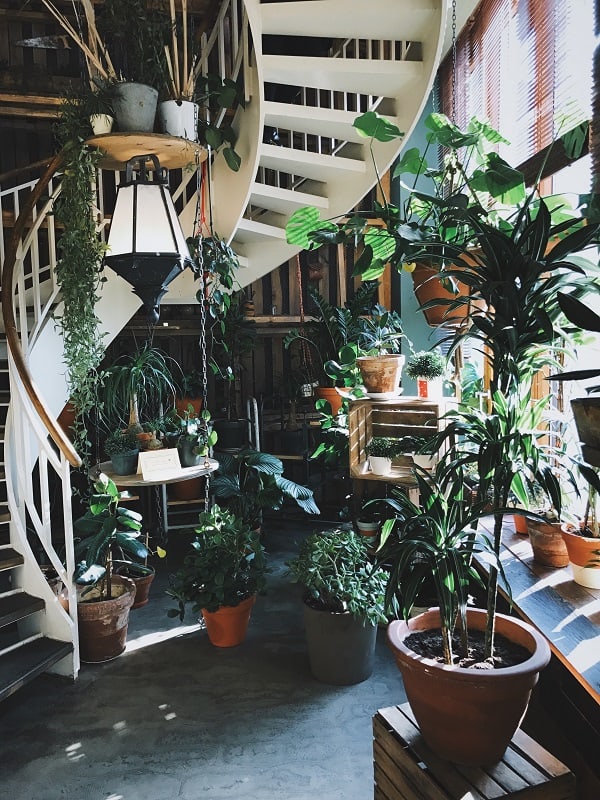 Landscape Design Trend #13: Fun With Lighting
Lighting is becoming a big part of designing a garden. Whereas usually it would be an afterthought, nowadays people are loving the chance to play around with different lighting styles and hues.
From Edison bulb string lights to purple solar lights, this is a really creative way to highlight pieces of the garden around you!
Overall Theme of the Year
In general, I've noticed a lot of this year's landscape design trends have this common theme of being "multi-purpose."
Gardeners are finding ways to make their garden space "work harder" for them. People are making the most of the space they have so they can enjoy their garden more!
The incorporation of lighting and the recent popularity in pavilions are two examples. By asking questions like "how can I enjoy my garden in other weather besides sun," people are really getting creative in finding ways to make their garden work for them!
Wrapping Up
Well, those are all the landscape design trends to keep a look out for this year! I can't wait to see this evolution of garden design and find out where it goes next!
If you enjoyed learning about the trends of garden design, you'd love my Garden Style Moodboard Workshop! In the workshop, I'll help you hone in on your garden's function and overall atmosphere and show you how to put all of those pieces together to make a landscape you love.
Do you want a formal space for outdoor dinner parties? Maybe you're really looking for a homestead-type space and grow lots of edibles? I'll show you a fun way to use the garden styles as a guide to creating a landscape that is totally uniquely you!
It's awesome, come check it out!!
More Landscape Design Inspiration
Co-Authored by Kady Volpe
Kady is a pro-gardener-in-training. She's in the process of learning all of Pretty Purple Door's frameworks and landscape design techniques.
What Blooms with What?
Never know what to plant together? Find out with this FREE Plant Pairing Guide and become a pro at combining plants for the best garden design possible!