Please note: I may earn commissions from qualifying purchases if you shop through links on this page. More info.
Mediterranean Garden Style: Planting, Landscaping and Design Advice for Any Space (Complete Guide)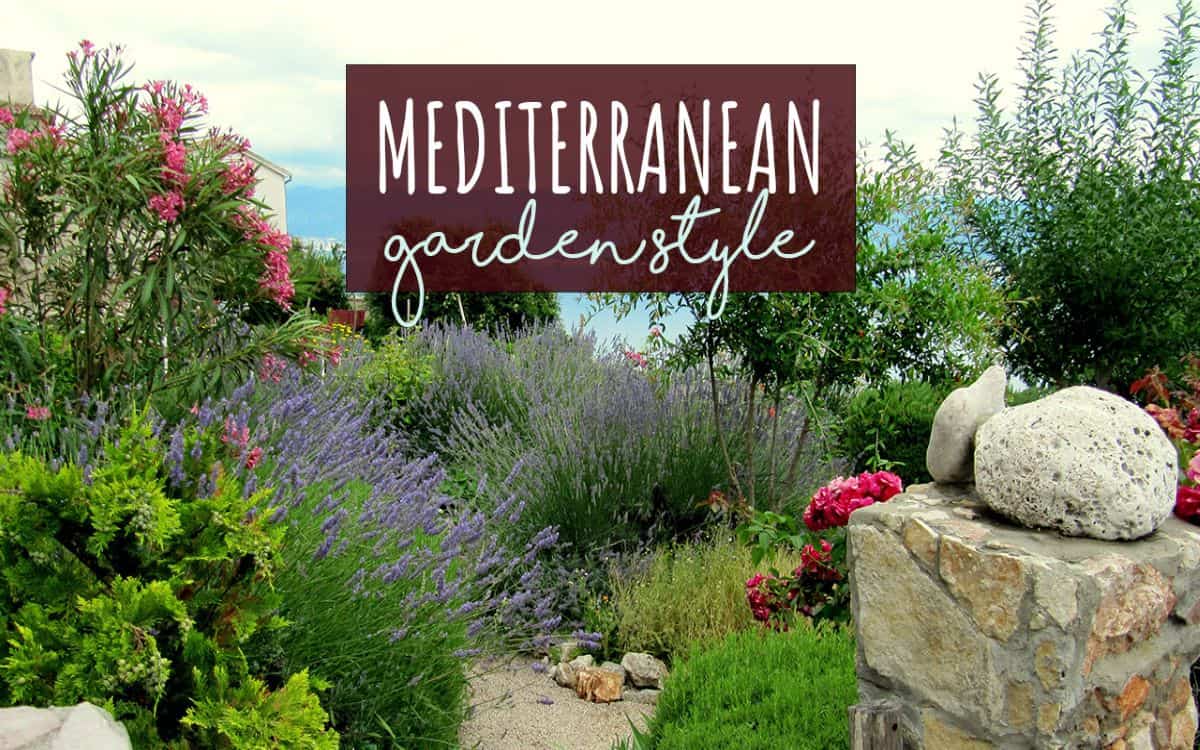 The Mediterranean garden style embraces the dry, hot climate of the Mediterranean region. (This region includes countries such as Spain, France, Italy and Greece.)
Plant choices in Mediterranean gardens are drought-tolerant and adapted to minimal care. Instead of lawn, gravel gardens and natural stone features are incorporated among informal plantings. Ornate tile work and cooling water features round out the décor and give an old-world feel.
Mediterranean gardeners focus on the conditions of the garden itself.
What will grow in such a hot and dry climate?
Where can we go for rest and shade from the brutal sun during high summer?
What permanent structures can be incorporated into the garden design?
These questions inspire and influence the function of the Mediterranean garden style.
The Mediterranean garden style isn't just for the countries of the Mediterranean anymore!
Nowadays, this garden style is popular worldwide. It's super easy to make adjustments to the plant choices based on climate and still get the desired Mediterranean influence.
Mediterranean is just one of the many different garden styles! Check out a complete list of the different garden styles you can use your own yard.
In this article, I'll provide a complete guide on how to create a Mediterranean style garden in any space, no matter the climate!
Mediterranean Garden Style
History of Mediterranean Gardens
The very first gardens of the Mediterranean date back to the 5th, 6th and 7th centuries BCE.
These ancient gardens were not only beautiful & functional, but also powerful places of prayer.
This aspect lent to more formal design characteristics and features. Ponds and shrines evoked spiritualism and purification. Greek, Egyptian and Islamic religions significantly influenced the design and purpose of the ancient Mediterranean gardens.
The Mediterranean garden style continued to evolve through the Medieval, Renaissance and Baroque periods.
Some of the formal traditions remained, while new and more informal design practices began.
During the 19th century, the influence of the Mediterranean garden style moved westward toward Europe and the UK.
Today, the Mediterranean garden style takes on a mostly naturalistic approach.
The planting style is informal. There is more focus incorporating the surrounding landscape and leading with ecology & sustainability.
This garden style is especially popular in regions with a climate similar to that of the Mediterranean, like California and Australia. But this garden style is achievable anywhere, with a little tweaking to the plant choices based on climate and conditions.
Maintenance Needs of the Mediterranean Garden Style
Since most Mediterranean plants are of low watering need, this garden style can be considered low maintenance.
Of course, there will always be some level of maintenance required for every garden style, no matter the plant or material choices.
Gardeners should prune plants and deadhead flowers as needed. Gravel gardens, which are common in the Mediterranean garden style, can be very needy for weeding during the first few years. Water features also need cleaning and maintenance.
Quick Tip: For more tips on reducing maintenance, check out my article about how to get a low-maintenance landscape!
Conditions Needed for the Mediterranean Garden Style
A lot of Mediterranean style gardens are designed for a climate like that of the Mediterranean region. This means plants that thrive in dry-hot summers, mild winters and not much rainfall. These types of plants also prefer nutrient-poor soil.
If you love the Mediterranean garden style but live somewhere with more moisture and/or cooler temps, simply look for plants that thrive in your planting zone with similar texture & structure to those of the Mediterranean.
Be sure to include Mediterranean style hardscaping and décor to reinforce the style in your garden.
An Overview of the Mediterranean Garden Style
These are the main characteristic features of the Mediterranean garden style:
Color Palette for the Mediterranean Garden Style
Mediterranean gardens often include warm and earthy colors like terracotta, ochre, coral and green. But, there's no "official" color palette for the Mediterranean garden style. You can use any color scheme you're drawn to.
If you need a little guidance, try the ones I recommended! Or, use an inspiration piece you love and build your garden around that.
By the way, this is exactly what I teach in my Garden Style Mood Board Workshop! You'll learn how to sort out your creative ideas, funnel them into a garden style (or 2!) and make it easy & fun to design your garden landscape. Check it out today and get inspired!
What to Plant in the Mediterranean Garden Style
If you live in a hot and dry Mediterranean climate, you'll obviously choose plants that are drought-tolerant.
But, if you live in different conditions, just select plants adapted to your climate that look similar to the ones usually found in the Mediterranean!
Use foliage that has needles or is finely textured for a Mediterranean look. Plants with leaves that have a white, fuzzy coating will give the garden a light-catching and shimmery appearance.
Water-wise Plants for Mediterranean Gardens
In this section, I'll share some examples. These plants are adaptable to many climates!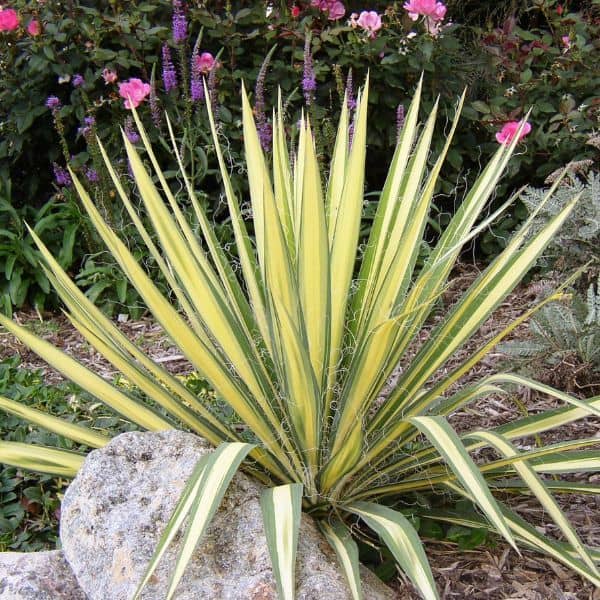 Edible Plants for Mediterranean Gardens
The Mediterranean garden style has incorporated food production since ancient times. To add allure to the garden, grow edibles close to living areas, where the fragrance can be enjoyed by residents and guests.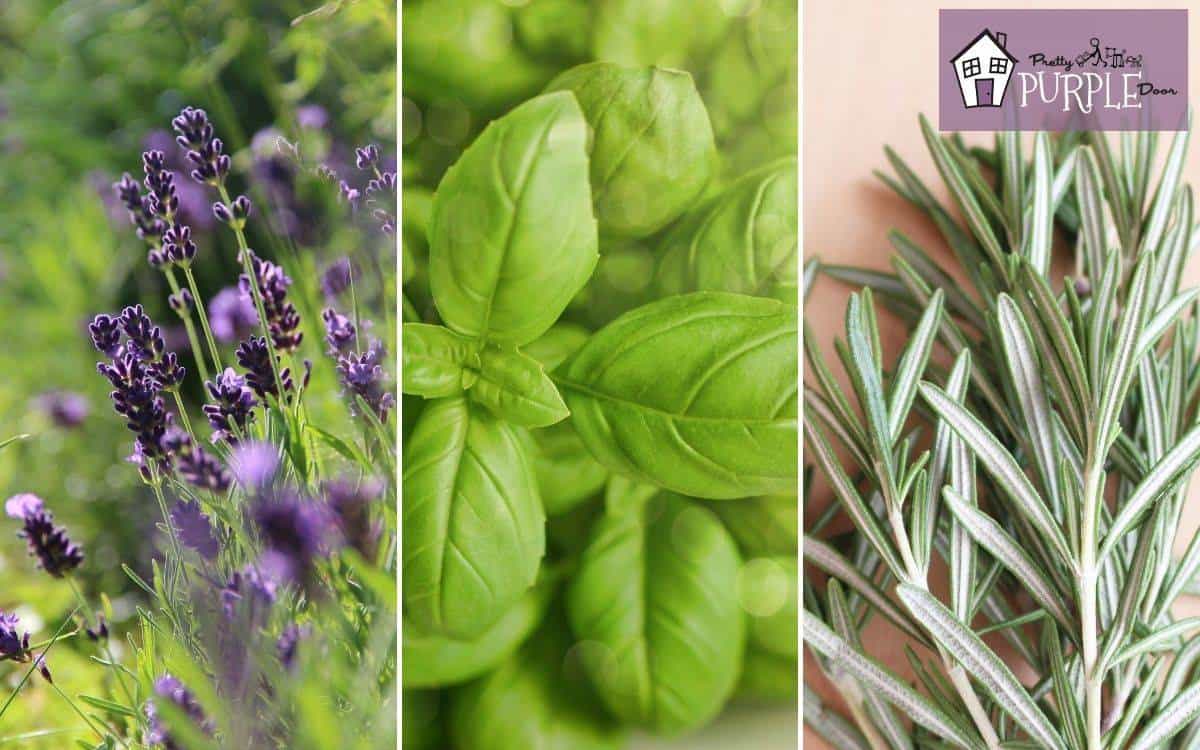 You can even add a pop of bright color from seasonal flowers like Yarrow (Achillea millefolium, zones 4-9) and Jerusalem Sage (Phlomis fruticosa, zones 5-9) to add a focal point to your planting plan.
Note: It's important to make sure you understand your planting zone and what works in your climate before choosing plants.
Hardscaping for the Mediterranean Garden Style
"Hardscaping" refers to any permanent structures of a garden, like pathways and walls. The ancient Romans passed down the tradition of using structures such as pergolas, loggias, arbors and arcades.
Consider sourcing locally for your structures. Picture the steep cliffs of Italy and Greece. Rocky hillsides and stone walls are common and gardeners of that region believe in using those features! This is an informal and resourceful way of linking the garden to its surroundings.
Gravel gardens take the place of lawn in the Mediterranean style. Gravel comes in many sizes and styles from smooth, small pea gravel to larger, lightly-colored marble chips.
Furniture & Décor for the Mediterranean Garden Style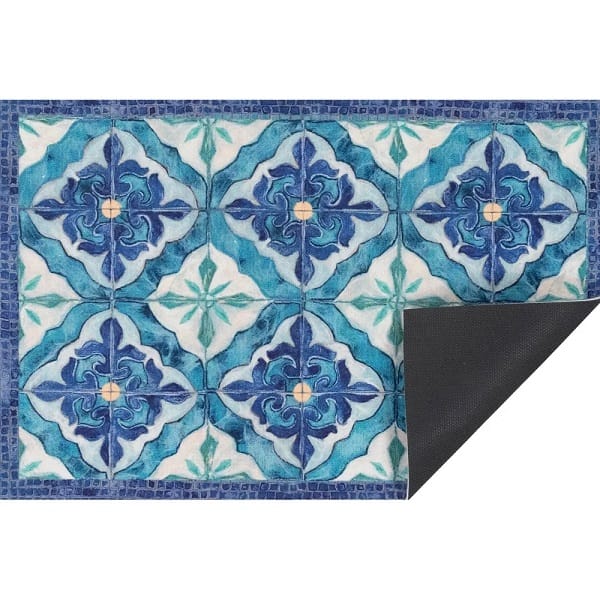 Tips for Getting the Mediterranean Garden Style at Home
Be sure to remember these tips as you design your Mediterranean style garden:
Combining the Mediterranean Garden Style with Other Garden Styles
Don't feel the need to adhere to every single rule of the Mediterranean garden style, even if it's your favorite. Not everyone loves tilework, or has the climate for the plants so often featured in this garden style.
You can easily mix the Mediterranean garden style with other garden styles, like cottage for example:
My biggest tip is to keep it simple at first, because you can always add more later.
My favorite way to combine garden styles is to take the planting design elements of one style, and the hardscaping choices of another.
So, as an example: include a Mediterranean-style gravel garden, but add cottage or naturalistic planting style as the border. It's a fun way to make your garden totally yours, but to have enough guidance that you're not overwhelmed.
The "rules" of the different garden styles can be helpful as a guideline, but ultimately it's YOUR garden to design how you choose. Make sure your choices truly appeal to you. Just have fun with it!
Wrapping Up
The gardens of the Mediterranean feature drought-resistant, textured plants that provide interest through even the hottest and driest months of the year. But, the Mediterranean garden style is easy to adapt to any location by choosing similar-looking plants that are suitable for the climate.
Instead of lawn, gravel and stone make up most of the resting space. Planting style is charming and informal, and no Mediterranean garden is complete without a place to sit in the shade.
Are you struggling to sort out all of your creative ideas? Just beginning to if you'll ever fit into one single garden style?
Be sure to check out my super fun Mood Board Workshop! Here, we'll go in depth about all of the different garden styles and figure out which one suits you! You'll conquer the first stepping stone to designing a beautiful landscape that's infused with your personality. Check it out today!!
More Garden Style Articles You'll Love
Shop my Amazon storefront for my essential gardening books & tool recommendations!
Co-Authored by Kady Volpe
Kady is a pro-gardener-in-training. She's in the process of learning all of Pretty Purple Door's frameworks and landscape design techniques.