Please note: I may earn commissions from qualifying purchases if you shop through links on this page. More info.
Modern Garden Style: How to Design a Minimalistic Contemporary Garden (Complete Guide)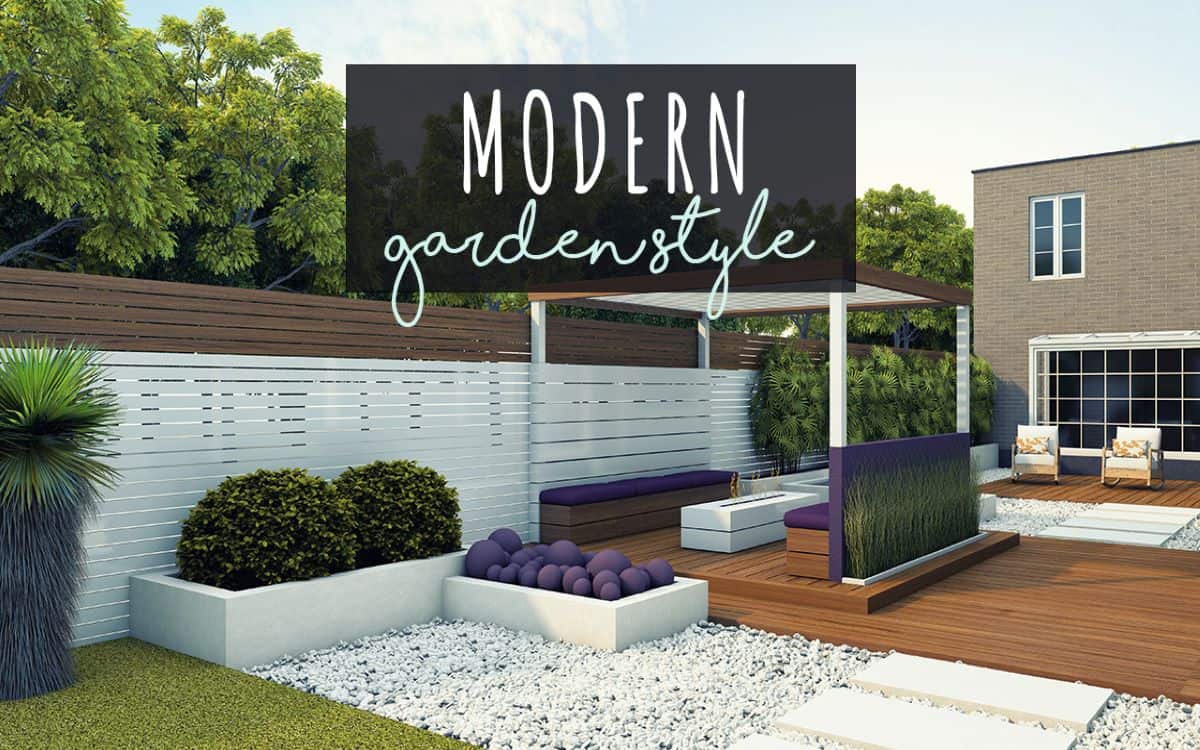 With design inspired by 21st century architecture, the modern garden style is perfect for trendy folks who love outdoor living and entertaining.
Seating areas and places to relax with friends and family are the heart of the modern garden style, while minimalistic design keeps the vibe restful and tranquil. Lovers of modern architecture will lean into this style for their garden.
In the modern garden style, the plantings take a backseat to the materials and the design of the garden itself. In fact, there are usually a minimal amount of different plant species featured in a modern style garden, with the species repeating throughout. The focus is more on the functionality of the garden, rather than nature.
Even the color palette is more limited – usually lots of greyscale from the hardscaping and décor, with pops of green from the foliage.
In short: for the modern garden style, less is more. This guide will outline exactly how to achieve this clean, crisp look in your garden.
If this seems too minimalistic for your taste, check out some of the other garden styles and decide which one suits you!
History of Modern Garden Style
The modern garden style began with the rise of modernism in architecture and design in the early 20th century. Ludwig Mies van der Rohe was a German landscape architect and one of the first to implement this "less is more" design technique. He designed many famous buildings and gardens all over the world and is considered a pioneer of modernist architecture.
In the mid- 20th century, American landscape architect Garrett Eckbo and British landscape architect Christopher Tunnard introduced a naturalistic approach to the new modern garden style, by incorporating grasses and wildflowers.
This became known as the contemporary style garden. It's very close to the modern garden style, but with a few differences.
The Difference Between Modern & Contemporary Garden Style
The contemporary garden is usually more associated with a residential space, while the modern garden is associated with commercial spaces.
The modern garden style is minimalistic with hard edges and clean lines. These types of gardens are often seen in commercial spaces like hotels and business parks.
With slightly softer edges and lines, the contemporary garden has an emphasis on reflecting the surrounding landscape and ecology. There is usually more of a presence of grasses and flowers in a contemporary garden.
The contemporary garden has a great focus on the living/entertaining space of the garden.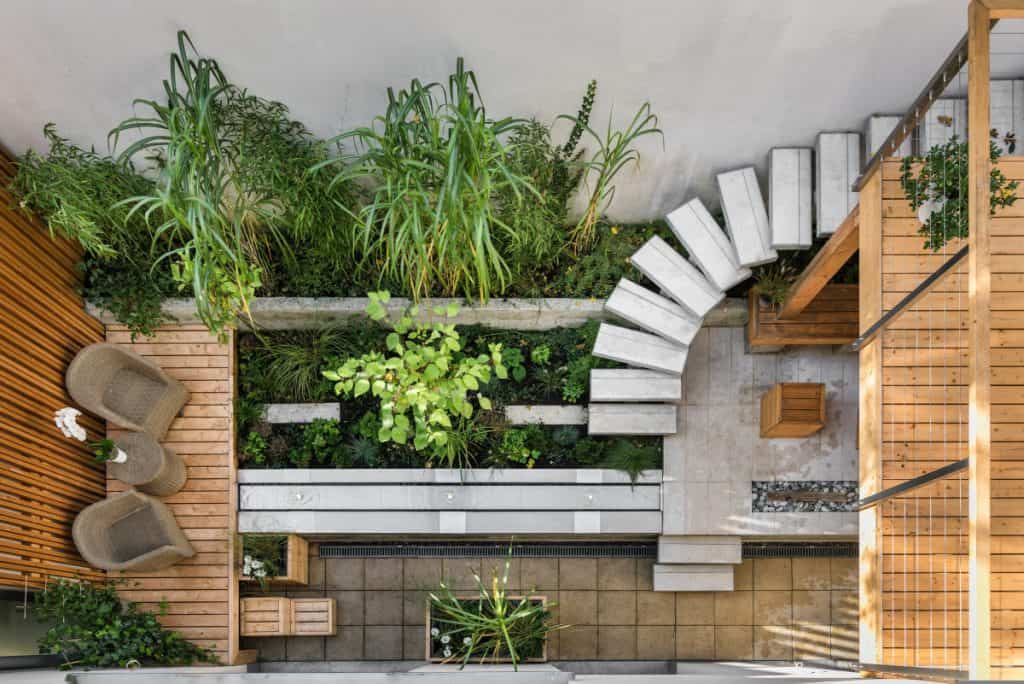 In both of these garden styles, the plantings take a backseat to the hardscaping, furniture and décor.
In this article, I'm going to be describing more of what is technically considered the contemporary garden style. But, to keep it general and simple, I'm just going to refer to it as a modern style garden.
Maintenance Needs of Modern Gardens
Modern gardens are typically low to moderate maintenance. It all depends on the materials you choose to use.
Since modern gardens usually use a limited variety and number of plants, there is less need for plant care than in some of the other garden styles, like traditional.
As with any garden style, the plants you use will require general care like fertilizing, watering and pruning.
Some hardscaping elements that are used in a modern style garden like concrete are low maintenance, too. Gravel and rocks are often featured in modern style gardens, and these materials are more high maintenance due to the need to weed.
Water features like ponds and fountains are very common in modern gardens, so this could add to the maintenance level. Ponds especially require more cleaning than running water features.
So really, the exact maintenance level will depend on the design and the size of the garden itself, plus any special features. But due to the modern garden style's simplistic nature, they are one of the lowest maintenance gardens you can have.
Just remember, low maintenance doesn't mean NO maintenance! Here are some more tips for a low maintenance landscape.
Examples of Modern Style Gardens
Here are a few photos of some modern style gardens to get you inspired!
An Overview of the Modern Garden Style
If you're loving the sound of a sleek, minimalistic and low maintenance garden, here's an easy list you can reference while you're designing your space!
The characteristics that make up the modern garden style:
Clean, crisp lines and geometric shapes
An "outdoor room" aspect: living and entertaining spaces
Minimalistic design
Repetitive materials, patterns and plants
Smooth hardscaping like metal or concrete
Focus on the materials and functionality of the space rather than the plants
Relaxing water features like fountains or reflection pools
Limited color palette
Color Palette for the Modern Garden Style

The colors presented in a modern garden are usually monochromatic or pale. This adds to the restful and calming air of the entertaining space.
If you love the modern garden style but you're a fan of pops of color, don't be afraid to add an accent of some kind. Adding an accent color is a great way to add your personality to a modern style garden without compromising that minimalistic design.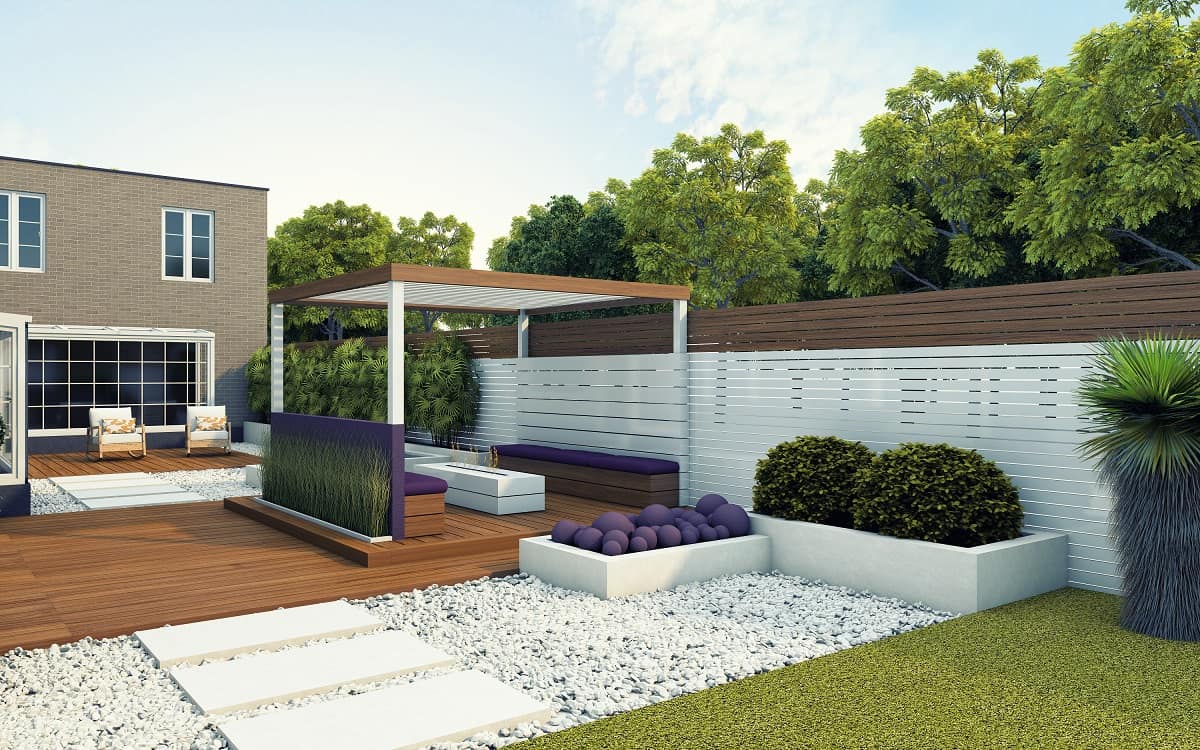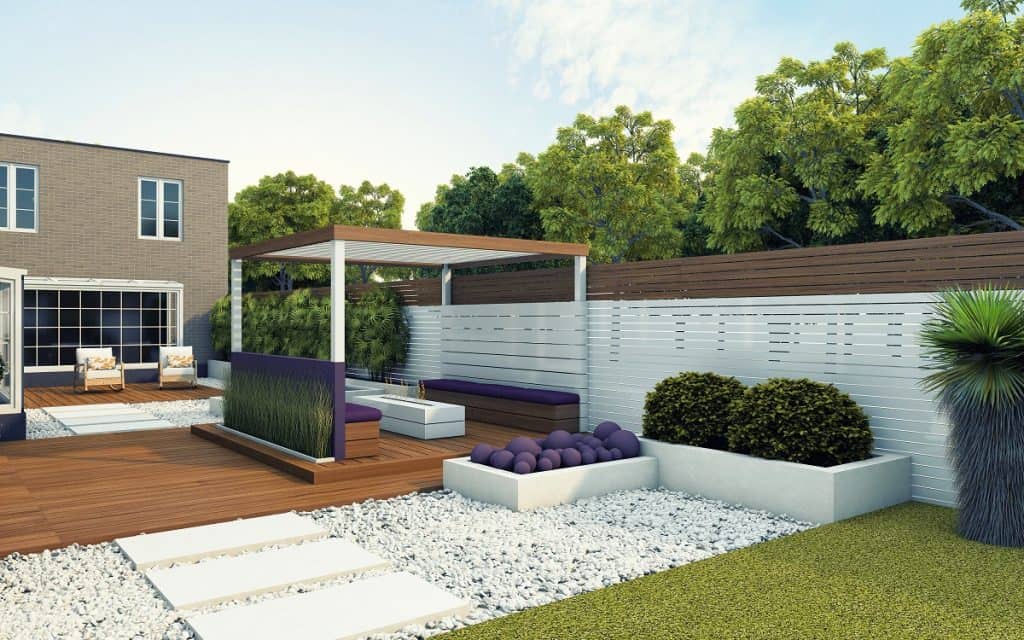 What to Plant in a Modern Style Garden
Before you can choose which plants to put in your garden, you'll want to determine your planting zone. This is going to help you choose plants and trees that will thrive in your climate. Click here to visit a site that can give you your planting zone by zip code.
Also take note of the sun and soil the plants will be getting.
Trees in a modern garden tend to have a more upright habit, so they become a structural element. Their canopies are not too large, and there may be several in a row to create a hedge effect.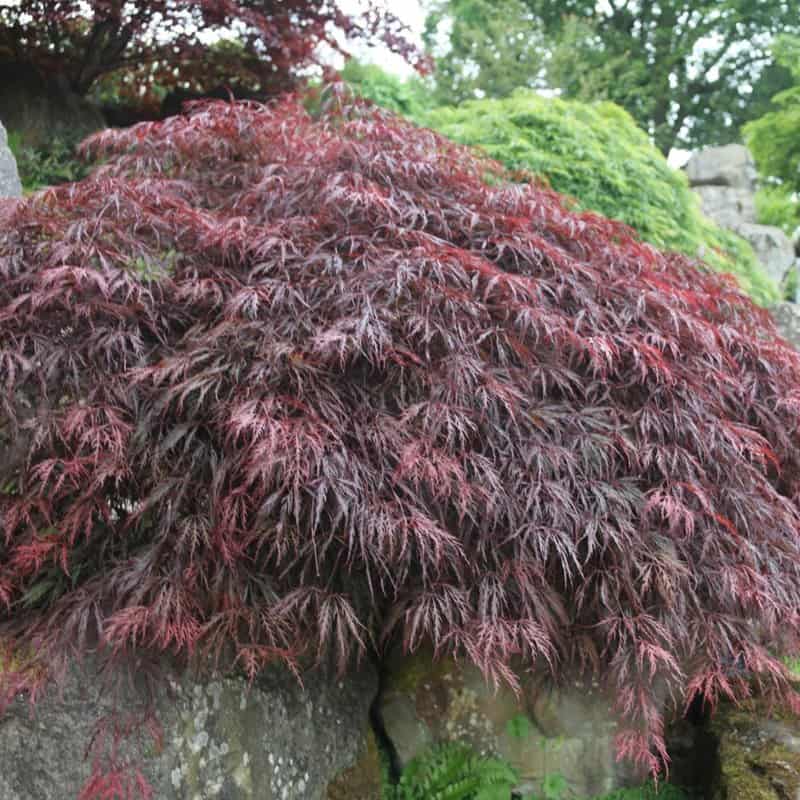 Plants for modern gardens are all about structure and form. Use many of the same plant to keep in line with the modern garden style's use of simplicity and repetition. Ornamental grasses with bold stature are also great for modern gardens.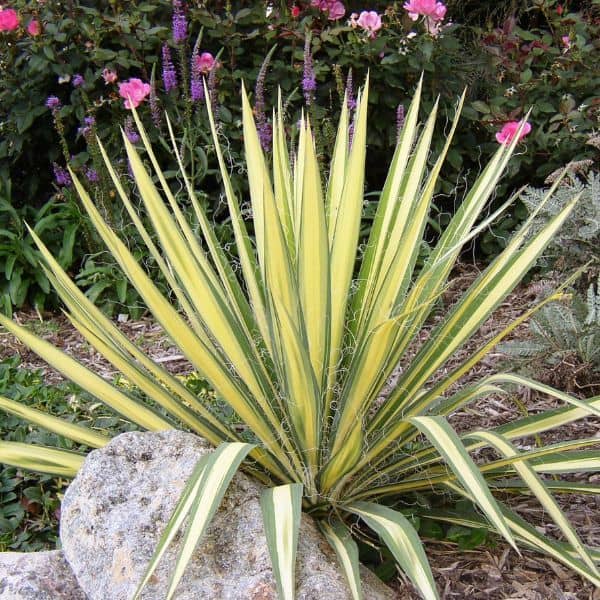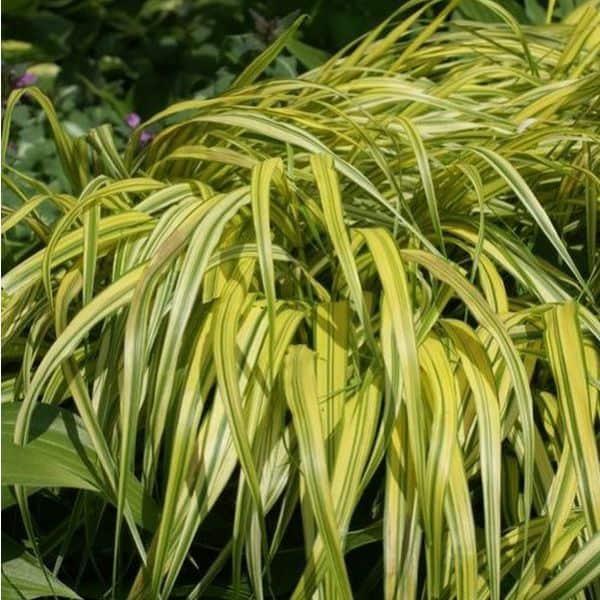 Hardscaping for the Modern Garden Style
Hardscaping is any of the permanent structures in the garden like walkways and arbors. The hardscaping in a modern style garden should reflect the smooth, sleek textures that the style is known for.
For walkways, precast concrete stepping stones are a great choice and very common in modern gardens. They're also inexpensive! Use repetitive geometric shapes in your stepping stones to reinforce the modern style.
For other structures like arbors and planters, concrete again is a great option, as well as resin and metal. Just be sure to choose a metal that won't rust, like stainless steel. A rusted and weathered look is more along the lines of a cottage garden style.
Water features are also common in the modern garden style. A geometrically-shaped pond or reflection pool would add some tranquility to this outdoor living space.
Just like the plantings in the modern garden style, less is more for the hardscaping. Avoid choosing too many different types of materials. Choose one or two materials and repeat them over and over throughout.
Furniture & Décor for the Modern Garden Style
Since there is such an emphasis on leisure and entertainment in the modern garden style, furniture is a must.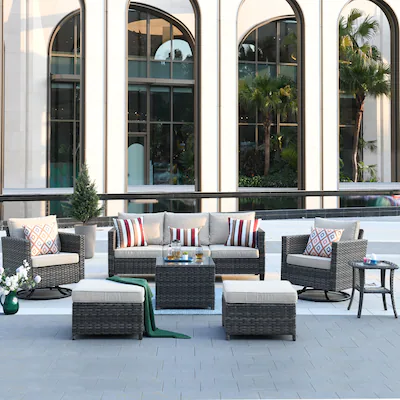 As for décor, just make sure to keep it simple. Keep in mind the use of clean lines and geometric shapes. Statues, sculptures and fountains are all staples in garden décor.
Using simple but architectural containers in the modern garden is a great way to create a focal point. Use bold plantings or even a single plant or tree to maintain the minimalist and tidy look of this garden style. This large, sleek garden planter is a must-have.
Whether created of concrete, ceramic, metal or even a recycled bowling ball, spheres become vital sculptural elements for these gardens. They stand out as bold art forms in a spare landscape. I love this mirrored gazing ball — it's so modern!
Tips for Getting the Modern Garden Style at Home
Remember less is more – don't use too many different types of plants or materials. I recommend choosing one type of "anchor" plant and repeating that plant a lot through the space.
Use clean lines and geometric shapes with planting and hardscaping.
Hardscape materials should be sleek and smooth like concrete or metal. Use precast concrete stepping stones or wood composite decking for walkways.
Have an area for sitting and entertaining. The furniture and décor should be modern in design as well.
Include a modernistic water feature like a fountain or a reflection pool.
Combining Modern Gardens with Other Garden Styles
It's important to keep in mind the personalization of your garden. Your personality should come out in the space you're creating, so don't feel like you need to follow every rule or keep yourself inside one box! There are lots of great examples of modern gardens that adopted some features from other garden styles, like cottage or naturalistic.
My biggest tip for combining styles is just don't over-do it. Keep it simple by taking the hardscaping elements from one garden style and mix it with the flowers and plants from another garden style. Once you get the hang of it, you can always make other changes or additions.
Design a Modern Garden That's Uniquely You!
If you enjoyed learning about this garden style, you'll LOVE my Garden Style Moodboard Workshop! We'll talk in-depth about all the different garden styles and I walk you through my simple process for creating a beautiful, personalized outdoor space that's unique to you. Come check it out!!!
Wrapping Up
The modern garden style is centered around creating an outdoor living space that's minimalistic in design. There isn't a lot of variety in the plantings, and the few varieties that are used are repeated over and over again through the garden. This creates a clean, restful look. Hardscaping is smooth and sleek, and décor & furniture is modern. The focus is on the garden's function, not the plants. The goal is a sleek, modern space to relax and entertain!
More Garden Style Articles You'll Love
Shop my Amazon storefront for my essential gardening books & tool recommendations!
Co-Authored by Kady Volpe
Kady is a pro-gardener-in-training. She's in the process of learning all of Pretty Purple Door's frameworks and landscape design techniques.