Please note: I may earn commissions from qualifying purchases if you shop through links on this page. More info.
Moving Day Tips for an Organized Moving Day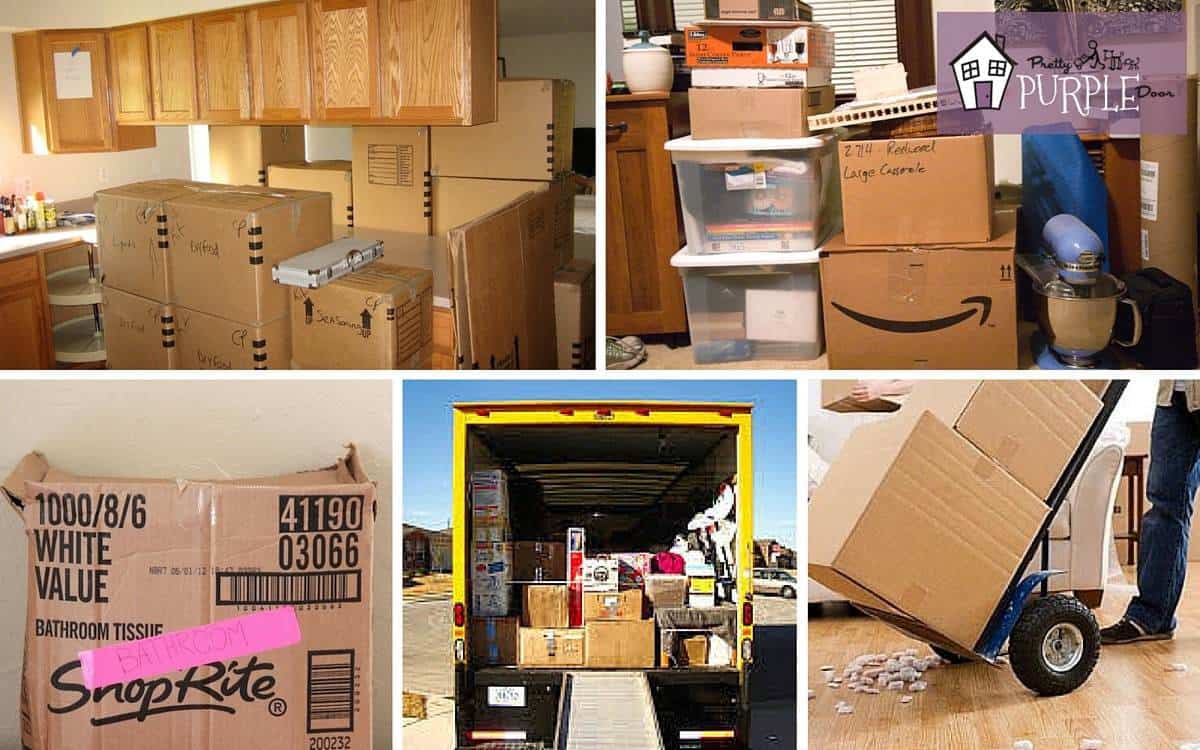 Imagine: Trying to relax in your new home with boxes cluttering every, single room. Sound familiar? It shouldn't be! Moving into a new home should be a fun and rewarding experience. After all of the stress and anxiety that comes with buying a new home, the last thing you need is to stress out about packing, moving, and unpacking. Of course, "getting settled" is number one on the priority list. But how can you be settled when things look like this?
Thinking back on my moving day experiences, I can recall some great moving tips to get you unpacked in an efficient, stress-free manner. Lets go over some of the best packing and moving day tip that I've learned over the years.
Organize Before the Move
Whether you have movers or just friends and family helping you out, the best thing you can do is organize before you move.
Clearly mark all your box contents and the room they need to go in ahead of time so when it's time for the moving truck to arrive, they can quickly and easily get your items to your new home.
Remember to label the SIDES of the boxes, not the tops. This way, you'll be able to identify them even if they're stacked.  
It's also a good idea to number your boxes, and make a corresponding list of what's in each box by number. This makes it easier to make sure you didn't forget any boxes. And, if there's anything valuable or private in there, you won't be broadcasting it to the world by writing it down right there on the box.
Making layout decisions ahead of time is also a great way to stay organized during your move. If you know where everything is going to be in your new home, you won't have to struggle on moving day when piles of boxes and furniture are being hauled in.
Pick a color code for each room and label that room's boxes accordingly. Label the door of each room with the corresponding sticker/tape so that movers know where to place the boxes.
The Color Coding Option
A great way to do manage your movers is with color coating. Choose a different color for each room of the house (there's lots of colored duct tape and washi tape out there). Put that color on every box, item, and furniture piece that belongs in that room. In the new house, put a big swatch of this color on the wall or floor where you want the contents of that room to be placed. Using color coating is very simple and makes it very easy for your help to know where to put your stuff. And, the best part is that it's something you can do before you move and while you pack. After all, furniture and other items can still be used in your current abode with tape marks on it.
The All in One Room Option
Too late to color code, or simply don't have the time? What you can do is choose a single space in your home to move all boxes to. This can be a spare bedroom or even the garage. The best option is somewhere you can close off so you don't have to look at the overwhelming mess.
Have your moving crew position any of the large furniture in the respective rooms. You may need to be at your new home so you can direct them as they bring items in. Have them place any and all boxes in the spare room you picked out. Using this method allows you to set up your new home on your own schedule, without having to trip over boxes and have the clutter and stress constantly staring you in the face. Make a strong effort to unpack at least one box per day. Before you know it, you'll be moved in!
Move, Clean and Paint Before Moving Day
If you can, show up to your new home before the move and clean the bathroom and kitchen. Every time you visit your new home, bring some boxes with you. This cuts down on the amount of time it will take on your actual moving day.
Another great moving day tip is to have a painting party BEFORE you actually move in. Invite any of your friends who are busy the day of the big move (haha, guilty for this one). Turn on some tunes, get some pizza, and have all your friends help you paint. It's so much easier to do this before all of your stuff is in the way.
More Great Moving Day Tips
Pack an overnight bag. Chances are, you'll be too tired to unpack your things. You'll want your essentials (toiletries, change of clothes, medication, etc.) within easy access.
Set up your bedroom first. Mark the box with your bedding, pillows, and anything else you need and use every day/night. You need a place to sleep after such and exhausting day, and having your bedroom all set up will be a much needed and appreciated spot where you can crash comfortably.
Pack the items you will need first in a clear plastic bin. A plastic bin will let you easily see what's inside. My recommendations: a box cutter, paper towels, trash bags, eating utensils, some cookware, power strips, phone chargers, toilet paper, and tools.
Personally move anything that is precious or fragile. This is the only way to ensure it arrives to your new home safely. Laptops, electronics, and jewelry can easily get stolen.
Take a photo of how your electronics are connected so you can remember how and where all the wires go.
If you have enough friends, split them up into shifts — one set to help you move in the morning, and another to help you move when you get to your new home.
Have beverages and snacks on hand, and send out for food if the moving encroaches on lunch or dinner. Your helpers deserve it.
Hire a babysitter and pet sitter the day of the move. The last thing you need is to be worrying about losing track of your kids or pets on this stressful day.
Consider parking for the moving truck. Make sure that there is a space available at both locations and that it's easily accessible so your movers to get your possessions in and out of the truck safely and easily.
Wrapping Up
Use these moving day tips to get settled quickly and stress free. The biggest thing about moving is that it's not just "a day" –the more you prepare ahead of time, the easier it will be to move, unpack, and move on with your life in your brand new home. If you are moving soon, congratulations to you! Please feel free to share any of your awesome moving day tips in the comments. When it comes to packing and moving, we can all use a little help, creativity, and inspiration!
More Posts You'll Love
What Blooms with What?
Never know what to plant together? Find out with this FREE Plant Pairing Guide and become a pro at combining plants for the best garden design possible!