Finding the right tree for any sized yard is always a big decision. But when you're dealing with a small yard AND you're looking for year-round interest or privacy… it gets even harder. With limited real estate you need to make the best of every single inch of gardening space you have.
A great way to solve this common problem is to choose a narrow evergreen tree. A tree that's both slender and keeps it's leaves/needles year-round interest will solve both size and privacy issues!
Trust me, I know a thing or two about small yards. And just because your yard is small does NOT mean that you don't have the space for a beautiful tree. I'd argue that in most small yards you may even have space for two or three trees if you choose them wisely. In fact, I've packed over 50 trees into my 125'x70′ property!
Top Picks for Narrow Evergreen Trees
There are many narrow tree options that will fit into just about any landscape! Here are some of my personal favorites along with their growing zone, size and growth rate. Keep scrolling to view more details about each tree.
| Name | Zone | Height | Width | Growth Rate | Notes |
| --- | --- | --- | --- | --- | --- |
| Emerald Green Arborvitae | 3-7 | 12-15′ | 3-4′ | Slow-Moderate | |
| Forever Goldie Green Arborvitae | 3-8 | 12′ | 3-4′ | Moderate | |
| Green Giant Arborvitae | 5-7 | 30-50′ | 10-12′ | Fast | |
| Emerald Tower Arborvitae | 5-9 | 25-30′ | 6-8′ | Fast | Very new variety may be difficult to find. |
| Excelsa Cedar | 5-9 | 30-35′ | 12-15′ | Moderate-Fast | |
| Golden Horizon Deodar Cedar | 6-8 | 20′ | 6′ | Moderate | |
| Slender Hinoki Cypress | 4-8 | 8-12′ | 4-5′ | Slow | eventually reaches 15-25'H x 5'W at maturity |
| Leyland Cypress | 6-10 | 40-60′ | 20-25′ | Very Fast | 3-5'/year growth |
| Gold Rider Cypress | 5-9 | 35′ | 15′ | Moderate | Newer variety |
| Sky Pencil Holly | 5-9 | 8-10′ | 2′ | Slow-Moderate | |
| Columnar Japanese Plum Yew | 5-9 | 10′ | 6′ | Slow | tolerates shade |
| Frans Fontaine Hornbeam | 4-8 | 25′ | 6′ | Moderate | eventually reaches 50'H x 20'W at maturity |
| Moonglow Juniper | 3-7 | 20′ | 8′ | Fast | |
| Blue Arrow Juniper | 4-8 | 16-20′ | 2-4′ | Moderate | |
| Skyrocket Juniper | 4-9 | 15-20′ | 2-3′ | Moderate | |
| Pencil Point Juniper | 3-8 | 6′ | 1′ | Slow | |
Slow Growth Rate = 1-12"/year
Moderate Growth Rate: 13-24"/year
Fast Growth Rate: 25"+/year
A warning about fast growing trees: I just want to point out that the growth rate of these trees shouldn't be the only criteria you base your decision on. Sometimes, fast growing trees are weaker and are more prone to disease. Pretty much always, a fast growing tree will have a shorter lifespan than one that grows at a slow to moderate rate.
In addition, some of the sizes of these slender evergreen gems can vary a great deal. That's because trees that are slower growing can sometimes take a very long time (25+ years) to reach their "full" size. Just keep that in mind when making your decision. And, always do your own research if you see something you like!
Quick Tip: if you're looking for a tree for a tight space but aren't dead-set on an evergreen, head over to this post to see more of my favorite narrow trees.
Zones 3-8
Full Sun
12-15′ H x 3-4′ W
Growth Rate: Slow-Moderate (about 10-12″ per year)
Purchase Here
Yes, Emerald Green Arborvitae (Thuja occidentalis) is a common tree… and with good reason. It's a pyramidal-shaped, narrow evergreen of medium height (about 12′) in the Cypress family. A slim tree of medium height, these arborvitae can reach 12′-15′ high and 3-4′ wide.
I know many people either love or hate this tree… and I'm clearly in the "love" category. What I like most about the emerald green is it's shimmering bright green color. Especially when the light hits this tree… it just glows. In the winter, snow sets on top of the branches in such a graceful, peaceful way. This size and shape of tree makes a great privacy hedge and sound barrier, too, (more detail discussed in this post).
There are some cons, though. They can be finicky in some climates. They are also susceptible to bag worms, deer foraging and several other pests and diseases. The best advice I can give you is to take a drive around your local area. If you don't see other Emerald Green Arborvitae, or the ones that you do see don't look so hot, you may want to select something else. Otherwise, it's a beautiful tree that I personally have and love.
Zones 3-8
Full Sun
12′ H x 3-4′ W
Growth Rate: Moderate — over 12″ of new growth each year
Purchase Here
Forever Goldie (Thuja plicata) has bright green foliage tinged with yellow. You'll love how its foliage turns 'gold with the cold.' It's glowing needles shine in the summer and is a beacon of brightness in cold, gloomy weather. This well-behaved tree doesn't shed, so you'll get maximum visual interest all year round. The arborvitae's soft foliage and upright, pyramidal stature can also stand alone as a focal point on your property.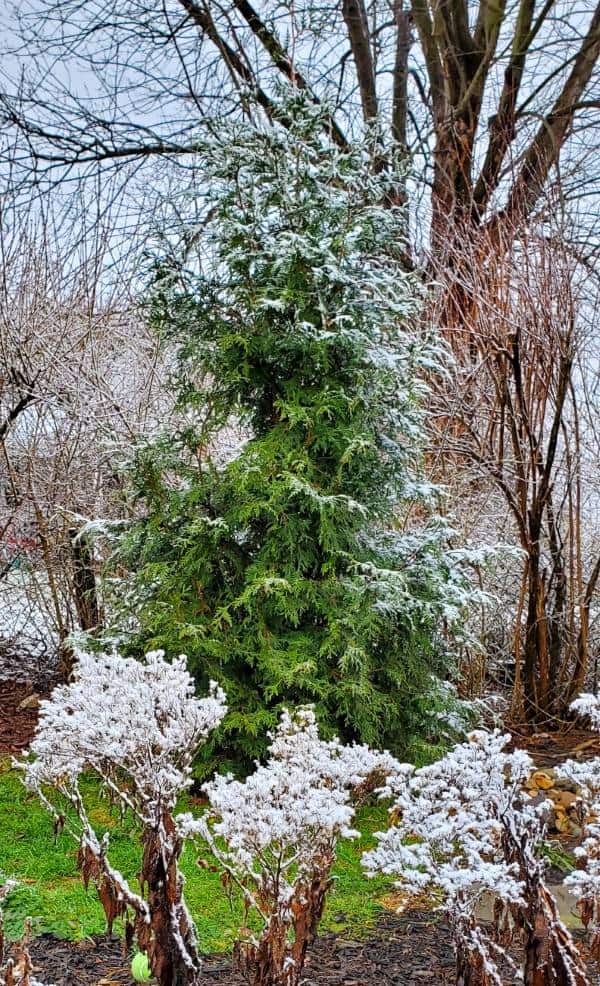 Zones: 5-7
Full Sun-Part Shade
30-50′ H x 10-12′ W
Growth Rate: Fast (as much as 3'/year until mature)
Purchase Here
Green Giant Arborvitae (Thuja standishii x plicata) is a much faster growing evergreen tree, making it a great option for screening a lot of space quickly. It's a vigorous grower—shooting up by as much as 3 feet per year until maturity.
Its natural pyramidal to conical form boasts dense, rich green foliage that darkens or bronzes slightly in the winter. I have 3 of these in my yard as well and I find them to be a little "shaggier" than the Emerald Greens. They have a really loose structure and it gives them a more casual feeling.
Emerald Tower Arborvitae (NEW!)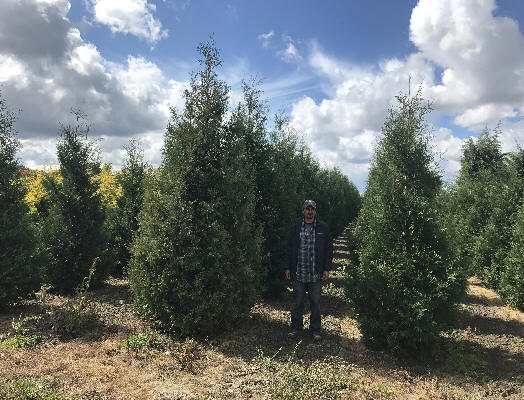 Zone: 5-9 (estimated)
Full Sun
25-30'H x 6-8'W (estimated)
Growth Rate: Fast – up to 3'/year
Emerald Tower Arborvitae (Thuja occidentalis) is a newer, thus lesser known, arborvitae variety. I included this one in the list because it's taller than the Emerald Green Arborvitae, but narrower than the Excelsa Cedar or Green Giant Arborvitae so it fits into a sweet spot there. It's also a very fast grower and can put on about 3 feet of growth in one year. In late fall/winter, the foliage darkens very much on this tree to a brown or sometimes a dark green.
This is a rare variety of arborvitae created by this online nursery so it will likely be difficult to find. But, I've also seen another variety called Tiny Tower® Arborvitae (Thuja x 'MonRig' P.P.A.F.) which appears to have pretty similar size specs although a slower growth rate. It may be worth looking into if you like Emerald Tower and can't find it.
Zones 5-9
Full Sun-Part Sun
30-35′ H x 12-15′ W
Growth Rate: Moderate-Fast, 2-3′ a year once established, depending on growing conditions.
Excelsa Cedar (Thuja plicata var. Excelsa) is a beautiful privacy tree is grown in both a "natural" and "hedged" form. Excelsas are very natural-looking and good-smelling, indigenous cedar trees. They're suitable for rural, semi-rural and some urban settings (like second-story privacy from neighbors).
This tree is a great option when an Arborvitae is too small but you still need a height-controlled screening tree.
Zones 6-8
Full Sun
20′ H x 6′ W
Growth Rate: Moderate – will grow over 12″/year
With its very prominent central leader and yellow spring growth, 'Golden Horizon' Deodara Cedar (Cedrus deodara 'Golden Horizon') makes for a very striking focal point in the garden. New foliage is bright yellow before it turns to yellow-green in summer. I really appreciate the arched, layered branching structure of this gorgeous evergreen tree. This tree grows well if your summers are dry and your winters are cool and wet, preferring slightly acidic soil.
Zones 4-8
Full Sun
8-12′ H x 4-5′ W
Growth Rate: Slow – it will put on about 6-8″ of new growth each year
Purchase Here
'Slender' (Chamaecyparis obtusa 'Gracilis') is an open-branched, pyramidal variety of Hinoki Cypress with gracefully arching branchlets. Tiny, deep green needles with reddish new growth have a soft, ferny appearance and develop bronze coloring in winter. 'Slender' makes an excellent small, narrow evergreen tree for screening, hedges and background plantings. It grows a bit slower at 6-8″/year but that's usually a good thing for a smaller tree. In 10 years this tree will be about 8′ tall and it will gradually grow to 15-25'H x 5'W at maturity.
Similarly, Compact Hinoki False Cypress (Chamaecyparis obtusa 'Compact') is a very similar size and growth rate to Gracilis (8-12'H x 6-8'W), making it worth checking out.
Zone: 6-10
Full Sun
40-60'H x 20-25'W
Growth Rate: Fast – it can grow 3-5′ per year
Purchase Here
Leyland Cypress (Cupressus) is America's most planted privacy tree for a reason. It's is a great option if you need a fast-growing screen, growing 3-5′ per year! It can be grown in both a natural and hedged form. Well-known for its iconic columnar silhouettes, Leyland Cypress boasts feathery soft and lush foliage (no prickly needles) and is also drought tolerant once established.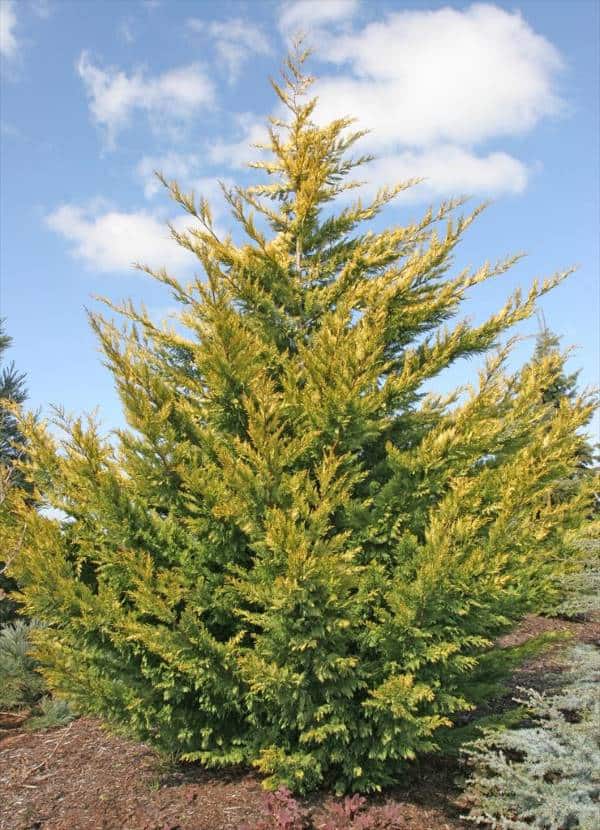 Zone: 5-9
Full Sun
35'H x 15'W (estimated)
Growth Rate: Moderate – can grow about 24″/year for the first 10 years. Then growth will slow to about 12″/year
'Gold Rider' Leyland Cypress (x Cupressocyparis leylandii 'Gold Rider') is a variety that will mature at about half the size of the "regular" Leyland Cypress. Gold Rider has beautiful golden foliage that makes a stunning hedge or stand-alone specimen tree. The yellow color is concentrated at the branch tips, that gives it a "two-toned" effect with the green interior foliage.
Like the Excelsa Cedar, Gold Rider is bigger than the Emerald Green Arborvitae -both wider and taller. It's also much faster growing than Emerald Green, but not as fast growing as the Leyland Cypress.
This tree is more colorful the more sunlight it receives, so they are more colorful in summer than in winter–they lose much of their yellow color in winter. This is a newer variety and sizes are estimated.
Zones 5-9
Full-Part Sun
8-10′ H x 2′ W
Growth Rate: low-Moderate (about 10-12″ per year)
Purchase Here
Sky Pencil Holly (ilex crenata 'Sky Pencil') is an amazing evergreen pick if you need a narrow tree in a really tight space. It grows skyward naturally without the need for trimming. At only 2′ wide and 8-10′ high, it's like an exclamation point (!) for your garden.
Quick Tip: If you're loving these narrow tree options, you'll also like my post about ornamental trees for your small garden.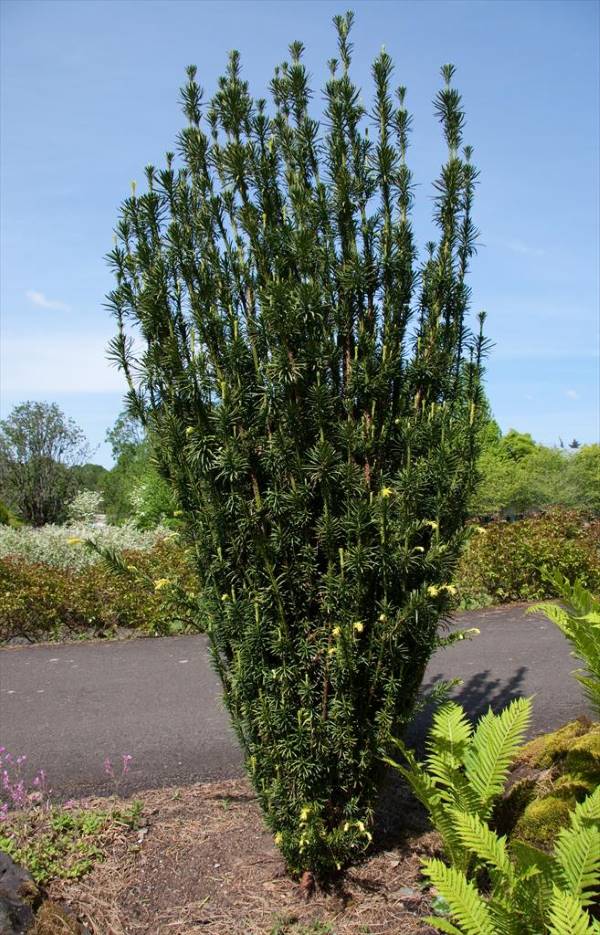 Zones 5-9
Part Sun-Shade
6'W x 10'H
Growth Rate: Slow – Grows about 6-8″ per year
Purchase Here
The Columnar Japanese Plum Yew (Cephalotaxus harringtonia 'Fastigiata') is a great narrow vase-shaped evergreen that tops out at about 10′ high. In spring, new growth is chartreuse, later changing to glossy dark green foliage. The yew is fairly deer resistant and can tolerate part-full shade situations as long as it has a moist, fertile soil.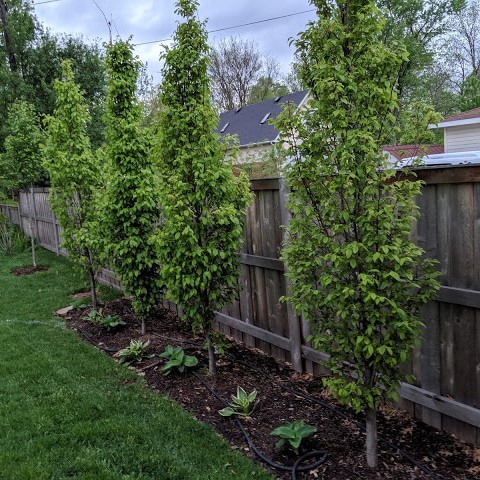 Zones 4-8
Full Sun-Shade
6'W x 25'H (20'W x 50'H at maturity)
Growth Rate: Moderate – Can grow 12″ or more per year
Purchase Here
Frans Fontaine Hornbeam (Carpinus betulus 'Frans Fontaine') was recommended to me by reader, Jake Parrillo. Jake told me that this is his favorite columnar evergreen tree for his landscape. Commonly known as European Hornbeam or Common Hornbeam, this narrow tree is long-lived, even in tough locations.
Frans Fontaine matures at 40-50′ tall but spreads only about 20′. In ten years, it seldom spreads more than 6-8′ while reaching a height of 20-25′. This is a very handsome tree with rich green summer foliage that turns a golden-yellow color for autumn interest.
Zones 3-7
Full Sun
20′ H x 8′ W
Growth Rate: Fast – can grow more than 2'/year
Purchase Here
'Moonglow' Juniper (Juniperus scopulorum 'Moonglow') is a compact conifer with attractive gray-green foliage year round. 'Moonglow' is a dense multi-stemmed evergreen shrub with ornamental scale-like foliage and a narrowly upright and columnar growth habit. As its name suggests, its gray-green foliage will reflect light under strong moonlight.
Zones 4-8
Full Sun-Part Sun
16-20′ H x 2-4′ W
Growth Rate: Moderate – can grow about 15-18″/year
Purchase Here
The Blue Arrow Juniper (Juniperus scopulorum 'Blue Arrow') is a sun-loving narrow upright evergreen with powdery blue foliage. They create a beautiful privacy screen without taking up your whole yard. This is a colorful addition to your landscape with its tight, bright blue foliage. If you have a tight corner in a side yard, or a view you want to hide, plant several Blue Arrows to form a tall, narrow privacy screen.
Zones 4-9
Full Sun
15-20′ H x 2-3′ W
Growth Rate: Moderate – can grow over 12″/year
Purchase Here
A thin, columnar Juniper, 'Skyrocket' (Juniperus scopulorum 'Skyrocket') fits into very difficult places like narrow side yards between homes. Planting multiples of 'Skyrocket' creates a fantastic windbreak in both hot and cold climates. It's vertical form also makes this a great accent plant in a mixed conifer garden.
Zones 3-8
Full Sun, Part Sun, Shade
6′ H x 1′ W
Growth Rate: Slow – grows from 1-6″/year
Juniperus communis 'Pencil Point' is a small and narrow evergreen has beautiful blue-green foliage that will shimmer in your sunny garden. Topping off at 6 feet tall and just one foot wide, Juniper 'Pencil Point' is a great choice for slender gardens where space is limited. 'Pencil Point' makes an excellent screen or small hedge and prefers well-drained soil. Despite its size, this evergreen is a strong, drought-tolerant and cold-hardy option for even the toughest growing conditions.
Using Landscaping to Create Privacy
The reason you found this article is probably because you're looking for ways to create a living privacy hedge for your yard. But, there are many other ways to use landscaping to create privacy. Learn how to use plants, fencing and other clever tricks to screen out your neighbors here.
If you're looking for evergreen privacy shrubs, rather than trees, I've got you covered, too. These are some of my favorite evergreen shrubs (and why they're so important).
And, here's a big list of 5-6 foot evergreen shrubs suitable for home gardens.
Choosing the Right Tree
These are some other tree posts you'll also like.
Looking for even more info about trees? Check these articles out.
Wrapping Up
Just because you have a small yard doesn't mean that you don't have space for a tree! As you can see there are dozens of options for narrow trees that will add year round interest and ALSO privacy… even in a tight space.
Remember to choose your tree not just because it's narrow but because it's unique and deserves a prominent place in your garden. Look for unique features like multi-season interest or unique foliage and you'll be on your way to creating a beautiful landscape to enjoy for years to come.
Lastly, you're planning on planting a new tree, be sure to give it the proper amount water, especially when it's young. I find the Tree gator (Amazon link) to be an incredible solution to slow-watering my trees so they can grow strong and healthy roots. The tree gator will slow drip the water to your tree over the course of several days to make your watering chores much easier!
---
Shop my Amazon storefront for my essential gardening books & tool recommendations!
More Gardening Posts You'll Love