Please note: I may earn commissions from qualifying purchases if you shop through links on this page. More info.
Narrow Garden Layouts + Design Tips to Make Them Work For You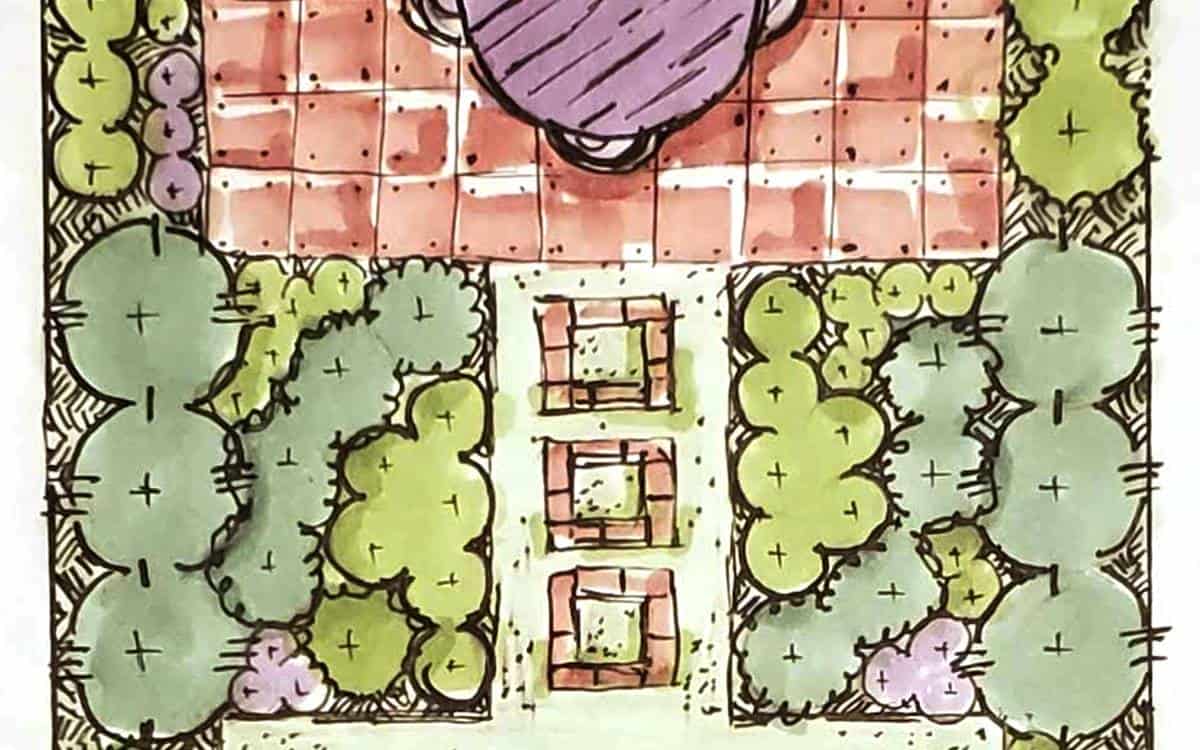 Designing a layout for a narrow garden can be a very tricky task to take on yourself. If you're having trouble getting started, I've put together several different narrow garden layouts to choose from. I'll also share with you why each layout works and how you can modify these layouts to fit your own unique needs.
While it sounds counterintuitive, dividing up a long, narrow garden will actually make your landscape look a lot BIGGER than it really is.
The best design tip I can give you when trying to conquer a narrow garden is to divide your space into smaller sections. I know that most home gardeners feel like this will make the space feel smaller, so they shy away from creating separate areas. But the truth is that most garden designers, when faced with a long narrow garden, will do exactly this.
Before you get started with your design layout, it's important to think about what you actually need in your landscape. So, head over to my article, 7 tips to starting your landscaping from scratch. There's lots of great information there about gathering inspiration photos, determining your garden style, understanding the conditions of your property and creating a wish list for what you need or want to incorporate into your garden. You can also check out my post filled with ideas specifically for designing your backyard landscape.
Once you have the basics covered, you'll be able to use what you've learned to decide on a layout for your narrow garden. I'll provide several unique narrow garden layouts that you can try:
A simple, kid-friendly narrow garden with a large lawn
An organic, curved design for an informal, narrow garden
The plant-lovers paradise layout for a narrow garden space – also "no lawn" friendly
A bold and unique design for wow factor in a narrow garden – also "no lawn" friendly
Depending on your needs, you can easily adjust these layouts to create a garden that's uniquely you!
Narrow Garden Layout with Large Lawn Area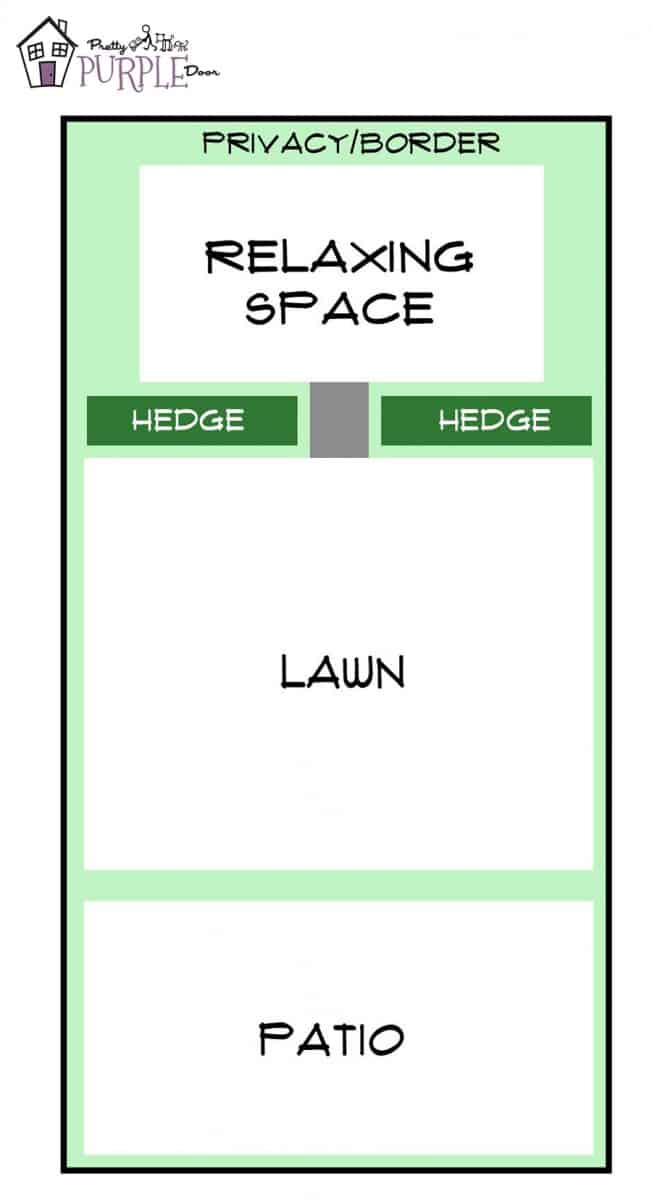 This is a very simple and straightforward design for a long and narrow backyard. I think that most home owners will really enjoy the simplicity of this layout. There's a reason why this is a popular option: it solves all the problems of a narrow garden design and can be adapted to accommodate a lot of different items from your garden wish list.
First, a patio/dining area can be placed right outside of the home. It's always a great idea to have a deck or patio near the house so that you can dine outdoors and cook on the grill. It makes carrying dishes in and out a lot easier.
What I like most about this option is that it provides a large lawn space, which is great for kids. So, if you have young children or a dog that likes to use the lawn space, you may consider trying out this option.
Finally, at the far end of this narrow garden, I've designed a "relaxing space" that's secluded from the patio and the lawn. This space is separated from the lawn using evergreen hedging that will make it feel cozier. There's also a little garden path that you can travel down before you enter the relaxation area.
Some ideas for a relaxation area are:
fountain or water feature
hammocks for napping and enjoying the sun
fire pit / campfire area
outdoor living room with sectional couches and lots of pillows
a space to read, draw or pursue your hobbies
an orchard of fruit trees
a gazebo or pergola with a bar and a big screen tv to watch the game
this is also a great location for a garden shed, if you don't have a need for a second space
And, if you're a visual person like I am, here's a hand illustration I made to incorporate some of the ideas mentioned for this layout.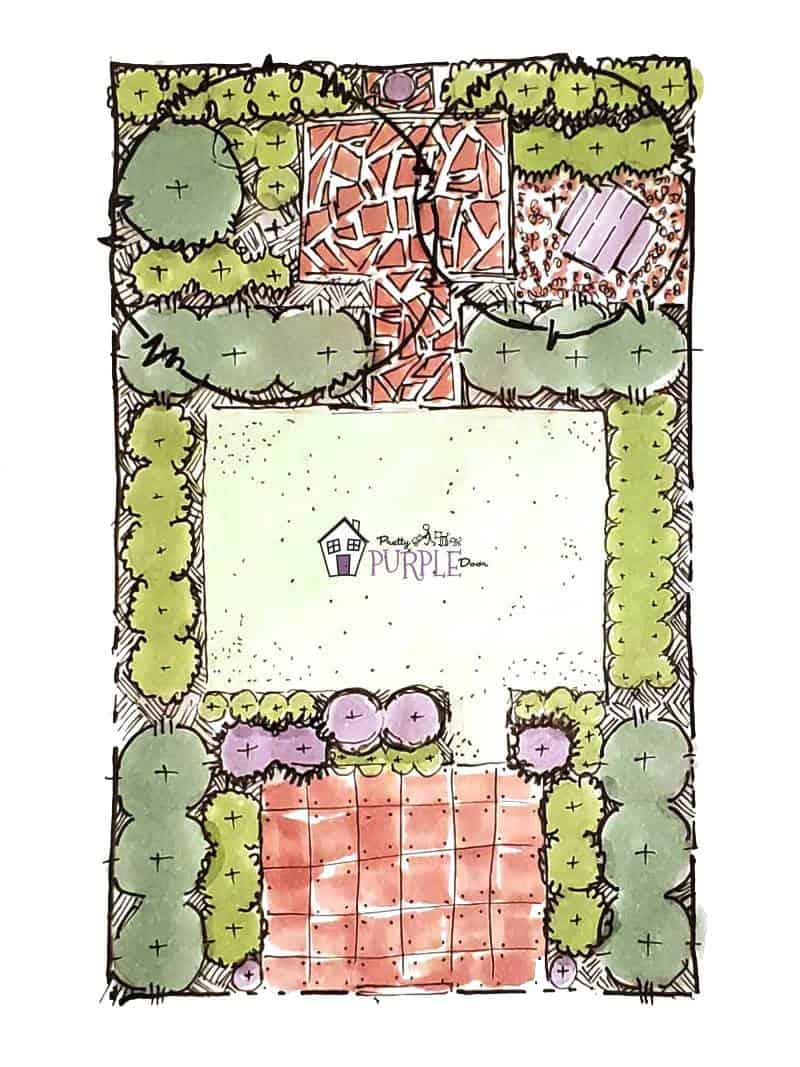 You will notice that in this layout I've divided the narrow space into 3 smaller areas that are easier shapes to handle. You could always make the patio larger, the lawn smaller, etc. Personally, I think I would create garden borders around the lawn area so I'd have room to plant some more flowers and shrubs!
Asymmetrical Narrow Garden Layout with Curves
This narrow garden layout is for those of you who dislike boxy designs and want a more organic look to your garden design. Honestly, it's not much different from the first design. The main difference is the asymmetrical layout.
The patio/dining area is still right at the front of the garden near the home. Except, it's offset a little bit. A meandering path starts right at the back of the home and will walk you all the way to the very back area of the garden. Along the way there are lots of planting areas to make it a gorgeous, secluded stroll. This would be a great design for a cottage style garden.
And, if you're looking for some ideas for planting up the garden areas, check out this YouTube video where I explain how I designed a similar pathway garden in my own backyard!
Subscribe to my YouTube channel for more gardening videos!
To the right of the pathway, there's a large lawn area for the kiddos and doggies. I've included a lawn area in this design as well because, well, it's the most practical use of the space for most families. But, if you're trying to get rid of the lawn or hate cutting the grass, keep reading because the next two options can easily be "no lawn" solutions for you.
At the end of this long and narrow garden, I've included an area for a vegetable garden and a small shed. But, remember all of the ideas above that you could swap out for this area. And, if you like the idea of including a vegetable garden in your design, make sure that you place it in an area that gets LOTS of sun. Your veggies will need AT LEAST 6 hours of sun per day in the location you choose.
Could this be the garden design for you?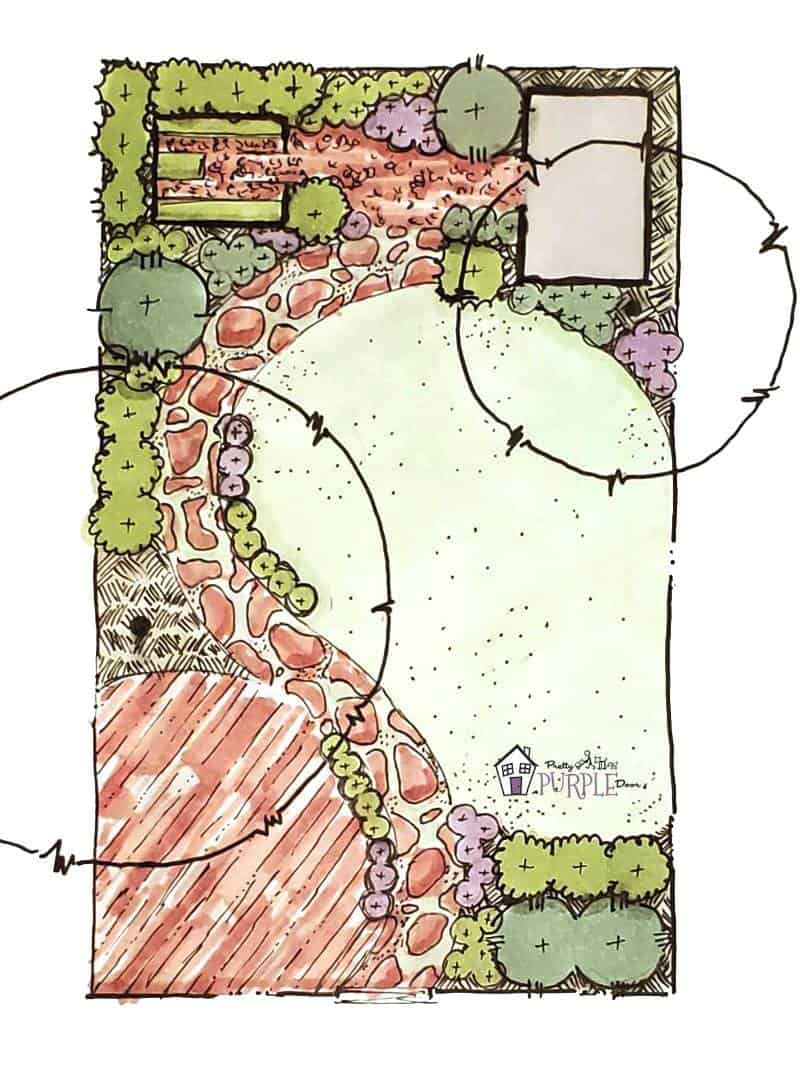 Narrow Garden Layout with Lots of Room for Plants
I think this is my favorite long, narrow garden design because there's tons of space to plant. It truly is a plant-lovers dream… probably why I love it so much!
The space begins with a lawn and then a hedge row separates the lawn from a beautiful garden area. This could be a cut flower garden, a woodland garden, an orchard, a vegetable garden or even a play space for the kids… anything you want really.
What Blooms with What?
Never know what to plant together? Find out with this FREE Plant Pairing Guide and become a pro at combining plants for the best garden design possible!
This design incorporates a lot of green space for planting ! The center area is divided by a hedge row on either side and a small path guides you into a patio area near the back of the yard. It's so dreamy (I love this one).
Don't get too caught up in what I'm calling lawn or patio. These areas can easily be swapped so the patio is near the home and the lawn is in the back. Or, pick something else that fits your needs better!
To eliminate the lawn from this design, I would swap the lawn for a patio right by the house (near the bottom of the design). Then, in the far back area of the garden create a "relaxation area" using the ideas I provided above. Personally, I think I would add a campfire area in the back.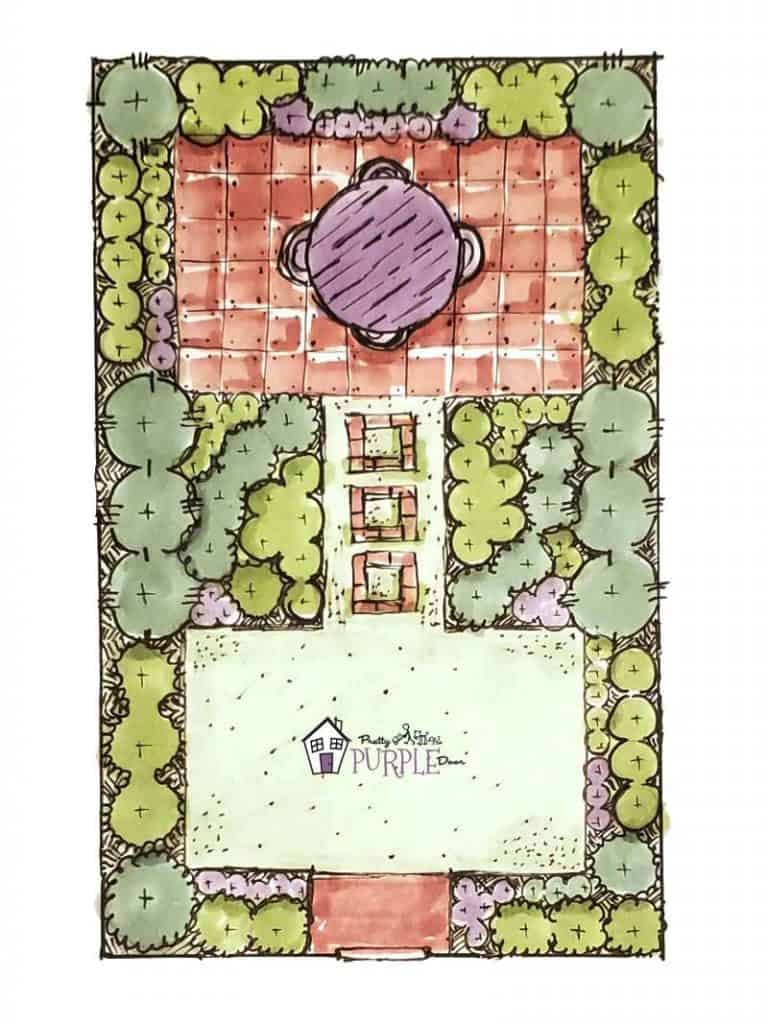 Narrow Garden Layout with a Center Focal Point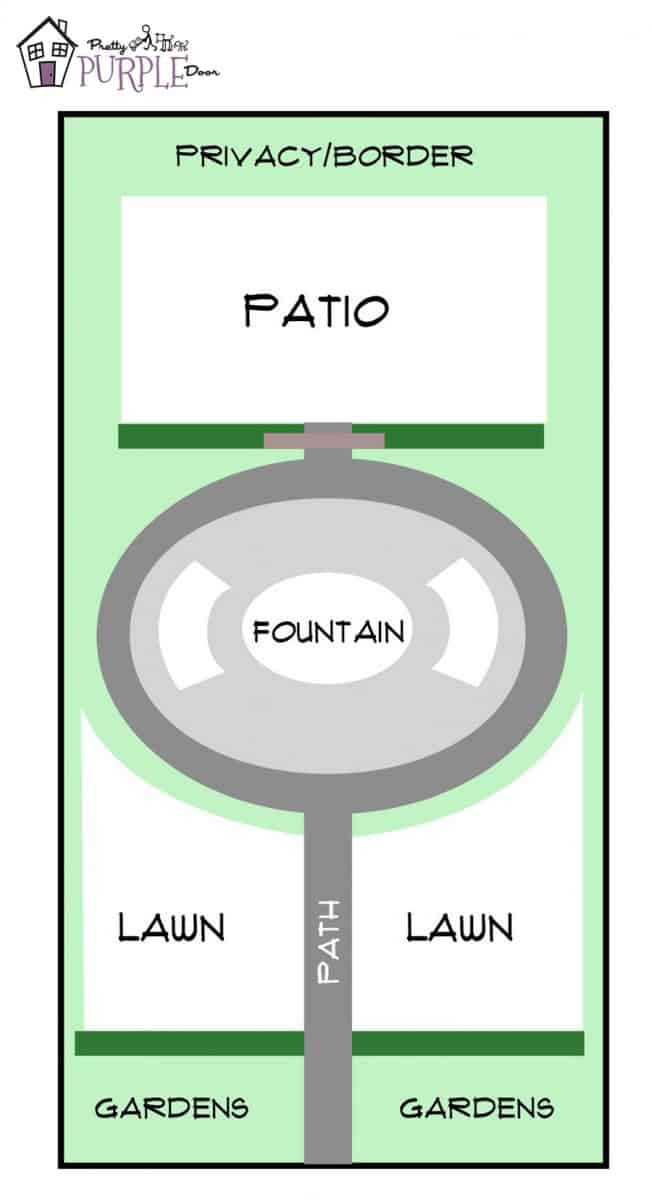 This design is not for the faint of heart. It's a pretty bold and unique design for those of you who really want to create a feature in your backyard. Does it speak to you?
This design starts out with a straight pathway anchored by gardens on the left and right as you enter the space. These garden areas would be a great place for a cutting garden or an herb garden since they are so near to the house.
Then, the garden area is separated by a hedge and enters into a small, curved lawn area. This is the smallest lawn design in the bunch so it's great for those of you that don't want to completely eliminate your grass but do want to reduce the size of the lawn and the maintenance associated with it.
Next, we will enter the bold, focal area of this garden that features a circular pathway that surrounds an impressive focal point. In this design I'm calling this a water feature, as I can see a grand, bubbling fountain in the space. Along the circular walkway I've included some benches for seating… Because who wouldn't want to sit near this focal point and enjoy the space?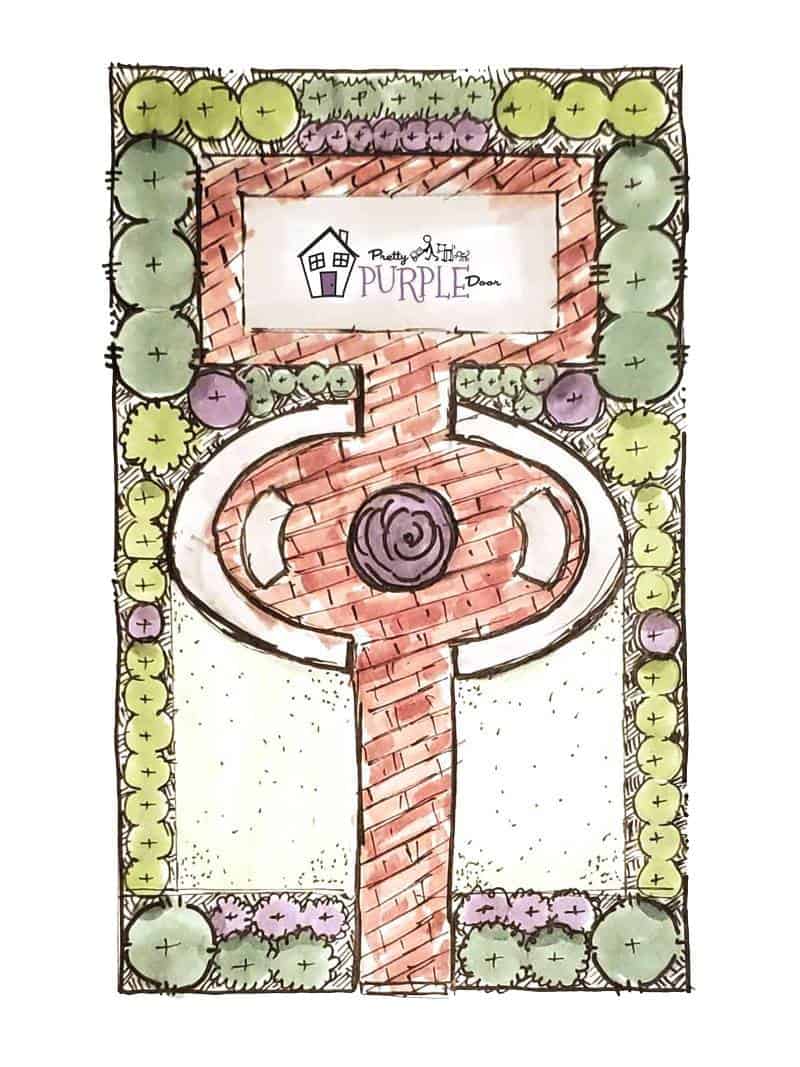 But, don't get too caught up on the fountain focal point, because the center area can really be any focal point you want. It can be rows of topiary or trimmed hedges. It can be a beautiful reclaimed brick patio. It can be a gorgeous statue or garden bed.
Quick Tip: If you want some ideas for the center area of this design, head over this article about focal points to learn more.
Finally, the circle continues with another pathway that leads to a hedged patio area in the back of the garden. This would make a beautiful space for a quiet lunch, a place to read or even catch up on work. Although it's more common to have the patio right off your home, I actually love having a patio area in a far back corner of the garden.
In my own home garden, I have a small circular patio right tucked into a shady corner, complete with a meandering rock walkway and an arbor to create a secluded entry. It's my favorite space!
Eliminating the lawn in this design is easy as can be. Instead of lawn, you can extend your garden. Or, use the lawn area for a patio or seating area. The lawn could also be swapped for a vegetable garden, a blueberry patch or a children's swing set. This would be a really simple design to transform into a no lawn option.
Wrapping Up
In this post, we discussed several different narrow garden layouts that you can try at home. I hope that these layouts have given you the confidence to tackle your long and narrow garden space. Remember: the trick is to break up your space up into smaller sections that don't have such an awkward shape. Then, assign a purpose for each of the spaces. If you want to create your own design, head over to this article for more ideas: Backyard Landscape Design, Step-By-Step
If you have a long, narrow garden, you may also want to check out my post about tall, narrow trees that you can use in your garden. And, if you've decided on one of these layouts and are wondering what to do next, here are some articles that will help you out.
You may also be interested in taking my free gardening training. It's a free, 45 minute video training where I'll reveal three of my secrets so you can overcome your biggest gardening challenges! I also have several online garden design courses that you will love, too!
More Garden Design Articles You'll Love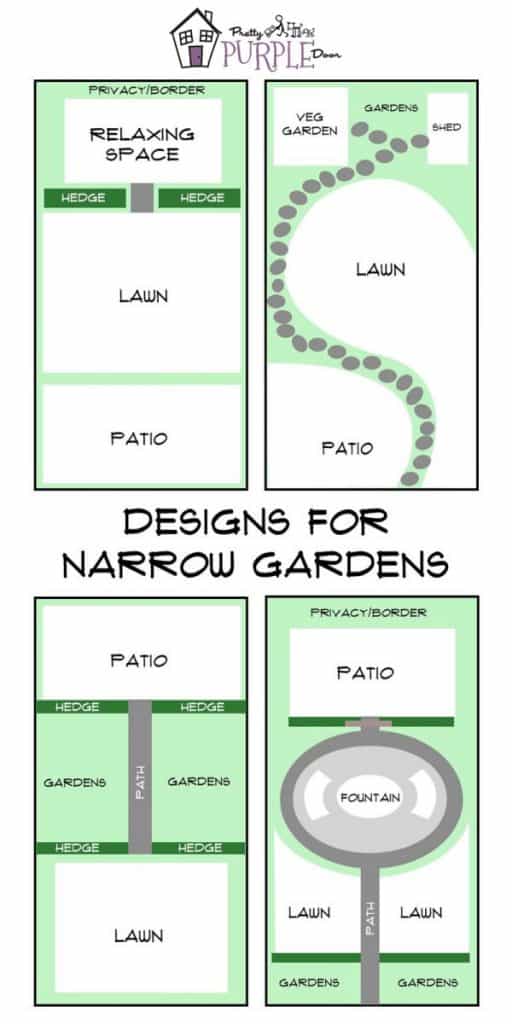 What Blooms with What?
Never know what to plant together? Find out with this FREE Plant Pairing Guide and become a pro at combining plants for the best garden design possible!