Please note: I may earn commissions from qualifying purchases if you shop through links on this page. More info.
Narrow Trees For Small Yards that Pack a Punch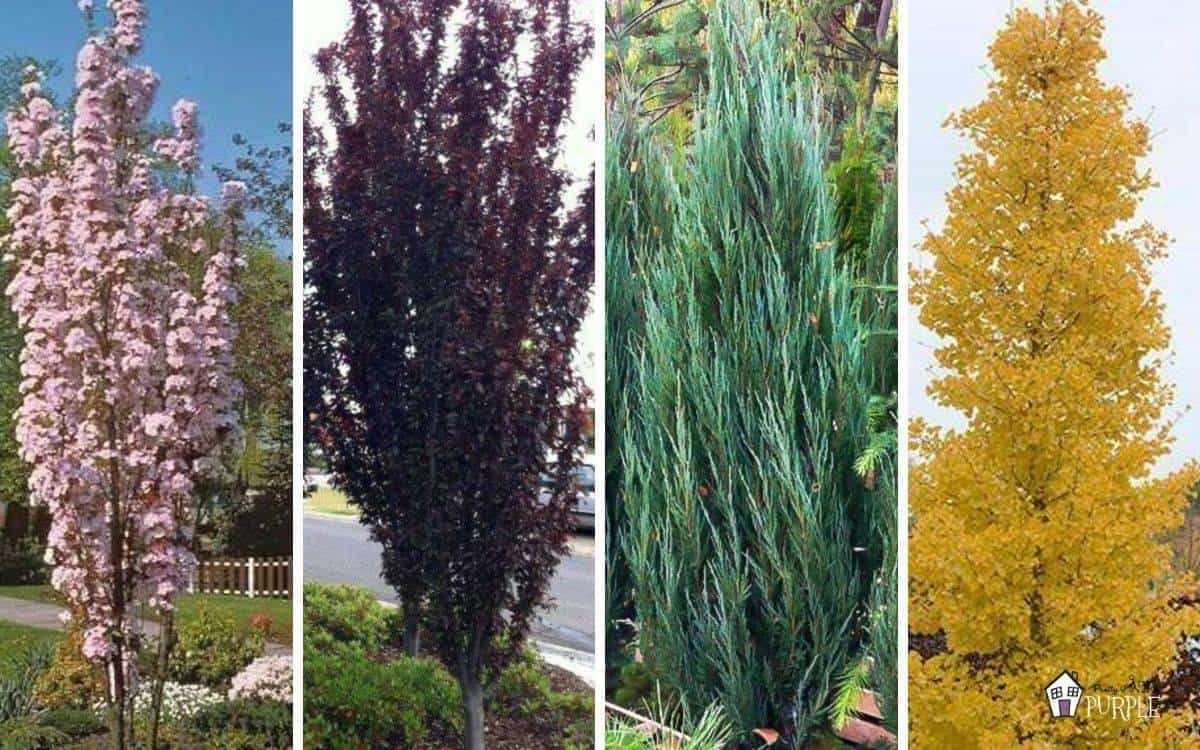 As a professional landscape designer and someone who teaches home owners about garden design, I know a thing or two about selecting the right skinny trees for small gardens. With limited real estate you need to make the best of every single inch of gardening space you have.
And that's where narrow trees with columnar forms can be an incredible addition to your space.
Remember that just because your yard is small does NOT mean that you don't have the space for a beautiful tree. I'd argue that in most small yards you may even have space for two or three trees (if you choose them wisely). In fact, on my small (<1/4 acre) property I have planted over 50 beautiful trees!
The great news is that there are SO MANY narrow trees that will fit into just about any landscape!
Landscaping With Tall Narrow Trees
Tall columnar trees, whether evergreen or deciduous, can be an excellent choice for small spaces. Here's some ways you can use vertical trees in your landscape: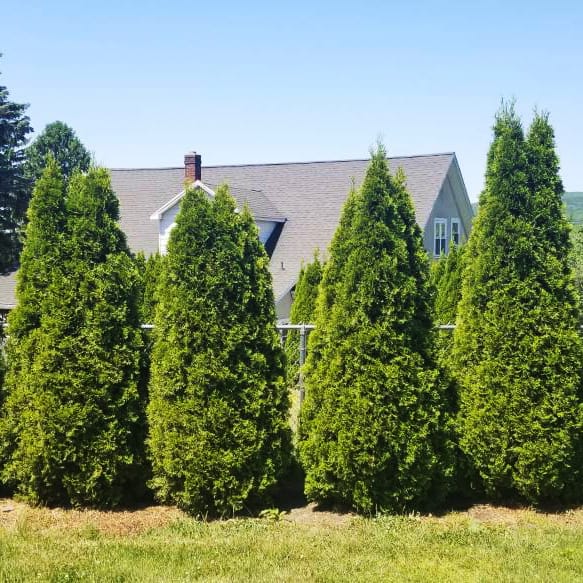 Privacy Hedges
If you want to create a living privacy screen or block unsightly views, tall columnar trees can effectively serve this purpose. In tight spaces, plant in a row. Or stagger them for a dense barrier.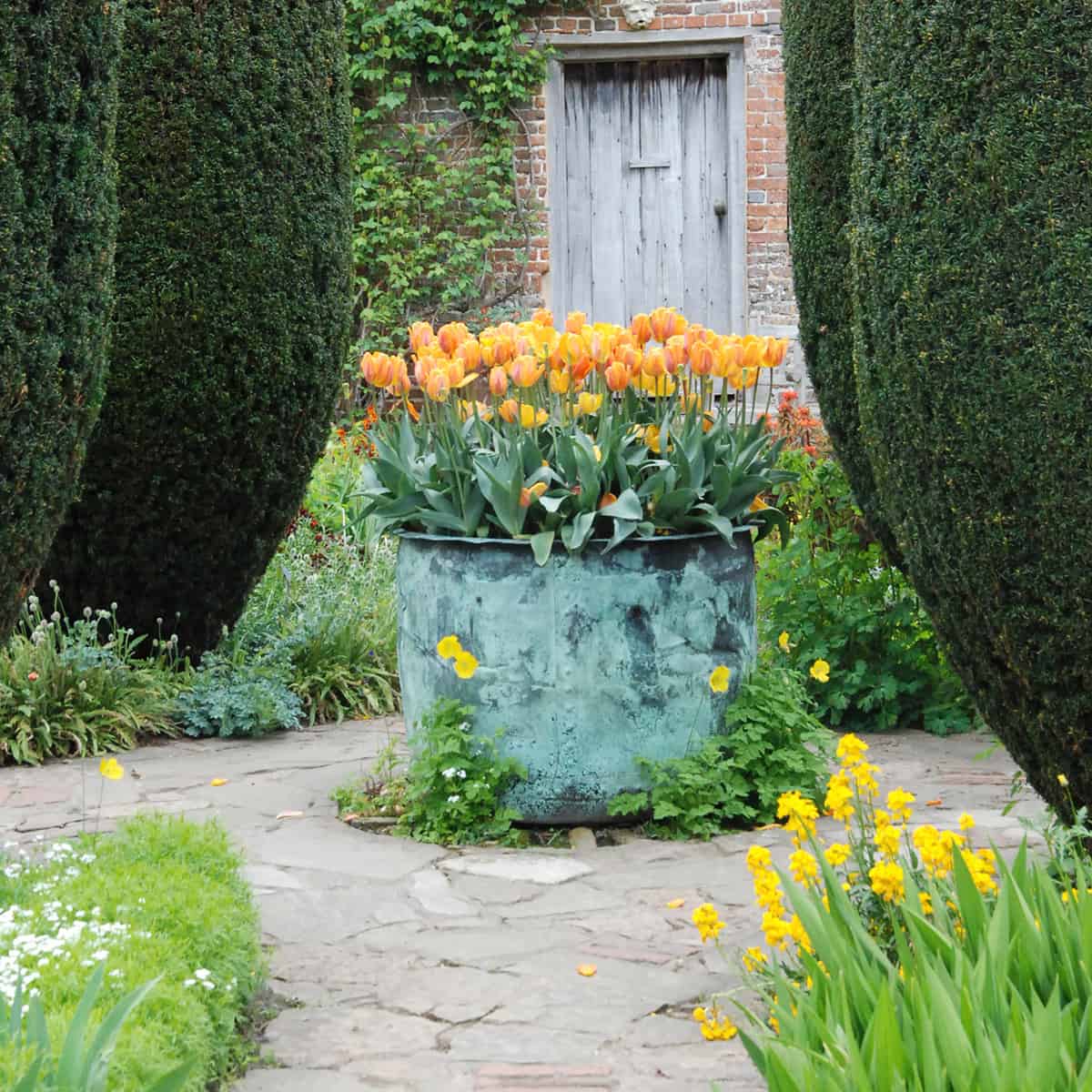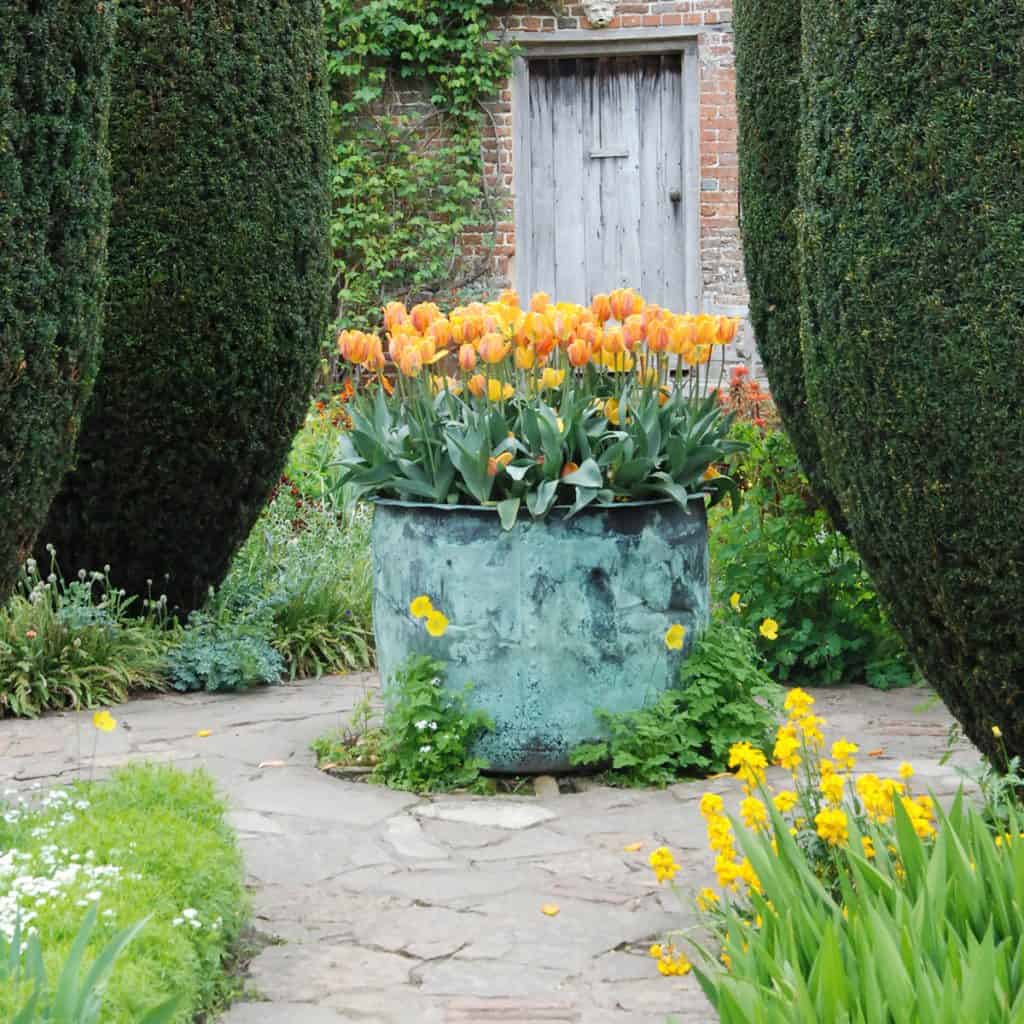 Framing Views
If you have a beautiful view that you want to highlight or frame, planting tall columnar trees on the periphery can help draw attention to the focal point while maintaining a sense of openness.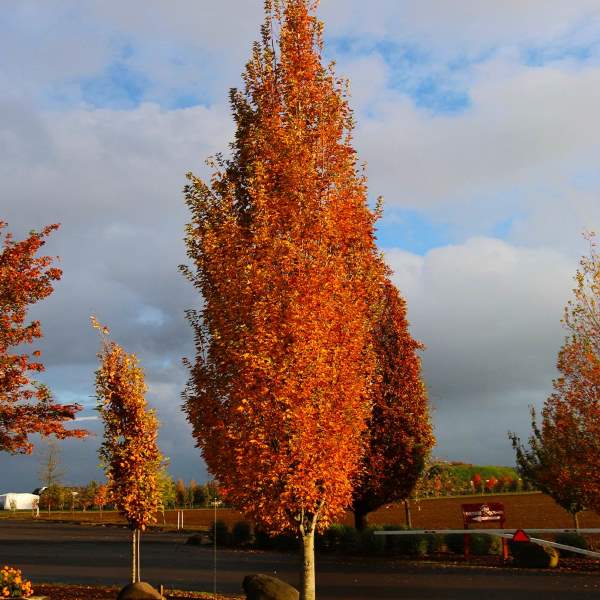 Vertical Accents
Tall skinny trees can serve as striking accents in the landscape, adding height and drama. They can be used to break up the monotony of flat landscapes or provide a contrasting shape to round or spreading trees.
Criteria When Choosing a Narrow Tree for Your Yard
When selecting the right narrow tree for your property, consider the following criteria:
Growth Habit
Look for trees with a naturally upright, columnar growth habit, like the ones in this post! Make sure they keep their narrow form as they mature, rather than spreading out.
Height and Spread
Consider the mature height and spread of columnar trees to ensure they will actually fit into your space without disturbing structures, power lines or neighboring properties. Think about where it will cast shade, especially if you grow veg on your property.
Evergreen vs. Deciduous
Decide whether you prefer an evergreen tree that retains its foliage year-round (here's a full list of narrow evergreen trees) or a deciduous tree that provides seasonal interest and allows more light during winter.
Function
Some trees are great for wet areas. Some can serve as a great windbreak. Other trees provide shade or privacy. Some trees make beautiful focal points. Which do you need?
Ecological Value
There are also many native trees (or native cultivars) that provide food and habitat to wildlife and bring nature into your space. Choosing a tree based on ecological value is a great way to narrow down your choices. Learn more about native plants.
Site Soil and Moisture
Is your soil rich and full of nutrients? Heavy clay that doesn't drain well? Sandy and well draining?
Also consider moisture levels on your property. Is the area wet or dry? Does any water pool in the area you'll be placing your tree?
Local Climate
Select a tree that will thrive in your local environment. Your gardening zone will determine if a tree is hardy enough to survive the winter months where you live. You can look up your gardening zone here.
Maintenance
Some trees require more pruning, watering, or pest management than others. For example, fruit trees may drop fruit that makes a mess. Flowering trees may drop petals that you'll have to clean up. Deciduous trees will drop leaves in the fall that you'll need to rake.
Ask yourself: What level of maintenance you are willing to undertake? Find a tree that matches your personal criteria.
Aesthetics
Consider the overall appearance of the tree, including its foliage color, texture, and any ornamental features such as flowers, fruits or fall color.
By considering these factors, you can choose the right tall, columnar tree that meets your specific needs and enhances the beauty of your property.
After you narrow down your list of top contenders, it can also help to talk with a local arborist or nursery professional. They can give you expert advice based on your geographic location and specifics about your property…. which is something I can't do for you on the internet.
The Best Narrow Trees for Small Yards
Here are some of my personal favorites. And don't worry, in this article I'll be sharing all of the details about each narrow tree on this list.
Goldspire Ginkgo
Forever Goldie Arborvitae
Crimson Pointe Flowering Plum
Tsukasa Silhouette Japanese Maple
Japanese Flagpole Flowering Cherry Tree
Slender Hinoki Cypress
Columnar Sweetgum Slender Silhouette
Sky Pencil Holly Tree
Frans Fontaine Hornbeam
Armstrong Gold® Maple
Weeping White Spruce
Blushing Delight™ Columnar Apple Tree
Moonglow, Blue Arrow, Skyrocket and Pencil Point Juniper
Keep reading for more details about each of these unique tall skinny trees for tight spaces.
Zones 4-9
Full Sun, Part Sun
14-15′ H x 5-6′ W (potentially 30′ H x 10′ W at full maturity*)
Growth Rate: Moderate
Purchase Here
The dark green foliage of Ginkgo 'Goldspire' (Ginkgo biloba 'Goldspire') has unmatched beauty. Unharmed by urban smog, the leaves will filter out the pollutants in the air to give you tons of fresh clean air.
This narrow Gingko will provide shade and beautiful deep green backdrop for other plants to pop against. In the fall, the leaves of 'Goldspire' turn a beautiful shade of golden yellow that demand attention in your autumn garden.
*It's important to note that Goldspire is a newer cultivar, so it's difficult to know it's full grown size. According to Dick Crum, aka Dr. Dirt, who has been writing newspaper columns about gardening for 45 years,
"Goldspire, Ginkgo biloba 'Fastigata Blagon,' is a recent introduction (2010) from France, so there is not much of a history other than the fact that it was a chance seedling with promise. It has a height of about 15 feet with a spread of 3-5′ in 10 years.

Generally the height and spread of trees is given when they reach 30 years of age. So, we do not know the ultimate size of Goldspire. My guess is that it will double its 10 year size in 30 years."

Dick Crum, aka Dr. Dirt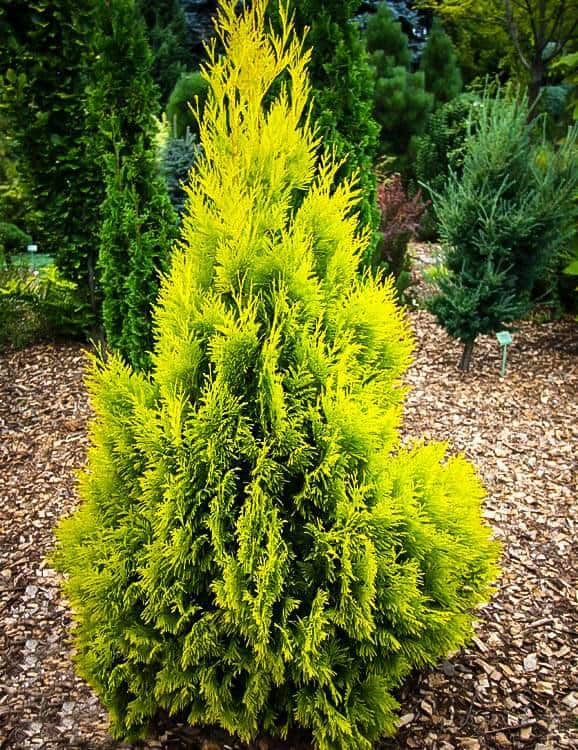 Zones 3-8
Full Sun
12′ H x 3-4′ W
Growth Rate: Moderate, >1'/year
Purchase Here
Forever Goldie (Thuja plicata '4EVER') tops off at 12 feet tall and has bright green foliage tinged with yellow. You'll love how its foliage 'turns gold with the cold.' Its glowing needles shine in the summer and is a beacon of brightness in cold, gloomy weather.
This well-behaved tree doesn't shed, so you'll get maximum visual interest all year round. The arborvitae's soft foliage and upright, pyramidal stature can also stand alone as a focal point on your property.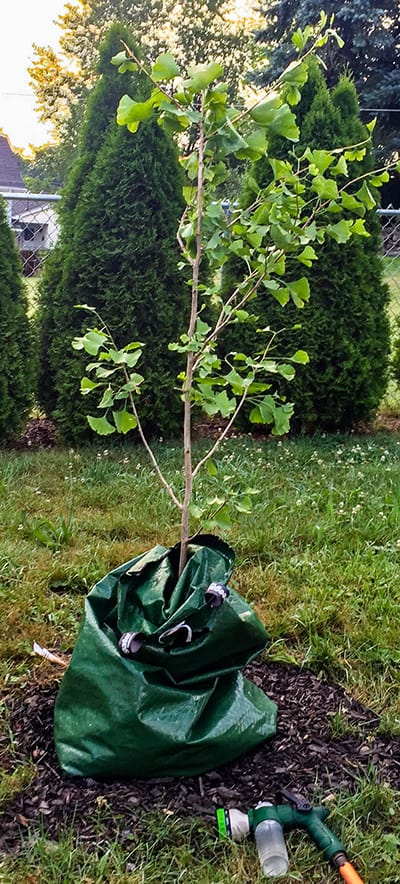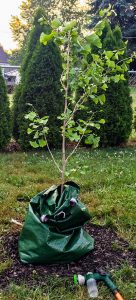 Quick Tip: These Tree Gator Tree Watering Bags are my go-to for ensuring new trees get the proper amount of water each week. The bags are slow watering so that your tree can establish strong and healthy roots.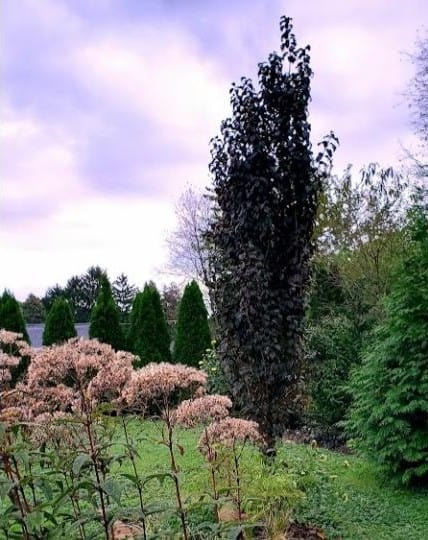 Zones 4-9
Full Sun
20-25′ H x 5-6′ W
Growth Rate: Moderate
Purchase Here
'Crimson Pointe' Flowering Plum (Prunus x cerasifera 'Cripoizam') is a dense deciduous tree with a narrowly upright and columnar growth habit. In early spring, it's covered in stunning clusters of fragrant pink-white flowers along the branches before the foliage appears.
This beautiful, narrow tree has attractive deep purple foliage throughout each season.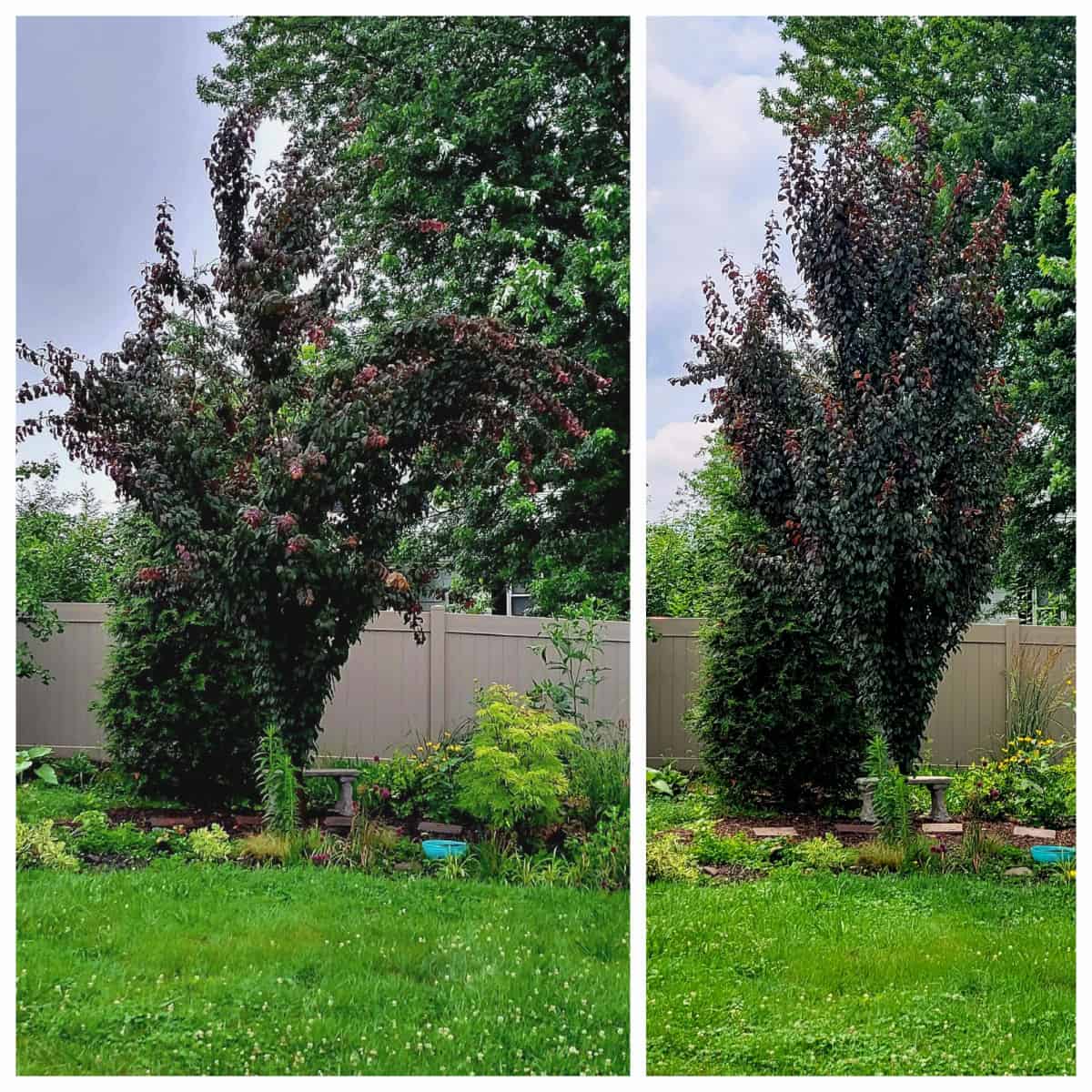 I have the Crimson Pointe flowering plum tree on my property and it's beautiful. After the rain, it will lose it's shape, but after a few hours, it pops right back into it's columnar form.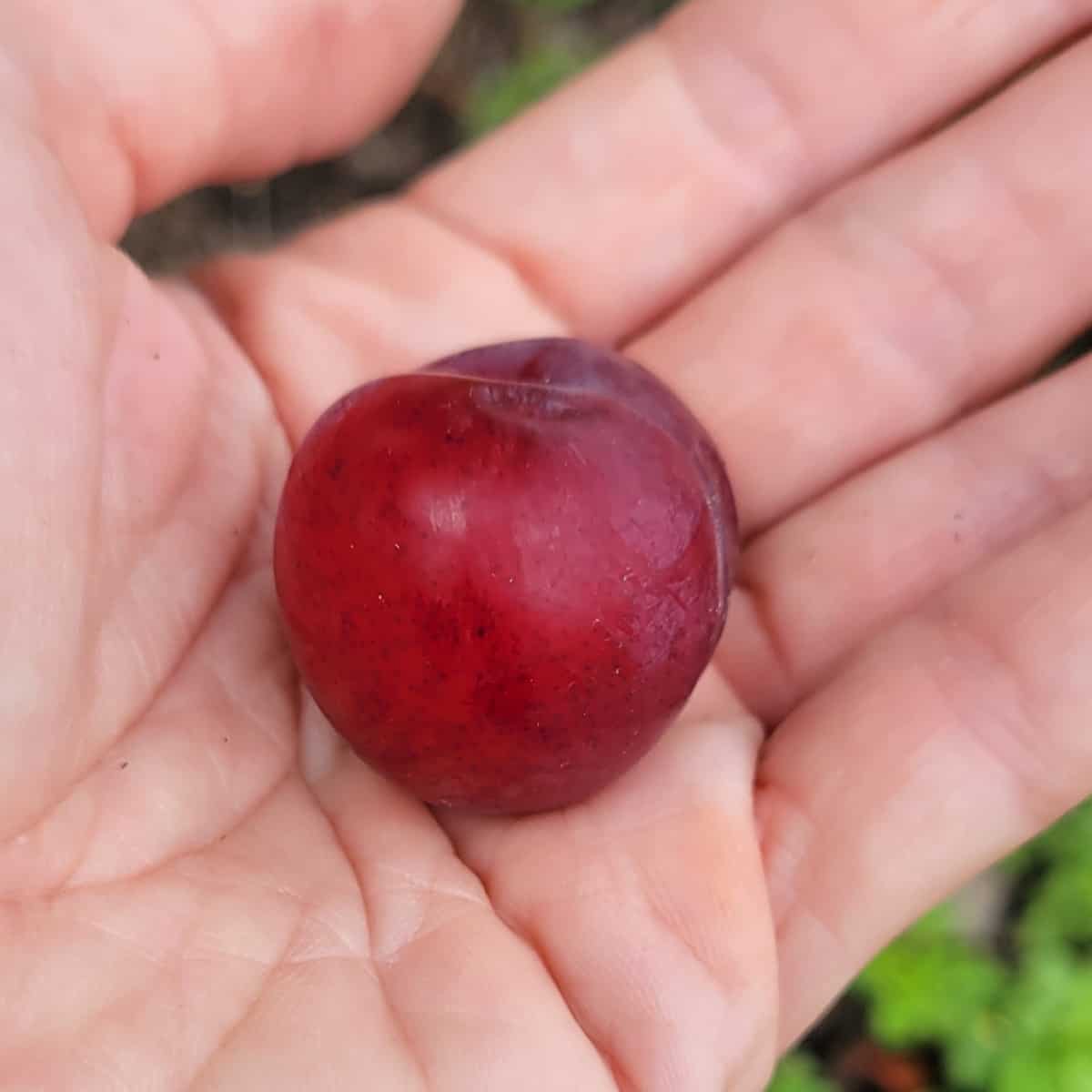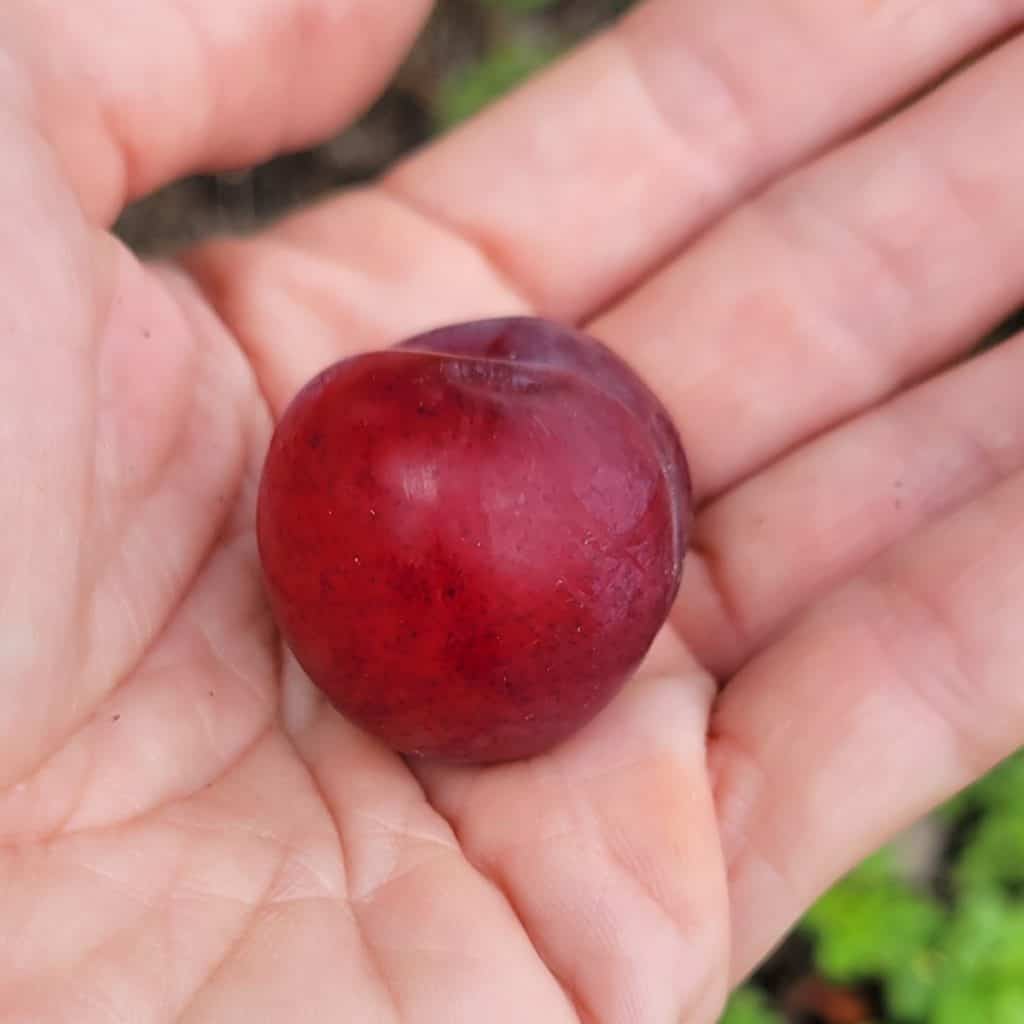 It also has small fruit (plums), which don't taste very good. This fruit will drop from the tree. But, because of the narrow habit, the plums fall in a small area and are easy to clean up.
I love that this is one of the first trees to flower in the spring and has a deep plum foliage that lasts spring through fall. It's a great tree and very easy to care for.
Free Gift: 10 Proven Plant Combinations to Try in Your Own Garden
Never know what to plant together? Get 10 FREE plant combinations for spring, summer, fall and even winter so you can create stunning combinations in your garden in all four seasons. There are plant combos suited for every zone from 3-9. All pairings in this guide will work in zones 5-7.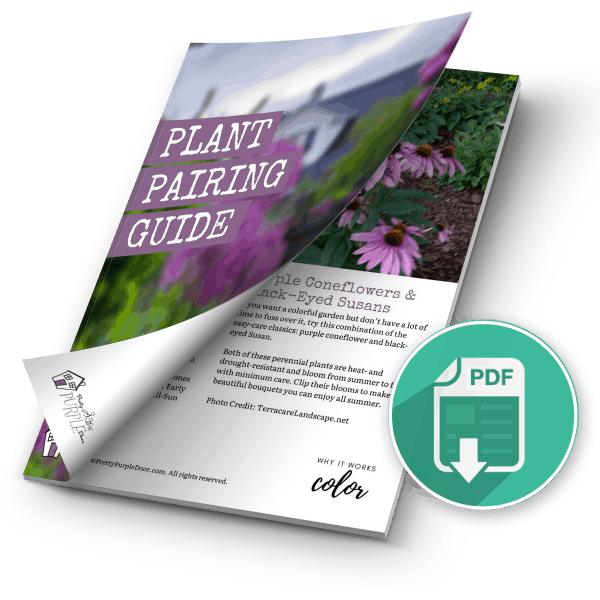 Acer palmatum 'Tsukasa Silhouette'
Zones 5-9
Part Sun
15-20′ H x 6-7′ W
Growth Rate: Slow
Purchase Here
'Tsukasa Silhouette' (Acer palmatum 'Tsukasa Silhouette') is the first columnar form of the popular Japanese Maple tree. From an amazing ornamental hedge to a beautiful garden center piece, this narrow tree is heat-tolerant and incredibly versatile.
The foliage is a cheerful lime green in the spring, turning a dark green through the summer. It really puts on a show in the fall from fall foliage ranging from oranges to bright, brilliant reds. hanging to a brilliant red in the fall.
If you love Japanese Maples you'll definitely love getting that package in a unique, narrow habit. Tsukasa Silhouette is also one of the most sun and heat tolerant varieties.
Japanese Maples are tough and long-lived trees that prefer moist, well-drained soil that's rich in organic matter.
Quick Tip: if you're looking for a skinny, year-round privacy tree for a tight space, head over to this post to see my list of favorite narrow evergreens.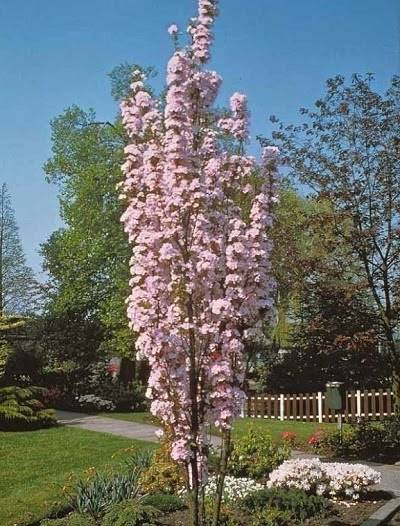 Zones 5-8
Full Sun, Part Sun
25′ H x 12′ W
Growth Rate: Fast, up to 2'/year
'Flagpole' Japanese flowering cherry (Prunus 'Amanogawa') is a narrow, columnar tree is perfect for those with limited space. In April and May, the upright branches are adorned with large, pale pink flowers.
Bronze-green foliage turns to mid-green and then bursts into orange and red autumn color.
If you have the space for it, 'Flagpole' is a stunning, slender option for your small garden bringing dramatic interest in all four seasons.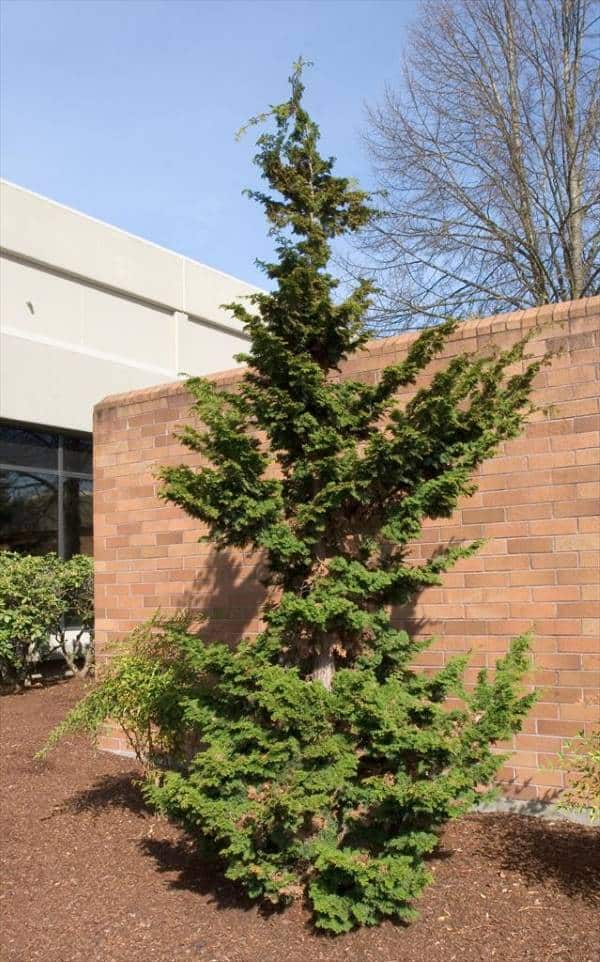 Zones 4-8
Full Sun
8-12′ H x 4-5′ W
Growth Rate: Slow, 6-8″/year
Purchase Here
'Slender' (Chamaecyparis obtusa 'Gracilis') is an open-branched, pyramidal variety of Hinoki Cypress with gracefully arching branchlets.
Tiny, dark green needles with reddish new growth have a soft, ferny appearance and develop bronze coloring in winter.
'Slender' makes an excellent small, narrow evergreen tree for screening, hedges and background plantings.
Zones 5-9
Full Sun
60′ H x 5-6′ W
Growth Rate: Fast
Purchase Here
Columnar Sweetgum 'Slender Silhouette' (Liquidambar styraciflua 'Slender Silhouette') is an incredibly narrow form of Sweetgum that grows quickly to over 60′ tall and barely 6′ wide. This tree will turn heads for years to come.
It's emerald green foliage turns an orange-red hue in the fall. This tall, thin tree is perfect for tight spaces, small gardens or as a striking vertical accent.
Some see American sweetgums as a nuisance for the fruit (a spiky seed-filled ball) that they drop. 'Slender Silhouette' produces only a little fruit, and it falls in a small area since the tree is so narrow.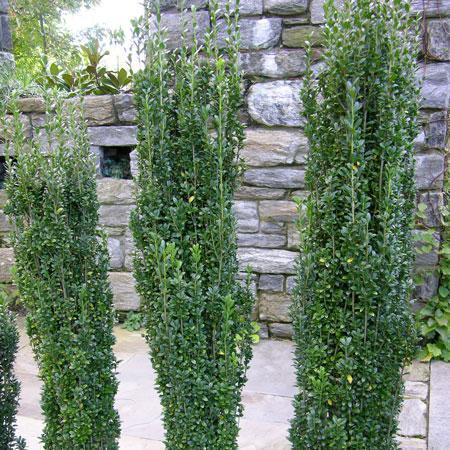 Zones 5-9
Full-Part Sun
8-10′ H x 2′ W
Growth Rate: Low-Moderate,10-12″/yr
Purchase Here
Sky Pencil Holly (ilex crenata 'Sky Pencil') is an slow growing tree if you need a narrow evergreen in a really tight space. Extremely cold-hardy, it can withstand temps as low as -10 degrees. It thrives with full to partial sun and weekly watering, especially in extreme heat.
This unique and petite columnar evergreen is great for small gardens. It gets its name because it grows skyward naturally without the need for trimming.
Use Sky Pencil Holly as an accent plant, a narrow hedge, to flank an entryway or as an ornamental tree. At only 2′ wide and 8-10 feet tall, it's like an exclamation point (!) for your garden.
Fertilization is not required, but an evergreen fertilizer can be applied in the spring if needed.
Quick Tip: If you're loving these narrow tree options, you'll also like my post about ornamental trees for your small garden.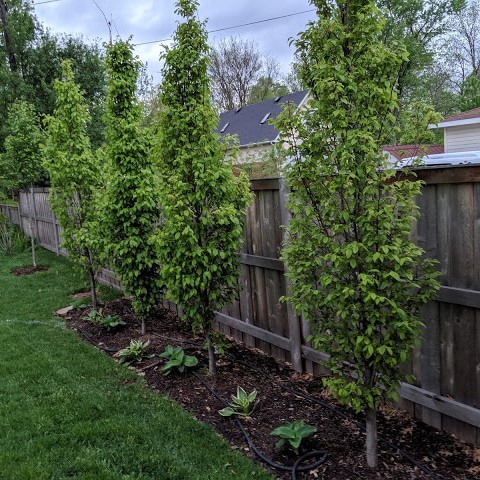 Zones 4-8
Full Sun-Shade
6'W x 25'H, 20'W x 50'H at maturity
Growth Rate: Moderate, >12″/year
Purchase Here
Frans Fontaine Hornbeam (Carpinus betulus 'Frans Fontaine') was recommended to me by reader, Jake Parrillo. Jake told me that this is his favorite columnar tree for his landscape. Commonly known as European Hornbeam or Common Hornbeam, this narrow tree is long-lived, even in tough locations.
Frans Fontaine matures at 40-50′ tall but spreads only about 20′. In ten years, it seldom spreads more than 6-8′ while reaching a height of 20-25′.
This is a very handsome tree with rich green summer foliage that turns a golden-yellow color for autumn interest.
Armstrong Gold® Maple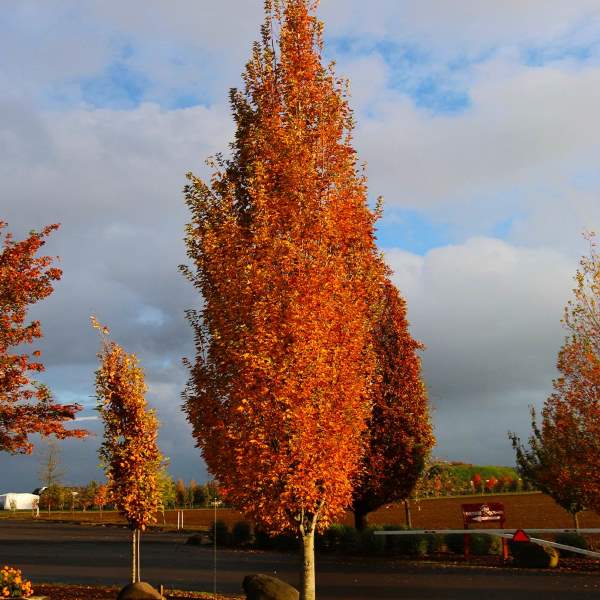 Acer rubrum 'JFS-KW78' PP25301
Zones 4-9
Full Sun
40′ H x 12′ W
Growth Rate: Fast
Purchase Here
Armstrong Gold® Maple (Acer rubrum) is named for its gold-orange foliage making it a standout narrow tree in the fall. But it's got more going for it than just fall interest. Its unique, columnar shape also makes it great for small space gardens.
In the spring, Armstrong Gold® sprouts small red flowers and bright red samaras (winged seeds characteristic of maples). During the spring and summer, it has light green leaves, gray bark, and red branches.
Though its natural canopy is six feet, you can also prune or "limb up" the tree to create an even higher clearance.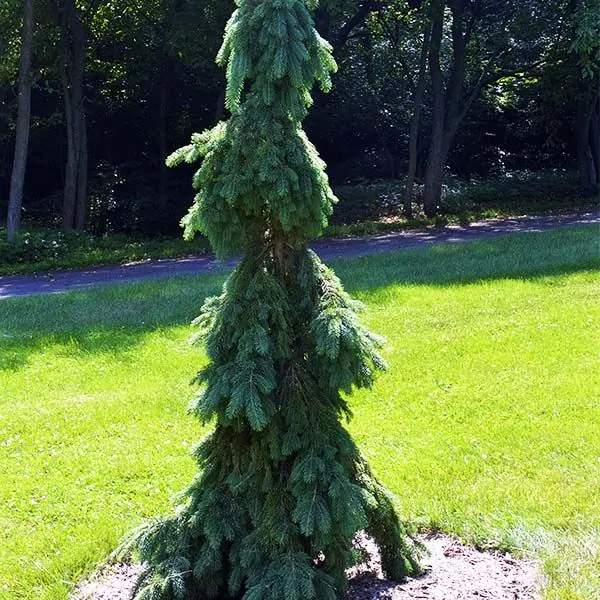 Picea glauca 'Pendula'
Zones 2-8
Full Sun
20-30′ H x 6-10′ W
Growth Rate: Fast
Purchase Here
The Weeping White Spruce (Picea glauca 'Pendula') features deep, blue-green foliage that turns a lighter green in spring.
It grows tall and narrow with a delicately weeping pattern, making it ideal for small gardens that need a strong vertical element.
This tree works great as a windbreak, unique privacy tree or as a stand alone focal point.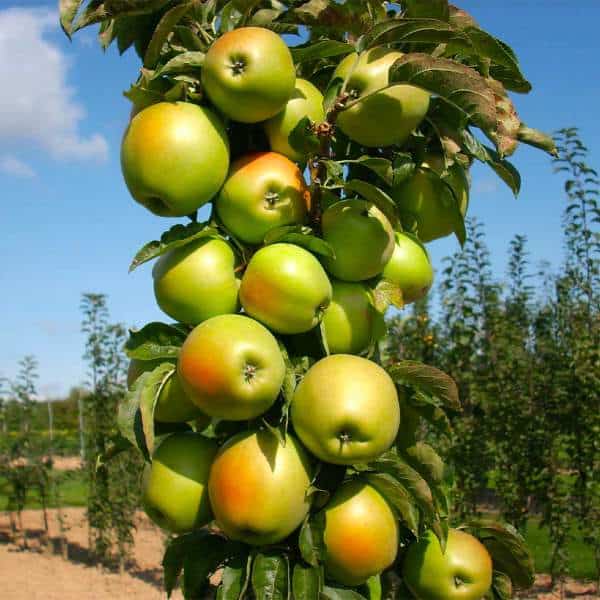 Malus domestica 'Blushing Delight'
Zones 4-9
Full Sun
11′ H x 2-3′ W
Growth Rate: Moderate
Purchase Here
The upright columnar growing habit of the Blushing Delight™ Columnar Apple Tree makes it a real space saver. These grow well in a container or in the ground.
Blushing Delight produces its fruit on spurs along the main stem, so you don't need a lot of room to grow them.
Its delicious fruit, disease resistance and upright habit make it the perfect tree for small gardens… even if the only space you have is a container on your patio!
Blue Juniper Narrow Evergreen Trees
I really love junipers, especially because there are so many varieties that will fit into a smaller garden. If you're looking for narrow evergreen trees for small gardens, here are some of my favorite narrow juniper options:
Zones 3-7
Full Sun
20′ H x 8′ W
Growth Rate: Fast, >2'/year
Purchase Here
'Moonglow' Juniper (Juniperus scopulorum 'Moonglow') is a compact conifer with attractive gray-green dense foliage year round. 'Moonglow' is a dense multi-stemmed evergreen with ornamental scale-like foliage and a narrowly upright and columnar growth habit.
As its name suggests, its gray-green foliage will reflect light under strong moonlight.
Zones 4-8
Full Sun-Part Sun
16-20′ H x 2-4′ W
Growth Rate: Moderate, 15-18″/year
Purchase Here
Blue Arrow Juniper (Juniperus scopulorum 'Blue Arrow') is a sun-loving narrow evergreen tree with powdery blue foliage and an upright form.
It creates a beautiful privacy screen without taking up your whole yard. If you have a tight corner in a side yard, or a view you want to hide, plant several Blue Arrows to form a tall, narrow privacy screen.
Blue Arrow is a colorful and handsome tree for any small yard.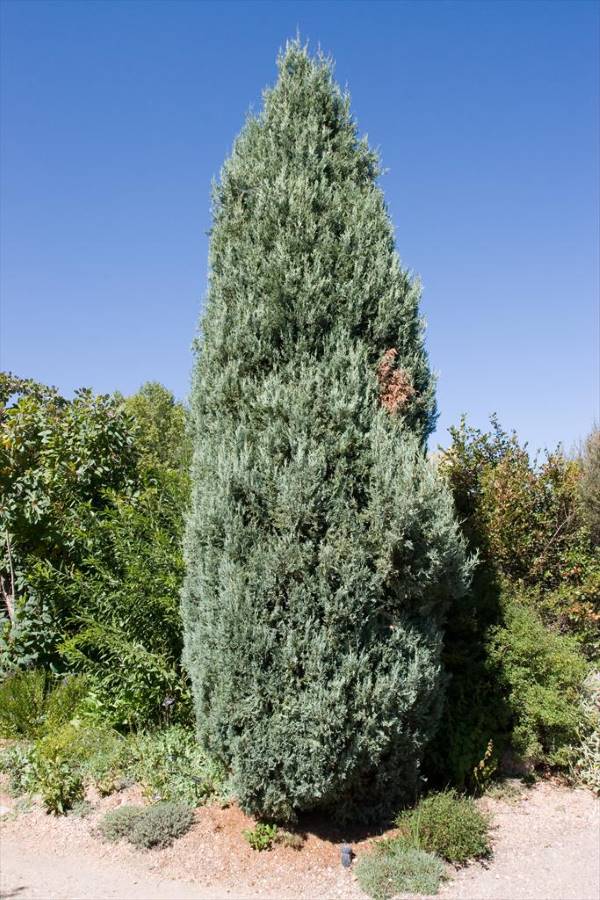 Zones 4-9
Full Sun
15-20′ H x 2-3′ W
Growth Rate: Moderate, >12″/year
Purchase Here
A thin, columnar Juniper, 'Skyrocket' (Juniperus scopulorum 'Skyrocket') fits into very difficult places like narrow side yards between homes. Planting multiples of this upright evergreen creates a fantastic windbreak in both hot and cold climates.
It's vertical form also makes this a great accent plant in a mixed conifer garden.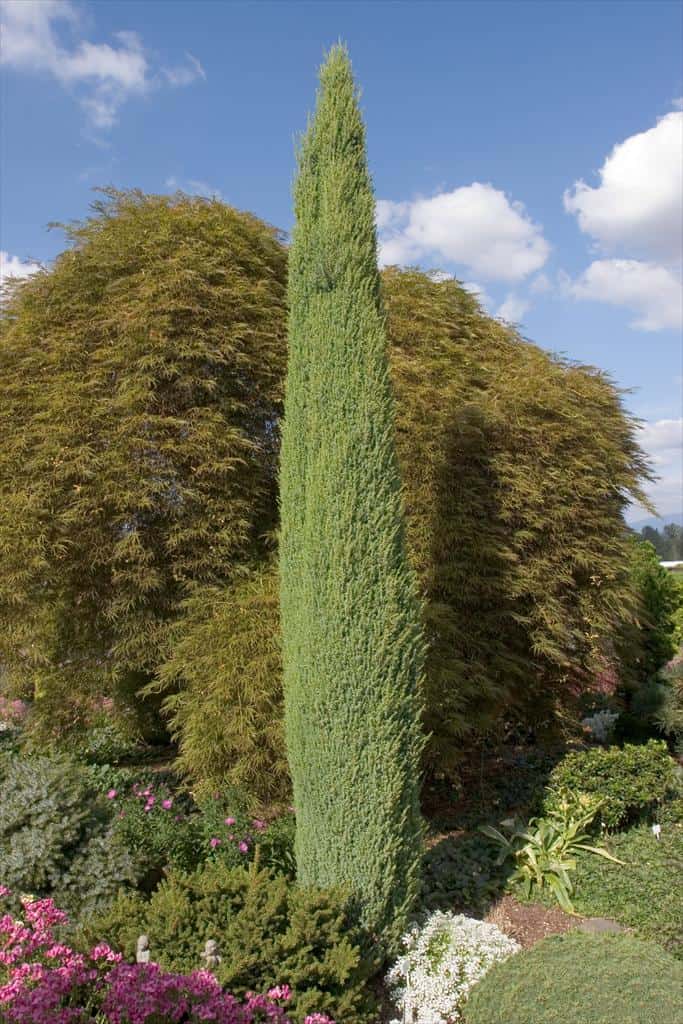 Zones 3-8
Full Sun, Part Sun, Shade
6′ H x 1′ W
Growth Rate: Slow, 1-6″/yr
Pencil Point Juniper (Juniperus communis 'Compressa') is a small and narrow evergreen has beautiful blue-green foliage that will shimmer in your sunny garden. Topping off at 6 feet tall and just one foot wide, Pencil Point Juniper is a great choice for slender gardens where space is limited.
'Pencil Point' makes an excellent screen or small hedge and prefers well-drained soil. Despite its size, this evergreen is a strong, drought-tolerant and cold-hardy option for even the toughest growing conditions.
It grows well in any conditions, from full sun to partial shade. It will even take full shade.
Quick Tip: If you are looking to plantslender trees as a privacy screen, be sure to check out my post all about planting privacy trees as a hedge.
Wrapping Up
Just because you have a small yard doesn't mean that you don't have space for a tall skinny tree! As you can see there are many options for narrow trees that will pack quite the punch in your small landscape or tight space.
Remember to choose your slender tree not just because it's narrow but because it's unique and deserves a prominent place in your garden. Look for unique features like multi-season interest, beautiful flowers or even colorful foliage and you'll be on your way to creating a beautiful landscape to enjoy for years to come.
If you haven't quite found what you're looking for, head over to my post about narrow evergreen trees for year round interest and privacy in the garden.
Lastly, you're planning on planting fastigiate trees, be sure to give them the proper amount water, especially for the first year or two. I find the Tree gator (Amazon link) to be an incredible solution to slow-watering my trees so they can grow strong and healthy roots. The tree gator will slow drip the water to your tree over the course of several days to make your watering chores much easier!
More Gardening Posts You'll Love
Looking for more info about trees? Check these articles out.
Shop my Amazon storefront for my essential gardening books & tool recommendations!