Please note: I may earn commissions from qualifying purchases if you shop through links on this page. More info.
Naturalistic Garden Style: How to Achieve it in Your Own Backyard (Complete Guide)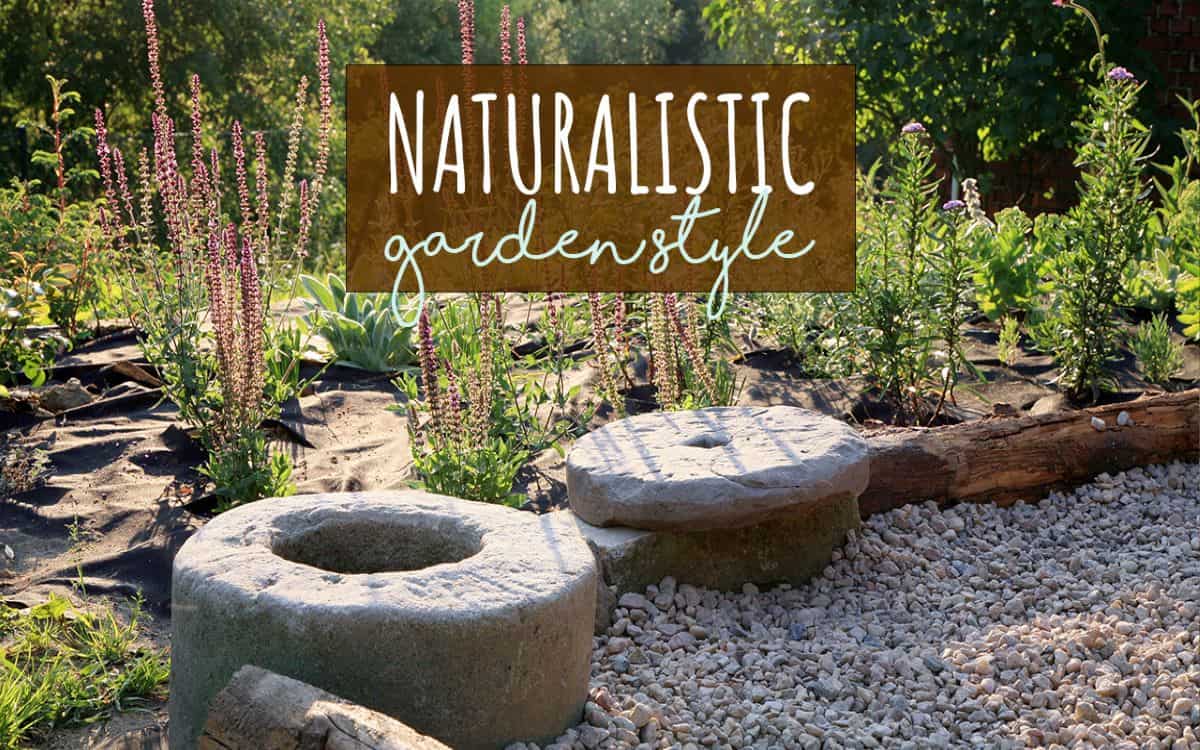 Naturalistic garden style is the best of both worlds: it contains the beauty and serenity of an intentionally designed garden, but with added ecological benefits. AND it's the most low-maintenance of all the different garden styles!
Naturalistic garden style is focused on supporting wildlife and promoting biodiversity. This is done by choosing plants native to the area that it's in. The plantings are done in such a way that it looks naturally occurring, but still involves thoughtful design. In the naturalistic garden style, the plants are the star of the show, so hardscaping materials are rustic and blend in with the natural environment. 
Subscribe to my YouTube channel for more gardening videos!
In Naturalistic gardens, layering is key. Start with a ground-covering plant to act as a "living mulch." This will minimize weeds and maximize fertile organic matter.
Then add some structure using visually dominant plants and trees.
Finish by scattering soft, wispy plants and blooms.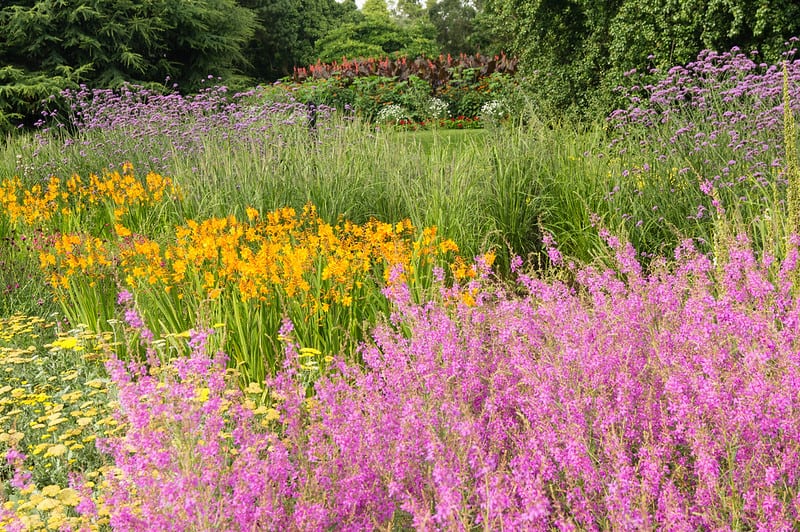 What you are left with is a lush "micro-habitat" that supports the habitat surrounding it.
This guide will outline exactly how to achieve this environmentally-conscious garden!
History of Naturalistic Garden Style
The idea of the naturalistic garden style began in the 19th century by William Robinson (an English landscape architect) and Gertrude Jekyll (a Scottish horticulturist).
Together, they campaigned against the formal traditional garden style. They reasoned that gardens should look more natural and reflect the landscape surrounding it.
Later on in the 20th century, legendary gardener Beatrix Farrand further popularized the naturalistic style of gardening. Farrand was commissioned to design over 100 gardens and landscapes in America.
Nowadays, this style of garden is used widely, especially by planet-conscious folks who advocate conservation over aesthetics. Even hardscaping elements are thoughtfully chosen from natural materials like rocks, moss and wood.
From the naturalistic garden style was borne the new perennial planting style, which is very similar. They both use the layering technique: first a groundcover, then structural plants and finally scatter plants. You can learn more about the new perennial planting style in this detailed article by Scott Weber.
The difference here is the choice in plant species. The naturalistic garden style puts an emphasis on choosing native plants and flowers. The new perennial planting style focuses more on aesthetic appeal rather than ecological contribution. The plants in a new perennial garden are chosen more for their shape and form and are not always natives.
Maintenance Needs of Naturalistic Gardens
The naturalistic garden style is low maintenance! What a beautiful thing, right?!
Since it's meant to look natural, there isn't much stress on keeping things trimmed and manicured. In other words, wild is encouraged!
Because of the use of native plants that already do well in the surrounding climate and conditions, there is less need for extra watering once the plants are established. Weeds and fertilization won't be a major issue thanks to the "live mulch" ground-covering layer. The native plants should also be fairly resistant to pests that could destroy your plants.
Learn more about the benefits of choosing native plants here!
The use of natural and rustic hardscape materials means less cleaning and maintenance on furniture and décor. The more distressed, the better!
Keep in mind the needs of the garden will depend on a lot of variables. Plants may require some maintenance, like trimming them back once or twice a year. You might need to water in times of drought. Plants that spill over onto paths may need to be cleared from time to time, and water features might require regular maintenance. No garden requires ZERO maintenance – there will always be some level of care needed.
Here are some more tips if you're looking to design a low-maintenance landscape.
Examples of Naturalistic Style Gardens
Allow these photos of real-life naturalistic style gardens to enchant and inspire you!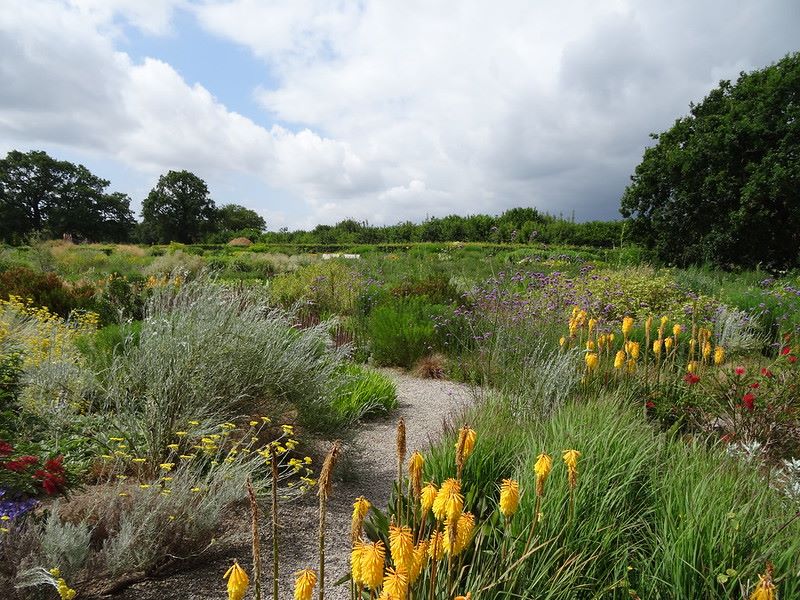 An Overview of the Naturalistic Style Garden
This guide is filled with tips and tricks that are in line with the naturalistic garden style. But remember YOUR garden is yours to design however you choose. The style (or mix of styles!) as well as the plants you choose should excite you and reflect your personality!
This is what makes up a naturalistic style garden:
Use Native Plants
Choose long-lived, robust plants that don't require a lot of maintenance and "die elegantly." Native grasses are also great for this.
Include features for wildlife.
Use natural, rustic materials that are very neutral in tone. Let the plants shine.
Focus on structure and form rather than color.
Color Palettes for Naturalistic Garden Style
I created this sliding scale to help classify all the garden styles and the amount of colors that are usually "allowed" to align with each style. It's important to me to emphasize that the rules only have to be followed if you want to follow them. That's why I created a scale that slides – if you find yourself somewhere in between two styles, this can help you visualize your options for color in your garden.

Naturalistic gardens are full of different colors. The randomness is part of its charm and what makes it look natural. The color of the plants isn't a huge consideration for this style. The focus is more on finding plants that provide the most ecological benefit to the environment.
However, limiting to a few complementing colors is an easy way to make your garden look a little more sophisticated and intentional, if you so choose.
What to Plant in a Naturalistic Garden
It's very important – especially in the naturalistic garden style – to start with your geographical location. Most plants are classified by zones, which consider the conditions and climate that you live in. But when looking for native plants, pay closer attention to the region. "Native" plants are classified by the region in which they're found in the wild. You can use the National Wildlife Federation's native plant finder to get a list of the plants found in your area in the wild.
Since the function of a naturalistic garden is to support the ecosystem, pollinating plants are an extremely popular choice. Bright, sweet plants that attract bees, butterflies, hummingbirds and other pollinators will help support surrounding wildlife and keep the plants thriving as well.
Gardeners of the naturalistic style especially use plants that "die elegantly." They appreciate every stage of the plant: from birth to bloom, bloom to death and death to decay. Each stage is beautiful and adds different colors and textures to the garden. This makes the garden interesting and pleasing to see no matter the time of year.
Asters are native throughout most of North America as well.
Keep in mind while choosing that some native plants like to spread out over a large area, and some self-seed and reproduce where they can. The fun thing about this is that it will soften any hard edges, like gravel pathways or plantings between species.
The randomness of growing wherever they see fit will help keep that natural and informal look.
But this can quickly turn a small garden into a large one. If you need your garden to stay within a certain space, look for natives that have a more contained growth habit.
Hardscaping for the Naturalistic Garden Style
"Hardscaping" means the permanent elements in your garden like pathways and fencing. For the naturalistic garden style, the plants are the main focus and the hardscaping elements should really be subtle and not overpowering. But by choosing the right materials, you can really solidify your garden's naturalistic style.
On my slider scale, naturalistic garden style falls all the way to the left – meaning lumpy, bumpy and rustic. Just like the planting style, choose materials that look naturally occurring.
Here are some example of hardscaping that would fit into the naturalistic garden style:
Gravel or loose pebble pathways (allowing the bordering plants to grow where they see fit, keeping edges soft)
Mossy tree trunks
Stepping stones, whether purchased (like flagstone) or simply found somewhere in nature
Uniquely shaped rocks and logs
Dry stack stone (also called grout-less or mortar-less)
Furniture & Décor for the Naturalistic Garden Style
Just like the hardscaping, the furniture should look as natural as possible. Chairs made from unpainted, unstained wood and fire pits made from stone would fit nicely into a naturalistic style garden.
Here are a few of my favorite naturalistic furniture and décor items to incorporate:
For tables and chairs, look for natural materials. This dining set uses wicker and wood for a natural feel.
Use water features like bird baths, ponds and fountains.
Add features to attract wildlife like bird feeders and nesting areas.
This adorable wooden bee hotel (Etsy) would be a favorite spot among those trusty pollinators.
Tips for Getting the Naturalistic Garden Style at Home
First things first, head over to the National Wildlife Federation's native plant finder and get the list of plants that grow naturally in your area. Once you've done that…
Choose plants and grasses to create the layers in your garden:

Layer 1 is groundcover that creates a living mulch and reduces weeds.
Layer 2 is structural feature plants to create a focal point.
Layer 3 is scatter plants (typically grasses or sedges) that fill everything out.

Be sure to add in flowers that will attract pollinators.
Keep edges soft in pathways.
Use natural materials like logs and rocks as décor.
Choose furniture made from natural materials that blend in.
Learn more about the Naturalistic Garden Style
There is a lot of rich literature out there that dives deep into this garden style and its philosophy. If you want to learn more from some of the greats who helped popularize the concept, check out these books:
Planting: A New Perspective by Piet Oudolf & Noel Kingsbury. Oudolf is a leading figure in the naturalistic garden movement. This book offers charts and plans to help the reader choose the right plants for them.
The Wild Garden by William Robinson & Rick Darke. This is an expanded edition of Robinson's first edition which was published in 1870. Robinson was one of the pioneers of the naturalistic garden style during a time when formal gardens dominated.
Garden Revolution: How Our Landscapes Can Be a Source of Environmental Change by Larry Weaner and Thomas Christopher. This book explains all of the advantages to choosing plants from an ecological standpoint rather than simply by appearance.
Check out even more similar books here!
Combining Naturalistic Garden Style with Other Garden Styles
One thing to remember is that there's no need to be constrained by a particular design style. Your garden and tastes are unique. So feel free to create whatever your imagination inspires! Here's an example of how you can mix cottage and natural garden style elements (from Fine Gardening magazine). The key to creating a style that works is don't mix too many different materials. When in doubt, keep it simple. You can always add to it later.
Wrapping Up
The naturalistic garden style is a nature-forward approach to garden design. It embodies the landscape surrounding it and helps local wildlife thrive. The goal is to reduce carbon footprints and conserve resources, without having to sacrifice the beauty and personal touch of a backyard garden.
If you enjoyed learning about this garden style, check out my Garden Style Mood Board Workshop! We'll have fun finding ways to further incorporate your personality into your garden. Together, we can create the outdoor space you have always dreamed of!
More Garden Style Articles You'll Love
Shop my Amazon storefront for my essential gardening books & tool recommendations!
Co-Authored by Kady Volpe
Kady is a pro-gardener-in-training. She's in the process of learning all of Pretty Purple Door's frameworks and landscape design techniques.