Please note: I may earn commissions from qualifying purchases if you shop through links on this page. More info.
Painting Interior Doors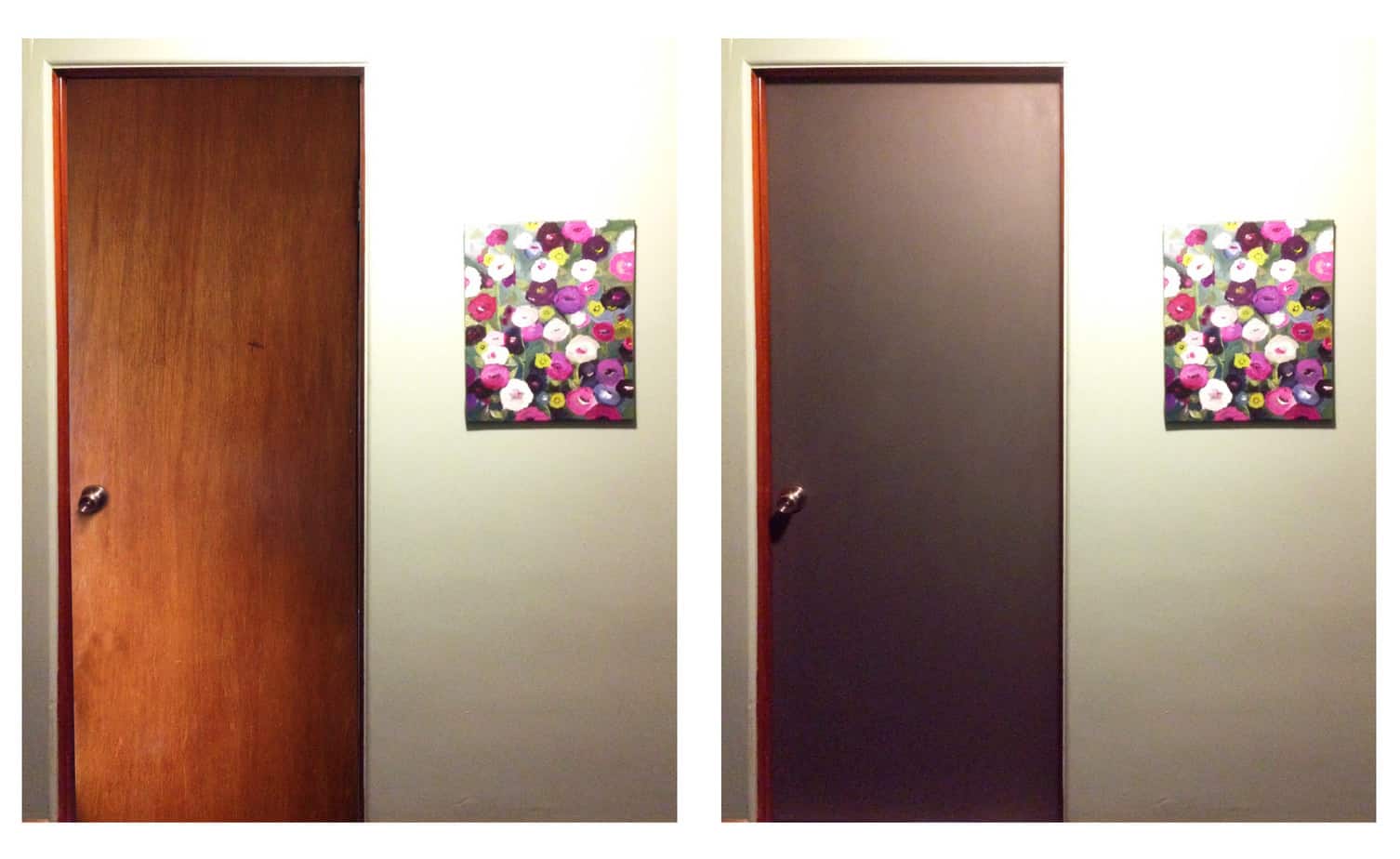 Let's face it, interior doors can be downright ugly. If you have basic, builder-grade interior doors with absolutely no trim or detail, painting interior doors is great alternative to replacing them altogether.
Painting Interior Doors With Chalk Paint
A few weeks ago, I wrote a blog post about creating your own chalk paint at home, and painting a mirror frame with it. I liked the results of this project so much that I started to experiment more with chalk paint.
Chalk Paint Pros:
No prep-work for your surface. Chalk paint is created by mixing paint with plaster of paris, so the plaster within the paint sticks to and covers just about ANYTHING.
Drys Quickly. This paint dries faster than anything I've ever seen. You can add another coat of paint in an hour, if not less.
Covers well. I only used 2 coats when painting interior doors. And that was over a slippery, shiny polyurethane surface.
Great for Distressing. Chalk paint is great to use if you want an aged look. After painting interior doors, you can easily sand parts of the paint away to reveal the original surface, then apply wax to seal everything. It's a really cool effect.
Adds Depth and Texture. You'll see soon enough that I didn't actually distress my doors too much. But, by not waxing the door surface it left a really great chalky texture to my doors that I am really enjoying.
Chalk Paint Cons:
It's a bit gritty. Even though you don't have to do any sanding or priming before painting interior doors, most likely you'll want to sand the chalk paint finish when you are done to make it smoother.
It goes on thick. You mix the paint with about half of a plaster/water mixture so it probably balances out. But I found that I used a lot of paint.
Imperfect surface. If you are stickler for smooth, perfect finishes, chalk paint will probably disappoint you. It hides a lot of flaws and is forgiving, but your end result will not be perfect (nor is it meant to be). If the thought of this bothers you, scroll down the page. I have some other interior door painting ideas just for you 🙂
Painting Interior Doors: Steps
Now that we have the pros and cons of using chalk paint covered, and you're apparently still reading, I'll go over the steps to painting interior doors using the chalk paint.
Mix or buy your chalk paint. What color will you use? I used a dark slate grey. It's a fun (unexpected) door color, goes with my decor, and I had a bunch of it on hand 🙂
Tape off your door surface. Use a drop cloth on the floor so you don't get the paint everywhere.
Roll or brush on a thin coat of the chalk paint. Wait for it to dry. Or, just continue painting your other doors. It dries quickly, so most likely by the time you are done with the others, the paint will be dry and you can give it a second coat.
Add multiple coats of paint. My doors with a dark grey color were fine after two coats. If you need 3 coats, please go for it!
Distress your door. If you are planning to distress the surface of the door, get sandpaper and rub off the paint in various areas until you can see the wood underneath. Do as little or as much distressing as you'd like… or none at all. On my doors, there were a couple of spots that just didn't cover perfectly. That's really the only "distressing" I did.  I like to call it "natural distressing" (haha).
Sand the door.This is really up to you. I've found the homemade chalk paint to be quite gritty. So, I took 150 grit sandpaper and just went over the surface until the finish was smooth. After you are done with this, it will look like a messy chalkboard.
Wipe down the door. Get a wet, clean cloth and wipe off the sanding residue. You may need to wipe it down a couple of times before you get it all.
Determine whether you'll wax the door or not (see below). If you decide not to, you are done. Enjoy your freshly chalk-painted interior door!
To Wax, or Not to Wax… That is the Question
If you decided to distress after painting interior doors, it's probably a good idea to wax them. The furniture wax come in clear, colored, and dark varieties — check out the big box stores, AnnieSloan.com, or even Etsy for different waxes.
I love the look of the dark wax, but that's just a personal opinion. It really makes the color of your chalk paint richer, and will highlight any of the distressing of the wood below that you've done.
But, I will warn you that waxing a piece is hard work. Applying the wax takes time, and after the application you need to use those muscles to actually buff the wax off with a cloth. This step alone can take as much time as the entire process thus far.
So, with the wax you'll get a nice protective coating, and a really nice satin/eggshell-like finish on your door. But, it does take time and effort.
I only waxed one of my interior doors: the bathroom. I wanted to see what the difference would be. I am leaning toward the finish of the non-waxed doors, but the extra protection for the door in the high-traffic bathroom could be beneficial.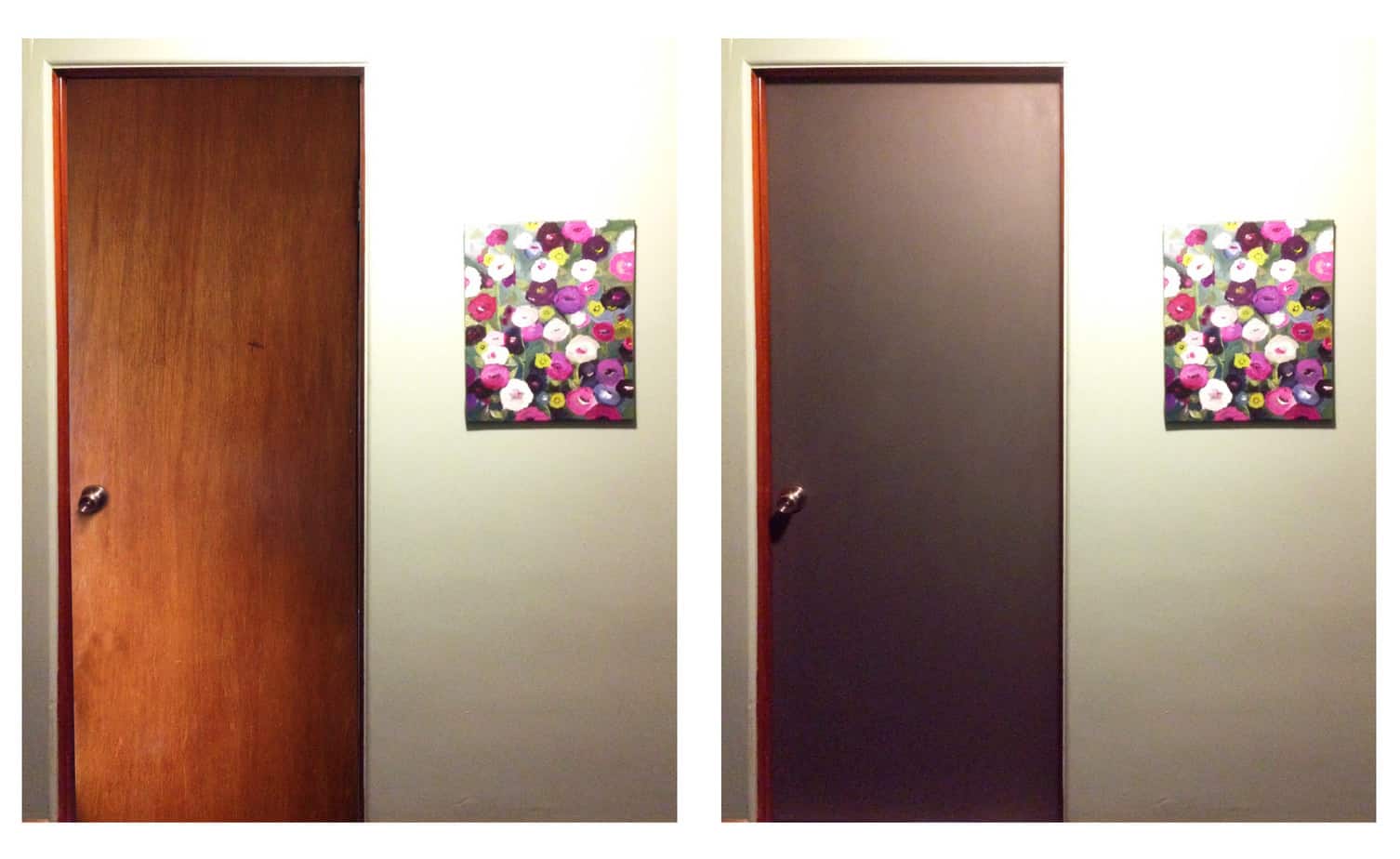 Painting Interior Doors: Idea Roundup
Decided that chalk paint is not your cup of tea? Take a look at these other great ideas for painting interior doors!
What Blooms with What?
Never know what to plant together? Find out with this FREE Plant Pairing Guide and become a pro at combining plants for the best garden design possible!