Please note: I may earn commissions from qualifying purchases if you shop through links on this page. More info.
Penny Floor FAQ – Your Penny Floor Questions Answered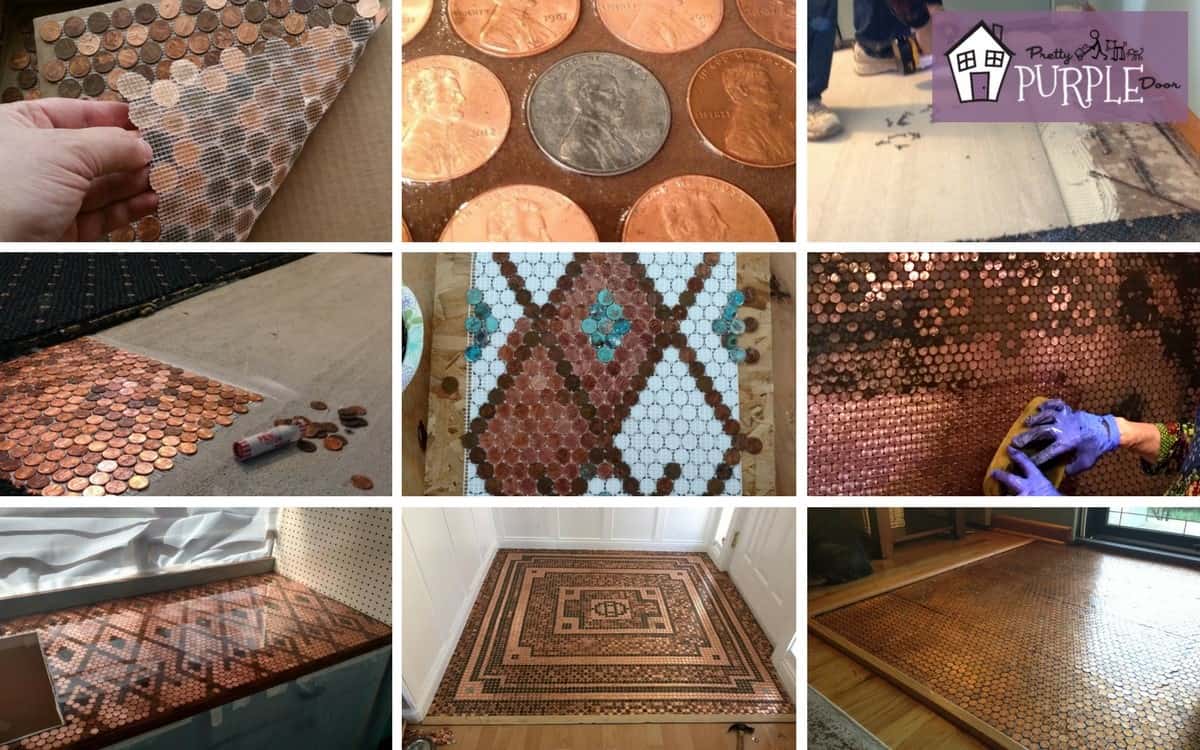 I installed my penny foyer back in 2013, which means that I had to learn how to create a penny floor without an awesome blog post to follow. I know… feel bad for me :).
Since I had to learn so much I my own, I wanted to give you answers to the questions I know you have been mulling over in your head. This Frequently Asked Questions (FAQ) page has answers to all of the burning penny floor questions you probably have.
I hope this will give you the confidence you need to get started on the right foot.
Getting ready to start your penny project? I know you've got questions and I've got the answers for you!
I spent hours in front of the computer creating the penny template to make the process easier for myself and I'm so glad to be able to share it with you. Since 2013, I've had a lot time to reflect on the choices I made. I've also gotten a TON of questions from others who have tried their hand at this project.
So, take a look at these frequently asked questions about installing a penny floor before you get started!
Do I NEED the penny floor template to complete this project?
No! Absolutely not. If you want to freehand your project you can easily follow along without using the template. But, the template does have many benefits and was the key to my own success in finishing this project! Here are some of the benefits:
Use your floors while setting your pennies onto mosaic sheets.
Avoid the back-breaking work of being hunched over pushing pennies into the floor.
Work at your own pace building easy to manage 1x1ft mesh sheets of penny tile. Work on nights or weekends if you want.
Transfer the template right onto your work surface to assure your rows of pennies will be straight
5 page instruction guide included.
3 different template options included for different sizing and spacing
How has your floor held up over the years?
"I am curious though, it looks like your last entry and picture of the floor was from a couple years back. Now that it's been a few years how is it holding up? I'm sure there is your typical everyday wearing down of it but do you think it was worth it that way? Would you do it again?"

Chris
Hey Chris. The poly has held up really well. I have not refinished it although refinishing would be easy (just sand and re-apply). There are areas of wear but it works for me. None of the pennies have been damaged. I hope that helps… poly is the safest way to do it and the easiest to reapply/refinish down the road. I would certainly do it again.
PS: scroll down and you will see a gallery of my penny floor over the years. I also added a video created in January 2018 showing the details of my floor, so check that out too.
Will the template work for US pennies and UK pennies?
The penny floor template was designed for United States pennies.
The US Penny is .75in (19.05mm) and the UK Penny is .799in (20.3 mm).
Those of you using UK pennies SHOULD be able to use the penny floor template included in your purchase entitled "circlegrid-morespacing.pdf" (I would love some feedback on how this works out).
But again, the template is designed for use with the USA 1 CENT PENNY
How long should I wait before we begin to walk on the floor?
I'm just going to begin my penny floor for my bathroom, How long should I wait before we begin to walk on the floor. Thanx.

-Lisa
Hi Lisa, You'll have to check the instructions on the materials you use (mortar, grout, poly, etc). They are all different. Follow the instructions provided on each item.
I don't want to take a chance using epoxy and messing it up… should I?
I can't speak for everyone, but I would not use the epoxy… for the exact same reason. I was afraid to mess it up. So, I used Minwax Polyurethane for Floors and it turned out fabulous. If you don't want to use epoxy… don't. I am not sure who is forcing epoxy on you??? I didn't use it and you don't have to either (unless you want to)!
I coated my floor with epoxy and now it looks like crap. What do I do?
"I have made my toilet floor with European 2cents (same color and size of American pennies). Glued and with a top of epoxy. First there was a weird reaction at the opening of the door (epoxy became blurry). Than, I put a uv top coat. But this was mat (dull). Now, the penny are almost not visible. I'm really disappointed. Before the top coat, it was shiny and really beautiful. Can I polish it? And what do you think about a shiny floor? My friend said that it is really nice at the beginning but becomes fast ugly (where we walk…)."

-Marie
I'm sorry I can't help with the epoxy. However, I've had the floor installed and sealed with polyurethane and walk on it every day. Even my 100lb dog trampled it, and now my 40lb dog. It gets a lot of use and I've never had an issue with the floor "wearing" where we walk.
I was thinking of using [insert random sealer name here]. Will this work?
I love you all to death but I have absolutely no idea if some random polyurethane, sealer or epoxy that you've researched will work. I'm just a home owner like you and I've shared my penny floor project on a website. I only know that Minwax Polyurethane for Floors will work, because that's what I've used.
If you take a look at the comments section of the penny floor post, many have commented on other types of polyurethane or other products they have successfully used. However, I haven't used them and I don't give you advice about ANYTHING that I haven't personally tried myself.
Do I need to use grout?
I definitely would recommend grouting the penny floor if you plan to use a polyurethane sealer. Polyurethane is meant to be applied in very thin even coats. Therefore, trying to fill the holes between the pennies with polyurethane is not a great solution. The poly may not dry between the pennies and that wouldn't be a good thing.
If you seal your penny floor with epoxy, the epoxy will harden between the pennies in the same way a grout would. In this case it's probably not necessary to grout. But, grouting is also an option if you like the look of it — the grout should not affect the epoxy.
In my opinion, grout is pretty and makes your penny floor look finished. Pick a nice color like a charcoal or a reddish brown. There's a lot more grout information in the penny floor post – click here to read through all of it!
Should I use sanded or non-sanded grout?
"I see a lot of talk about no sand grout but my tile guy says sand grout is what should be used?"

Michael
Michael, I would recommend unsanded grout as it will be less likely to scratch the pennies. In addition, unsanded grout works better in joints that are less than 1/8″ wide so you won't have any issues if the spacing of your pennies are close together.
Are the gaps wide enough to actually hold the floor in place with grout?
"I'm not started yet but concerned that there will not be enough grout to hold the pennies or to keep the grout stable. Even tiny standard tiles have a continuous gap so the entire tile can be surrounded by grout. Your thoughts?"

Michael
The penny floor template that you can download has the spacing set to the same exact spacing that I've used. There are a few things that come into play with holding the pennies down.
the Weldbond glue that adheres the pennies to the mesh.
the thinset mortar the holds the pennies and the mesh to your cement board
the grout between the pennies
The combination of all three will give you enough adhesion that your pennies will not "pop off." Mine has been walked on since 2013 and I've NEVER had a penny come loose. I hope this helps!
Can I put a penny floor in my bathroom or shower?
I really would not recommend putting pennies in an area that's going to get soaked all the time, like outdoors or in a bathroom or wet room… they're not really a flooring material. Pennies can also get a little slippery when wet.
However, the answer is yes — you technically can. There are several home owners who have sent me photos of their penny bathroom floor projects.
Can I do this outside, like on my back porch?
"Can you do this on an outside sidewalk in Pennsylvania? Being the temperatures vary. Has anyone done this and is it slippy?"

Colleen
Hi Colleen! I'm from PA too! I think outside would be a challenge. I have seen penny gazing balls for the garden that turn green and weathered with the rain, snow etc., so my guess is that it would get that look to it. I also think pennies may get quite slippery outside.
Perhaps try a small area or the penny gazing ball and see what you think?
Is a penny floor slippery?
"I love this idea and feel very confident in all aspects of carrying out the project for my kitchen floor, I do however have concerns. Once the floor is coated is it slippy?"

Tracy
Yes penny floors ARE slippery… in the same way that hardwood floors are slippery. It will really be as slippery as the sealer that you use.
The sealer I used was a polyurethane for hardwood flooring. It makes it as slippery like a hardwood floor — no more, no less.
Please note that I can only vouch for using Minwax Polyurethane for Floors. I really don't know how slippery epoxy or any other sealer would be to walk on.
Will the penny floor scratch easily?
"I understand from your threads it's hard wearing to everyday 'traffic', but I'm dubious that if ever my appliances need to be dragged out for any reason that they'll leave scratches, particularly washing machines as they're very heavy?"

Tracy
I don't really know how to answer this question. If you drag something along the floor, like a large stove, yes, you'll probably damage the surface of the floor… meaning the polyurethane (the sealant over the floor surface). You would probably then have to sand the floor and reseal it.
If you are this concerned about durability and it's common for you to drag large appliances around your kitchen, then I wouldn't really recommend installing a penny floor. It's more of a conversation starter or accent flooring. Pennies obviously aren't "made" to be flooring. Maybe you could do a penny backsplash instead?
How do you clean a penny floor?
"I wondered please, the best cleaning products? Also, what's the best cleaning product in general? For once the varnish has been set?"

Catherine
"So how do you clean a penny floor?"

Ann
You grout the pennies just like you would any tile floor then coat it with polyurethane. So you can clean it just like you would any other tile…
Mr. Clean, mop and glow, swiffer, steam mop etc!
Honestly I don't really worry about what product I use when because it's held up over so many years. But, if you are worried about damaging the pennies like Catherine and Ann, I would use whatever you clean your hardwoods with since the polyurethane is for hardwood flooring — maybe try a steam mop and then wipe it dry afterwards.
Is it legal to make a floor or other project from pennies?
It's absolutely legal to use pennies as a building material, or indeed for any other purpose for which you could lawfully use a plain disc of copper-clad zinc (other than to melt them down to recover the metal therein).
It is immaterial whether the usage damages the pennies; it is perfectly legal to damage coins.
What is not legal is to damage a coin and then attempt to use the damaged coin to commit a fraud. Tiling a floor with pennies is not inherently a fraudulent activity. Read the federal regulations here.
What does a Penny Floor look like after 6 years of wear and tear?
Here's a video I made of my floor in January 2018 — nearly 6 years after its been installed.
Amy's Penny Floor Gallery
Here's some photos of my penny floor foyer so you can get a good idea of what it looks like.
Penny Project Submissions
Check out the following penny project ideas:
Make your own penny floor
If you are ready to get started, jump over to the Ultimate Guide for Creating a Penny floor for step by step instructions.
What Blooms with What?
Never know what to plant together? Find out with this FREE Plant Pairing Guide and become a pro at combining plants for the best garden design possible!