Please note: I may earn commissions from qualifying purchases if you shop through links on this page. More info.
Get Inspired: 9 Penny Floors DIYed by Home Owners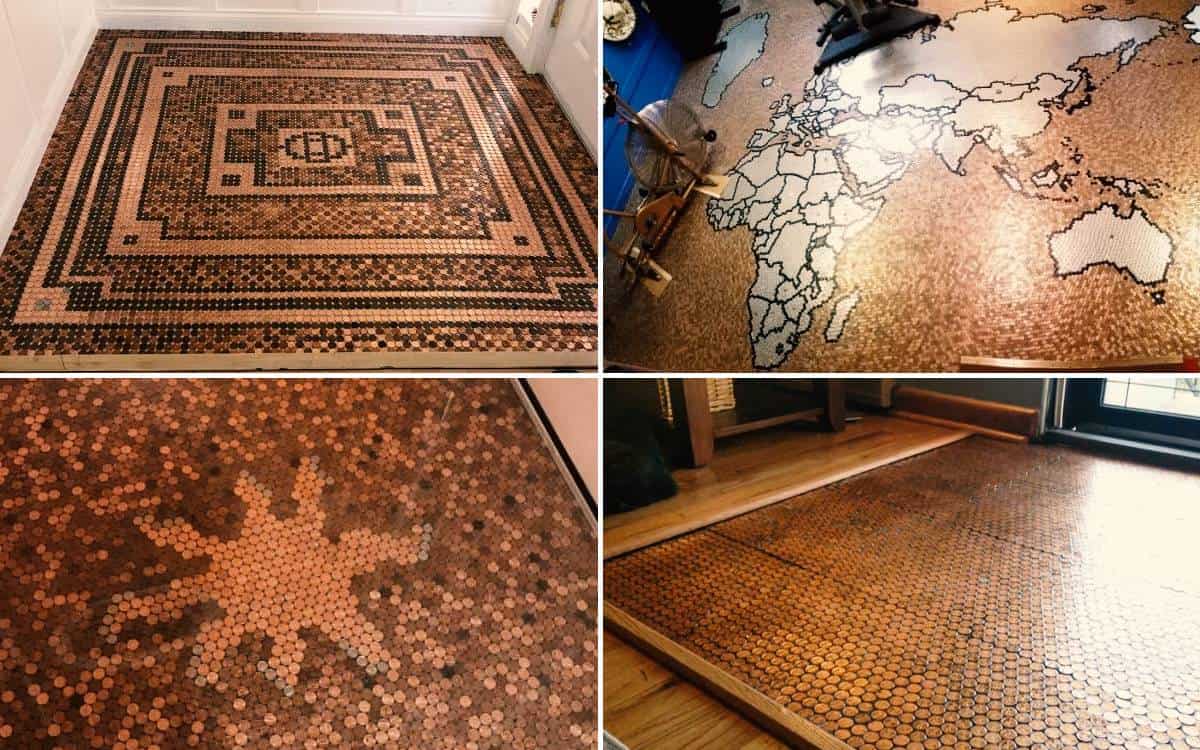 If you're thinking about making your own penny floor, here are some projects by home owners just like you who have created beautiful works of art with penny flooring.
Rick's Penny Floor Map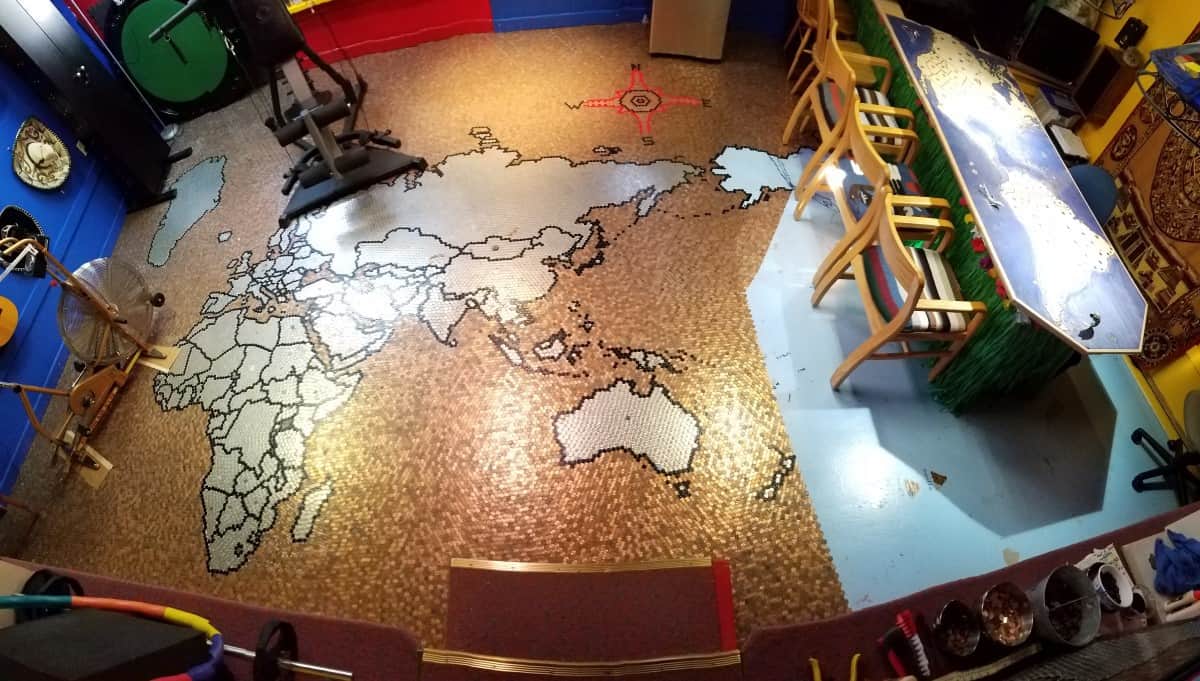 Rick's penny floor is the most intricate penny floor design I have ever seen! Rick's project took him nearly 4 years and consists of pennies, nickels and other coins from around the world. He created a large map of the eastern hemisphere on the floor of his man cave. The outlines of the land are outlined using a black spray paint and the compass is pennies that have been painted red!
Rick estimates that the map contains about 70,000 pennies and 8,000 nickels. In each country he features at least one coin from that area within the design. He got most of these foreign coins off eBay.
To highlight the western hemisphere, he created a bar that features coins from EVERY state as well as the surrounding islands of North and South America.
Kelly's Freehanded Penny Foyer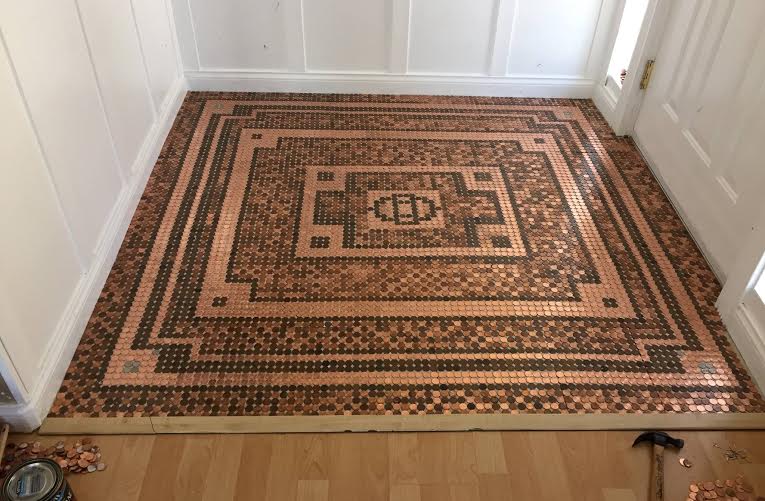 Kelly's foyer was freehanded — how incredible to do this by eye!
Kelly separated dark from newer pennies and began a mosaic pattern. This project took her about three weeks 3 weeks from start to finish. She says that gluing the pennies and keeping straight lines was the hardest part. Kelly grouted the pennies, sealed with several polyurethane coats to protect the finish, and viola! It's gorgeous, durable!
Kelly says, "I would recommend removing any floor underneath and installing basic subfloor panels to glue the pennies on." She also suggests scratching the subfloor surface so the glue and grout will stick, and either a poly coat or an epoxy coat to seal it in well." She also emphasized the need to allow enough drying time between coats and phases.
This photo is after one coat of poly and grout. I must say I'm jealous of this one!
The Lincoln Room Penny Floor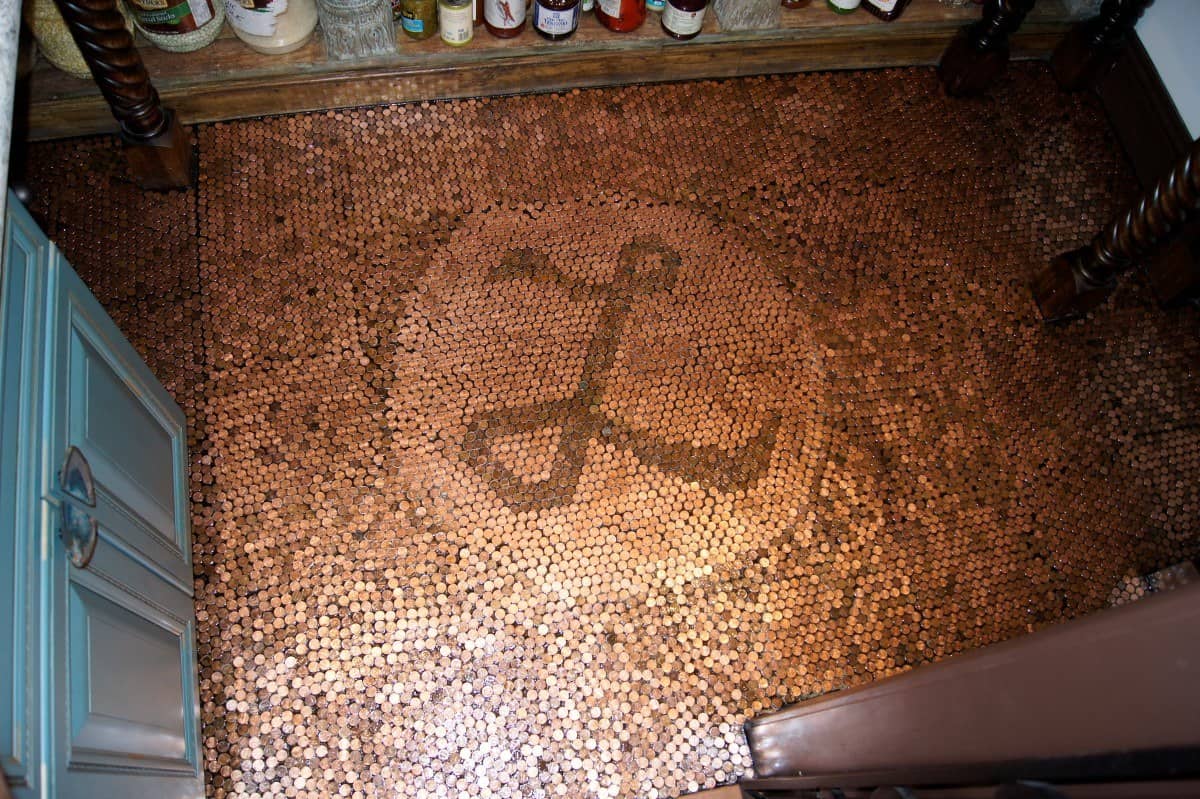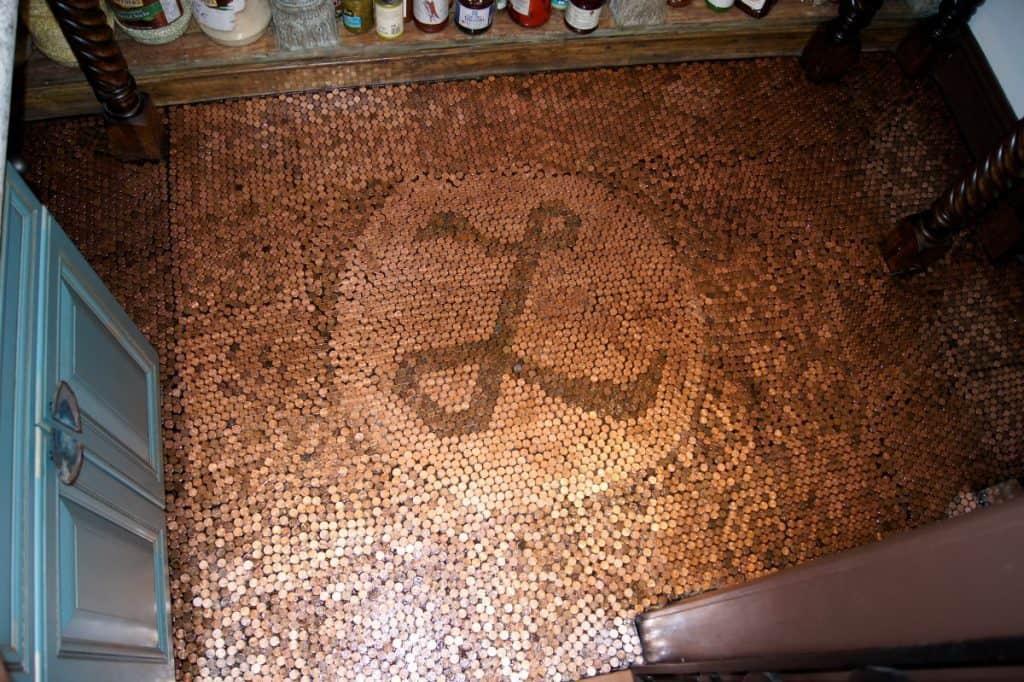 This home owner wanted to create a special floor for her favorite room; her 6×9′ pantry. After seeing a penny bartop at a local bar and her love to collect all things copper, a penny floor seemed a natural choice!
PrettyPurpleDoor.com was one of the first sites she found to get some information on the process. As you can see in one photo, using the penny template helped her to create the medallion "L" for the room's center. The "L" represents her last name and also that she calls her pantry "The Lincoln Room".
To finish the floor of her Lincoln Room, this homeowner used polyurethane. While she liked the glass-look of the epoxy resins, the process of pouring epoxy is a bit intimidating with great potential for mistakes. The polyurethane was a good alternative solution! She added,
"The extra effort you put forth to document your efforts and knowledge, (from experience), and share it with strangers like me, is incredible and very much appreciated. Thank you very much!"
Michelle's Sunburst Penny Floor
Michelle decided to make her 4 x 4 foot foyer floor into a penny floor. She has a lot of "suns" in her house so she thought making a sun would tie everything together. Michelle used newer, shiny pennies, all heads up for the sun. Michelle made the sun design on a board and when she was happy with it, she put a piece of clear contact paper over the design so she could transfer it to the floor.
Michelle ran into a few problems during the installation. At first, she just put down the pennies in no particular order wanting it to look more organic. That didn't seem to work for her as there were too many big gaps between the pennies. So after she glued down about 1/4 of the background, she pulled them all up (except for the sun) and decided to lay them closer together so the pennies interlocked with each other.*
When Michelle got to the sun, she found that the gaps were also too big between the sunrays. So she ended pulling up each penny one at a time and adjusting it so it would line up with the others. After she was finished she used tin snips to cut pennies to fill in around the perimeter.
Next, Michelle used a dental pick and picked out the excess adhesive from between the crevices. She used green grout instead of the usual black or brown because she likes the look of copper with verdigris when the copper begins to patina. *Just a note: using my penny floor template would eliminate this problem from happening to you!
The scariest part for Michelle was putting the epoxy down to seal the floor. She had to make a dam so it wouldn't flow onto the hardwood floor on two sides of her penny floor. She also had to figure out how to make the area at least 75 degrees (Fahrenheit) for 72 hours in order for the epoxy to cure. She decided the best way to do this was to hang a drop-cloth from floor to ceiling using tension rods to keep it nice and tight. Then, she left a space heater inside this area for 3 days so that it would get to the right temperature.
Michelle says that if she were to do this again, she would seal the floor first before putting the epoxy down because the grout was actually much brighter before she sealed it.
Products used on Michelle's Sunburst Penny Floor
Gorilla Glue Construction Adhesive (she said that the clear gorilla glue worked on her sample boards, but they only have small bottles)
Grout360 for the green grout
BestBarTop Epoxy
Patricia's elegant penny kitchen floor
I must say, this is one of the most elegant penny project's I've seen so far. Patricia's penny floor is not quite done yet, but isn't it so beautiful and classy? I love the tone of the copper pennies mixed with the reds on her wall.
It adds such a high-end touch. Upon completion, Patricia plans to grout the pennies and finish off with an epoxy.
Nick's Penny Closet Floor
Have a look at Nick's dreamy penny floor walk-in closet. Nick wanted to surprise his fiancé with her dream penny floor walk in closet. This master closet masterpiece used to be a second floor restroom. The closet floor has wheat and even 27 Canadian penny's also 🙂.
Next Nick is working on the game room and plans on using pennies again! This time he want to plan a design into it. After the game room Nick will be finishing the new second floor master bath and it will have a 6×8 walk in shower with a penny floor.
Thanks for sharing this dream closet with us Nick! We can't wait to see your game room and master bath shower floor! That's one lucky fiancé you have!
Kayla's Shiny Penny Foyer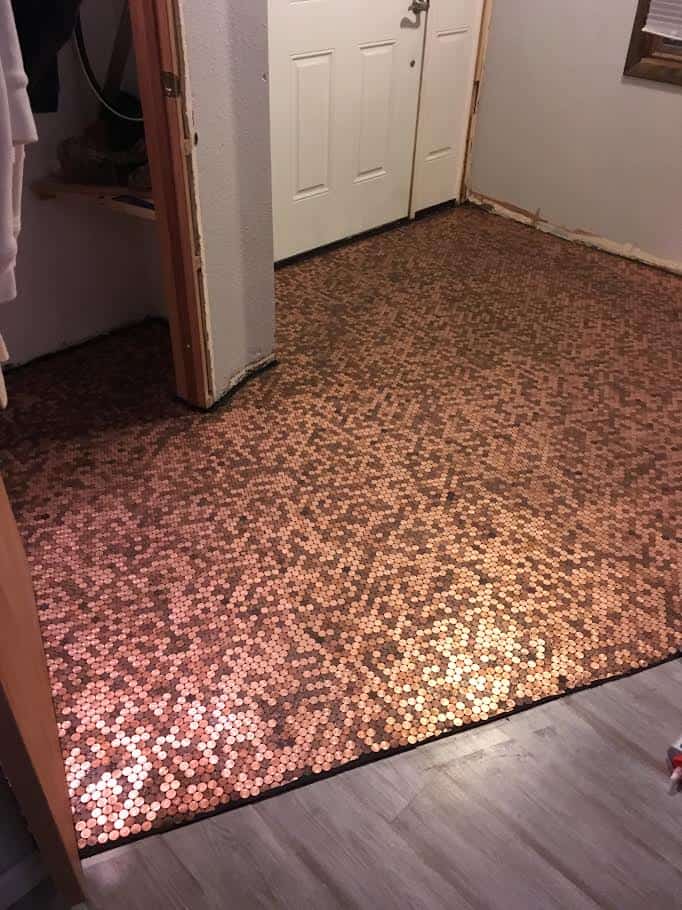 Here are some photos of Kayla's amazing shiny penny foyer — bonus photo of her adorable cat.
She sent these photos over, saying:
"I followed your post for the penny floor and I just have to thank you because your 1 article was more help than the other thousand articles I read before I started it. I still have to poly it but the tedious part is done! Again, thanks!"

-Kayla
Cheryl's Penny Floor
Cheryl was the very FIRST submission to the penny floor gallery. Here are some photos of her penny floor. It wasn't quite finished when she took the photos… this was while she was still cleaning grout from the floor. After cleaning she sealed the floor with polyurethane.
Amy's Penny Foyer
When I first moved into my house, I found pennies everywhere! Seriously, in every little nook and cranny of my house there was a penny wedged. I found them in the cracks of the sidewalk, along ledges, in floor and sink drains… They'd even hit me in the head when I slammed a closet door.
I did some research to find out what this could possibly mean. Why are there pennies all over the house?
I saved the pennies as I've found them, always thinking I'd find a way to do something creative with them.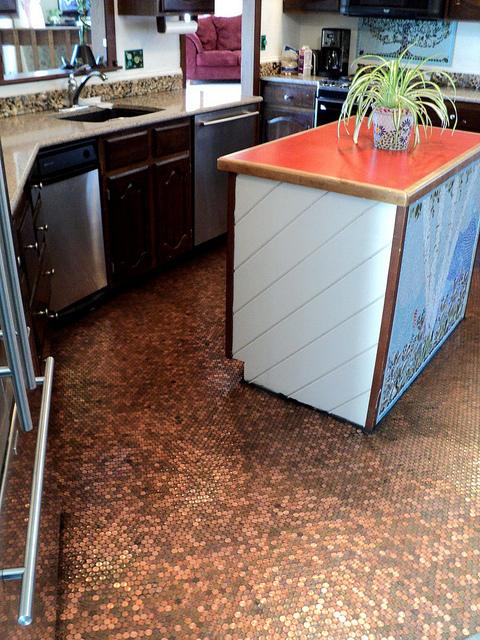 Then, one day I stumbled upon this photo. And that's where my penny foyer idea was born.
Danielle's Penny Floor
Danielle's penny floor contains 23,715 pennies and one dime (lol). There is one zinc penny that looks silver and a Bahama commonwealth penny. There are wheat pennies hidden within new pennies throughout, and one entire square foot of all heads up one row of heads up and one row of tails up.
Danielle wrote me saying that this penny project was very interesting, but more time consuming than she anticipated. What she thought would take a weekend took over a month. It turns out, Danielle did not use the penny floor template, and placed every penny one-by-one. Obviously this is something you can do, too… but just know that it will take a lot longer than you plan!
Danielle started out using Elmer's glue for adhesive then halfway through she used polyurethane (that was for the finish) as the adhesive. She said that this went A LOT faster. I have never tried this personally.
She said she put 3 coats of amber colored semigloss polyurethane at the beginning of the project and it came out glossy and was very happy with it! After she finished laying the last penny, she did a coat of poly over the rest of the floor. The next morning it looked dry and dull.
I talked to Danielle about her problem. She wrote me back saying that it turned out she did not mix the polyurethane enough and it ended up getting very cloudy. She said,
"What I have learned is you have to stir your poly FREQUENTLY!! It has some chemical that keeps the sheen that may settle if you don't stir it."

-Danielle
Her floor ended up very shiny once she discovered the problem 🙂
Wrapping Up
As you can see, creating a floor out of REAL pennies is doable by the average home owner. No matter how simple or complex you make it, this is a project that will be the centerpiece of your home for years to come. Before you get started, read my complete guide to creating your own penny floor. Don't forget to check out my penny floor FAQ post as well to get some of the most common questions answered.
While this post is only about penny floor projects, there are many, many different uses for pennies in your home. I've seen a full kitchen floor created with just pennies. There's even a bar in NYC that has a penny floor! How about using the pennies as a backsplash, or table or a bar top? Or on a vanity or a tub surround? The possibilities are endless!
What Blooms with What?
Never know what to plant together? Find out with this FREE Plant Pairing Guide and become a pro at combining plants for the best garden design possible!