Please note: I may earn commissions from qualifying purchases if you shop through links on this page. More info.
Perennial Garden Plans for Partial Sun or Shade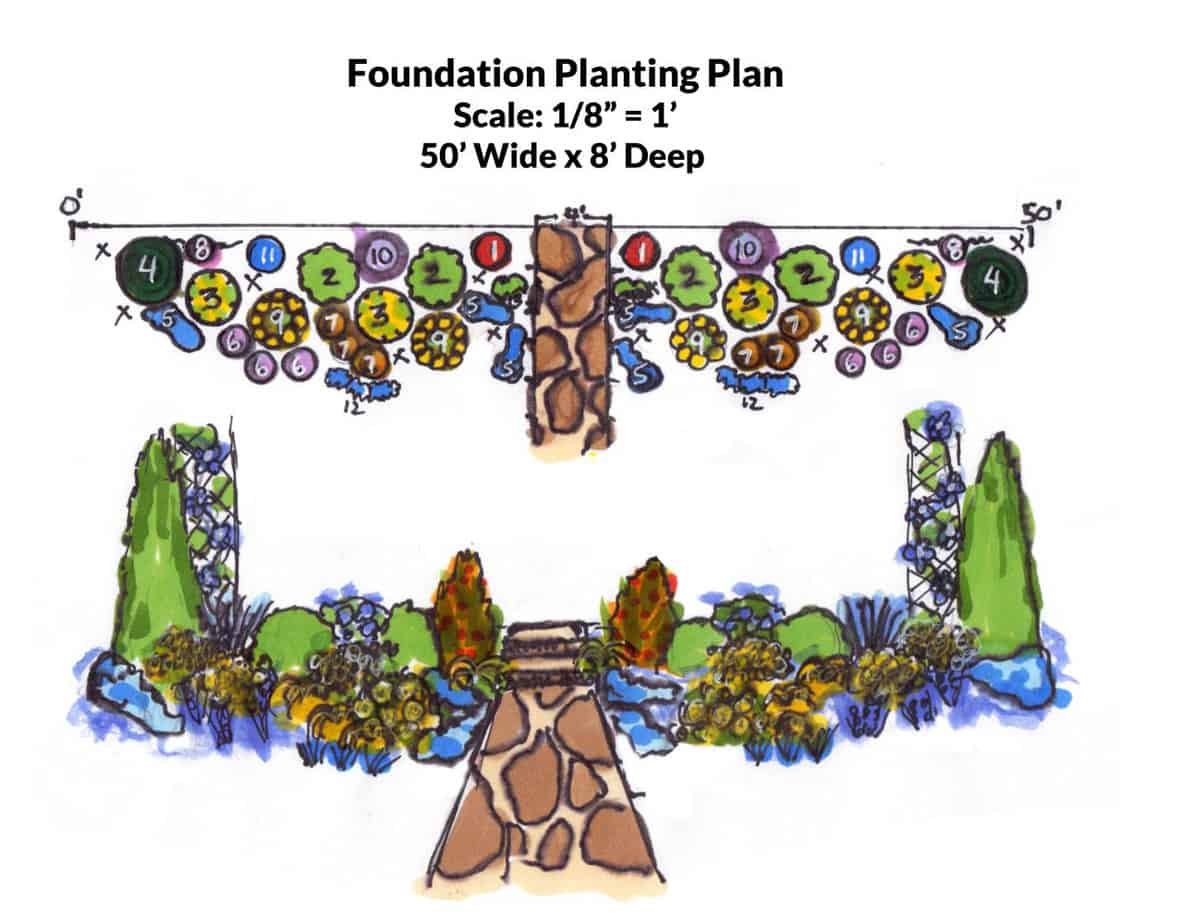 A good garden plan can help you tackle your yard and turn it into a beautiful show stopper with tons of curb appeal. If you know your conditions and are looking for garden planning and design ideas, try using my foundation plants garden plan. You'll be amazed at the difference it makes in your home's aesthetic. The best part? All the plants are easy to grow and have interesting features in multiple seasons. You'll enjoy it year-round.
Perennial Garden Plan – Shade to Part Sun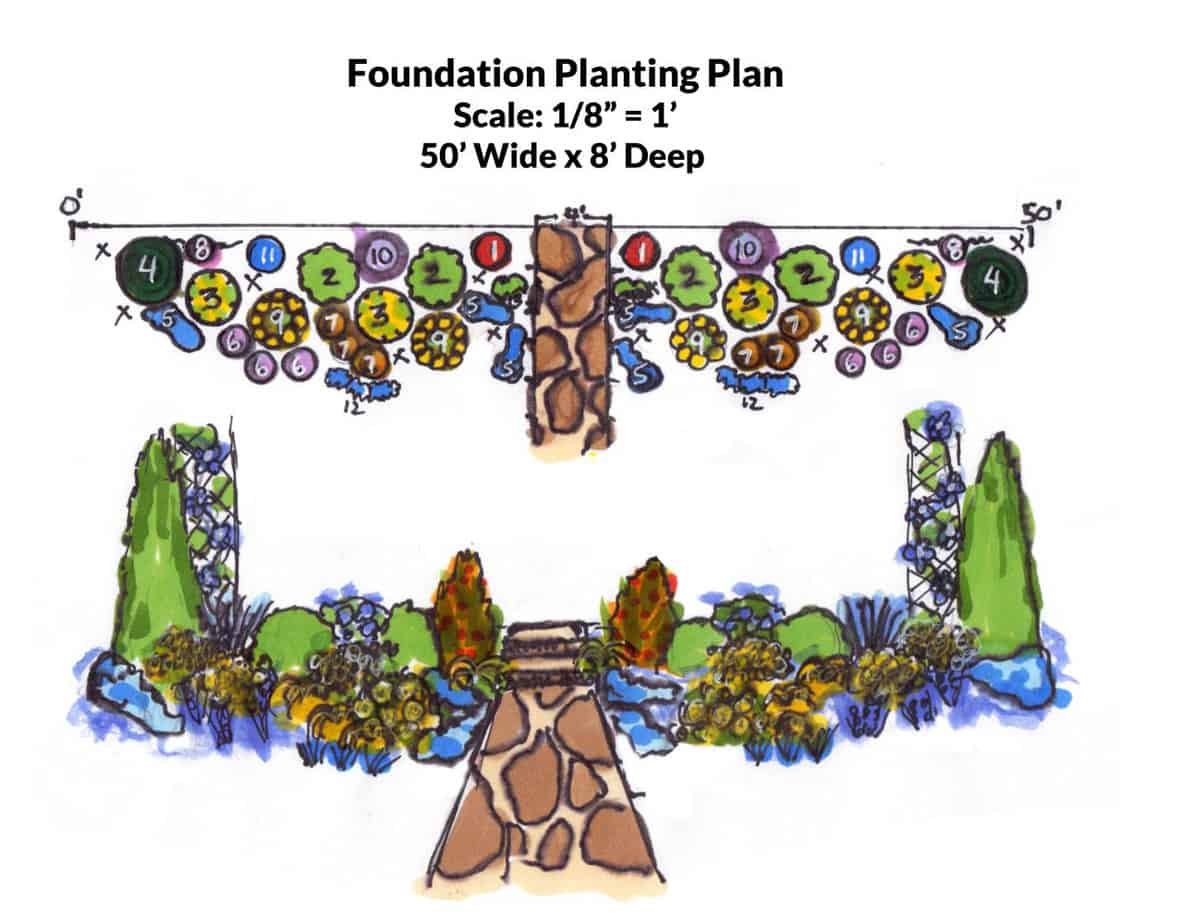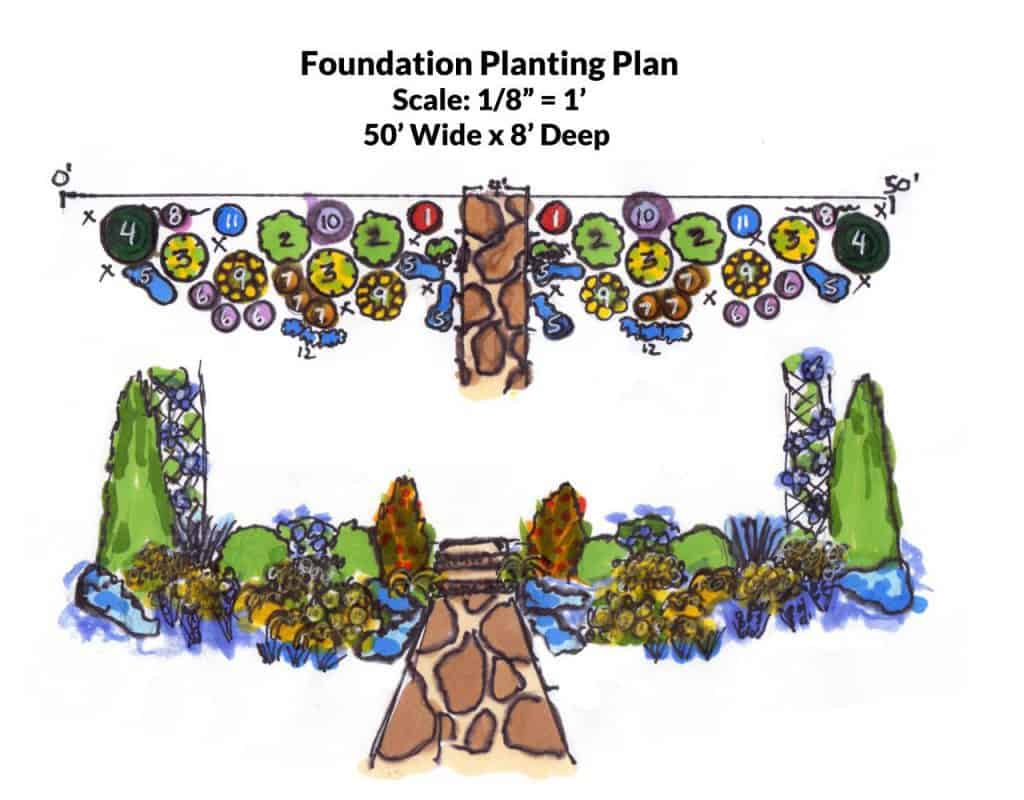 Get this COMPLETE Perennial Garden Plan that will give you the best part sun/shade foundation plants (& alternatives) to take your curb appeal to the next level. It's the perfect compliment to my FREE plant pairing guide.
Get an instant download of the plan for $10.00 by clicking the button below!
A Garden Plan for tricky sun/shade conditions
It's fairly easy to find the right plants that do well in full sun or full shade situations… but what do you do when your garden is getting a little of both?
My house sits facing Northwest, so the front landscaping doesn't get sun until later in the afternoon. Because of this, most plants that require "full sun" won't work in this location. So, I had to pick out perennials that will do well in partial sun/partial shade. If you're in the same situation and you love blues, purples and yellows in the garden, you may benefit from downloading the plan I used!
50′ wide x 8′ deep foundation garden plan
17 plant varieties for 4-season interest
60 plants used in layout
Suitable for gardens in zones 4-8 – whats my zone?
This plan is a great option for a part sun/part shade foundation planting for your home if you're looking for 4-season interest! The plan is for a 50′ wide x 8′ deep space separated in the middle by a 4′ wide walkway. It can be adapted to accommodate your garden size by changing the number of plants used.
The plan includes garden sketches featuring 17 plant varieties. A 10 page PDF also includes the quantity of each plant needed (about 60 in total), along with photos and details for each plant selected and in some cases, alternative plant options.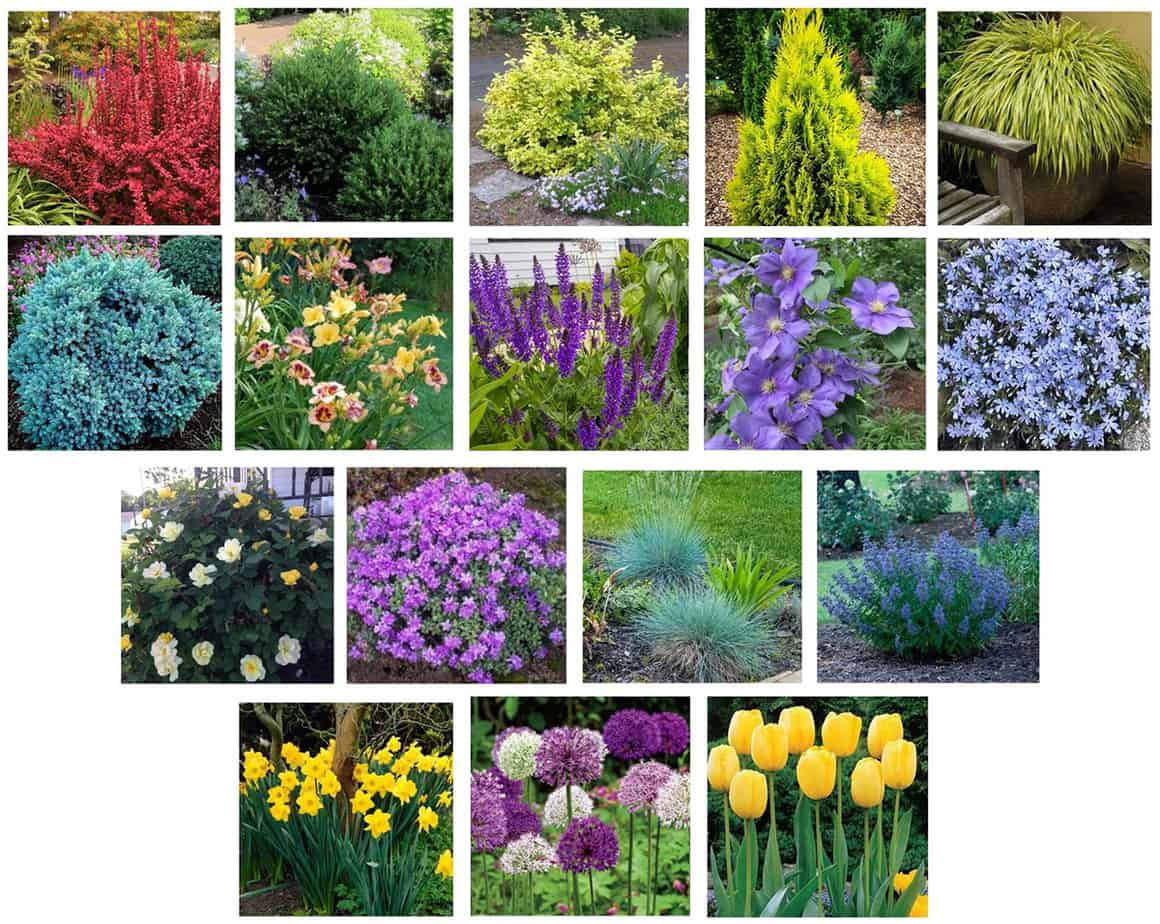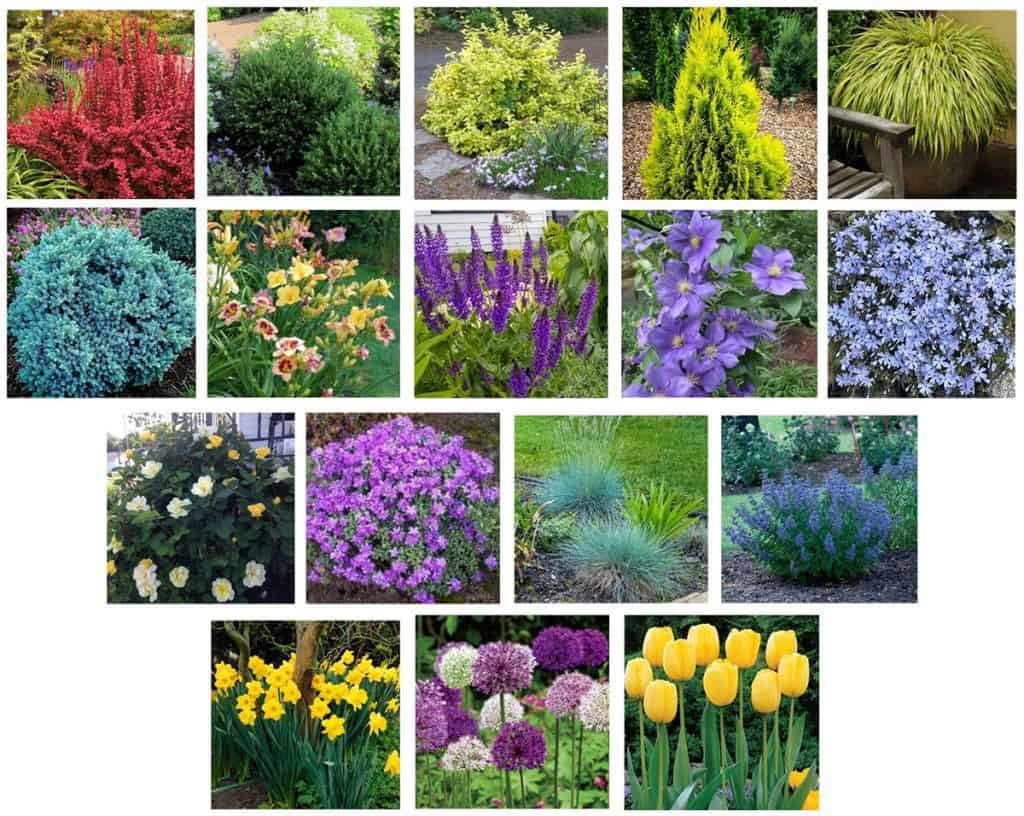 What do you mean by "full sun", "full shade", "partial sun", "partial shade" etc.?
Full sun plants need at least 6 hours of direct sunlight.
Partial sun / partial shade plants are pretty much interchangable terms. These plants need between 3-5 hours of sun each day.

If a plant is listed as partial sun, it needs several hours of sun to get flowers and fruits, but isn't as fussy as those with "full sun" needs.
If a plant is listed as partial shade, it needs some relief from the intense heat of late afternoon sun.

Full shade plants can survive on less than 3 hours of direct sunlight each day, with filtered sunlight during the rest of the day.
In addition to the sun/shade requirements of each plant, it's useful to know your hardiness zone. The USDA Plant Hardiness Zone Map is the standard by which gardeners and growers can determine which plants are most likely to thrive at a location. The map is based on the average annual minimum winter temperature, divided into 10-degree F zones. Knowing your hardiness zone is especially important if you'll be shopping for your plants online.
The benefits of using pre-planned gardens
The major benefit of using pre-planned gardens, or garden plans, is that you'll get everything you need to set yourself up for success. Garden plans typically include plant choices, alternative plant options (if you can't find the primary one), descriptions of your plants, the number of each plant you'll need and a drawing of the garden plan so you know exactly where to put each plant.
When planning a new garden, talking to/bringing along a friend with some gardening knowledge is the absolute BEST tip I can give you. Using my garden plan and my sister-in-law's expertise, I was able to pick plants for a beautiful, 4-season garden that suited both my lifestyle and my personality.
More Posts Like This
Shop my Amazon storefront for my essential gardening books & tool recommendations!