Please note: I may earn commissions from qualifying purchases if you shop through links on this page. More info.
The most perfect perennial shrubs for your garden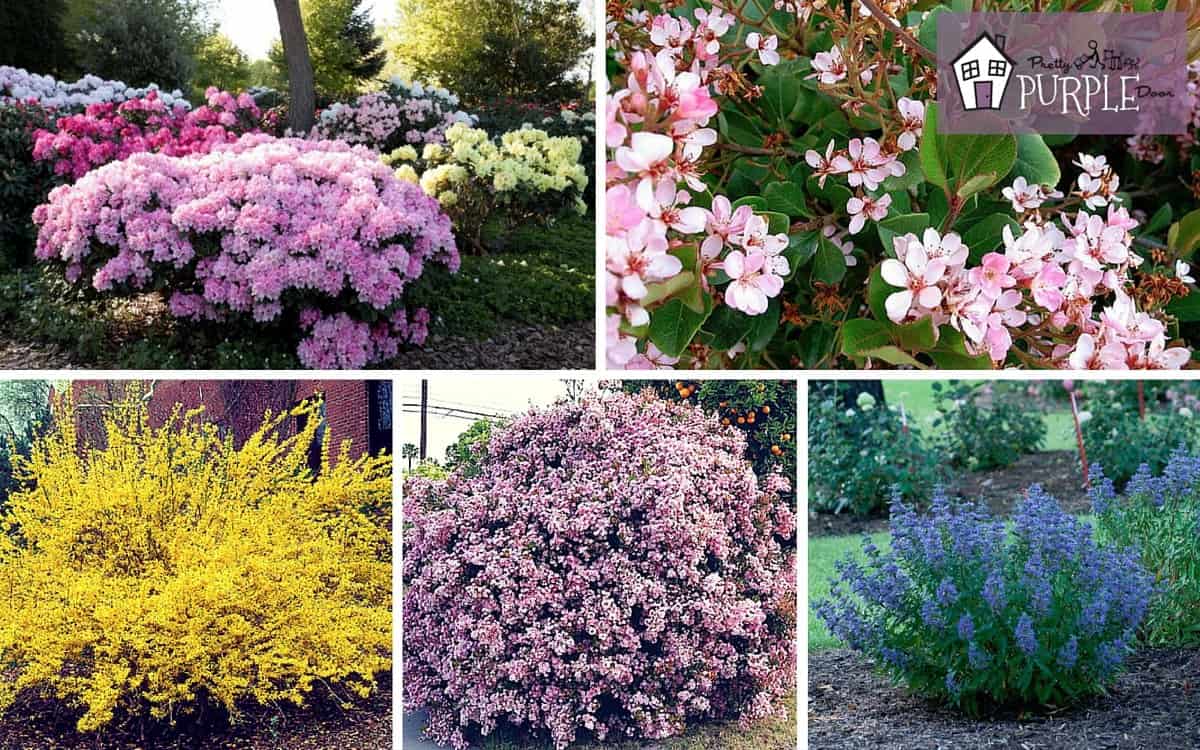 Looking for that amazing "pop" of color in your garden or landscape? A plant that makes a statement and really stands out against your backdrop?
Enter… flowering perennial shrubs (or bushes). Perennial shrubs add balance and color to your landscape.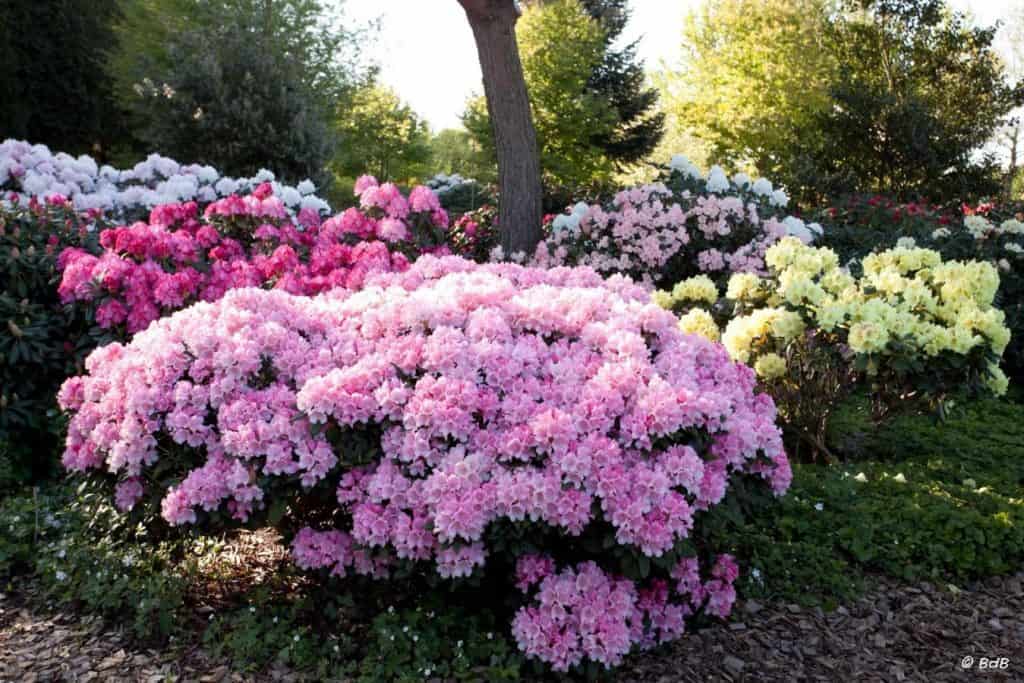 I love flowering shrubs because they can really catch the attention of passerbys. If you're following my garden pyramid for planting success, you have already chosen your ornamental tree(s) and evergreen shrubs.
Flowering shrubs make the perfect choice for right in front of your evergreen backbone planting. So, place your perennial shrubs in front of a row of evergreens to really make them POP.
These flowering bushes can add lots of long-lasting color and personality and are large enough to make a big statement. In fact, a lot of the perennial shrubs I'll mention are long-blooming; for weeks and even months on end.
And… when they are done blooming, your sturdy evergreen foundation will keep your garden from looking bare and messy. Once you choose the perennial shrubs that are right for your garden, you'll see your landscape really start take shape.
Quick Tip: My landscape layering post will show you how to create a beautiful, four-season landscape, even if you're a beginner gardener!
Long Blooming & Easy-Care Perennial Shrubs
Here are some of my favorite perennial shrubs that you can plant in your own garden. I really love these options because not only do they bloom for a long time but they're also low maintenance, making them great for beginners.
The only things you'll need to do is keep them watered and fertilized. After planting these shrubs you should supplement their water supply until the roots get established. Beyond that, they should be able to handle the weather if you get about an inch of rain each week.
Many people find flowering shrubs to be difficult to grow. The biggest issue that I see, is that most people do not fertilize flowering shrubs enough — or at all. Any plant, shrub or tree in your garden that is a prolific bloomer needs to be fertilized.
It takes a lot of energy for her to look so beautiful for you every day! So… you should pick up some plant fertilizer and follow the feeding instructions provided. My favorite is Espoma Rose-Tone Rose and flower food if you are looking for a specific recommendation!
Ok – onto my recommendations for the best perennial flowering shrubs for you to try in your own garden!
The Best Spring Flowering Shrubs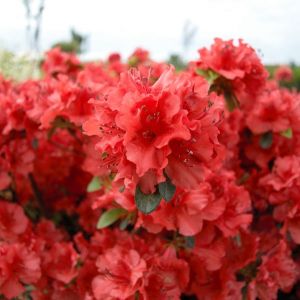 Zones: 6-9 | 2-3'W x 2-3'W | Part Sun
Blooms in mid-spring
Native to China, the Himalayas and Myanmar
A great partial sun option for a mixed border, 'Hot Shot Girard' azalea is a hardy, ornamental evergreen shrub with brilliant flowers. This azalea catches fire in mid-spring with orange-red 3″ ruffled blooms. It also attracts butterflies.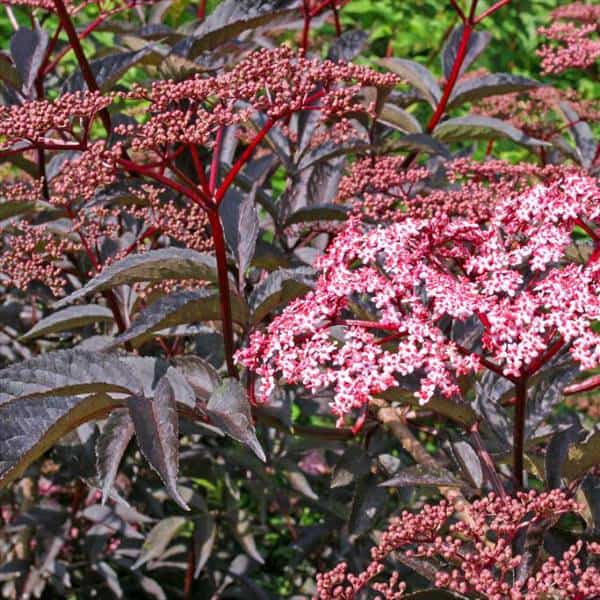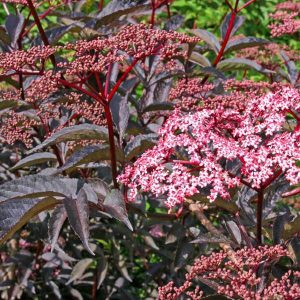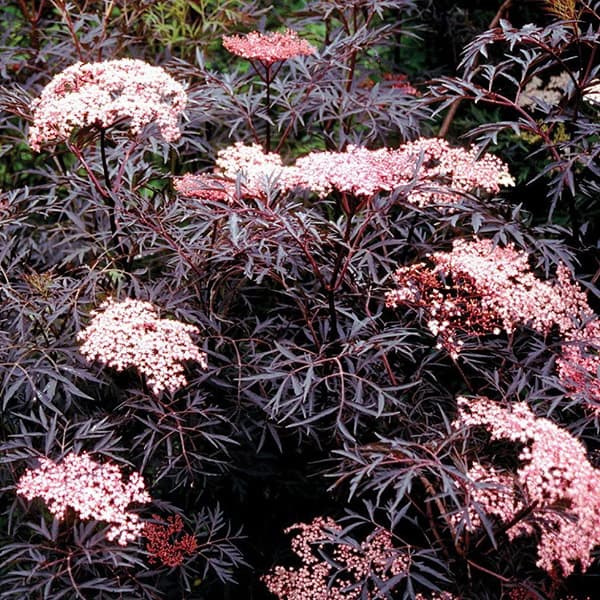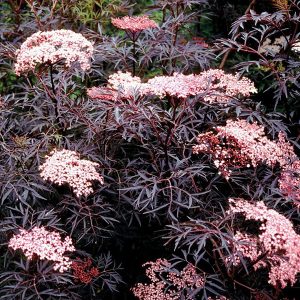 Zones: 4-7 | 8-12′ H x 5-6′ W | Full to Part Sun
Blooms in late spring, berries in the fall.
Native to Europe, southwestern Asia and northern Africa
The European Elderberry 'Black Beauty' (Sambuscus nigra 'Gerda') has exotic, fern-like deep purple foliage with purple young stems. In spring, pink blooms with a lemony scent envelop this unique shrub, attracting butterflies. It also bears yummy edible fruit (elderberries) in the summer that both people and birds love. The cultivar 'Black Lace' is similar to 'Black Beauty', but the foliage is a shade darker with a finer, fern-like texture similar to a Japanese Maple.
Note: In order to produce berries, plant a compatible pollinator nearby (Black Beauty, Black Lace, Instant Karma, or Laced Up elderberry will cross-pollinate).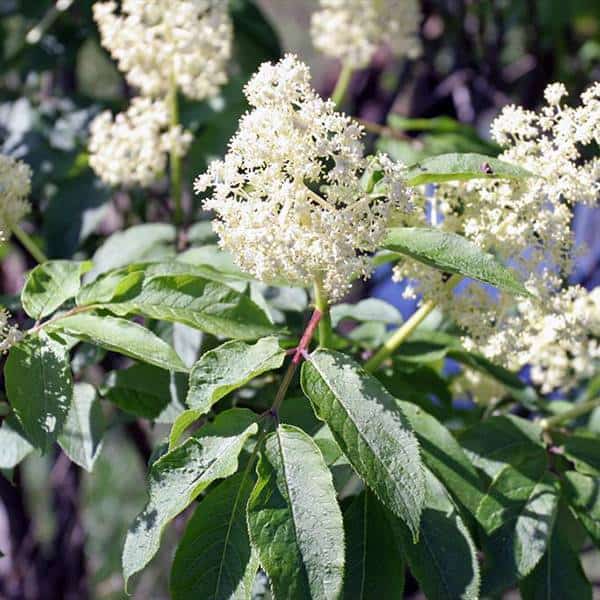 If you have the space for it, take a look at the American black elderberry (Sambucus canadensis), native to a large area of North America. It's a loose, graceful, deciduous shrub with green foliage and white blooms. It grows 8-12′ high and wide in Zones 4-9.
Quick Tip: If you like the elderberry, check out these 15 plants and shrubs with burgundy red foliage.
Zones 7-11 | Part-Full Sun | Shrub: 3-4' H x 3-6' W (varies by variety) | Tree: 15-25' H x 8-10' W
Blooms in spring, berries in the fall.
Native to Southern China and Japan
Indian Hawthorne is a double bang-for-your-buck plant because it's an evergreen shrub but is just as beautiful as the other perennial shrubs in this list. 'Pinkie' (Rhaphiolepis indica 'Pinkie') is a good variety to check out in Zones 7-9 for its compact size (2-5'H x 3-4'W).
The Indian Hawthorne is a no-fuss small and slow-growing shrub. It bursts with pink or white clusters of flowers in spring on rich, glossy evergreen foliage. The flowers give way to dark, blue berries that attract birds and other wildlife the rest of the year.
Quick Tip: If you like these flowering shrubs, check out this post for a list of the longest blooming perennials in my home garden.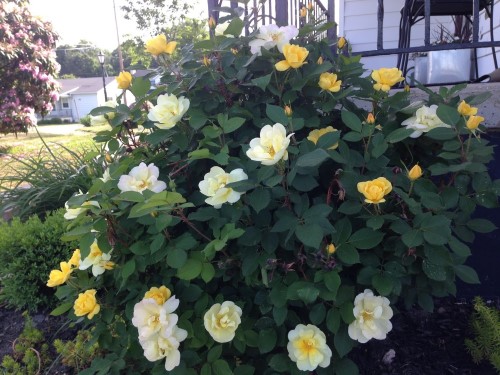 Zones: 5-11 | 3-4'W x 3-4'W | Full Sun
Blooms spring through fall
Non-native
Knockout or double knockout roses are easy to grow, don't require special care and bloom on and off for up to 9 months of the year — literally from spring until the end of fall when it starts to frost.
Knockout roses come in a couple different variations of color. Most are in the hot pink (Rosa PINK KNOCK OUT 'Radcon') to blush pink (Rosa x 'Radgor'), or yellow family (Rosa SUNNY KNOCK OUT 'RADsunny') .
What Blooms with What?
Never know what to plant together? Find out with this FREE Plant Pairing Guide and become a pro at combining plants for the best garden design possible!
Blooming Bushes for Summer Gardens
Zones 3-8 | 3-5' H x 3-5' W | Full to Part Sun
Blooms in early summer
Native to China and Japan
If you're looking for a flowering perennial shrub that can tolerate some shade, Hydrangea 'Little Quickfire' is a great option. Native to China and Japan, white blooms appear in early summer – about 1 month sooner than other hydrangeas. As the blooms age, they fade to a pink color (like in the photo). Little Quickfire is a more petite version of Quickfire, which gets 6-8′ tall and wide.
Virginia Rose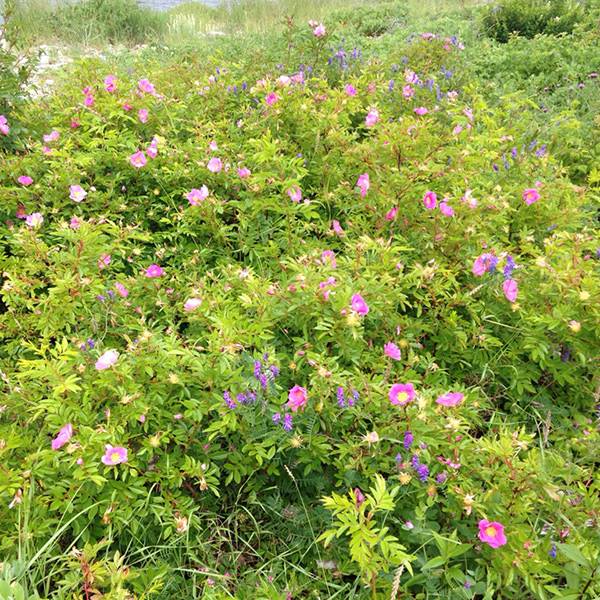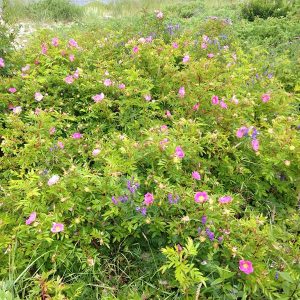 Zones: 3-8 | 2-4'H x 2-4'W | Full-Part Sun
Blooms in early to late summer
Native to Southeastern United States
Virginia rose (Rosa virginiana) is a low-growing, deciduous shrub with upright shoots and a dense, rounded habit. Glossy dark green summer leaves turn orange-red in the fall. Also known as common wild rose or prairie rose, the Virginia Rose blooms with fragrant, 1-3″ pink flowers in early summer and then blooms sporadically into late summer (June-August). It is not deer resistant.
Virginia rose can be used in a mixed border or pruned into a low, informal hedge. Due to its colonizing habit, is often used to stabilize sunny slopes, at the edge of water or near low-lying, seasonally damp areas.
Zones 3-8 | 1′-8' H x 6' W (varies by variety) | Full Sun
Blooms in summer
Native to Japan
With so many varieties to choose from, you won't have a hard time finding a spirea that you will fall in love with. Spirea are classified as spring-blooming or summer-blooming.
The pink blooming spirea pictured is called Superstar (Spiraea x bumalda 'Denistar'). This is a compact (2-3'H x 1-4'W) variety with blooms of apple-pink blossoms that cover the plant all summer long. In addition to the blooms it also has beautiful fall foliage.
Note: Spiraea japonica is invasive in certain areas of the US. Please do your research before planting.
Full-Part Sun, 3-4′ W x 3-4′ H, Zones 4-8
Blooms in summer
Native from Southern Europe to central China
At just 3-4′ tall, smoke bush 'Velveteeny' offers the same silky smooth, deep burgundy foliage with large feathery dove gray/pink plumes in summer. In the fall, its unique purple foliage transforms to bright red, adding an additional season of interest. Velveteeny has similar qualities as her big brother 'Royal Purple' (12-15'H x 10-12'W), but in a petite, dwarf form perfect for small home landscapes.
Full Sun, 2-3′ W x 2-3′ H, Zones 5-9
Blooms in late summer
Native to east Asia
Beyond Midnight Bluebeard (Caryopteris x clandonensis) is a lovely vibrant green shrub, with a naturally rounded shape. Beyond Midnight adapts to a variety of soils and is drought resistant once established. Even though wildlife love it, destructive deer will pass it by. Its true value is seen as the season progresses. In late summer, long stems shoot up above the glossy, dark-green foliage COVERED in deep-blue flowers. There are so many blue blossoms shooting from these long wands that it has the effect of turning the shrub into a big blue ball in your landscape. So cool!
What Blooms with What?
Never know what to plant together? Find out with this FREE Plant Pairing Guide and become a pro at combining plants for the best garden design possible!
Shrubs for Fall Color
Zones 3-8| 3-4′ H x 3-4' W | Full-Part Sun
Blooms early summer through fall
Native to North America
You'll have blooms, blooms and more blooms for months from early summer through fall. Invincibelle Limetta® Hydrangea (Hydrangea arborescens) is a dwarf version of the Annabelle Hydrangea. It's a smooth hydrangea native to North America. Pretty pale green (almost white) reblooming flowers emerge in early summer, brightening to lime green and aging to jade green as the weather cools.
What's wonderful about Limetta is it's dwarf size and strong stems that won't flop over, even under the weight of large blooms. This is one of the most winter hardy of the hydrangeas and it also thrives in urban conditions. Bloom occurs on current season's growth, so prune as needed in late winter to early spring.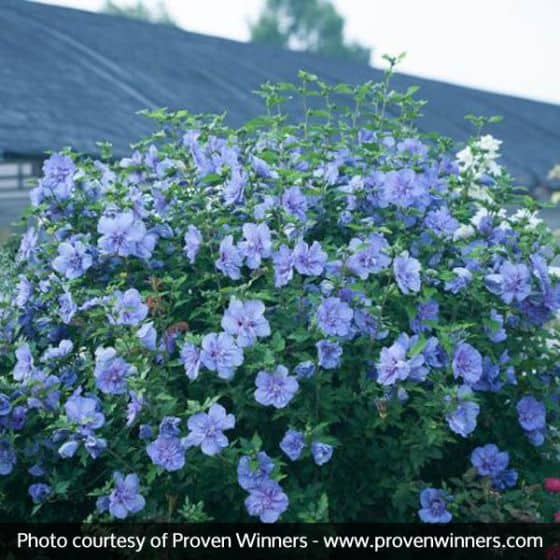 Zones 5-9| 8-12' H x 5-6' W | Full Sun
Blooms mid-summer to fall
Native to Eastern Asia
Rose of Sharon (Hibiscus syriacus) is sure to provide some much-needed color to your mid-summer and fall garden. 'Blue Chiffon' boasts blue flowers with lacy centers of light lavender-blue petals give it a semi-double appearance. The flower centers are accented with wine-red hues that streak out from the veins of the petals.
Also take a look at 'Blushing Bride'. This variety has pale pink flowers with lacy centers giving its blooms a semi-double appearance.
Wrapping Up
For a 4-season layered landscape, plant your perennial shrubs IN FRONT OF your evergreen shrubs. Evergreen shrubs are the perfect backdrop for these blooming pops of color.
When searching for the perfect perennial shrub, look for ones that have interest in multiple seasons. Maybe it blooms in spring, but has beautiful fall foliage or produces summer berries. Maybe it has a uniquely-colored foliage all year and also has scented blooms. This is especially important in small gardens, where space is extremely limited.
And, be sure to keep reading this guide as we'll be talking about using perennial plants and flowers in the landscape next!
In my perennial garden plan, I'll go over landscape layering and give you some suggestions for each of the 5 layers:
Layer 1: Ornamental Trees
Layer 2: Evergreen Shrubs
Layer 3: Perennial Deciduous Shrubs
Layer 4: Perennial plants and flowers
Layer 5: Groundcovers, Vines and Grasses
---
Shop my Amazon storefront for my essential gardening books & tool recommendations!
More Gardening Posts You'll Love