Please note: I may earn commissions from qualifying purchases if you shop through links on this page. More info.
Plant Bulbs Fast & Easy With a Power Drill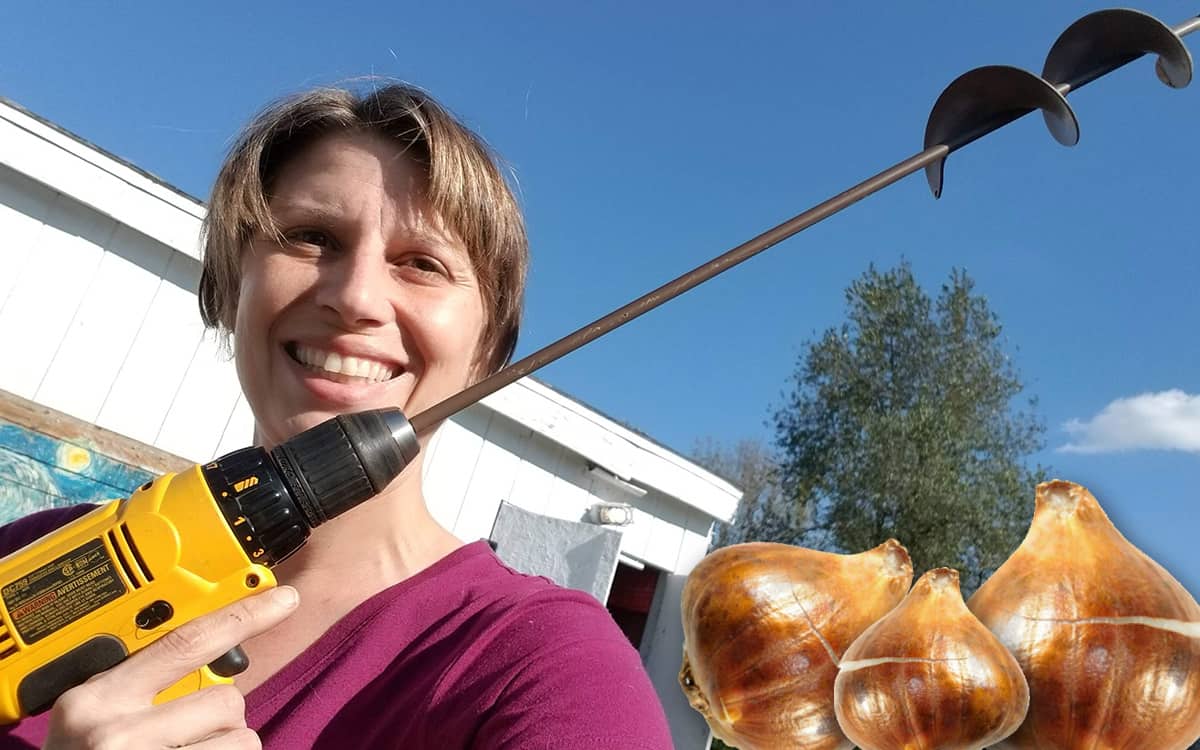 Want to make your annual bulb planting sessions way easier? Don't we all right? I think you'll really love this trick to plant your bulbs quickly and easily using a power drill. Yes, we're bringing our power tools into the garden for this job!
Let's talk about the agony of using manual bulb planters. Yeah, I get that they are handy when you only need to plant a few bulbs, but what if you want to plant lots and lots of bulbs like me?
Not only is it laborious to manually push through the soil by hand for each bulb, but you will also be bent over on your hands and knees in the dirt the entire time. This is truly is back-breaking work.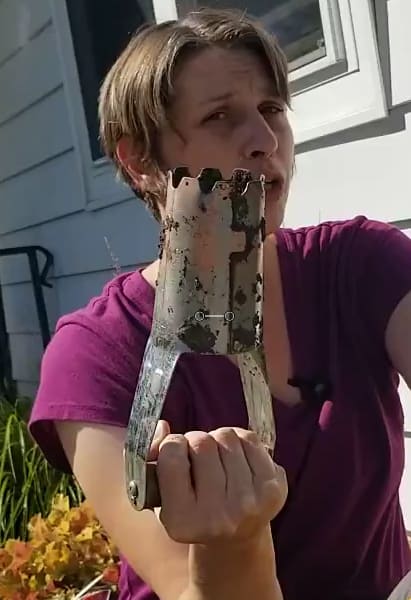 So, if you're somebody that loves to plant tons and tons of beautiful tulips, alliums, daffodils and other spring bulbs in your garden, I'll show you how I quickly take care of planting my bulbs the "manly" way… with my drill and planting auger attachment.
It's not as intimidating as it sounds, I promise 🙂
What you'll need to plant bulbs fast:
Attach the Planting Auger to the Drill
The first step is to attach the planting auger bit (Amazon link) to your drill. In my video I show exactly how you'll attach it so be sure to watch that video if you're unsure.
Make sure that the auger bit is securely attached to the drill and that it's straight and not wobbly.
Drill your bulb holes in the soil
The thing I love about this particular planting auger is that it has a long handle. This auger bit makes planting bulbs and annuals quick and easy from an upright position. No more bending over or crawling around on your hands and needs mashing a manual planter in the ground. Ain't nobody got time for that!
The planting auger shaft is 14″ long, making the auger + shaft a total length of 24″. The holes made by the auger bit are between 3-4″ in width (depending the consistency of your soil).
i.e. the perfect width to plant just about any spring bulb.
Now it's time to let your power drill do the digging. Simply position the auger bit straight down into the soil and hit the power button on the drill. You don't need to use much force on the drill. Just hold it steady and let the auger and the drill do the work for you.
If you push too hard, you may snap the auger bit. Also, the soil must be pre-tilled. Make sure that you are using this tool to plant bulbs into your pre-dug garden beds. The tip of the bit is quite dull, so the soil needs to be loose enough to get through. Don't take this bit into the center of your yard and drill into your hard, clay or rocky soil… it's just not meant to do that.
Let your drill and auger make holes down to the depth you need for your particular bulbs. Here's a quick reference chart from Burpee that should help you determine the proper depth.
Add fertilizer to the holes
This step is optional, but I always recommend adding some bulb fertilizer to the bottom of the holes so that you give your bulbs a great start at life. I like to use Espoma Bulb Tone (Amazon link) but there are lots of options out there that you can try.
Again, this is not required, but it is a recommended step!
Insert your bulbs in to the holes
The next step is to place your bulbs into the holes you drilled. This causes confusion sometimes for beginner gardeners. Which direction do you put the bulb in? It can be hard to tell "which way is up" sometimes.
Which way is up on a flower bulb?
Some bulbs are easy to tell. The pointy part of the bulb is the top and the rounded part is the bottom where the roots grow. Face the rounded side downward with the pointy tip up when planting.
Or, you may see a little bundle of hairs coming out of the bulb. These hairs are the roots, so put them face down into the bottom of the hole.
If you still have trouble figuring out "which end is up" on your bulb, try rubbing your hands along the bulb and try to find a difference in texture. The top will be smooth and the bottom will be a rougher texture. The rough texture comes from the roots on the underside of the bulb. So, plant the rough side down (touching the dirt) at the bottom of the hole so that the roots can easily grow into the soil below the hole.
What if I plant my bulbs upside down?
Of course it's always best to try to plant your bulbs with the roots facing down. But don't sweat it too much. Even if you plant the bulbs upside down, the stems will still reach for the sun. Eventually the bulb should pull itself into the correct position.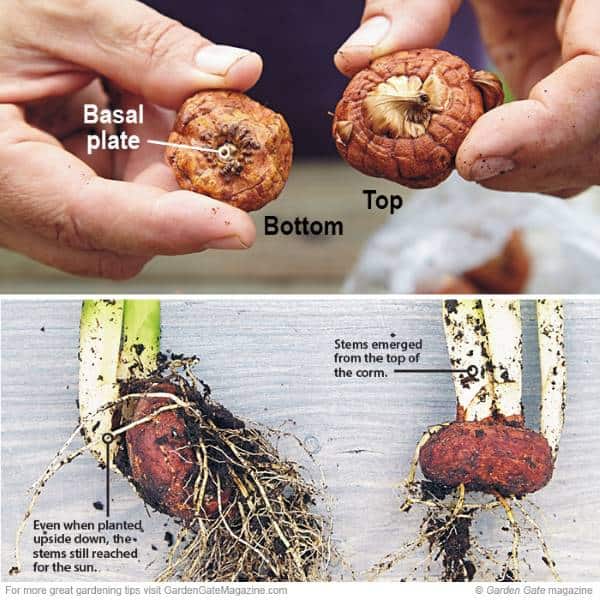 So, while it's not the best way to do it, planting a bulb upside down won't prevent it from blooming.
Cover up your bulbs and water
Once your holes are dug and your bulbs are inserted into the holes, it's time to finish up! You can water them now if you'd like. Or, cover up your bulbs with dirt then water everything afterwards. The latter is a less messy way to do it as you'll be done planting before you make mud. 🙂
If you like to make mud, by all means water before covering your bulbs and have at it!
I also like to put a layer of mulch over my bulbs to protect them and prevent any weeds from forming
Quick Tip: Here are some more great ways to prevent weeds from growing in your garden.
This is really all there is to it!
What Blooms with What?
Never know what to plant together? Find out with this FREE Plant Pairing Guide and become a pro at combining plants for the best garden design possible!
Wrapping Up
Planting tons and tons of bulbs is no longer an arduous task when you have a planting auger bit for your power drill. Just attach the drill bit, push down, and let the drill do all of the work creating the perfect sized holes for your spring bulbs. It couldn't be easier.
Once you drill the holes, fill them up with some bulb fertilizer, water, cover and you're done. I can plant a 100 bulbs in less than 30 minutes with this awesome tool. Just make sure you're drilling into pre-tilled soil (like in a garden bed) as the tip of the bit is not meant to drill into the hard ground and will likely break off.
If you are an avid gardener and love to plant a show of amazing bulbs, you need to grab this amazing tool today! You and your back will thank me later 🙂
More Gardening Posts You'll Love
What Blooms with What?
Never know what to plant together? Find out with this FREE Plant Pairing Guide and become a pro at combining plants for the best garden design possible!
Amy is the founder of Pretty Purple Door and has been a garden designer since 2014 and graphic designer since 2005. She helps home gardeners design their own beautiful landscapes that are colorful in all four seasons, show off your personality and suit your lifestyle. Amy's work has been featured in publications like The Spruce, Family Handyman, Buzzfeed, Country Living Magazine and more. Read full bio.